This post contains affiliate links. As an Amazon Associate I earn from qualifying purchases. Click here to read my policy.
Instant-Pot Christmas Recipes- All recipes you will need this Christmas - from Mains to Sides to Drinks AND desserts!
Holidays are busy enough, so why not take one or two shortcuts to make cooking easier?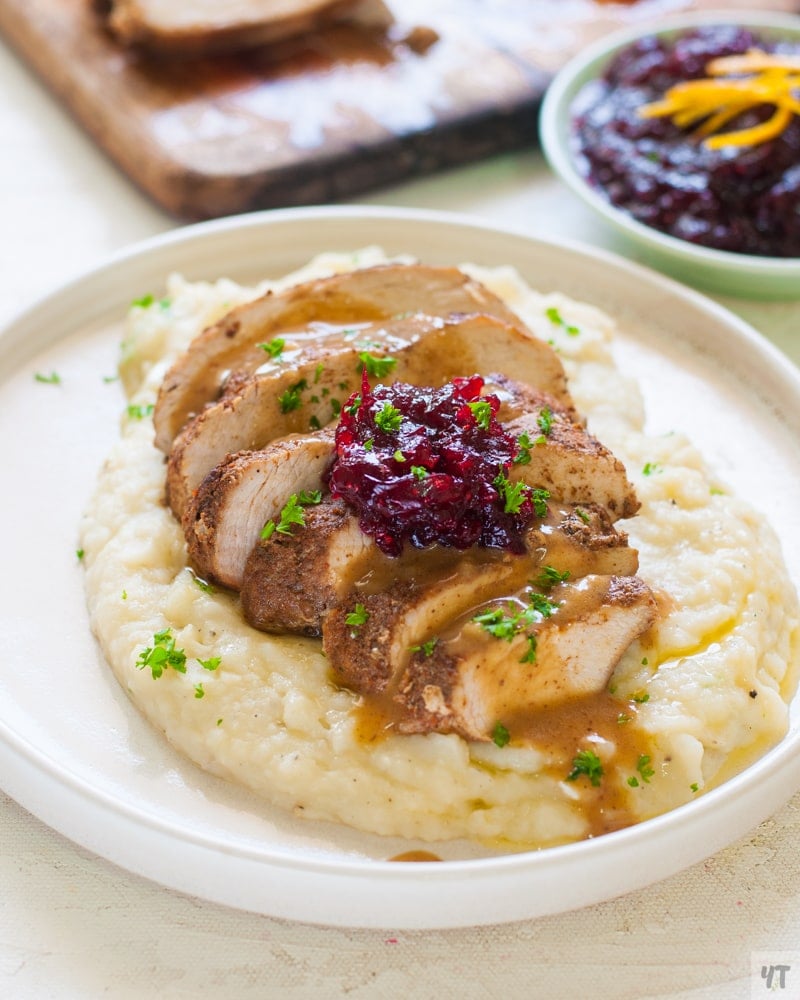 Between the decorations, the wrapping of the gifts and a zillion events to attend, sometimes I don't know where the time goes!
We are always running, getting thigs done. There is barely any breathing space. Those are the times, I always turn to my Instant Pot for help.
I have covered all the meals here, from breakfast to dinner, and appetizers to desserts.
In this collection, we have handpicked 40 recipes that will set you up for a roaring Christmas! Everything made in the Instant Pot!
Lets go!
Instant Pot Cheesecake
The best creamy and irresistible vanilla cheesecake with cherry pie topping. Perfectly cooked in the pressure cooker!
Did you think you could make something like this in the instant pot!? Go give it a try!
Instant Pot Flourless Chocolate Cake
The cake is about as easy-peasy as they come, what with its fab one bowl–ness and short ingredient list, and has the silkiest of textures, due to the uniquely moist cooking environment that is the IP.
Here is a recipe of baked flourless chocolate cake that we love soo much!
Instant Pot Apple Cider Donut Cake
Moist cake made with applesauce and apple cider and then topped with cinnamon cream cheese frosting. Addicting!
Try making Instant Pot apple cider donut cake this fall! I know you'll love it too!
Instant Pot Gingerbread Cake
This recipe is beyond spectacular and festive. Perfect for your next holiday get together or potluck, this delicious cake is sure to impress.
Instant Pot Cinnamon Rolls
This utterly delicious Instant Pot Cinnamon Rolls recipe will have everybody waiting in the kitchen waiting for them to finish cooking.
And all it takes is 30 mins to proof the dough in the Instant Pot!
Instant Pot Eggnog
Instant Pot Eggnog is a creamy, delicious, and oh-so festive beverage you'll want to keep on hand from Thanksgiving through New Year's.
Instant Pot Mulled Wine
Easy Spiced Wine, also called as Glühwein made with red wine, fruits like orange, cranberries and apples, cider and brandy.
Instant Pot Apple Cider
Super Easy Homemade Spiced Apple Cider made with Fresh Apples,Oranges and Spices.Instant Pot & Stove Top Recipe, perfect for the Winter months!
Instant Pot Pancake Bites
Fluffy bite sized mini pancakes made in the pressure cooker using Silicone Egg Bites Molds. A great breakfast recipe that can be made in a jiffy.
Who doesn't love pancakes, right? Just not the slaving over the hot stove! Also the cook gets to eat with the family and that's the biggest win of this recipe!
Instant Pot BBQ Chicken Wings
Instant Pot Chicken Wings - Two ingredient Chicken Wings recipe made with fresh or frozen Chicken Wings.
Juicy, Caramelised, Crispy Wings made in half the time! We first pressure cook the wings and then broil them in the oven. This method helps make the wings juicy and plump while charring them on the outside.
Instant Pot Lamb Shanks
These Instant Pot lamb shanks are braised in a rich and deeply flavored red wine until they're fall off the bone tender! They take a fraction of the cooking time compared to oven braised lamb shanks, and are much easier to make in the Instant Pot.
Instant Pot 3 Ingredient Ham
You simply can't go wrong with this easy pressure cooker Instant Pot ham recipe… All you need is a bone-in spiral ham + crushed pineapple & brown sugar to make the easiest, most delicious holiday ham (or anytime ham) ever!
Instant Pot Pork Roast
With meat, potatoes and veggies all in one, this Instant Pot Pork Roast is an easy dinner with amazing flavor!
It's ready in just an hour and a half, with most of that hands-off cooking time!
Instant Pot Beef Bourguignon
Instant Pot Beef Bourguignon is a savory comfort meal full of fall-apart tender beef chunks and veggies. If Ina Garten and Julia Child created a beef bourguignon together – this would be it!
Instant Pot Turkey Breast
nstant Pot Boneless Turkey Breast- Juicy Turkey Breast cooked in the pressure cooker plus a delicious silky Gravy.
Instant Pot Shrimp & Brocolli
Easy Instant Pot shrimp and broccoli stir fry that is healthier and better than take-out! This is probably the quickest meal that you can make in the Instant Pot as it cooks for just 0 minutes, which means that it just needs to come to pressure.
Instant Pot Pizza Pasta
Instant Pot Pizza Pasta Casserole is a delicious, hearty one-pot meal. Made with your favorite pizza toppings, and pasta, you can make this pressure cooker pizza pasta casserole in under an hour! This is very similar to a Pizza Pasta Bake recipe.
Instant Pot Mushroom Risotto
Instant Pot Mushroom Risotto - Creamy Italian Rice recipe using Arborio rice, Parmesan Cheese and Mushrooms.Vegetarian,Gluten Free Instant Pot dish.
Instant Pot Parmesan Chicken Pasta
Instant Pot Chicken Parmesan Penne Pasta - A One Pot Chicken and Pasta meal made with slices of Chicken thighs, Marinara sauce, penne pasta and water - topped with grated mozzarella Cheese and parmesan.
Instant Pot Chicken Stroganoff
Quick and Easy Stroganoff made in the instant pot! A creamy Russian inspired dish, made with Chicken, onions, mushrooms, Worcestershire sauce and Sour Cream.
Instant Pot Parmesan Mushroom Rice
Instant Pot Mushroom Rice- Buttery Cheesy Parmesan rice with caramelized mushrooms, garlic and parsley made in pressure cooker within 30 minutes.
Instant Pot Chicken Roast
Instant Pot Whole Chicken is the fastest way to cook a rotisserie chicken. Cooking Whole Chicken in the Instant Pot is so juicy and you'll love the easy 3-ingredient chicken gravy made from the drippings.
Instant Pot BBQ Pulled Pork
The easiest + BEST pulled pork ever! Serve with your favorite BBQ sauce. So smoky, so flavorful, so juicy, and SO SO GOOD.
Instant Pot Ribs
Instant Pot Ribs is the easiest way to achieve tender, juicy ribs. Whether you're using baby back ribs or pork loin ribs, pressure cooking tenderizes the meat in a fraction of the time so you can enjoy homemade ribs even on busy weeknights.
Instant Pot Pineapple BBQ Ribs
Have you ever heard of Pineapple BBQ Instant Pot Ribs? Well, you have now! These finger lickin' sweet and tangy tropical ribs will make you SO happy that you bought an Instant Pot.
Instant Pot Chicken Pot Pie
chicken, potatoes, veggies, cheese and bacon served with a creamy sauce over biscuits. An easy way to make chicken pot pie with a fun bacon cheddar twist! You can also make this recipe in the slow cooker.
Instant Pot Apple Cider Donut Cake
Julia Child's Beef Bourguignon (Bœuf Bourgignon in French) is a world wide loved classic for a reason. This is one recipe where you want to take your time cooking it, drinking a glass of wine or two while preparing it, and show it a lot of love. Every step is worth it.
Instant Pot Mac & Cheese
Instant Pot Mac and Cheese - This macaroni and cheese is every family's favorite comfort food pasta recipe made easy in the Instant Pot! You can have creamy, mouthwatering, homemade mac and cheese for dinner in about 10 minutes!
Instant Pot Carrots
Instant Pot Honey Garlic Glazed Carrots - Gorgeous Garlicy Honey Carrots with Thyme and butter.
Perfect side for Thanksgiving or Christmas Dinner.
Instant Pot Garlic Mashed Potatoes
Instant Pot Garlic Mashed Potatoes using the No Drain Method! - These are Super Easy Mashed Potatoes made in Instant Pot ,where you do not have to do multiple drains and pots.
Instant Pot Mashed Sweet Potatoes
Instant Pot Mashed Sweet Potatoes with Butter,Garlic and parsley.
These are heaven! Just pure buttery, garlicky heaven! I can eat these everyday- for breakfast, lunch and dinner.
Instant Pot Sweet and Spicy Meatballs
Instant Pot Sweet and Spicy Meatballs cook up in just minutes and make an easy appetizer with just the right amount of sweet and spicy. Cocktail meatballs are almost a must at southern holiday parties.
Instant Pot Beans
Instant Pot garlic buttered green beans make a tasty side dish to accompany any meal. Easy to make, ready in no time, healthy, and absolutely delicious! This is a dump and start recipe that is low carb, gluten-free, dairy-free, keto, and whole30 compliant.
Ingredients
INSTANT POT CHEEESECAKE

INSTANT POT CHOCOLATE CAKE

INSTANT POT APPLE CIDER DONUT CAKE

INSTANT POT GINGERBREAD CAKE

INSTANT POT CINNAMON ROLLS

INSTANT POT EGGNOG

INSTANT POT MULLED WINE

INSTANT POT APPLE CIDER

INSTANT POT PANCAKE BITES

INSTANT POT BBQ CHICKEN WINGS

INSTANT POT LAMB SHANKS

INSTANT POT 3 INGREDIENT HAM

INSTANT POT PORK ROAST

INSTANT POT BEEF BOURGUIGNON

INSTANT POT TURKEY BREAST

INSTANT POT SHRIMP & BROCOLLI

INSTANT POT PIZZA PASTA

INSTANT POT MUSHROOM RISOTTO

INSTANT POT PARMESAN CHICKEN PASTA

INSTANT POT CHICKEN ROAST

INSTANT POT BBQ PULLED PORK

INSTANT POT RIBS

INSTANT POT PINEAPPLE BBQ RIBS

INSTANT POT CHICKEN POT PIE

INSTANT POT Beef Bourguignon

INSTANT POT MAC & CHEESE

INSTANT POT CARROTS

INSTANT POT GARLIC MASHED POTATOES

INSTANT POT MASHED SWEET POTATOES

INSTANT POT SWEET AND SPICY MEATBALLS

INSTANT POT BEANS
Instructions
Select your favorite recipe

Gather all the ingredients

Make your Christmas Feast!
If you liked the recipe, please leave us a rating
Follow me on Instagram
My handle is @yellowthyme