Crispy on the edges but buttery soft inside, air fryer Garlic Hasselback potatoes are the Ultimate potato side dish!
Jump to:
TASTE: Crispy skin and buttery potato inside
TEXTURE: Multi textural- crisp and soft
EASE: Medium
APPEARANCE: fanned potato
PROS: Delicious, quick and a great vegetarian appetizer for game nights. It's also a great side dish!
CONS: None
It is a type of Baked Potatoes that are cut almost to the edge so they have thin fan like slices which crisp up while cooking.
This was inspired by one of my oldest recipes on the site- Baked Hasselback Potatoes with Parmesan Cheese which I had baked in the oven in a skillet.
This is a great side for any kind of mains. It goes well with turkey, chicken and fish.
You can make these ahead and reheat it before serving. I would usually make one potato per person if I was serving this for my holiday feast.
Sides are the MAIN deal when you are making the lavish holiday dinner right?
Who said you need to only make one kind of potatoes? You could also make my one pot super quick garlic mashed potatoes in the instant pot! OR..and hear me out here! Make my Air fryer smashed Rosemary Potatoes.
Another great vegetarian appetizer that you must make is air fryer stuffed mushrooms. It's delicious!
Also check out our collection of more than 50 Air fryer Appetizers and finger foods
Ingredients
Here is what you will need to make the most basic recipe of garlic hasselback potatoes. The list off course will increase if you want to add toppings etc,
Potatoes
Frankly use any potatoes you like! The smaller the potatoes, faster they will cook and the larger they are, the longer they will need in the air fryer!
I prefer using medium sized potatoes- about 5-6 inches long. Anything bigger and it will take forever to cook them.
Small baby potatoes will also work very well in the recipe. Also they will take very little time to air fry.
Look for clean, blemish and growth free potatoes to make this recipe.
Garlic
This is the best part. Depending on how much time you have you can either use
Chopped or Minced Garlic
Or! Roasted Garlic!
Garlic Powder
And! guess what? You can roast the garlic in the air fryer!!!
Do we peel the Potatoes to make Hasselback Potatoes
No you dont need to peel the potatoes.
The potato skin will crisp up and give this dish a great contrast. The Crunchy buttery skin and the soft insides of the potato will taste heavenly!
This is the reason you need to scrub the potatoes well.
In case you don't like the skin of the potatoes or they are just too dirty then you can peel the potatoes.
What is the easiest way to cut Hasselback potatoes?
Place two chopsticks or as in my case two spatulas and place the potato in the middle.
Using a sharp knife make cuts about ¼- ½ cm apart. This way the knife doesn't reach the bottom of the potato.
You still have to be careful about the edges.
You also get a special potato slicer to make cutting the potatoes easier. The great thing about this gadget is that it will work well with eggs too.So give it a try!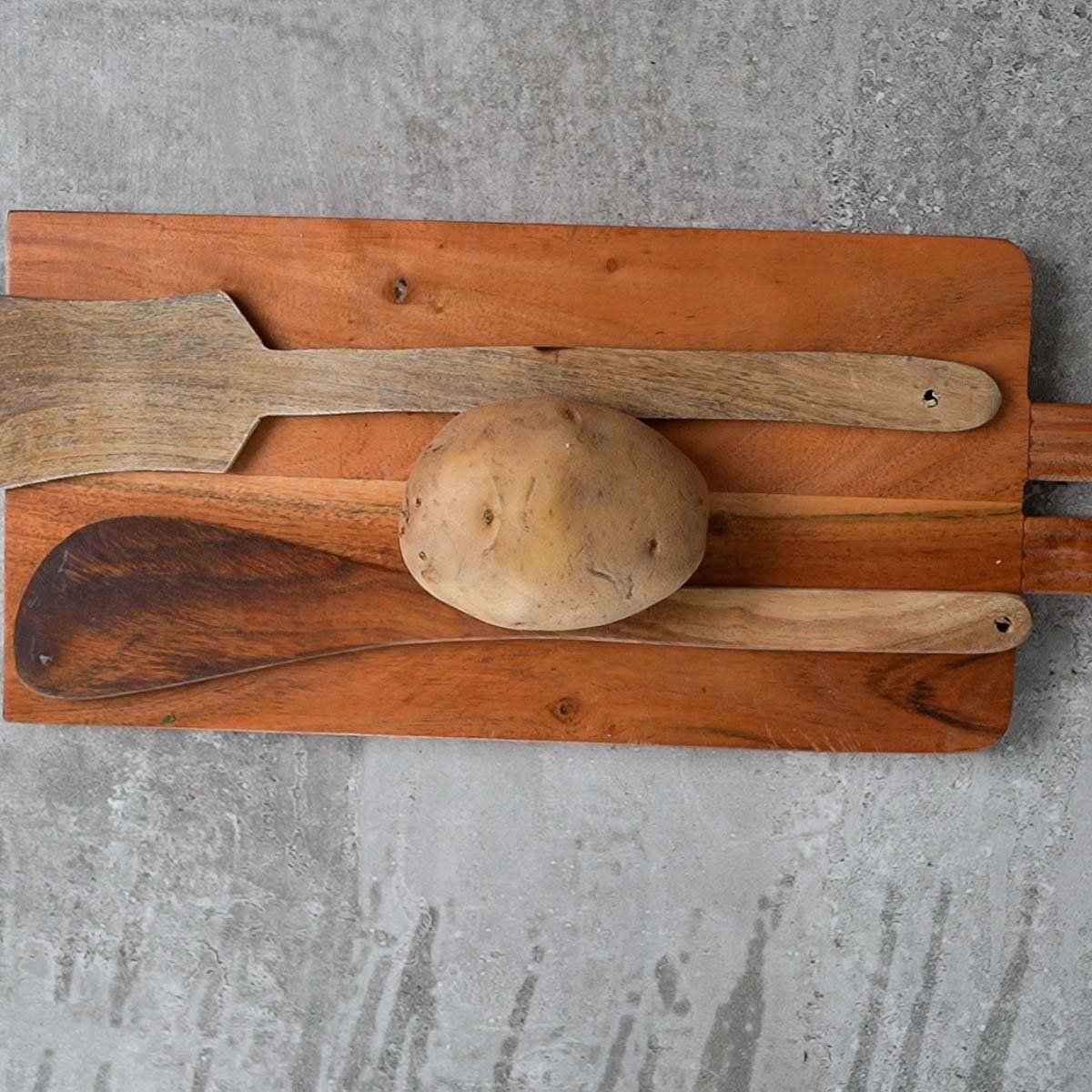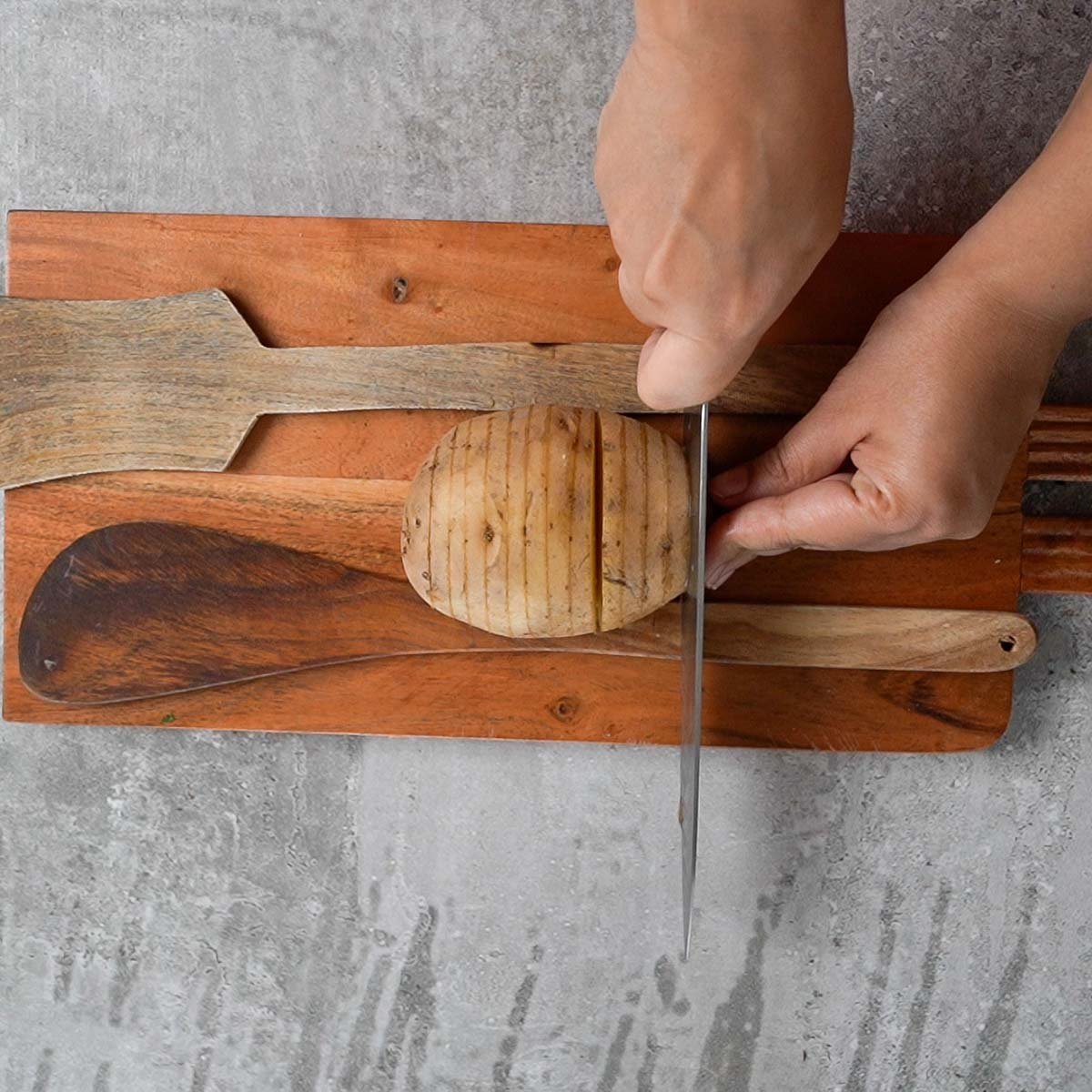 Instructions
So you have all the ingredients.. Let's learn how to turn humble potatoes into the most amazing crispy and soft hasselback potatoes!
Step 1: Wash the potatoes
I like to leave the skin on. The skin crisps up and makes for a great contrast between the soft insides of the potato and the crispy butter outer edges.
And that it why you need to wash the potatoes well. Make sure to give them a nice scrub and remove any eyes or growths.
Step 2: Slice the Potatoes
The main difference in these potatoes and any other is the way they are cut.
The first time you do this, there will be mistakes but that's okay.
Here are step by step photos and instructions on how to cut hasselback potatoes.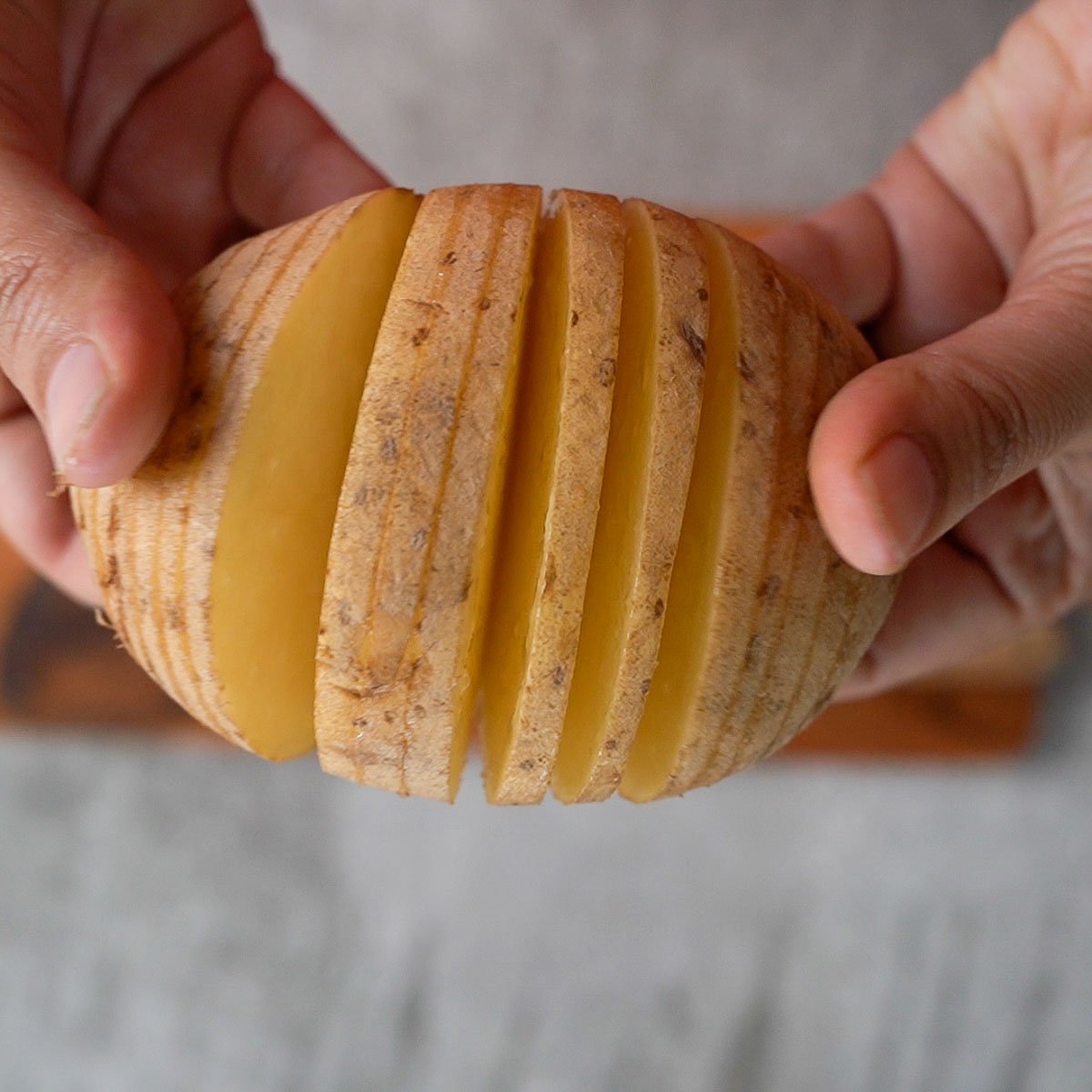 Step 3: Prepare the Garlic Butter
You need to prepare a creamy herb and garlic butter. There are three ways of doing this. Depending on how much time and patience you have.
Roasted Garlic
Minced Garlic
Garlic Powder
If you aren't short on time, then use roasted garlic. Trust me, roasted garlic butter is just too amazing. Here is an in-depth post on how to make roasted garlic herb butter.
User fresh herbs if you have them on hand. I usually grow them in my terrace so i always have lots on hand. You can use anything from chives to parsley to rosemary and thyme.
Here I have used a mix of cilantro, Garlic Chives thyme and rosemary.
Feel free to use dried herbs as well. If that's the case, use ⅓ the quantity of dry herbs as compared to fresh herbs.
Like in this recipe, it calls for 2-3 tablespoon of minced fresh herbs, so use about ¾ tablespoon of dried herbs.
Step 4: Butter the Potatoes
Yes, You literally butter the potatoes with butter.
Use your hands or a brush to do this. The herb butter should be soft here. Just rub the butter all over, get some inside the cervices and the slices.
Yes it is a bit messy but trust me, the rewards are just too good!
Step 5: Air Fry the Hasselback Potatoes
Preheat the air fryer to 180C or 365 F
Place the prepared buttered potatoes on a foil. Using the edges of the foil, keep it all in the air fryer basket.
If you are wondering why we use the foil, it's to catch all the amazing melted butter once the cooking starts.
This melted liquid gold will be basted (meaning brushed) on the potatoes from time to time while in the air fryer.
I usually do this every 10-12 minutes.
Now the most critical part of this recipe.
How long to Air fry the Hasselback potatoes
The time it takes to airfry depends on the size of the potatoes and also the thickness of the cuts you made in the potatoes.
My suggestion is to frankly keep checking if the potatoes are done.All you need to do it poke the thick bottom part of the potato with a fork or a skewer to check if its done.
If the fork goes in with very little resistance, then the potatoes are cooked. If not then cook for longer.
Here is a rough estimate
4 inch long Potatoes - About 25-30 minutes
6 inch long Potatoes - About 35-40 minutes
8 inch long Potatoes - About 40-45 minutes
Larger than 8 inch potatoes- I recommend you microwave the potato for 10 minutes before you start the hasselback cutting process.
Cheesy Hasselback Potatoes
Okay now for the variations! Cheesy hasselback potatoes in the air fryer.
For this to work. Use small potatoes like 3 inch or so. Otherwise the cooking time for potatoes will burn the cheese.
You can use shredded cheese or use cheese slices. That will make sure the cheese sits nicely between those slices.
There is another version Hasselback potatoes using parmesan cheese on my website. Do check that also out.
Vegan Hasselback Potatoes
This is easy to make. Simply swap butter for olive oil. So you would be using a herb oil to season the potatoes instead of herb butter.
Toppings & Variations
You can change up this recipe to add toppings, change the flavor and make it as per your tastes
Spicy - add chili pepper flakes in the herb butter to make it spicy. You can also use ground chili. I like to use smoked paprika because i like the extra flavor it brings.
Top it up - add guacamole, Sour cream or Crushed cooked bacon. In the picture, i have added some cream, cilantro, sriracha and chopped up onions and jalapeno. Yes I know..super spicy! but so YUM!
Equipment
You need air fryer to make this recipe. I have been using the same phillips air fryer that came out in the market about 10 years back. If you are considering buying a new one- give this one a try. My brother has it and he loves it!
If you don't have that, you can make the recipe in oven too. It might just take longer.
To help with that, microwave the potatoes to half cook them before you slice, stuff and bake it in the oven. It will take lesser time and cook evenly!
Storage
The cooked hasselback potatoes will stay well in the refrigerator for 3-4 days. Maybe more if you didn't use any cheese.
To serve them, reheat in the air fryer for 5 minutes and serve!
It is a great recipe to make in advance. Make sure to save all the butter drippings to drizzle on the potatoes just before serving.
Another great vegetarian appetizer that can be prepped ahead of time is air fryer stuffed mushrooms. It's delicious!
Top tip
Use smaller potatoes for shorter cook time and individual portions!
Use Roasted Garlic to amp up the flavor!
If using larger potatoes, microwave for 10 minutes and then proceed with he recipe. This will reduce the cook time to half!
More Recipes
Here are some more recipes that you will love
Air Fryer Smashed Rosemary Potatoes - Crispy outside and soft inside.These potatoes are a great side dish
Easy Instant Pot Mashed Potatoes - No drain, no fuss method for your last minute side dish
Air Fryer Sweet Potato Wedges-Vegan & Glutenfree, Cajun Spiced air fryer sweet potato wedges.
Instant Pot Potato Salad Without Eggs
Instant Pot Roast Potatoes
Instant Pot Crispy Potatoes- with Honey & Garlic - My most popular potato dish on the website
Hasselback Potatoes with Parmesan Cheese - baked in the oven.

If you made this recipe, do consider leaving me a star and a comment. It will help this recipe reach more people.
Find us on Instagram , Pinterest & Facebook here!
If you liked my recipe, do leave a comment!
It will help others find this amazing recipe too!
---
Ingredients
3-4

Potatoes

Medium sized about 5 inch

1

teaspoon

Olive Oil

1

head

Garlic

Minced(Check notes on Roasted Garlic and Garlic Powder)

50

Gms

Butter

½ a stick or 4-5 tablespoon

3

tablespoon

Fresh Herbs

Rosemary, Thyme, Parsley & Chives or 1 tablespoon dried herbs

¼

teaspoon

Chili Flakes

Salt

adjust as per the salt in butter
Instructions
Preheat the Air Fryer to 180 C or 365F for about 5 minutes.

Let the butter come to room temperature so that its soft and spreadable.

Mince the garlic and the fresh herbs. If using roasted garlic, make it into a rough paste. (If using dried herbs and garlic powder, skip this step.)

Add the herbs and garlic to the butter and mix it well.

Place the potato between two spatulas or chopsticks. Slice it like shown in the pictures above.

Add a drizzle of olive oil on the potatoes. Rub it around.

Now brush the potato with the garlic herb butter. Make sure to separate the slices and spread some inside the cuts.

Place the prepared potatoes on the foil. To the air fryer basket, add the whole thing along with the foil.

Air fry for 30 minutes. At the 10 minute mark, open the air fryer, scoop some of the melted butter which would have collected in the foil. Drizzle it on the top of potatoes.

Check if the potatoes are done by piercing a fork on the bottom side. If it goes through easily, the potato is cooked.

Otherwise, air fry for another 5 minutes.

If the potato is bigger than 8 inches, microwave the potato for 10 minutes before you slice it and then proceed with the instructions from the top.
Notes
Potatoes
Choose blemish free medium sized potatoes. About 5 inch or below so that the cooking time isn't too long.
Garlic
You can use fresh garlic thats been minced. Or you can use about 2 teaspoon of Garlic powder
Pro Tip 1- Use Roasted Garlic to amp up the flavor! You can roast it in the oven or the air fryer.
Pro Tip 2 - When short on time, microwave the potato for 10 minutes. Then proceed with the recipe as explained above. Reduce the cooking time to half.
Nutrition
Calories:
311
kcal
|
Carbohydrates:
41
g
|
Protein:
5
g
|
Fat:
15
g
|
Saturated Fat:
9
g
|
Trans Fat:
1
g
|
Cholesterol:
36
mg
|
Sodium:
127
mg
|
Potassium:
964
mg
|
Fiber:
5
g
|
Sugar:
2
g
|
Vitamin A:
808
IU
|
Vitamin C:
50
mg
|
Calcium:
53
mg
|
Iron:
2
mg
If you liked the recipe, please leave us a rating
Follow me on Instagram
My handle is @yellowthyme
Can Hasselback Potatoes be made ahead of time
You can cut the potatoes upto 24 hours in advance. They will darken a bit though. To avoid that, place them in a bowl full of water.
You can also prep everything for the hasselback potatoes, including the brushing them with butter and cover it with foil. Do the roasting just before serving.
I have also, successfully reheated cooked hasselback potatoes again in the air fryer the next day without any loss of taste.
Can You reheat Hasselback Potatoes
Yes!! Pop them in the oven or air fryer for 10-15 minutes till they are heated through.
You may also brush them again with butter.Because why not right?

Are Hasselback Potatoes Healthy?
This recipe has a lot of butter. So no. This doesn't fall under the healthy spectrum.
But you can make it healthy by reducing the amount of fat in it. Cooking them in the air fryer will definitely make them crispy even with less fat.
Can you use New potatoes to make Hasselback Potatoes
Yes! Absolutely!
The Cooking time will reduce considerably and you will have to be extra careful cutting the potatoes.