Air frying Corn on the Cob is Truly THE EASIEST way to cook corn, with Zero Fuss and Max deliciousness! A SUMMER TREAT!
TEXTURE : Slightly Charred, juicy inside and chewy outside
EASE: Super Easy!
Jump to:
Isn't there's something magical about sitting around the picnic table, sinking your teeth into that juicy corn, and feeling the buttery goodness melt in your mouth. It's pure happiness on a cob! sigh...What if you could do this in lesser time and mess?
With this recipe, you can cook fresh corn in less than 15 minutes. Out of which, only about 30 seconds are active work. Plus there is no cleanup after! You can now make grilled corn in the air fryer anytime, any where.
In fact, you can also use the same recipe to cook frozen corn!
Here is what we will do
Prep our ingredients
Air fry
Season
Summer means bring on all the Corn recipes!!
But the classic and the most loved version is always the Grilled Corn on the Cob. But you can't always fire up the grill for it now, can you?
This is a shortcut method and it works like a charm!
Sure you could steam or boil the corn, but the taste of grilled corn, juicy inside but chewy to bite, with some charred bits and bobs is straight heaven! It's like a party in your mouth!
Why you will love this Corn Recipe
Here is why we love it
With its crispy exterior and juicy, tender kernels, this recipe will leave you craving more. Get ready to experience a mouthwatering twist on this classic summer treat that will impress your family and friends. Let's dive right in!
Ingredients for Corn on the Cob
Corn
For this recipe, use fresh corn, in all its summer glory! When choosing the best corn for grilling or air frying, look for
Look at the silk first- it should be light and yellow.
Husk should be bright green.
If the corn is packed in cling wrap, check the top of it to see any decay.
You can use frozen corn too but i would save that for the winter or when corn is not easily available.
Hot Tip
If the silk of the corn is pale yellow and the husk is bright green, your corn is fresh!
How to Air fry Corn on the Cob
Step 1: Trim corn
If you have bought corn with the husk and silks, set about to remove it first. Make sure you remove all of that silk because it tends to burn.
You might have to cut the corn into portions to fit inside the air fryer.
I cut it in the size I want to serve.
Step 2: Air Fry
Lightly brush the corn with olive oil. Do this if you want to char or brown the corn a bit.
Place it inside the air fryer.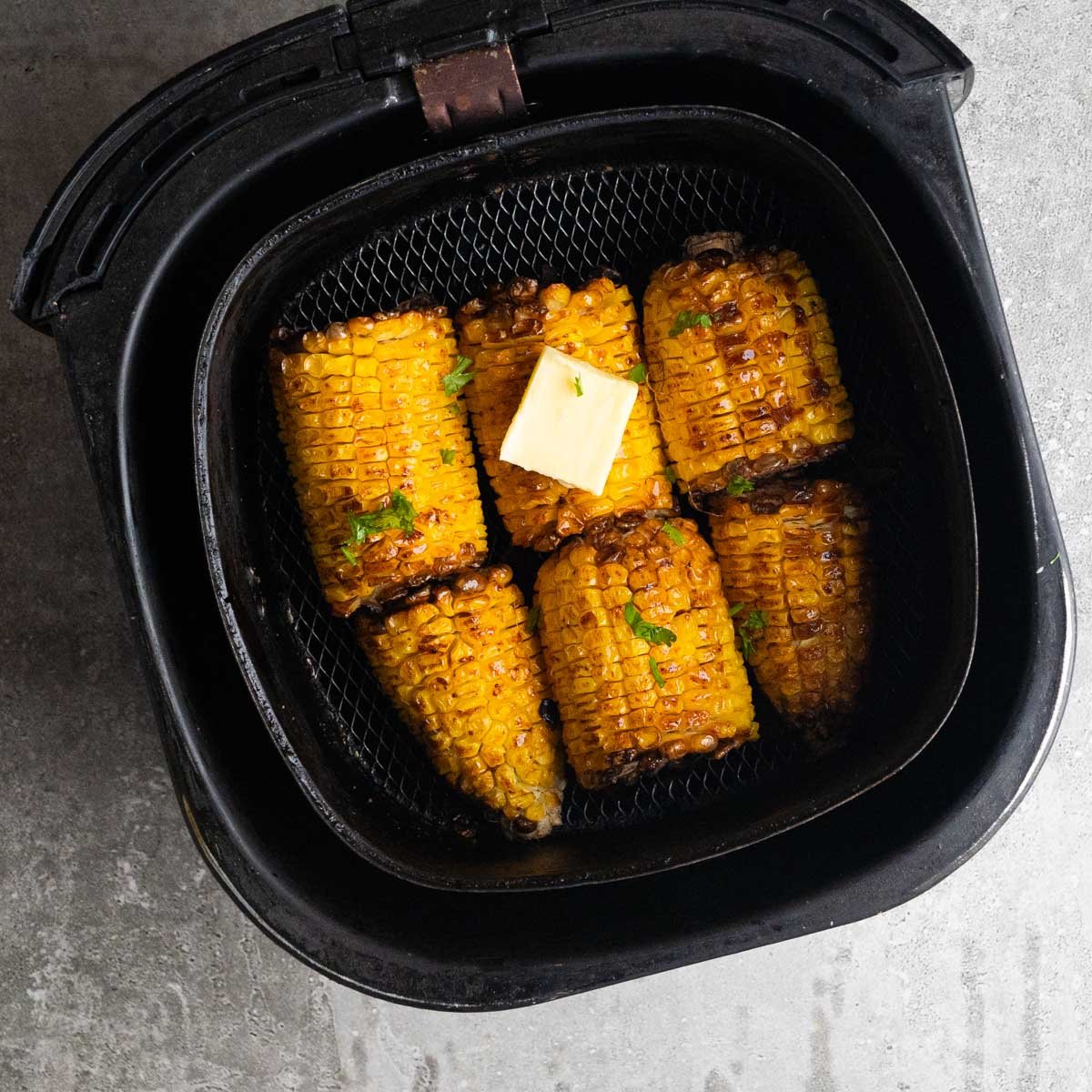 Step 3:Brush Seasoning
In a small bowl, mix together salt, lemon juice and smoked paprika. If you like a kick, you can choose to use smoked chipotle Chili instead.
Brush it on the cooked air fried corn.
Add a knob of butter for that extra decadence and serve!
Seasoning ideas
Here are some ideas on how to season the grilled corn on the cob
Classic -The OG! A knob of butter, salt and pepper.
Cheese - Brush with Mayonnaise, sprinkle cheese and a smattering of chili flakes
Indian way- Salt, chili and lime(More on this below)
Hot- Slathered in Sriracha Garlic Lime Aioli
Indian Corn on the Cob
The Indian way of making corn on the cob is roasting it on fire or coals straightaway.
I love a fire roasted corn but it tends to get super dry.
So my shortcut is to air fry it instead. If you like the corn extra charred, give it a quick turn on the stover top. The corn remains juicy, tender plus gets super charred the way indians like it.
And the final flourish is using a lemon to season the corn. Mix together salt and chili powder in a small bowl. Cut a lime in half. Dip the cut side in the dry salt chili mix and rub it over the corn.
Serving Corn
You can serve the corn hot with a knob of butter.
The great part about grilled corn is that it can be used in so many ways! You can make this amazing Grilled Corn & Mango Salsa or you can make this chunky Corn, Black bean and Feta Dip. You could just serve it as a side or add it on salads.
To cut the corn kernals, just place the cooked corn on a chopping board and cut vertically as shows in the picture.
Frequently asked Questions
Can I use frozen corn on the cob in the air fryer?
Yes, you can use frozen corn on the cob in the air fryer. However, keep in mind that the cooking time may be slightly longer compared to using fresh corn.
How do I prevent the corn from drying out in the air fryer?
To prevent the corn from drying out, make sure to brush it with a small amount of oil or melted butter before air frying. This helps retain moisture and enhances the flavor.
Can I season the corn with other spices and herbs?
Absolutely! Feel free to experiment with different seasonings such as garlic powder, paprika, or even fresh herbs like cilantro or parsley. Be adventurous and create your own unique flavor combinations.
What should I do if the corn doesn't fit in my air fryer basket?
If the corn on the cob is too large to fit in your air fryer basket, you can either trim it to a smaller size or cook it in halves. Just make sure to adjust the cooking time accordingly.
Can I add cheese or other toppings to the corn on the cob?
Yes, you can add grated cheese or other desired toppings to the corn on the cob after the air frying is done. This allows the cheese to melt and create a deliciously gooey texture.
More Summer Recipes
These are my favorite dishes to serve with this biryani Raita
More Air Fryer Recipes
Find us on Instagram , Pinterest & Facebook here!
If you liked my recipe, do leave a comment!
It will help others find this amazing recipe too!
---
Ingredients
2

Corn on the Cob

Remove Silk and husk

1

teaspoon

Olive Oil

¼

teaspoon

Salt

¼

teaspoon

Smoked Paprika

Optional

½

Lime

or Lemon
Instructions
Remove the silk and the husk from the corn.

Cut it into pieces so that you can serve it straight after cooking

Air fry for 12-15 minutes at 400 F or 200 C

Mix the leftover oil, lemon juice, salt and paprika in a bowl

Brush the seasoning over the cooked corn.Serve hot.
Notes
Picking the corn- The freshest corn has pale yellow silk and bright green outer covering. You can also use frozen corn but you will have to add more air fryer time to it.
Trim -Cut the corn into smaller individual portion sizes to make sure they fit inside the air fryer basket
Seasonings
The Classic- Salt , Pepper & Butter
Indian Spicy- Salt, red chili powder , lime juice. Brush over the corn using the lime.
Mayonnaise and Cheese
Nutrition
Serving:
1
Corn
|
Calories:
101
kcal
|
Carbohydrates:
19
g
|
Protein:
3
g
|
Fat:
3
g
|
Saturated Fat:
1
g
|
Polyunsaturated Fat:
1
g
|
Monounsaturated Fat:
2
g
|
Trans Fat:
0.01
g
|
Sodium:
305
mg
|
Potassium:
266
mg
|
Fiber:
2
g
|
Sugar:
6
g
|
Vitamin A:
300
IU
|
Vitamin C:
11
mg
|
Calcium:
8
mg
|
Iron:
1
mg
If you liked the recipe, please leave us a rating
Follow me on Instagram
My handle is @yellowthyme