Easy Mexican rice Burrito bowl Loaded with beans, Veggies, chicken and cheese! All done in one shot in the instant pot. It is sure to be a weeknight favorite!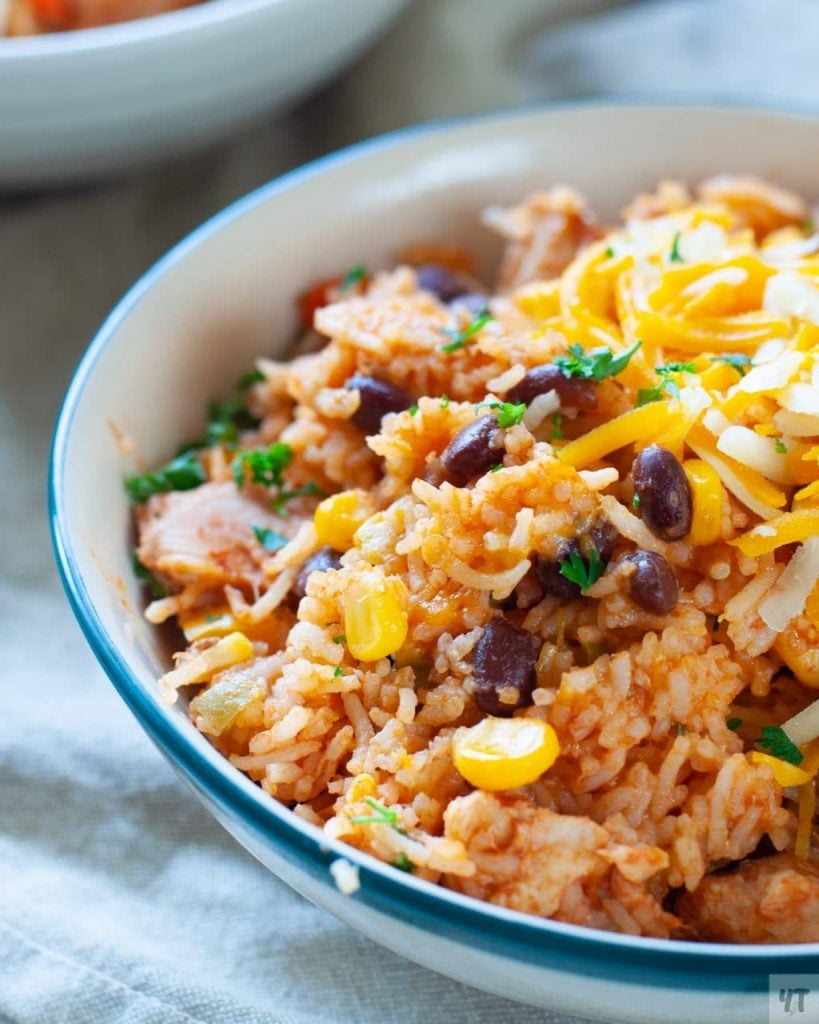 Jump to:
TASTE: Cheesy Rice, cooked to perfection with sliced chicken & the kick of your favorite tire bought salsa.
TEXTURE: Soft Rice flavored with your favorite salsa, with a crunch of veggies
EASE: Super Easy!
APPEARANCE:
Serve with : Can be served as it is or with some fixings like cheese, avocado, lemon, Chips and sour cream
Pros : All in one meal made in pot.
Instant Pot Mexican Rice with Chicken and Rice made with store bought salsa, black beans, Chicken Breast, veggies and cheese in one shot!!
It cannot get easier than this!
You can also make a healthier version of this with quinoa instead. Here is my recipe for Instant pot mexican quinoa bowl
This is a perfect weeknight dinner! You can put together these all in one burrito bowls with just 2 minutes of work. Any leftovers can be stuffed inside tortillas to make burritos.
It's our go to recipe for busy days. You know why? Because everyone from the children to the adults love it!
What could be better?
It's a One Pot wonder where you dump everything in the instant pot and walk away. Okay except for the cheese because you want that final meltilicious moment!
This is what we will do.You can also watch the video recipe to understand more details
Cut the Chicken & prep the veggies
Dump it all inside the instant pot & pressure cook
Top with cheese & serve!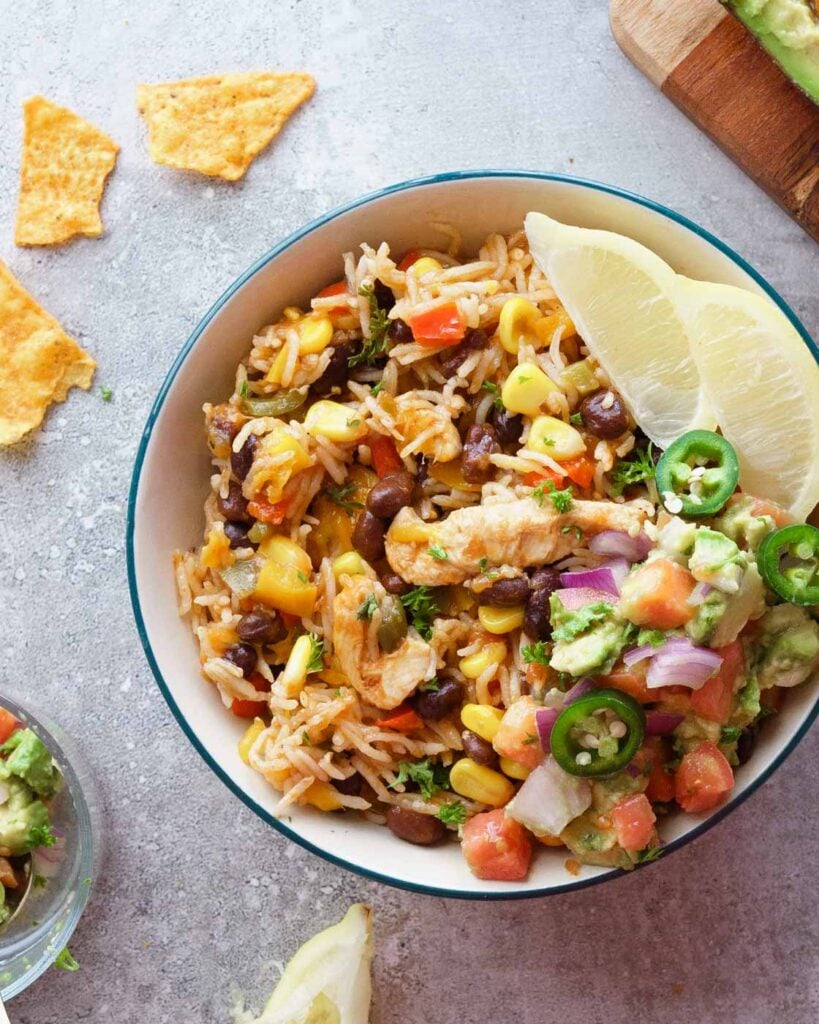 If you like Cheesy rice, you can also try my Mushroom Parmesan Rice. It's another one pot complete dish- perfect for weeknights! Plus it's meatless so its great for days when you want to go meatless.
If you are a fan of Mexican flavors, then this epic Shredded Salsa chicken is a must try! It's so juicy and so so good! Another great dish to try is Instant Pot Chicken Fajitas. Just stuff them in warm tortilla or over white rice and you have an easy meal on table.
Why we love Instant pot Mexican rice
This Mexican chicken and rice recipe is a keeper for sure and here is why we have been making is again and again!
It's a great time and effort savior especially when you have to feed your family on weeknights!
Ingredients for Instant Pot Burrito Bowl
Here is what you need. Minimal ingredients. REALLY!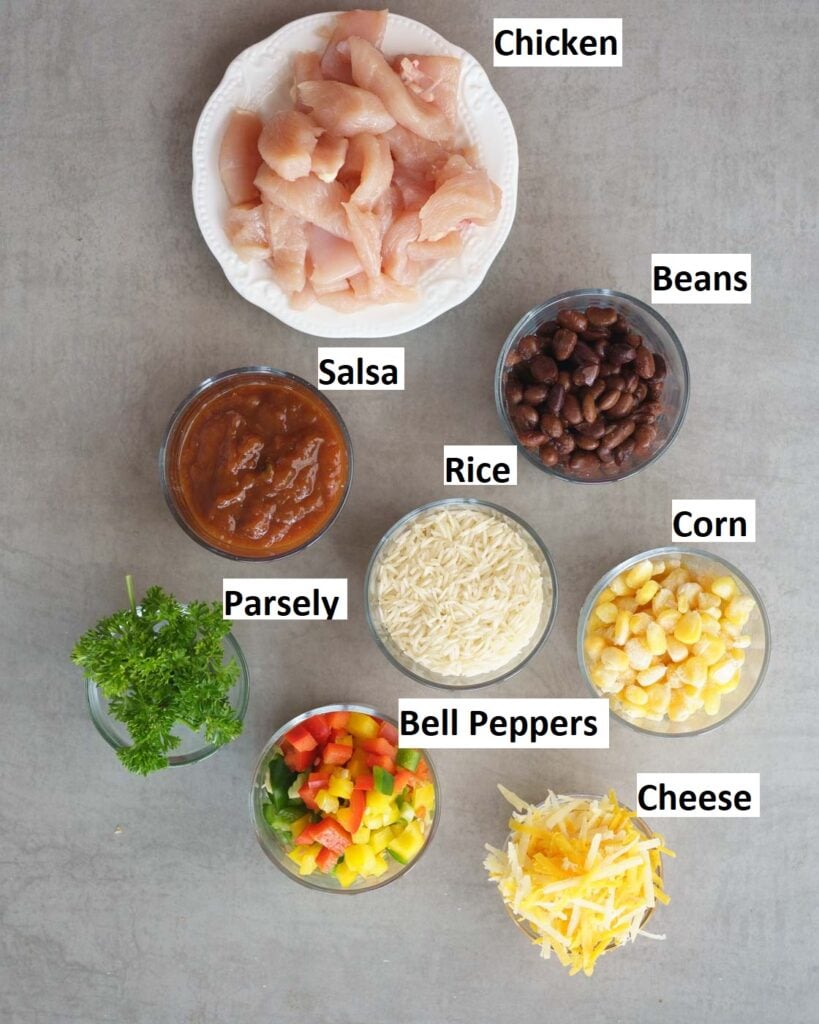 White Rice
I have used all kinds of rice to make this dish. My favorite is the basmati rice.
In this dish the rice is soft and not separate or eldente. It's a bowl of comforting goodness.
If you want you can use any other kind of rice too. Brown rice will take longer to cook and you will have to increase the cooking time considerably. I will explain how to make this dish using brown rice below.
Veggies
I like to LOAD this dish with veggies. Only because this is a perfect delicious vehicle to get all those healthy vegetables in!
On days I have patience, I dice up fresh vegetables like celery, carrots,peppers, cauliflower and zuchinni too.
But it works perfectly with frozen veggies too! I always have a bag of frozen peas, corn and diced up green beans on hand.
So go big on vegetables! This is one dish in which the kids( and some picky adults) wont notice it!
Chicken
I have used sliced chicken breast to make this bowl. You can also use sliced chicken thighs.
Do remember that once the chicken is cooked, it will puff up in size. I like to slice it as thin as possible(as much as my patience allows)
In case you have cooked chicken, then that will work too! Add it after the cooking is over when you are mixing the cooked rice before adding the cheese. The juices from the salsa will make the chicken moist and so so delicious!
Beans
I love black beans in this recipe! I use canned beans for the ease. Just open the can, drain and rinse them before you dump them in the instant pot.
You can use other kinds of beans here too. Anything from white beans, garbanzo beans to Pinto Beans will work here.
Salsa
As you can see in the picture, I have used store-bought salsa. Which tends to be thicker and chunkier. Almost ketchupy.
If you are using homemade salsa - my suggestion is to reduce the quantity from 1 cup to ¾ cup.
Homemade salsas tend to be thinner. They usually don't have thickners and that's why you need to reduce the amount used.
You can also use Enchilada sauce or a mole instead.We use enchilada sauce to make this gorgeous Instant Pot Quinoa Bowl here. Do check it out.
How to make the Mexican rice bowl
Here is how to make the one pot meal of your dreams!
Step 1: Prep your Veggies
If you are using fresh vegetables, dice them into similar size as the beans and the corn.
If using frozen, then no worries. Just dump them in the instant pot.
Rinse the beans under water to get rid of the briny water.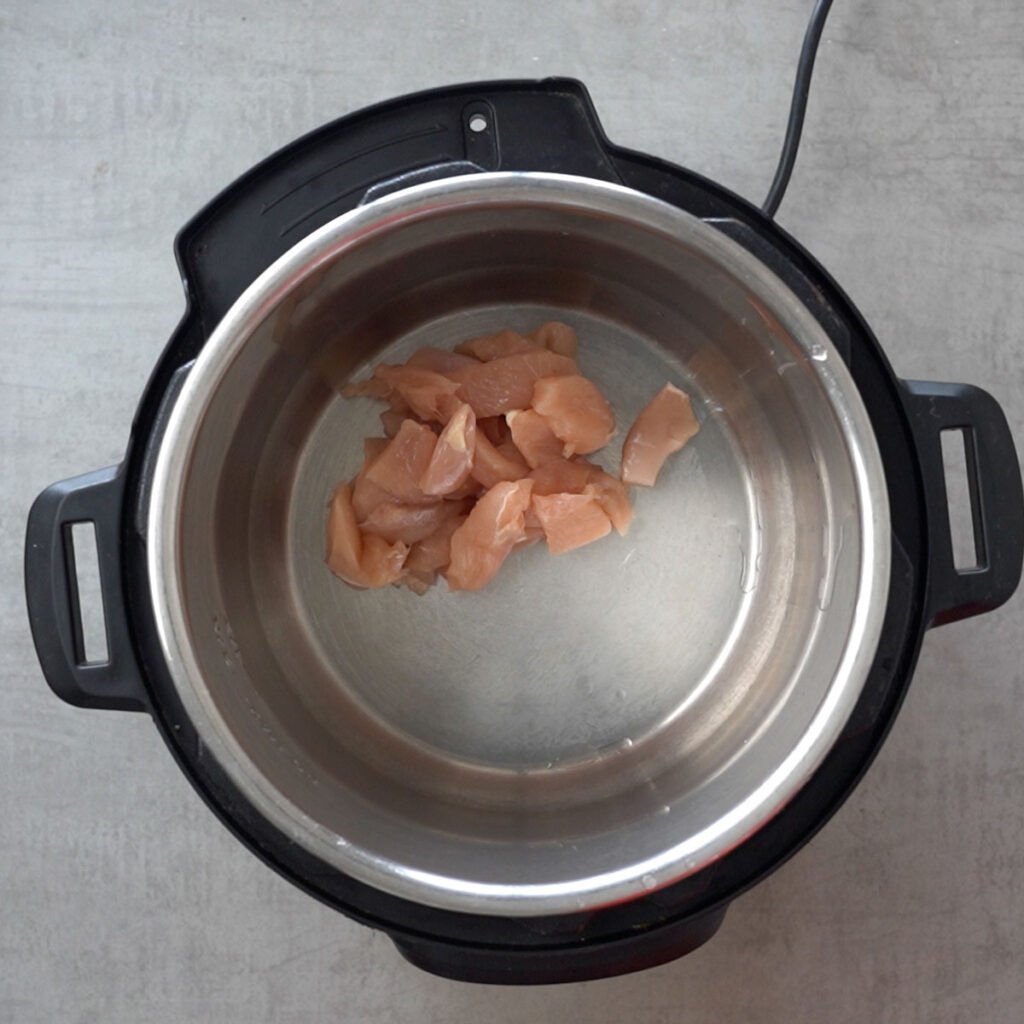 Step 2: Chicken
Slice the chicken. I like the chicken pieces to be thin but you can also dice it up into 1 inch cubes.
Anything bigger will not cook your chicken enough.
Also! you can use shrimp or cooked chicken too!
Dump Chicken, veggies, beans, salsa and water in the inner pot. Mix it up.
Hot Tip
To cut the chicken without the struggle, stick it in the fridge for a 10-15 minutes.It will be infinitely easier to cut!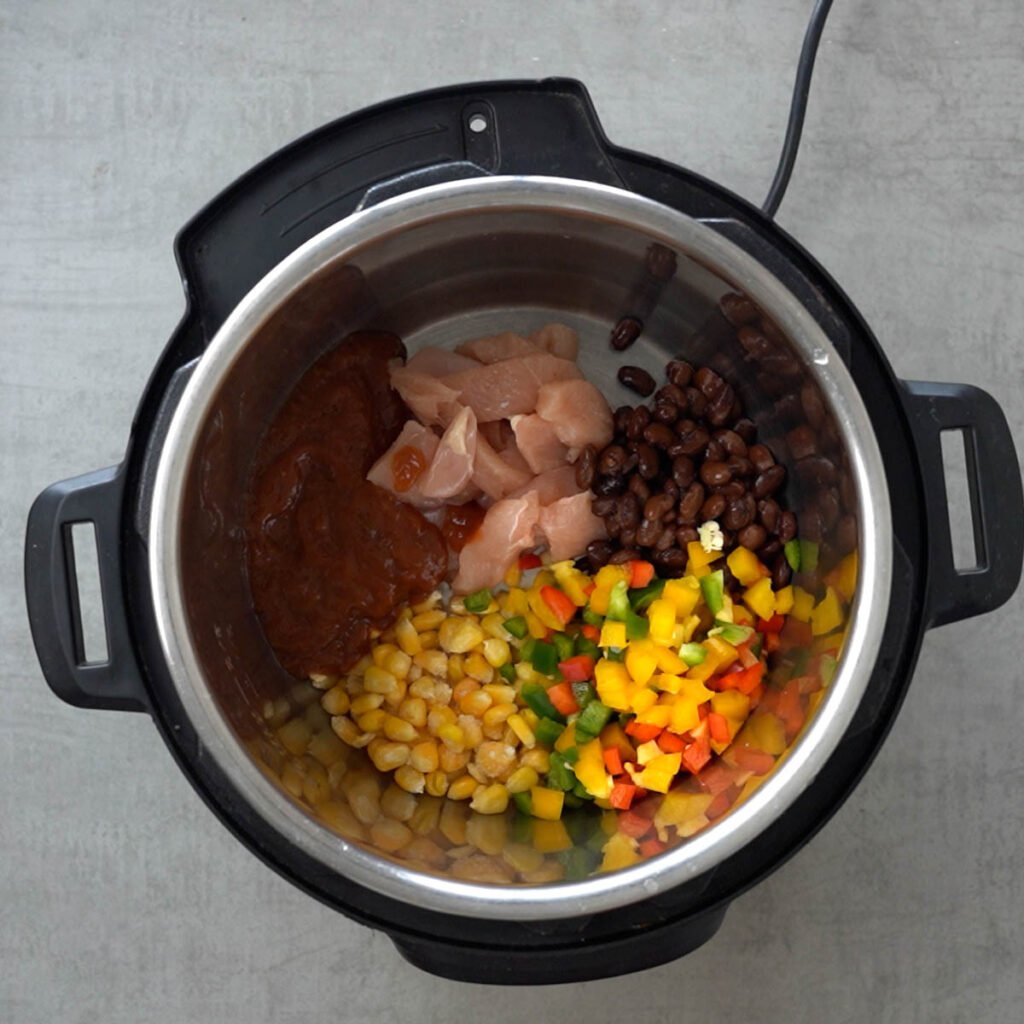 Step 3: Add Rice
Add Rice on top. Give it a slight nudge and press is below the liquid.DO NOT MIX!
This trick of layering will make sure that the things at the bottom of the instant pot cook more than the ones on top like the rice.
We do this so that the rice is not over cooked.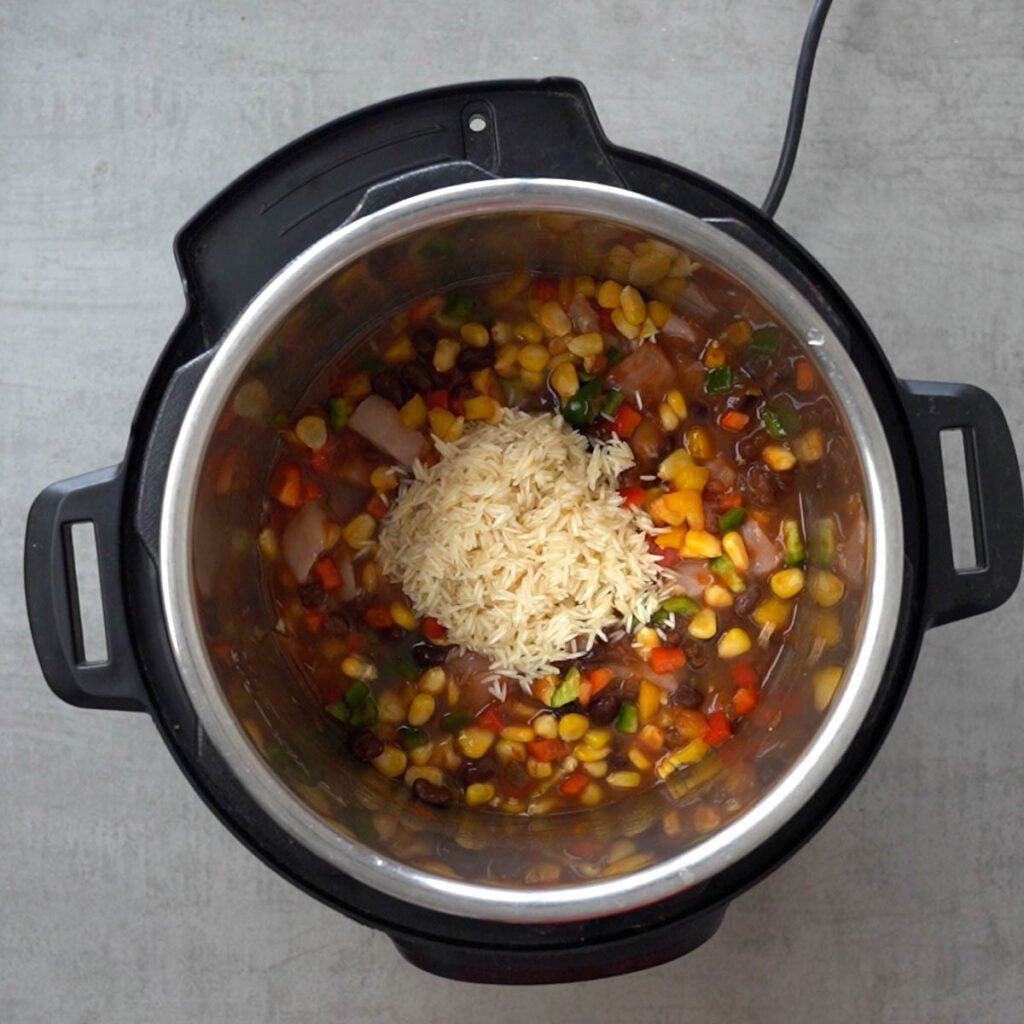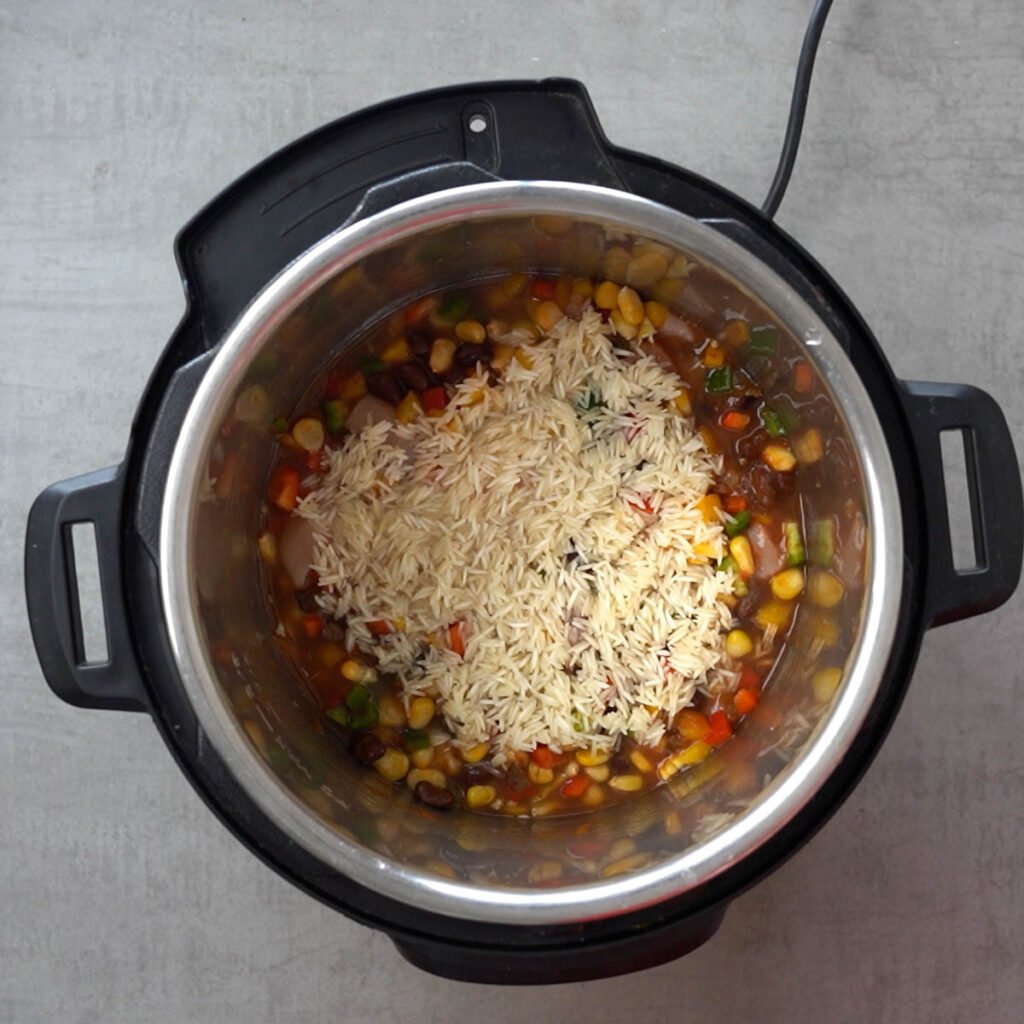 Step 4: Pressure Cook
Set the instant pot for "Pressure Cook" for 10 minutes on HIGH with the valve at SEALED position.
The pressure cooker will take 10-15 minutes to come to pressure after which the timer will start.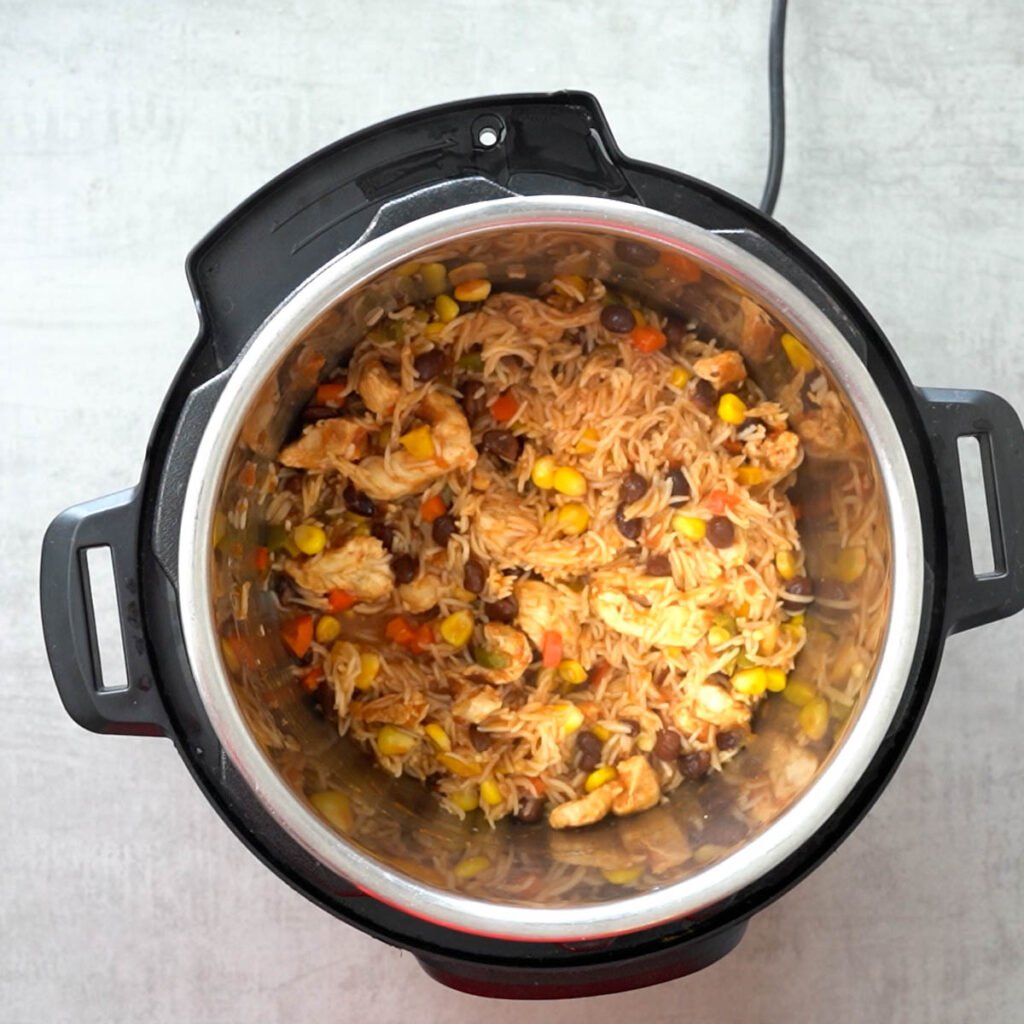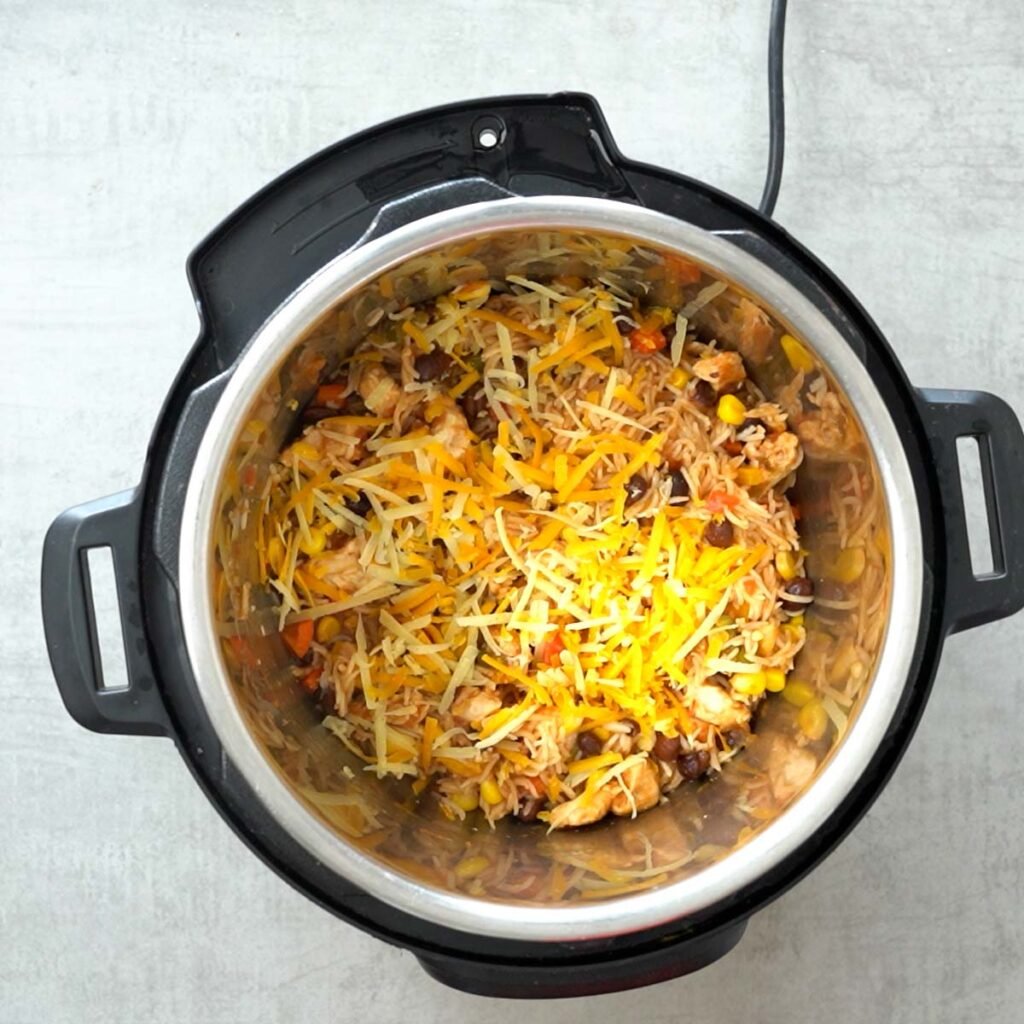 Step 5: Quick Release and Open.
Let the instant pot go into KEEP WARM. Give it a gentle mix with a flat spatula.
If you are in a hurry, let the pressure release for 5 minutes after which you can quick release it by turning the knob from sealing to venting.
Add Cheese and put the lid back.
Wait for 2-5 minutes till the cheese melts.
Garnish with Cilantro and EAT!
Recipe Notes & Tips
Here are some pointers that help me make this dish!
DO NOT mix up the rice before pressure cooking. This will make sure the rice grains are separate and not overly soggy. This way, chicken and veggies get higher pressure.
Cheese- Add it on the rice in the instant pot. Close the pot for a few minutes so that the cheese is melty and soft. You can leave out the cheese altogether if you want.
To Double the recipe - Simply double the ingredients! Make sure there is enough room in the pressure cooker though! The pressure cooking time will remain the same.
Add more fiber to your meal by increasing the number and type of vegetables like carrots, celery, mushrooms etc. You can also serve the rice with a heap-full of lettuce.
Serving Burrito Bowls
Here is what I do, especially when I am serving my whole family. I add small bowls filled with a lot of toppings and people make their own bowls
This way, people can pick and choose how they want to make their bowl.
Quick Tip : for the days when you need an extra pick me up, serve this with a dollop of guac and sour cream plus some chips. It's so good!!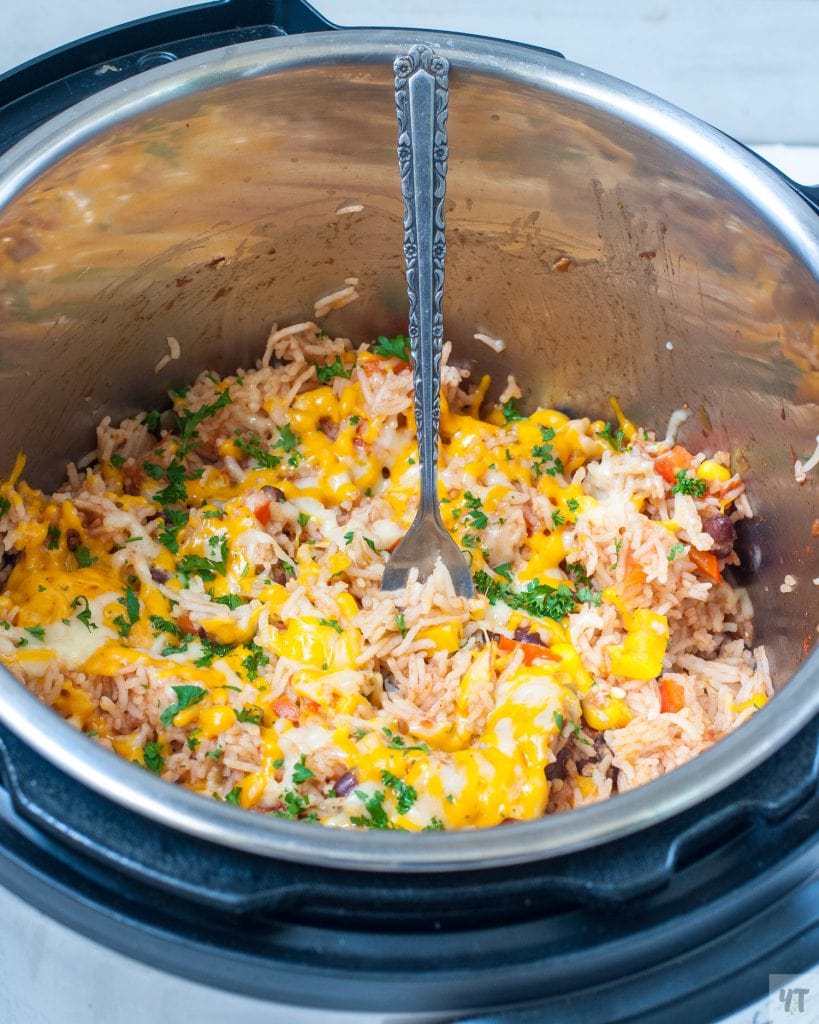 Variations of Instant Pot Rice
Here are some twists to this mexican bowl.
Instant Pot Vegan Taco Bowls- Omit using chicken and cheese. Reduce the water by ¼ Cup.
Meatless Burrito Bowl- Just omit the chicken and reduce the water by ¼ cup.
Dairy Free Taco Bowls- Omit using dairy cheese. You can replace it with nutritional yeast if you want.
Instant Pot Meat Taco Bowls- Substitute the chicken with a meat of choice.
Storing & Leftovers
Any leftovers can be stored in the refrigerator for up to 6-7 days in an air tight container. It will mostly depend on the chicken used.
You can even freeze this! I sometimes pop the leftover in a freezer bag. I freeze it flat and then stack it up to save space in the freezer. It should last for 2-3 months in the freezer.
Also! Use any leftovers to stuff this into burritos. This is a great burrito filling! I usually make this for dinner and then the pack it up as lunch the next day. As burritos.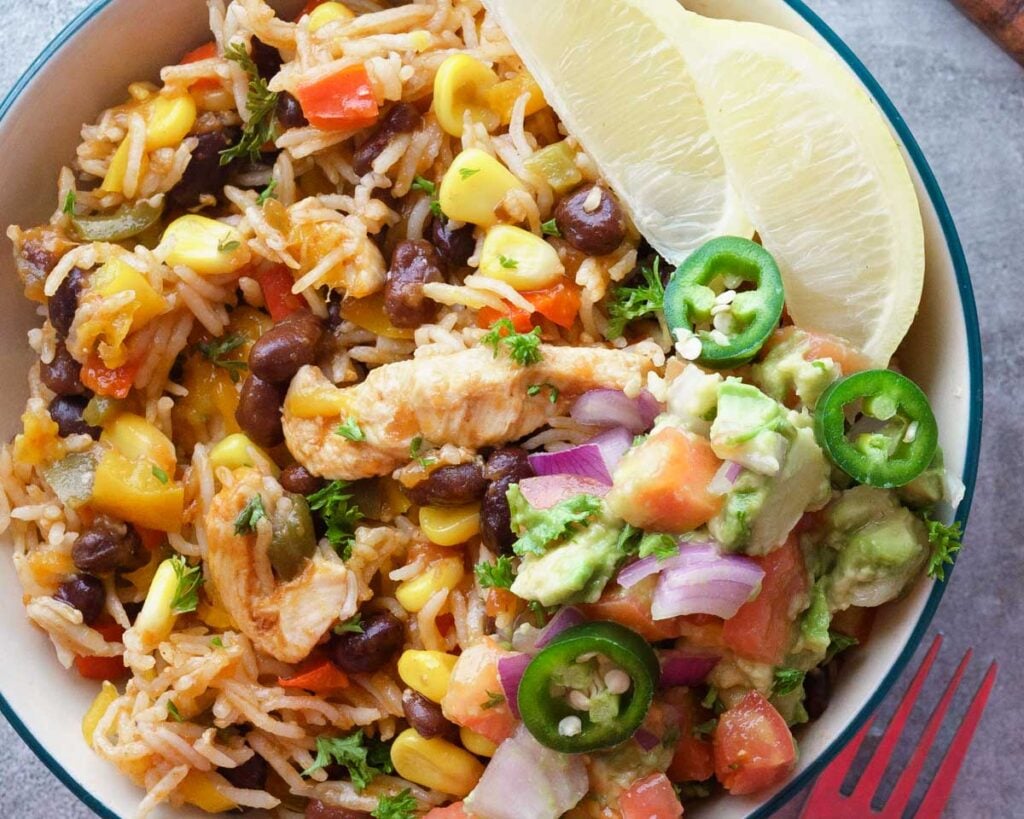 Make this into a freezer meal
This is a great meal prep recipe. You can also make this into a instant pot freezer meal.
Pop everything except the water and cheese, into a freezer friendly bag. So your prep is already done.
When you are ready, Remove the bag. Dump everything into the instant pot. Add 1.5 cups of water.
Pressure cook for 20 minutes. And done.
The texture will be a little different but it's so delicious! The chicken gets all the flavors in because of the long marination.
More One Pot Instant Pot Meals
Here are some quick one pot meals that you can make on a busy weeknight in a jiffy!
Here are some Mexican Inspired dishes
If you make this instant pot Mexican bean and chicken rice, do leave a rating and comments! I would love to hear from you!
---
Find us on Instagram , Pinterest & Facebook here!
If you liked my recipe, do leave a comment!
t will help others find this amazing recipe too!
---
Ingredients
1

Cup

Basmati Rice

or any long grain rice

1

Cup

Black Beans

Canned, drained

1

Cup

Corn Kernel

frozen or off the cob

1

Cup

Salsa

Chunky & thick; Check notes for homemade

2

Chicken Breast

Cubed

1

Cup

Bell Peppers

chopped up ; mixed

1

Cup

Water

Salt to Taste

½

Cup

Shredded Cheese

Mix of cheddar and mozzarella

¼

Cup

Cilantro

Garnish
Instructions
Add the Chicken,Drained Black beans, Corn Kernals, Bell peppers,Water and Salsa to the inner pot.Mix it up together.

Add the Rice on top.Do not mix but gently press it down so the rice is under the water.

Close the lid.Select PRESSURE COOKER on HIGH for 8 minutes with the valve in SEALED position.

Quick Release the Pressure Cooker.

Add cheese and Close the lid again for 1 minute till the cheese melts.

Garnish with Cilantro and serve hot!
Notes
Serving- This will serve 3 very hungry people or 4 moderately hungry people.
To Use Homemade Salsa
If your homemade salsa is thick and saucy then you can use 1 cup.
If you are using thinner salsa, reduce the quantity to ¾ cup.
Nutrition
Calories:
406
kcal
|
Carbohydrates:
60.9
g
|
Protein:
25.1
g
|
Fat:
7.3
g
|
Saturated Fat:
3.2
g
|
Potassium:
780
mg
|
Fiber:
6.8
g
|
Sugar:
4.9
g
|
Calcium:
149
mg
|
Iron:
3
mg
If you liked the recipe, please leave us a rating
Follow me on Instagram
My handle is @yellowthyme