Instant Pot Pasta Primavera- Choke full of colorful veggies like peppers, broccoli, and carrots. Perfect for a quick dinner. Especially Loved by kids!(and their busy mothers!)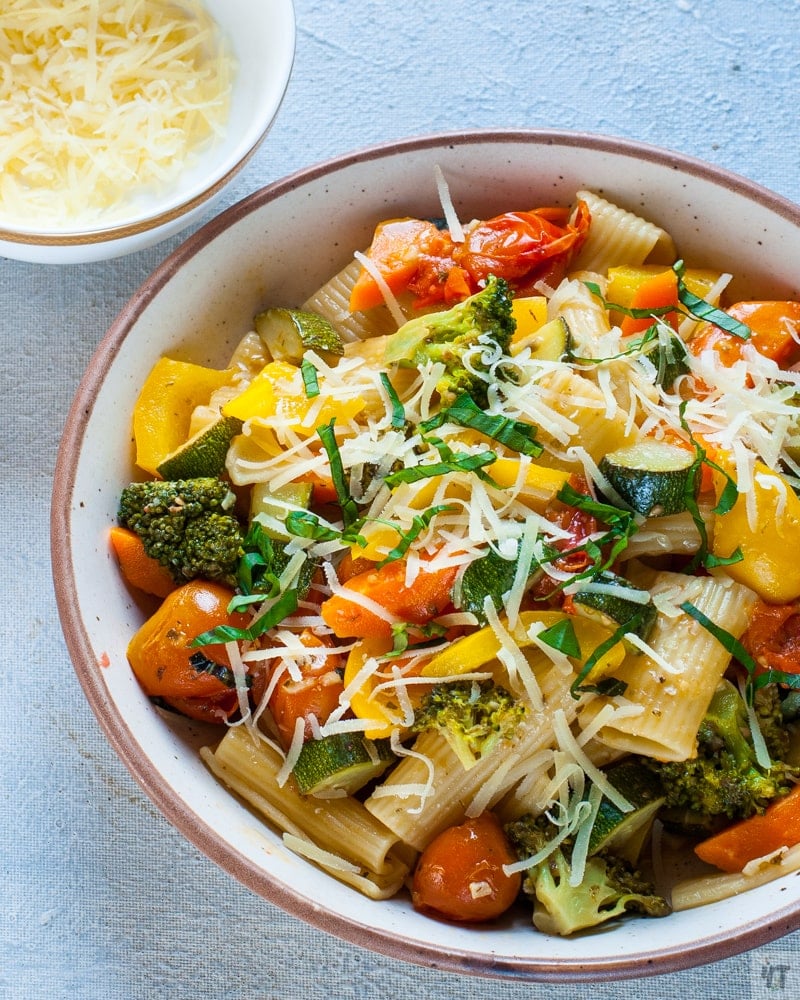 Course: Main Coarse
Pros: Loaded with Veggies, Kid friendly, Perfect for packed lunches
Cons: Have to follow the recipe precisely
Jump to:
Perfect pasta to make in the summer months.
If I had all the time in the world, I would roast the veggies, boil the pasta and then fold it in together with generous helping of Olive oil.
But this is the Funky Dunky Quick, I have no time or patience method.
I know making pasta in the instant pot seems weird but hear me out...There is no draining involved. No gimmicks to stop the pasta water from over flowing. No zillion dishes to wash.
Making a pasta from scratch...with the sauce (though if you insist, here is a super easy roasted Tomato Sauce that is just so so awesome!) and what not ,is an art form. Yes I get it. But sometimes you just have enough time to chuck things in and hope for the best.
This is that kind of recipe! and it's Meatless. With choke full of veggies. So if you are feeding this almost throwaway dish to your kids..pat your backs..for at least you tried to serve them something that had a tonne of veggies.
Here is what we are going to do
Pressure Cook pasta with some hard veggies
Add the fast cook veggies and cheese.
Mix ,Garnish and serve!
This recipe will work for any gluten free pasta too.
You can easily make this completely dairy free and Vegan by substituting parmesan cheese for nutritional yeast.
Making Pasta in Instant Pot is a game changer. Especially for quick weeknight dinners! Instant Pot Chicken Parmesan Penne Pasta is a cult favorite, this Pressure cooker Tuscan Chicken Pasta is simple and hits the spot every single time. And my personal Favorite Alfredo Chicken Pasta, also made in IP is the whole deal with Zero hassle!
So Clean out your fridge and lets get cooking!
Ingredients for Instant Pot Pasta Primavera
All you need are a handful of ingredients-
Pasta
Water or Vegetable Broth
Extra Virgin Olive Oil
Garlic
Italian Seasoning or Dried Herbs
Cherry tomatoes
Vegetables- Broccoli, Carrots, Zucchini, Asparagus, Peppers
Parmesan Cheese or Use Nutritional Yeast
Lemon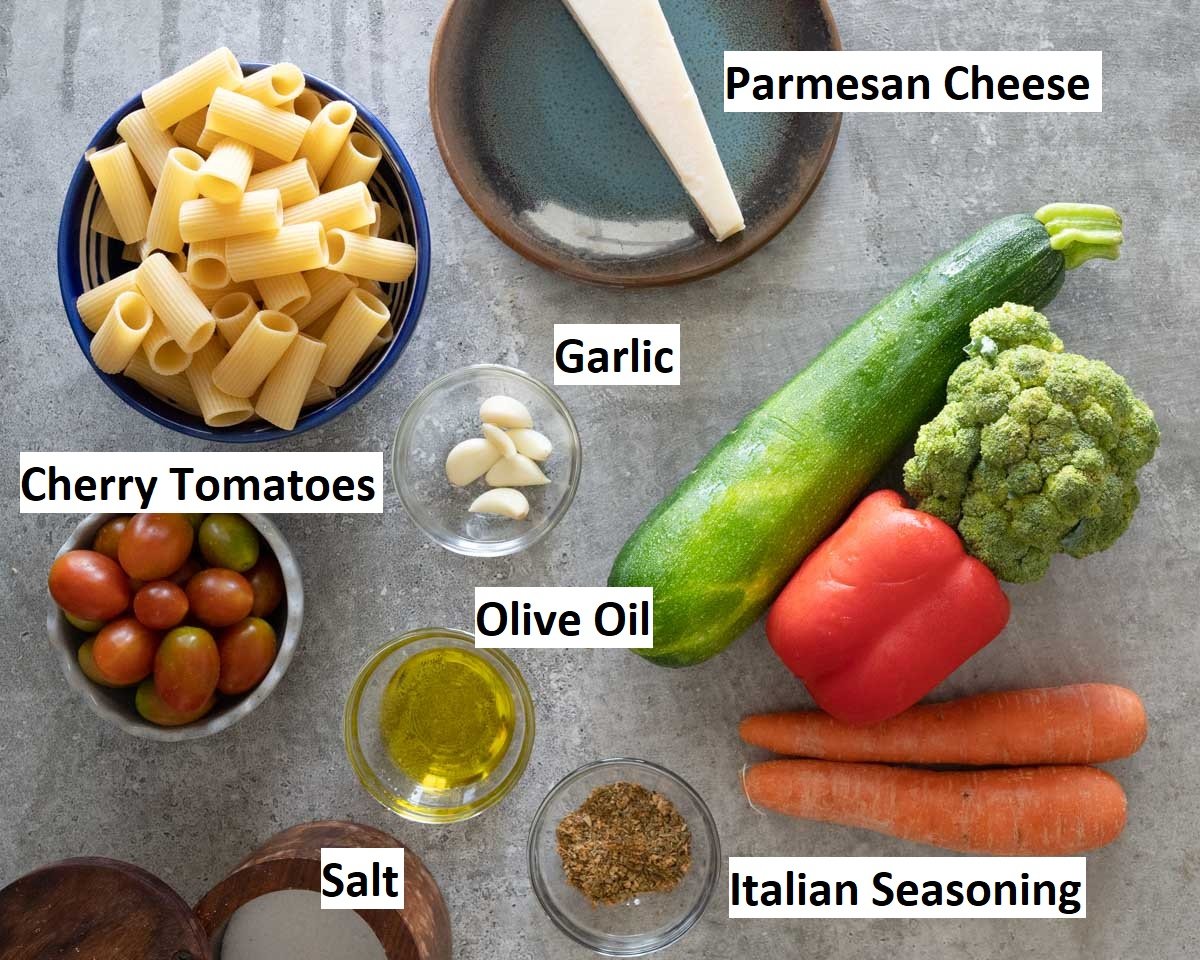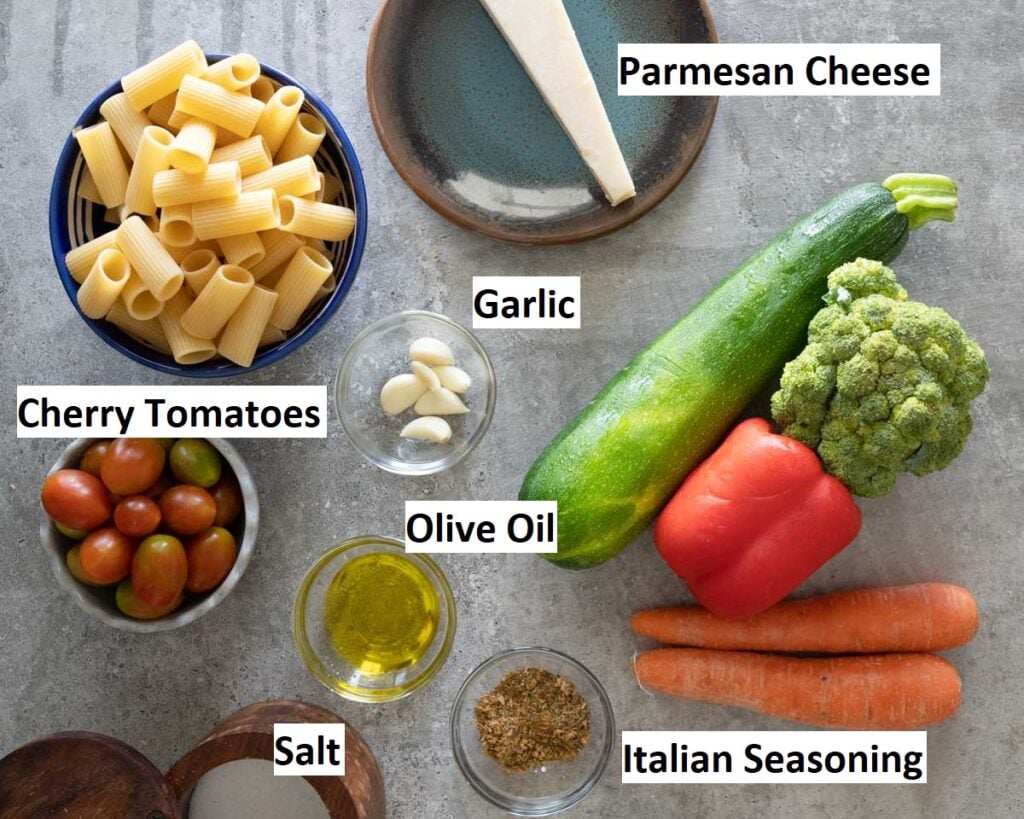 Pasta
Use a Bite Sized pasta because anything too delicate will get obliterated in the instant pot. Because all that high pressure and all.
Something like Penne, Rotini or Rigatoni will work well.
Veggies
Pick what you like. Hardy vegetables like asparagus and carrots or whatever you liked cooked till it's soft, will go in the instant pot along with the pasta.I also like to throw in some frozen peas some times. Because you know...pea protein.
The other softer, watery veggies like bell peppers and broccoli, don't need a whole lot of cooking. So these go in after the pressure cooker stage. These veggies are added along with the cheese in the final stage where the heat from the instant pot cooks them till they are crisp tender.
Crisp Tender is when the veggies are cooked but still have a bite to them.
How to make Instant Pot Pasta Primavera
I have two methods to make this pasta.
Method A : Throw everything together(except the cheese) and walk away. While this results in the veggies being a little softer than I would like, it's still a delicious week night dinner. Especially when you cannot think and you are late coming home and the kids are chirping like hungry little birds.
Method B : This is for the veggie haters. If you like them crisp and just done, then this method will work for you. It's more of a warm pasta salad where the leftover heat "cooks" up the veggies.
Below I am explaining the Method B because come on method A is just chuck everything in and walk away.
Step 1: Prep
Start with cutting up the hardier vegetables into about 2 inch pieces each. This size will keep the veggies crunchy instead of turning them into a mush.
Though if you like your veggies soft, then cut them smaller.
Step 2: Pressure Cook on HIGH pressure
In the instant pot, Add water or broth, garlic, olive oil, salt, Italian seasoning and give it a mix.
Next add the pasta and gently urge it to get inside the water.
Top this with cherry tomatoes and vegetables like carrots that need to be cooked for longer. Doing this will keep the vegetables crunchy.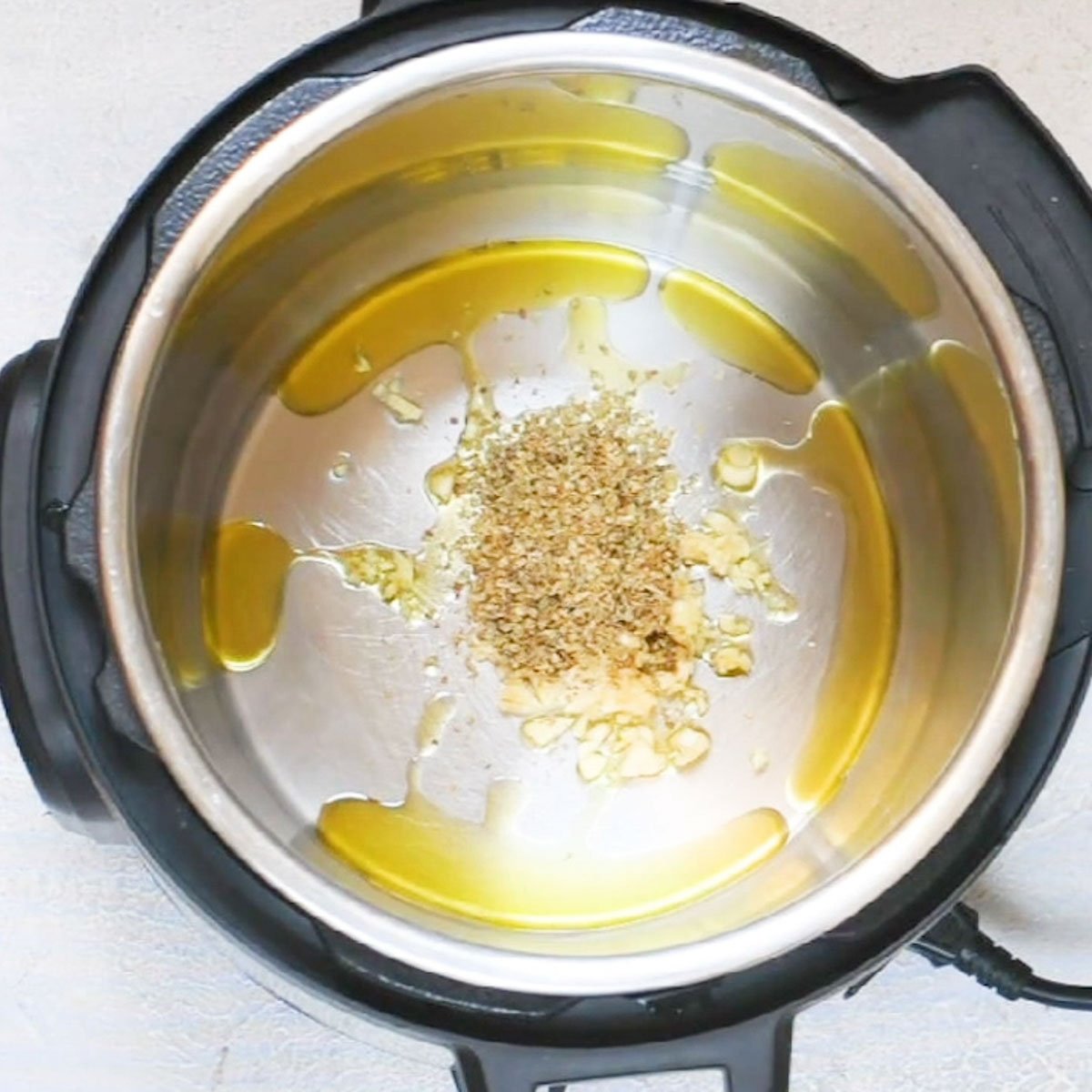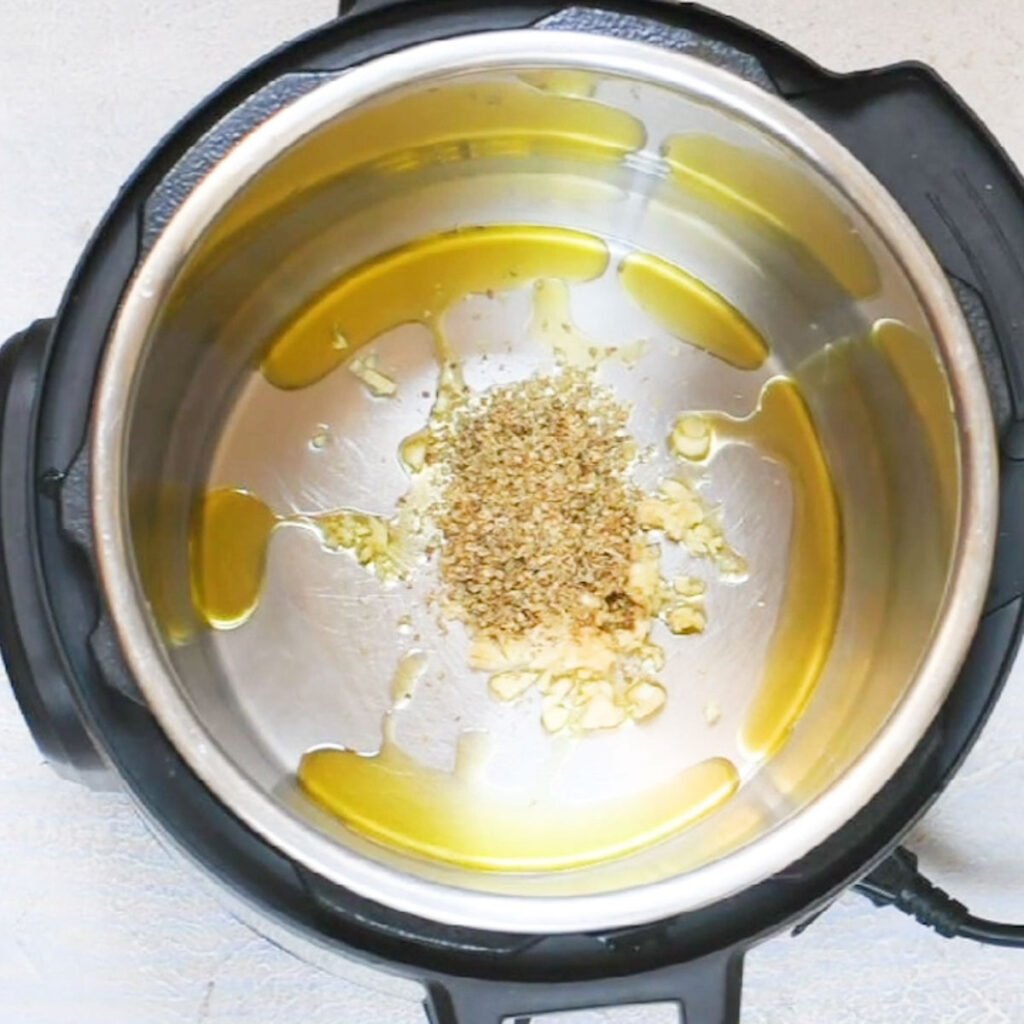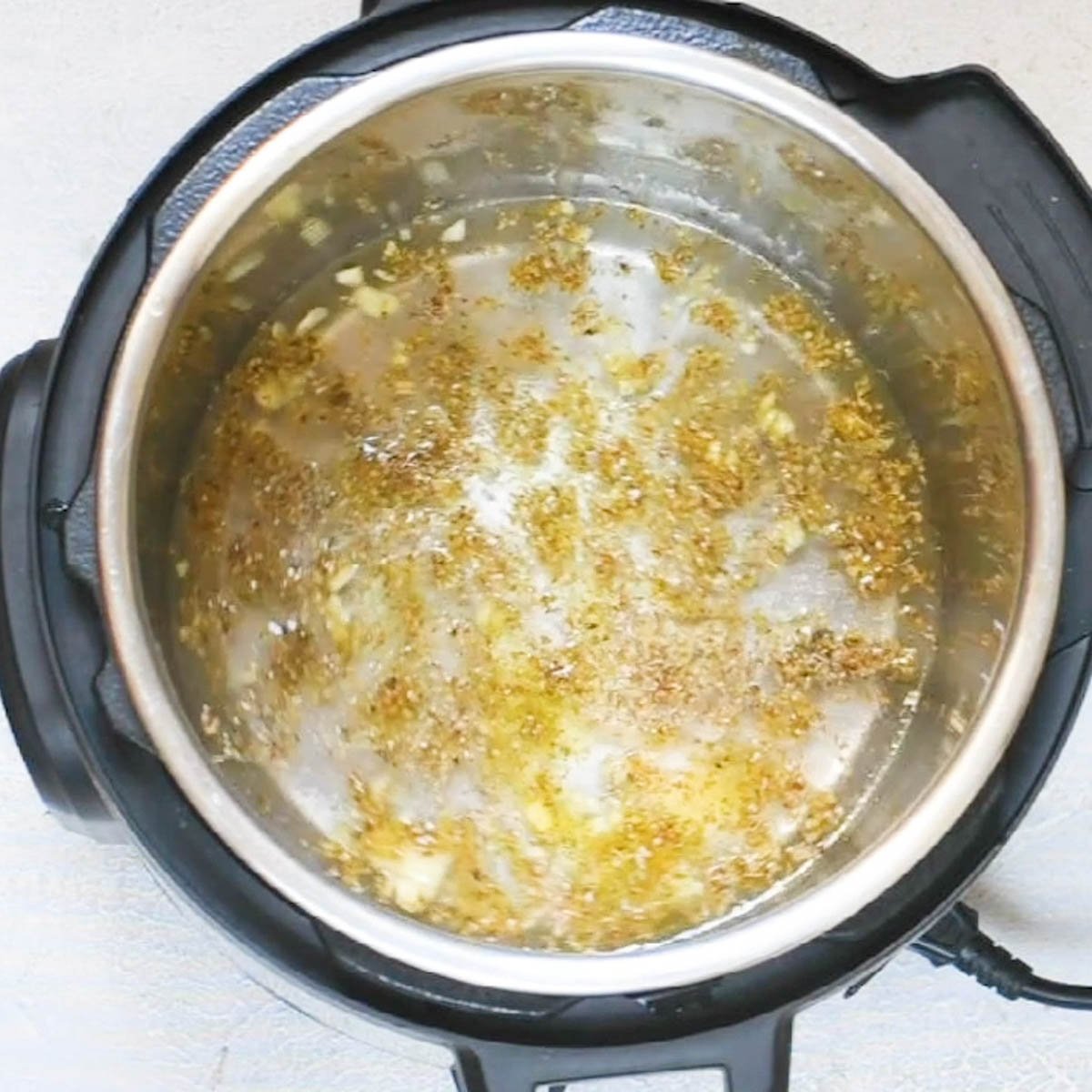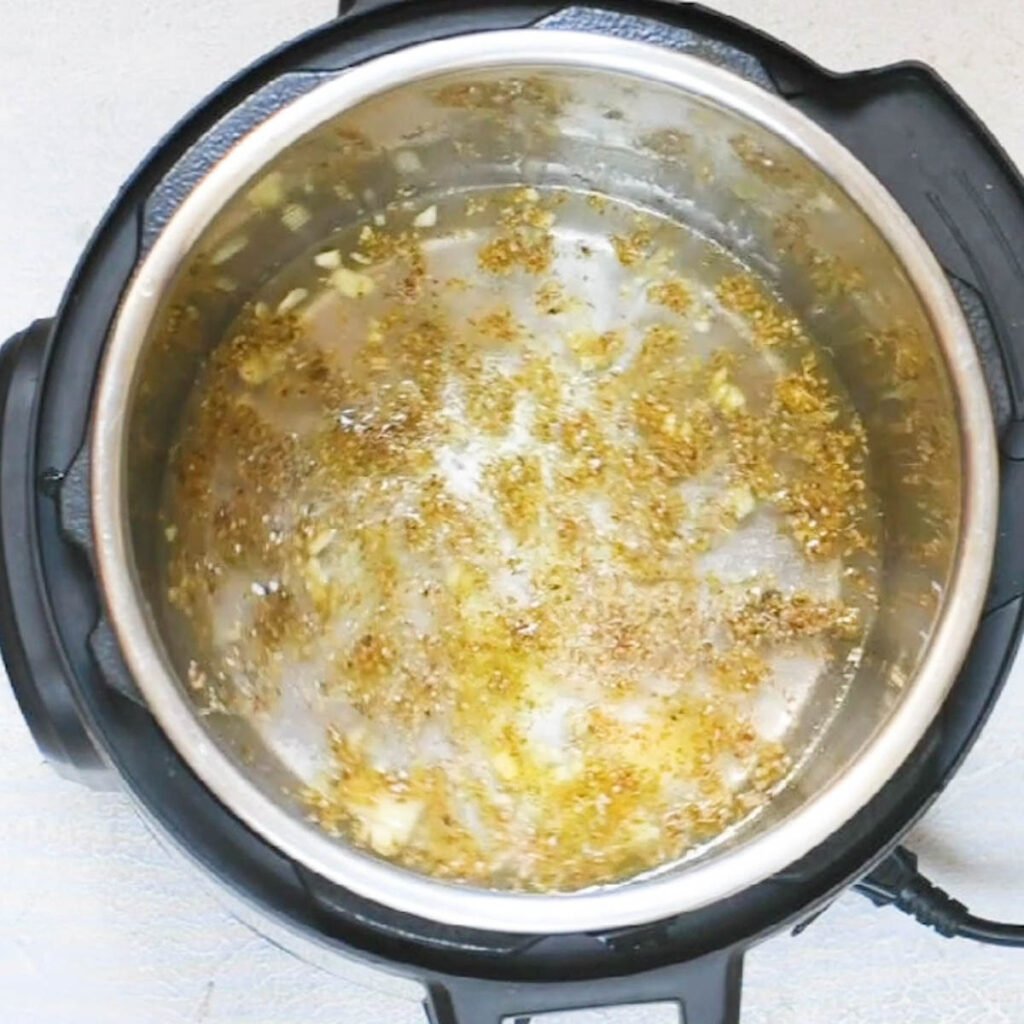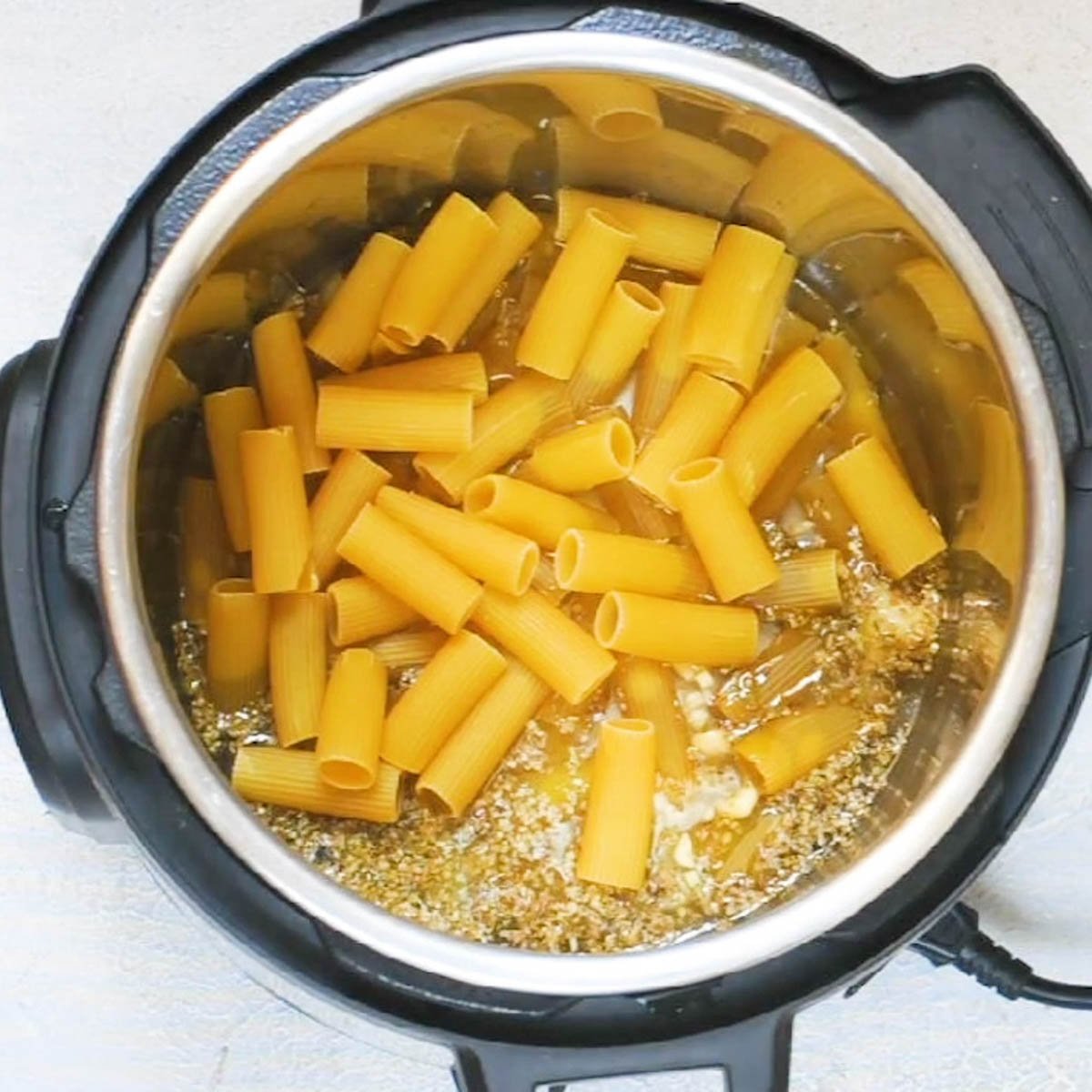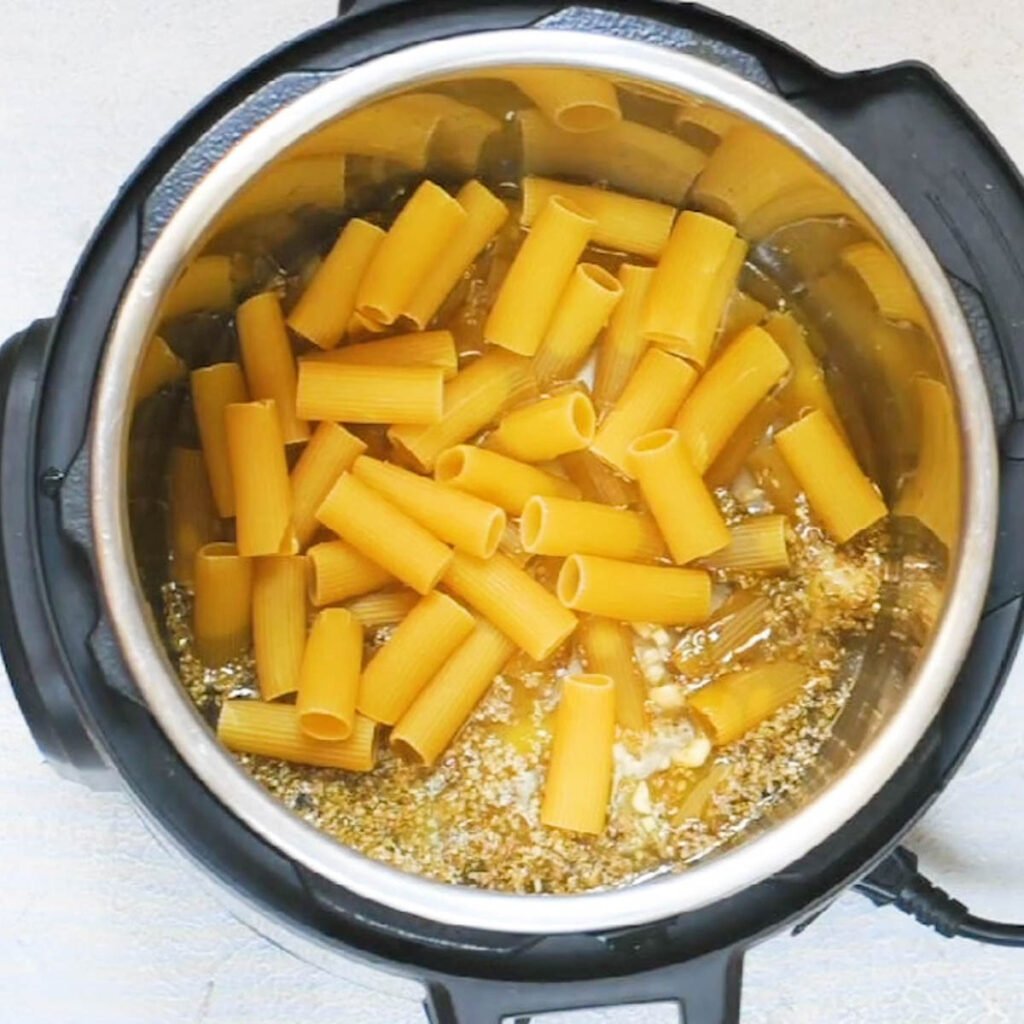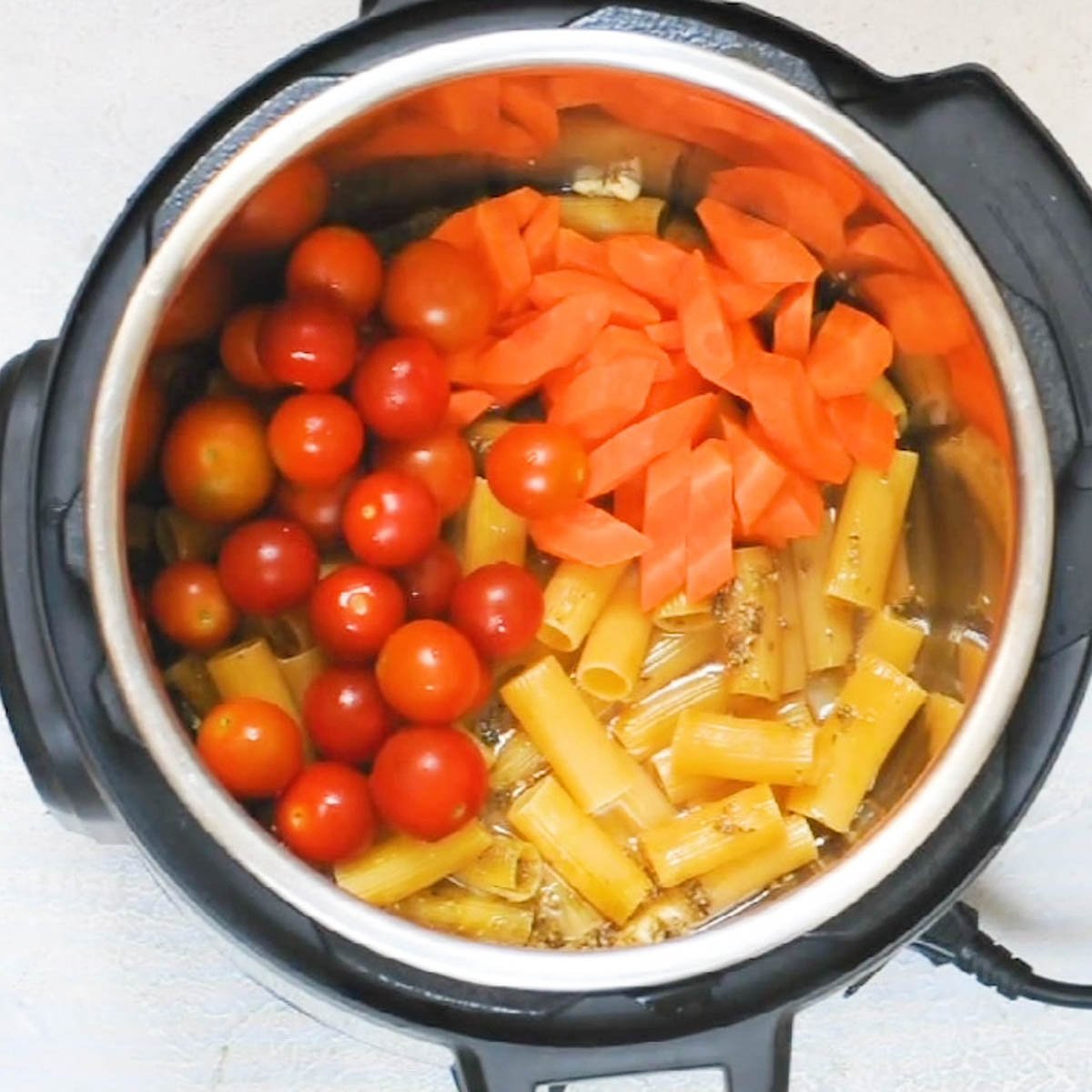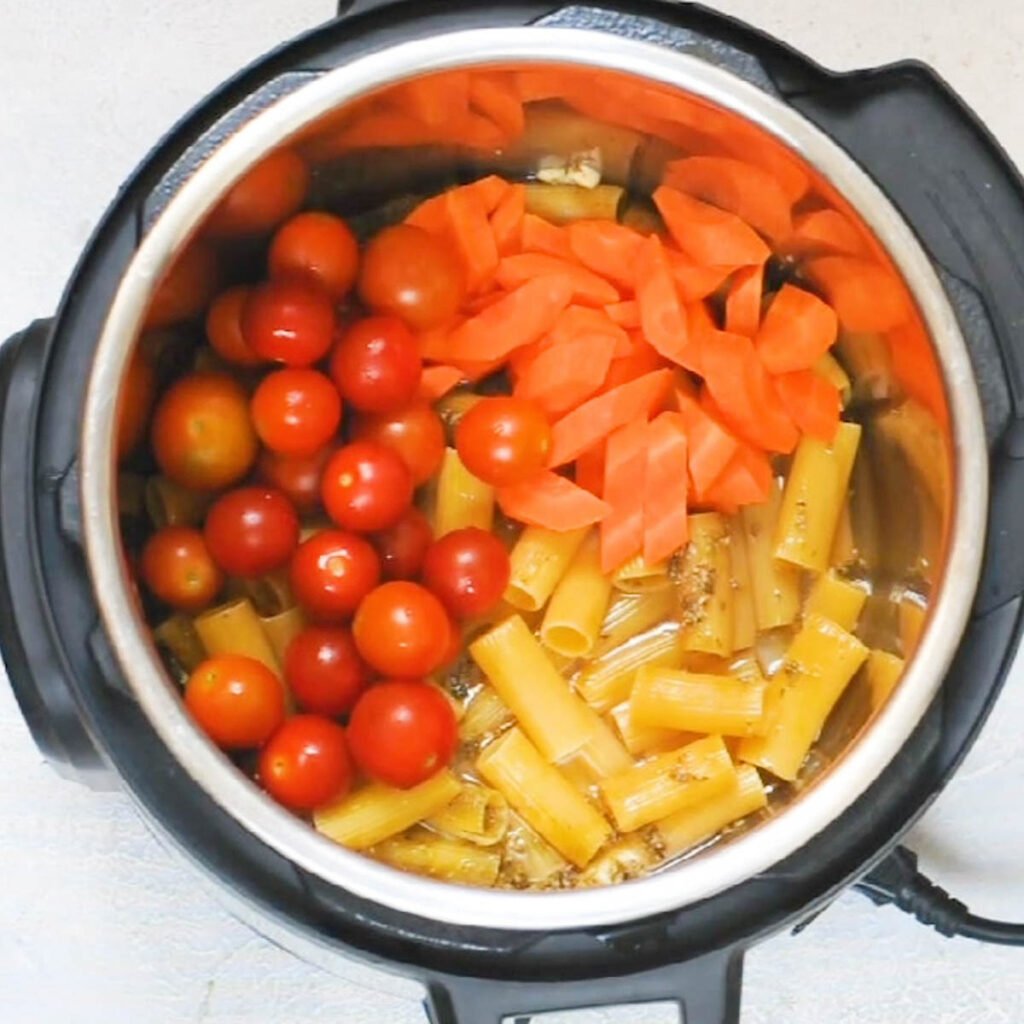 Pressure cook on high for just 4 minutes.
After the 1 minute is over, let the pressure release for 5 minutes before you Quick release and open the pot.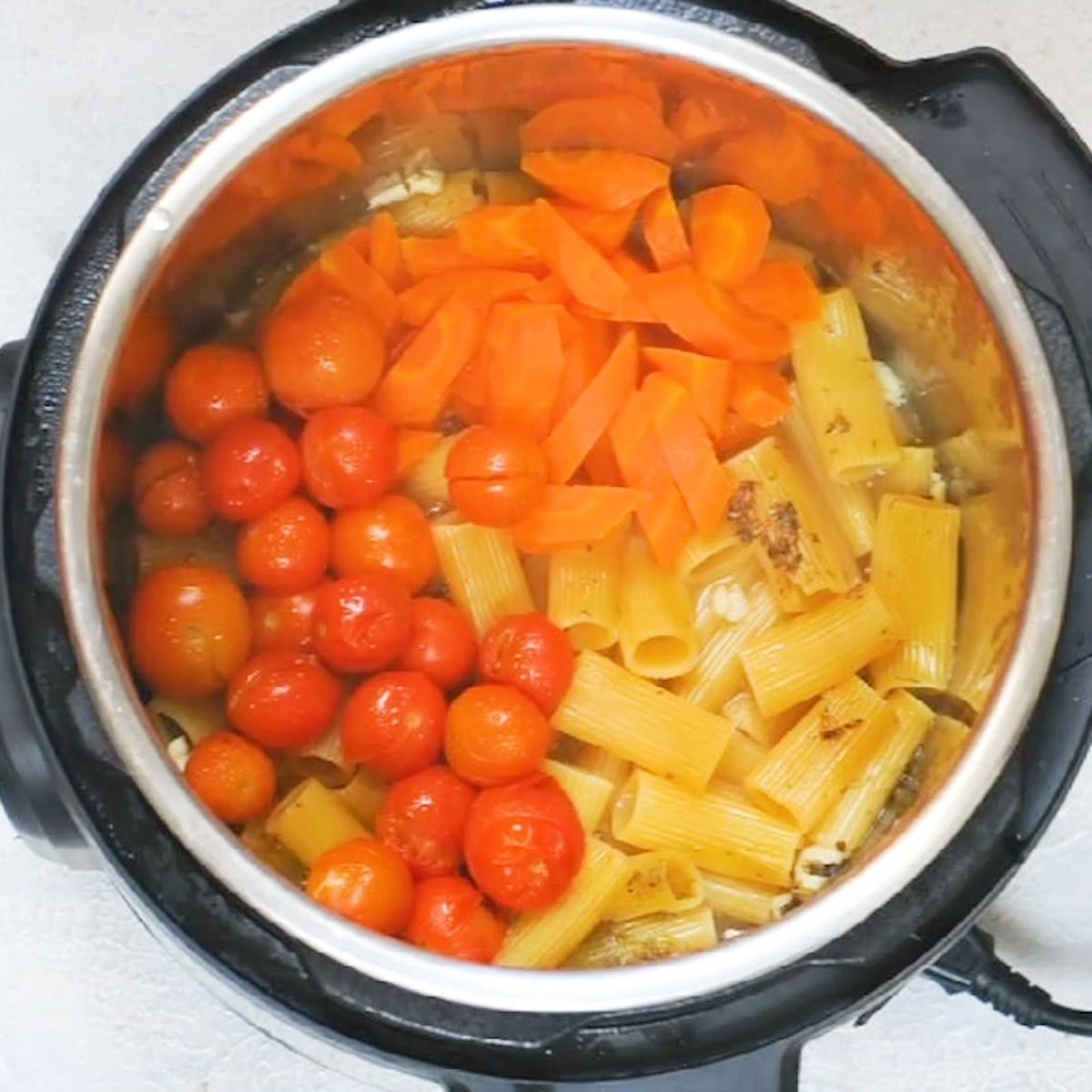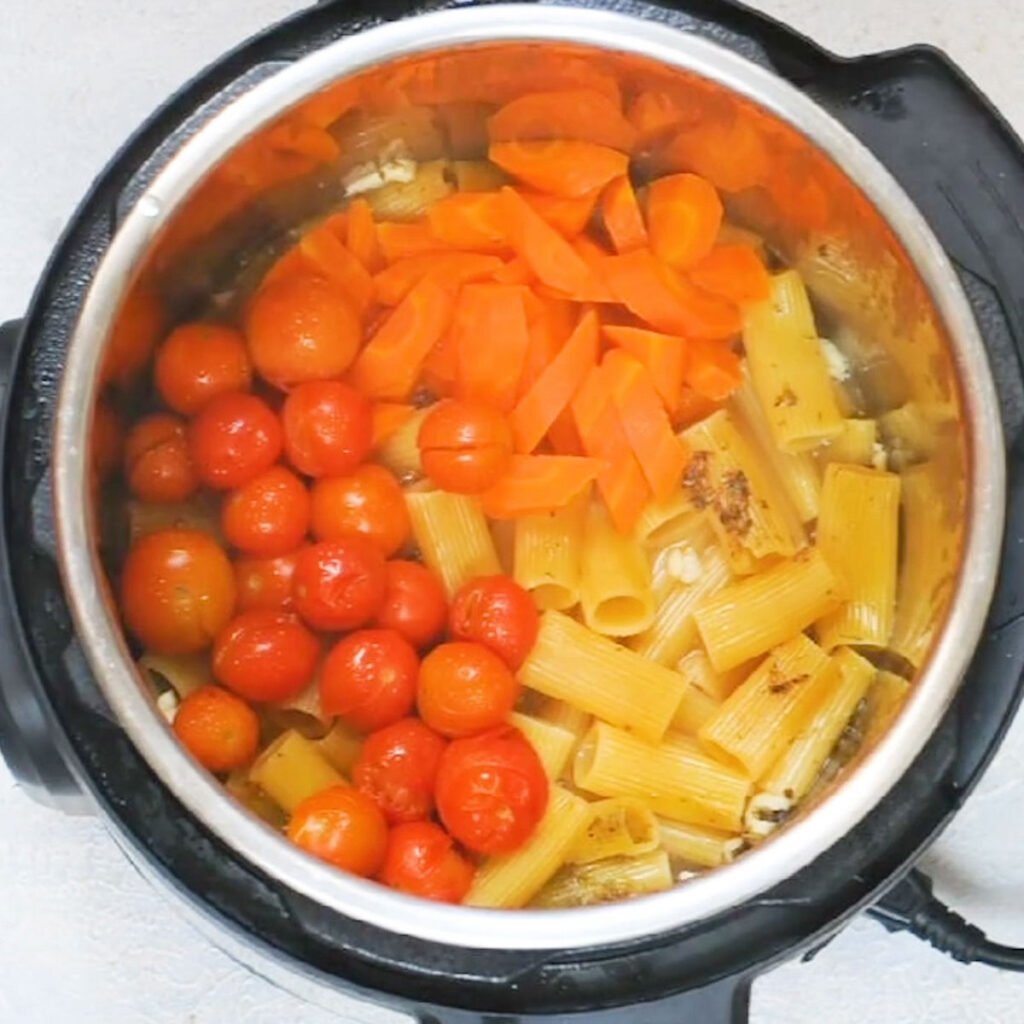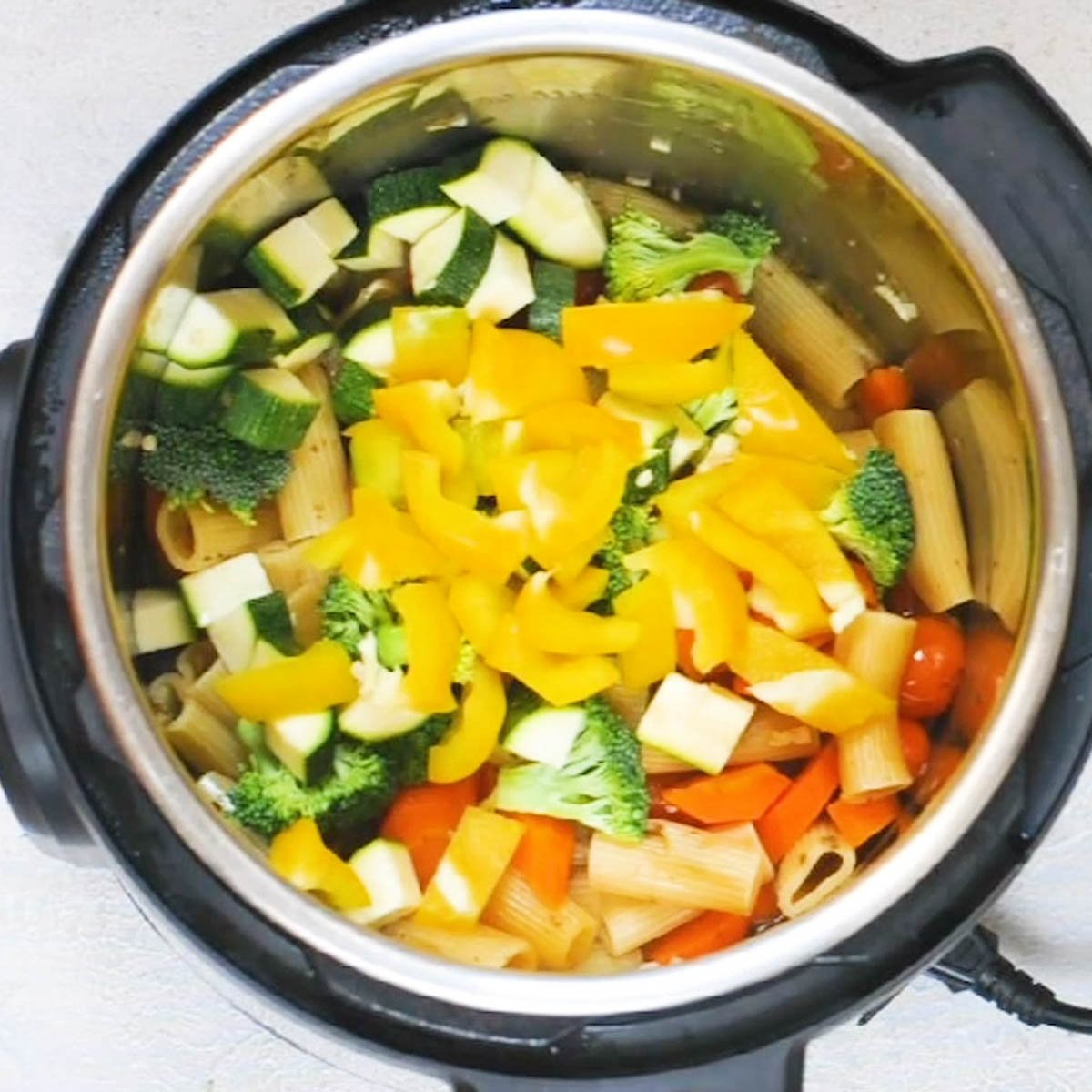 Step 3: Keep Warm for 5 minutes
Mix it all up. Add all the other vegetables-bell peppers, zucchini, broccoli and parmesan cheese. Give it a mix.
If you like your vegetables el dente- Switch to the KEEP WARM setting and let everything sit inside for 5 minutes.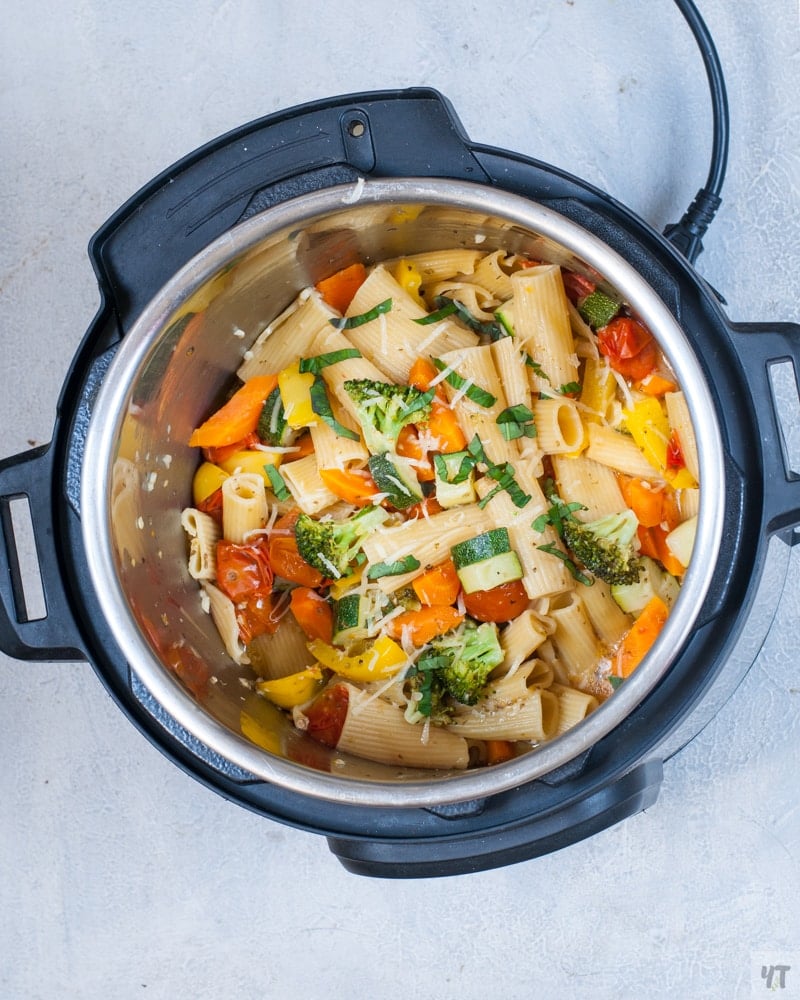 Notes
Undercooked Pasta - Your pasta is undercooked- this could happen if you have used a thicker , larger pasta. Penne pasta is the best option for pressure cooker pasta.
Over cooked Pasta - Well you cannot do anything this time but..try to remember if you left the pasta in "Keep Warm" setting for too long. Even though it says keep warm, if the food is left in it for long, it ends up over cooking. Especially things like pasta and Rice.
More Quick Instant Pot Recipes
Looking for some more quick wins? Here are some more Yellowthyme Instant Pot recipes to add to your line up
Find us on Instagram , Pinterest & Facebook here!
If you liked my recipe, do leave a comment!
It will help others find this amazing recipe too!
---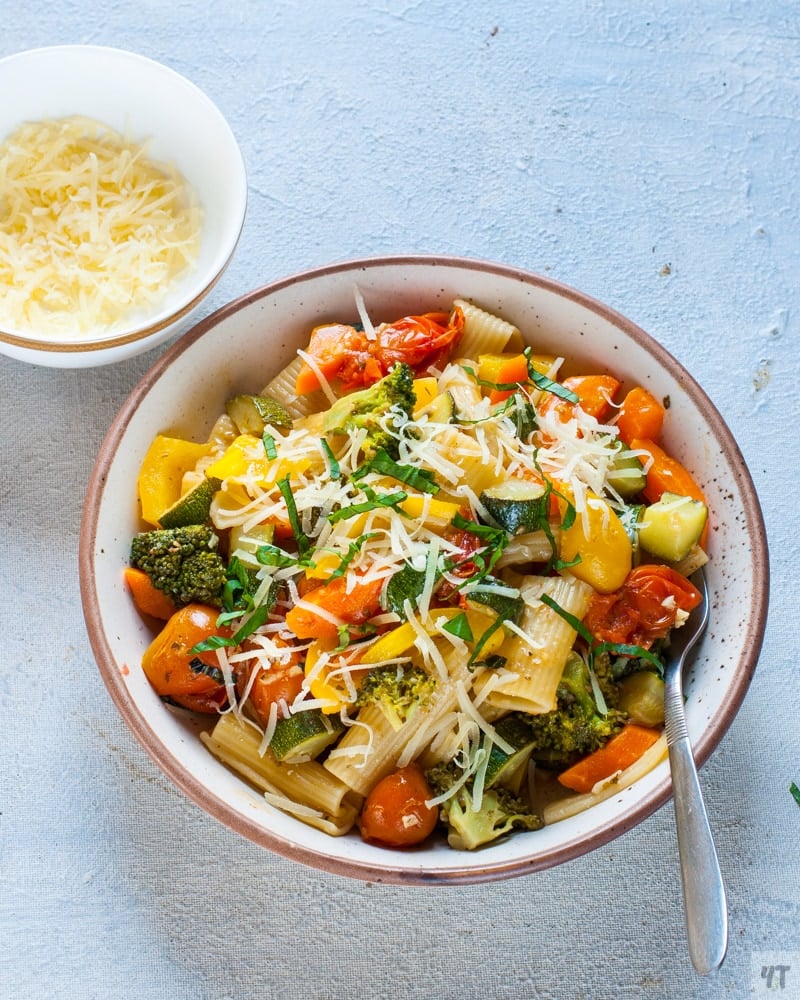 Ingredients
8

ounce

Penne Pasta

rigatoni

1.5

Cups

Water

or Vegetable Broth

2

tablespoon

Extra Virgin Olive Oil

½

cup

Cherry tomatoes

½

cup

Carrots

3

Cloves Garlic

Slivered

1

tablespoon

Italian Seasoning

or Mixed herbs

½

Cup

Bell peppers

½

Cup

Zucchini

½

Cup

Broccoli

¼

Cup

Parmesan Cheese

More for Garnish

Salt to taste

Basil Leaves

Torn for garnish
Instructions
Chop up the carrots and tomatoes.

Add Oil, Garlic, Italian seasoning Water(or broth) and salt to the inner pot. Give it a mix

To this, add the pasta. Make sure it's about 90% under the liquid.
Method 2- One Pot One Shot Method( Soft Veggies)
Add all the veggies together on the top. Close the lid.

Select PRESSURE COOK for 4 minutes if using Penne and 6 minutes if using Rigatoni on HIGH with the pressure valve at SEALING position.

Once 4 minutes are over, the instant pot will beep. Let the pressure release naturally for 5 minutes and Quick release the pressure after that. Open the pot and give it a mix.Gently squish the tomatoes to make them release their juices.

Open the pot, garnish with fresh herbs and Parmesan Cheese. Serve immediately.

Open and serve with a generous sprinkling of parmesan cheese and torn fresh Basil leaves
Method -B- 2 Part Method - Veggies added later
Add only the tomatoes and the hard veggies like carrot that need to be softened.(Rest later)

Select PRESSURE COOK for 4 minutes if using Penne and 6 minutes if using Rigatoni on HIGH with the pressure valve at SEALING position.

Once 4 minutes are over, the instant pot will beep. Let the pressure release naturally for 5 minutes and Quick release the pressure after that. Open the pot and give it a mix.

Meanwhile, chop up all the other vegetables- broccoli, zucchini & Bell Peppers. Try and keep the size to about the same as the pasta.

Add the zucchini ,Broccoli, Parmesan Cheese. Close the lid again and let it rest in KEEP WARM setting for 5 minutes.

Open and serve with a generous sprinkling of parmesan cheese and torn fresh basil.
Notes
Pasta 
Instant pot cooking is more precise than other methods. That is why the kind of pasta you use, will determine how the final outcome is.
Use either Rotini or Penne Pasta for this.
Rigatoni will need 5 minutes of pressure cooking time
Any out of the ordinary or thinner, delicate pasta shapes might over cook in the pressure cooker.
If you are looking for spaghetti based instant pot pastas- try 
Vegetables
Hardy Vegetables - Asparagus & carrots or anything else that you want cooked till soft must go in with the pasta when you pressure cook
Softer water Filled Vegetables- Zucchini, broccoli and peppers can go in after the pressure cooking is done with. So you cook them till they are tender but crispy.
Extra Virgin Olive Oil
Use the best quality you can afford because this is the real flavor here.
Cherry Tomatoes
If you cannot find cherry tomatoes, you can chop up regular tomatoes too. When tomatoes are not in season, you can use canned tomatoes as well
Vegan
This dish is vegan if you leave the parmesan cheese out .A great sub for parmesan cheese is nutritional yeast or just a drizzle of olive oil.
Dairy Free & Gluten Free
The pasta can be made dairy free(and vegan) by substituting parmesan cheese. To make this gluten free, you will have to use a gluten free pasta. Though in my experience their texture can be quite tricky when cooking the usual way itself. So I wouldn't suggest using GF pasta here.
Lazier Recipe
I know all that chopping can be a real pain. So get the precut veggies from the store.
And another time and patience saver is this garlic-press. For people who love garlic, this is a must buy! It's so much more easy and there is none of that pesky peeling!
You can add anywhere between 4-6 Cups of vegetables to this pasta.
Nutrition
Serving:
2
Cups
|
Calories:
325
kcal
|
Carbohydrates:
49
g
|
Protein:
11
g
|
Fat:
10
g
|
Saturated Fat:
2
g
|
Polyunsaturated Fat:
1
g
|
Monounsaturated Fat:
6
g
|
Cholesterol:
4
mg
|
Sodium:
128
mg
|
Potassium:
365
mg
|
Fiber:
4
g
|
Sugar:
4
g
|
Vitamin A:
3519
IU
|
Vitamin C:
43
mg
|
Calcium:
129
mg
|
Iron:
2
mg
If you liked the recipe, please leave us a rating
Follow me on Instagram
My handle is @yellowthyme