Pillowy, Chewy, Softest Garlic Butter Naan EVER- The only Naan recipe you will EVER need! One that stays soft & delicious even hours after making it!
Jump to:
Cuisine : North Indian
TASTE: Buttery, Garlicky, Salty, Soft bread
TEXTURE: Soft, pillowy & chewy
EASE: Medium
PROS: Easy to make, stays great even hours after cooking. Softest Naan ever.
No crazy kneading, no special equipment & Stays super soft even 8 hours after making it.You can make it on a Griddle, tawa or your cast iron pan.
If there was one thing that I missed during the pandemic and lockdown, it was fresh naan. Every time I ordered it in a takeout or got frozen versions or even the store-bought versions, I was dejected. It was too dry, too chewy, something that became into a rubber-band the minute it cooled down.
I was just determined to eat good naan. I mean is dal makhani or butter chicken even satisfying without moping them up with butter garlic naan?
I don't think so!
After many iterations, I perfected this recipe. And it's more than perfect.
It's the only recipe of naan you will EVER need. Every-time you eat Naan in a restaurant, you will think, your homemade version with this recipe is better. I promise you that!
You must also try my homemade bhatura recipe to serve along with Channa. Oh and if you love garlic and bread together, you need to see my Air fryer Garlic Bread recipe!
Here is what we will do!
Make the Dough
Let the dough rest and rise
Make the Naan on the tawa/griddle.
The secret here? I have a few! Scroll down to how to make butter garlic naan section to find out!
Why We love it!
It needs repeating. Yes! the recipe is that good! And there are BIG reasons why we have been making this so often!
It stays soft and airy , even hours after cooking. Like 6-8 hours!
Better than any store bought or takeout Naan.
Easy to make with NO special equipment.
My son AND my husband ask for repeat for DAYS!
You can make this naan a whole 8 hours before actually serving it!
What is Naan
Naan or "Naan Bread" is an indian flatbread made in a traditional coal oven which goes upto a 1000 degrees. It is an ART to make naans.
Most indians don't make naans at home.
Also..Naan Bread is a western construct rooted in marketing. To an indian, it translates to bread bread. So don't say Naan Bread. Just say Naan.
There are several popular forms of naan- Plain Naan, Butter Naan, Butter Garlic Naan & Stuffed Naan.
Today we will be making Garlic Naan. If you leave out the garlic, then it's just butter naan.
Ingredients for Naan
Here is what you will need to make this amazing naan!
Flour
Yeast
Yogurt
Baking soda
Baking powder
Water
Garlic
Butter
Cilantro(coriander)
Flour
Use all purpose flour or White flour or Maida. I have been meaning to try this recipe with whole wheat flour but till then, I cant really say if the recipe would work using a different type of flour.
Yeast
You can use fast active yeast or regular dry yeast. If you are not sure about how active your yeast is, add it to 2 tablespoon of warm water along with 2 pinches of sugar.
If it froths, the yeast is active.
If you are using questionable yeast, add 3 tablespoon of warm water and a pinch of sugar to it. Let it bloom and then use the yeast.
You can also use sour dough starter instead of packaged yeast. The taste is unbelievably good. Do this only if you know how to bake a sour dough bread.
Baking Soda & Baking Powder
Yes.We use both.
It helps a lot with the bubbles and the rise of the bread. Together with yogurt, yeast, baking soda and baking powder, you get soft, airy pillowy Naan.
Because we are using all these leveners, we do not need to knead the dough as much.
Yogurt
Always..Always..use Thick yogurt like greek yogurt or set yogurt.
You could use homemade curd but those tend to be runny and will interfere with the proportions. So hang it in a cheese cloth over the sink for a couple of hours, to get rid of the excess water before using.
Adding yogurt makes this an enriched dough which is super soft and pillowy.Another enriched dough bread that we have been eating for years now is the Chocolate Babka. It's so so good!
Garlic, Butter & Cilantro
Lots and lots of garlic!
You can also use roasted garlic for an amped up flavor.
I like to use salted butter but you can use unsalted butter too.
How to Butter Garlic Naan
Step 1: Make the Dough
As you saw in the ingredients section, we will use ALL the leaveners found in the kitchen- baking soda, baking powder, Yeast & Yogurt!
and because we do this, you don't need to knead the dough too much.
We want a shaggy, soft, sticky dough. This dough will have high hydration a.k.a a lot of "liquid" because of which the naans will be super soft and pillowy.
This dough will transform into the perfectly soft, pliable dough once the proofing or the rising process is done.
Just dump the flour, baking soda, baking powder, dry active yeast, salt, yogurt and ½ cup of warm water in a big bowl. Bring it together to form a sticky dough as shown in the picture.
If you are using questionable yeast, add 3 tablespoon of warm water and a pinch of sugar to it. Let it bloom and then use the yeast. Adjust the water accordingly.
Step 2: Proofing
Drizzle some oil on the dough and spread it around. Make sure you cover all of it's surface. If you don't then the dough will harden in some parts and you will not be able to use that bit.
Cover it with cling film or a air tight lid making sure it has room to grow but at least double.
Keep it in a shaded area for 3-4 hours.
If you have used fast acting yeast, the dough should be ready in 2-3 hours. If not, then it can take anywhere between 3-4 hours.
Troubleshooting Dough- If the dough has not risen to double still, you can choose to
Keep the bowl in a warm water bath
Proof the dough in the instant pot using YOGURT, LOW setting.
If you live in a low temperature area, your dough could potentially not rise as much and you will have to help it by giving it the ideal environment.
Step 3 : Shaping
The tough bit is now over.Really!
You can either portion the dough into equal parts or just take out sections as you roll.
Shape the dough into a ball. Flour the surface, rolling pin and the dough ball.
Roll it into a oblong or an oval shape.
You can sprinkle nigella seeds, sesame seeds- black or white if you want. Just roll it one final time again to make sure the seeds are stuck to the dough.
Step 4: Cooking
Heat your cast iron pan or tawa.
Make sure to heat it till it's almost smoking. The hotter your tawa, the more the naan will bubble.
Place is plain side down. The naan should start puffing up.
You can lift it up a bit to see the color. Once it has some light brown- dark brown spots, flip it and cook the other side.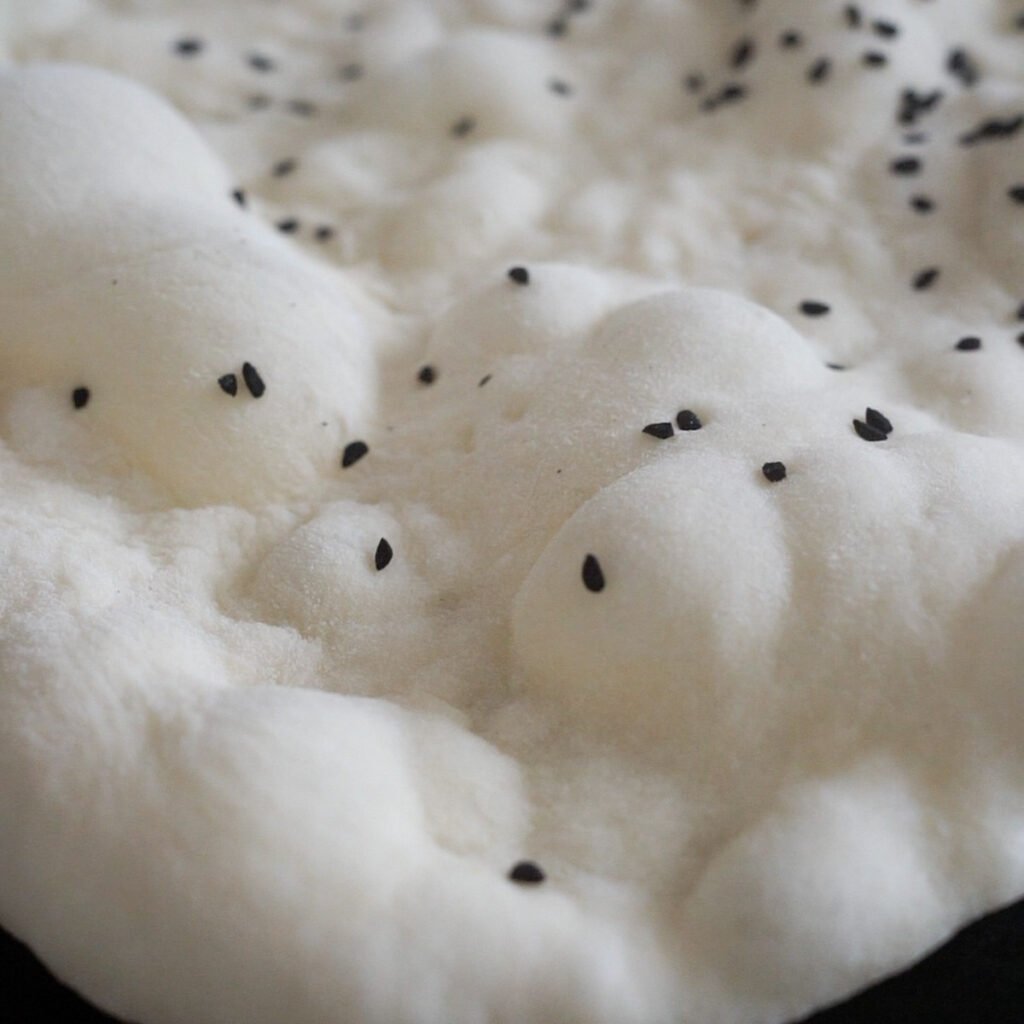 Step 5 : Garlic Butter
Chop the garlic and cilantro.
Add butter to it. Microwave for 1 minute till the butter is bubbling and has fully melted.
Brush the Naan with it.
Reheating Naan
Normally this would be a nightmare. Any naan that's been on the table for more than 20 minutes will be too rubbery to eat.
BUT..with this recipe, the naan will be soft & pillowy even after you have cooked and let it cool completely.
Heck, it is perfect even after 8 hours of cooking it!
HOT TIP - If you are not serving the naans immediately, do not butter them. Heat them using tongs, directly on the flame. Then butter it and eat.
Notes
Do not add garlic to the rolled out naan before you cook it. Because we will be cooking it at a high temperature, the garlic will burn before the naan cooks.
If you don't have a cast iron tawa or griddle, use a cast iron pan. If you do not have that too, use your roti tawa. If you don't have that also, then use a heavy bottomed pan.
Because we are cooking the naan at very high temperature, your cast iron tawa/pan might need some TLC after. Once you are done with the naan cooking, scrub the tawa with a spoon/spatula. Rub 1 tablespoon of oil on it and let it be. Do not wash etc.
The shape of the naan is not important. Just do your best. The dough is very high hydration so make sure to flour the surface and the rolling pin well.
You could use the same dough to make pita and pizza too.
Storing & Freezing
As I said above, the naan is perfect even hours after making.
If you are not eating them immediately, butter them later.
They will keep well on the counter for upto 1-2 days.
You can freeze naans at various stages-
Un-proofed(not risen) dough can be kept overnight in the refrigerator for a slow rise.
Proofed Dough- Once the dough has risen, you can wrap it in plastic wrap and freeze it in single naan sized portions for later use. Just thaw overnight in the refrigerator or on the counter. Roll and follow the same cooking process as above.
Cooked Naan - You can freeze cooked naans too.To use, just microwave the naan ,brush with garlic butter and serve.
More Indian Recipes
Here are some Amazing indian dishes to serve with Butter Garlic Naan
Dal Makhani
Instant Pot Indian Butter Chicken(Easy!)
Instant Pot Mughlai Chicken Korma Recipe
Instant Pot Paneer Butter Masala (Makhani)
Authentic Goan Chicken Vindaloo Recipe
Find us on Instagram , Pinterest & Facebook here!
If you liked my recipe, do leave a comment!
It will help others find this amazing recipe too!
---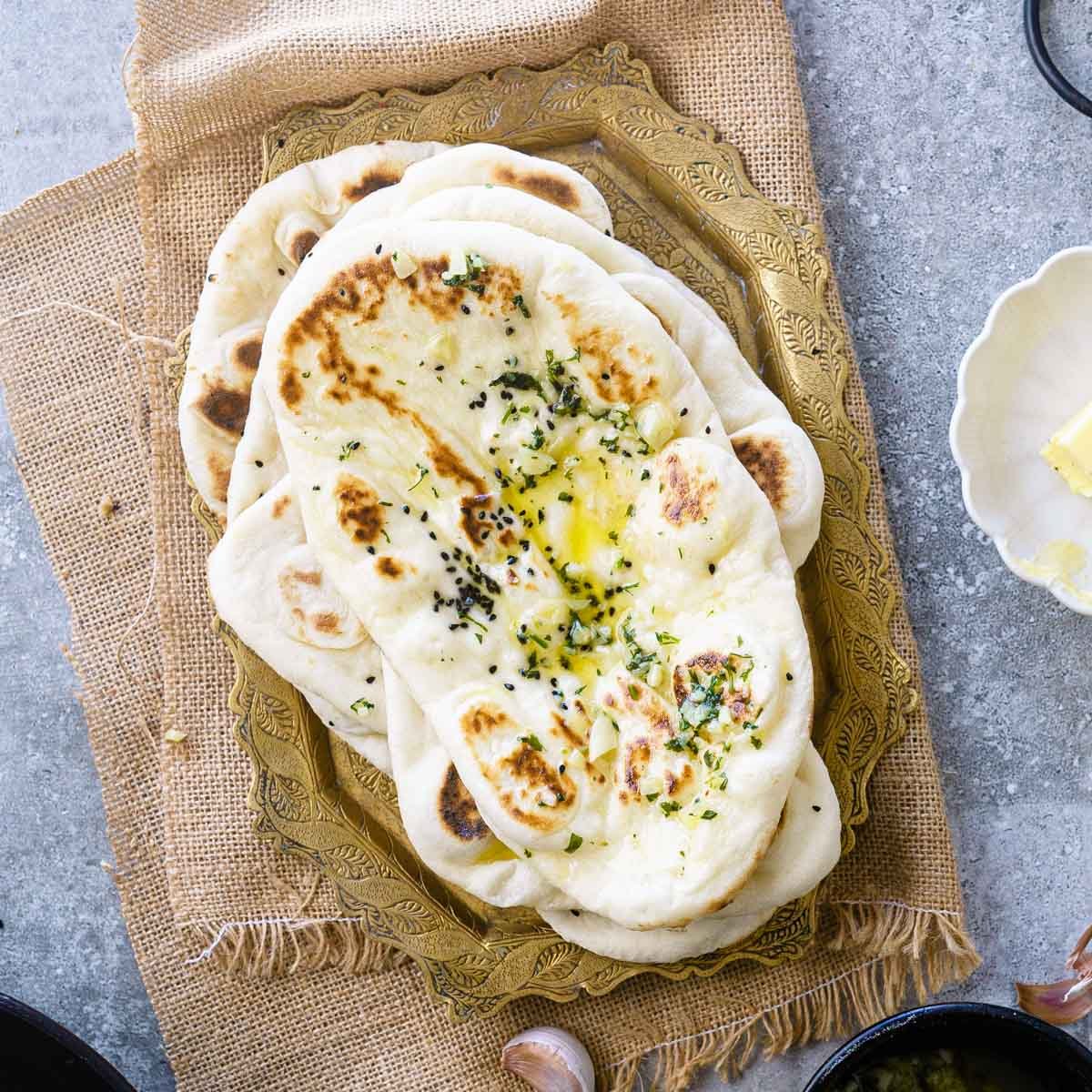 Ingredients
4

cups

All purpose White Flour

Maida

1

tablespoon

Dry Active Yeast

½

Teaspoon

Baking Soda

1

teaspoon

Baking Powder

¾

Cup

Thick Yogurt

¾

Cup

Water

Warm; upto 1 cup

1

teaspoon

Salt
Butter Garlic
10-12

Cloves

Garlic

Minced

1

tablespoon

Cilantro

Finely Chopped

3-4

Tablespoon

Butter

If using unsalted, add salt.
Instructions
In a large bowl, add the flour, salt, baking powder, baking soda & Yeast.Give it a mix.

Add the Yogurt & warm water. Get all the ingredients together to make a shaggy & sticky dough.

Using the stretch and fold technique, knead the dough till all the ingredients are incorporated.The dough will be super soft.

Apply oil all around the dough and cover it well. Make sure there are no gaps.

Leave the dough undisturbed for 2-4 hours. The dough will rise to twice it's size. If it doesn't, see how to troubleshoot the dough on top.This is called proofing the dough.

Divide the dough into smaller individual naan size balls.Or just pinch a golf ball sized dough and make it into a ball.

Flour the rolling surface and the rolling pin.

Roll the naan into a long oval or oblong shape. Sprinkle some nigella seeds or sesame seeds on top. Roll it once more.

Heat the tawa/cast iron pan till its smoky.

Place the naan plain side down.It will start to puff up.

Flip it.Press lightly to get all the corners.

Microwave the minced garlic, cilantro and butter toghether.

Brush it over the Naan. Serve hot.
Nutrition
Serving:
1
Naan
|
Calories:
182
kcal
|
Carbohydrates:
33
g
|
Protein:
5
g
|
Fat:
3
g
|
Saturated Fat:
2
g
|
Polyunsaturated Fat:
0.3
g
|
Monounsaturated Fat:
1
g
|
Trans Fat:
0.1
g
|
Cholesterol:
8
mg
|
Sodium:
299
mg
|
Potassium:
59
mg
|
Fiber:
1
g
|
Sugar:
0.1
g
|
Vitamin A:
90
IU
|
Vitamin C:
1
mg
|
Calcium:
32
mg
|
Iron:
2
mg
If you liked the recipe, please leave us a rating
Follow me on Instagram
My handle is @yellowthyme