This post contains affiliate links. As an Amazon Associate I earn from qualifying purchases. Click here to read my policy.
Air fryer Garlic Bread- The absolute BEST kind of garlic bread- Crispy, pillowy , garlicy , buttery heavenly goodness without the fuss and in fraction of time!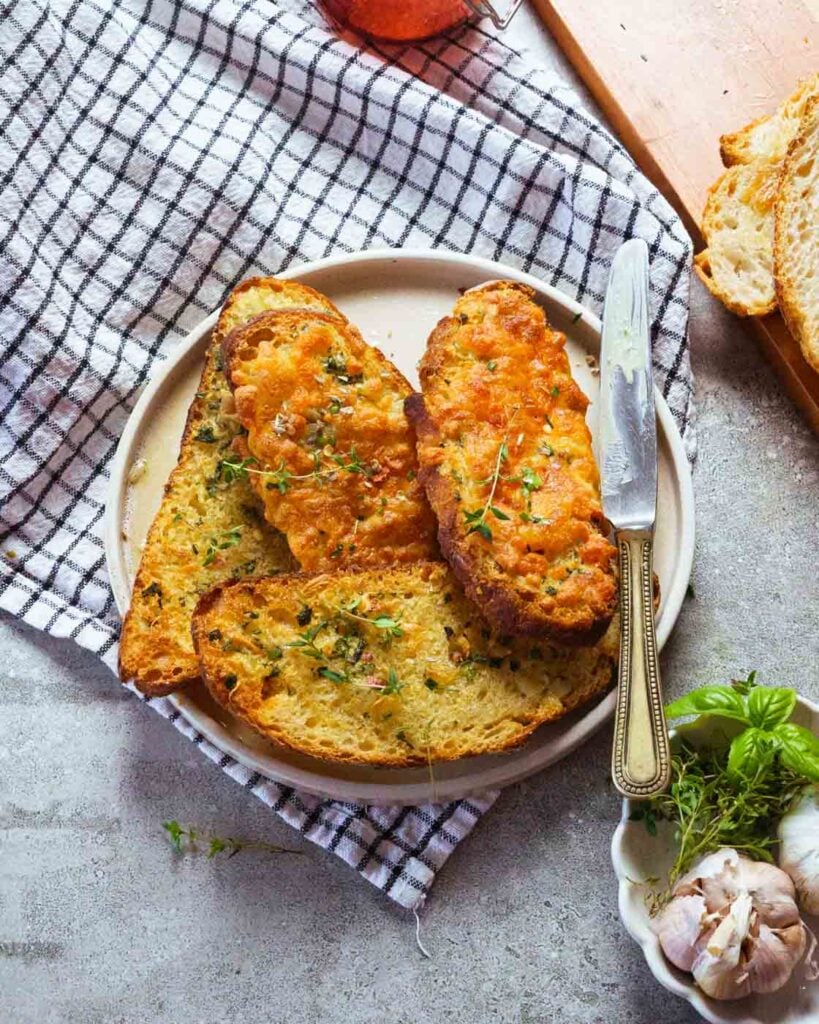 Jump to:
Air fryer garlic bread is, all about that perfect crunch on the outside and the soft, pillowy goodness on the inside. And you won't believe how quick and easy it is to make in the air fryer, like, seriously, it's a game-changer.
You know, with the air fryer, you can achieve that crispy texture without all the excess oil and greasiness. It's, like, healthier and guilt-free, which is a win in my book. Plus, the air fryer helps to intensify the garlic flavor, giving it that extra punch!
Oh, and did I mention how versatile it is? You can totally get creative and add different toppings or seasonings to personalize your garlic bread. I'm talking about throwing on some shredded cheese, fresh herbs, or even a sprinkle of Parmesan for that extra cheesy goodness. You can use air fryer roasted garlic or this amazing Roasted garlic compound butter that it just a flavor bomb!
A must try for garlic lovers!
Whether you're whipping up a quick snack, having a movie night with friends, or just craving some epic garlic bread, the air fryer is, like, the way to go. It's quick, easy, and delivers the most mouthwatering garlic bread you've ever tasted. Trust me, once you try it, you'll be hooked!
Here is what we will do
Top the Bread with lots of garlic and butter
Add cheese if you want
Air fry to heavenly crispiness
Why use Air Fryer to make Garlic Bread
It's an obvious question right? Why should we do this when oven works just fine!
Well i have a few reasons for you
Crispier & Better - Yes! With air fryer the bread crisps up better, more evenly!
Fraction of Time-Oven has longer preheating & cooking time as compared to air fryer which will take fraction of the time.
All good things aside, if you have a standard Air fryer like me, you will need to be a little careful when you lower the loaded bread into the air fryer.
Plus you can only do 2-4 breads without overlapping them. So if you have a big family, or you want to do it in bulk, air frying is not the option for you.
Ingredients
Here is what you will need
Garlic - Fresh or roasted
Butter
Bread
Herbs- fresh or dried
Cheese if you are making cheesy garlic bread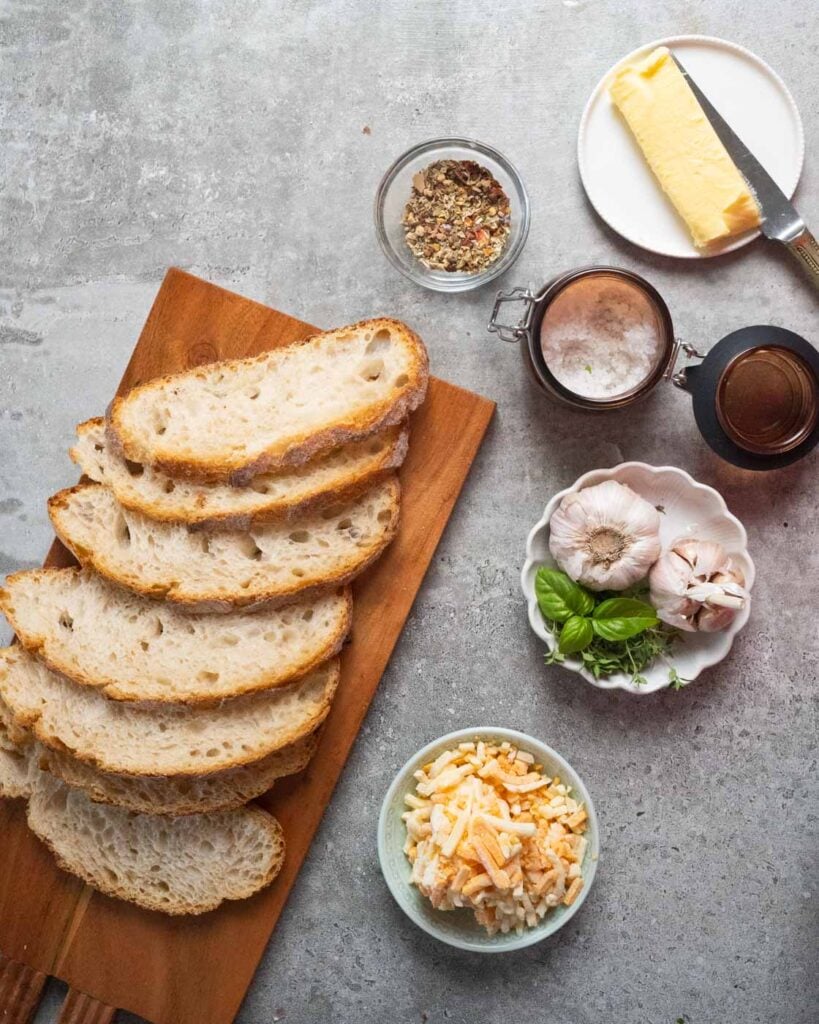 Garlic
I love garlic! We use about a pound per month. Everyone in my family is amazed by how much we use.
For this recipe, you will need fair bit of it.
If you have the time and patience for it, do roast the garlic in air fryer or in the oven before using. You can also follow my herby garlic compound butter recipe.
If using fresh, chop it up as small as you can. Do not puree it. We want some texture.
You can also pound the garlic cloves with a little bit of salt. OR you can grate it. The best however is to use the garlic mincer, It's a game changer. The only issue I have with that is that it minces one clove at a time. Which is too little for a garlic fiend like me!
Another way to amp up the taste is using garlic powder. If you don't have that in your pantry yet, then you are definitely missing out!
Bread
You can use any kind of bread you want. Anything from Sour dough to french to everyday sandwich bread will work.
However, keep in mind , the air fryer time might vary slightly depending on how thick the bread is.
Herbs
I like my garlic bread with a bit of herby goodness. I am very happy using dried herbs, pizza seasoning packets and what not.
You can also mince fresh herbs and use. My favorite is thyme.
If you like to live on the edge..okay let me rephrase, if you like your food spicy, add a few slices of jalapenos or chilies on top before baking. I only do this when i am adding cheese otherwise it gets way too hot for me.
Cheese
You can either make the garlic bread with cheese or without.
If you are using cheese, you can use
Cheddar
Grated Parmesan Cheese
A mix of cheddar, parmesan and mozzarella
You can also use cheese slice instead- Melty cheeses like Emmental and Gruyere are a great option
If you are making cheesy garlic bread for later, to be consumed after a couple of hours. I suggest you mix a bit of mayonnaise with the cheese. That way, the melted browned cheese will still be soft and gooey.
Or you can do a quick microwave for 5-10 seconds to make the cheese soft again.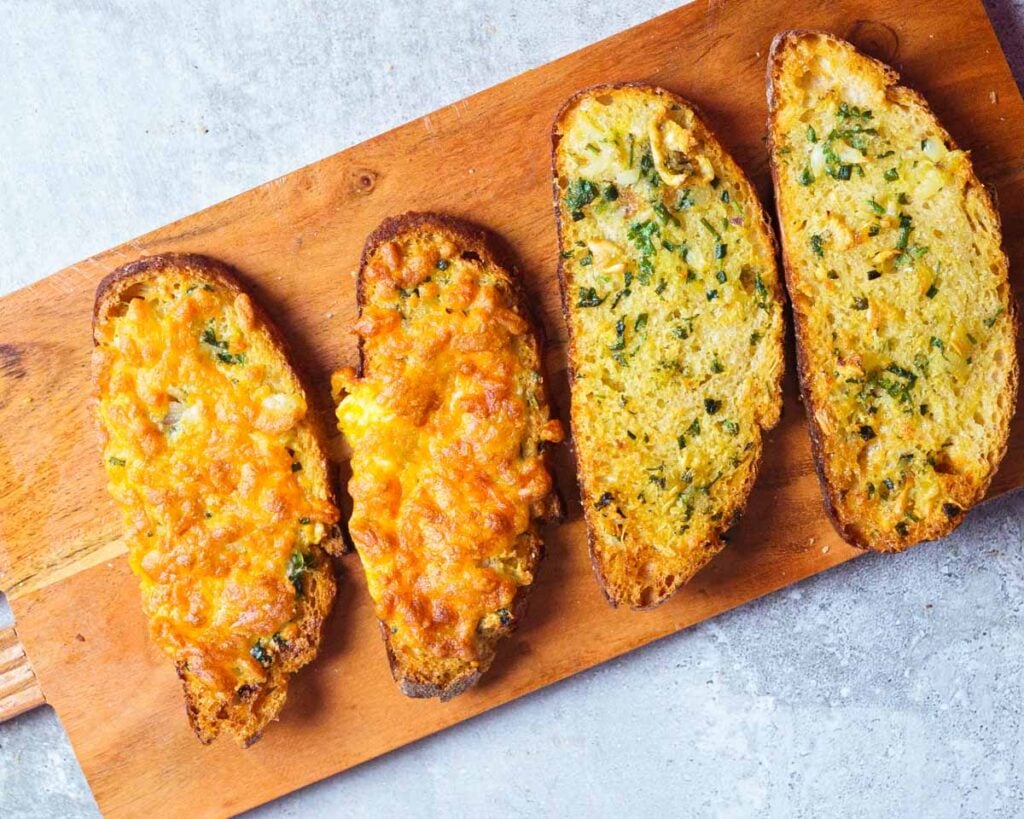 Substitutions
To make the bread vegan, I suggest you use
Minced garlic and Olive oil- Here you might need a bit more of olive oil than the version below
Roasted Garlic & Olive oil- Not only will you use lesser oil, the taste will be a lot more intense.
Instead of Garlic, you can use
Garlic powder
Shallots- Roasted shallots will taste way better!
How to Air fry Garlic Bread
Equipment - You will need
An Air-Fryer
Chopping Board & Knife
Parchment Paper or Air fryer liner
Grater if using cheese
Step 1: Prep the Ingredients
Depending on what type of garlic you are using, fresh, roasted or a combination, mince it in a bowl.
Add butter and herbs. Give it a taste and add salt if needed.
Meanwhile, Preheat the Air fryer.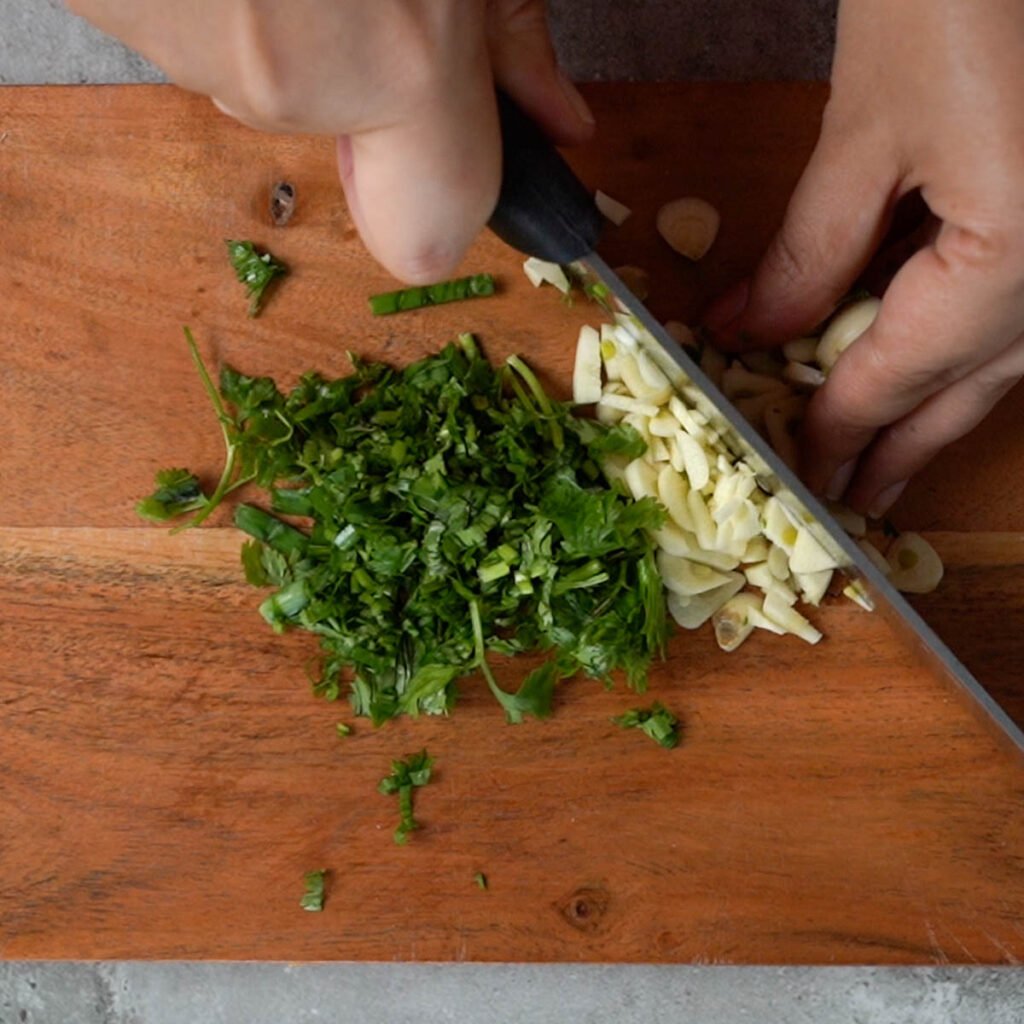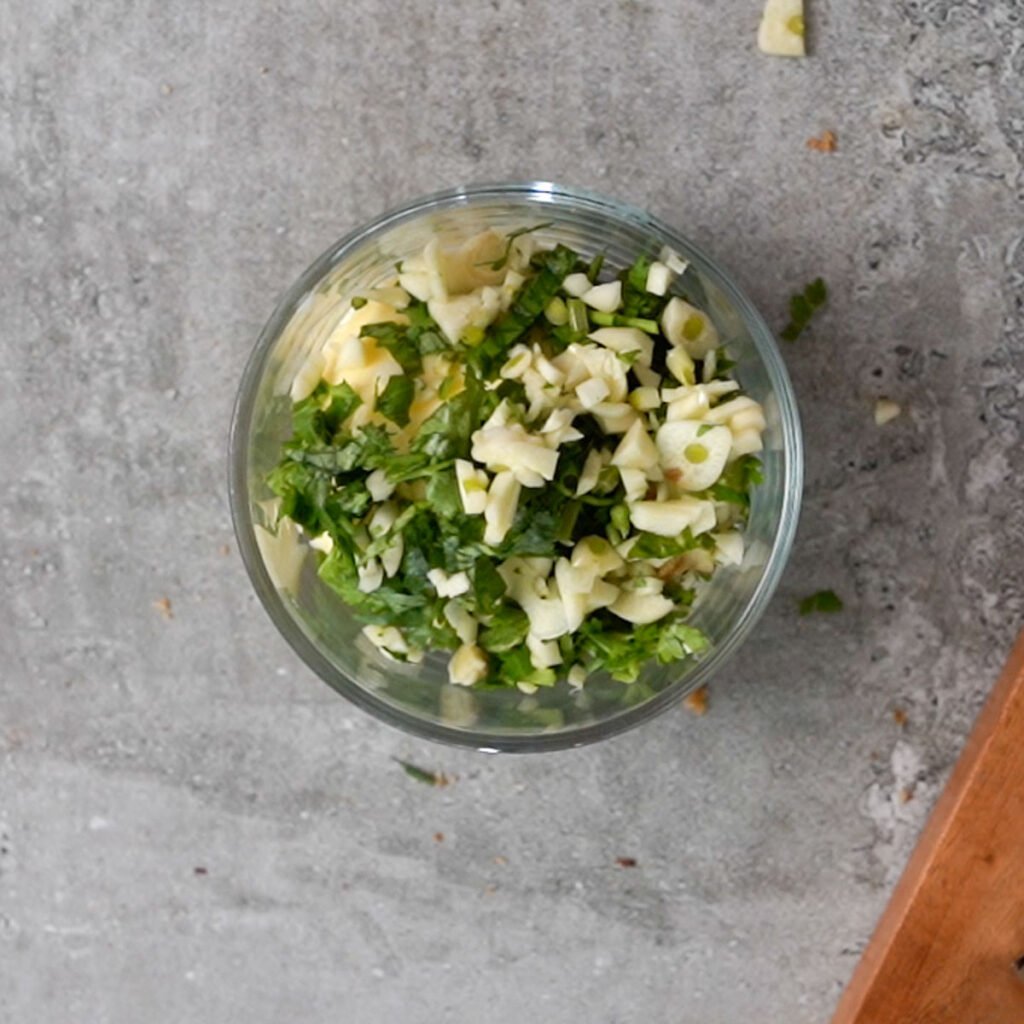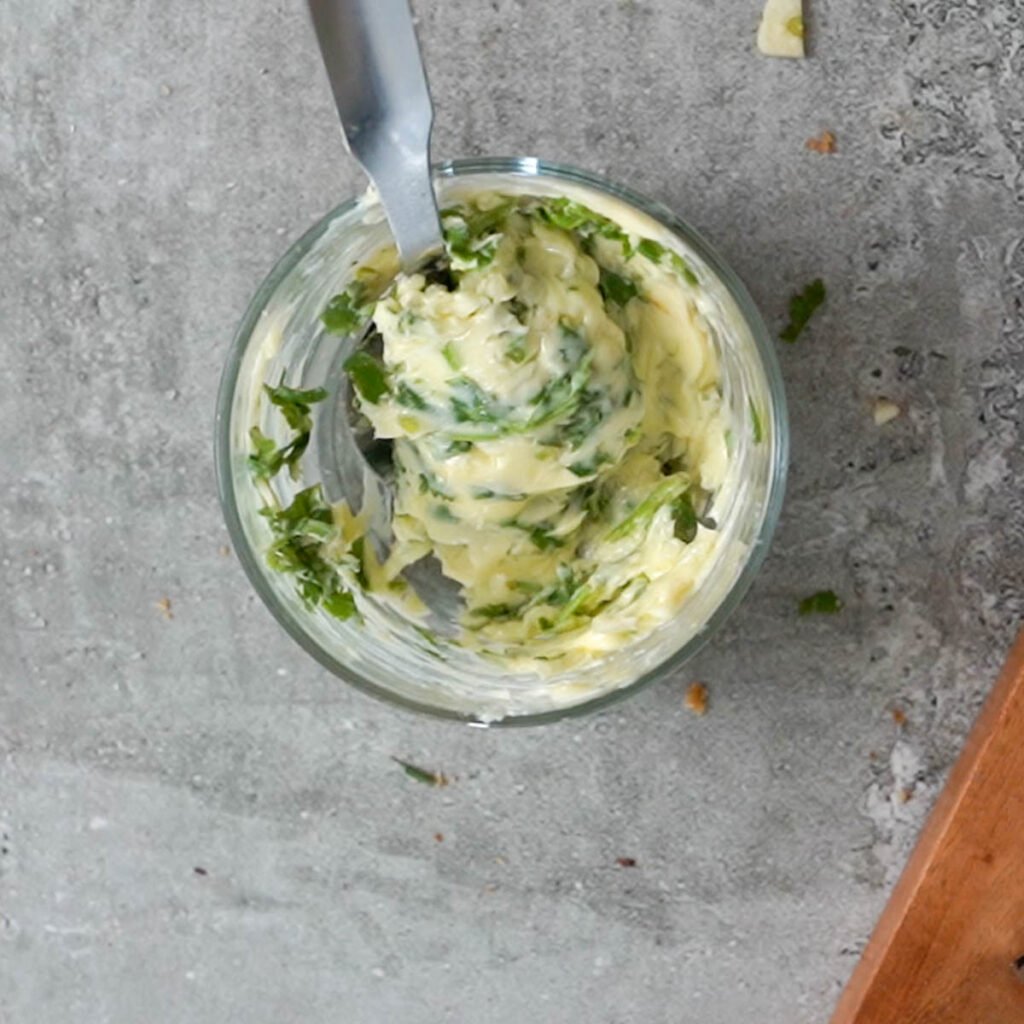 Step 2: Top the Bread
Place the bread on a parchment paper. I use the paper to easily lower it(and remove) in the air fryer basket.
Slather the garlicy butter generously. Like seriously be generous.
Though if you are avoiding fat, you can change the ratio of butter and garlic too.
If you want to make a cheesy garlic bread, now is the time to top it up.Pile on the bread with all your toppings.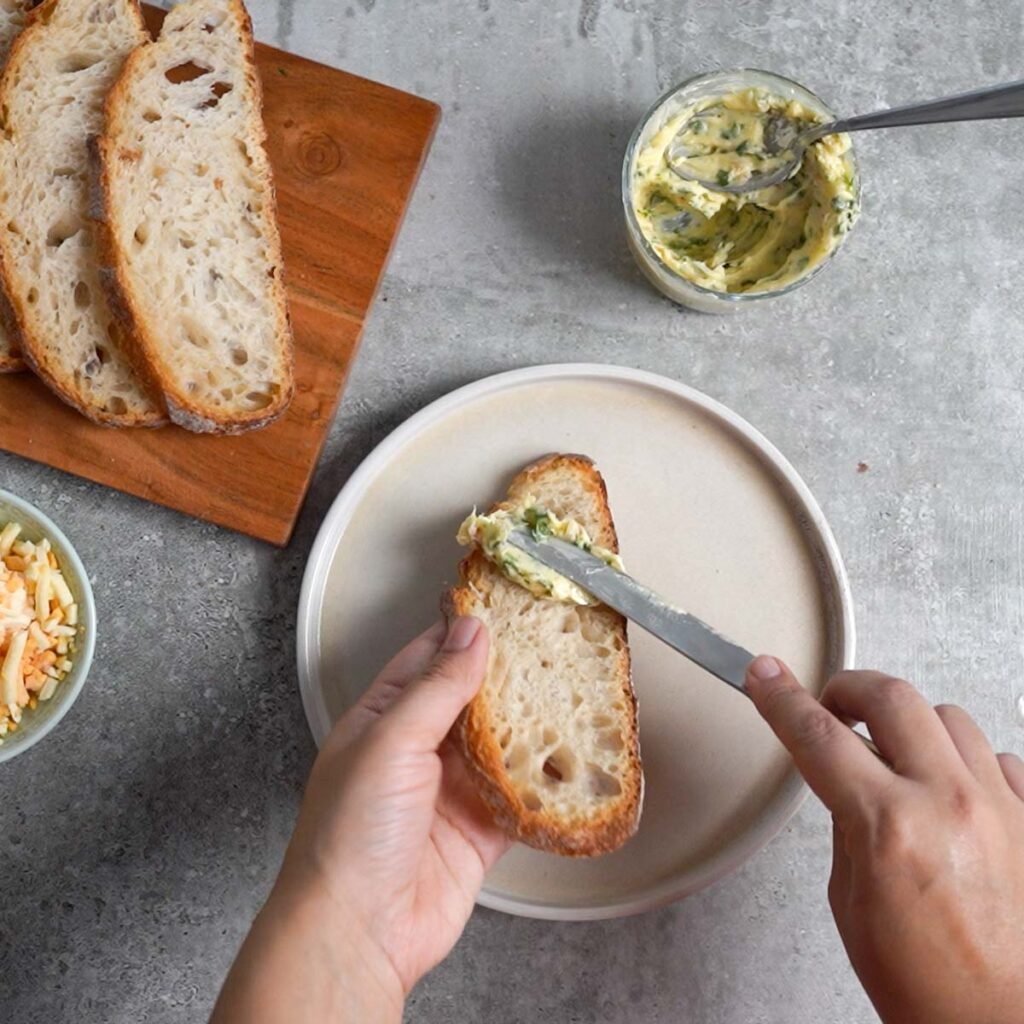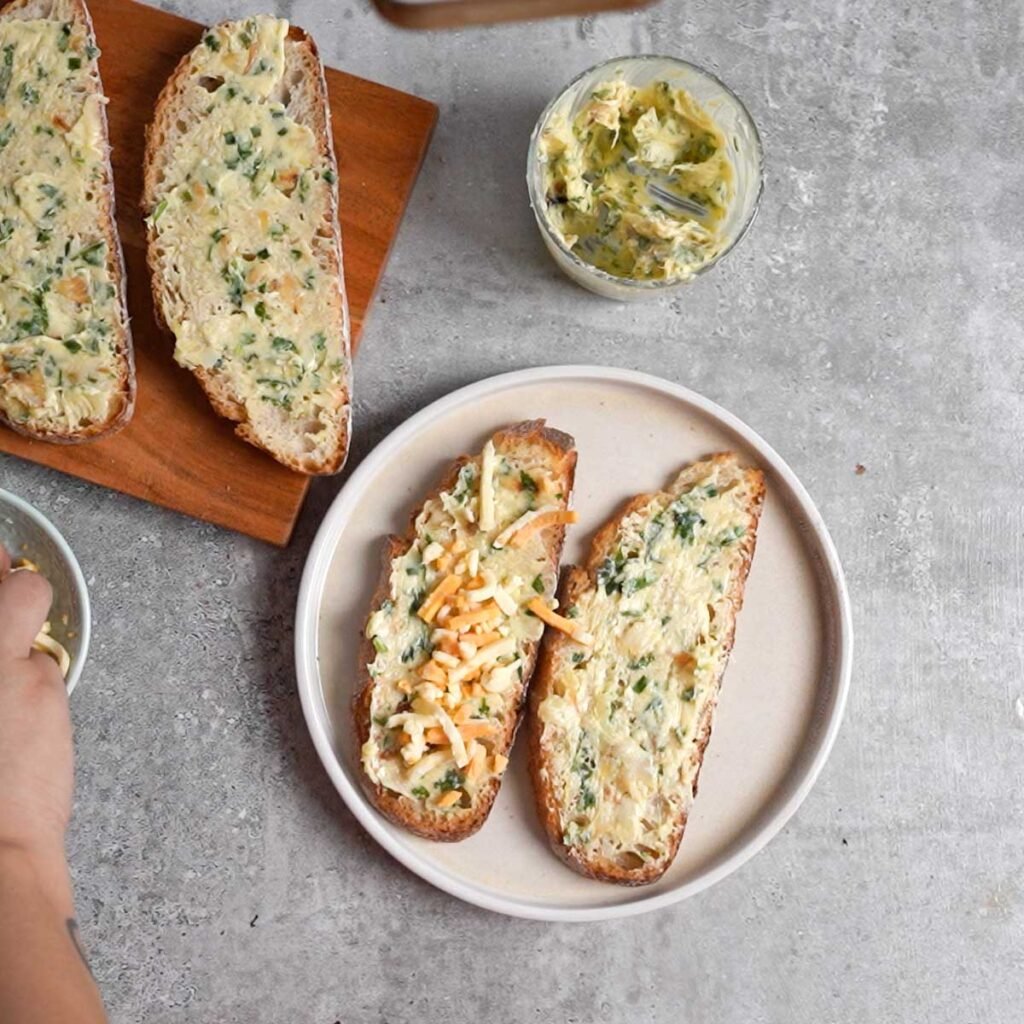 Step 3: Air Fry
Lower the bread into the air fryer basket.
Air fry for 10-12 minutes.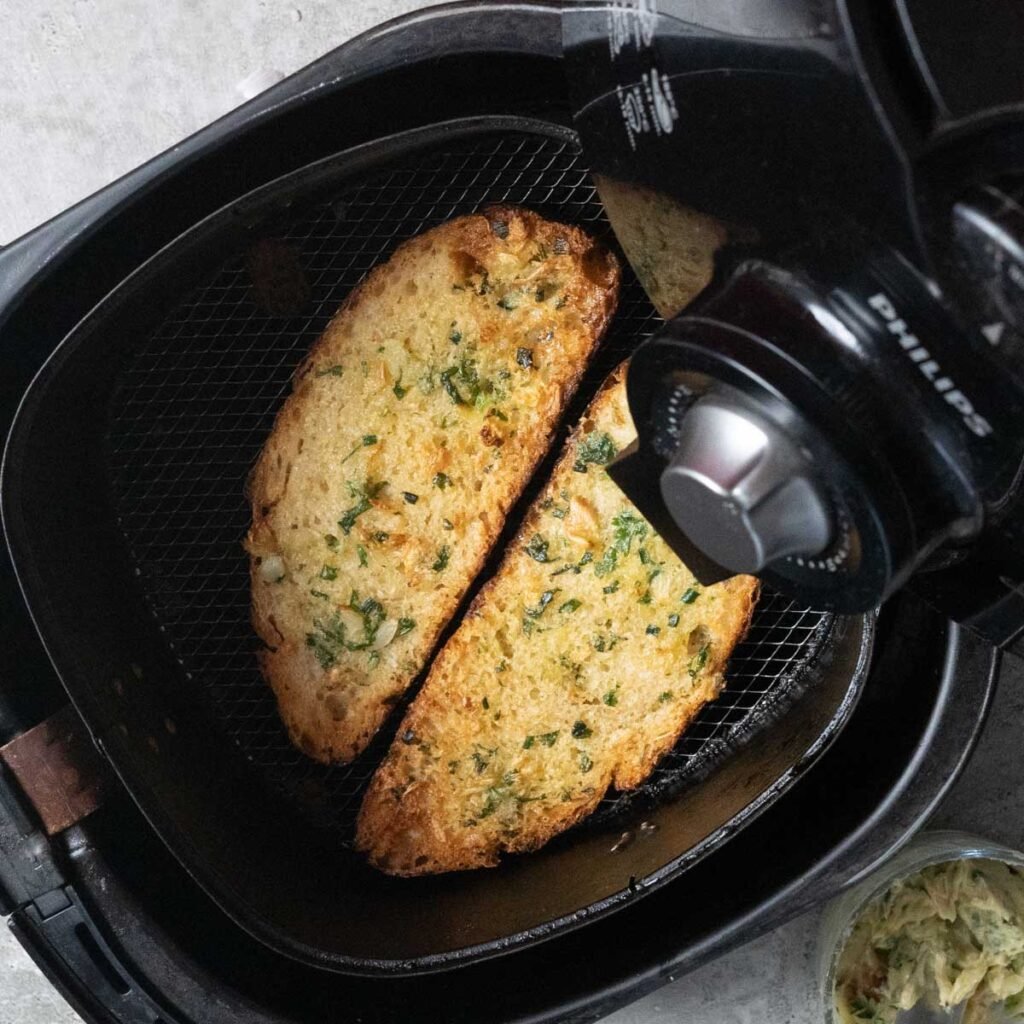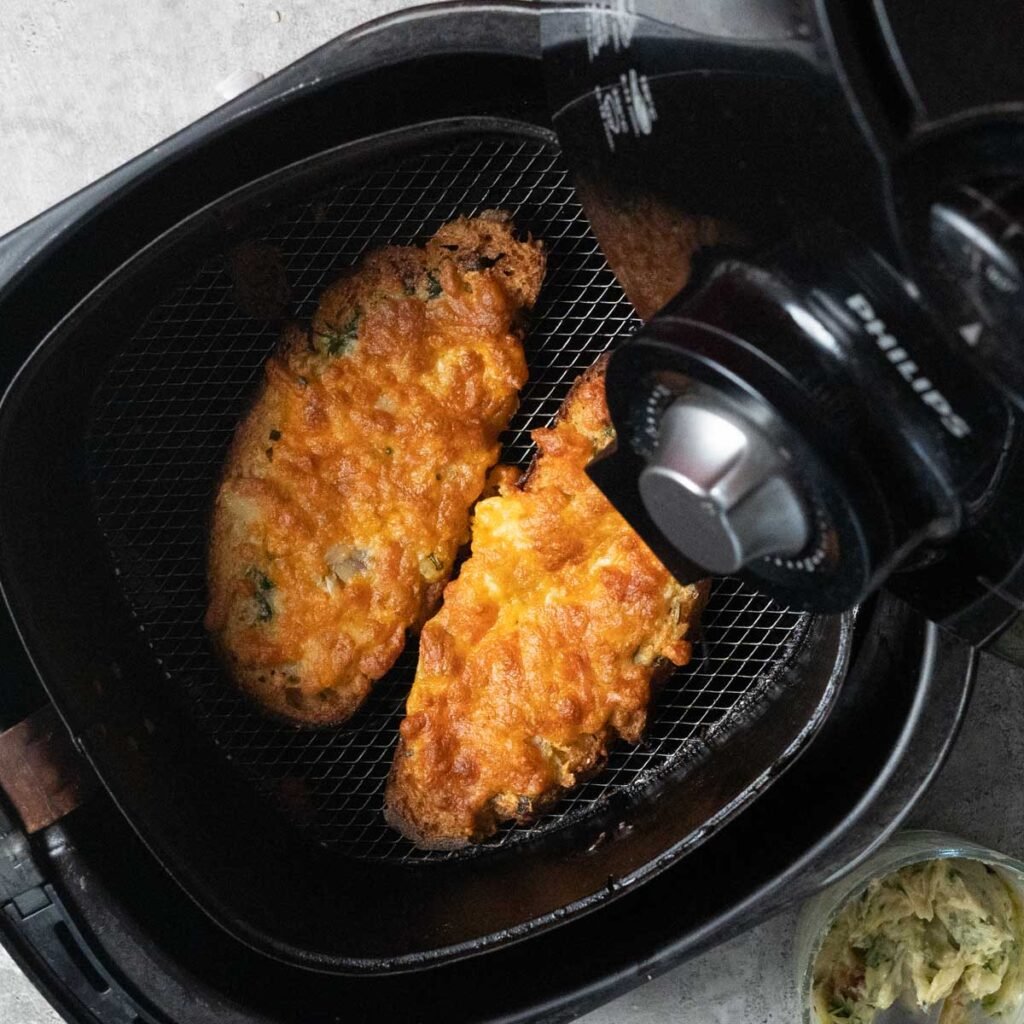 Different Toppings for Garlic Bread
Here is what you can do!
Roasted Eggplant and cheese Garlic Bread
Veggie loaded garlic bread- with grated veggies like carrots and shredded cabbage
Italian Sausage- Just crumble some cooked Italian sausage to make the base layer of garlic bread. Top it with cheese and voila, better than any junk food snack!
Cheese Chili Toast - This is a big deal in India. You start with adding a layer of butter and garlic, Top it up with a layer of mayonnaise and then finally with lots of cheese. Add a few bits of green chili. Or use green capsicum. Air fry as per regular!
Shredded Chicken
Related
Looking for other recipes like this? Try these:
Pairing
You can enjoy this dish as an appetizer with a couple of dips or eat it with a hearty soup as a full meal.
Love the air fryer? Check out all my Air fryer Recipes here
Storing & Leftovers
Here are all the details.
Refrigerator - You can store the cooked garlic bread in the refrigerator for a 5-6 days(depending on the expiry of the bread).I strongly suggest you store it tightly covered otherwise the garlic smell will go to all your other dishes and also dry out the bread.
To eat, just preheat the air fryer for 5 minutes at 200C (400F), reduce the temperature to 180 C or 365 F , Place the cold garlic bread inside for 1-2 minutes till heated through.
Freezing - You can easily freeze leftover garlic bread for 2-3 months. I like to do it either when its half cooked or not cooked. This way, I can Air fry the bread to crispy perfection without worrying about it over cooking or burning.
If you are freezing topped bread, freeze it flat first, once its frozen, transfer it into a freezer bag and store it in a stack.
Counter - It should last for 6-8 hours on the counter. Again, store it covered tightly so that the bread doesn't dry out.
More Air fryer Appetizers
You can check out all of our favorite air fryer appetizers or see any of the below

Air Fryer Sweet Potato Wedges
Air Fryer BBQ Chicken Wings-(Extra Crispy)
air fryer stuffed mushrooms
Air fryer Hasselback Potatoes with Garlic
If you make this garlic bread in the air fryer, do leave me a note or comment! I would love to connect with you.
Find us on Instagram , Pinterest & Facebook here!
If you liked my recipe, do leave a comment!
It will help others find this amazing recipe too!
---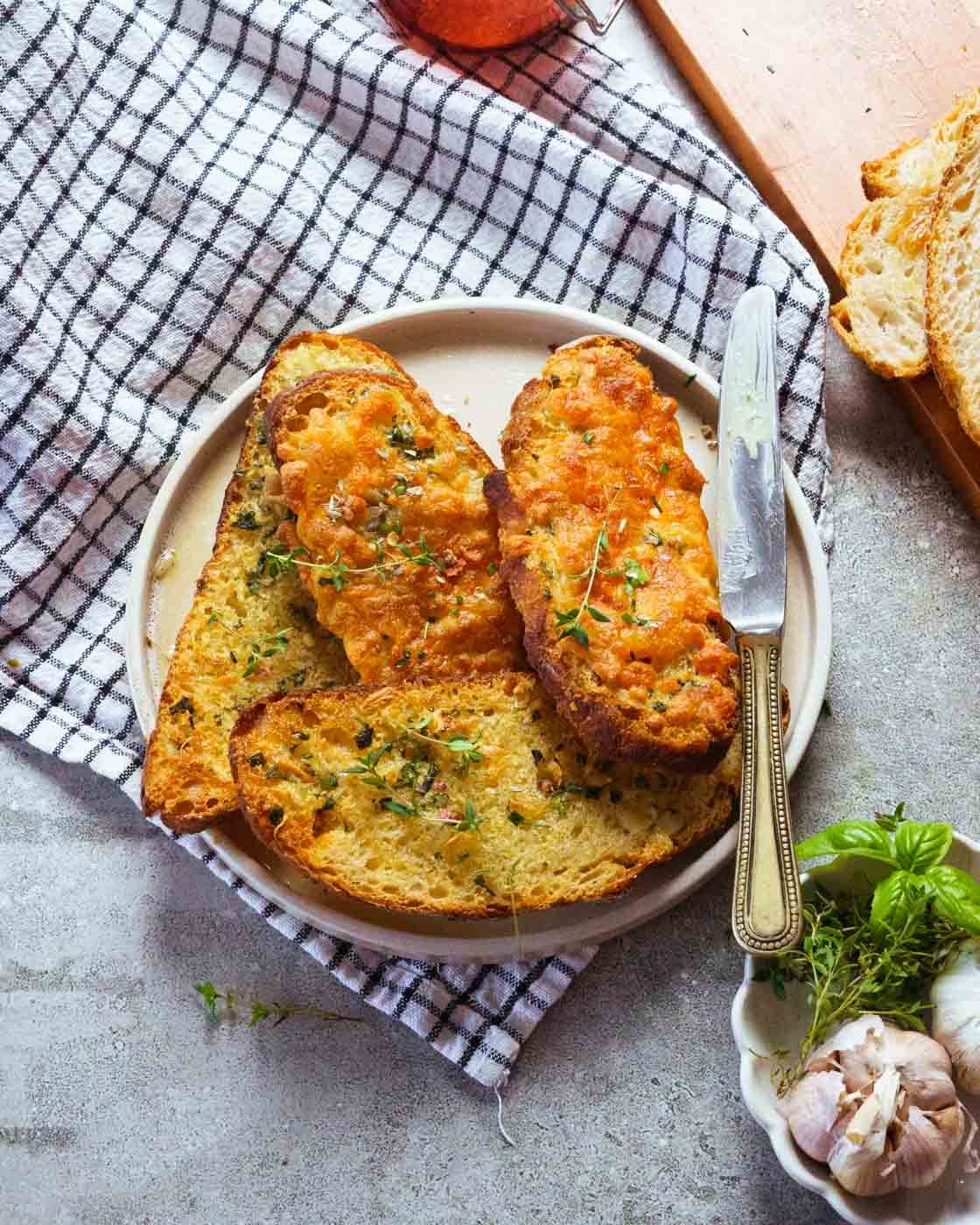 Ingredients
1

Whole

Garlic

Minced or Roasted

¼

Cup

Butter

more if you like

6

Slices

Bread

Salt
Optional
1

tablespoon

Herbs

Dried or freshly minced

½

Cup

Cheese

Cheddar or Mozzarella or any other melty cheese
Instructions
Preheat the Air fryer at 180C or 365F for 5 minutes.

Let the butter soften a bit on the counter.(Cut it into small cubes to make it faster)

Mince the garlic. If using roasted garlic, mash it up.Mince the herbs if using.

Add the minced garlic and herbs to the butter. Add salt if using unsalted butter.

Using a butter knife, slather a thick layer of the garlic-butter mixture on the bread. Place the bread on parchment paper that can go inside the air fryer.

If using cheese- add it on top of the bread now.

Lower the parchment paper into the air fryer.Let some extra paper hang so we can remove the bread easily.

Air fry for 5 minutes till the bread is golden and crispy as per your need.
Nutrition
Calories:
312
kcal
|
Carbohydrates:
20
g
|
Protein:
12
g
|
Fat:
21
g
|
Saturated Fat:
12
g
|
Polyunsaturated Fat:
1
g
|
Monounsaturated Fat:
3
g
|
Trans Fat:
0.5
g
|
Cholesterol:
62
mg
|
Sodium:
438
mg
|
Potassium:
65
mg
|
Fiber:
2
g
|
Sugar:
2
g
|
Vitamin A:
382
IU
|
Vitamin C:
0.3
mg
|
Calcium:
268
mg
|
Iron:
2
mg
If you liked the recipe, please leave us a rating
Follow me on Instagram
My handle is @yellowthyme