Air Fryer Peanut Butter and Jelly-The crispiest pbj you can make! An Absolute must-have breakfast sandwich. Crispy, buttery bread, gooey peanut butter and jelly center.So good!
Jump to:
TASTE: On Point!
TEXTURE: Crispy perfection!
EASE: Super easy!
APPEARANCE: Like the sandwich of your dreams!
Pros: The bread is toasted to perfection without any active involvement.
The 4o clock snack, the school lunches, the random 2 am cravings...The answer to all of these are air frier pbj!
This is what we will do. You can also watch the video recipe to understand more details
Spread peanut butter and jam on the bread
Air Fry
It's comes out so crispy. When you cut into it, the sound is just heaven. That kind of crispy-ness is very had to achieve especially on the stove.
This is a foolproof way of making the best pbj ever! Crisp golden brown outside and soft inside.
It's a pretty indulgent breakfast but something I know my child(and his mom) will eat without fuss. So the days I am completely out of steam, Airfried pbj is my go to.
This is also a great sandwich for school lunches. If you are worried about the sandwich getting soggy, scroll down to check my neat packing tip!
Why we love making Air Fryer Sandwich
Yes you could always make this on a cast iron pan or just toast the bread in a toaster and put it together..And those work well enough..But here is why we love using the air fryer for a perfectly crispy sandwich
The Bread is airy inside and crispy on top. The texture is just on point without thinking of how hot the pan is etc.
You can prep the whole sandwich and air fry it all together. This way, the filling also gets warm and gooey!
There is almost 0 Active time. Just put the sandwich in and walk away. No hovering over the pan etc.
Ingredients for Air fryer Peanut Butter and Jelly
Here are the ingredients you will need
Bread- White or brown- I have used the regular kind. I also love using sourdough bread instead.
Peanut Butter- Store bought or Homemade Peanut butter with 0 sugar and oils! This way you can control the sweetness and the texture of the peanut butter.
Jelly or Jam- You can use anything you have on you.If you are worried about the sugar, try making this homemade Chia Jam.
Butter - Butter adds so much to this sandwich. To make this pbj vegan, you can substitute butter with avocado oil instead.
Spreading butter on both sides of the sandwich makes for crispier pbj.
Best bread for PBJ
The best bread as per many is classic old white bread.Something soft and pillowy.
That said, we usually buy multigrain breads or sour dough. Once you get used to eating other healthier breads, you will not find much missing!
Also, sourdough bread has a deeper taste though like black coffee, you will only appreciate it once you have been exposed enough to it.
How to air fry Peanut Butter and Jelly
Here is what you do.It's easy peesy! Promise!
Step 1: Spread butter on one side of both the breads.
You can also do this last or over a parchment paper so the cutting board doesn't get dirty
Step 2: Flip the bread. Add peanut butter on one and jelly on another.
Be generous here. You want a thick layer of peanut butter on the bread and a slightly thinner layer of jelly.
I have used crunchy peanut butter but you can use a regular creamy version too.
Step 3: Airfry the PBJ for 5 minutes on one side.
Flip and air fry for another 2 minutes. Sometimes I just let the air fryer do its thing for 7 minutes without bothering to flip. It will be slightly uneven but I am totally okay with it.
Step 4: Open the air fryer basket and remove the airfried pbj and enjoy!
Look how the crust browns evenly. When air frying sandwiches, they will turn crisp even without a deep browning.
Healthier Air Fryer Peanut Butter and Jelly
Change the bread to something local, artisanal like sour dough bread.You can buy breads made with alternate flours like millets and rye.You can also use a tortilla and grill it the same way!
Use fruits instead of jelly- Make your airfried pbj into an airfried pbf - peanut butter and fruit sandwich.Bananas, Strawberries, kiwis & Mango will make an excellent addition.
You can even leave out the jelly and use chocolate spread instead.
Add some Nuts and seeds for some added texture
Twists to Classing PB&J
Take your pbj to another level by trying these combinations!
Add spice like cinnamon
Add peanut butter on both sides and add bananas
Add Marshmellow fluff
Recipe Notes, Tricks & tips
Here are a few things that will help you while making PBJ in air fryer.
Use a parchment paper to keep the sandwich in the air fryer. This will not only help you keep the air fryer clean but also help remove the sandwich from the air fryer.
If you don't want to, don't flip the sandwich and air fry straight for 7 minutes. Increase the time to 8-9 minutes if you want a darker more caramelized crust.
You can use the same technique to air fry any sandwich!
Kids prefer softer white bread than the sour dough bread.
Storing & Reheating Air fried PBJ
So the biggest question I get is- whether the sandwich will hold it's texture when packed.
It's such a shame when you pack a delicious sandwich and it becomes soggy by lunch time.
Here is the trick- Let your sandwich cool down on the cutting board before packing!
If you pack your sandwich when its hot, steam will form.That will make your sandwich soggy!
All you have to do is, place your sandwich without wrapping it up, in the lunch box! Easy peesy!
If this trick worked for you, drop me a comment!
Are you looking for more breakfast recipes?
Here are some easy lazy girl(or boy) breakfast recipes for you
did you know you can make grill cheese in a waffle machine? It's so good! Do give it a try!
Here are two indian recipes that we make almost every third day!Full of Millets and very high on nutrition!
Fudgy Ragi Chocolate Pancake|Finger Millet Recipe
Instant Ragi Dosa Recipe
Okay and if you love peanut butter like us, you must try making these Snicker Dates & these homemade peanut butter cups!
More Airfryer Recipes
Here are some more air fryer recipes.I am working hard on adding all our little time savior recipes on the website.So keep visiting to find new hacks and recipes that will save time and effort using the airfrier!
Air Fried Banana
Air fried Sweet Potato Cubes
Air Fryer Curry Cauliflower |Healthy & low Carb
Air Frying Peanuts
Air Fryer Buffalo Shrimp
Airfryer Honey Chilli Edamame
If you make an Air Fryer PBJ Sandwich with this recipe, do drop me a note. I would love to hear what you thought about the curry!
Find us on Instagram , Pinterest & Facebook here!
If you liked my recipe, do leave a comment!
It will help others find this amazing recipe too!
---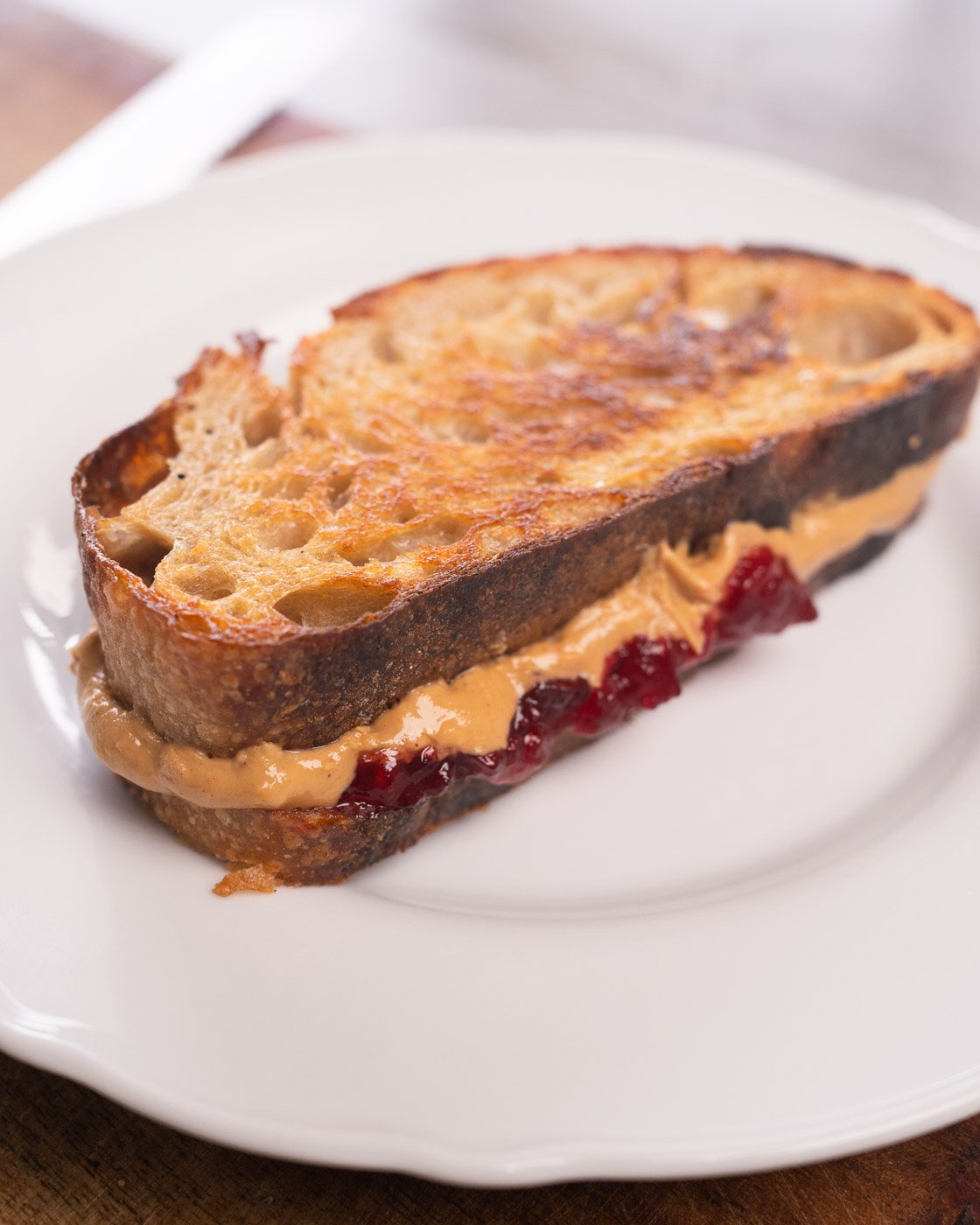 Ingredients
2

Slices

Bread

White or Brown

1

tablespoon

Peanut Butter

1

tablespoon

Jelly

1

teaspoon

Butter
Instructions
Spread butter on both the slices of bread.

Flip the slices, Spread peanut butter on one and jelly on other

Keep in on parchment paper. (makes it easier to remove and flip.)

Open the airfrier basket and gently place the sandwich inside.

Set the temperature at 200 C or 400 F and time to 5 min.

At the end of 5 min, Flip the sandwich.(preferred but not absolutely mandatory!)

Air fry for another 2 minutes.

Open the air frier basket and remove the sandwich.

Cut it in desired shape and enjoy!
Notes
Variations of PBJ
Use Fruits like strawberries,bananas instead of jelly
Add Cinnamon
Use Chocolate Peanut butter instead
Add Marhsmellow fluff
Packing 
Let the sandwich cool completely before packing it for school lunches.
Nutrition
Calories:
340
kcal
|
Carbohydrates:
44
g
|
Protein:
10
g
|
Fat:
15
g
|
Saturated Fat:
5
g
|
Trans Fat:
1
g
|
Cholesterol:
11
mg
|
Sodium:
372
mg
|
Potassium:
186
mg
|
Fiber:
3
g
|
Sugar:
15
g
|
Vitamin A:
126
IU
|
Vitamin C:
2
mg
|
Calcium:
83
mg
|
Iron:
2
mg
If you liked the recipe, please leave us a rating
Follow me on Instagram
My handle is @yellowthyme
Can you Airfry Pb&j Sandwich
You can airfry anything under the sun! From Cauliflower to Peanuts to Bananas!
Heck you could roast a whole chicken in it! Sandwich is a small fly..lol!
Air frying is not only healthy but also quicker.Added to that, the texture is so so much better!
Judge for yourself, see the video and listen to the cruch when I break the sandwich!So so crunchy!