Mango Lassi-Incredibly refreshing, sweet & tangy yogurt-based drink. This indian mango smoothie just so wonderfully tropical & unbelievably easy to whip up!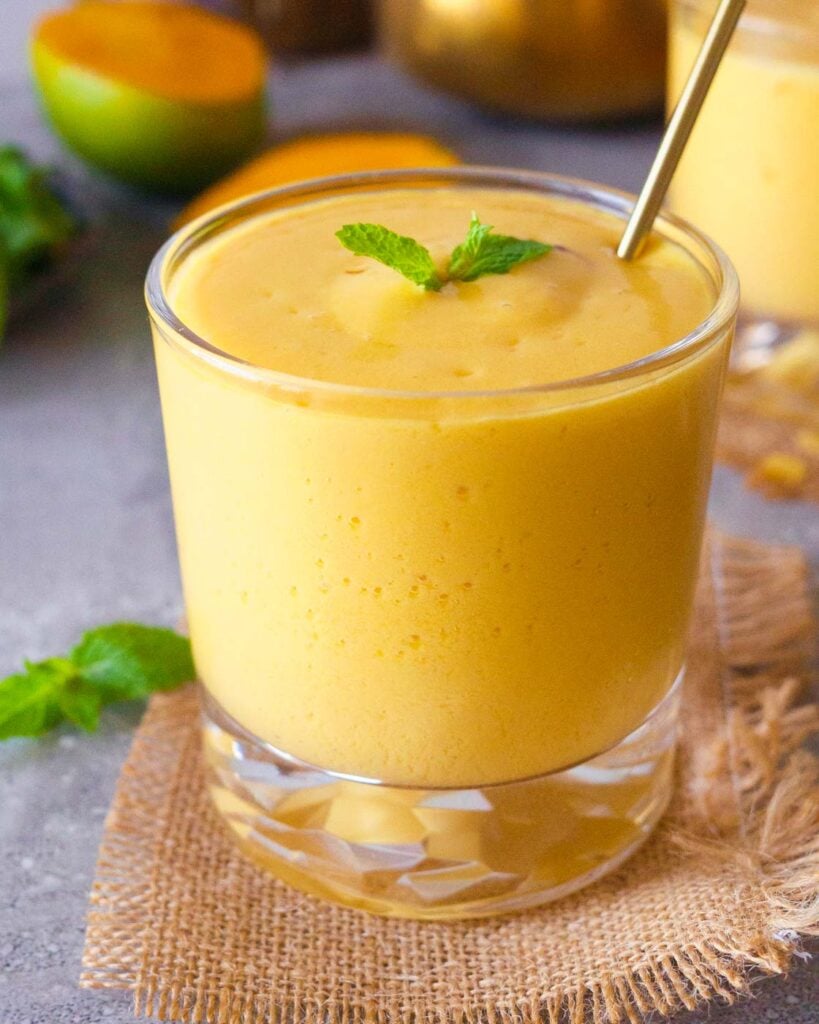 Cuisine : Northern India
TEXTURE: Thick but pourable
EASE: Easy
Served: Chilled
Jump to:
Here is what we will do
Cut the Mango(or use Substitutes )
Blend & Adjust
Serve with Garnish
🥭What is Mango Lassi
Mango lassi is a famous indian drink made with Yogurt, Fresh Mangoes and Sugar. It is like a mango milkshake or a smoothie but with yogurt instead.
It is a refreshing summer drink ,that is an absolute must have, during the summer months Especially when Mangoes are in season!
If by some off chance, you have never had a lassi before, then let me give you a little beginners 101. It is a cold, sweet and slightly tangy yogurt based drink, kind of like a smoothie.
You can make it by just using mango, Yogurt or homemade curd and sugar.
But if you want to really go for the best version, which will knock your socks off, make it using the recipe below with some flavor enhancers like rose water or a touch of cardamom.
Why make it at Home
Mango lassi is quite easily available in stores and Indian restaurants but most of them do not contain any actual mango. They are usually loaded with sugar and artificial color and flavors.
Two, It's healthier at home. Not only are you using nutrient rich fresh mango (even if its frozen or in pulp form, you can also control the amount of extra sugar you want to put in the Lassi.
If you want a leaner version, you can swap high fat yogurt with greek yogurt and skip the sugar altogether.
Three, it's cheaper! Especially if you crave it everyday like me!
And the last and most important for me, I can make it during the summer season using the seasonal ingredients that are not only good for me but also sustainable.
🥛Varieties of Lassi
Lassi is a very everyday part of the indian household and there are a tonne of different types of lassi.It is quite a traditional indian drink.
The most popular being
Salty Lassi or Seet - with Roasted Cumin, dried Mint leaves and Black Salt
Rose Lassi - With Rose Syrup and Gulkand
Plain Lassi - with just sugar
South Indian Butter Milk - with Curry leaves & Ginger
There are a lot of flavors of sweet lassi - like Paan flavoured lassi and Kesar Lassi.
🧾Ingredients
Here is what we will need
Mangoes
Yogurt
Milk or Cream
Sweetener
Optionally - Cardamom, Rose water or Kesar
Garnish- Slivered Almonds, Pistachios, Rose petals
🥭Mango
To make the best lassi, you need a Ripe, yellow , almost saffron Mango. When you press it with a finger, the Mango should cave, almost like a ripe hass avocado.
In India, you get a lot of different varieties of Mango- like Happus,Kesar or Alphonso, Langda, Badami, and Imam pasand.If you are outside india, you will probably find mexican mangoes like champagne or red mangoes or thai mangoes.
They tend to be less "Mango"(I really don't know how to describe it!).They are usually less intense and sweeter than Alphonso mangoes.
Kesar or Alphonso is the king of Mangoes. It's a lot sweeter than other mangoes, has a very distinct Mango smell and taste. Almost all Artificial Mango flavors are modelled after Alphonso.
If you can get your hands on Alphonso, then get that for sure! You can find it in indian groceries during mango season- April - June. Though it can be costly.
If not, then pick the Mango that is easily available around you. Only make sure that you pick ripe mangoes.
With any other type of Mango, I recommend adding mango pulp too. You can easily get it off amazon or in any well stocked indian grocery.
It usually comes in a big can which you can never use fully. So I like to portion and freeze it for later.
In summary,
Use Ripe Alphonso Mango when in season- April- June OR
Use any local ripe Mango or frozen Mangoes along with Mango Pulp OR
Use Mango Pulp entirely
Mango pulp is available in indian groceries or on amazon very easily.I recommend Rani Kesar Mango pulp or Swad Alphonso Mango Pulp. If you are in India, Urban Platter has a nice preservative free version.
💭Mango Lassi with Mango Pulp
If you cannot find a ripe mango, you can use either Frozen Mangoes or Canned Mango Pulp.
Mango that's been frozen during the summer season, at it's peak ripeness is a great option in case Fresh Mango is not available or you are making the lassi during any other season.
Mango Pulp is also a great option.
If you are using not so ripe, not so sweet, average mango, then use more of the pulp to compensate for the lack-lusture mango.
If you have a gorgeous, in season, sweet, yellow juicy mango, go ahead and reduce or omit the mango pulp all together.
If you can't get your hands on mango pulp , you can also use Mango ice cream instead.
Yogurt
For best results, use plain yogurt- full fat, made with whole milk, to make this drink. For the love of all things delicious, do not use runny or sour tasting curd. Use either thick set yogurt or greek yogurt.
You want fresh yogurt which hasn't been fermented for too long.It should have just a slight tang.
You want the Mango lassi thick, decadent and just short of spoonable. Like a Milk shake.
Cream
Is the cream needed? Well..No..It's not..
But..
It adds a delicious creaminess to the lassi that is ,quite frankly, unachievable without this ingredient.
There is a reason why I use cream. In certain parts of old delhi, you get the most amazing lassi in the hot summer days. They use Full-Fat(and then some) cows milk to make a thick yogurt which has almost half a centimeter of malai ( the most delicios layer of milk fat/butter) on top.
Most houses cannot replicate that amount of malai on top and to make our mango lassi as decadent as the one in old delhi, we add cream!
Sweetener
Usually Mangoes are pretty sweet by themselves. Depending on how you like the sweet level, you can opt to add or not any sweetner.
White Caster sugar is my go to while making lassis. Simply because it doesn't alter the flavors plus it gets mixed in quite fast. So you don't have any sugar crystals spoiling the texture of your creamy lassi.
Milk
Again for best results and a decadent taste, use whole milk.If you want to make the lassi lighter, you can use skimmed or low fat milk too.
To make this dairy free- use almond milk or coconut milk instead. Soy and other nut milks also work well.
Other ingredients
These are good to have but not must have ingredients.
Cardamom Powder
Green cardamom powder or elaichi powder is so good in a sweet lassi! If I am serving the lassi to guests, I would definitely add it!
If you can get the elaichi essence, it will be easier, it mixes in without adding any fiber and bits.
If not, You can pound the black seeds inside the elaichi in a motor pestle and add to the lassi.
Rose Petals
Dried rose petals or even fresh rose petals add a nice finishing touch to the lassi.I love the way it looks!
Crushed Pistachios
Crushed, bright green pistachios are another great garnish to the lassi. They add a gorgeous contrasting color which makes your drink pop!
📋How do I make Mango Lassi
This is the simple part.
I usually keep my yogurt in the refrigerator so it's quite cold. I also add 3-4 crushed cubes of ice just before the last bit of blending.
🍽Equipment
You will need a blender for this. Any regular not so fancy blender will also do. Especially if you are not using cubed ice while blending.
Step 1: Cut the Mango
This is my usual way of cutting a mango.
Slice it along the seed, make Criss cross cuts and scoop it out using a spoon.(Oh and enjoy licking, sucking, biting the seed clean cause as a cook you have certain privileges..lol)
You can also just scoop the flesh out using a spoon.(You can see this in the video)
Step 2: Add the Mango to the Blender
When blending, it's always better to layer. Add the Mangoes first because they need the most amount of work.
Add rest of the ingredients - Yogurt, Milk(or cream), sugar, cardamom powder or crushed cardamom seeds and 2-3 ice cubes on top.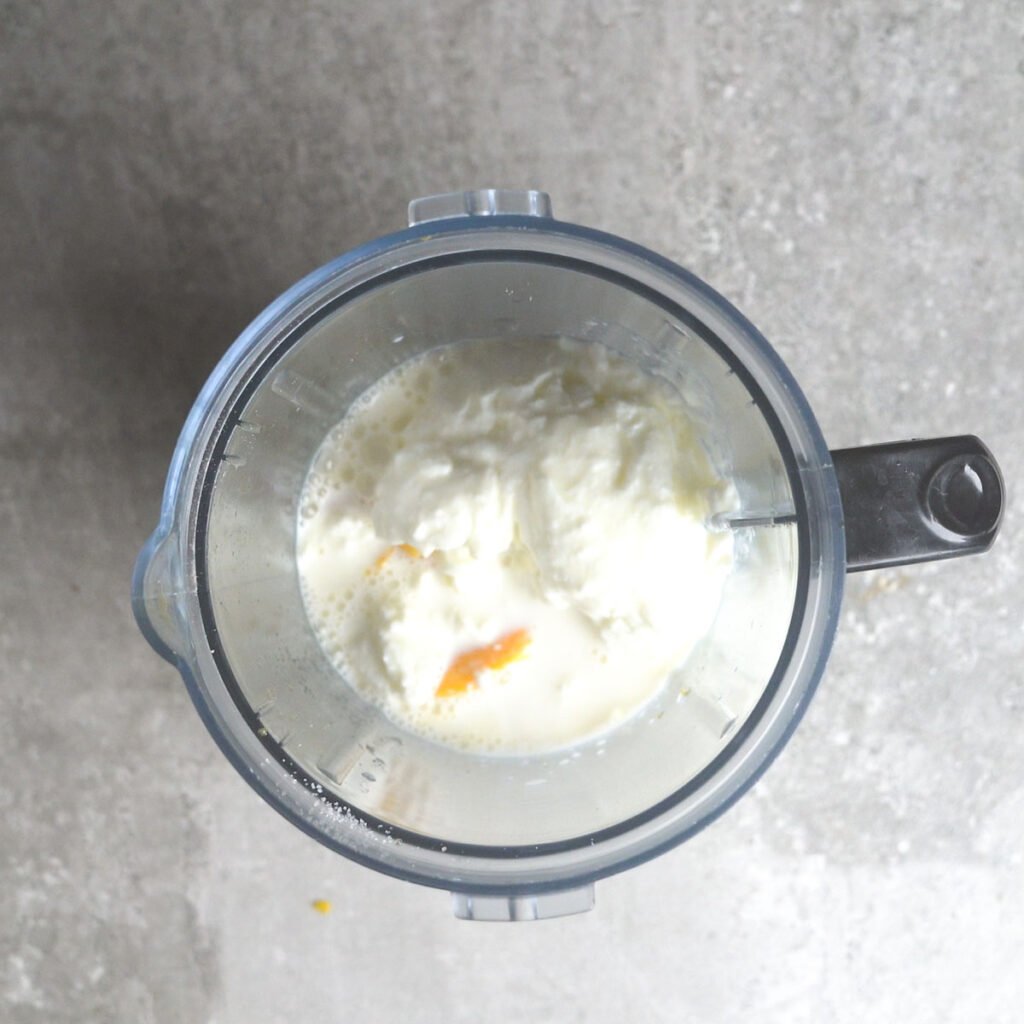 Step 3: Blend & Adjust
Close and blend.
Adjust the thickness of the lassi as per your preference. I like it to be in the thick but pourable territory.
You can add more milk or cold water or a few more ice cubes to the lassi to adjust the thickness.
Step 4: Serve
Garnish the lassi with a single mint leaf or slivers of almond or pistachio on top. I love adding a few crushed leaves of dried rose petals too.
It just looks so gorgeous!
Serve it cold.
For Serving glasses , you can either use tall ice tea glasses or traditional steel glasses.
Dairy Free, Vegan Mango Lassi
You can make Dairy free Lassi by substituting Dairy Yogurt with plant based yogurt such as Nut or Soy based yogurts.
I love making it with Pistachio yogurt! It just compliments the mango so well!
Storing & Freezing
Mango lassi will last for 2-3 days in the refrigerator and just about a day on the counter at 25 C or 80 F temperature.
It will separate into water and milk solids after a couple of hours. Just give it a mix and you are good to go!
If you are want to enjoy mango yogurt everyday, you could peel, dice the mangoes and freeze it in ice cubes.
That way you can have Chilled Mango lassi to slurp on within a couple of minutes!
Here are some More Mango Recipes for you

Indian Raw Mango Chutney
Prawn Curry with Raw Mango|Indian Shrimp Curry
Summertime Fresh Mango Cake- Eggless
Mango Pannacotta- Easy No Bake Dessert
Mango Corn Salsa- Pico de Gallo
If you make this delicious Indian Summer Mango drink, do leave me a comment or a rating. I would love to hear from you!

Find us on Instagram , Pinterest & Facebook here!
If you liked my recipe, do leave a comment!
It will help others find this amazing recipe too!
---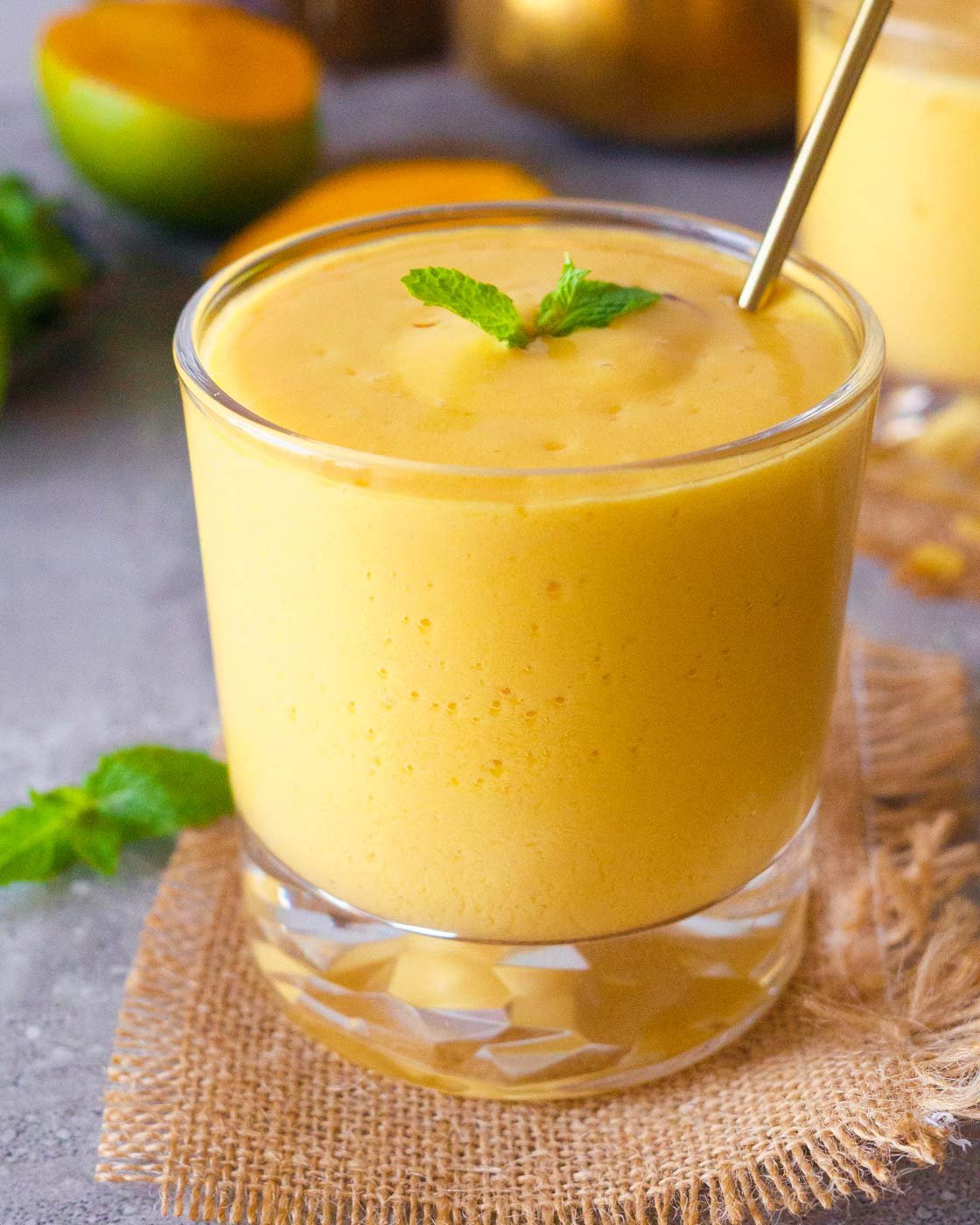 Ingredients
1

Cup

Mango*

180 gms ; Very Ripe, Fresh or Frozen; Check notes

1

Cup

Yogurt

½

Cup

Milk

2

tablespoon

Sugar

adjust as per the sweetness of mango

2-3

pieces

Ice Cubes
Flavor (Choose any one or none)
Garnish (Choose any one or none)
1

tablespoon

Slivered Almonds

1

tablespoon

Slivered Pistachios

1-2

Saffron Strands
Instructions
Cut the Mango along the seed into 3 parts. Cut it into cubes or Scoop out the flesh.

Add the Mango to the Blender.

If the Mango is not ripe enough, add 2 tablespoon of Mango Puree to the lassi.

To the Mango, add the sugar, milk and Yogurt.

Flavor it with the black seeds inside the green cardamom pod or Rose water or Saffron.

Blend the Lassi. Add 2-3 cubes of ice to make it cold. Or substitute with an equal amount of cold water.

The texture is thick but pourable.

Garnish with Mint/Saffron/Rose petals or slivered nuts like almonds and Pistachios
Notes
Mango
If you can, use Ripe Alphonso Mango
If using any other Mango, use 2 tablespoon of Mango Pulp to make up for that elusive "Mango Taste" which will mimic the restaurant style lassi.
You can also use Canned Mango puree or frozen Mangoes to make this. Yes the taste will differ slightly but it will still quest that thirst for a cold summer drink.
As a rule
1 cup of fresh Mango= 1 cup of Frozen Mango = ¾ Cup of Mango puree.
Always taste the Mango or Mango puree before making the lassi. Sometimes it is very sweet and you might not need sugar.
Mango Pulp - Use this when you are seeking a more intense Mango flavor or are trying to get the restaurant level lassi.
Sugar- You don't really need a tonne, especially if the mango is ripe.You could skip it if you want or substitute it with Palm sugar, Maple syrup, jaggery, coconut sugar or sugar free alternatives.
Yogurt - Creamy thick yogurts made with whole milk work best. You can sub for fat free or low-fat yogurt, Coconut yogurt, soy yogurt, any nut yogurt too
Milk - I use whole because we are aiming for decadence but you could get away with using 2% or fat free alternatives too.
Non-Dairy Mango Lassi
Substitute Dairy yogurt and milk with Nut yogurt and milk like pistachio or cashew or even coconut yogurt. You can also use Soy based milk and yogurt.
Adjust the Thickness
To adjust the thickness of the lassi, start with just the main ingredients first.
add more of any of the below and adjust accordingly.
Ice or cold water OR
Yogurt OR
Milk or Cream
If you follow the recipe exactly, you should get a thick but pourable lassi.
Fun Additions
So beyond the usual suspects - rose water, cardamom and saffron strands, we love adding fruits to the lassi.
A few pomegranate seeds
Grapes
Line the glass with rose syrup like Rooafza
Ice cream or Kulfi!
Cubed mangoes 
Nutrition
Serving:
1.5
Cups
|
Calories:
158
kcal
|
Carbohydrates:
21
g
|
Protein:
6
g
|
Fat:
6
g
|
Saturated Fat:
4
g
|
Polyunsaturated Fat:
0.2
g
|
Monounsaturated Fat:
2
g
|
Cholesterol:
23
mg
|
Sodium:
82
mg
|
Potassium:
282
mg
|
Sugar:
21
g
|
Vitamin A:
220
IU
|
Vitamin C:
1
mg
|
Calcium:
225
mg
|
Iron:
0.1
mg
If you liked the recipe, please leave us a rating
Follow me on Instagram
My handle is @yellowthyme