Rose Lassi- Gorgeous pink rose flavored lassi or indian yogurt drink thats just so refreshing, sweet & tangy.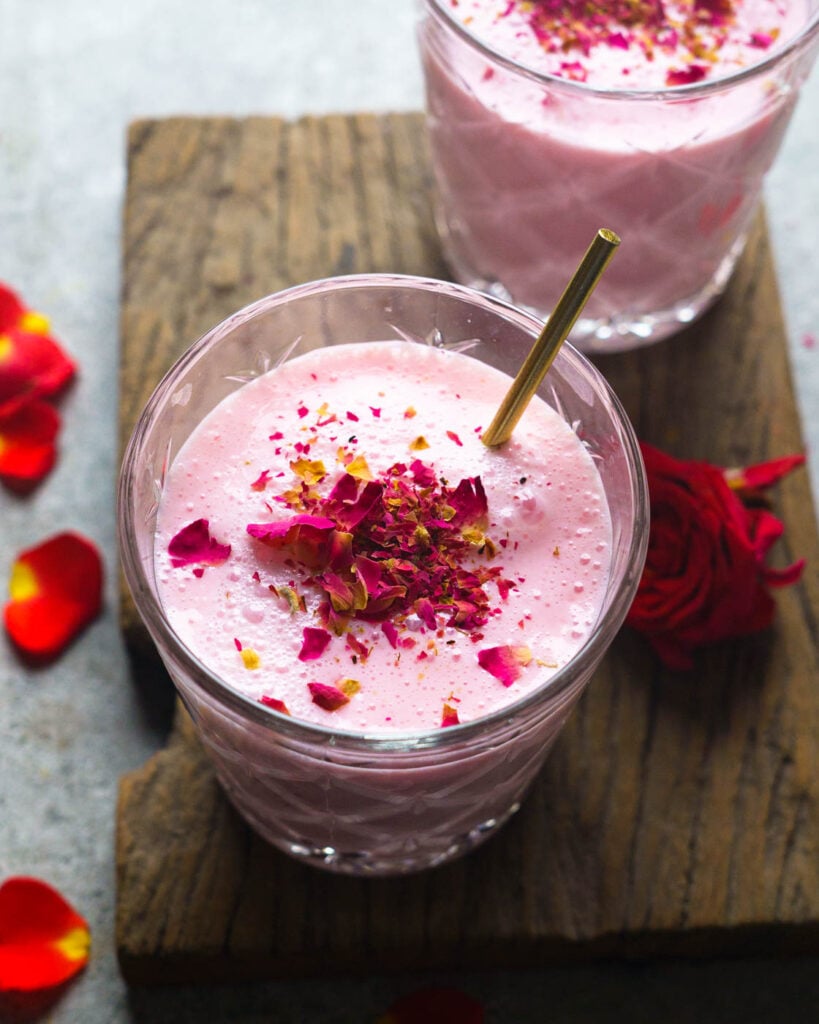 Cuisine : North Indian
TEXTURE: Thick but pourable
EASE: Easy
Served: Chilled
Jump to:
Here is what we will do
Blend everything & Adjust
Serve with Garnish
Lassi is a very common indian drink. There are many versions of yogurt drinks, from Sweet Lassi to Spiced Butter Milk to Fermented Millet based drinks.
Sweet lassi is probably on top of that hierarchy.
None of my Indian parties are complete without this gorgeous pink lassi or Mango lassi when Mangoes are in season!
This is one of my main party wow recipes. Always gets standing ovation(Fine that's an exaggeration but almost).
But what I love about it is how simple it is to make. It's so simple to make but the color and the taste just blows everyone away!
I have always loved lassis. I remember drinking them between our crazy shopping sprees in delhi. The vendors there top the lassis with a piece of thick malai and nuts.
It not only fills you up but cools you down too! Which is what we need! to make the right shopping decisions!
🥤What is Rose Lassi
Rose lassi is a gorgeous pink color, rose flavored yogurt drink. It is sweet and slightly tangy.
It is made with a rose syrup or Roohafza. Roohafza is a very common Asian syrup that almost all 90's kids will have fond memories of.
If you can't find either, you can make rose lassi with edible rose petals and rose water instead.
🥛Varieties of Lassi
Lassi is a very everyday part of the indian household.There are a lot of Yogurt based drinks made in India.
The most popular being
Salty Lassi or Seet - with Roasted Cumin, dried Mint leaves and Black Salt
Mango Lassi - With fresh Mango
Plain Lassi - with just sugar
South Indian Butter Milk - with Curry leaves & Ginger
There are a lot of flavors of sweet lassi - like Paan flavoured lassi, Kesar Lassi
Ingredients
Here is what you need
Yogurt
Milk or Cream
Rose Syrup OR Rose Water. Read details Below
Cardamom
Sugar
And these are optional ingredients that you can use for garnish
Gulkand ( Rose Petal Jam)
Rose Water
Rose Petals - Dried or Fresh.
Crushed Pistachios
Yogurt
If this is an everyday lassi, use homemade curd. Otherwise use thick curd- either store bought or made at home.
You can easily make this recipe vegan by substituting dairy curd with cashew or soy based curd.
Milk or Cream
If you are using thick yogurt, you can use milk to thin out the lassi.
If you want to go truly decadent , use cream.I like to add it only when i am serving guests.
Rose Syrup
Rose syrup is very easily available in indian grocery stores. You can use Rooh afza too. Though that has a lot more going on for itself than rose flavor.
If you can't find any of this then use Rose Water, Sugar and a few freshly washed rose petals. You can also use dried rose petals instead.
The Rose syrup usually has a lot of sugar, so you wont need to add it. But do give it a taste and check before serving.
Sugar
The rose syrup and Rooafza, both have tonnes of sugar in them. Taste and adjust accordingly.
I like using white caster sugar. It dissolves quickly and doesn't interfere in the flavors.
📋How to make Rose Lassi
This is the simple part.
🍽Equipment
You will need a blender for this. Any regular not so fancy blender will also do. Especially if you are not using cubed ice while blending.
Step 1: Blend
Add the yogurt, milk, rose syrup and sugar to the blender.
Pound the green cardamom, remove the black seeds and add it to the blender. You can also use powdered cardamom or essence.
If using Rose water and gulkand , add it at this stage.
Step 3: Adjust
Close and blend.
Adjust the thickness of the lassi as per your preference. I like it to be in the thick but pourable territory.
Step 4: Serve
You can garnish the lassi with a crushed dried rose or single Rose petal or slivers of almond or pistachio on top.
Serve it cold.
Garnish
This gorgeous pink yogurt drink looks so beautiful , especially with garnish.
Here are some Garnish ideas
Rose Petals- fresh or dried
Crushed Pistachios
Gulkand
How to serve
Lassi is almost always served chilled.
I make sure to use cold yogurt while making this. I also serve right out of the fridge. Especially during cold weather.
Storing & Leftovers
Rose Lassi can last in the refrigerator till your yogurt's expiry date. If you have used homemade curd, it should last 2-3 days till the curd become sour.
The yogurt solids and water separates with time. All you need to do it stir it to make it back to its previous consistency.
Yogurt takes the other smells from the fridge. Make sure to cover this well while storing it in the refrigerator.
Also try our summer favorite Mango Lassi. We make it every Mango season!
If you make this Rose flavored Lassi, do leave me a rating & comment. I would love the hear from you!
Find us on Instagram , Pinterest & Facebook here!
If you liked my recipe, do leave a comment!
It will help others find this amazing recipe too!
---
Ingredients
1

Cup

Yogurt

Thick Curd

2

Tablespoon

Rose Syrup

or Rooafza :Read Notes

¼

teaspoon

Cardamom Powder

or 2 green cardamom pods- Check notes

½

Cup

Milk

or Cream

1

teaspoon

Sugar

Adjust as per taste.
Optional Ingredients
1

Tablespoon

Rose Water

1

teaspoon

Gulkand
Garnish
1

tablespoon

Crushed Pistachios

1

tablespoon

Dry Rose Petals
Instructions
Add the yogurt, Cream, Rose Syrup and cardamom powder to a blender or a large deep bowl.

Using a whisk or Rai or blender, blend it till it's combined and frothy.

Check the taste. Add more sugar if needed.

Garnish with rose petals and crushed pistachios
Notes
Rose Syrup
You can use Rose syrup or rooafza.Usually they have a lot of sugar so you wont need to add more sugar to the lassi.
If you cant find either,
Use crushed rose petals- dry or fresh, Rose Water & Sugar 
Or you can use very little gulkand too.
Serving
The drink is served chillied.
I use chilled yogurt and 2-3 crushed ice cubes to get it to the temperature I like.
You can make this ahead of time and chill it in the refrigerator too. Make sure to give it a mix before serving.
Nutrition
Serving:
10
oz
|
Calories:
174
kcal
|
Carbohydrates:
25
g
|
Protein:
6
g
|
Fat:
6
g
|
Saturated Fat:
4
g
|
Polyunsaturated Fat:
0.2
g
|
Monounsaturated Fat:
2
g
|
Cholesterol:
23
mg
|
Sodium:
91
mg
|
Potassium:
297
mg
|
Fiber:
0.1
g
|
Sugar:
25
g
|
Vitamin A:
220
IU
|
Vitamin C:
1
mg
|
Calcium:
227
mg
|
Iron:
1
mg
If you liked the recipe, please leave us a rating
Follow me on Instagram
My handle is @yellowthyme