Homemade Bhatura Recipe -Restaurant style Bhatura that's crispy on the outside and spongy inside. North Indian, deep fried yeasted flat bread, popularly served with chana.
Cuisine : North Indian/ Punjabi
TEXTURE: Crispy from the outside, slightly spongy inside
EASE: Medium Easy
Serve with : Chole , Pickle, sliced onions
Jump to:
Bhature, are yeast fermented bread that's deep fried in oil. It's usually served at parties and gatherings along with Chole, a salad of onions and pickle. The whole dish is called chana bhature or chole bhature.
Even though Naan is more popular, Bhature is made a lot more often than Naans at home. Their doughs are very similar but the cooking process differs.
Chole Bhature was a staple growing up. My mother made it on special occasions every year.
Even though I love eating chole bhature at a restaurant, there is another "anand" or joy of eating homemade chole bhature made by the hands of a loved one.
Traditionally bhature were made by cultivating sour dough starter for many days. If you are into sour dough baking, then you must make your own sour dough bhature.
The easier way of making bhature is by using instant dry yeast. You could also use other leveners like baking soda and baking powder and I will get into that below.
Here is what we will do
Make the dough
Let the dough rest and ferment
Roll & Fry
In restaurants, you will find large bhature that are sometimes bigger than a basket ball. We will be making smaller bhature that will fit our home pots and pans.
Ingredients
Here is what you will need
Maida or All purpose flour
Yeast
Yogurt
Carrom Seeds(Optional but so so good!)
Salt
Oil
Flour
Use all purpose flour or White flour or Maida. You can try making bhature with whole wheat flour too.
Though, Whole wheat flour or aata will not give the same result. The bhature will also be slightly darker in color.
Yeast
You can use fast active yeast or regular dry yeast.
For this recipe, we will "bloom" or activate the yeast before adding it to the dough.You will need warm water and sugar.
Mix the yeast, sugar and warm water. Let it sit for 4-8 minutes.
If it froths, the yeast is active.
You can also use sour dough starter instead of packaged yeast. The taste is unbelievably good. Do this only if you know how to bake a sour dough bread.
If you do not have yeast, you can do two things
-Omit using Yeast
-Use 1 teaspoon of Baking Soda instead
How is Bhature Different from Puri
The big difference between puri and bhatura is the flour.Where puris are made with whole wheat flour and hence are brown in appearance, bhaturas are made with refined flour or maida.
Unlike Bhature, you don't use any levener like baking soda, baking powder or ferment the dough using yeast in puris. The puri dough is very basic and has no enhancers like yogurt.
The only similarity between the two is that both are deep fried in oil.
How is Bhatura Different from Naan
The big difference between bhatura and Naan, lies in the cooking method. Where Naans are baked in a traditional clay oven at very high temperatures, bhatura is deep fried.
Though the ingredients used are almost identical, their doughs differ slightly. A Bhatura dough is slightly more tighter than the Naan.But you can definately use both the doughs interchangebly.
Here is my go to Naan recipe thats just so so fantastic that the Naan stays soft even hours after making!
How to Make Bhatura
Equipment- You will need a
large bowl for the dough
Pan or wok for frying
Long stemmed frying spatula or skimmer
Step 1: Make the Dough
First, bloom the yeast.
You need to add warm water and sugar to the yeast. This will allow it to become active and multiply.
Let it sit for 5-10 minutes. The yeast will start frothing.
If this doesn't happen, add a little bit more sugar and wait for a reaction. The other reason can be that the yeast is not active and you will need an alternate pack.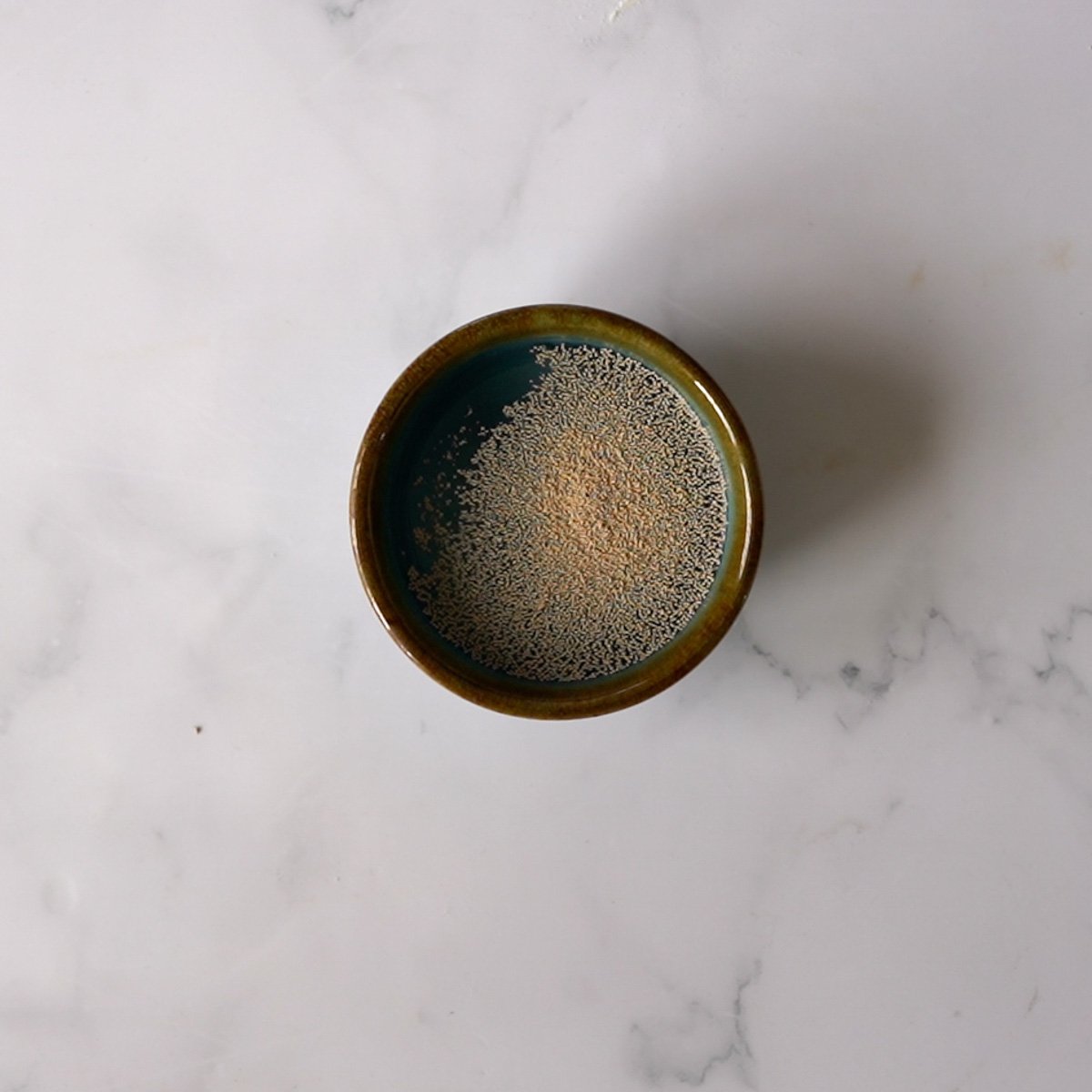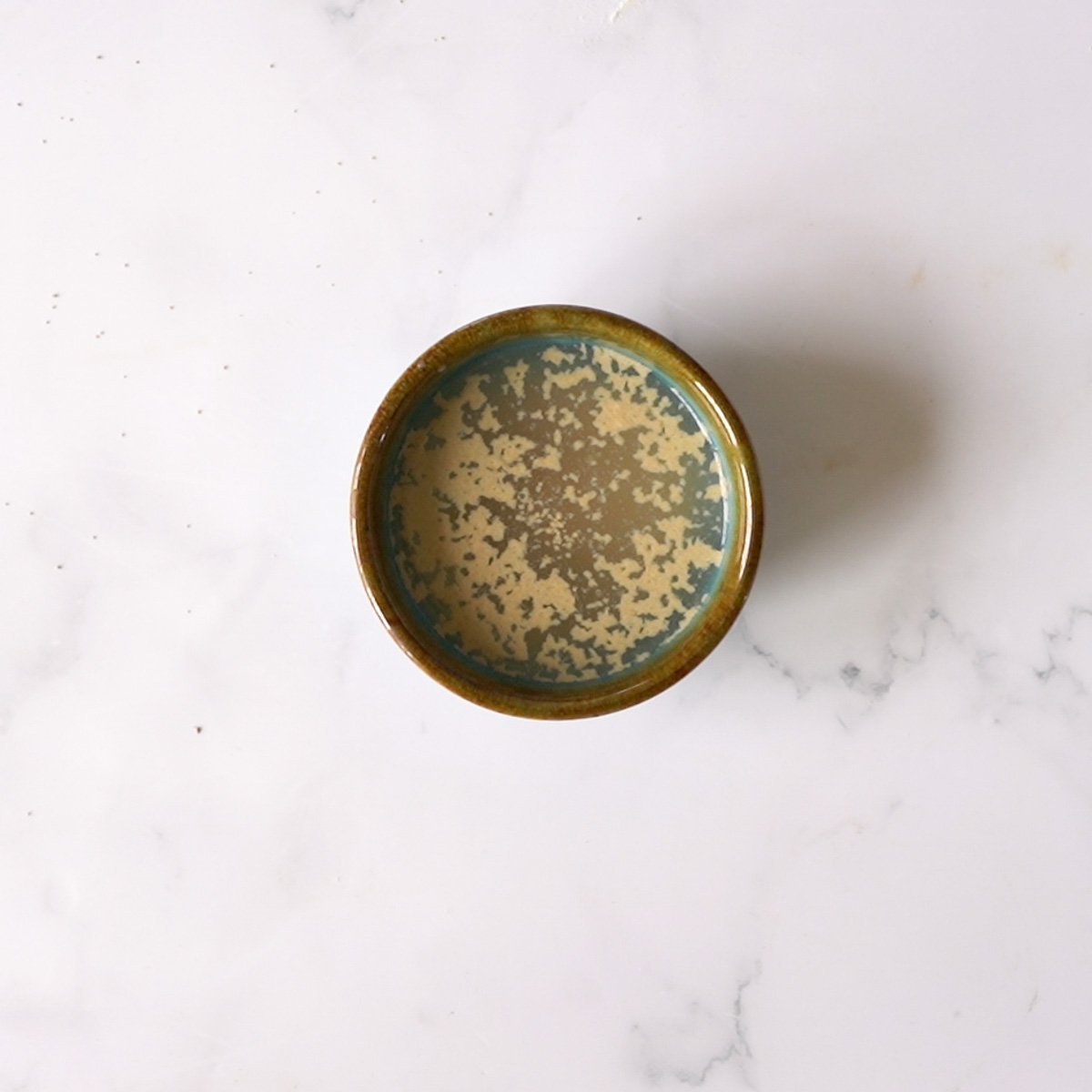 In a large bowl or a plate, add the flour, salt, ajwain & Ghee. Ajwain is also known as Carrom seeds in english.
Next add the yogurt and bowl of activated yeast. Mix it all up and make a soft dough.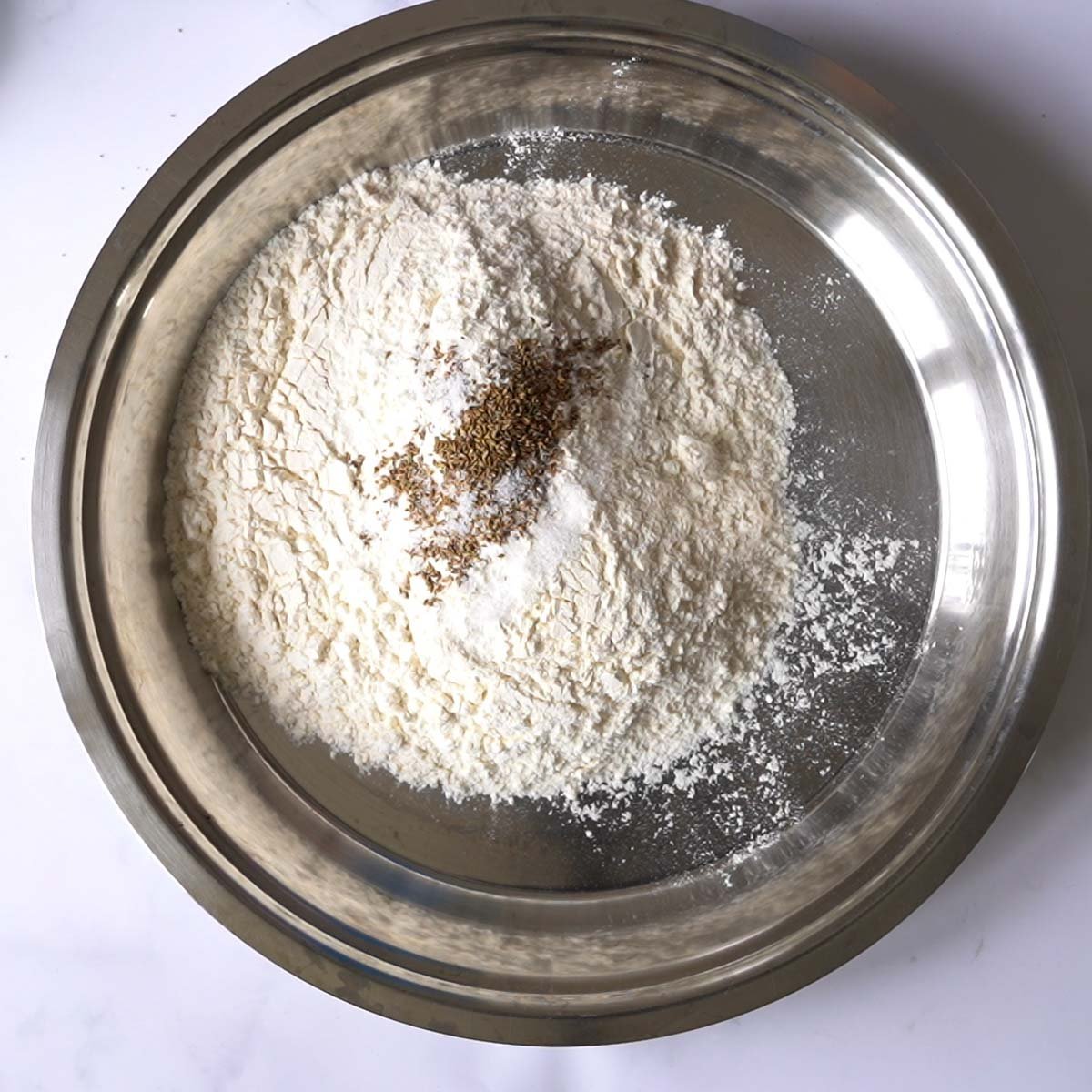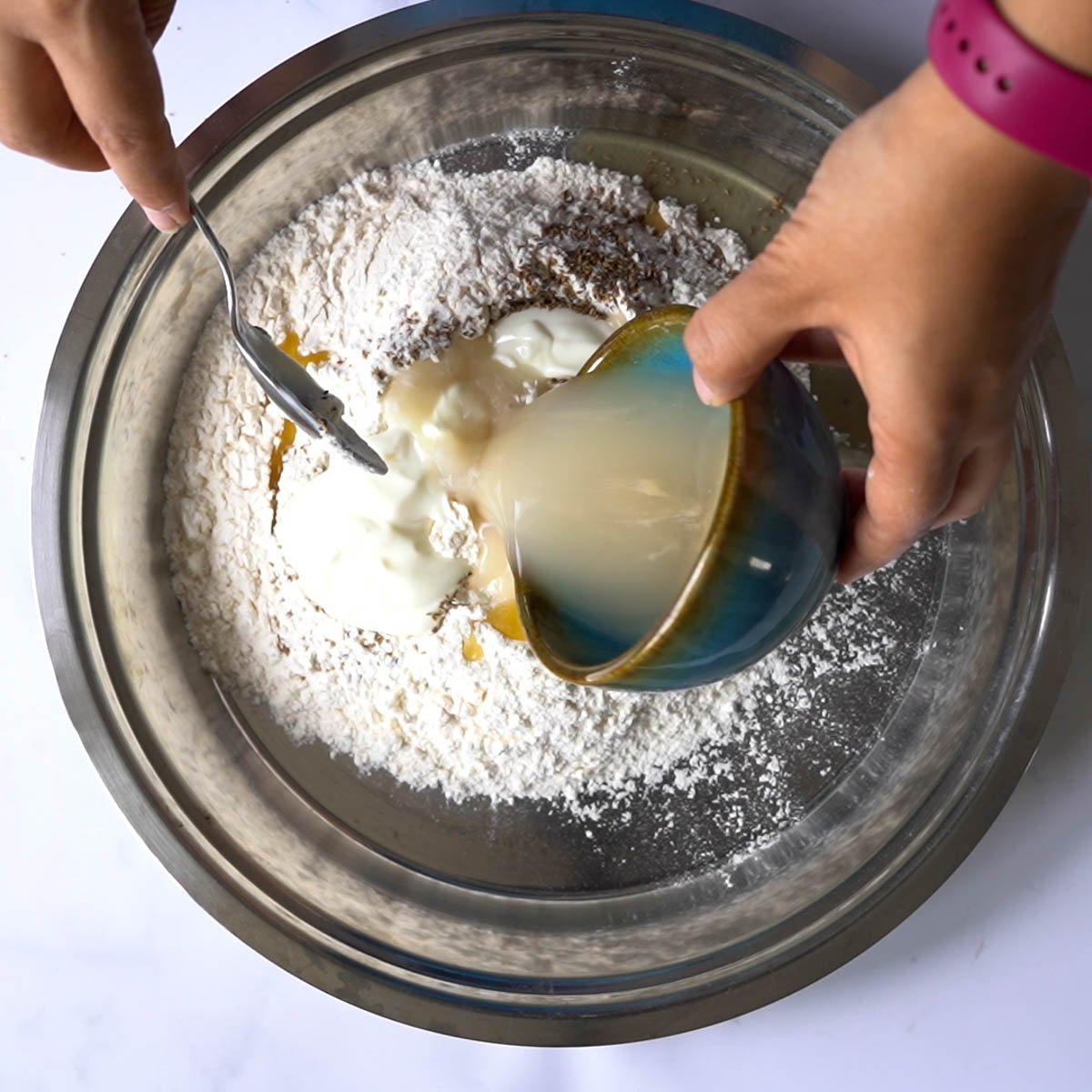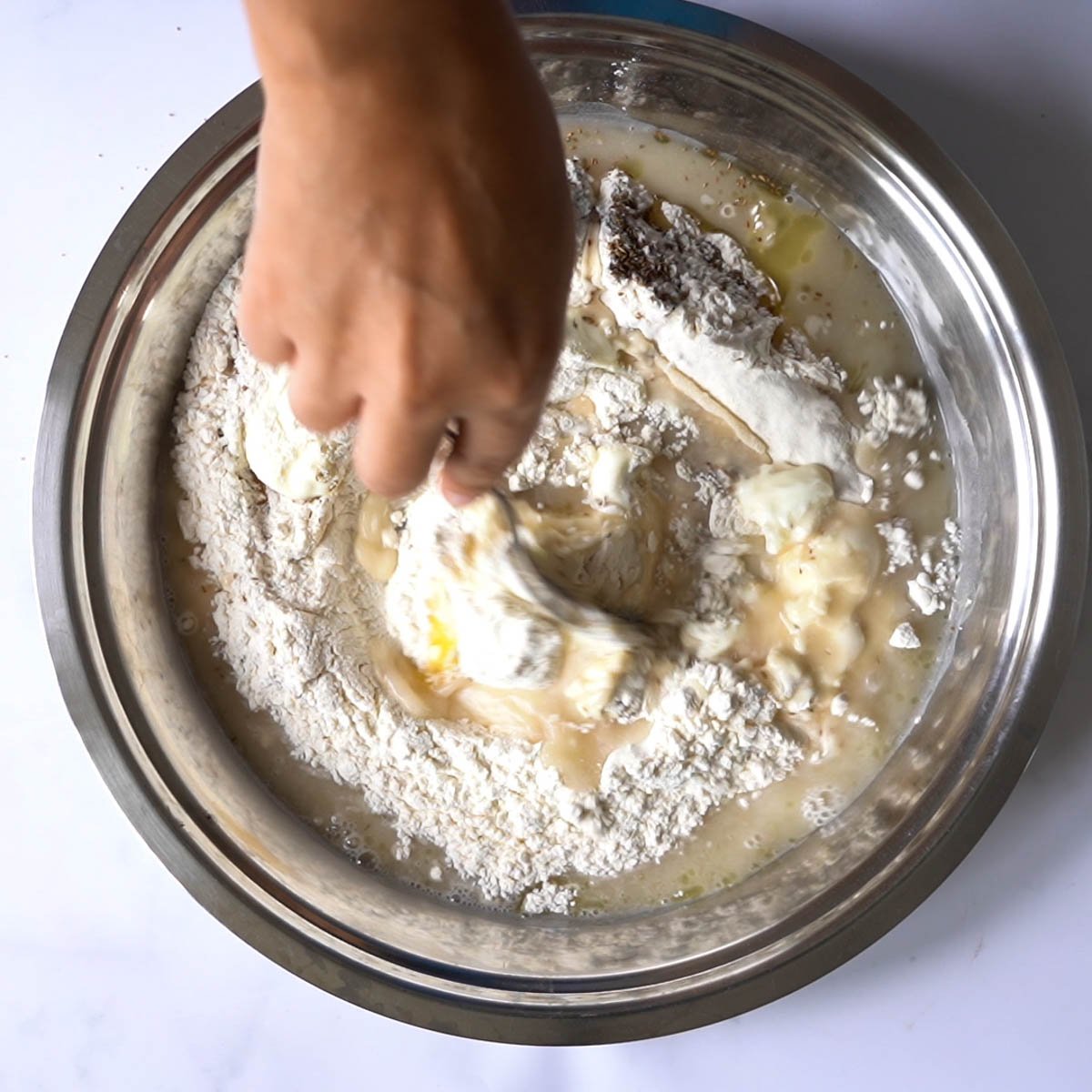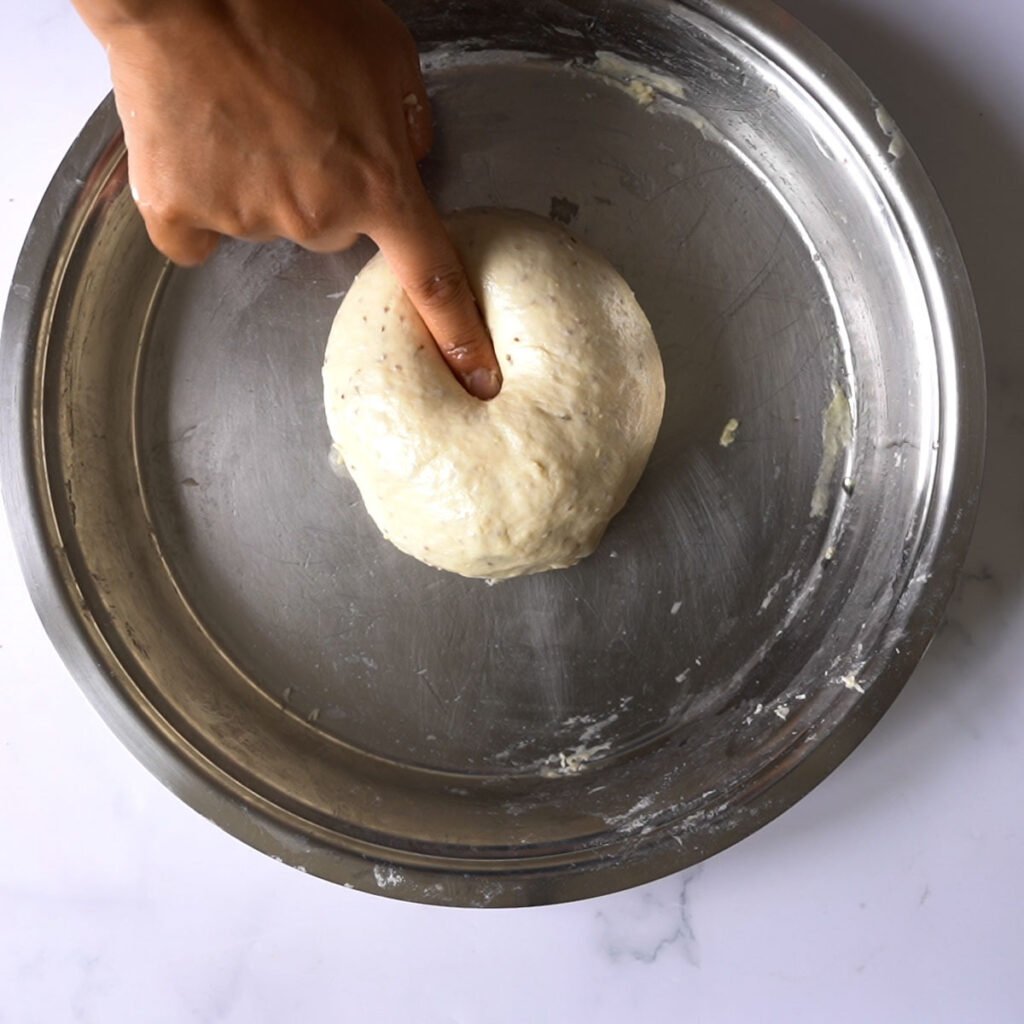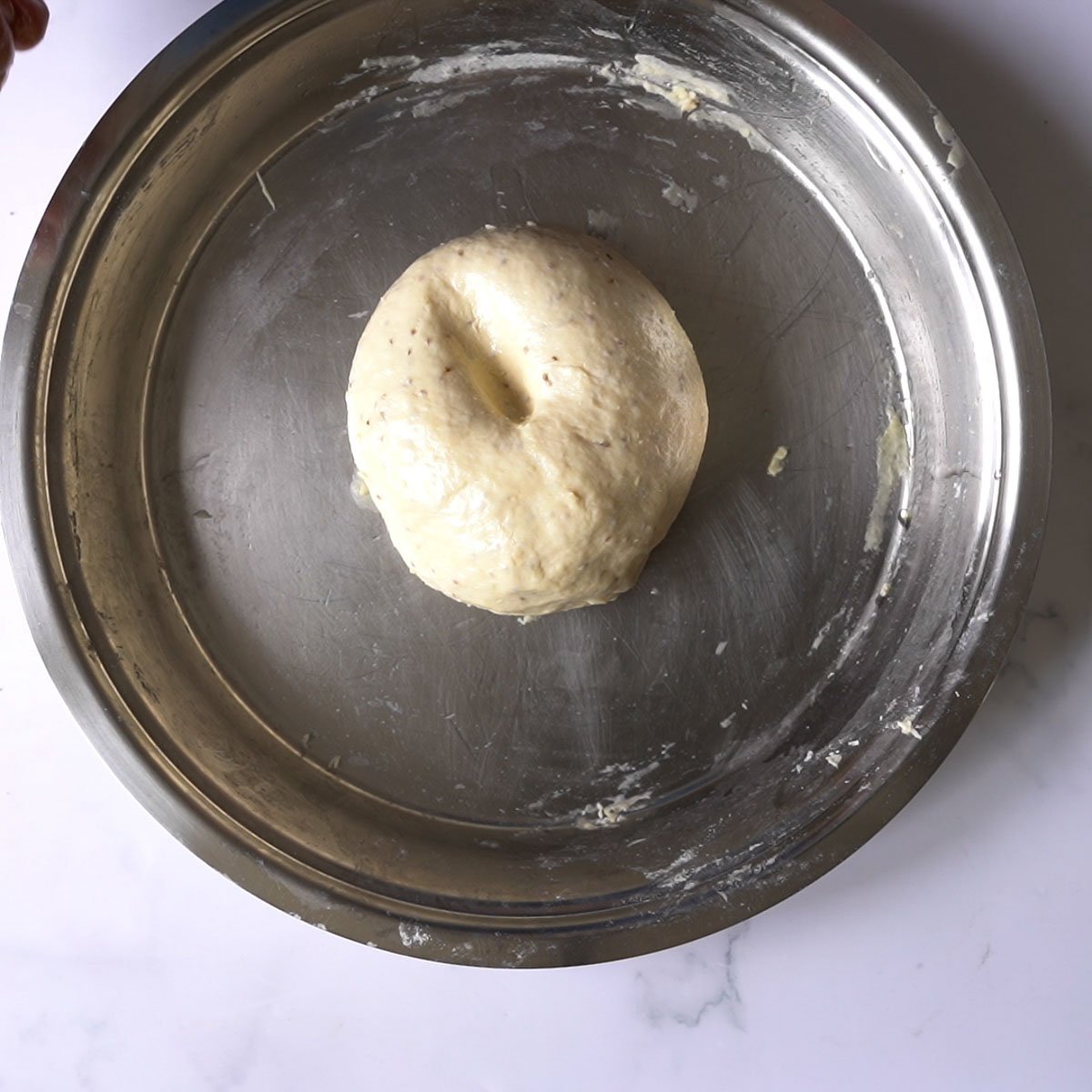 Step 2: Let the Dough Rise
Generously apply oil to the dough and Cover the dough with a damp cloth or plastic wrap.
Keep it in a dark, warm place and let the dough rise.
It should get to double the size.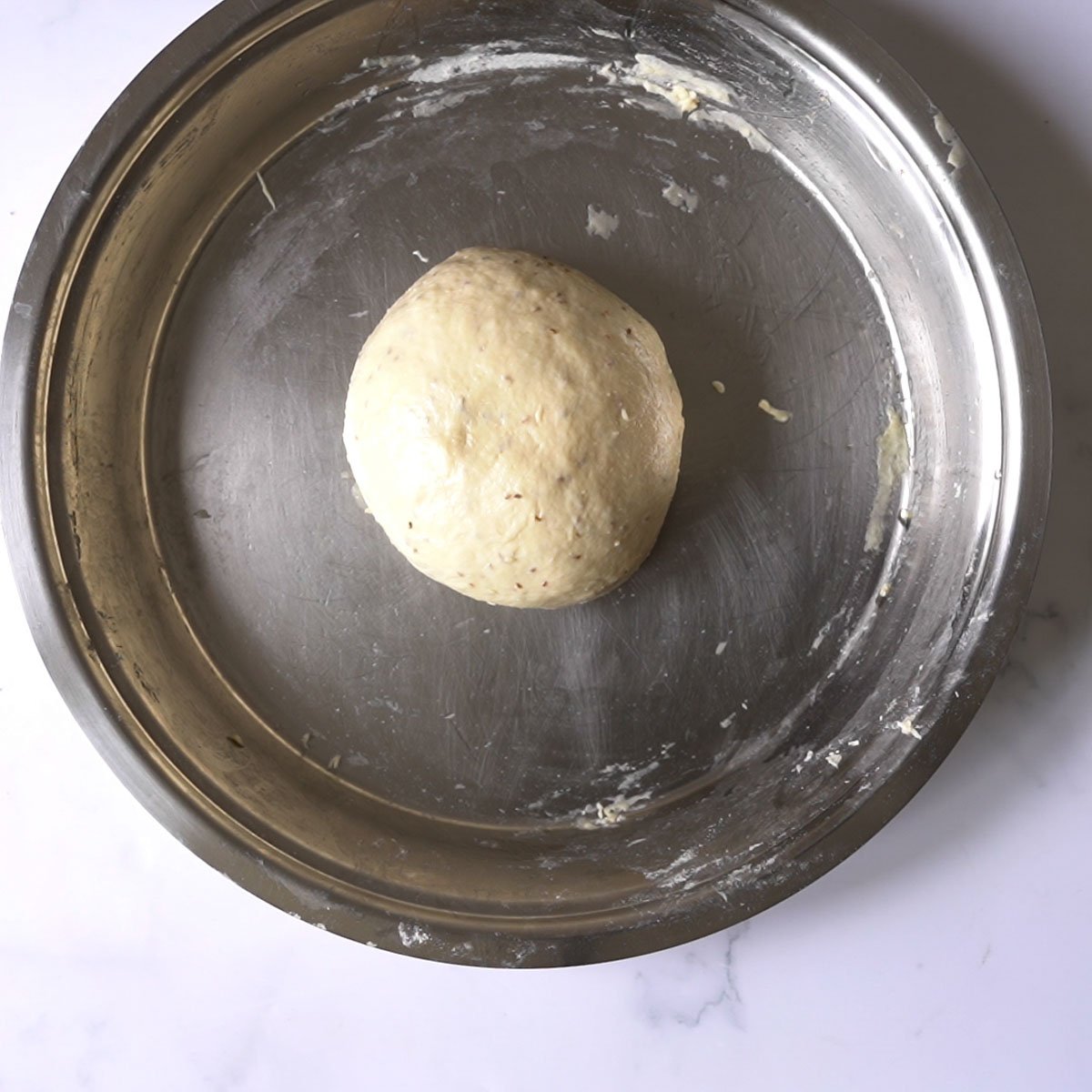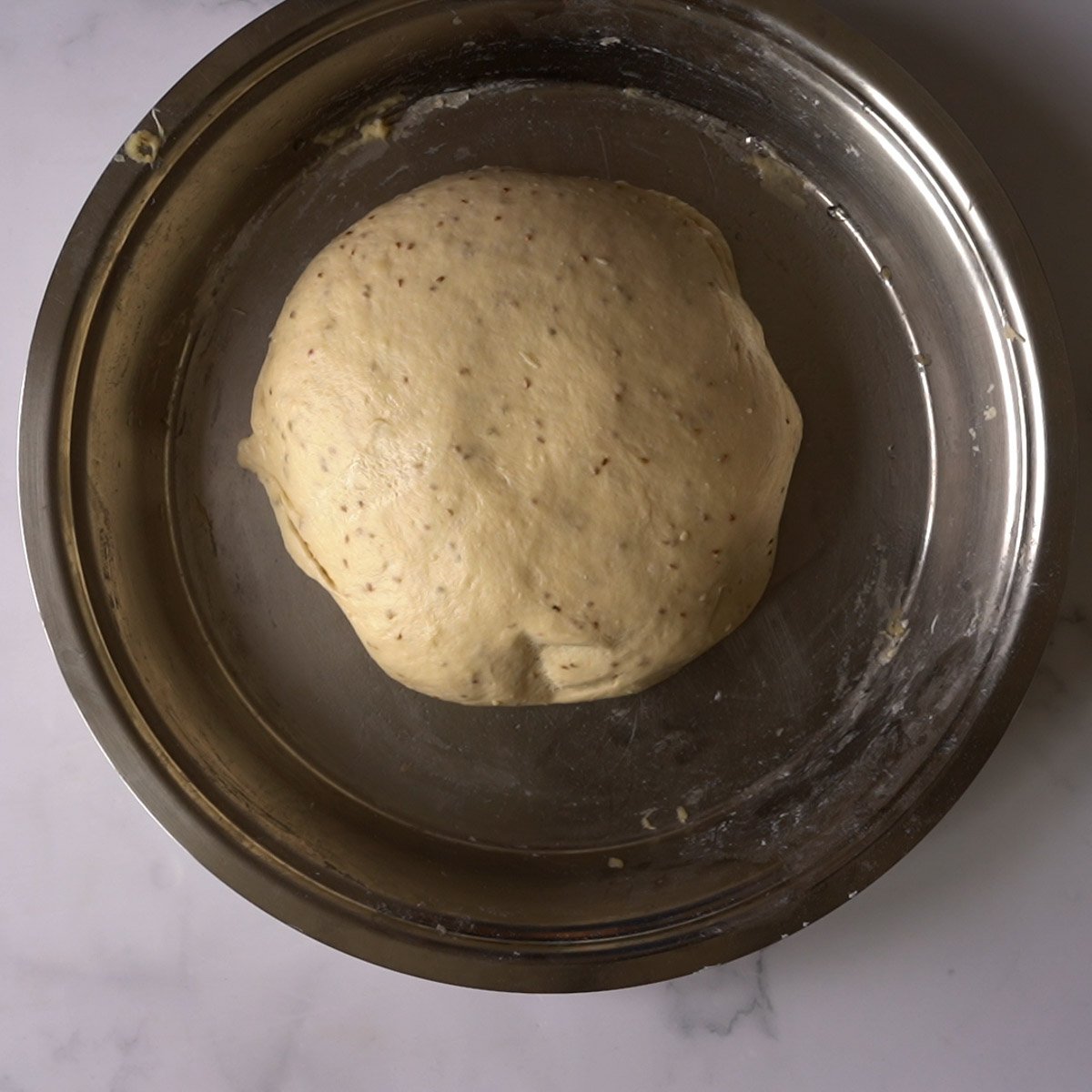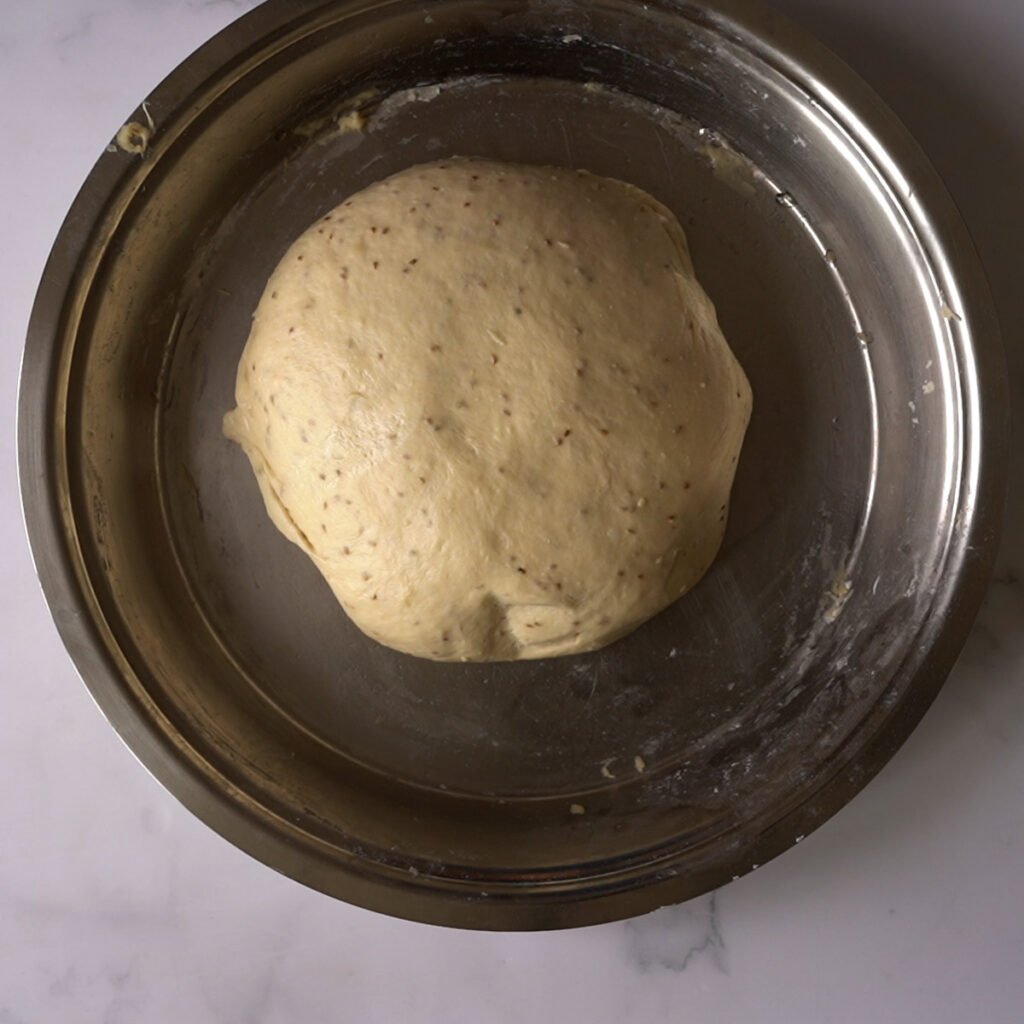 Step 3: Shape the Bhatura
Oil the surface and the rolling pin to roll the bhatura.
Top Tip- while frying puris and bhaturas, do not use loose flour to roll the dough. Instead, use oil.This way the loose flour will not burn while frying the puri or bhatura.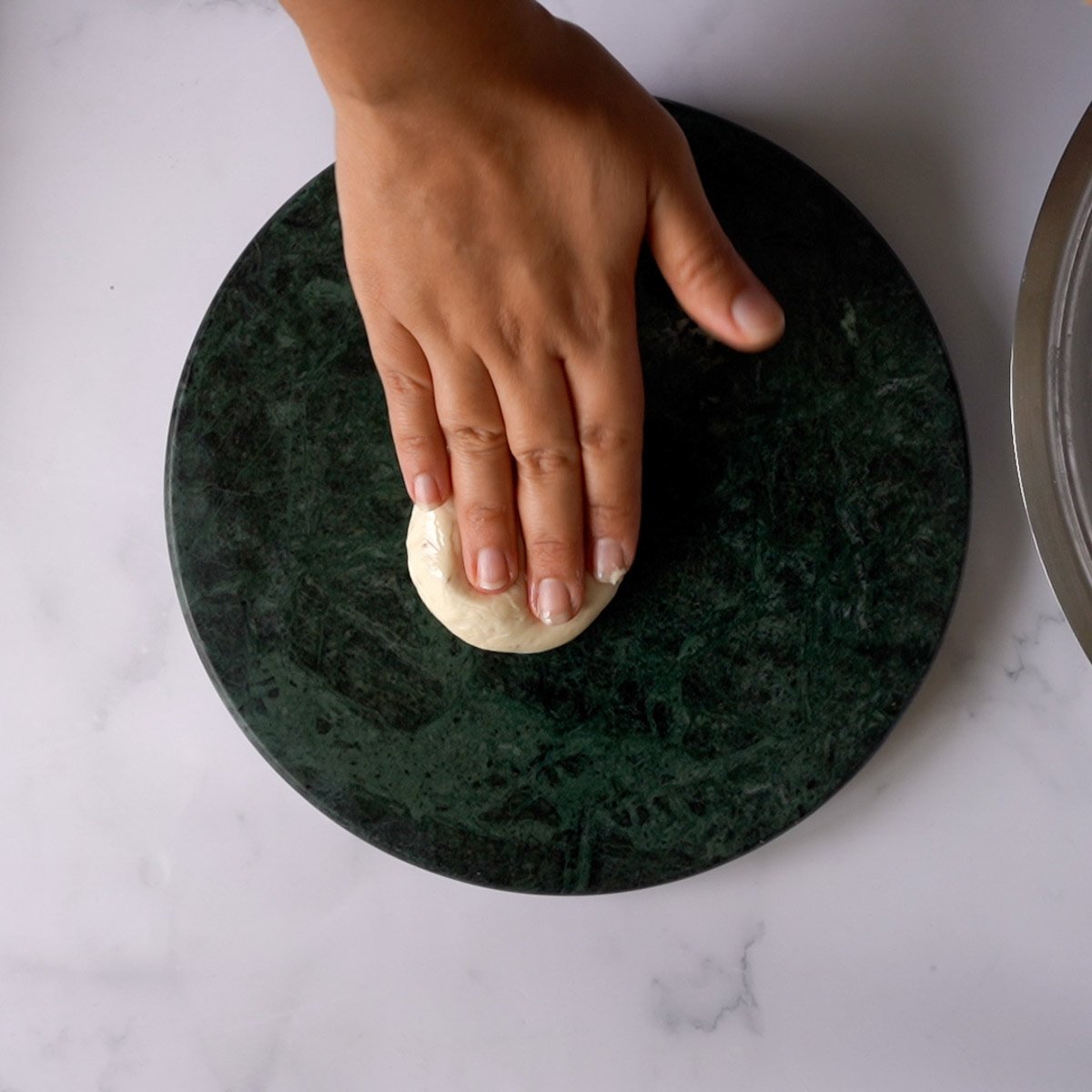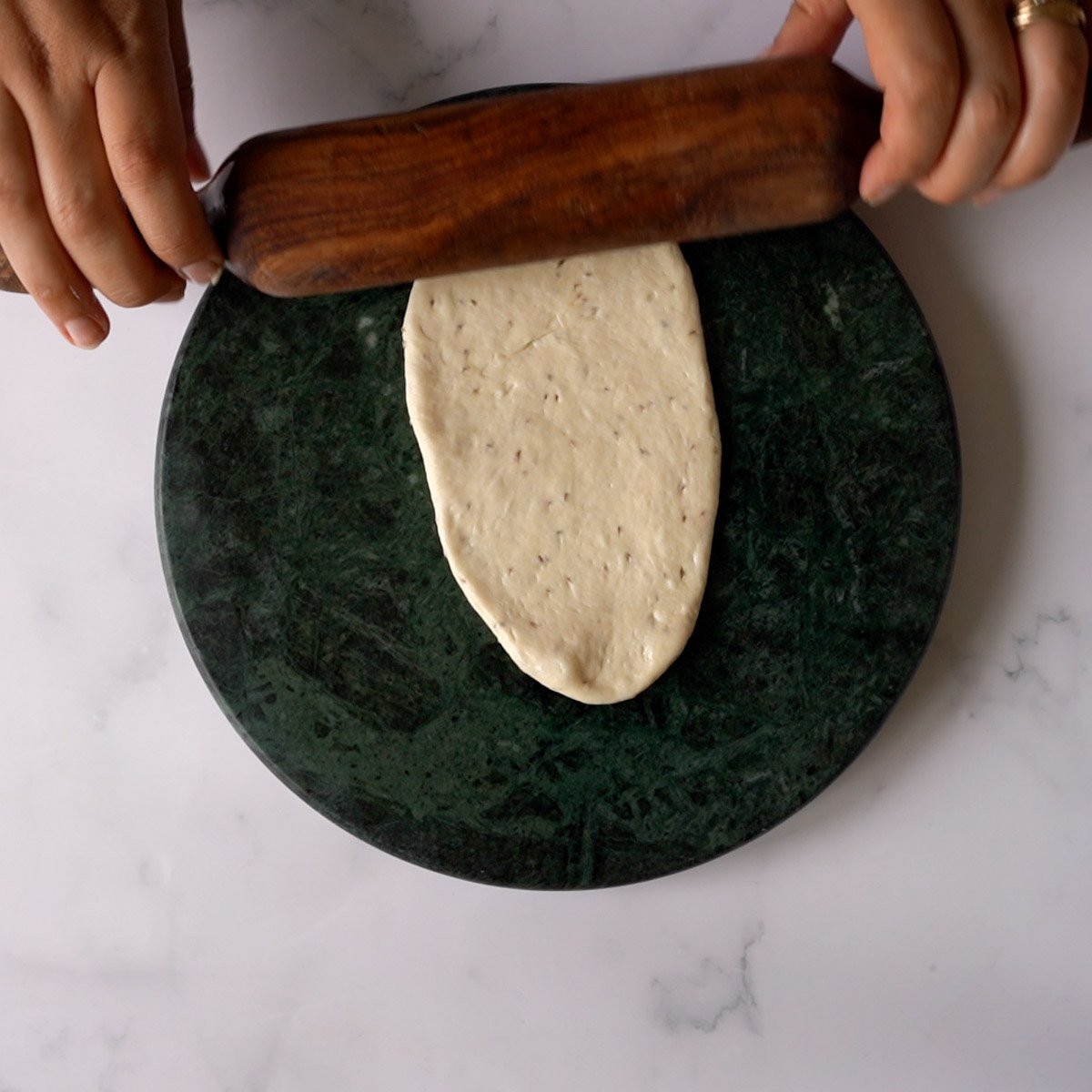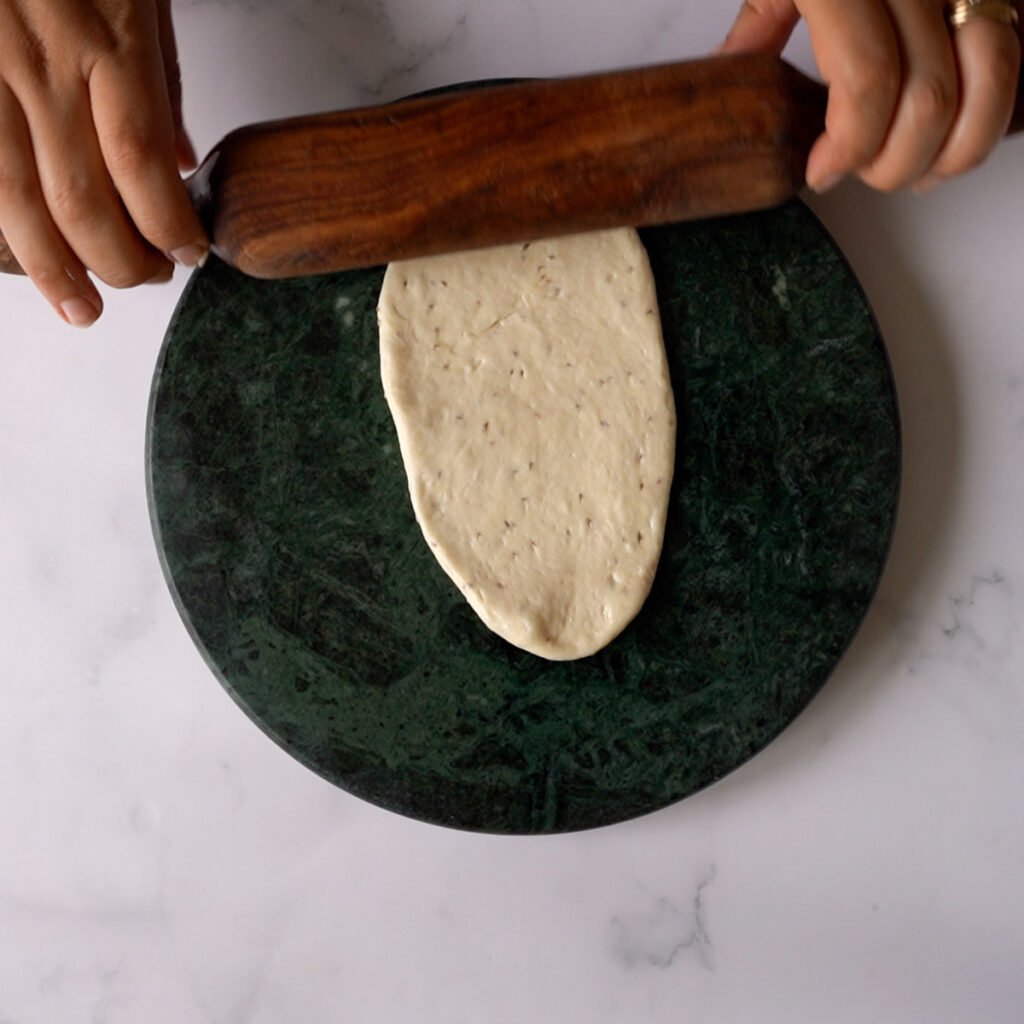 Step 4: Fry the Bhatura
Heat oil in a deep wok.
To test if the oil is hot enough, add a small piece of dough into the oil. If it bubbles and puffs up then the oil is ready.
Gently add the bhatura on the oil.Look at the video to see the technique.
If you have never fried before, make sure to take the help of someone who has fried puris or bhaturas before.
Beware of the hot oil spilling.
Use a long stemmed frying spatula or skimmer to turn the bhatura and cook from both sides.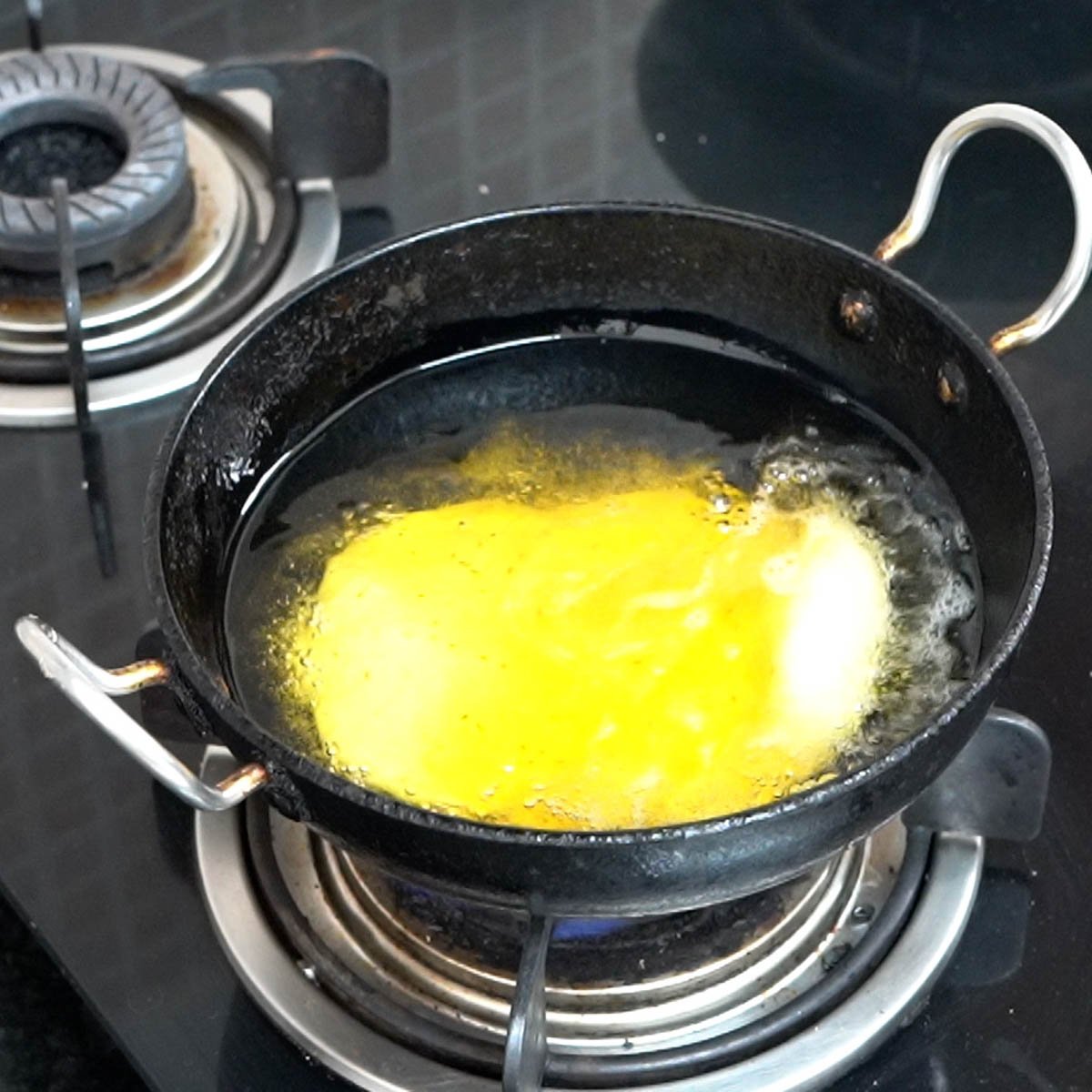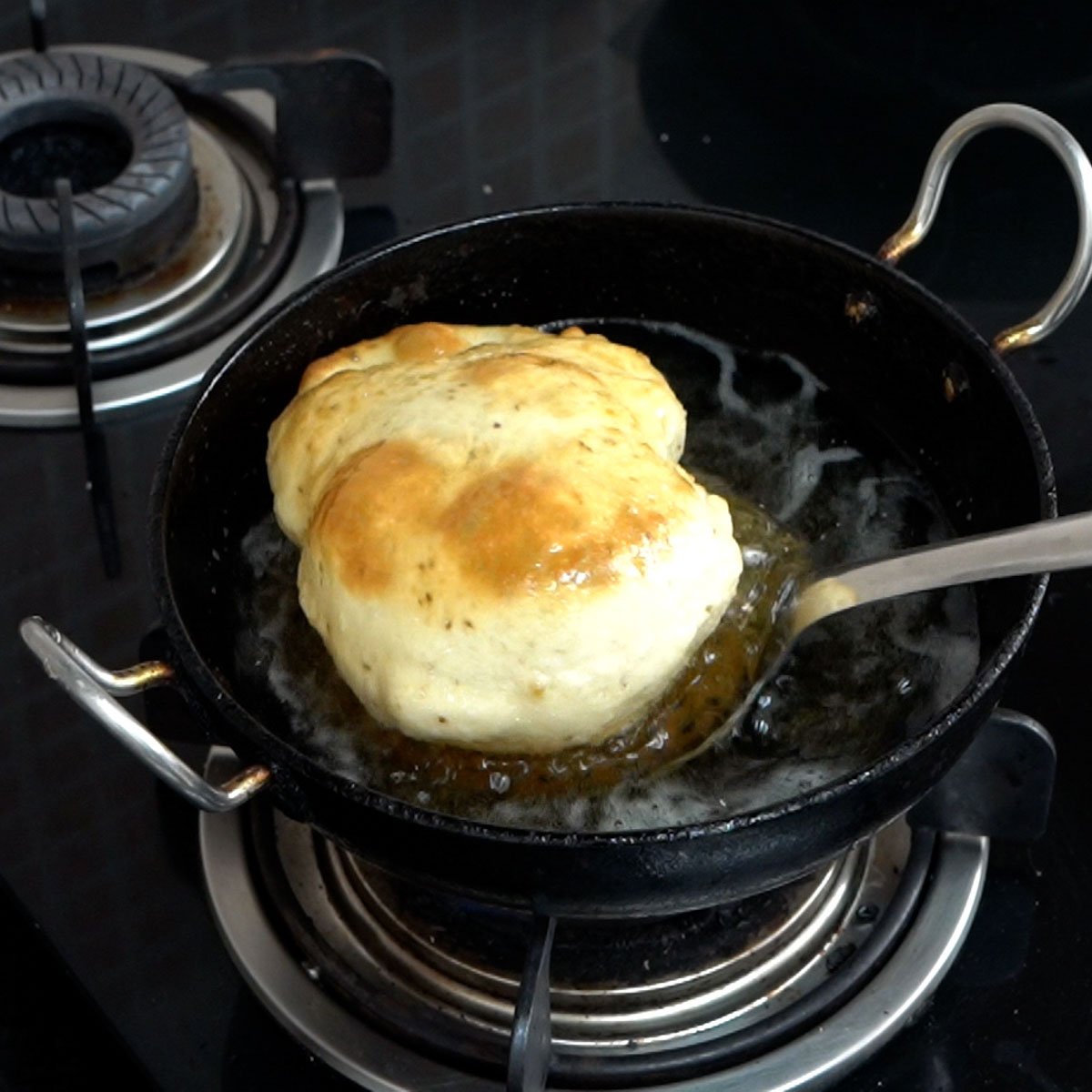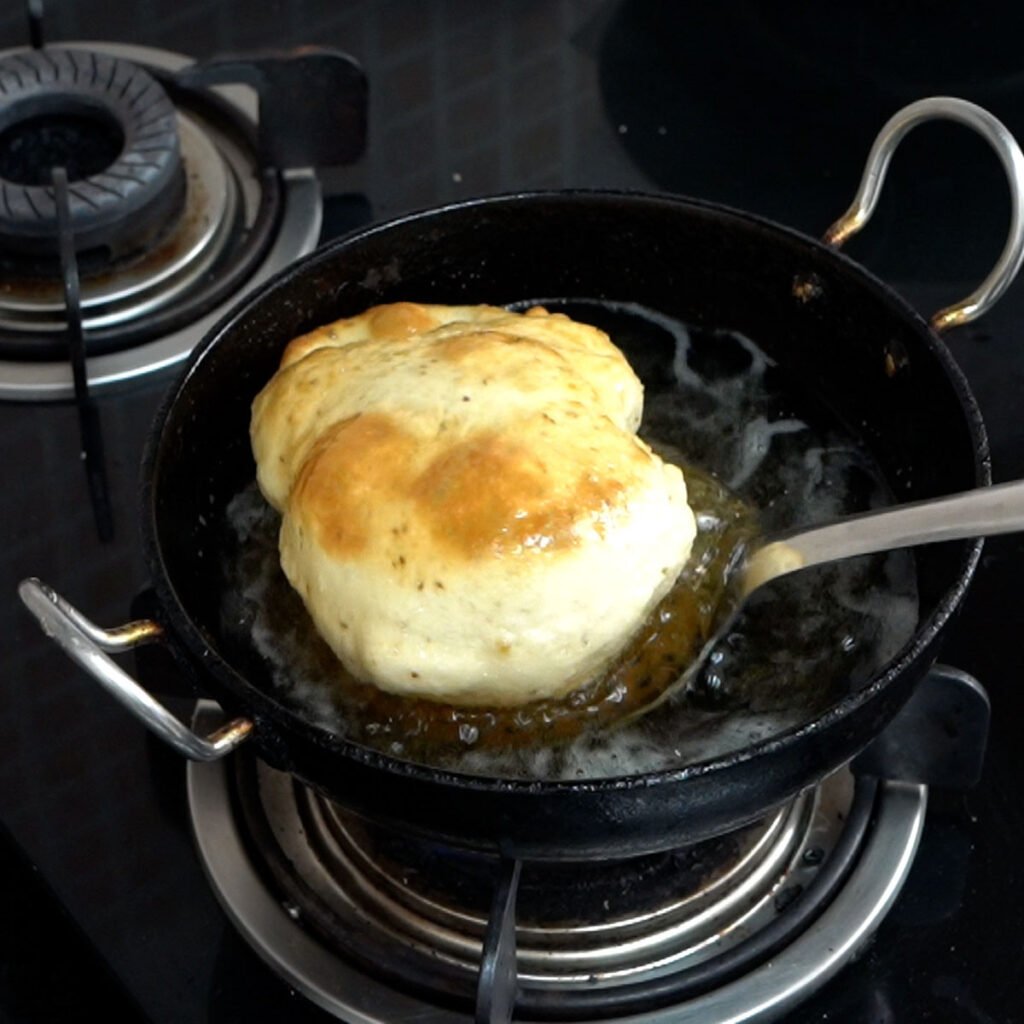 Frying Tricks
There are several things to note when you deep fry anything.Do read this section if you are new to frying.
The pan in which you fry should be deep enough to fully submerge whatever you are frying. It should also be very stable.
The pan, tongs, spatulas etc used for frying should be completely dry. Otherwise the oil will splutter.
Test the temperature of the oil with a tiny ball of dough. If it puffs up, floats on top and bubbles, the oil is ready
Leave the puri or bhatura you are planning to fry very gently in the oil. Look at the video to understand.
No not leave hot oil unattended even for a minute.
Serving
Bhaturas are usually served with Chole or pindi channa (also called Channa) along with thinly sliced onios, pickle and green chutney.
You can also serve this with any special occasion north indian curry like Paneer butter masala, Masala Baby Potato Fry , Aloo Tamatar Sabzi (Indian Potato Curry)
Variations
There are quite a few variations of bhatura.
Without yeast - You can omit the yeast and use rest of the ingredients as they are. The bhatura will still be delicious but will not have bubbled texture as shown in the picture.
Stuffed with pickle - Famous haldiram chole bhature comes with a thin filling of pickle inside.
Stuffed with paneer - You can also stuff the bhatura with grated paneer, salt, chili powder and coriander leaves.It takes a bit more effort but it makes the whole dish even more decadent.
Storing & Leftovers
Bhatura is best consumed as soon as it is made.
As the time passes, it looses it's texture and taste.
Instead of storing bhaturas, it is best to store the prepared dough. It can stay for upto 3 days in the refrigerator. You can also freeze the dough or make naans with it.
More Indian Sides to serve with Bhatura
Pindi Channa - No Onion Garlic Chole
Instant Pot Chana Masala - Using Dried Chickpeas
Instant Pot Paneer Butter Masala (Makhani)
Instant Pot Dal Makhani
If you do make bhatura at home, do leave me a note in the comment section and a rating. I would love to hear from you!
Find us on Instagram , Pinterest & Facebook here!
If you liked my recipe, do leave a comment!
It will help others find this amazing recipe too!
---
Ingredients
2

cups

All Purpose Flour

Maida

1

teaspoon

Carrom Seeds

Ajwain

1

teaspoon

Salt

1

tablespoon

Ghee

3

tablespoon

Yogurt

thick curd

1

tablespoon

Sugar

2

teaspoon

Yeast

¼

Cup

Warm Water

more for kneading

Oil for Frying
Instructions
Activate the yeast
Add the yeast, sugar and warm water to a small bowl. Set it aside for 5-10 minutes.

The yeast is now activated and ready to use
Make the Dough
Mix together the flour, salt, ghee, activated yeast and Yogurt.

Knead it into a soft dough. Add more water as and when required.

Make it into a ball and oil the dough to prevent it from drying out
Rise
Cover the dough with a damp cloth or plastic wrap.Set it aside for 2-5 hours.

The dough is ready when it doubles in size. The time it takes will depend on the yeast, temperature and the flour.
Frying
Heat 2-3 cups of oil in a stable wok or pan.

Test the oil temperature by dropping a small piece of dough in. If it puffs up, bubbles and rises on top, the oil is ready.

Oil the surface and rolling pin lightly.Take a gold ball size of dough.

Roll it into an oval. Dont worry too much about the shape.

Gently leave it in the hot oil( do not drop it or throw it in.)

Using a skimmer or fying spatula, gently submerge the bhatura, allowing it to puff up.Turn it over and let it cook from both sides.

Remove the bhatura from the oil and let the excess oil drain.Keep it on a plate lined with kitchen paper.
Nutrition
Serving:
1
Bhatura
|
Calories:
97
kcal
|
Carbohydrates:
17
g
|
Protein:
3
g
|
Fat:
2
g
|
Saturated Fat:
1
g
|
Polyunsaturated Fat:
0.3
g
|
Monounsaturated Fat:
0.5
g
|
Trans Fat:
0.002
g
|
Cholesterol:
4
mg
|
Sodium:
197
mg
|
Potassium:
35
mg
|
Fiber:
1
g
|
Sugar:
1
g
|
Vitamin A:
5
IU
|
Vitamin C:
0.03
mg
|
Calcium:
9
mg
|
Iron:
1
mg
If you liked the recipe, please leave us a rating
Follow me on Instagram
My handle is @yellowthyme