Pindi Channa or Pindi Chole is a Punjabi dish made with chickpeas and spices. It doesn't have any onion or garlic or tomatoes.
This makes it a perfect Indian dish for festivals. It's also Saatvick which means this chole is perfect for Navratri and other holidays where people don't use onions and garlic.
Pindi Channa is usually served with puris or bhaturas.It's also great when added on top of samosas.
As this chana doesnt have any onions and garlic, it also has a longer shelf life.It can last for 1-2 days outside without refrigeration.
I have used White Chickpeas here but you can also use brown or black chickpeas.The recipe largely remains the same.
There are just 3 main steps
Soak the chickpeas
Boil the chickpeas boiled with tea
Roast the ground spices in ghee and add the cooked chickpeas.
Thats all.
You can make it in the instant pot or in a normal pressure cooker.
Authentic Pindi Channa has a characteristic color- it's usually dark brown in color and that's because it's boiled with tea.The other very distinct aspect of this dish is the use of anardana or dried pomegranate seeds.
These two things make pindi chana different from all other kinds of channa preparations.
You could use a store-bought spice blend and reduce your work by 75 % but then grinding fresh spices gives a fuller, fresher flavour which storebought masalas cannot give.
Ingredients for Pindi Chole
Chickpeas
Ghee
Tea Bag(Optional)
Spices
Chickpeas- You can use pre boiled or canned chickpeas too.If you are making a large quantity, use dried chickpeas
Ghee- To make it vegan, use mustard oil instead
Tea Bag- This gives the pindi channa a distinctive dark color. It also makes it easier to digest. Make sure to take the tea bag out once the boiling is done.
Spices- The list of spices is long but spices is what makes this dish. You can use store-bought channa masala but the taste wont be the same.
If you can't get Anar Dana or Mango powder, you can use 1 tablespoon of lemon juice instead.
Is Pindi Channa Healthy?
This recipe is the best example of how healthy indian cuisine is.
Chickpeas is something that's taken the world by a storm.Every health guru swears by it but chickpeas aka chole is something we Indians eat almost every week!
This recipe is - Vegan hence vegetarian, low carb and high in protein.
Instead of pairing it with high carb breads like kulchas, bhatooras and pooris , eat it with healthier chilla- besan dosa or millets.
This meal will not only be filling but it will make us emotionally full as well because chole is a very emotional food for us Indians.
You should also check out my other healthy snacks and salads made with chole - Instant Pot Chana Masala , Hummus with Roasted Olives and Easy Beetroot Falafel.
So my take is that you shouldn't let this amazing dish be limited to only festive occasions as it is action packed with nutrients!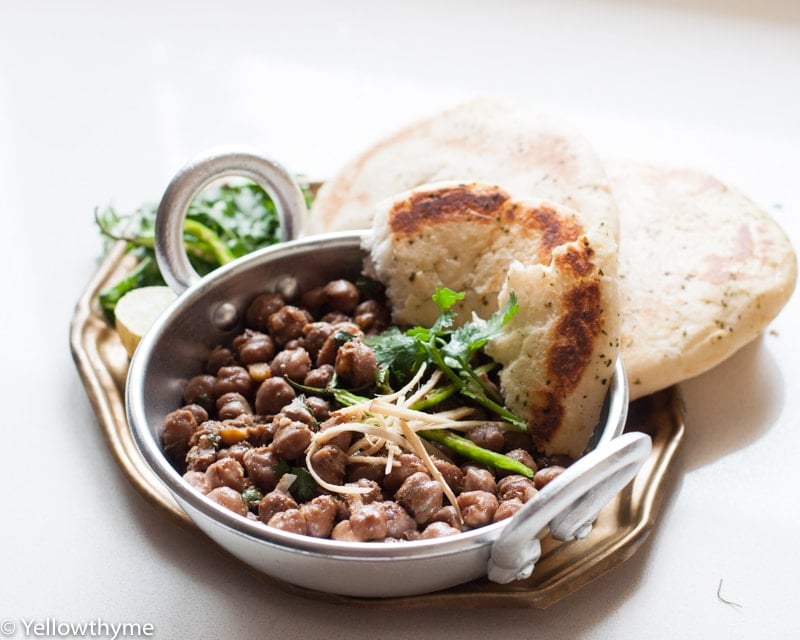 How to make the Masala for Authentic Pindi Channa
There are two reasons why I love making the masala for the pindi channa from scratch.
One obviously is that freshly ground spices give better flavour and aroma than the store bought spices.
Second, You can control the spice level. Tweek around and reduce the chilli or increase the cinnamon.It gives you a better control over your dish.
Especially when you have children around- reduce the amount of dried chillies and pepper.Skip the green chillies all together.
but if for some reason you don't want to make this masala, by all means buy the store-bought one.It will definitely reduce the work to ¼.I suggest MDH or Everest Channa Masalas.
How to boil Dried Chickpeas
Dried chickpeas can be quite a challenge for people who dont know the tricks!
First- always soak the chickpeas overnight before boiling them the next day. This will make the actual boiling process easier.
but here is the TIP of the DAY- if you have forgotten to soak them the night before, soak them for 1 hour in hot water for the same effect!
The Pressure Cooker Method
Cook them in pressure cooker with 3 times the water plus some salt for 20 minutes.
The Instant Pot Method
This is my new favourite set it and forget about it method!
Pressure cook the chickpeas with 3 times the water for 20 minutes on HIGH with the release in SEALED position.Let the pressure release naturally.Thats it!
In fact you can soak the chickpeas overnight in the instant pot, set the timer for pressure cooking in the morning and you get freshly cooked chickpeas early in the morning before you get up.
Servings Suggestions
Serve this chana with puris or on top of samosas. You can also serve this with tikki as a chaat.
On the 8/9 th Navratri days, this chana is served scooped inside a couple of puris along with Rava halwa. Eating this is my most cherished childhood memory!
If you make this pindi chana, do drop me a note! I would love to hear what you thought of this dish.
Find us on Instagram , Pinterest & Facebook here!
If you liked my recipe, do leave a comment!
It will help others find this amazing recipe too!
---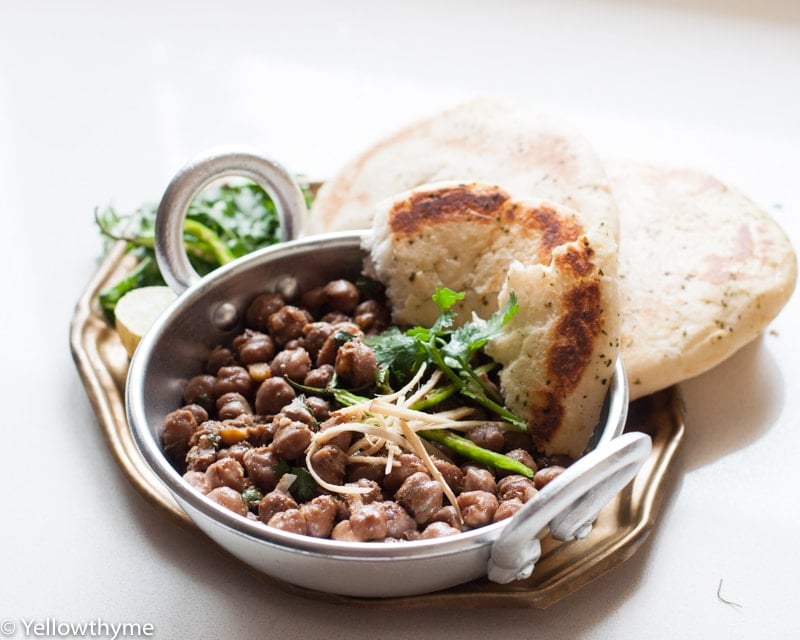 Ingredients
Dry Masala
2-4

Red Chillies

1

teaspoon

Cumin

Jeera

1

teaspoon

Carrom Seeds

Ajwain

1

Inch

Cinnamon Stick

1

tablespoon

Coriander Seeds

2

Cloves

1

teaspoon

Black Pepper

1

Bay Leaf

1

tablespoon

Anar Dana

1

teaspoon

Dry Mango Powder

Amchur

1

teaspoon

Black Salt
Instructions
Stove Top Method
Heat a pan and dry roast all the non powdered masalas listed under the "Dry Masala" which would be -Red Chillies,cumin,carrom seeds, cinnamon stick,Green Cardamom,Coriander,Cloves,Bay leaf & Black Pepper

Roast for 5-10 minutes on low-medium heat.Transfer to blender and a Add rest of the ingredients listed under"dry Masala"- anar dana, dry Mango Powder and Salt.

Soak the Chickpeas overnight and pressure cook it along with 1 teaspoon Salt and the tea bags for 20 minutes.Let the pressure release naturally.Drain and save some boiling liquid.

Heat the Ghee in a pan.Add Asafoetida,Green Chilli and Ginger.Saute for 30 seconds.Add the Drained Chickpeas.Add the Dry Masala.

Mix it well.If it gets too dry, add the boiling liquid.

Garnish with Coriander and Julianne Ginger and serve
Instant Pot Method
Soak the Chickpeas overnight

Set the Instant Pot to Saute and dry roast all the non powdered masalas listed under the "Dry Masala" which would be -Red Chillies,cumin,carrom seeds, cinnamon stick,Green Cardamom,Coriander,Cloves,Bay leaf & Black Pepper

Roast for 5-10 minutes .Transfer to blender and a Add rest of the ingredients listed under"dry Masala"- anar dana, dry Mango Powder and Salt.

Add the Chickpeas it along with 1 teaspoon Salt, 4 Cups Water and the tea bags. Set the instant pot to Pressure Cook for 20 minutes. Let the pressure release naturally. Drain and save 1 cup of boiling liquid. 

In the SAUTE mode - Heat the Ghee in a pan.Add Asafoetida,Green Chilli and Ginger.Saute for 30 seconds.Add the Drained Chickpeas.Add the Dry Masala.(This step can also be done on stove top)

Mix it well.If it gets too dry, add the boiling liquid.

Garnish with Coriander and Julianne Ginger and serve
Nutrition
Calories:
342
kcal
|
Carbohydrates:
43
g
|
Protein:
13
g
|
Fat:
14
g
|
Saturated Fat:
7
g
|
Cholesterol:
26
mg
|
Sodium:
455
mg
|
Potassium:
614
mg
|
Fiber:
13
g
|
Sugar:
8
g
|
Vitamin A:
53
IU
|
Vitamin C:
5
mg
|
Calcium:
87
mg
|
Iron:
5
mg
If you liked the recipe, please leave us a rating
Follow me on Instagram
My handle is @yellowthyme