Instant Pot Toor Dal- Simple Indian lentil recipe using split pigeon peas pressure cooked in Instant Pot. Sometimes this dal is simply called yellow dal too.
This toor dal and is one of the first recipes I made in my instant pot. It's easy, it's nutritious and its very close to my heart.We make this almost every week, twice. So this recipe has been tested a zillion times!(well, almost!)
When I am under the weather or need comfort food, I always choose to make either Toor dal, khichdi or Chana Dal. Nothing soothes the soul like a good bowl of Rice and Dal.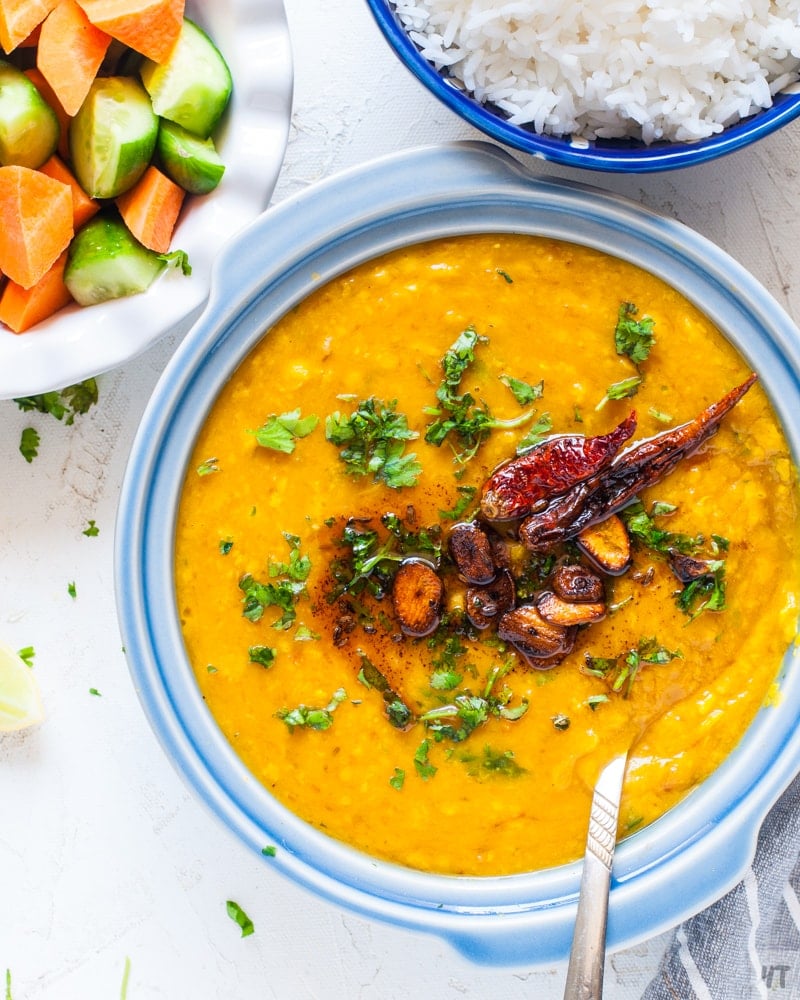 Why Make Toor Dal in Instant Pot?
Because there is no other easier way to make dal!
It's super easy to make, no baby sitting required and no noise at all!
I mean who wants to deal with all that yellow splatter, that ear piercing shout(and your baby getting up) and the wait?And the run to the kitchen when you that final whistle comes through?!
If you are still unconvinced, read about why instant pot is amazing for indian food.
How to make Toor Dal in Instant Pot
What is Toor Dal?
Toor dal or Tuuvar dal ,also called as split pigeon pea is one of the most cooked dal in an Indian household. This is also the dal used to make sambhar.
There are endless variations of this dal. You can add all sorts of veggies and tempering to it and make a lot of different versions.
In addition to Toor Dal, Chana Dal is also one of indian staple dals.You can find the instant pot chana dal recipe here
How to cook Dal in Instant Pot
Step 1: Wash the dal.
Just wash it in a colander or a big bowl under running water.
You can soak the dal if you have time. Soaking is recommended to get rid of indigestible proteins present in lentils. I don't always have time to do this. Most times, I skip soaking because I am running late.
Step 2: Make the Dal Masala
Switch the instant pot on. Select Saute mode and let the inner pot get hot.
Add oil. once it is hot, add Cumin, asafetida, green chilli, ginger and garlic. Let it cook for 20-30 seconds.
Add the onions next and brown for 10 minutes. Once they turn golden brown, add tomatoes and cook till they turn mushy.
Step 3: Pressure Cook
Tip in the washed dal along with water, turmeric and salt. Pressure cook for 8 minutes and let the pressure release naturally.
Squeeze lime and add fresh coriander.
Instant Pot Settings to make Dal
For this recipe, I have experimented with various times and proportions with different releases - NPR(Natural Pressure Release) & QR(Quick Release).
For me 1:3- Dal to Water ratio, without soaking for 8 minutes on High pressure with NPR has worked the best.
The time you set on your instant pot will largely depend on 2 things
If you have soaked the dal - Reduce the cooking time by 1 minute for this.
The texture of the dal you are looking for- The time given in the recipe will yield a dal that will still hold a little shape.If you like your dal completely mashed increase the time by 1 minute.
if this is your first time cooking with instant pot,I suggest you follow my instructions entirely.
Quick Instant Pot Dal
The version in the recipe card is the optimal version. But if you want to make a quicker version because you are running low on time then this is the method to follow.
In this option, directly pressure cook all the listed ingredients for 8 minutes on high pressure.
Quick Release the pressure 5 minutes after the pressure cooking time is done. Open the pressure cooker and using a potato masher or a big spoon, mash the dal so all the ingredients are fused toghether.
If you derire,Do a Quick Tempering on the stove top. Just Heat Ghee in a pan, add cumin, sliced garlic and ¼ teaspoon Chili powder. Switch the heat off as soon as you add chili powder. Top the dal with the temper and add juice of ½ lime and a handful coriander leaves.
I use a 6 qts instant pot and I love it! If you are in India and are looking to understand how I use it here, you should read my post on instant pot in India.
Variations of Instant Pot Toor Dal
There are as many variations to dal as homecooks.
To start with, you don't have to do the whole process on instant pot.I find is equally efficient to divide the work between stove top and instant pot- Make the Masala on stove top, while pressure cooking the dal in IP.I, then just mix the Masala in the IP once the pressure is released.
One way to make this dal more nutritious is adding vegetables to it.
Add Green Leafy Vegetables
All tender leaves like spinach can be added once the pressure cooking time is up. It's better to roughly chop the leaves instead of leaving them whole. Read detailed instruction on Instant Pot Spinach Dal.
Heartier green leaves like kale can be added before the pressure cooking step.
Add other vegetables
I add all vegetables that mix well with the dal.For example most marrows and guards mix very well with the dal and make the process of eating vegetables easier. For this my go to options are - zucchini, bottle gaurd, snake gaurd and chayote.
if you like the taste and texture of vegetables, you can add chopped beans, radish, carrots too.
How to eat Toor Dal
This dal is best served with Rice or Rotis.Usually it's poured over fluffy white rice or along side rotis and a vegetable curry or a fry. You can also eat it as it is like a soup.
My favourite combination is Dal, white Basmati Rice & Dry Potato fry. Sigh.I think I will make some now.You can also serve this with Jeera Rice if you please.
If you prefer you dal with plain rice, here is a post on how to make perfect everyday sona masoori rice in instant pot.
Here are some Instant Pot Dal recipes for you
Instant Pot Langarwali Dal
Instant Pot Dal Khichdi
Instant Pot Channa
Instant Pot Dal Makhani
Instant Pot Dal Palak
Instant Pot Hyderabadi Khatti Dal
Instructions
Instant Pot Method
Wash the dal and set aside.

On your Instant Pot - Choose SAUTE mode.Once the pot is hot, add the ghee to the inner pot.

Add Cumin,asafetida,green chilli,ginger and garlic.Saute and let it infuse for 30 seconds.

Add onions and mix it all up.Let this cook for 10 minutes till the onions are brown.

Add the coriander powder and red chilli powder.Give it a mix.

Tip in the chopped tomatoes with the juices and all.Cook till mushy.About 5 minutes.

Add the washed dal,3 cups of water and turmeric and salt.Cancel the SAUTE function.

Choose PRESSURE COOK/MANUAL, set the timer for 8 minutes,Set the Steam release handle to SEALED.

NPR- Natural Pressure Release-Let the pressure release on it's own.Open the lid,give it a mix.

Squeeze half a lime,Garnish with coriander leaves and serve hot
Quicker Instant Pot Dal
Add all the listed ingredients to the instant pot.

Choose PRESSURE COOK/MANUAL, set the timer for 8 minutes, Set the Steam release handle to SEALED.

5 NPR-Let the pressure release on it's own for 5 minutes after which Quick Release the pressure.

Open the lid, mash the dal with a heavy spoon or potato masher.
Notes
You don't have to do the whole process on instant pot.I find is equally efficient to divide the work between stove top and instant pot- Make the Masala on stove top, while pressure cooking the dal in IP.I, then just mix the Masala in the IP once the pressure is released.
Quick Temper
Heat Ghee in a small pan on the stove top or microwave. Once it is hot, add cumin, slivered garlic and ¼ teaspoon of chilli powder.
if on stove top, switch off immediately. If in the microwave, microwave for 10 seconds. Add to the dal and mix.
Nutrition
Calories:
125
kcal
|
Carbohydrates:
18
g
|
Protein:
6.1
g
|
Fat:
3.7
g
|
Saturated Fat:
2.1
g
|
Cholesterol:
8
mg
|
Sodium:
10
mg
|
Potassium:
77
mg
|
Fiber:
1.8
g
|
Sugar:
2.2
g
|
Calcium:
21
mg
|
Iron:
1
mg
If you liked the recipe, please leave us a rating
Follow me on Instagram
My handle is @yellowthyme