Jump to Recipe
Chana Dal made in the instant pot in one shot. A perfect recipe for kitchen cooks who want to make a quick Dal.
In this recipe, we sauté and pressure cook everything in the instant pot in one shot. So you put in about 10 minutes of active time in prep, sauteing etc and you have a Indian staple cooked with very little fuss!
This version though, is for people who want simple homemade Indian food within 20 minutes.
Indian Spiced lentils dish using Bengal Gram or Chana Dal, Onions, tomatoes and basic spices.
Growing up, we ate a lot of Chana dal. It's one of those indian everyday dishes. Every mom, every state has a version of this dal.
When I am under the weather or need comfort food, I always choose to make either Toor dal, khichdi or Chana Dal. Nothing soothes the soul like a good bowl of Rice and Dal.
What is Chana Dal
Channa Dal is Brown Chickpeas that have been skinned, split and polished.It's also called Bengal Gram.
Here is a close up picture of it. It's usually bigger and smoother than other lentils available in the indian grocery store.
Do not confuse it with puffed Channa Dal which is used to give body to Chutneys and sometimes make snacks.
As it is a thicker lentil, you need to soak it for a bit just like Chickpeas. Though you dont need to soak it for quite as much time.
When cooking chana dal, the first thing I do is wash and soak the dal.After which i go about finishing my prep and the saute step. This gives me a solid 20 minute of soaking time which is plenty for this recipe.
that said, if you like your dal to be mushy and not chunky, you should soak chana dal for about 1-3 hours.
Chana dal is a weekly staple in almost every indian house. This along with a mixed dal like langarwali dal or a basic toor dal are most common everyday lentil dishes in the northern part of India.
Why make Chana Dal in Instant Pot?
I have a list of reasons for making chana dal in instant pot instead of the traditional pressure cooked
Cooking Chana dal in a pot will take forever.Upwards of 2-3 hours.So pressure cooking it makes so much sense!
Instant Pot is safer than traditional pressure cooker
It's easier to clean.
Walk Away- Yes. This is important. I walk away after setting the pressure cooker.I can go out of the house or wherever. You can never have this comfort on stove top or traditional pressure cookers!
Most important for me- It keeps the dal hot in the "Keep Warm" setting. So i can cook in the morning, leave the dal in the keep warm setting and lunch can be served any time!
Infact, for me, Keep warm setting is the most important and used instant pot setting. My husband comes home late,often.And i cant stay up every night. So this is a simple solution. I add the rice along with the dal in the instant pot.Leave it in "Keep WArm" setting and he can eat HOT food.Anytime of the day.
Those reasons are enough for me but if you are still unconvined, you should read my post on Why Cook Indian Food in Instant Pot.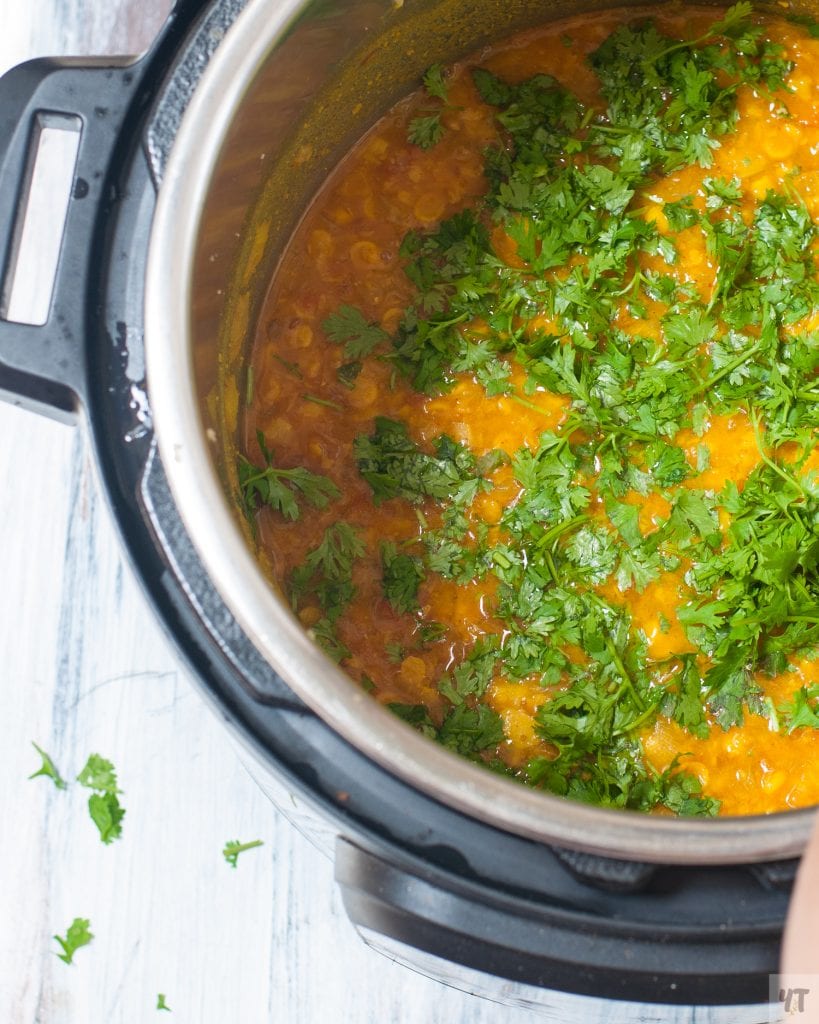 Ingredients for Dal
Here are the ingredients to make Chana Dal in the instant pot.
Chana Dal or Bengal Gram
Asafetida(optional)
Onions - White or red will work. It should measure up to about ½ cup but you can go over and under without much problem.
Ginger & Garlic- Feel free to use ginger garlic paste too.
Green Chilli- you can omit this. If you want just the flavour from the chilli but not the heat, poke a few holes in the uncut chilli. Use it as per the recipe.
Tomatoes - Ripe.Riper the better. Tomato puree or 1 tablespoon of tomato paste will also work.It should add up to ½ cup of chopped tomatoes. Again the measurement is not absolute and you can increase or decrease this.
Oil or Ghee
Spices- Cumin,Coriander Powder,Turmeric,Chilli Powder / Substitute all with Curry Powder. Turmeric is the most important here.Others can be omitted in a pinch.
Fresh Cilantro/Coriander- Always best to top it with coriander.But if you dont have it, dont fret.
Lime Juice- You can also use Lemon juice.
How to make Chana Dal in Instant Pot
So here is a step by step, more detailed version of how I cook Chana Dal in Instant Pot.
Step 1: Wash and Soak the Chana Dal in water while you prep the rest of the ingredients.
Chop the onion, the Ginger, Garlic, Onions and tomatoes.Slit the green chili, if using.
Step 2: Heat the instant pot in SAUTE mode. I like to press the saute button twice to go to "HIGH" saute to speeden up the process. Once hot, add the ghee. Use oil to make this dal Vegan.
Step 3: Add the Cumin and let it splutter.Add asafetida. Add the ginger, garlic and green Chilli.You can also use ginger garlic paste instead. Also, leave out the green chilli for a milder dal.
Let everything infuse in the oil or ghee for about 20-30 seconds.SAute in the middle to avoid one side getting too burnt.
Step 4: Add Onions and cook till they are translucent.
If you like your onion brown, feel free to extend the cooking time.If you are browning the onions, they can potentially leave brown marks on the inner pot. You need to make sure you use a silicon spatula to deglaze the bottom.If not done, you will get the burn warning!
Add the tomatoes and cook till mushy. This is the most time consuming step.The whole sauteing of onions and tomatoes takes about 10 minutes.
Step 5:Drain and Add the soaked dal along with salt, spices- turmeric, chilli powder, coriander powder and 1.5 Cups of Water.
You can replace the trumeric, chilli powder and coriander powder with Curry Powder
Step 6: Close the lid.Cancel Saute function and choose PRESSURE COOK on HIGH for 15 minutes.
Let the pressure release naturally for 10 minutes, after which, quick release. Channa Dal doesn't get mushy but if you are looking a softer less el dente dal, change the cooking time to 20 minutes.
Step 7: Open the lid,Squeeze half a lime in the dal, give it a stir, garnish with coriander leaves and serve hot.
Additional Tips,Tricks
Do not Quick Release liquid food in instant pot. It has a tendency to splatter.Wait for at least 10 minutes before you release the pressure.
You could make a big batch of Onion- Tomato Masala and freeze in advance for quicker curries. Here is my post on how to make indian masala base.
Variations of Chana Dal
Ghiya Chane Ki Dal aka Bottle guard channa Dal - This was a staple while growing up.In fact it still is with my parents. Add big chunks or cubed bottle guard to the dal before pressure cooking. You have to do 2 things different here- soak the dal for atleast 4-5 hours and reduce the cooking time by 2 minutes.
Palak Chana Dal - To make it more nutritious, you can add chopped spinach after you open the instant pot lid. Just cover for 10 minutes after and the spinach will cook on it's own.
Jain Version - Omit Ginger Garlic and Onion from the recipe to make a jain version of the Channa Dal.
Vegan Chana Dal- Skip on the Ghee while making Vegan version of chana dal.
Gluten Free Chana Dal- Dal is naturally gluten free.Skip using asafoetida to make the dal Gluten Free.
How to Serve Chana Dal
Chana Dal is a chunkier dal than Toor dal or the normal Dal Fry. You can serve it with plain white Rice or brown rice, if you want to add more fiber.If you want something more fancy, serve it with Basmati rice or Jeera rice.
This would also be pretty epic with hot, just off the tawa roties and maybe a side like Jeera Aloo or Bhindi.
Leftover Dal
LWhat do you do with leftiver dal.Well..Freeze it for a rainy day! Anything which has a lot of liquid, freezes very well in the freezer.
Also, the dal keep well in the refrigerator for upto 3-4 days.
To thaw, you can either microwave it. Or! Add ¼ cup of water to the instant pot along with the frozen dal(without the zip lock bag please,lol). And pressure cook for 5 minutes.
My favorite way to use leftover dal is to make parathas with it. Dont use water to kneed the dough but the dal.
Here are some Instant Pot Dal Recipes for you
Are you looking for more everyday dal or lentil recipes that you can make in the instant pot? Try the below recipes.

Instant Pot Toor Dal
Instant Pot Langarwali Dal
Instant Pot Dal Palak
Instant Pot Khichdi
If you are looking for something more fancy, to serve guests or just have an indulgent sunday. Try any of the below recipes.

Instant Pot Chole
Instant Pot Rajma
Instant Pot Dal Makhani
I would love to know if you try the recipe! Do leave a comment and share it with your family and freinds if you found it useful!
---
Find us on Instagram , Pinterest & Facebook here!
If you liked my recipe, do leave a comment!
It will help others find this amazing recipe too!
---
Ingredients
¾

Cup

Chana Dal

or Bengal Gram

1.5

Cups

Water

1

tablespoon

Ghee

or Oil

1

teaspoon

Cumin

1

teaspoon

Ginger

grated or minced

3-4

Cloves

Garlic

Chopped

1

Green chilli- split(optional)

or jalapeno

1

Medium

Onion -Chopped

about ½ cup

2

Medium

Tomatoes

about 1 cup

3

tablespoon

Cilantro Leaves

Coriander for Garnish

1

tablespoon

Lime Juice

Salt to Taste
Instructions
Start with Washing and Soaking the Chana Dal.Meanwhile,do your prep.

Cut the onions,garlic,ginger and tomatoes.Slit the chilli.

Meanwhile, Heat the Instant Pot in Saute Mode.(Try pressing the Saute button twice to make it HIGH saute)

Once hot, Add Ghee or Oil.Let it melt.

Add - Cumin & Asafetida.Once it splutters, add ginger, garlic and green chilli(if using).Saute for 20-30 seconds so it infuses in the oil.

1 teaspoon Cumin,

1 teaspoon Ginger,

3-4 Cloves Garlic,

1 pinch Asafetida,

1 Green chilli- split(optional)

To this, add the chopped onions and cook till they turn translucent, about 3-4 minutes.If the onions start to burn, add a little splash of water.

Tip in the chopped tomatoes and give it a stir.Cook till mushy, about 5-6 minutes.

Deglaze - Deglaze the pan to dislodge the brown charred bits which happens during saute.Use a Spatula to rub them out so there is nothing stuck to the bottom of the pan.

Add drained Chana Dal.Add Spices*- turmeric, chilli powder and coriander powder.Season with salt.

¾ Cup Chana Dal,

1 teaspoon Turmeric,

1 teaspoon Coriander Powder,

1 teaspoon Chilli Powder

Add 1.5 Cups Water.Cancel Saute.

Select PRESSURE COOK on HIGH for 15 minutes with the valve in SEALED position.(for a Mushier Dal,pressure cook for 17 minutes.)

Let the pressure drop naturally for 10 minutes, after which quick release the valve.

Open the lid, give the dal a good stir and mash it lightly with the back of the spoon.

Add Lime Juice and coriander and mix.Check on the seasoning, add salt if needed.

3 tablespoon Cilantro Leaves
Notes
Susbtitutions
Minced Ginger and Garlic  can be substituted with store bought Ginger Garlic Paste
Turmeric,Chilli Powder and Coriander powder can be substituted with Store bought Curry Powder
Tempering
I usually skip this beacuse of time or just to save colories.But this adds a lot of flavour to the dal.Heat 1 tablespoon of ghee or oil.Once hot, add cumin,asafetida,sliced garlic and ⅛ teaspoon ground chilli or paprika.Pour this over prepared dal.
Nutrition
Sodium:
21
mg
|
Calcium:
105
mg
|
Vitamin C:
19
mg
|
Vitamin A:
757
IU
|
Sugar:
3
g
|
Fiber:
10
g
|
Potassium:
268
mg
|
Cholesterol:
10
mg
|
Calories:
173
kcal
|
Saturated Fat:
2
g
|
Fat:
5
g
|
Protein:
7
g
|
Carbohydrates:
27
g
|
Iron:
3
mg
If you liked the recipe, please leave a comment and rate it by clicking on the stars below!
Keep in Touch
Follow and like my facebook page yellowthyme!
I use a 6 qts instant pot and I love it! If you are in India and are looking to understand how I use it here, you should read my post on instant pot in India.