Sona Masoori Rice in Instant Pot - A guide on how to cook the perfect Indian Sona Masoor rice in your Instant Pot multi-use programmable pressure cooker.
Okay, so first off- there is no perfect way of making rice.Some prefer it soft, some like a little bite to it and some like it super mushy.
If you are a lazy cook like me, then you always have a pot full of rice, cooked and ready to be eaten in any "emergency".If you have kids at home, you understand the emergency.The every 1 hour hunger pangs.
You can eat this rice with Dal,make a stir fry like tomato rice or puliograh with it. You could serve it with Rajma or Chole too.I also use it to make fried rice.
Here is a simple table to help you with how YOU want to cook your Sona Masoori Rice in Instant Pot.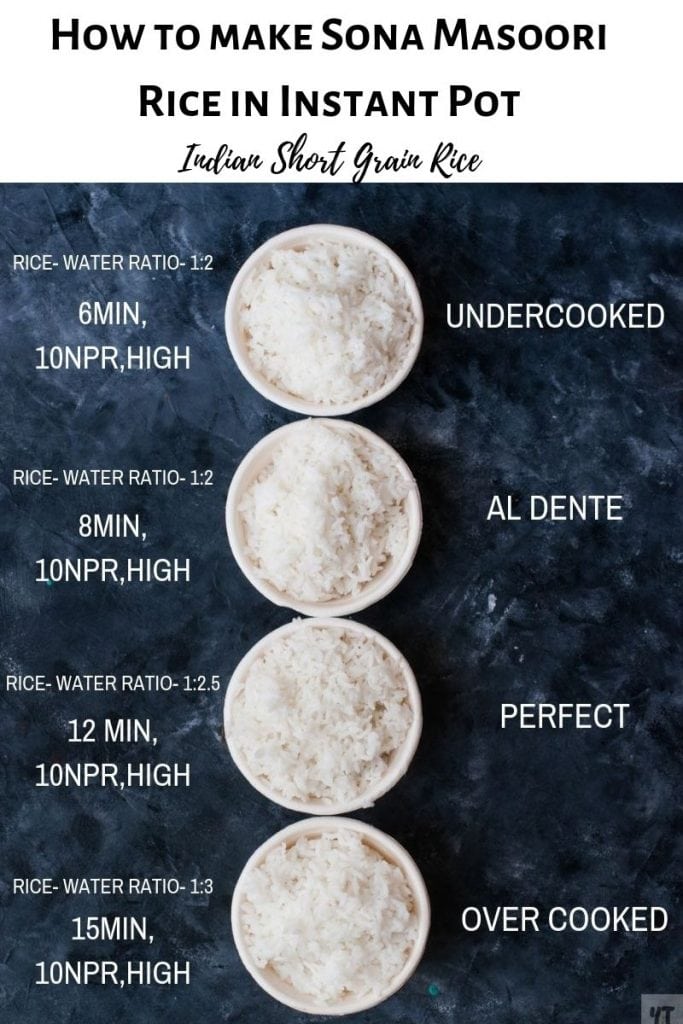 What is Sona Masoori Rice
Sona Masoori is the everyday shortgrain rice that is cooked in most indian households.
Where Basmati Rice is an occasion rice, Sona masoori is usually had everyday.If you ever wondered about that soft rice that indians eat with every meal, then this is it.
As with any rice, you get polished and unpolished versions- White and brown sona masoori rice. We usually have both at the house.In this post, we are talking about white rice.
Depending on the amount of water you use, you can make this rice very soft and mashy to just the right amount of fluffy.
Sona Masoori Rice vs Basmati Rice
Basmati rice is long grain rice.You can see the picture below for reference.It's is usually cooked el dente.Like pasta.Each grain separate.It's usually not soft.Here is a how to guide to cook basmati rice in the instant pot.
Sona Masoori rice is usually cooked soft.It digests very well.This is also the rice to use for khichadi and curd rice.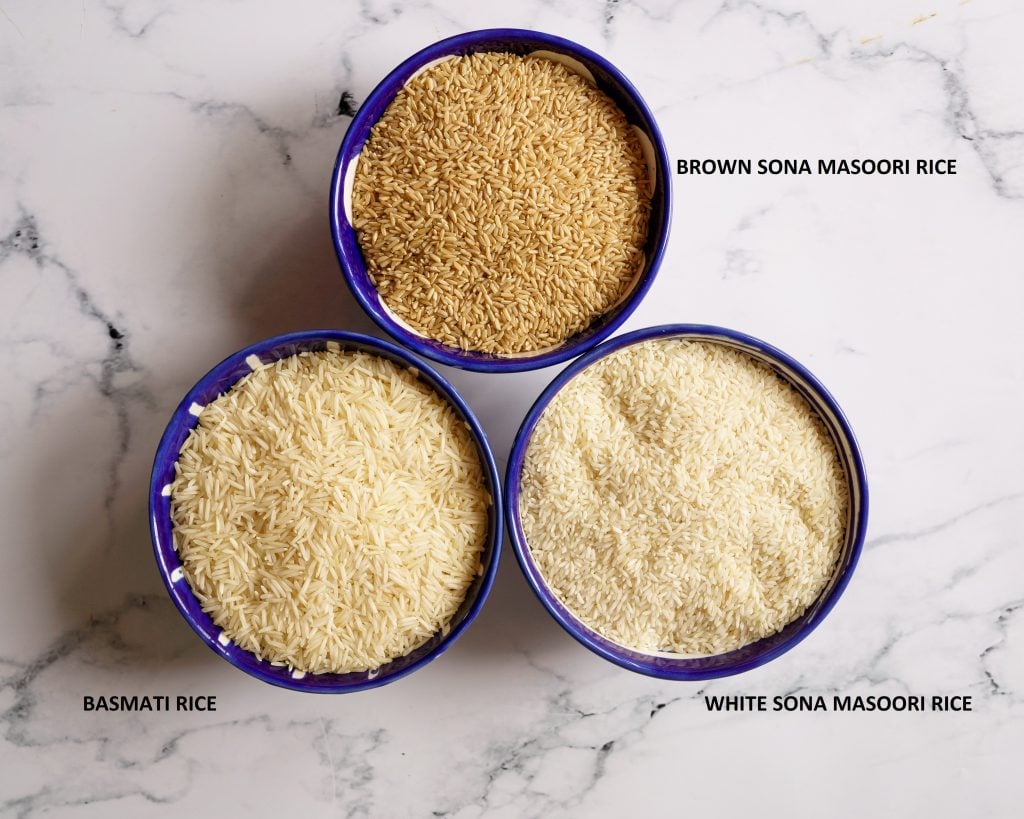 This kind of short grain rice needs a lot more water than basmati rice to cook.
Usually on stove top, I add 1 cup of rice and 3 cups of water.In the instant pot, you use lesser water because very little of the water escapes the pressure cooker.
How to make Sona Masoori Rice in Instant Pot
To make perfect soft, fluffy, non sticky Sona Masoori rice follow the steps below.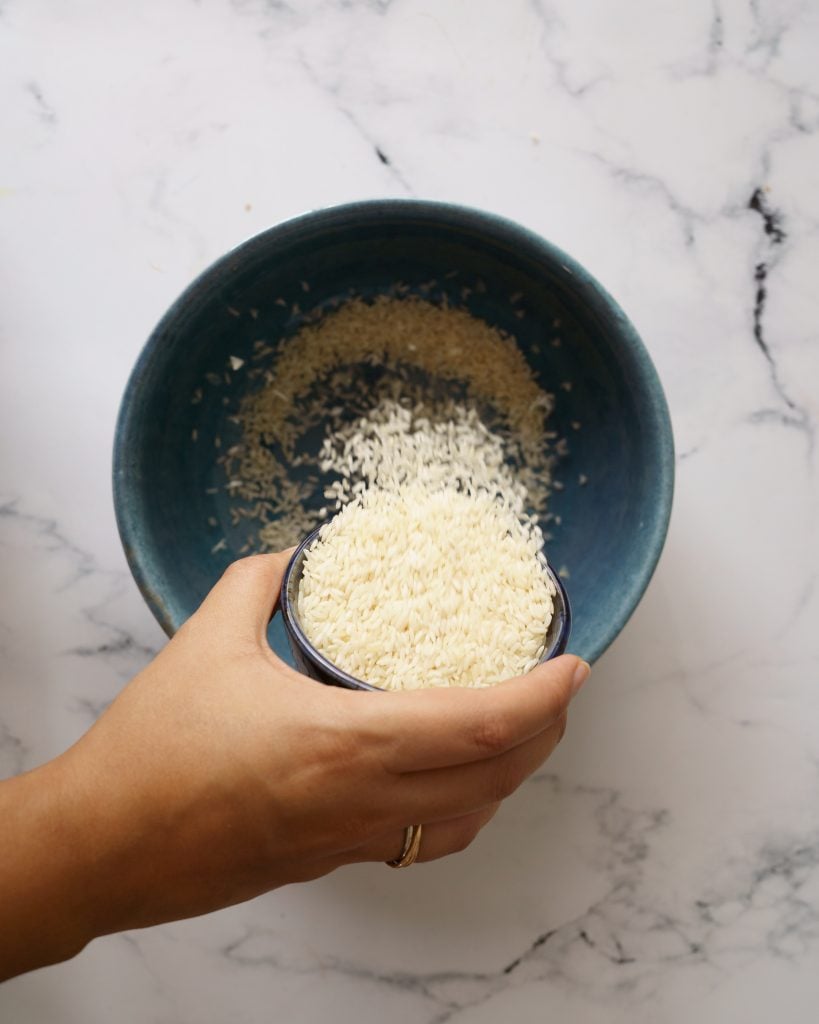 Step 1: Wash the rice well.I usually rub the rice with my fingers in the water.
I repeat this process till the water turns from cloudy to somewhat clear.Drain all the water.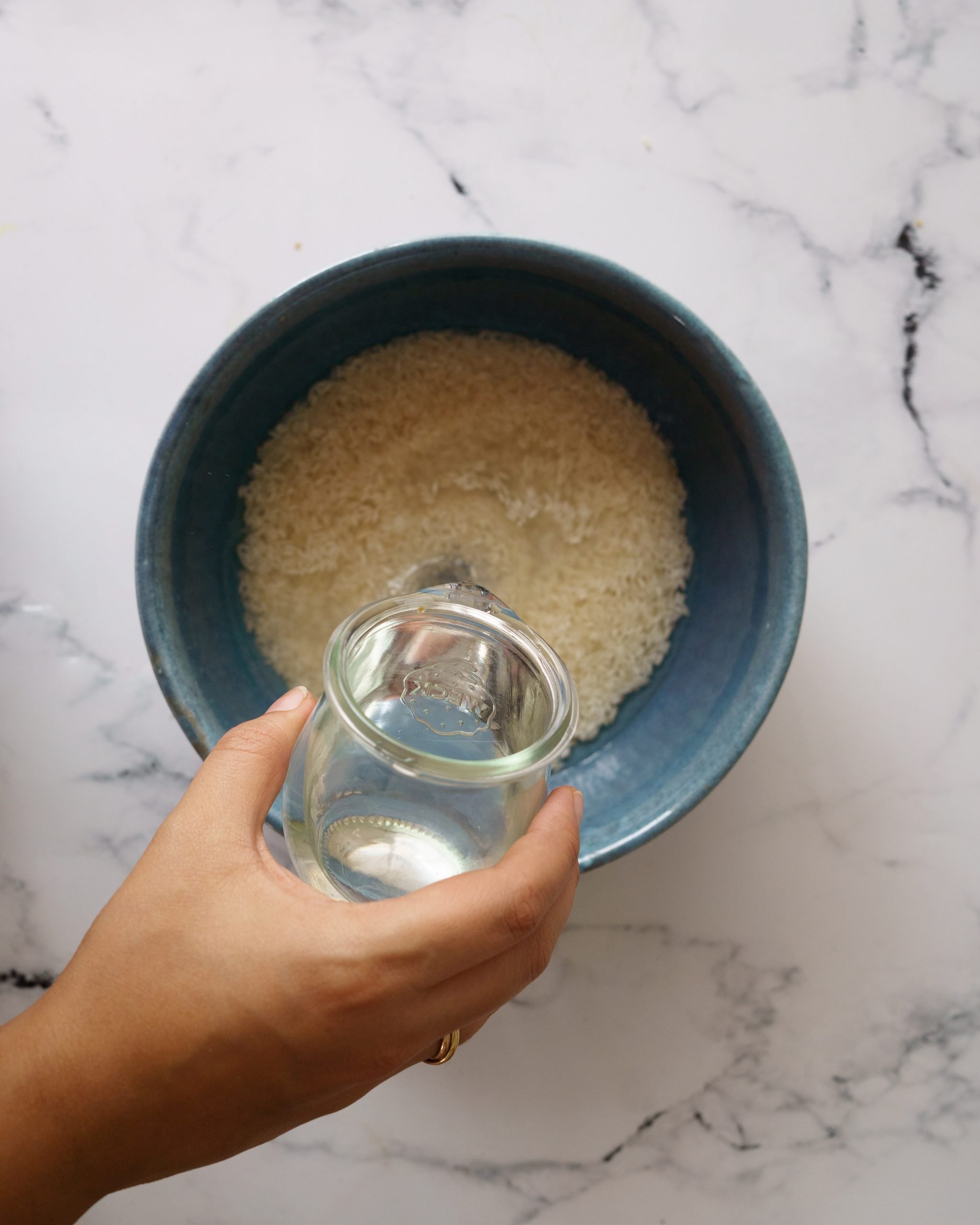 Step 2:Dump the rice in the instant pot inner pot along with 2.5 times the water.Which means, 1 cup of rice and 2.5 cups of water.
If you want, you can add a bit of salt at this point.Usually about ¼ teaspoon is enough.
I don't add salt because I am consciously trying to reduce our salt intake.I dont find a big difference, especially when eating it with a curry or dal.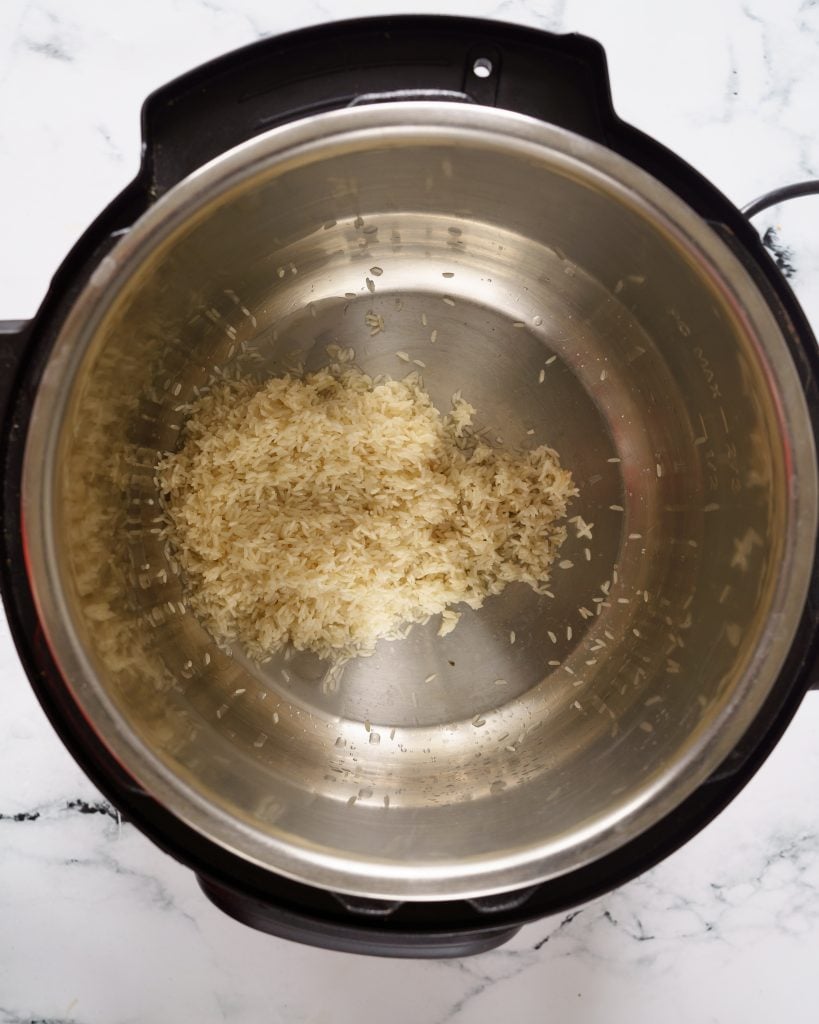 Step 3:Close and set the timer for 12 minutes in Manual/Pressure cook mode, on HIGH, with the valve in sealed position.
Step 4: If you have the time, Let the Steam escape Naturally for 10 minutes and then Quick release.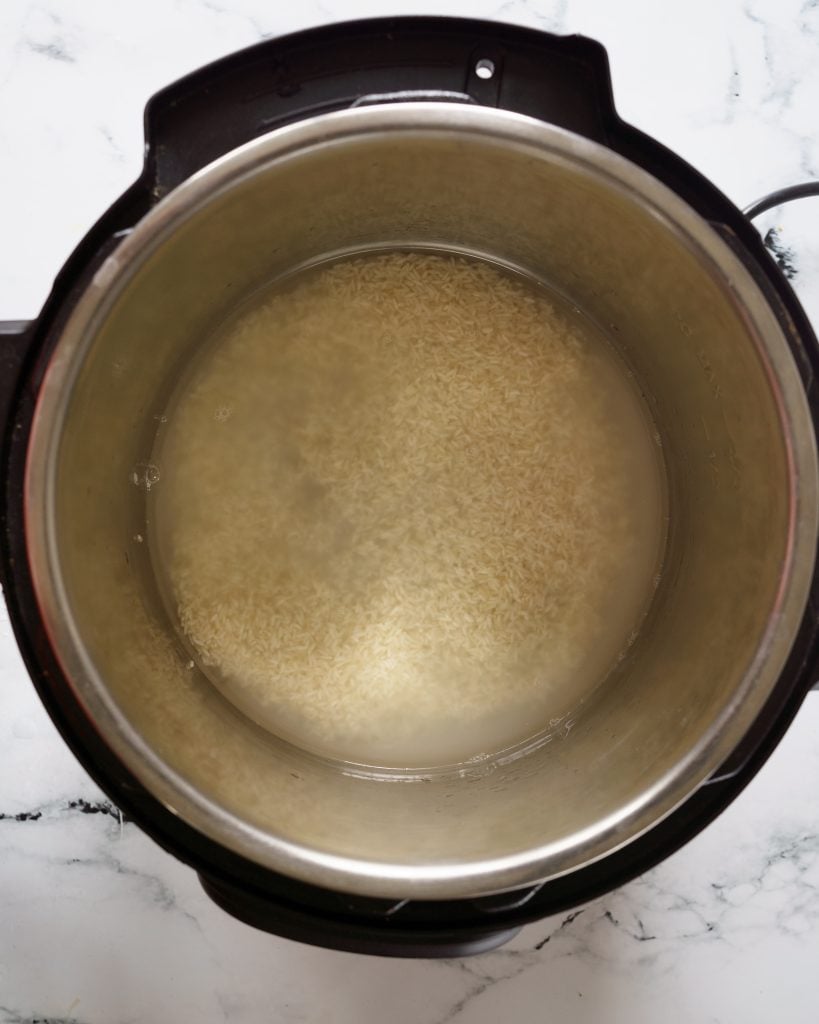 If you are running late, wait for 1-2 minutes before quick releasing the pressure.
Cooking Sona Masoori rice for Fried rice
If you are making rice for a stir fry, you need el dente or just cooked rice.So for fried rice or variety rice- change the ratio and time as follows
1 cup rice:2 cups water and 8 minutes HIGH 10NPR
Cooking rice for Curd rice
If you want to make rice that can be mashed to make curd rice or baby food,change the ratio and time as follows
1 cup rice:3 cups water and 15 minutes HIGH 10NPR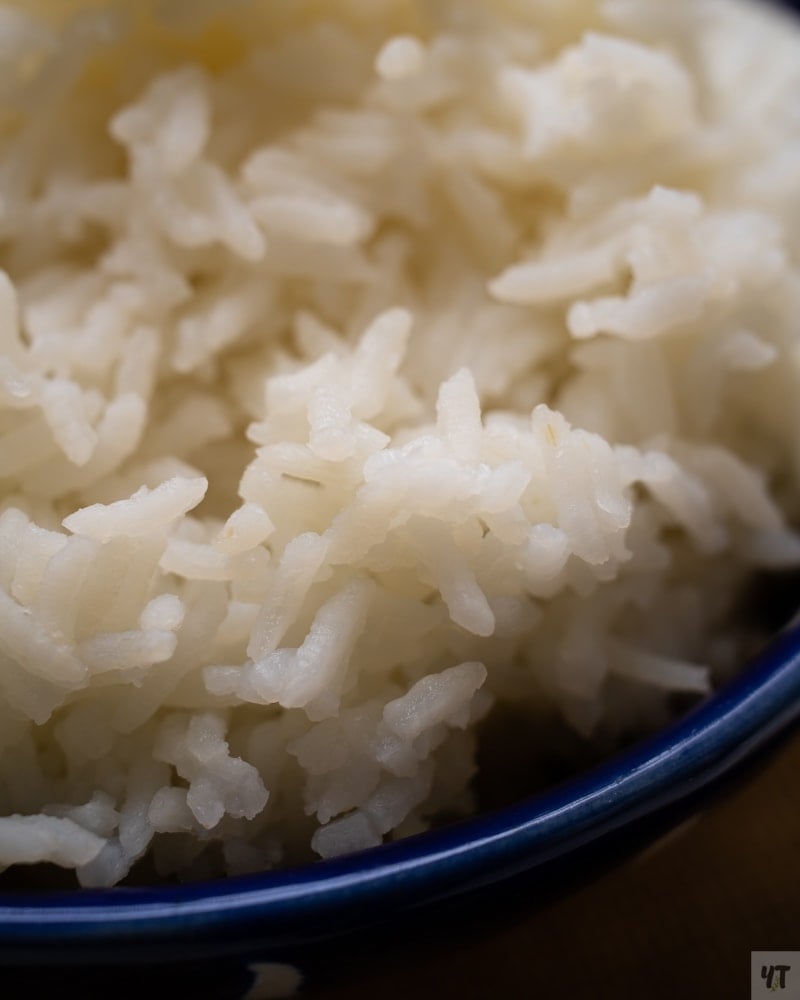 Cooking in Rice Mode
In this mode, instant pot evaluates the amount of rice and water and cooks the rice in low pressure.
This is perfect for newbies.The rice is cooked Al Dente in this case.
1 cup rice:2.5 cups water and Rice Mode 10 NPR

Pot in Pot Method to cook Sona Masoori Rice
This method is very handy when you need to cook less amount of rice.Or when you need to cook rice and say millets too.
I usually use this stackable steamer pans for this.It is very convinient.Here are the steps for this brilliant method
Add 1 cup water to the instant pot steel insert.Add the instant pot trivet.
Measure the rice and water and add to one stackable insert.
Measure the millet and water and add to the other insert
Close/cover the stackable pans,Add it to the instant pot.
Set the timer to 10 minutes, High Pressure.
Quick Release the pressure after 10 minutes or you can also let the instant pot go into the keep warm setting.
I usually leave it in the keep warm setting so I can have hot rice/millets at any time of my choosing.
Make sure to add 1 cup of water to the instant pot.And add water to the individual stacks.If you forget this, you will get a burn sign.
Why do pot in pot cooking?
I have a lot of reasons for that!
It's great when you are cooking small quantities.You dont have to wash the big instant pot steel insert.You just have to rinse it at max!So thats one less big giant save.
It's awesome when you are cooking for people with different needs- like my husband and son like rice and i try and eat millets instead.So it's a one stop solution to get my "rice" done without using too many pots
You can let the rice be warm in the "keep warm" setting for more than 2-3 hours.If not for the pot, the rice can get crispy and clumpy if you let it go to the "keep warm" setting beyond 1-2 hours.
You can do multiple things at the same time.Sometimes i add peeled and cubed potatoes on one pan and rice in the other.Then use the potatoes to make a fry or parathas.
Pro Tips for cooking rice in instant pot
Here are some pro tips i picked up while making rice almost everyday in the instant pot
Wash the rice
If you want to cook less amount of rice , use the pot in pot method.
After you are done cooking the rice in the instant pot, do not leave it in the keep warm mode for more than 1-2 hours.The rice will start to crisp up from the bottom and become dry.
If you want to "keep Warm" the rice beyond 2-3 hours, Mix the curry in and leave it in the keep warm setting.
To reheat Rice in Microwave- Keep the rice in a covered(with a small vent to make the steam escape) micowave safe container.Sprinkle some water on the rice.Microwave for 3-10 minutes depending on the quantity of rice
Reheat in boiling water- Boil water on the stove.Add the rice and keep it immersed for 1-2 minutes.Drain the water.This is my preffred way of reheating rice.This gives it a new life and makes stale rice fluffy!
Make a Indian Meal
To make a simple Vegan or Vegetarian indian meal, make the rice with Dal- Toor Dal or Rajma or Chole.
You can also make some potato or Ladies finger along with it.Here is a easy Air fryer Cauliflower that can be made in a jiffy!
If you are entertaining, make a chicken curry- Indian Chicken Curry or this Tamil Pepper Chicken.
Here are some more basic indian rice recipes for you
How to make Jeera Rice in Instant Pot
How to Cook Basmati Rice in Instant Pot
How to Make Brown Rice in Instant Pot
Ghee Rice Recipe -Kerala Neychoru
Instant Pot Kheer - Indian Rice Pudding
More One Pot Instant Pot Rice Recipes
If you are looking at easy one pot meals with rice, here are some great options for you.
Instant Pot Pulao- Rice Pilaf
Instant Pot Chicken Biryani
Instant Pot Vegetable Biryani
Instant Pot Khichdi
Instant Pot Burrito Bowl

If this post helped you in anyway or if you have a doubt, please drop me a comment.I would love to hear from you!
Find us on Instagram , Pinterest & Facebook here!
If you liked my recipe, do leave a comment!
It will help others find this amazing recipe too!
---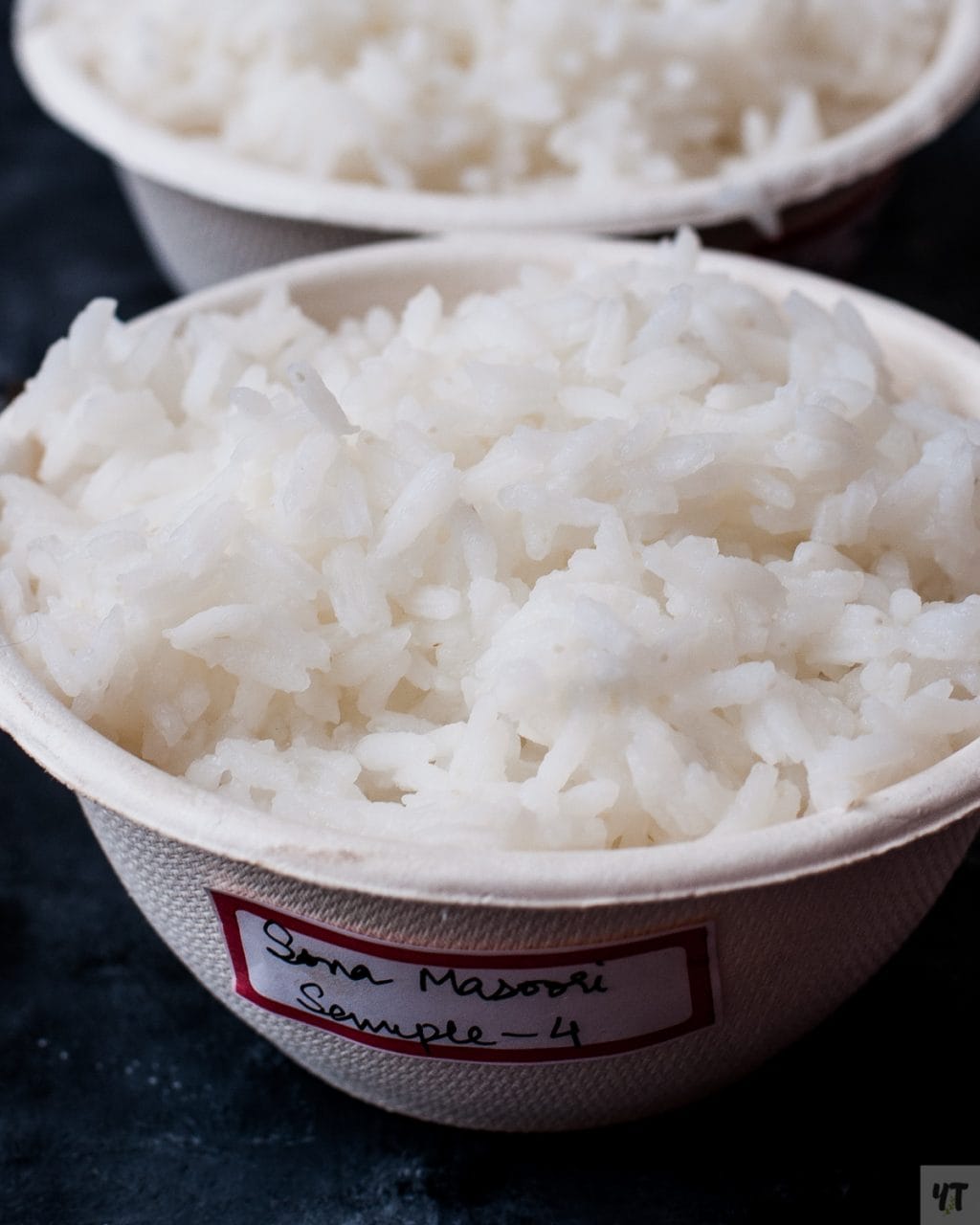 Ingredients
1

Cup

Sona Masoori Rice

2.5

Cups

Water
Instructions
Drain and add the rice to instant pot inner pot.

Add 2.5 cups of water.Close the lid.

Select PRESSURE COOKER/MANUAL, on HIGH, for 12 minutes with the VALVE in SEALED position.

Once the cooking is over and Instant Pot beeps,Let the steam escape natually for 10 minutes.Quick Release after that.

Fluff the rice with a fork and eat!
Notes
The time it takes to cook the rice will change depending on how old the rice is, altitude of the location and variety of the rice.
This recipe has been tested on a 6 Qts Instant Pot.
Soft Rice For curd rice- Change the water ratio to 1 cup of rice to 3 cups of water.
Storing- You can keep cooked rice in the fridge for 3-4 days.Freezing the rice is also an option.You can freeze it upto 2-3 months.
Reheating -  Reheat the rice in the microwave in a covered container with a few sprinklings of water.
Another way is to add cold rice to boiling water for 1 minute and draining the water.This is my preffered method.
Nutrition
Calories:
180
kcal
|
Carbohydrates:
42
g
|
Protein:
3
g
If you liked the recipe, please leave us a rating
Follow me on Instagram
My handle is @yellowthyme
Also Read my post on Instant Pot for Indian Food
Part 1: Instant Pot for Indian Cooking
Part 2: Which Instant Pot Model to buy
Part 3: Making Indian Food in Instant Pot(with more than 30 recipes)
Part 4: Instant Pot Frequently Asked Questions
Here are a few quick pointers on the instant pot.

I use the 6 qts DUO Instant Pot and all my recipes are tested on the same.
Here are a few quick need to knows while using an Instant Pot.

Saute & Pressure Cook Setting – These are the most used settings on the instant pot. Pressure Cook setting can also be called Manual on your multicooker.
Minimum liquid- There is a minimum liquid requirement for most instant pots. For a 6 qts IP - 1 cup is the minimum liquid required as per the manufacturer.
Burn Message- If the food starts burning this notice pops up on the instant pot and cuts off any further cooking. This message can also come if you have used the SAUTE setting before and not deglazed the pan.or if you use a bigger 8 qts pot.The minimum requirement of the liquid changes and hence you could potentially get it while using it. To solve this, add about ¼ cup of more water than the recipe calls for.
While using certain sauces like tomato sauce or cheese sauces, you may get burn message because they are more viscous than water and burn easily.To solve this, again add ¼ cup of water to the bottom of the pot first, then add the sauce and proceed with the rest of the recipe. You could also use pot in pot method for these recipes.
Pressure Build Up
Most recipes only mention the time setting you need to use while cooking in the instant pot.In actual, the total time taken to cook is time taken for the pressure build up+ time taken for actual cooking + time taken for the steam to release.
Quick Release(QR) ,Natural Pressure Release(NPR) & 10 minute Natural Pressure Release(10NPR)
Quick release(QR)- when you release the pressure valve, as soon as the cooking time is up.This release hot steam, so make sure you are careful while doing this.
Natural Pressure Release(NPR)- You open the pot only after the pressure in the IP is released on its own. This could vary depending on the Pressure setting, amount of food, size of the pot.
10 Natural Pressure Release(10NPR)
Let the pressure release naturally for 10 minutes after which you Quick Release the pressure.
What not to do in Instant Pot
-Use Instant Pot without any liquid in the pot.
-Open the lid without the releasing the pressure first.
-Keep the Instant pot on the stove- there have been a lot of instances where the instant pot has gotten burnt from the bottom on accident.
-Dump food in the instant pot without the inner pot.
-Fill the pressure cooker up till the brim.