South Indian Style Curd Rice -THE BEST Curd Rice there ever was! So creamy, so comforting. Perfect for those busy weeknights .Truly the best use for any leftover rice. Serve with Pappadam and Pickle!
If you have never had curd rice to get "beyond obsessed" about, then you have not sampled south indian cuisine. Yes.It's this simple dish that in my head is the best "sample" of south indian cuisine.
It sure sounds easy, curd and rice..And it is that but so so much more..
What makes a great curd rice is
Texture - It has to be soft, slide off the spoon kind of texture.For this to happen, the rice should be over cooked and then mashed slightly.
Temperature - Cold, cold cold! It's blasphemous to serve hot curd rice. No I wont eat it even if you offer me millions!
Tempering- Yes off course, any curd rice without this is just bleh..
Steeping - You need to let the aromatics release their oils and juices. That is why it's important to rest the curd rice for at least 10-15 minutes.
This is a beginner recipe but it's a recipe you will cherish all your life!
Here is what we will do
Cook the Rice or use Leftover rice
Mash the Rice.
Mix in the curd & milk
Temper
Though it is simple, a lot of people end up making a holy mess out of it because they don't know the RIGHT way to make it.Yes you could argue what's so difficult about mixing curd with rice but then you haven't tasted this curd rice recipe yet.(yes, a not so humble brag..We are working on this.)
If my husband was not already in love with me..He would fall in love with me again with this(his words..Not mine)
We love eating curd rice along with some south indian style fried chicken or potatoes , papad(pappadam) and pickle.
Ingredients
Here is what you need to make the curd rice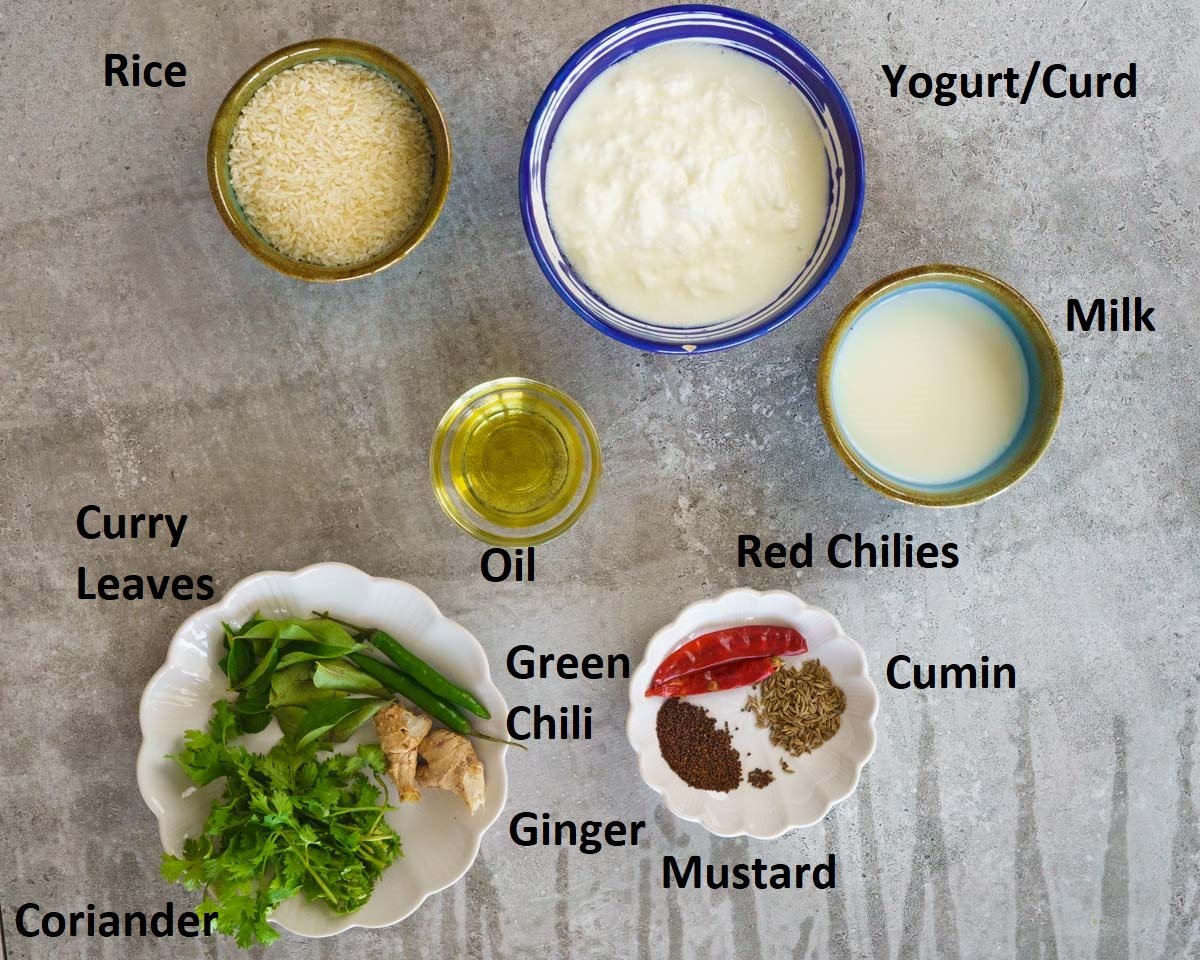 Softly Cooked Rice
Curd
Milk
Salt
Coriander
Tempering
Oil
Mustard Seeds
Cumin Seeds
Dried Red Chilies
Green Chilies
Ginger
Rice
You want to use a rice that becomes soft on cooking. So any short grain rice- Indian rice like jeera samba, sona masoori & raw rice will work.
Basmati rice will not work in this recipe.
You can also make this with leftover rice. Though You will have to heat the leftover rice to be able to mash it.
Curd/Yogurt
You can use homemade curd or store-bought yogurt to make this. You don't want a very ripe, sour curd but a milder, not too tart version.
If you live in hotter climate or are making this in summer, reduce the amount of curd and use more milk instead. That way, even if the curd rice is on the counter or in the lunch box, it will stay mild and not tart.
Heat Level
Here is what you should choose to adjust the spice level.
Mild heat: 2 whole red chilies

Moderate heat: 2 whole red chilies & one pierced green chili

Spicy heat: 2 whole red chilies & 2 Chopped Green chilies

The whole red chilies will not add any heat but just the smoky flavor of tempered chilies.
On the other hand, green chilies will add the heat which contrasts very well against the cooling curd rice.
This dish is meant to be comforting and not overly spicy.
How to Make Curd Rice
Step 1: Cooking the Rice
To make the most comforting, softest rice, you have to over cook it.
Whatever rice you are using, increase the water by 1 more unit.
Example- If regularly, you use 1 cup of rice and 2 cups of water, to make curd rice, use 1 cup of rice and 3 cups of water.
You can use pressure cooker to cook the rice or cook it in a pot. Here is how to make Sona Masoori Rice in Instant Pot.
If cooking in a pot, use a heavy bottomed pot with a lid.
Cover the rice till the water starts to boil and froth steams out. Leave the lid a little open and let the rice cook to soft consistency.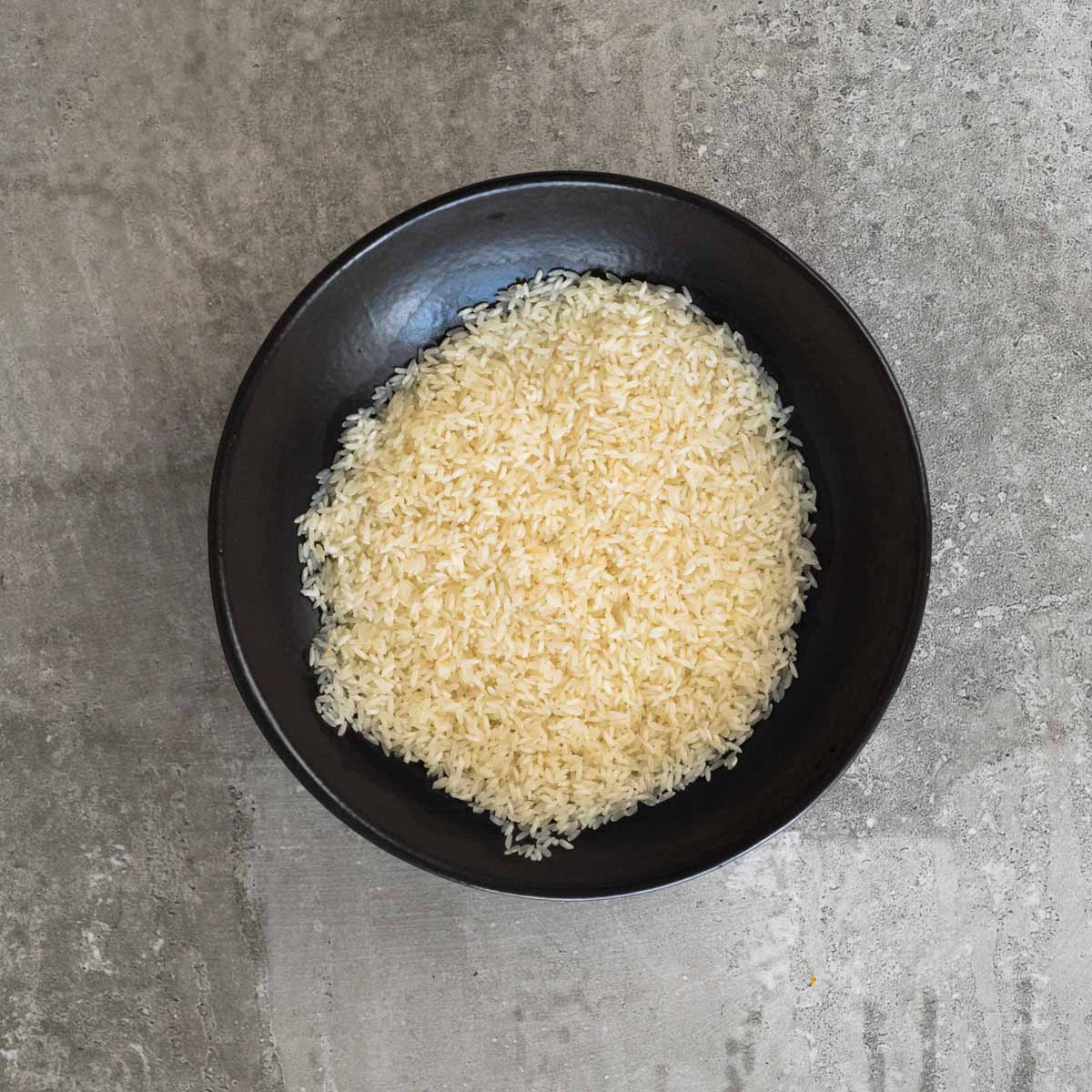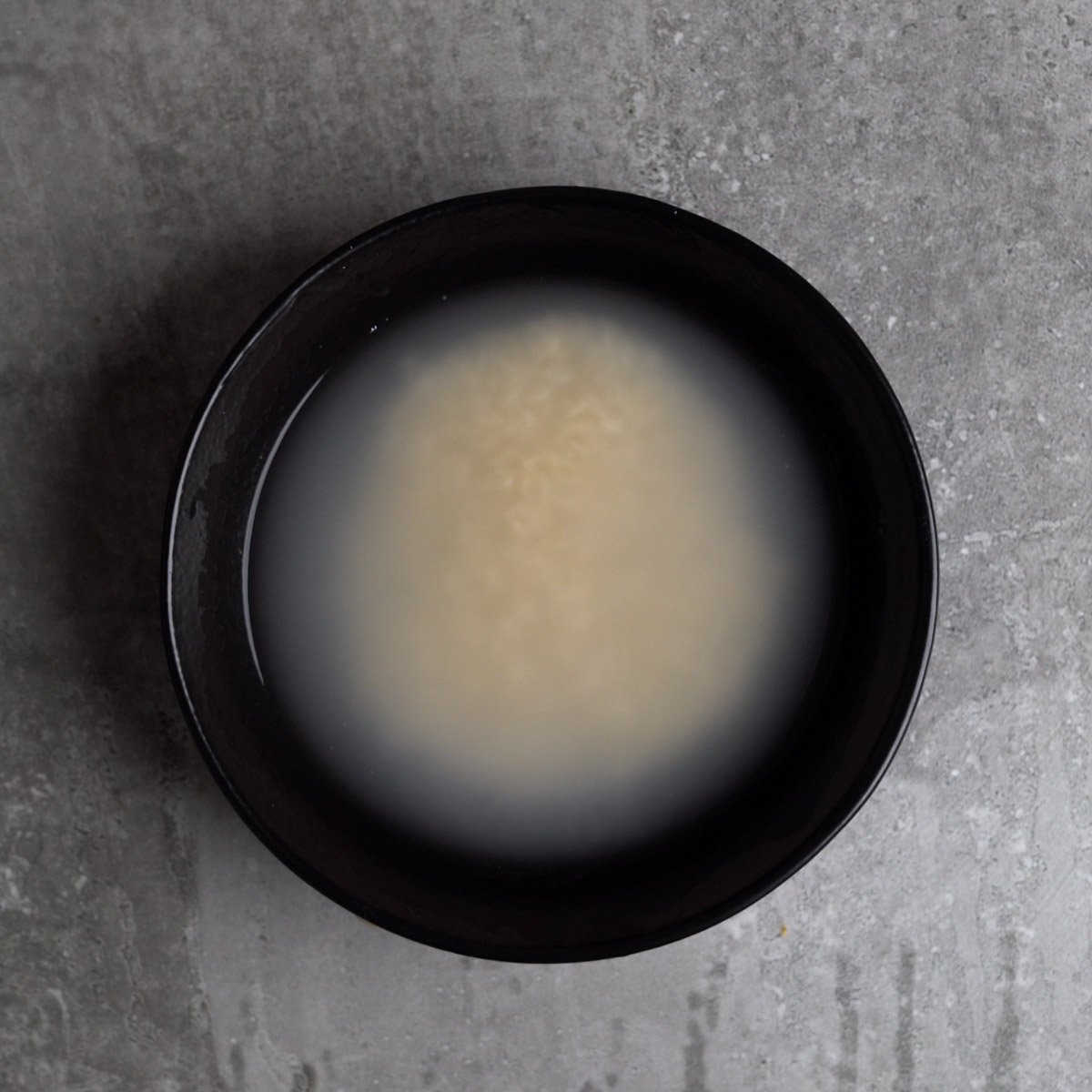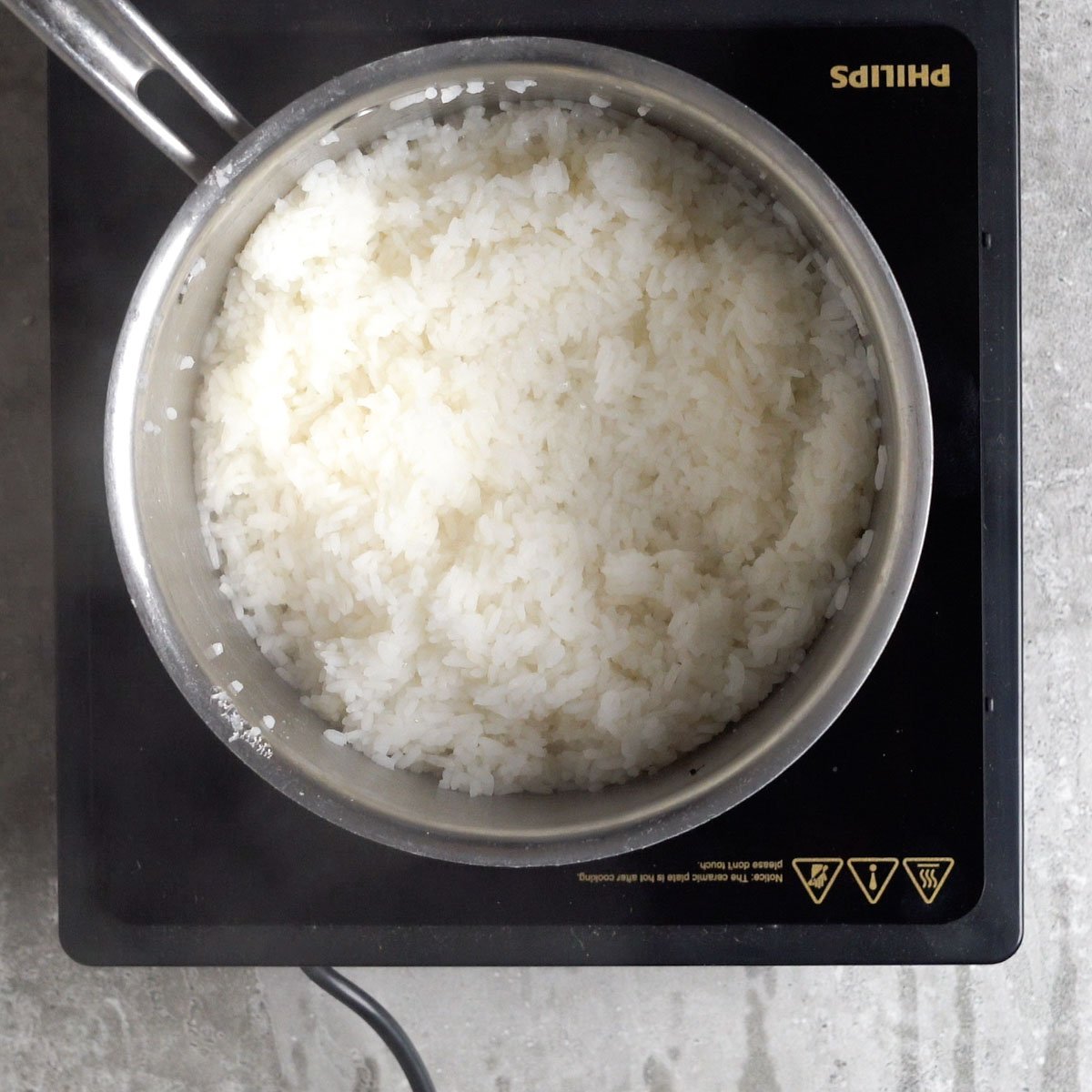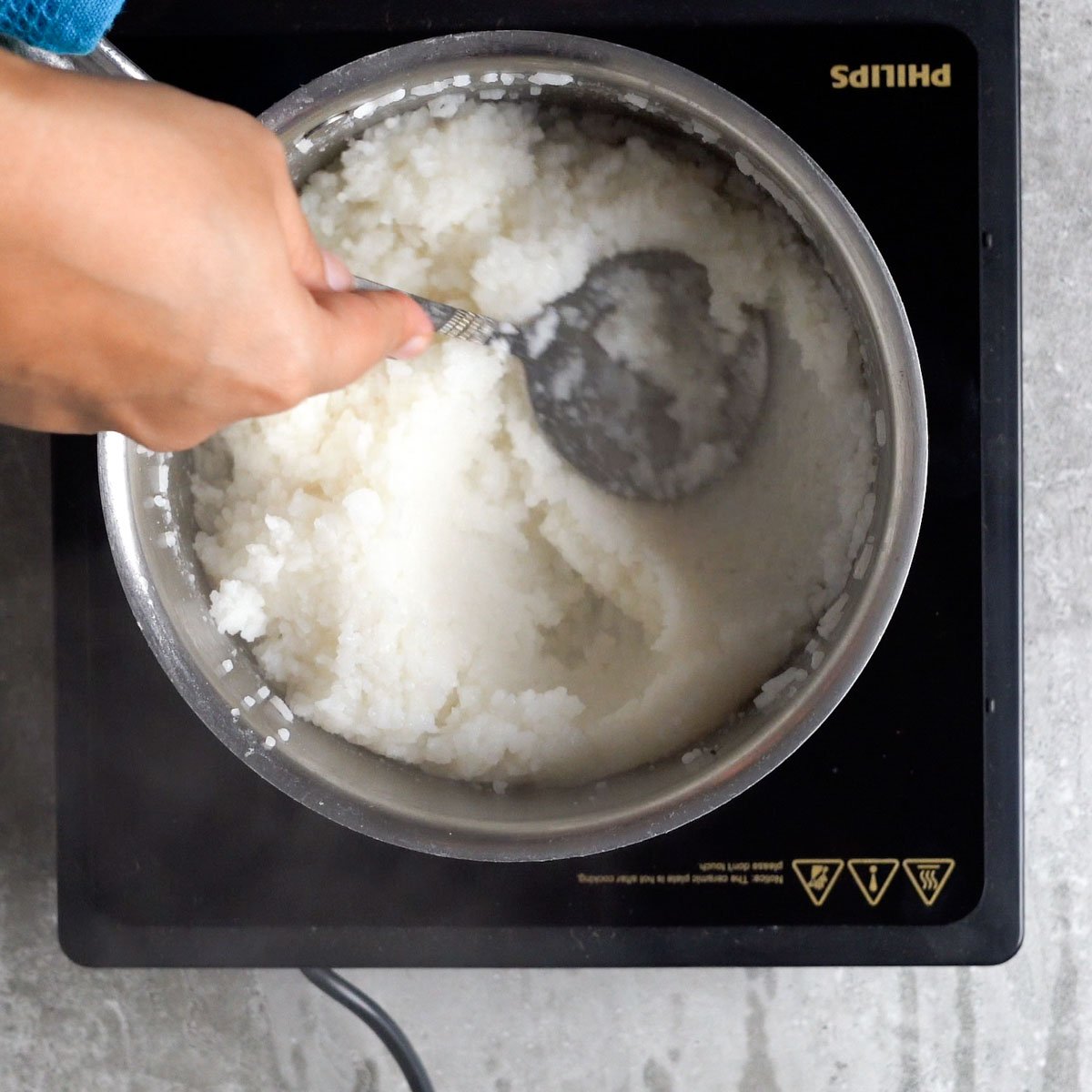 Hot Tip
Add a tablespoon of butter to the freshly cooked rice and then proceed to mash the rice. It adds a richness to the curd rice you associate with restaurant curd rice.
Step 2: Prepare the Cooked Rice
As soon as the rice is cooked and is still hot, use a heavy ladle or masher to mash it.
If you wait till the rice is cold to mash, it will not give you the right consistency.
If you are using leftover rice to make curd rice, you might have a bit of trouble mashing it. You can sprinkle the rice with water and microwave it covered till its steaming. And then mash the rice.
Transfer it to a large flattish bowl so the rice can cool while you get all other ingredients in order.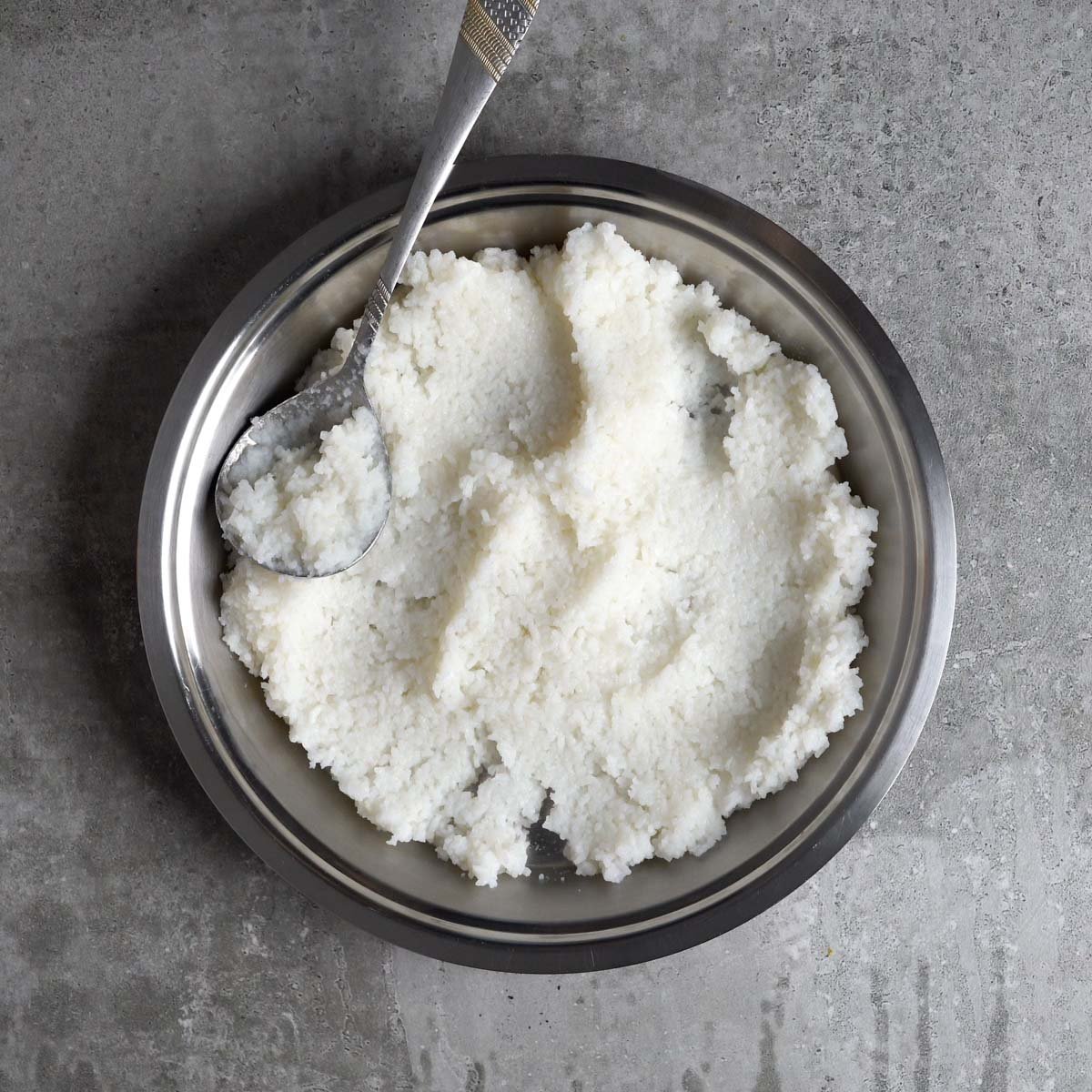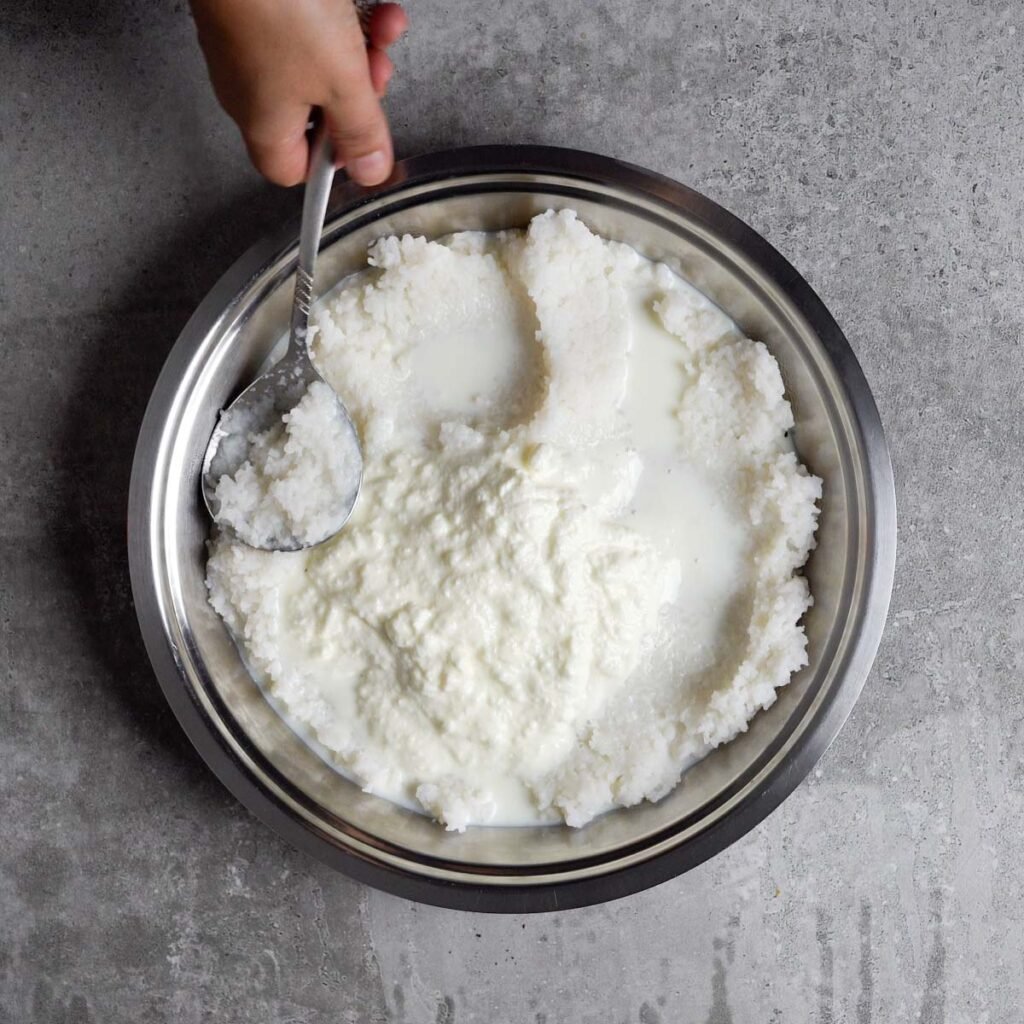 Step 3:Mix in the Curd & Milk
Once the rice has cooled down slightly, add the milk and Curd.
You can stick the cooked rice under the fan or in the freezer to get the temperature down a bit.
The reason we have to wait for the rice to cool a bit is , adding curd to steaming hot rice might split it.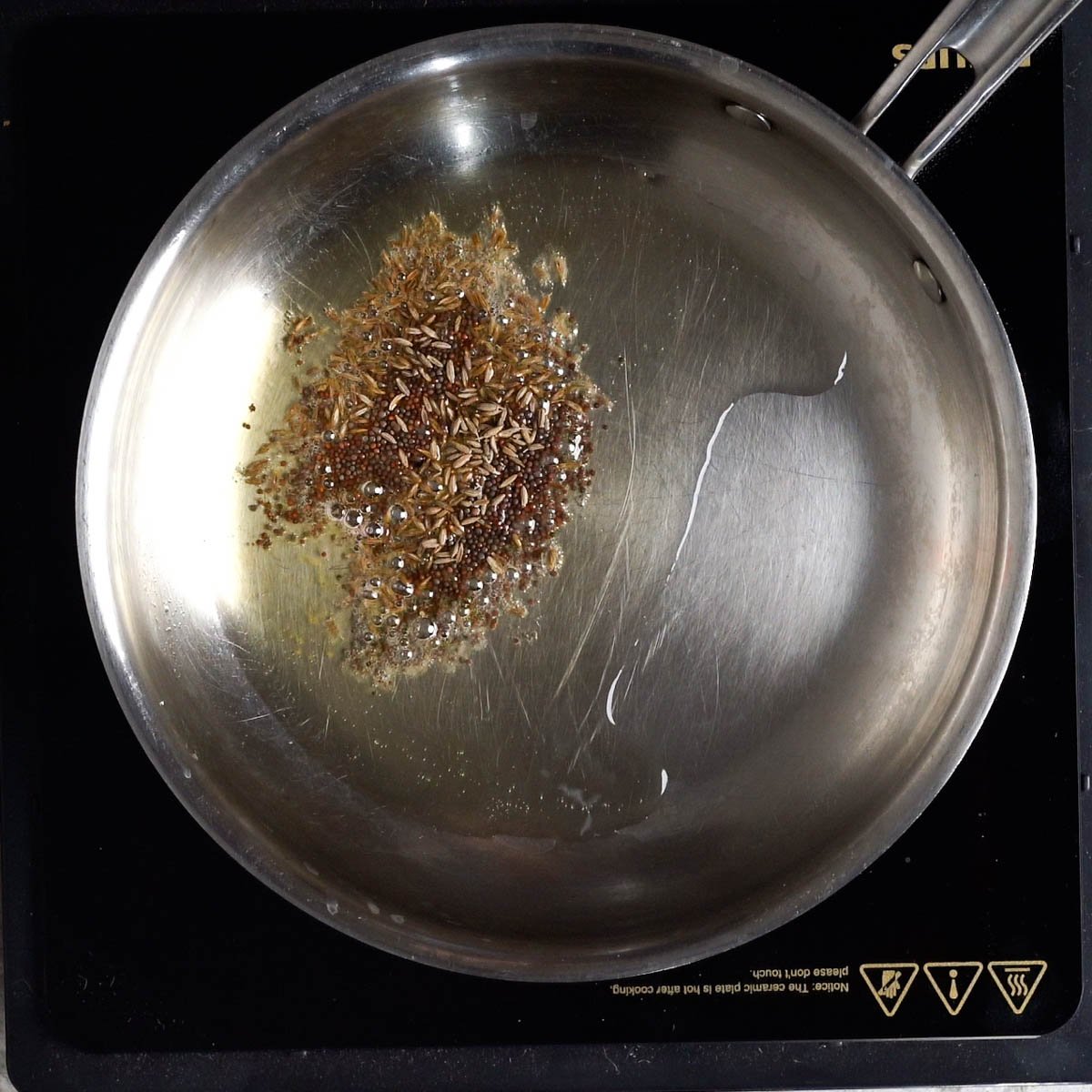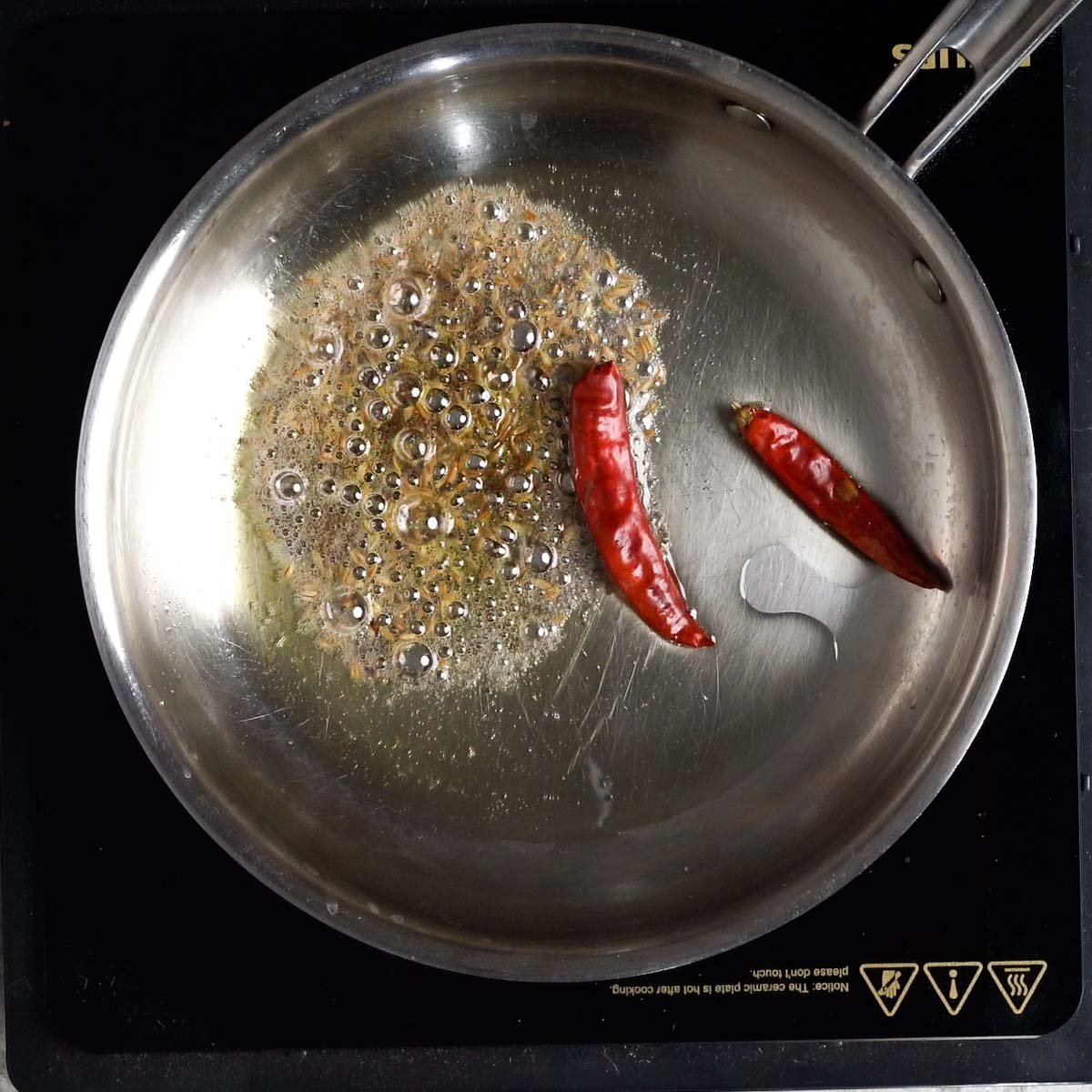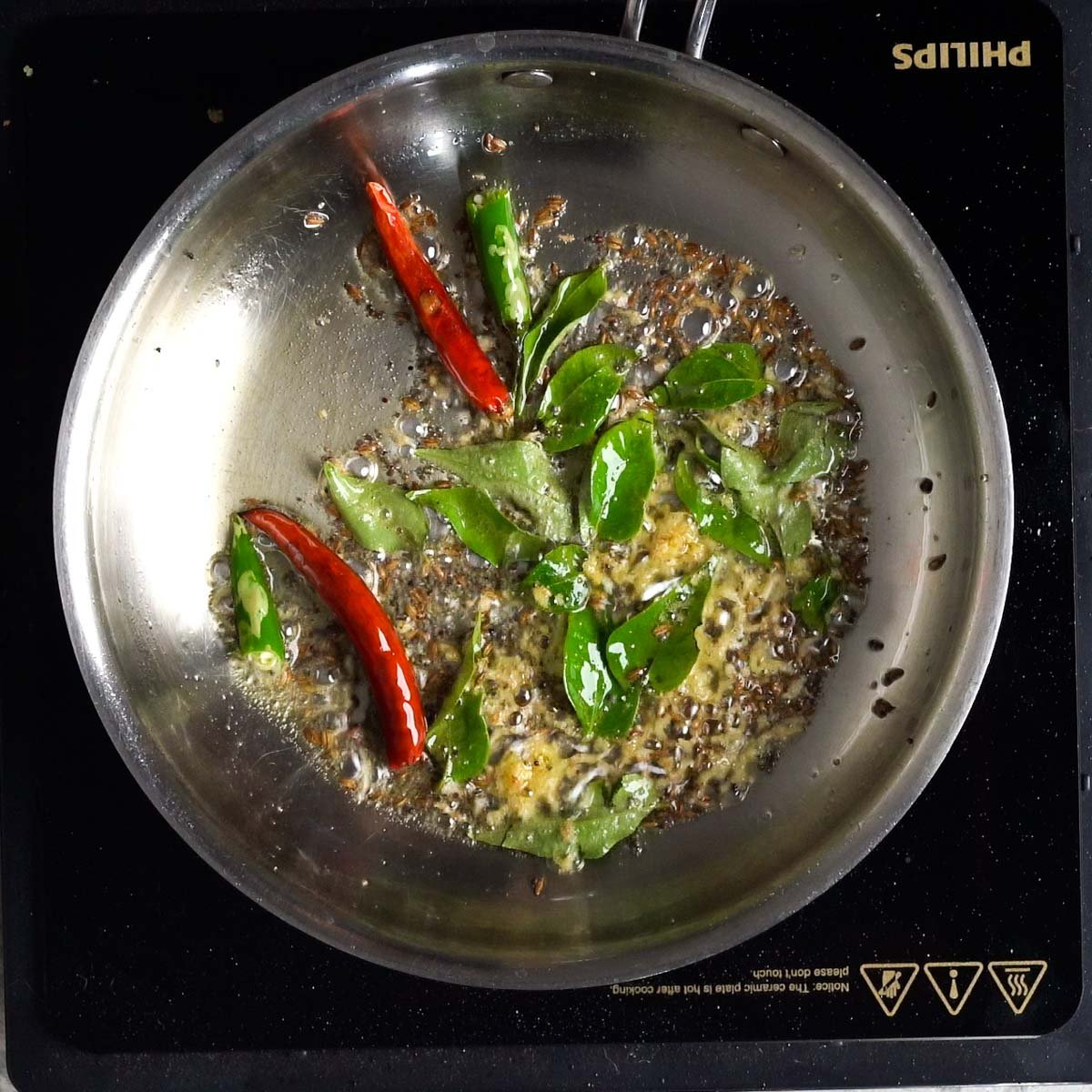 Step 4: Temper
And finally the flavor booster - Tempering.
This is a classic Indian cooking technique of heating up fat/oil, adding spices, herbs and condiments and adding them on top of the dish.
A few rules of tempering
The oil should be super hot or smoking
Prep all the ingredients for tempering before you heat the oil
Be very very care full of things spluttering out. Make sure the tempering pan has not water left before adding water.
In this case, we will either use a neutral oil(or coconut oil), heat it till it's smoking. Switch off the heat.
Add the grated/pounded ginger, green chilies, mustard , curry leaves and cumin.
You want all the ingredients sizzling in the oil.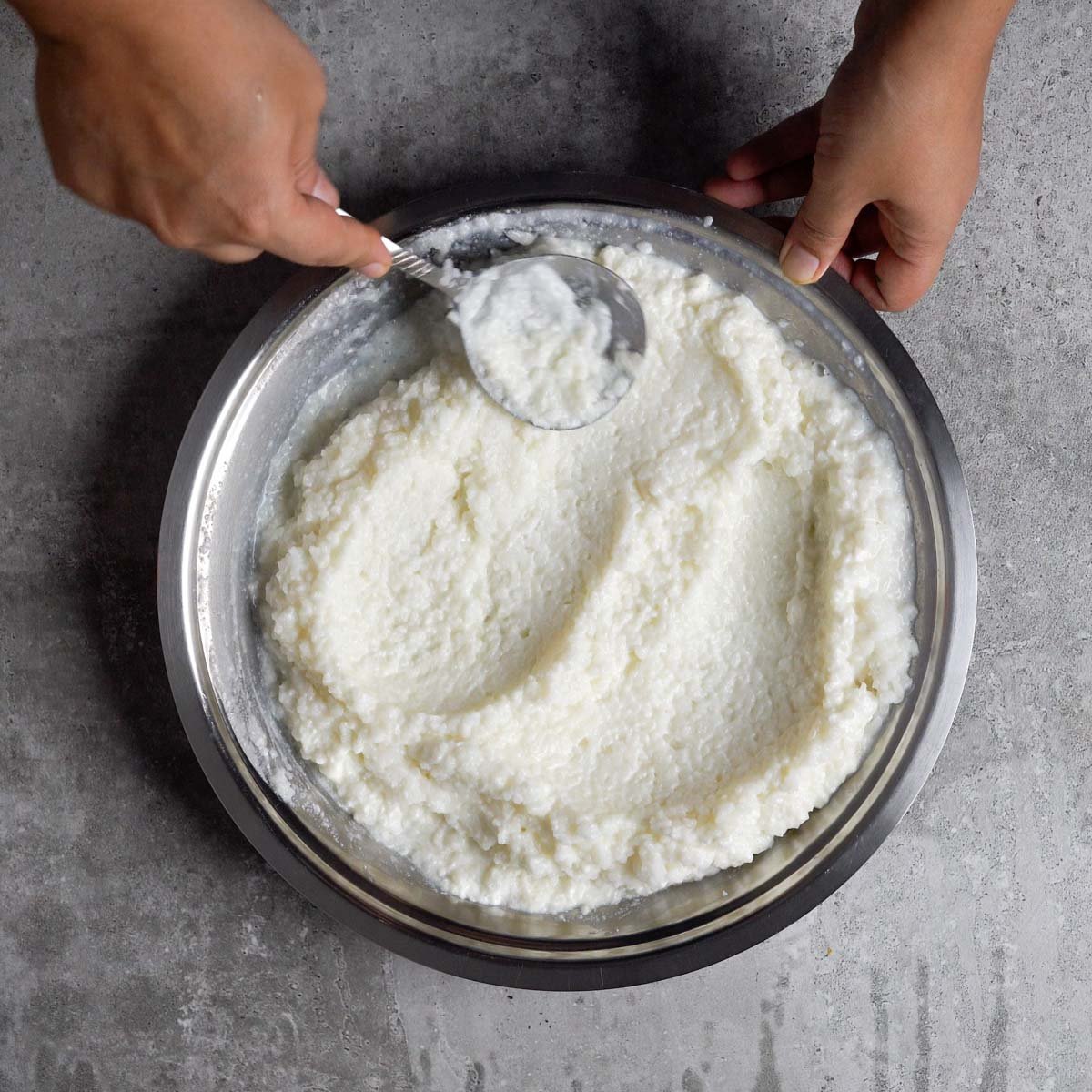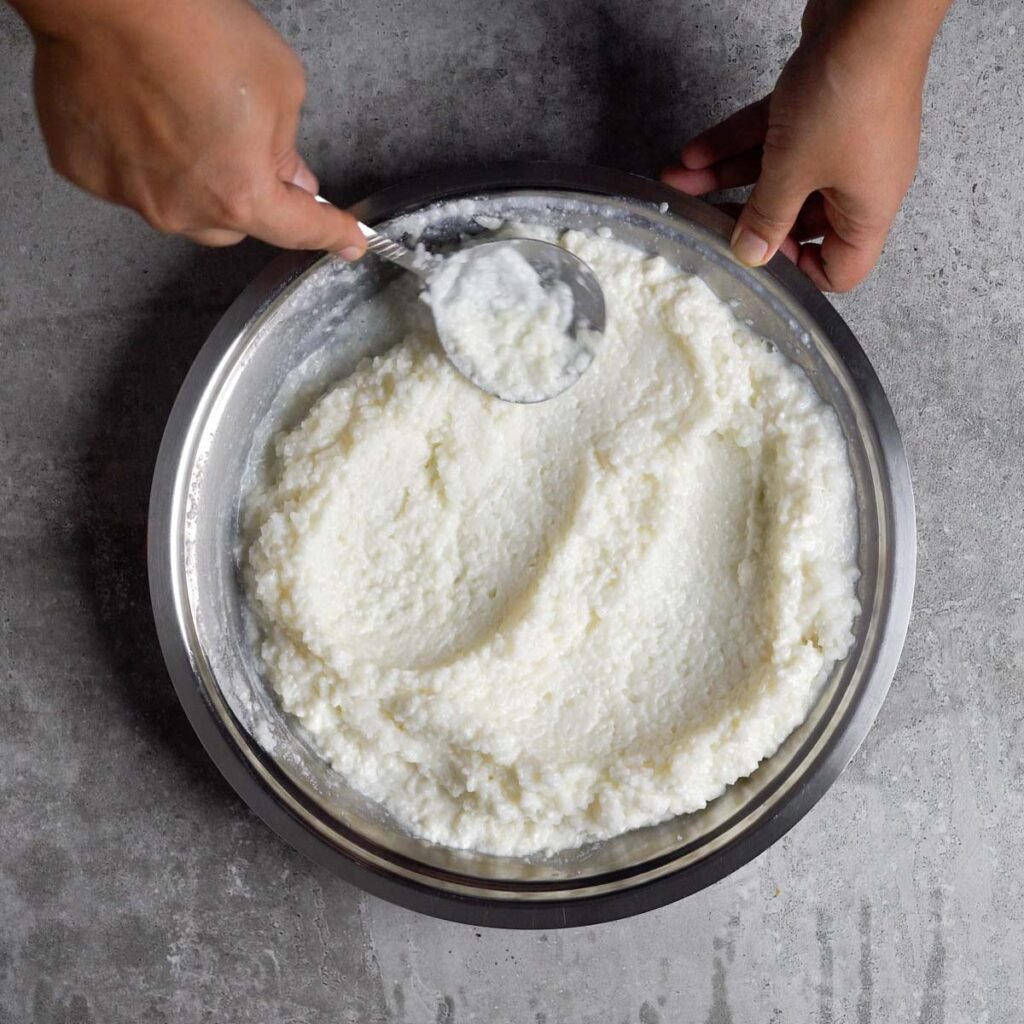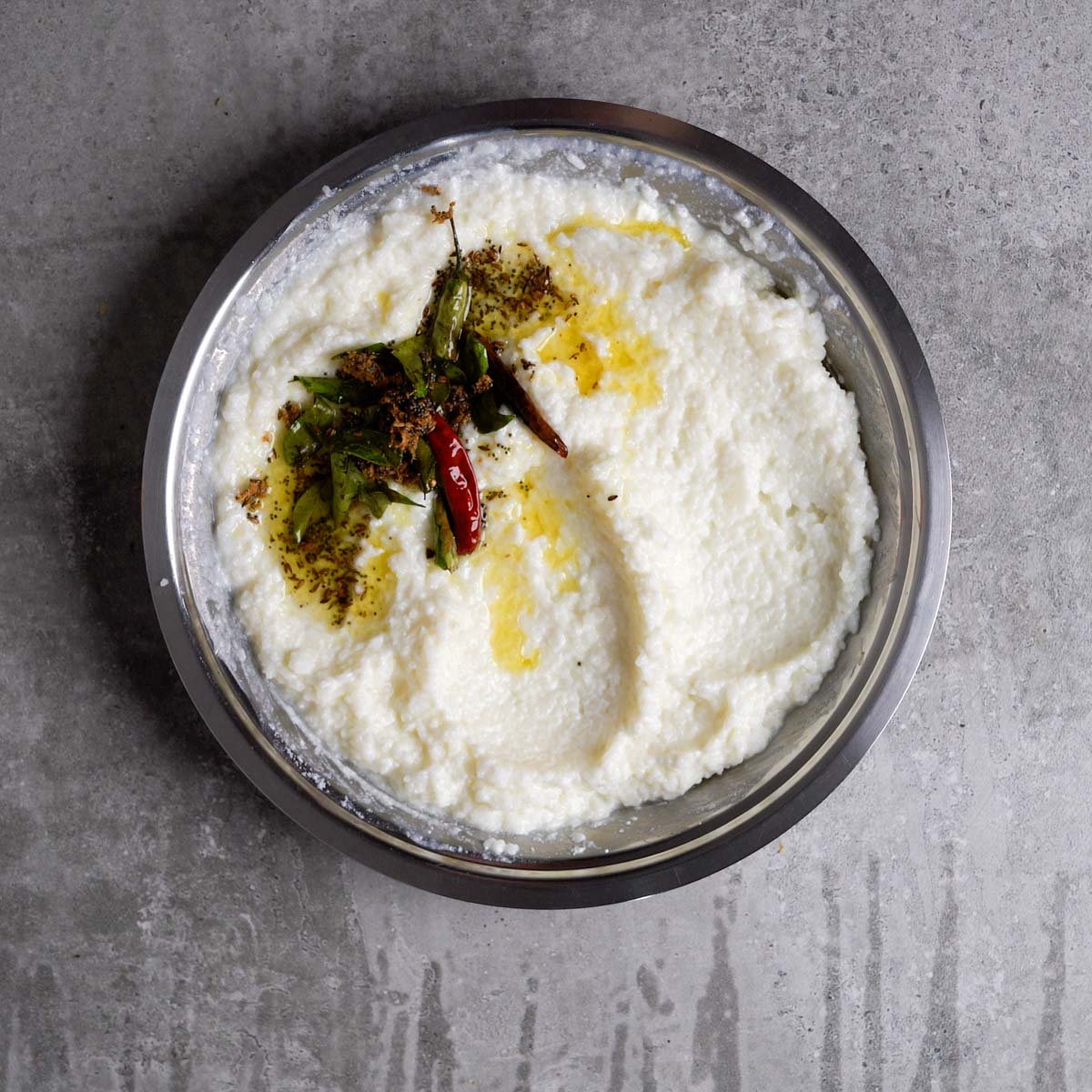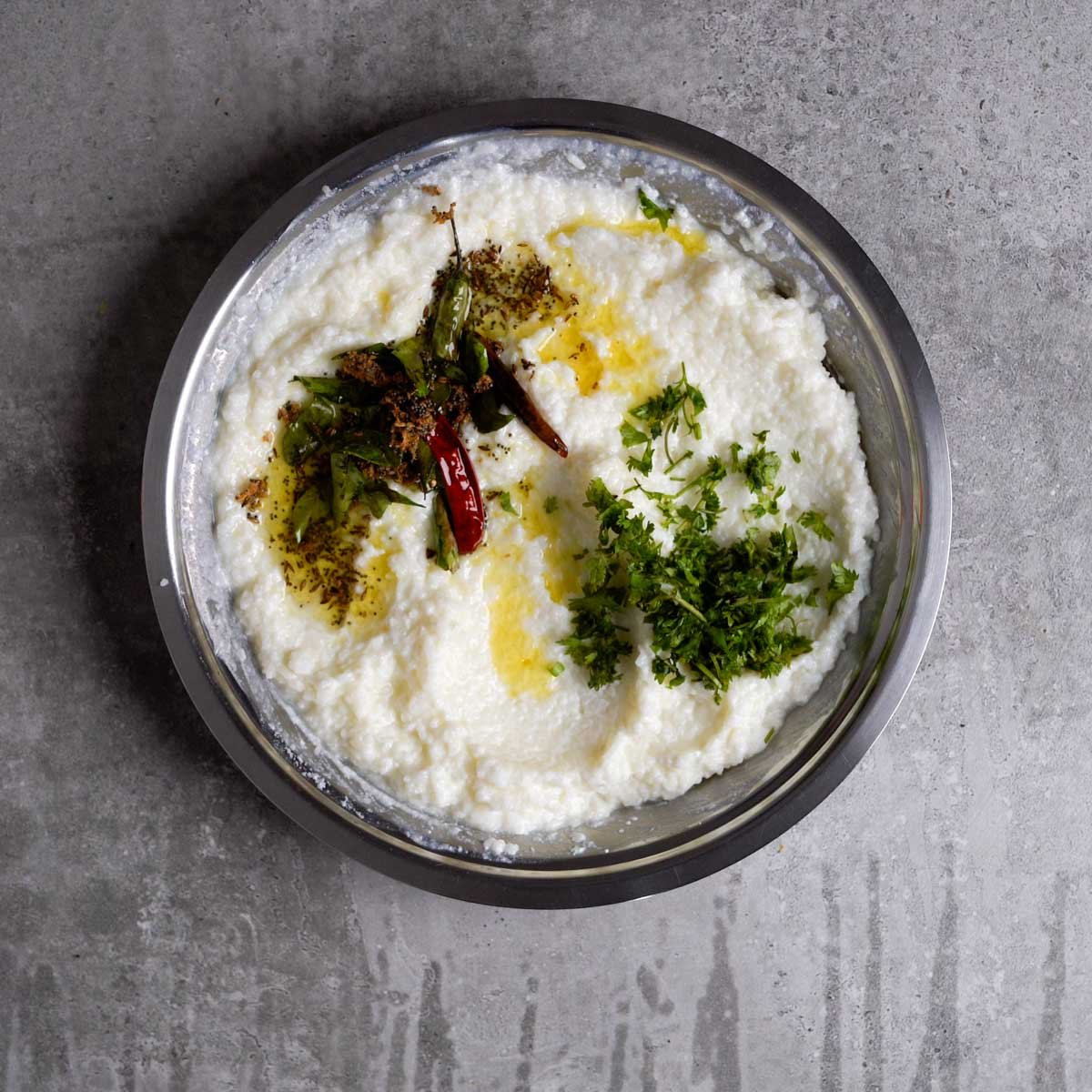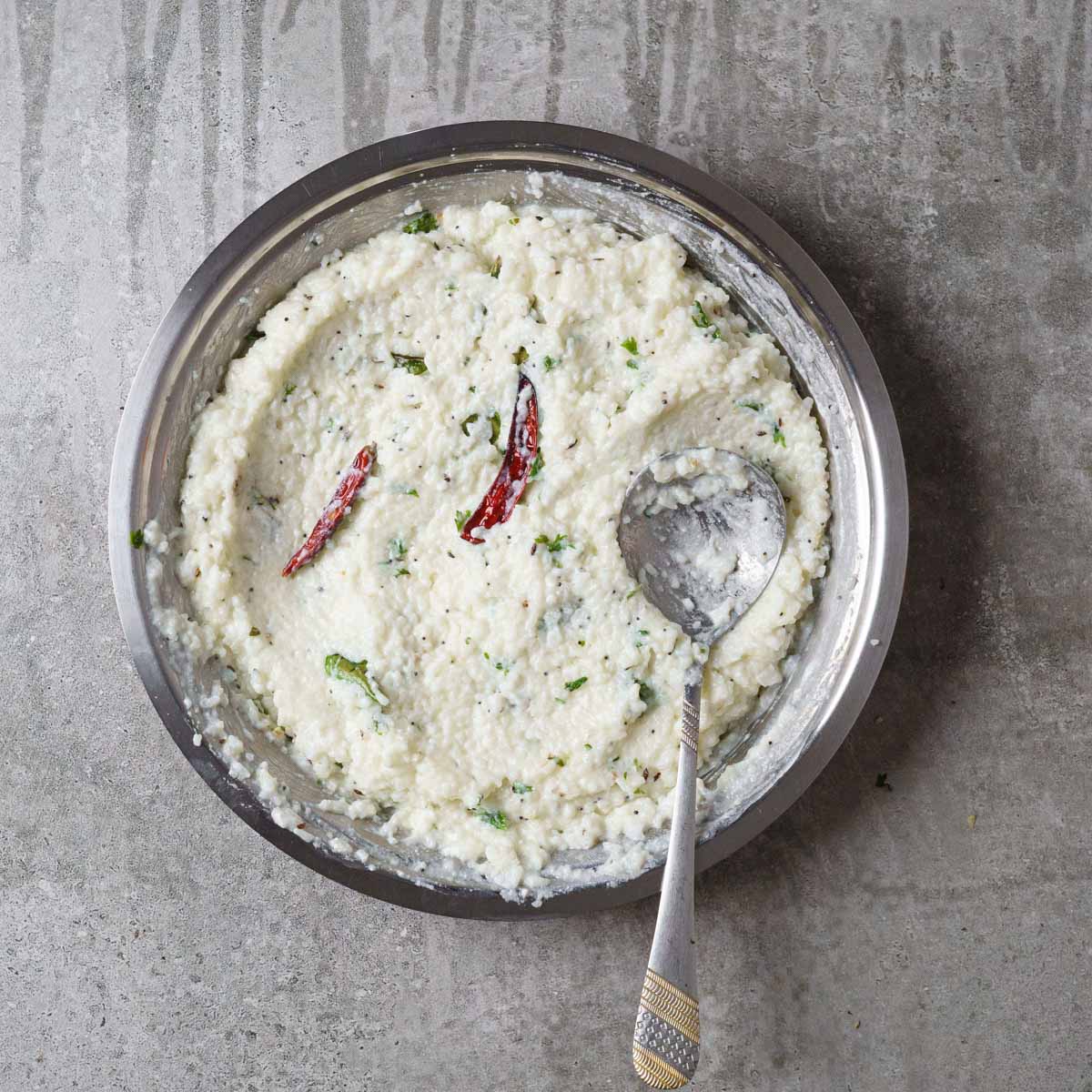 Step 5: Extras
You can also with the top step.If you want to take it a few notches above, you can add these extras
Fruits - Pomegranate Arils, Pineapple bits & grapes. Sliced Kiwis for that extra ooomph
Vegetables - You can add sliced green capsicum or diced cucumber to the tempering or grated Beetroot for that gorgeous pink hue.
Nuts - Sautéed , fried cashews or Raisins taste great in curd rice.
Second Temper - Once you have made the curd rice, you can either reserve the tadka to top it up while serving or make a second tadka with the same ingredients.
Notes
Rice - Over Cook the rice. Mash it when its still hot. After that Cool it a little before adding milk and curd.
Salt - Curd rice ends up over salted very easily. So be mind full of the salt.
Coriander Leaves waft into the curd rice and release all the good flavor when it's given a bit of steeping time. You can mix it along with the curd and milk before you start on the tempering.
Green Chili- You can control the heat level of the chili by cutting it in a specific way - Pierced Chili < Slit Chili < Chopped chili < Pounded Chili.
Serving Curd Rice
Here are curd rice serving rules - Okay Some of these are more guidelines than the absolute rule but you get it..(Right?)
Rule 1 - The Curd Rice has to be served COLD. Warm or Hot curd rice is NOT okay
Rule 2 - Serve the curd rice with a south indian pickle. Lime pickle is the BEST!
Rule 3 - The curd rice should be served with something amazingly crunchy, spicy and decadent.If you don't have something crunchy, spicy or decadent then serve it with lime pickle.
Curd rice can be kept outside for 6-7 hours without spoiling. Especially in cold places.
In hotter places like chennai, people add more milk than curd to the curd rice. That way it comes to the correct consistency by 4-5 hours when its served. Most of my school mates(in my school in chennai) moms used to send curd rice in the tiffin like this.
What to eat with Curd Rice
Curd rice is heaven when served with any of the following
Papads- Appalams, pappadams or fryams or Chips
Fried Curd Chili - A south Indian delicacy where the red chili is dipped in curd, sun dried and then deep fried to crisp perfection.
Pickle- Citrus or South indian lime pickle,Mango pickle.
Fried Fish or Chicken 65, fried Shrimp , Kerala Chicken Roast , Chicken Ghee Roast
Different Types of Curd Rice
So you can make curd rice in a zillion ways but here are some classics
Capsicum Curd Rice - Add chopped up capsicum in the tempering and mix with the curd rice.
Carrot Curd Rice - Add grated carrot to the rice and Curd.
Curd Rice with Pomegranate - After tempering, add fresh pomegranate arris on top of the curd rice as a garnish.
Special Curd Rice -Top the curd rice with fruits like pomegranate, kiwi or sweet berries and dry fruits like you would to a smoothie bowl.
Storage & Leftovers
Fridge - You can keep curd rice which has been made with fresh curd for 2-3 days or till the expiry of the curd. It does tend to become drier in the refrigerator.
To serve- Just add a few tablespoons of hot milk to the refrigerated curd rice. Mix it in and serve cold.
To pack curd rice for the lunch box - In hot weather, swap the measurements for milk and curd. That way the milk ferments into curd while being mixed with rice. This is an old trick used by moms in Chennai to pack lunchboxes that have to be eaten in 5-6 hours.
Freezer - I really don't recommend freezing this dish. The milk solids will separate from the curd and the dish wont taste nice once thawed.
If you use this recipe to make curd rice, do leave me a comment and a rating.I would love to hear from you!
Find us on Instagram , Pinterest & Facebook here!
If you liked my recipe, do leave a comment!
It will help others find this amazing recipe too!
---
Ingredients
1

Cup

Rice

Short Grain Rice- Sona Masoori or regular rice

3

Cups

Yogurt

more if required.

½

cup

Milk

¼

Cup

Coriander Leaves

Chopped
Tempering
1

tablespoon

Oil

Gingely/Groundnut or vegetable oil.

½

teaspoon

Mustard Seeds

½

teaspoon

Cumin Seeds

½

teaspoon

Grated Ginger

1

Green Chilli

Sliced

10-12

Curry Leaves

1-2

Dried Red Chilies

optional
Instructions
Cook the rice so its soft and mashable.

Instant Pot- 1 cup rice, 2.5 cups water, 6 minutes on High Pressure

Pressure Cooker - 1 cup rice, 3 cups water, 10 minutes on medium flame.

Stove Top- 1 Cup rice, 3.5 cups of water, cover the pot and simmer till cooked soft.

Spread the hot rice on a plate and let it cool down.

Once it's at room temperature(touchable) , Add the yogurt and Milk.

Add the chopped coriander and give it a mix. Adjust with more milk if needed.
Tempering
In a small pan or wok, heat the oil. Once it's smoking, switch the gas off, add the mustard and cumin. Let it splutter.

Add the ginger, curry leaves, green chillies and red chillies

Pour the tempering over the curd rice and give it a mix.

Serve at room temperature or cold.

Optional Steps- You can top the curd rice with one more tempering, pomegranate seeds, and fried cashews
Notes
Serving
Curd rice is best served with pappadam(Papad) and pickle.
We love eating it with Potato fry or Bombay Potatoes too
It also goes famously with Chicken 65
Notes
If using leftover rice, refresh is with a few drops of water , and microwave is covered till its hot and steamy. 
Make sure you mash the over-cooked rice while it's still hot.Once it cools down, mashing becomes difficult.
Let the rice cool a bit before adding curd. It should be cool enough that you can feed it to a child.
Curd rice is best served cold.
The Rice will absorb more moisture as it sits.
Top Tip - Add a tablespoon of butter to the freshly cooked rice and then proceed to mash the rice. It adds richness to the curd rice you associate with restaurant curd rice.
Heat Level
To adjust the heat, follow the tips below
Mild heat: 2 whole red chilies
Moderate heat: 2 whole red chilies & one pierced green chili
Spicy heat: 2 whole red chilies & 2 Chopped Green chilies
The whole red chilies will not add any heat but just the smoky flavor of tempered chilies.
On the other hand, green chilies will add the heat which contrasts very well against the cooling curd rice.
Nutrition
Serving:
2
Cups
|
Calories:
187
kcal
|
Carbohydrates:
15
g
|
Protein:
8
g
|
Fat:
11
g
|
Saturated Fat:
5
g
|
Polyunsaturated Fat:
1
g
|
Monounsaturated Fat:
4
g
|
Trans Fat:
0.01
g
|
Cholesterol:
28
mg
|
Sodium:
135
mg
|
Potassium:
348
mg
|
Fiber:
1
g
|
Sugar:
10
g
|
Vitamin A:
397
IU
|
Vitamin C:
53
mg
|
Calcium:
275
mg
|
Iron:
0.5
mg
If you liked the recipe, please leave us a rating
Follow me on Instagram
My handle is @yellowthyme
Frequently asked Questions
Is curd rice good for health?
Curd rice can be a healthy food option as it provides several nutrients such as protein, calcium, vitamin B12, and probiotics. Probiotics are beneficial bacteria that help improve gut health and aid digestion.

It can be a great option for those looking for a light and refreshing meal or a nutritious snack.
Is curd rice rich in protein?
Yes, curd rice can be a good source of protein, particularly if it's made with Greek yogurt or curd that has a higher protein content. One cup (250 grams) of plain Greek yogurt contains approximately 23 grams of protein, while one cup of regular curd contains around 8 grams of protein.

When rice is added to the curd, it further boosts the protein content of the dish. One cup of cooked rice contains around 3-4 grams of protein, depending on the variety.
Is curd rice eaten hot or cold?
Curd rice tastes best when cold or at room temperature. Never serve curd rice hot.
How to avoid curd rice becoming sour
Curd rice can become sour over time due to the fermentation process.
Here is what you can do to prevent curd rice from becoming too sour:
Use fresh curd or yogurt: Always use fresh curd or yogurt to make curd rice. If the curd or yogurt is old or past its expiration date, it is more likely to become sour.
Use cold ingredients: Make sure that the rice and curd are cooled down to room temperature or refrigerated before mixing them together. This will slow down the fermentation process and prevent the curd rice from becoming too sour too quickly.
Use less sour curd or yogurt: If you are using sour curd or yogurt, use less of it than you would normally use. This will reduce the overall sourness of the dish.
Is curd rice vegan?
No. Curd rice is vegetarian