Chaat Dip -A Layered Indian Party Dip made with thick Yogurt , Chutneys and Sev served along with Crispy papdi or Pani puri shells.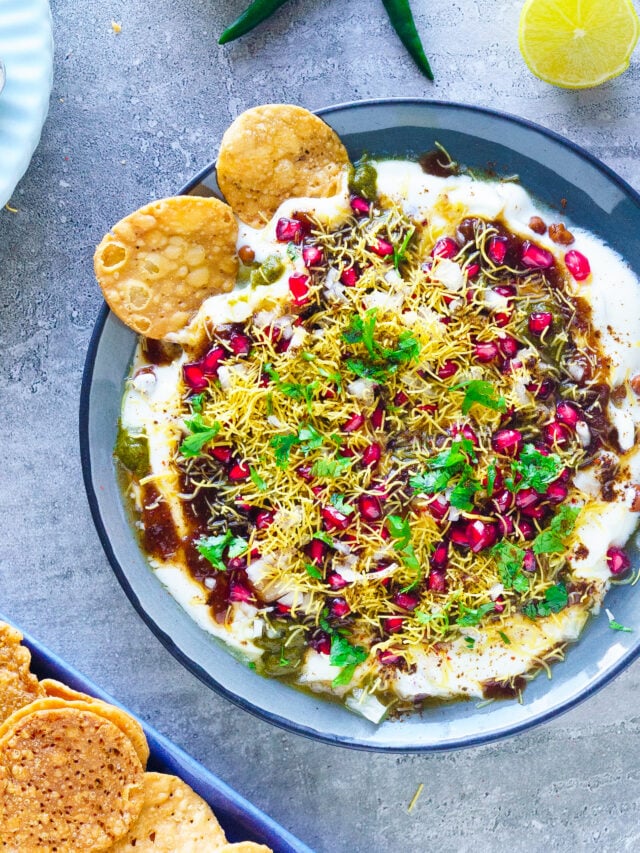 This is a sort of a deconstructed Chaat that you can serve at parties and dinners for everyone to share!A platter of Chaat so to say..
I have been experimenting with serving chaats at my party for more than a year. The problem I faced was that it took too much time, especially in the middle of the party. I would literally have to turn into a chaat wali and if I don't, I would end up serving soggy chaat to guests...
This Chaat Dip solves both the problems in one master stroke!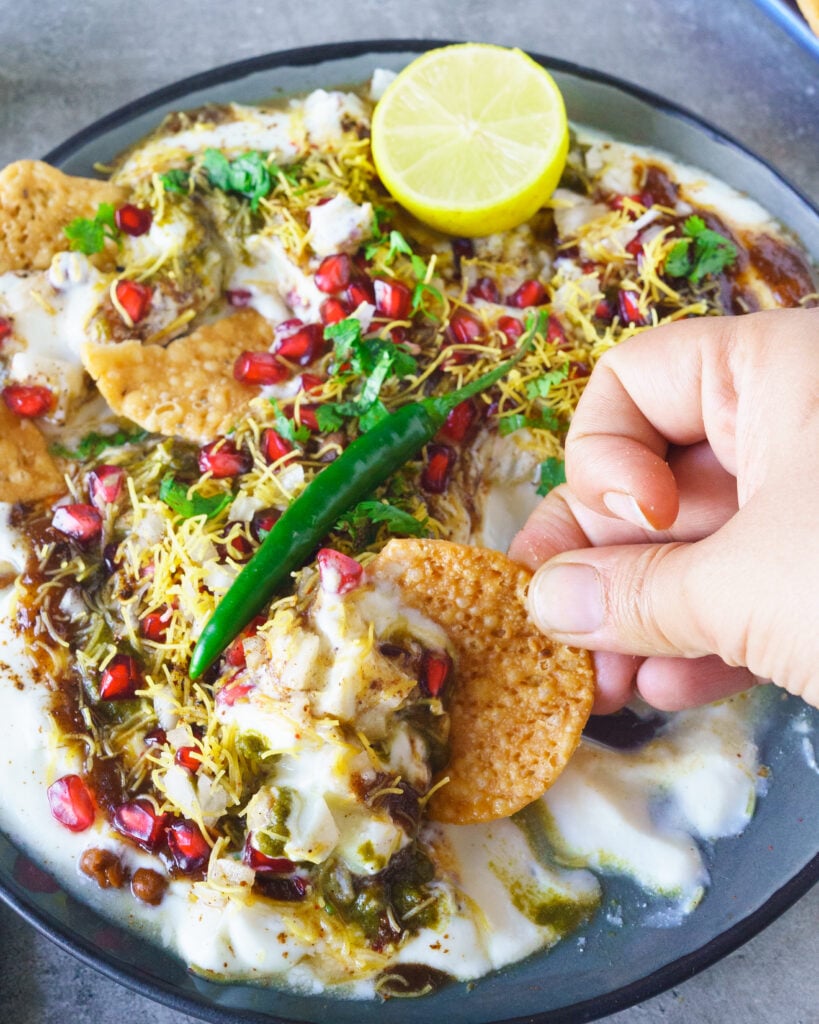 You layer the papdi chaat components on a platter and serve the crispy papdi separately. This one chaat dip can be used to make Dahi Sev Puri too!
The secret to the best kind of chaat is thick yogurt and a Bhuna Jeera Masala.
The list of elements is long..but...it's very very very rewarding.
Though, don't be daunted. I will give you plenty of swaps and substitutes and some store bought options!
Before you dive in, if you want a simpler yogurt dip- try my 5 minute yogurt dip that goes with everything, any cuisine any party!
Also, this is my goto high protein chaat when i am craving street food. It's made of edamame and it wonderful!
Another wonderful way to serve Indian snacks and dips is on a charcuterie board.
Ingredients
Here is what you will need. Do read the detailed instructions on the ingredients to make the best chaat dip ever.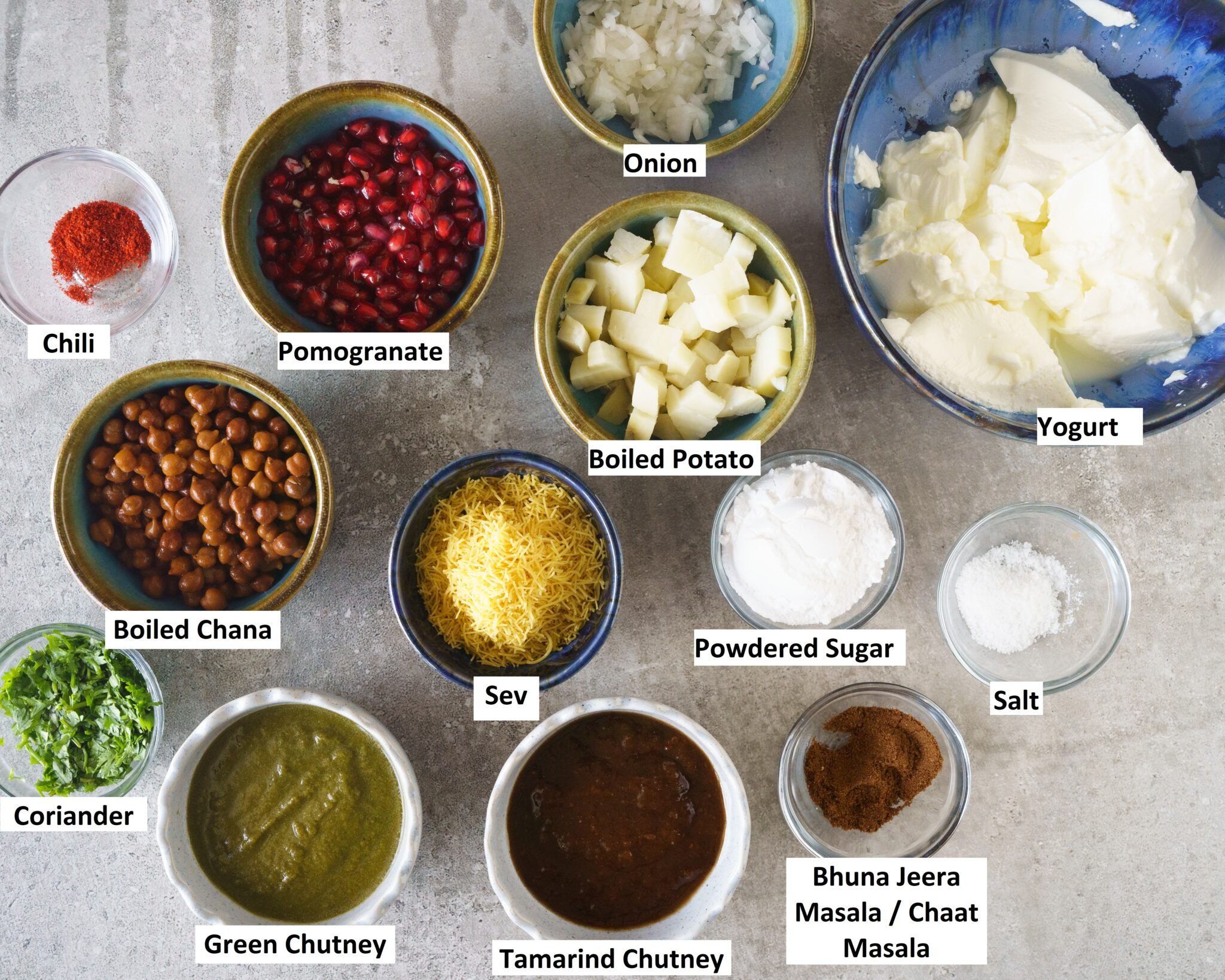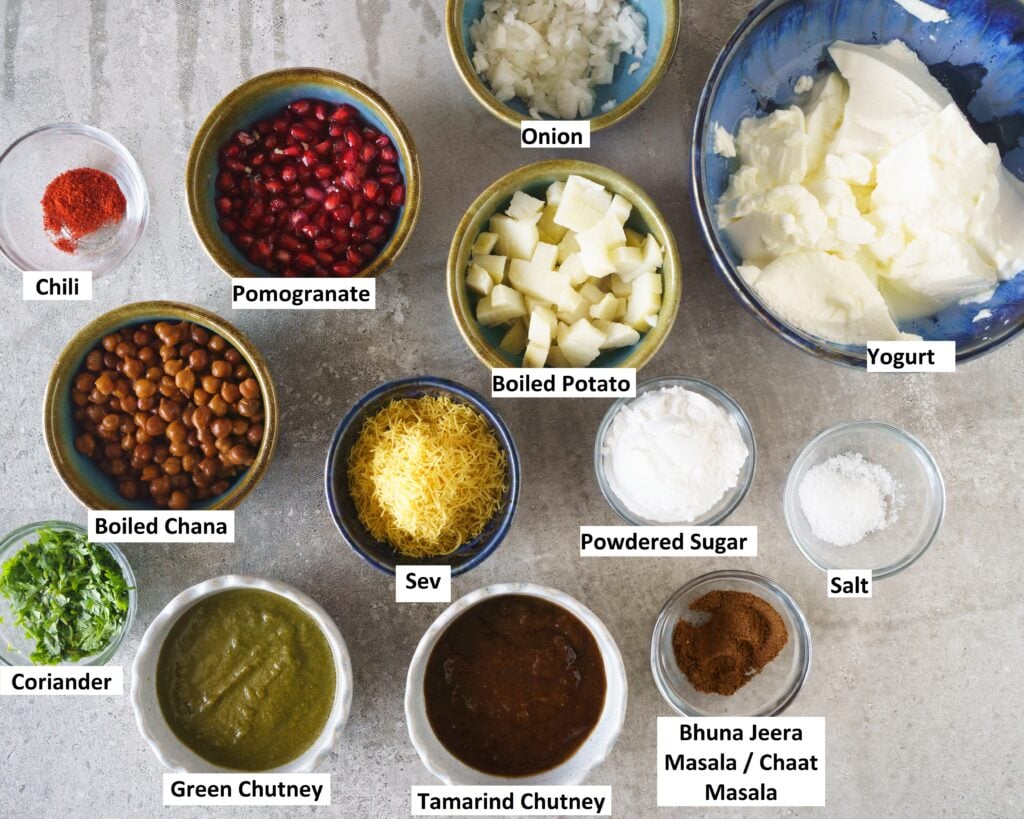 Yogurt
Powdered Sugar
Boiled Potato
Boiled Black Chana
Green Chutney
Tamarind Chutney
Sev Barik Sev or crushed chips
Onion
Coriander
Chaat Masala or Bhuna Jeera Masala
Yogurt
This one ingredient literally makes or breaks chaat.So make sure you use
Thick ...I repeat ..Very thick curd.
Fresh and not sour curd
I usually buy set curd or even greek yogurt for this.
If you are using homemade curd, you will need to strain it overnight in a cheese cloth.
I cant stress enough on this one element.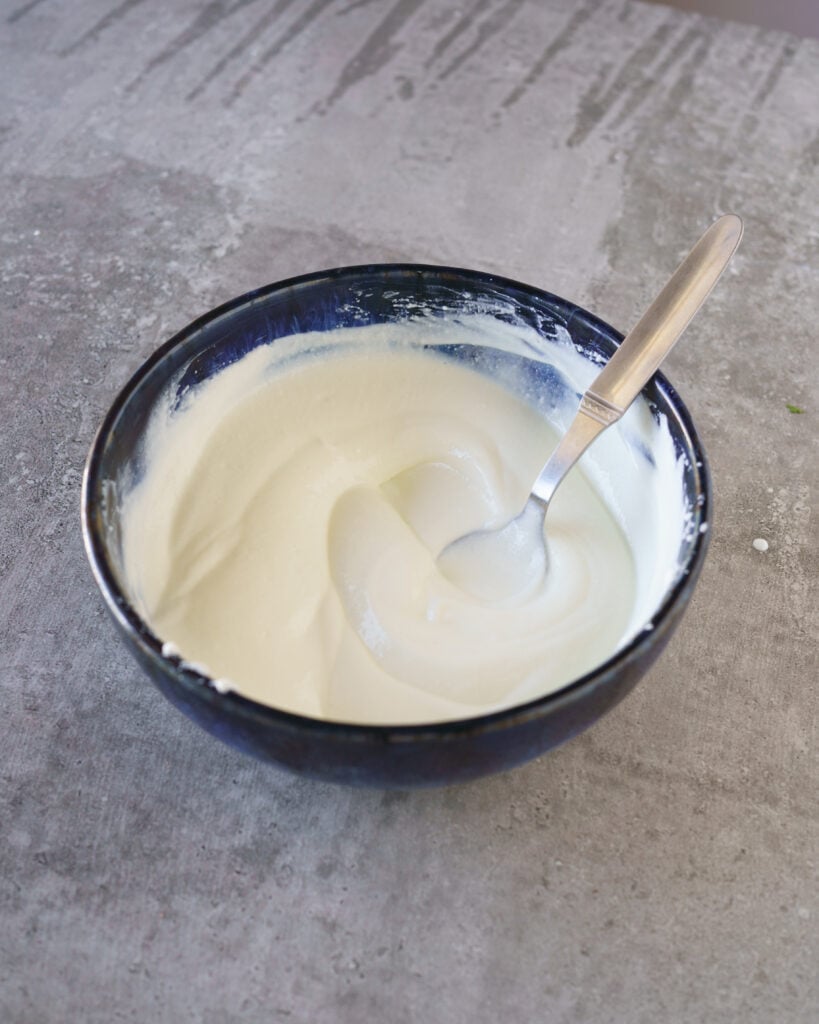 Boiled Potato
We need to use cooled boiled potato. You can microwave the potato or boil it.'That's completely upto you.
But make sure its cold. The chaat should be served chilled. If you add any hot element to it, the ingredients will start releasing water and make the chaat dip into a chaat soup.
Black Chana
This is optional but I like the bite it adds to the otherwise creamy chaat dip.
Feel free to use white chana too.In fact, you can easily use canned white channa to reduce the cooking.
Pomegranate
Definitely a ingredient most people miss when making chaat but this not only adds gorgeous color but also a crunch and sweetness.
Barik Sev
I understand this can be the most difficult ingredient to source. Especially out of India. My hack for this it to use
Crushed Spicy Potato chips
Haldirams Aloo Sev
Crushed Papad.
Aloo Laccha
Tamarind Chutney- Meethi Chutney
This is a reddish brown chutney made with tamarind and sugar. Sometimes with dates. It gives the chaat sweet and sour notes.
I usually make a large batch of this and keep for 1-2 months. You can also use storebought tamarind chuntey.
Here is my mom's trusty tamarind chutney recipe that she has been making for past 40 years!
Green Coriander Chutney
This is a fresh coriander and mint chutney.It gives the chaat fresh, sour and spicy notes.
Again, this is a chutney i make pretty often.I always have some in the fridge or freezer.
This is my trusty recipe for hari chutney.
Again, feel free to use storebought green chutney but...taste it before you use.
Bhuna Jeera Masala
This is my secret weapon while making chaat. It definitely transforms the chaat to the next level.
You can also use chaat masala if you please.It will work but not as well as bhuna jeera masala.
The trick is to literally burn the jeera. I use my tawa to roast the jeera till it's almost dark brown to black and its popping like popcorn.
When the jeera is about a hair away from burning, that's when you switch the heat off and transfer it to a plate.
Cumin (Jeera)
Black Pepper
Carrom Seeds Ajwain
Black Salt
If you don't want to do this, use chaat masala instead.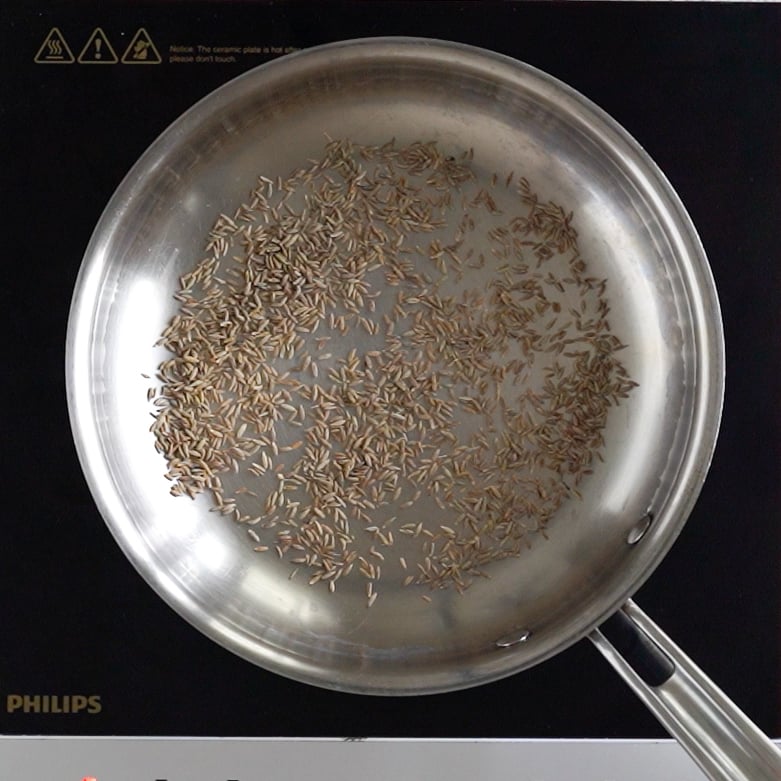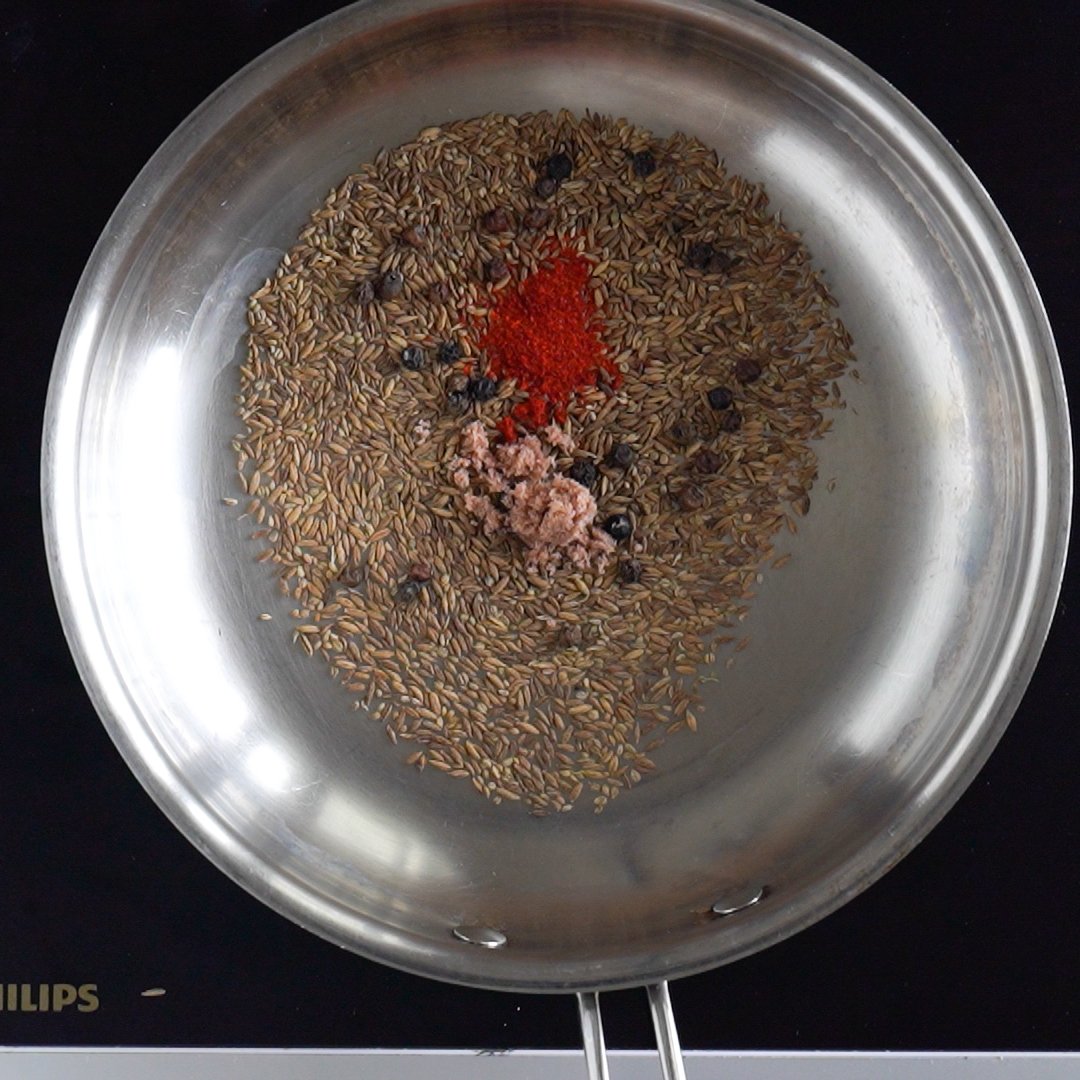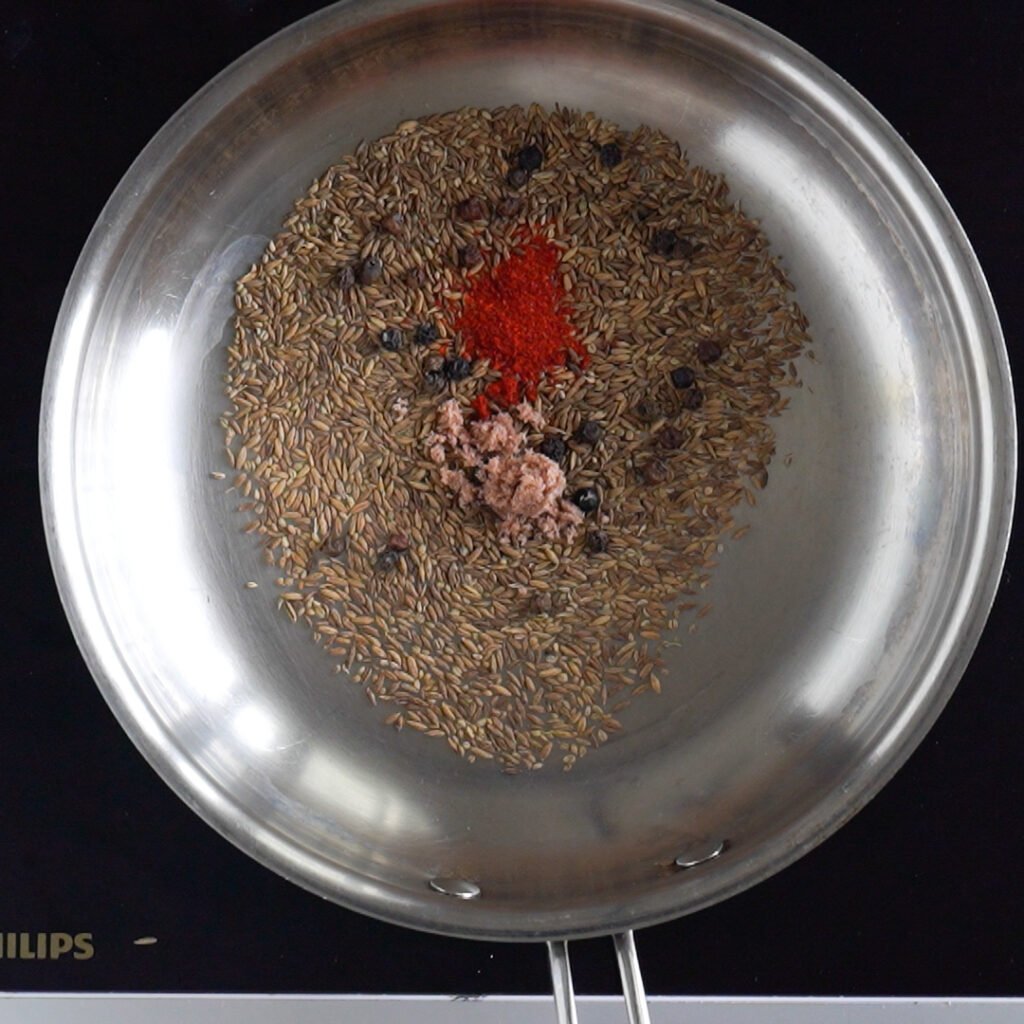 Making the Chaat Dip
Get all the ingredients together
I usually prep this a day in advance. At least the things like boiled channa and potatoes.
Here are a few shortcuts though
Use canned white channa
Microwave the potatoes instead of boiling
Use storebought chuteys or make chutneys and freeze them in ice cube trays so that you always have them at hand
Peel and shell the pomogrante kernals.You can also use Grapes, pineapple , raisins and apples.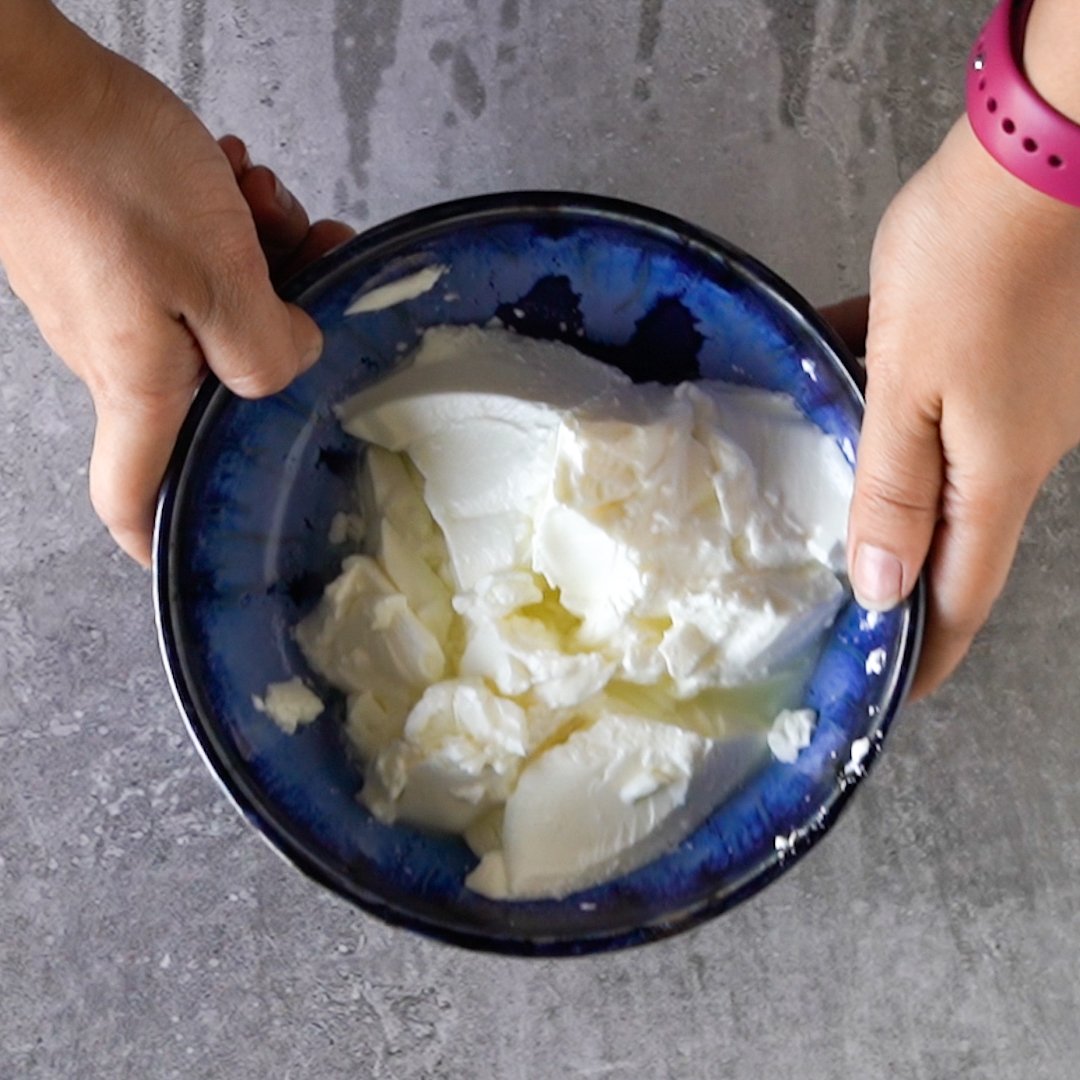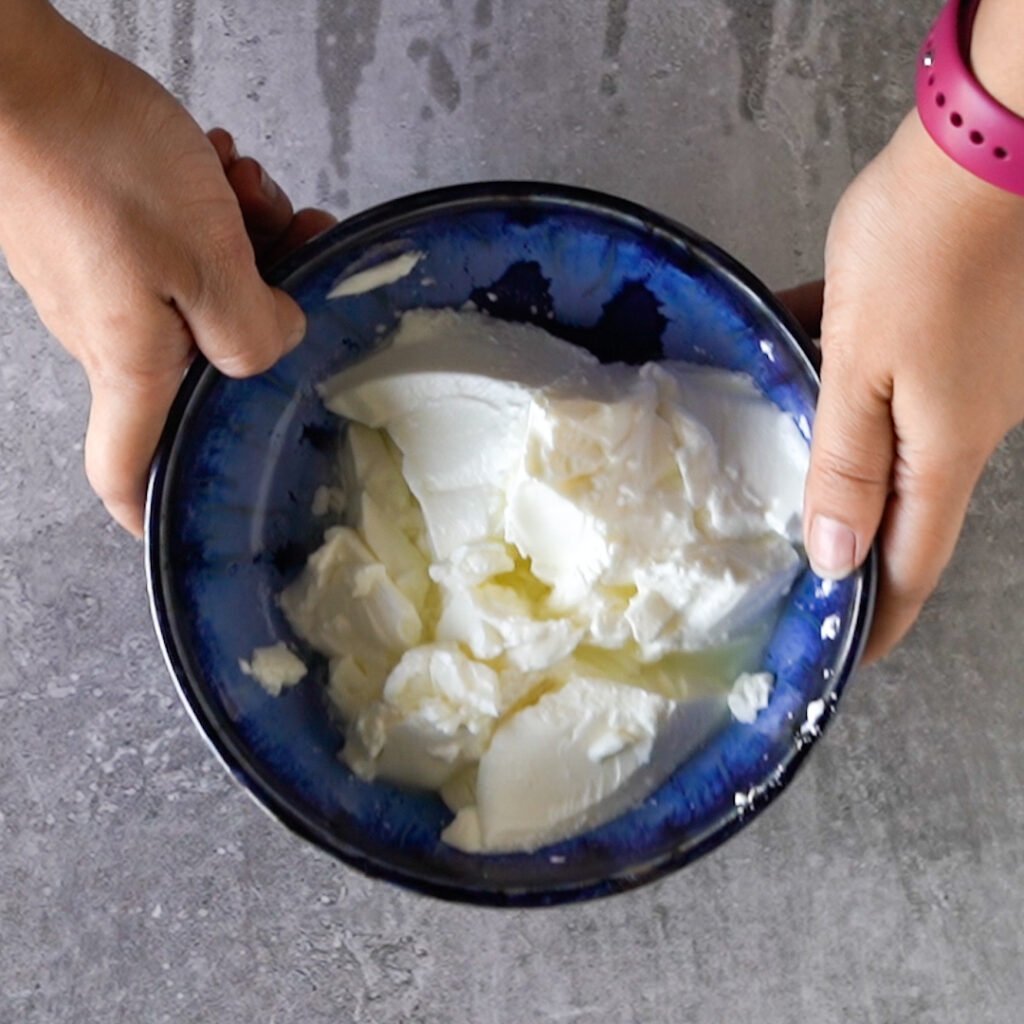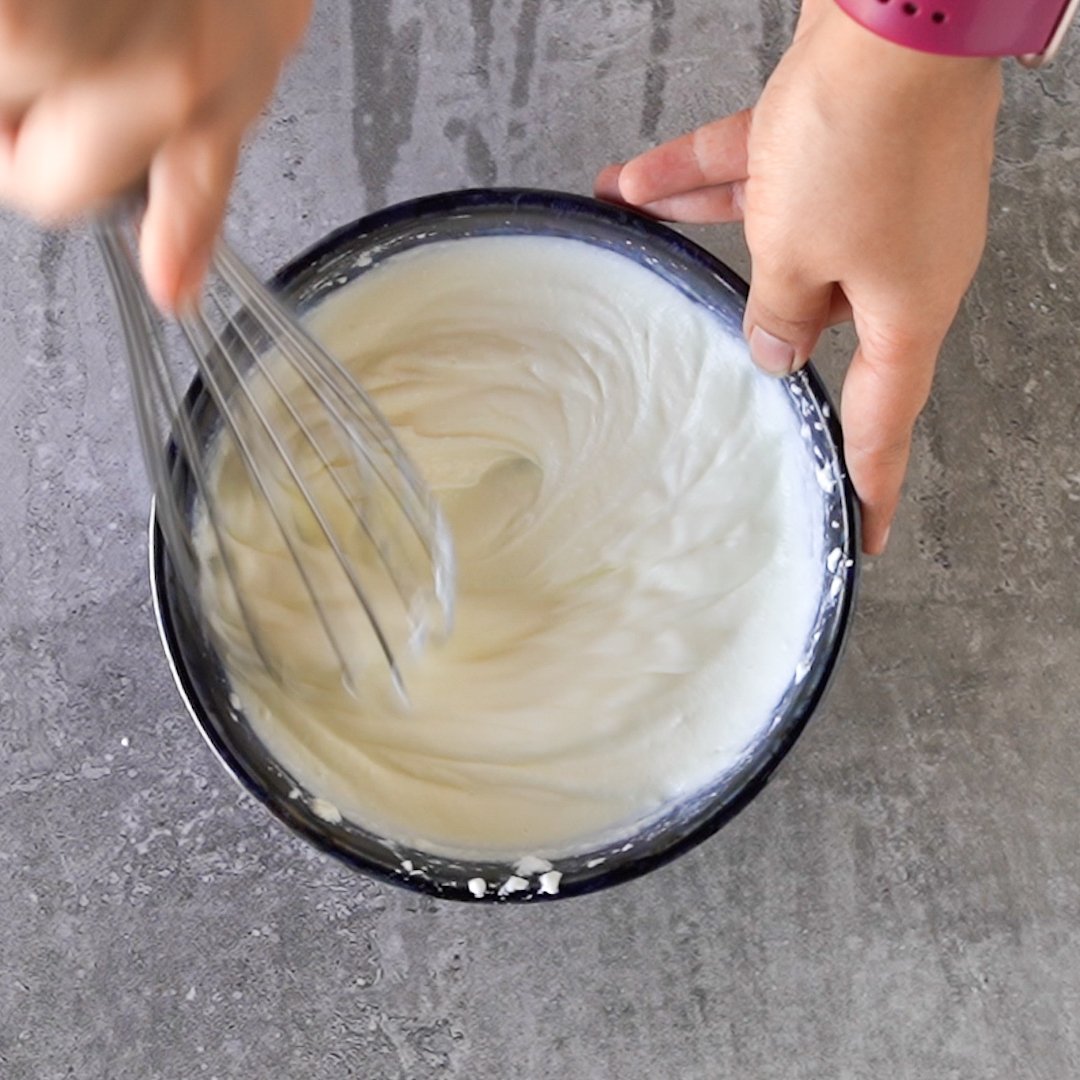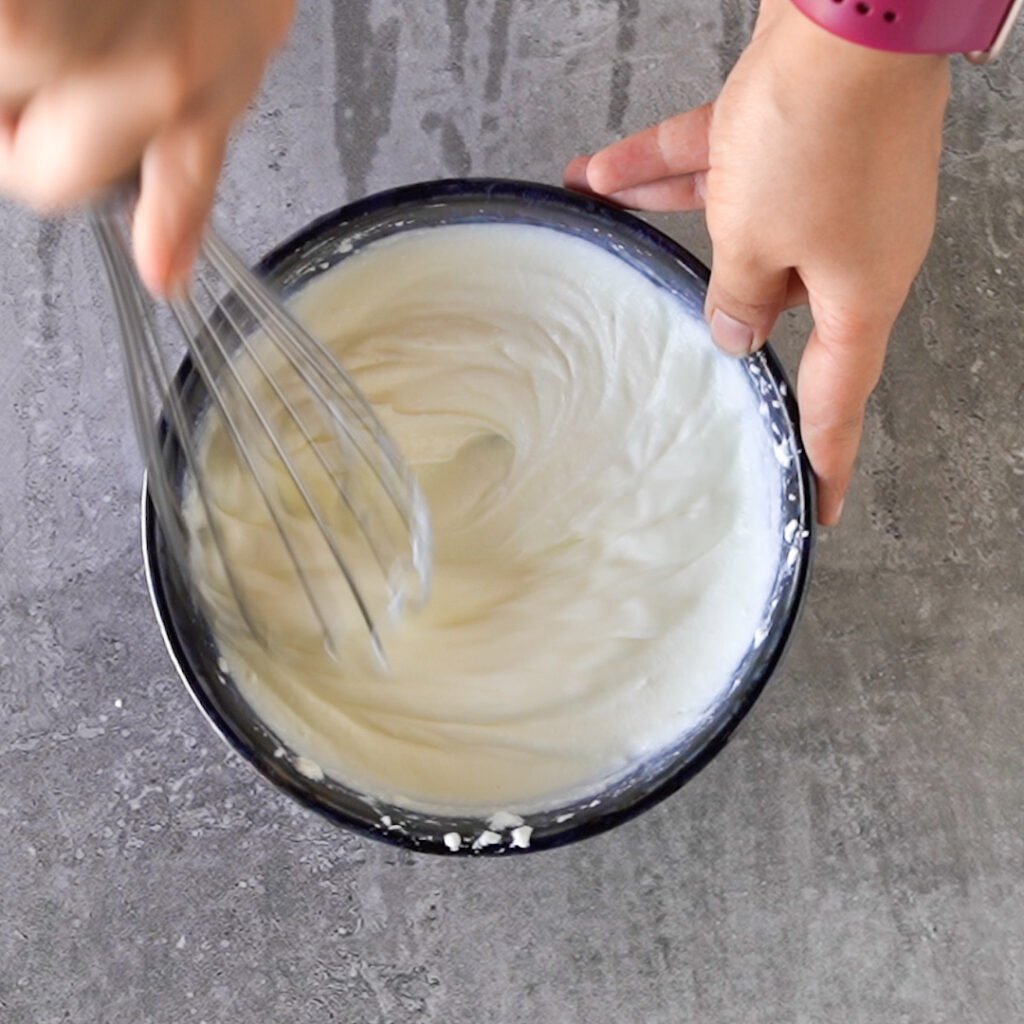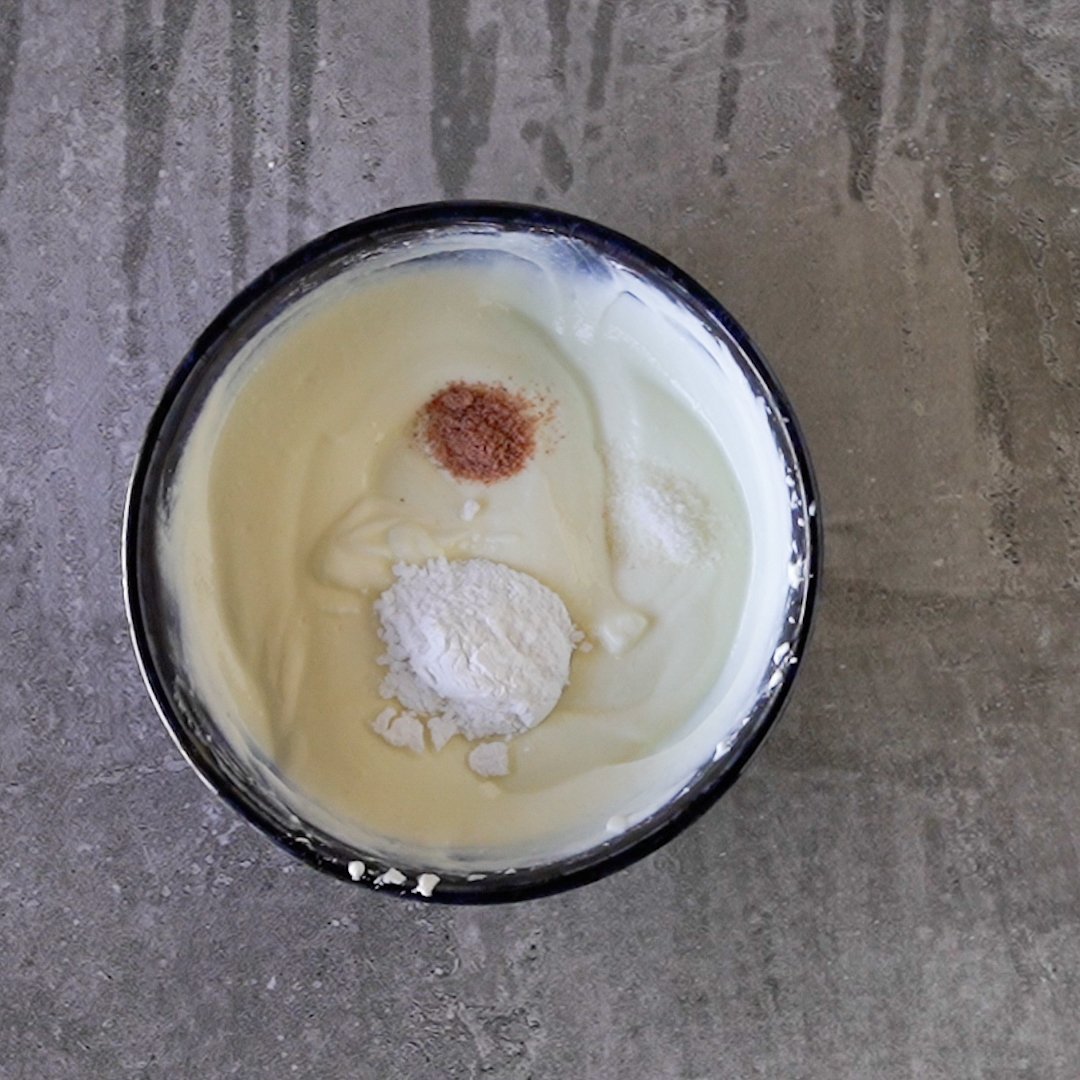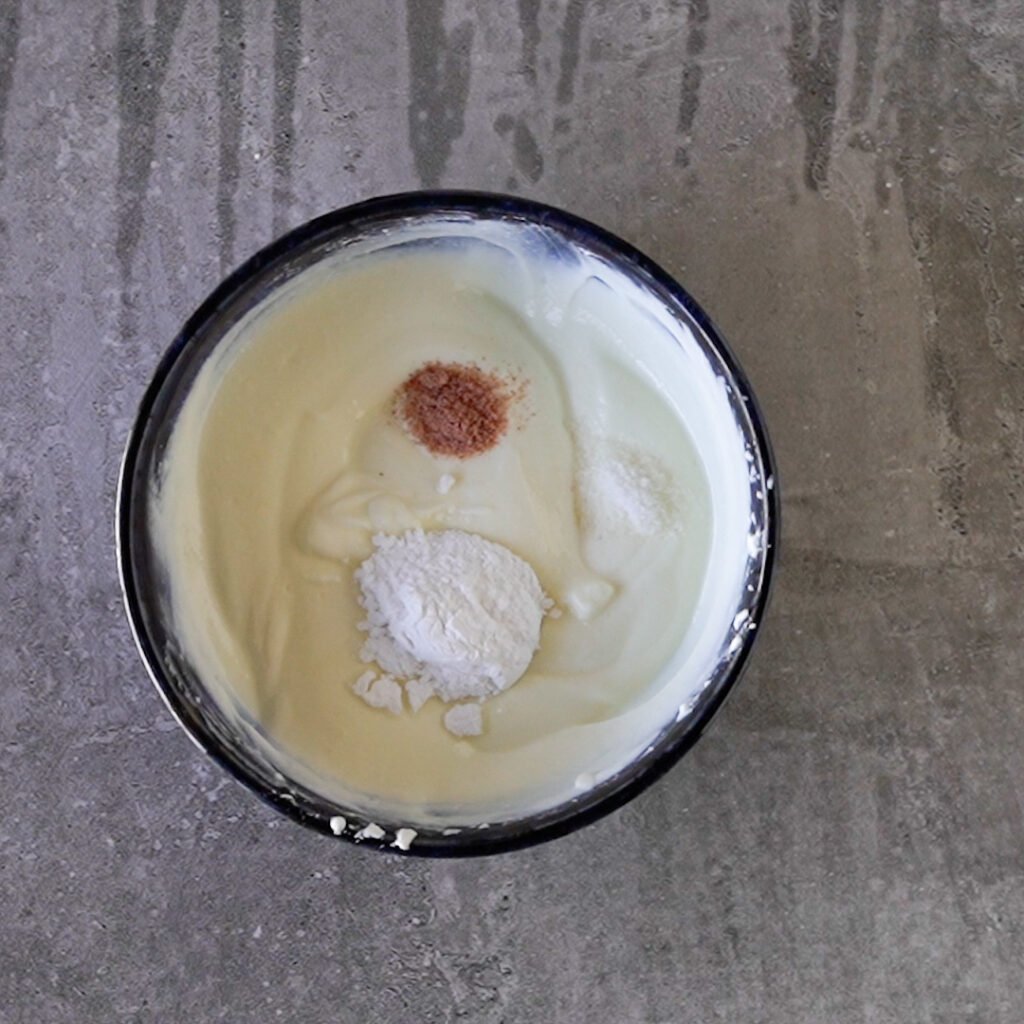 Prep the Yogurt
You need to whip the yogurt very well.This should be where you focus most your energy on.
Either use a wire whisk or traditional Rai. The yogurt should be creamy , almost like whipped cream at the end of this.
Add sugar and salt. Whip the yogurt and Powdered sugar together till it resembles cream.
The yogurt should taste sweet.
Start layering
Add about a tablespoon of yogurt to the bottom of the dish. Spread it around.
Add the cubed potatoes and channa.
On top of that spread all the leftover yogurt.
Next drizzle the chutneys on top.
Throw in the pomogranate, coriander and chopped onions
Sprinkle Bhuna Jeera or chaat masala along with chili.
Pile the whole thing up with a lot of barik sev
And done!
I usually leave the last step for when the guests start eating.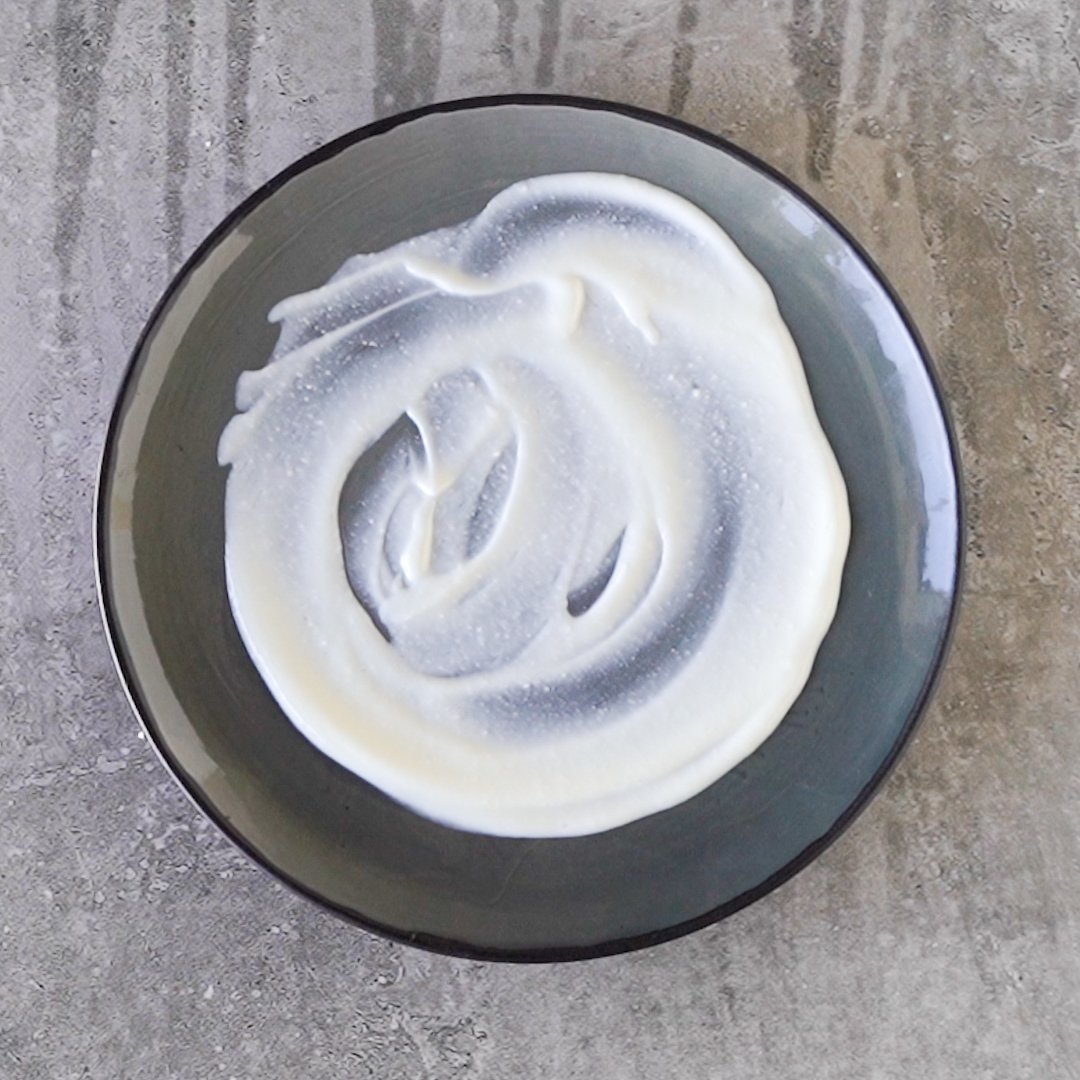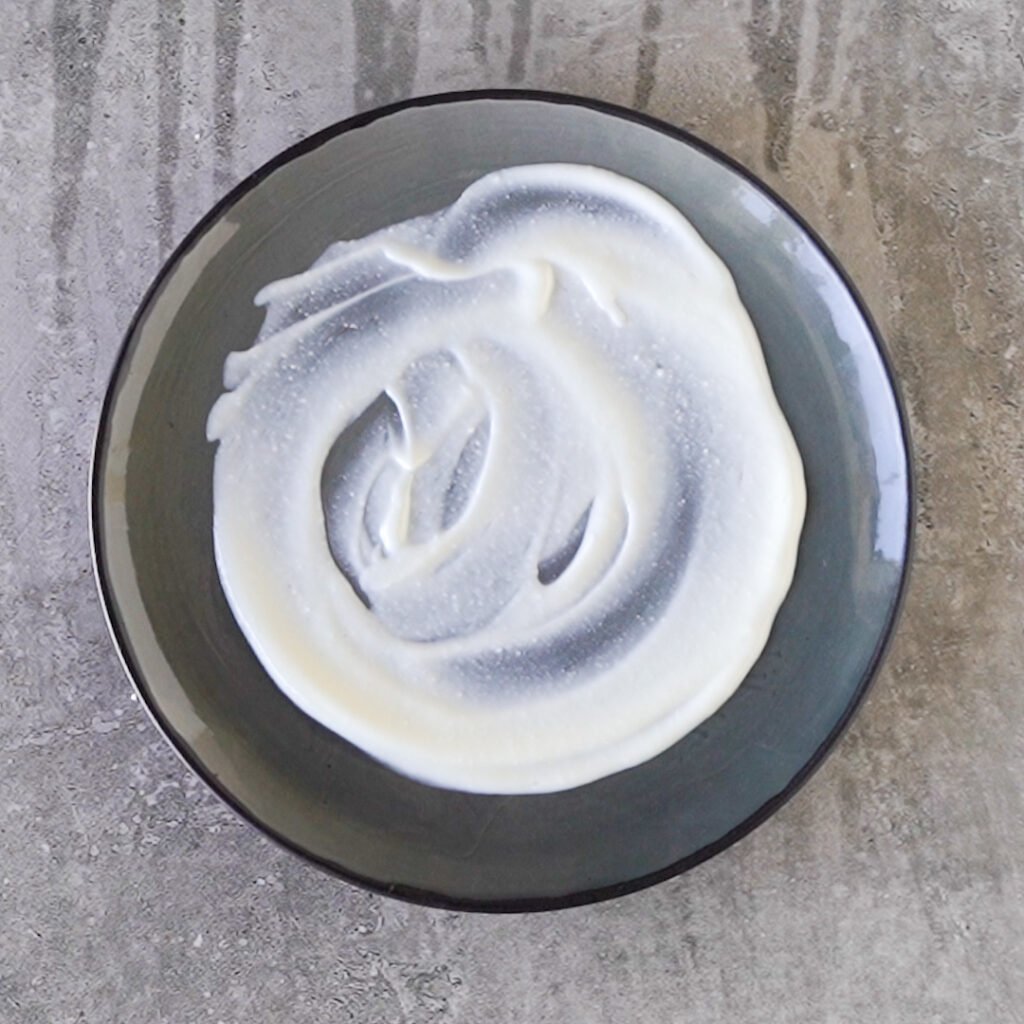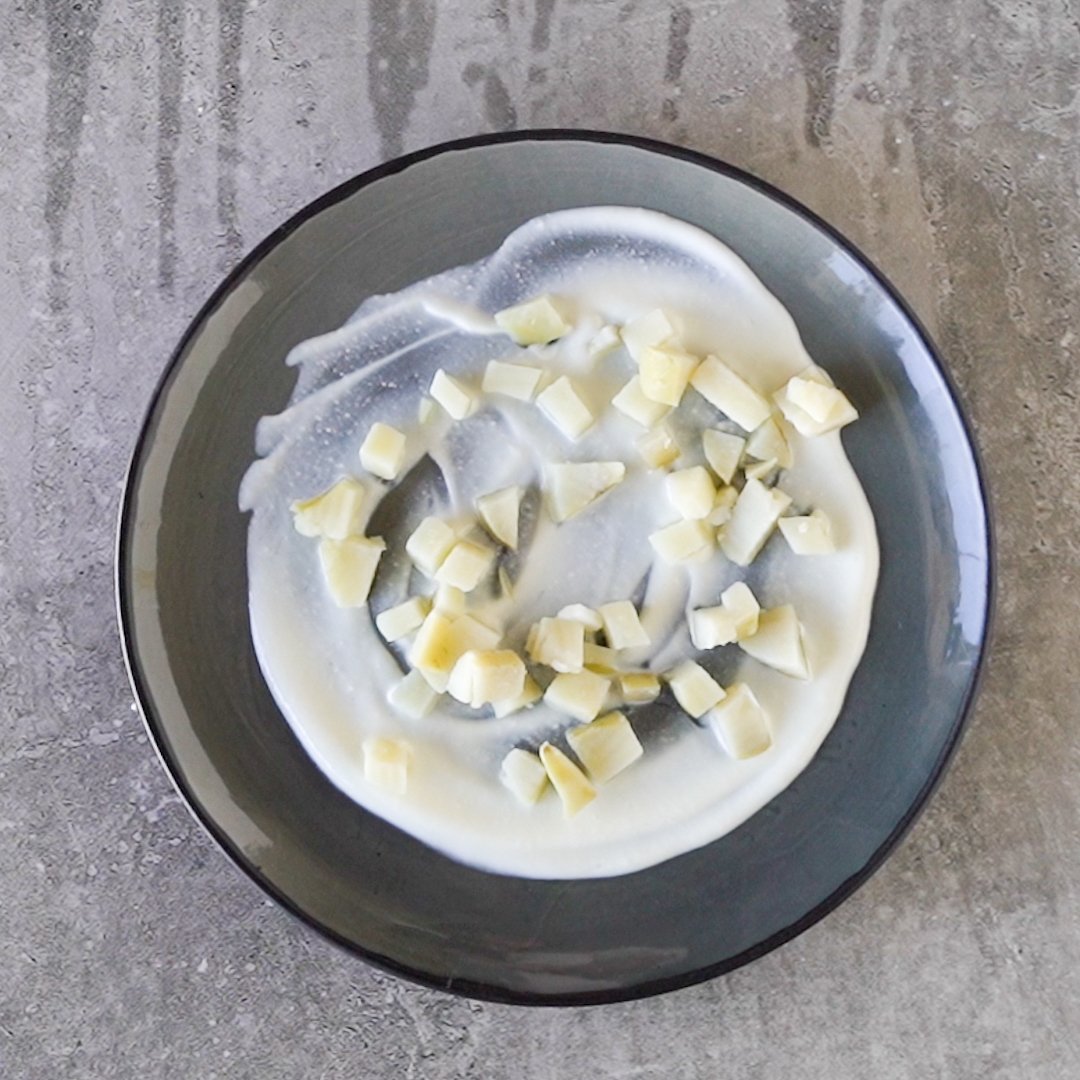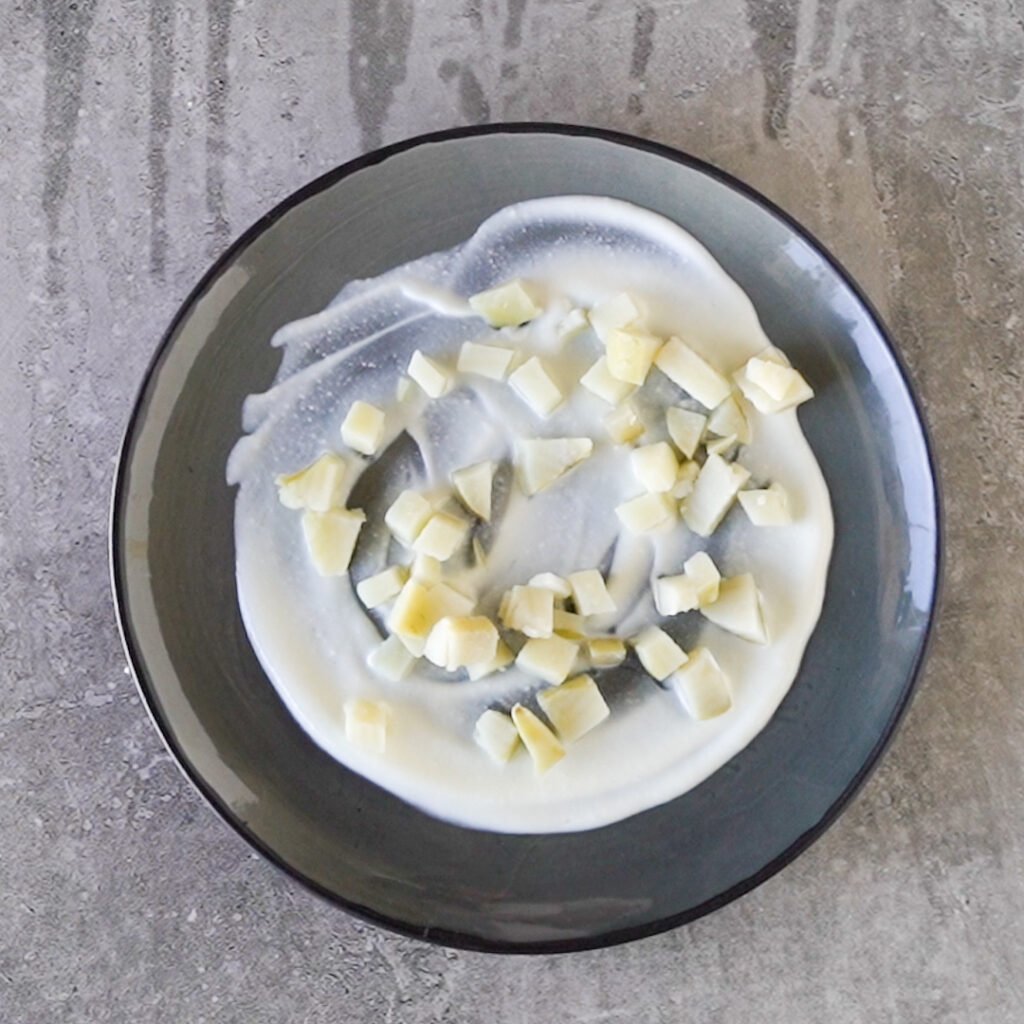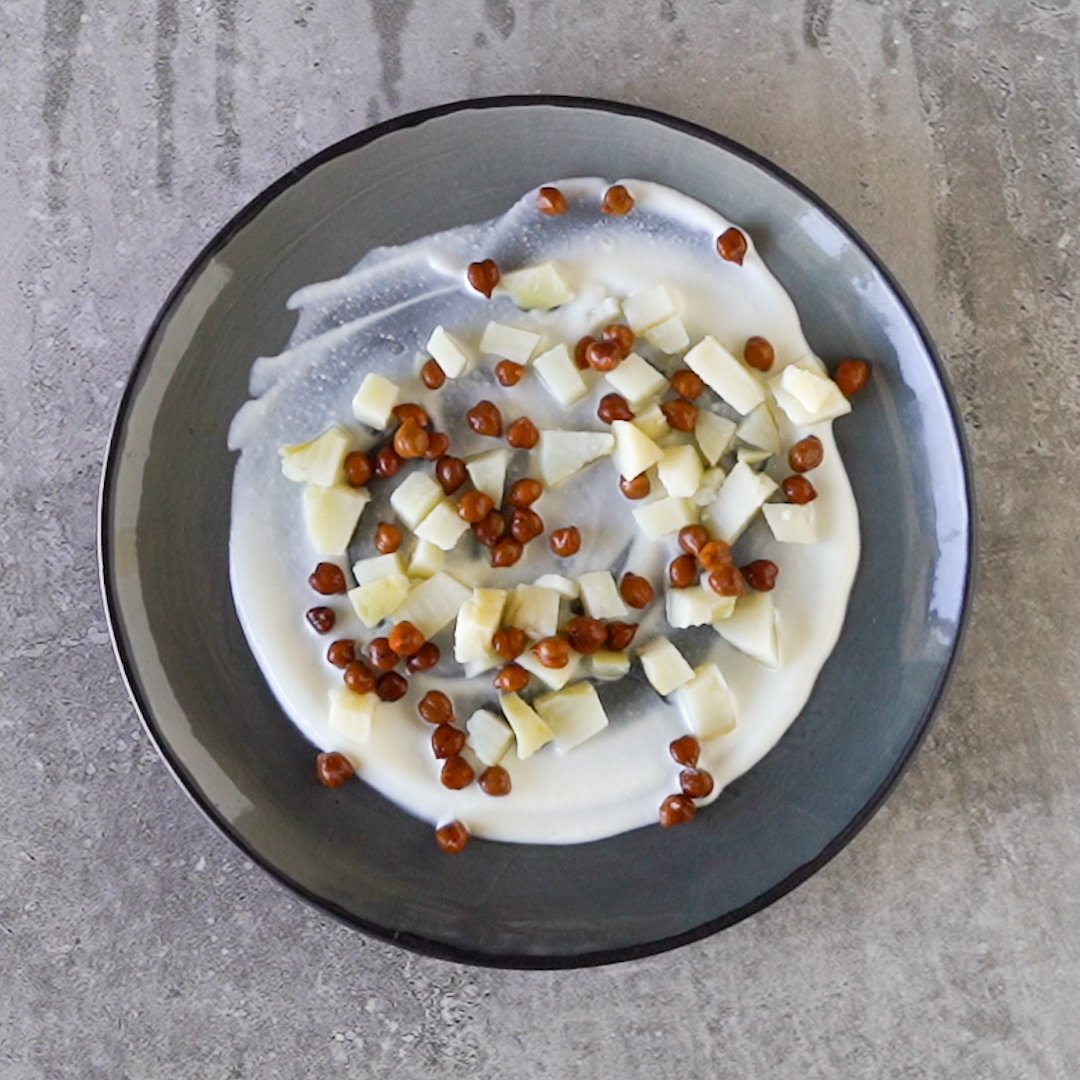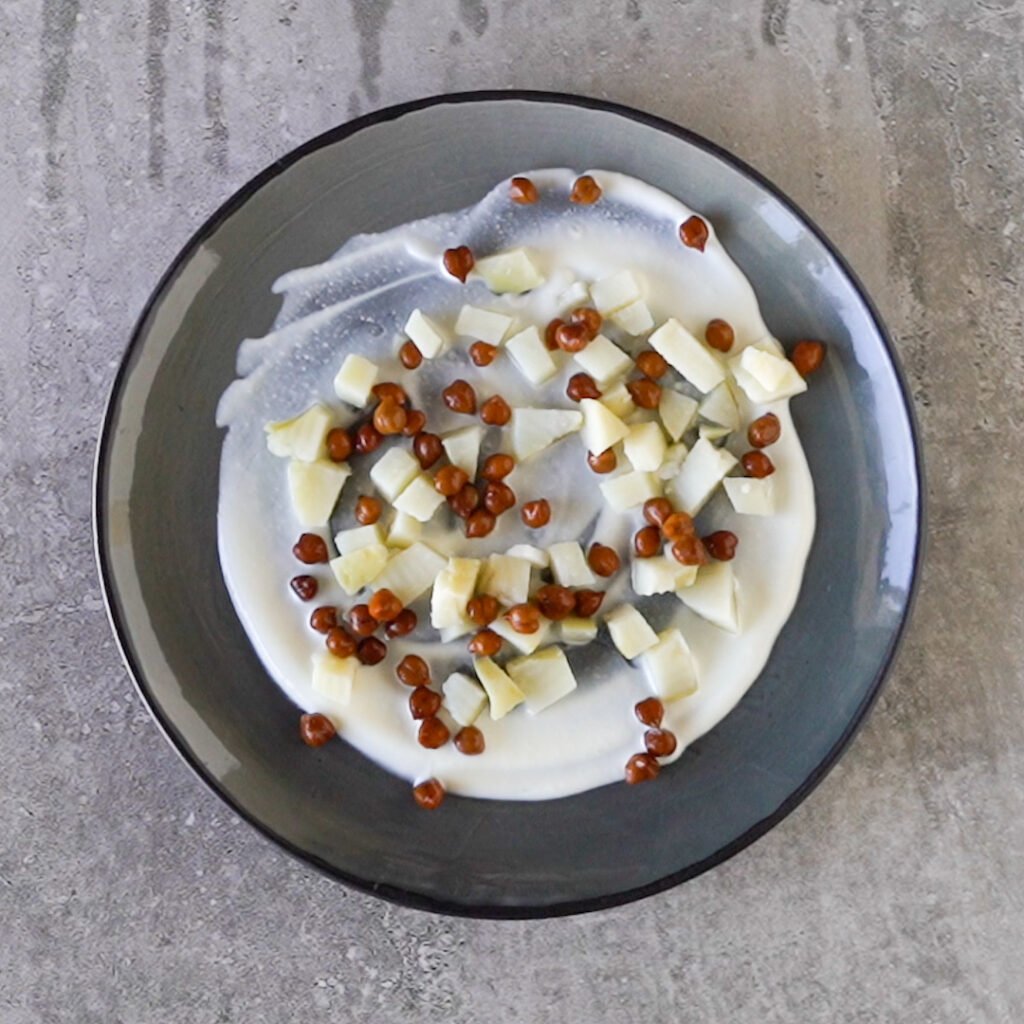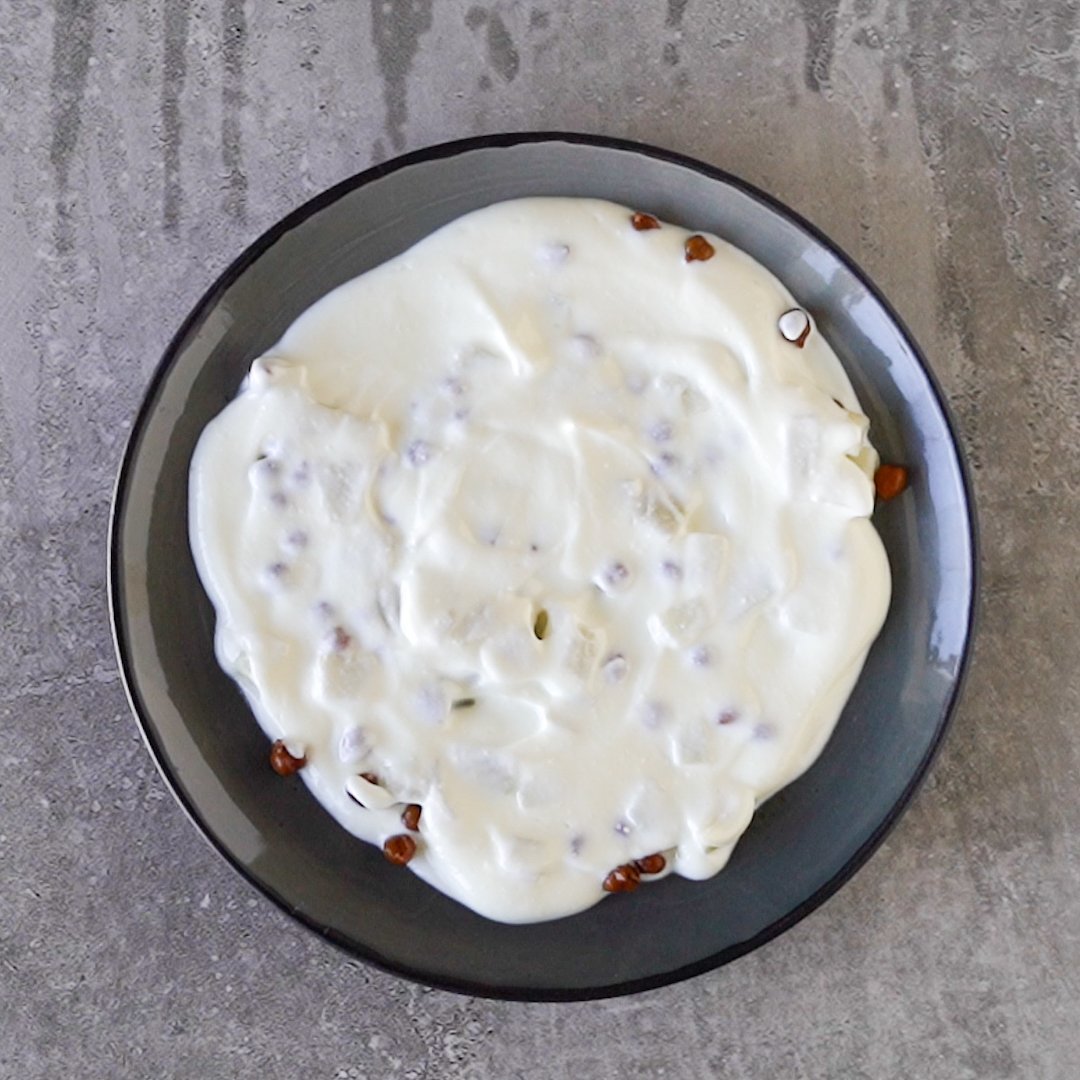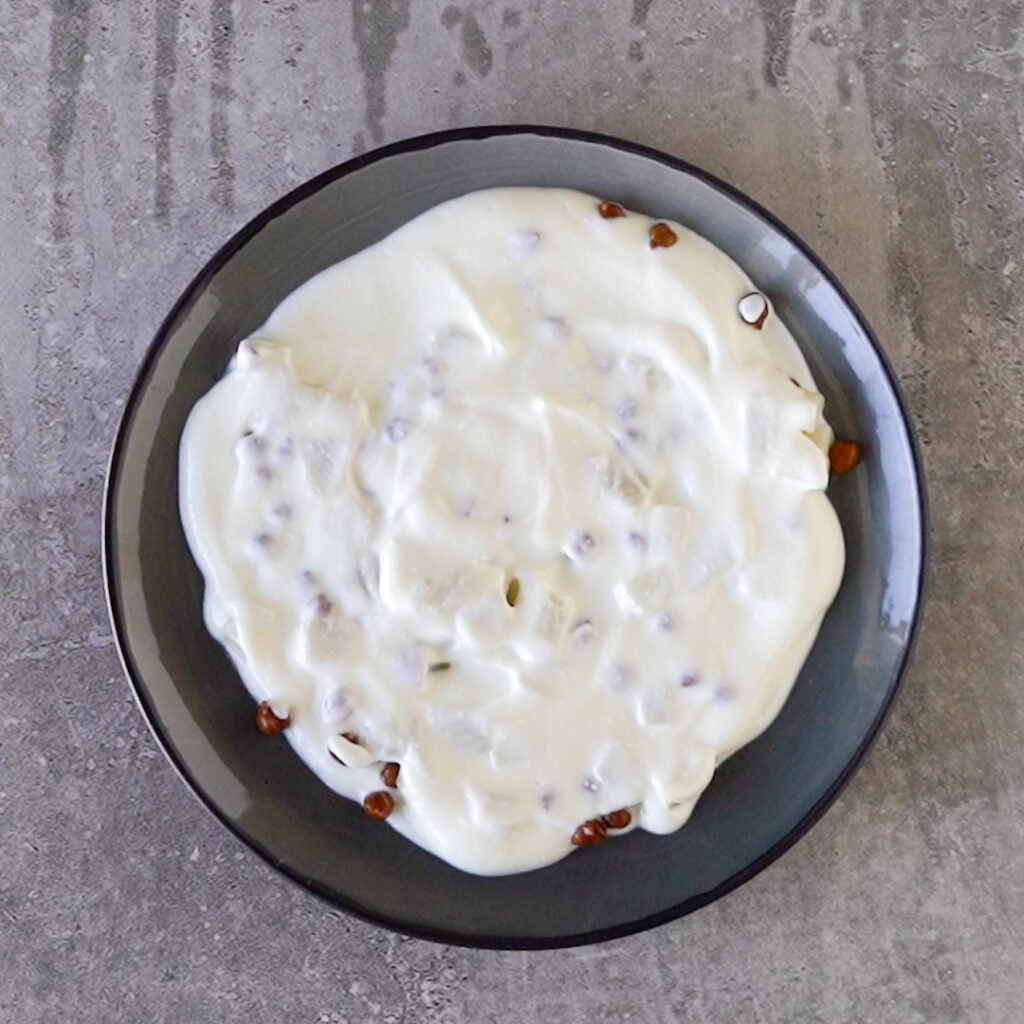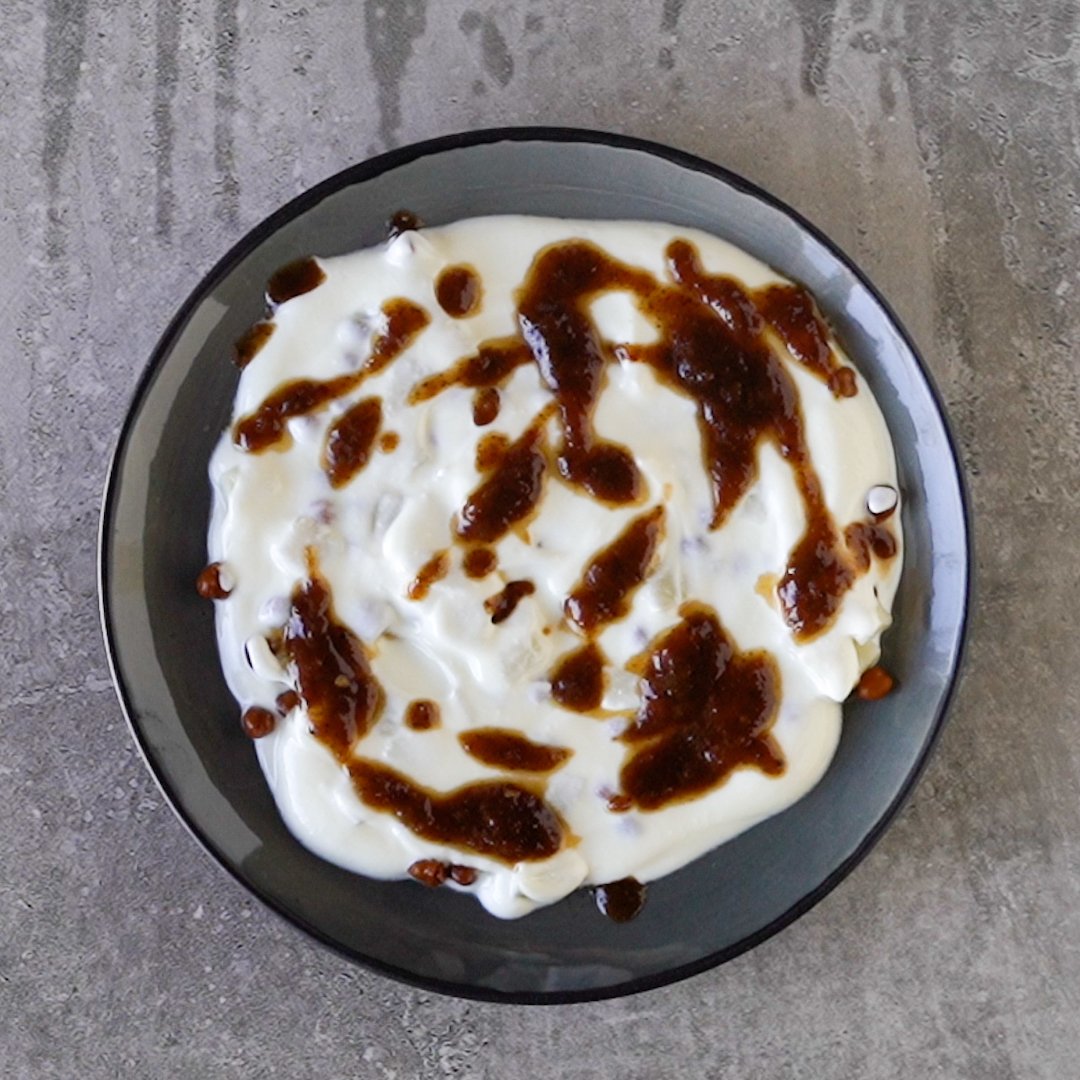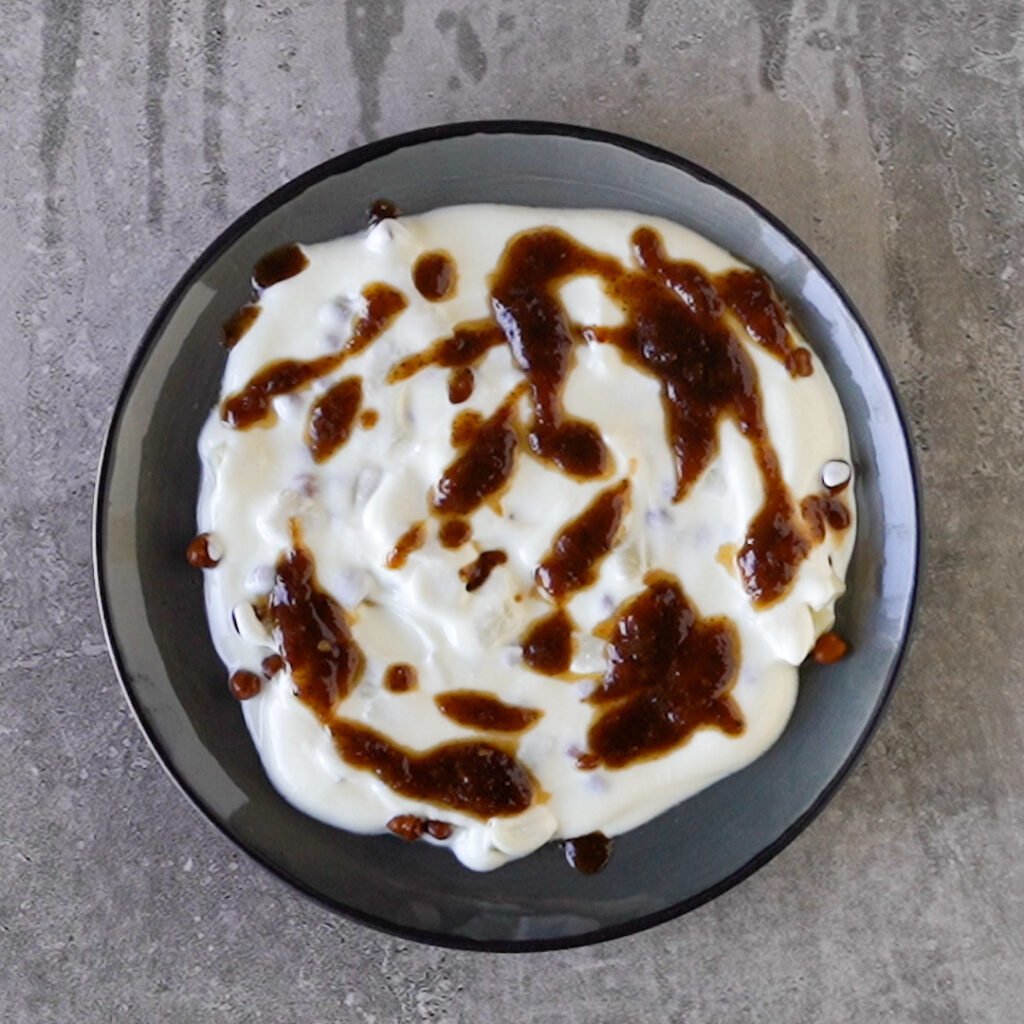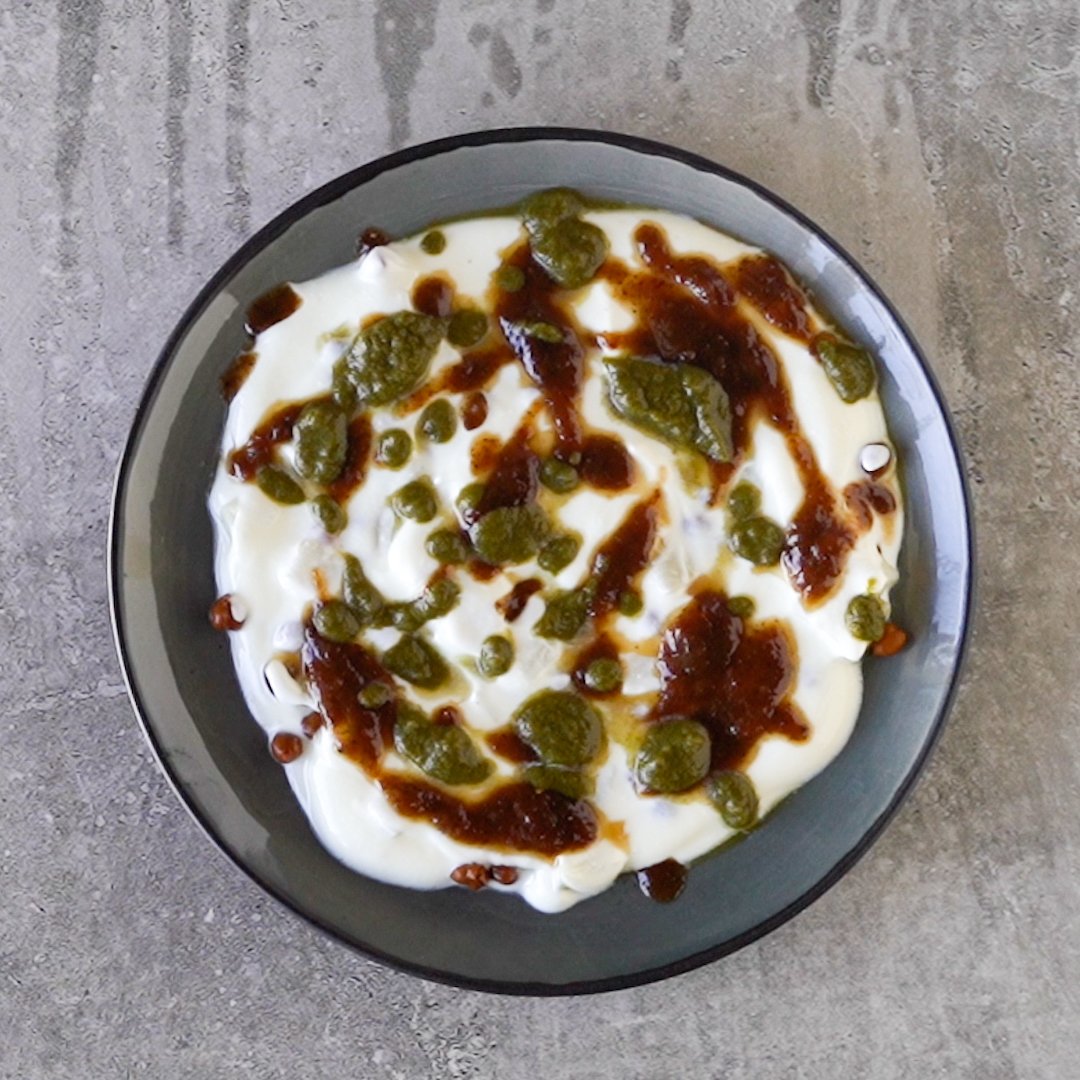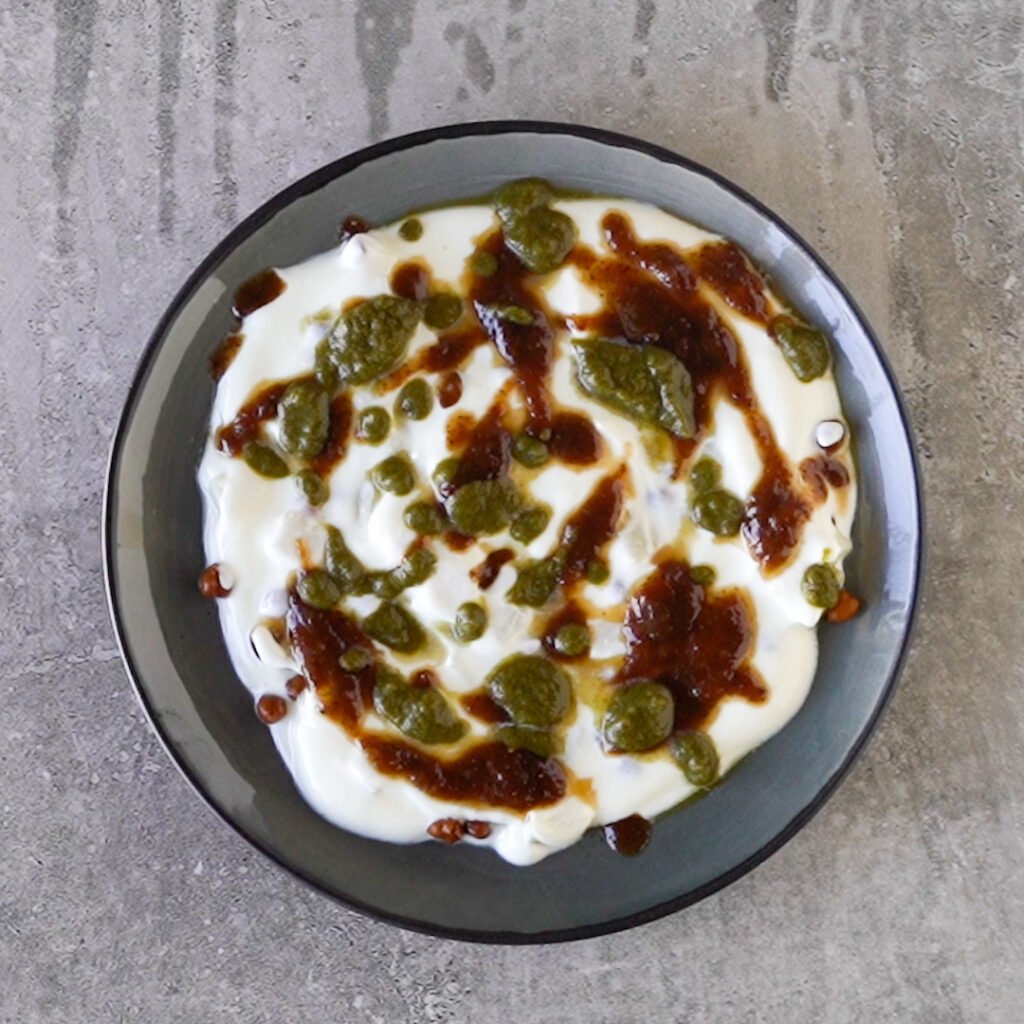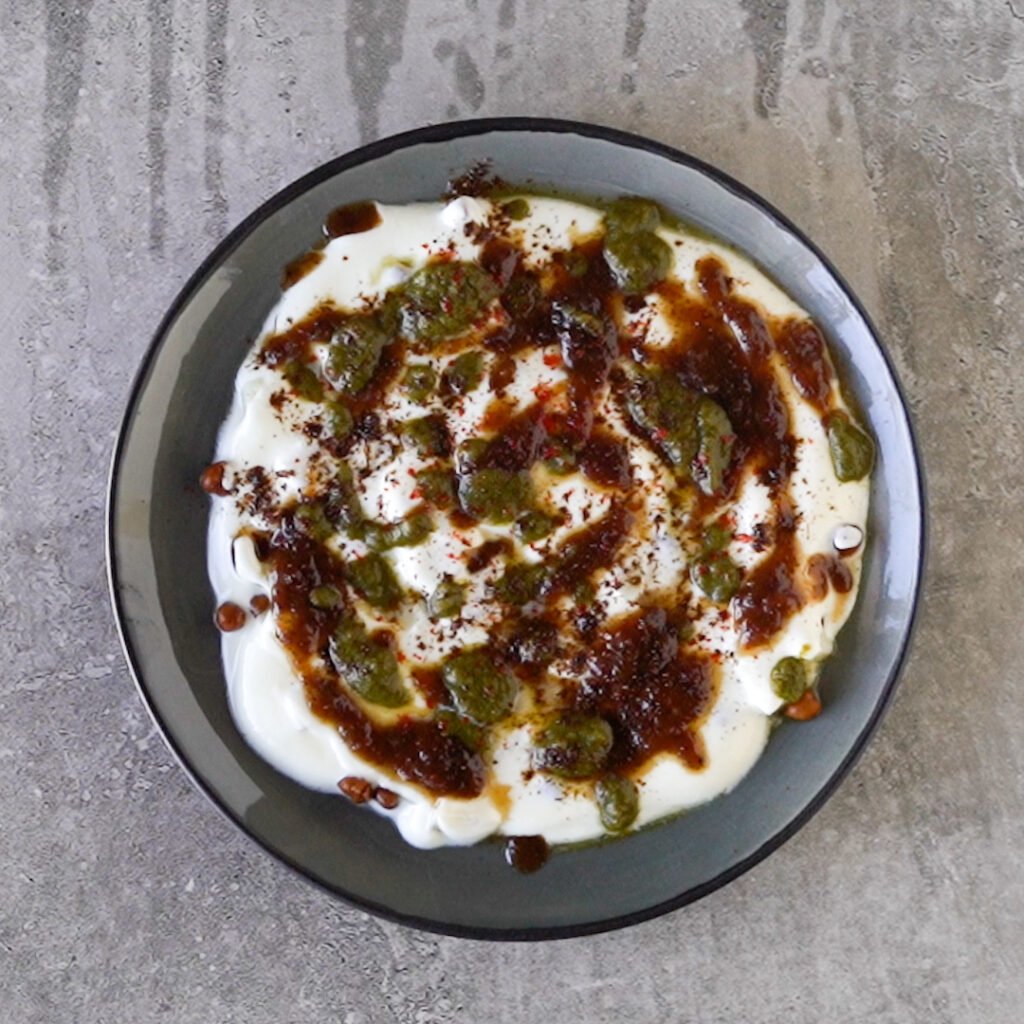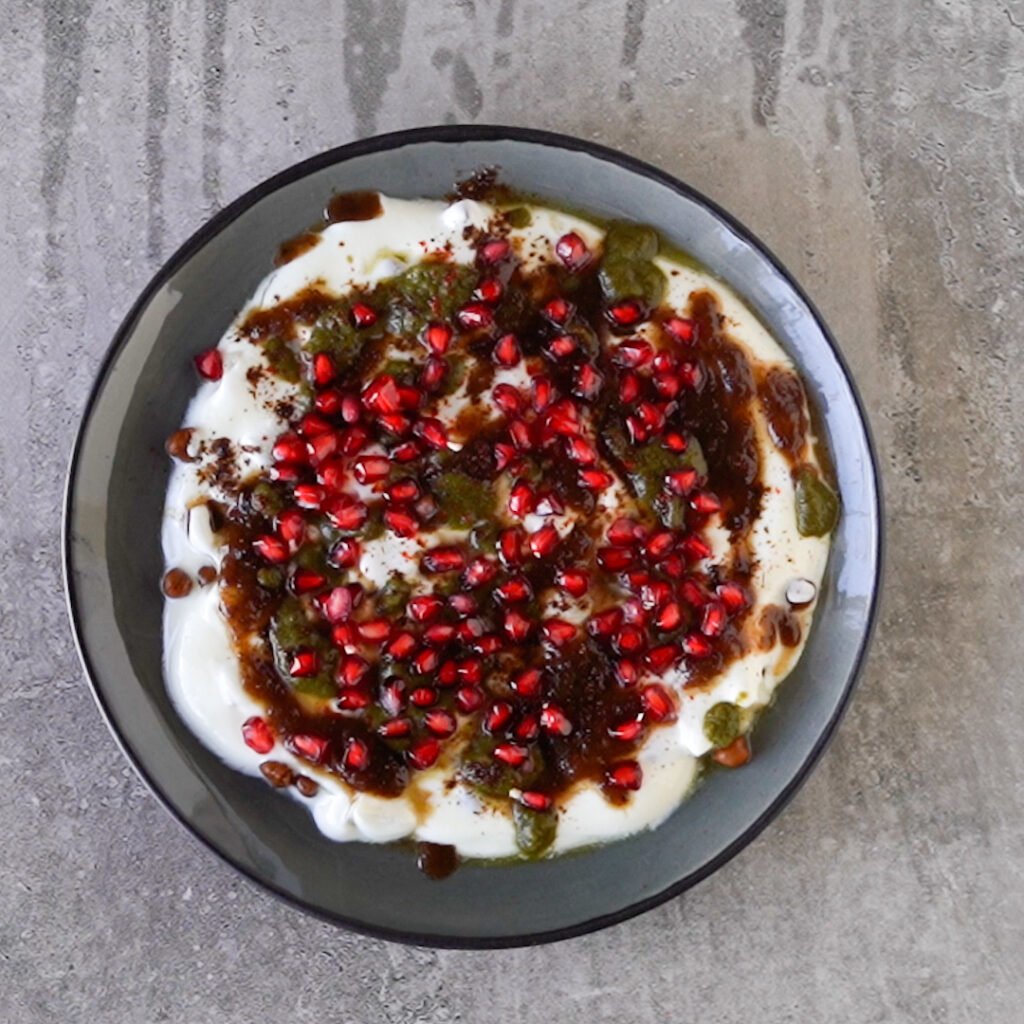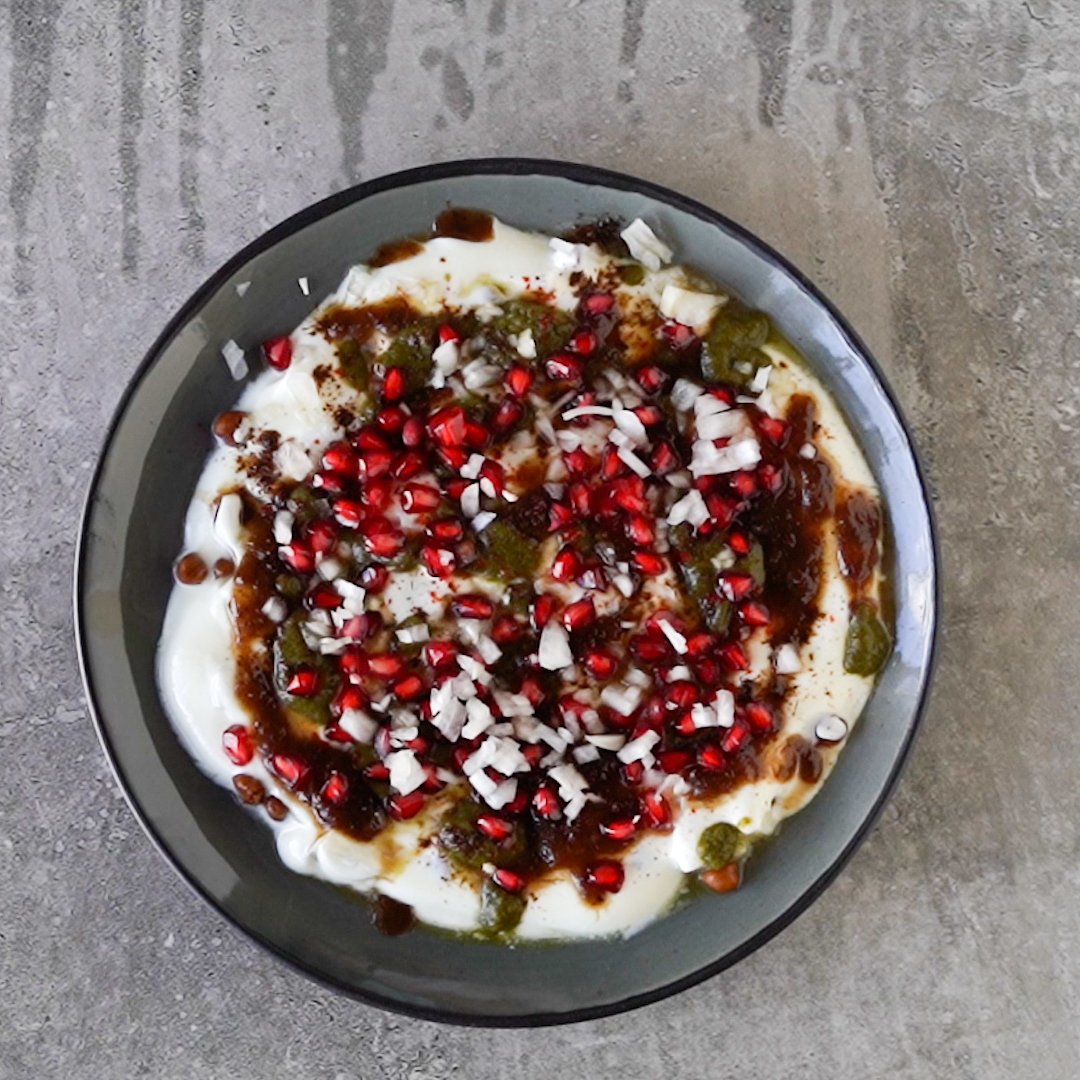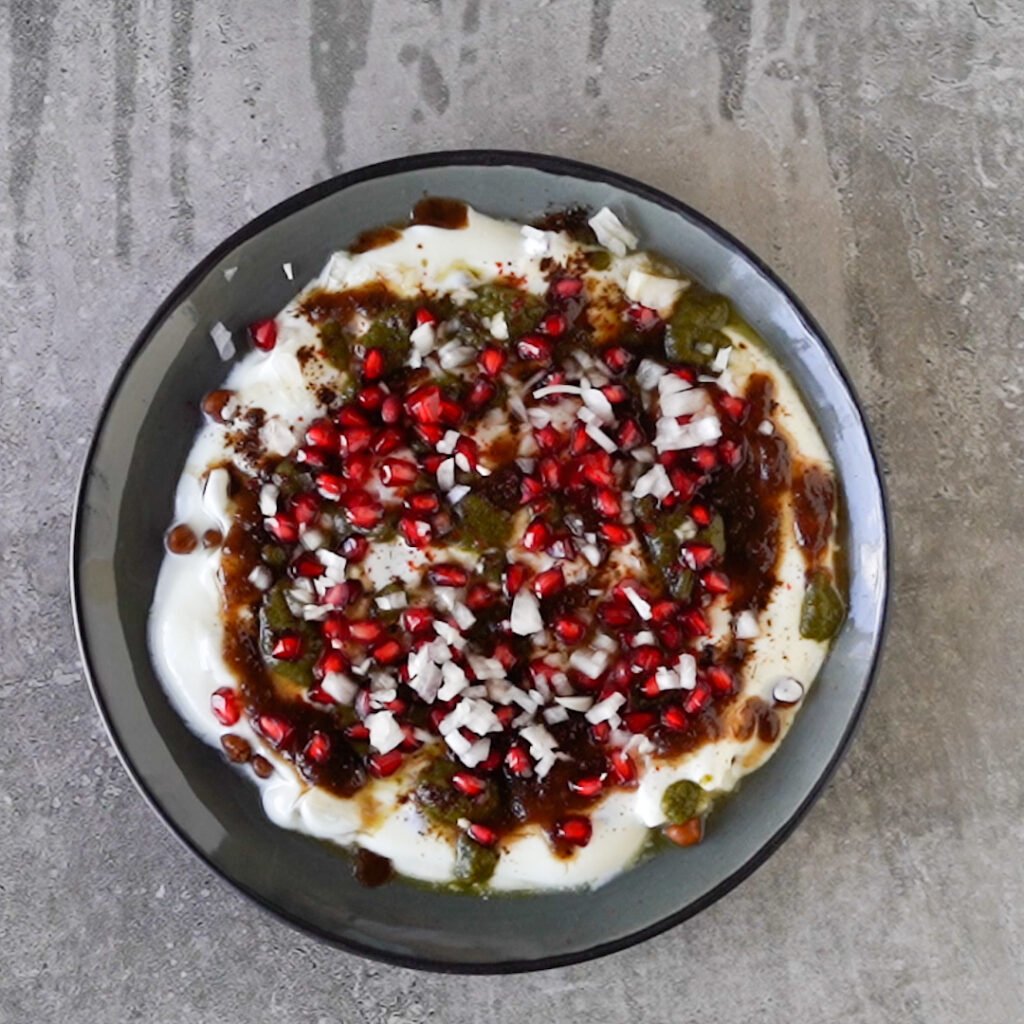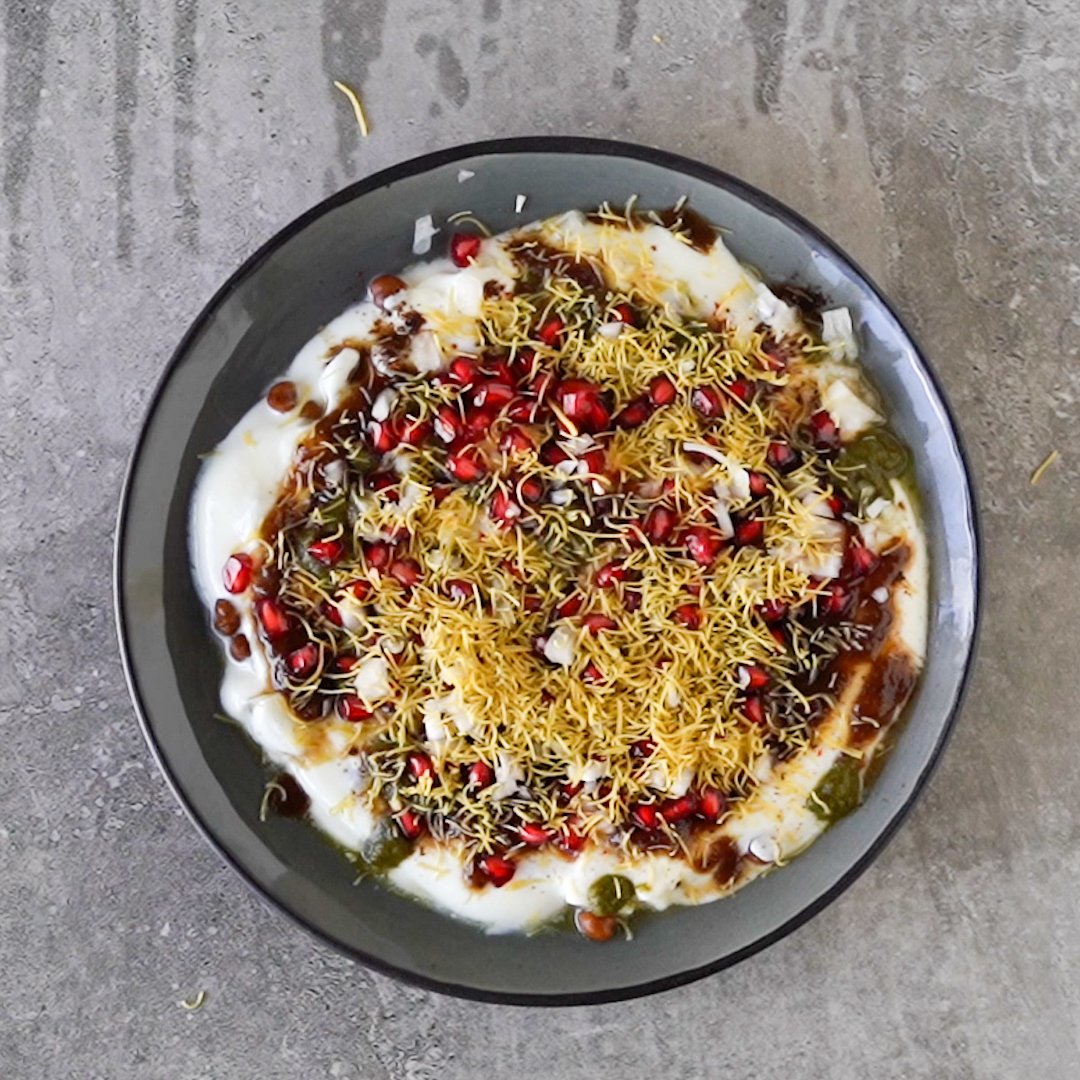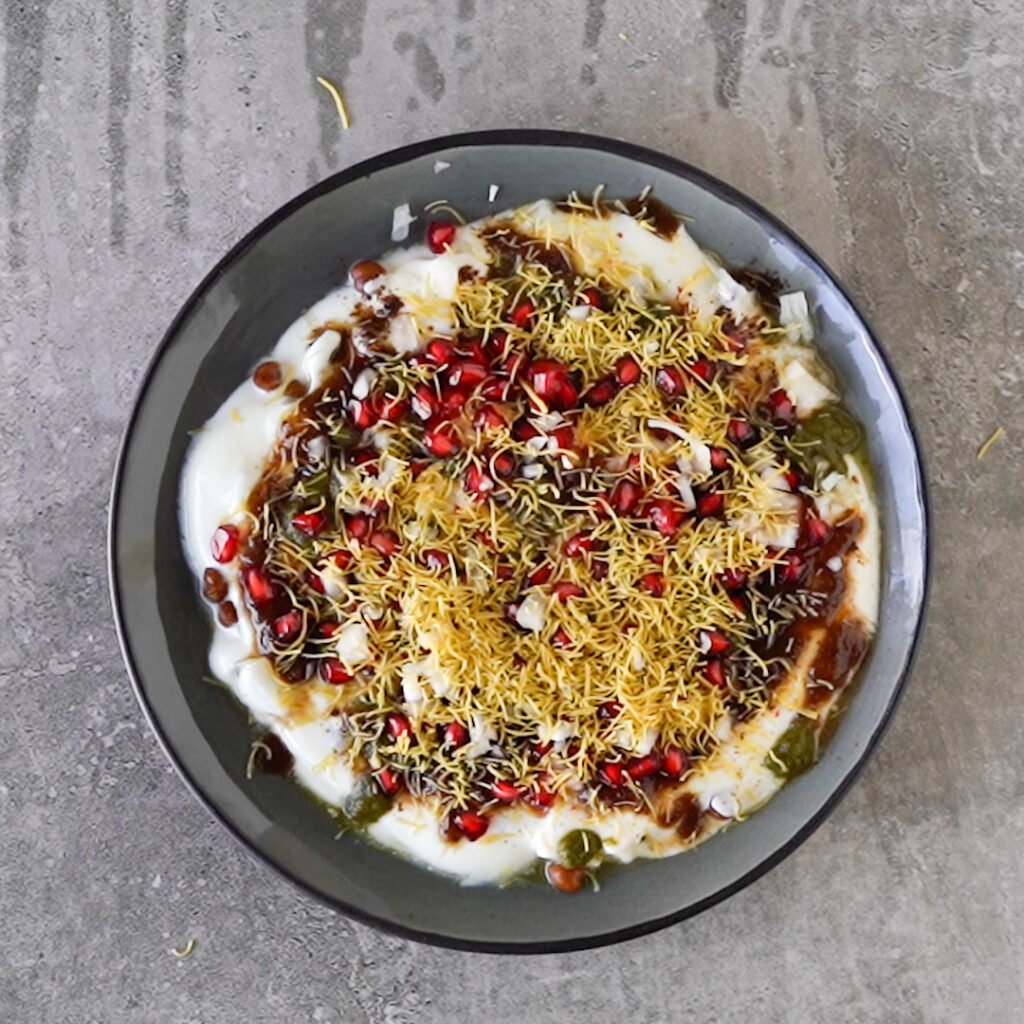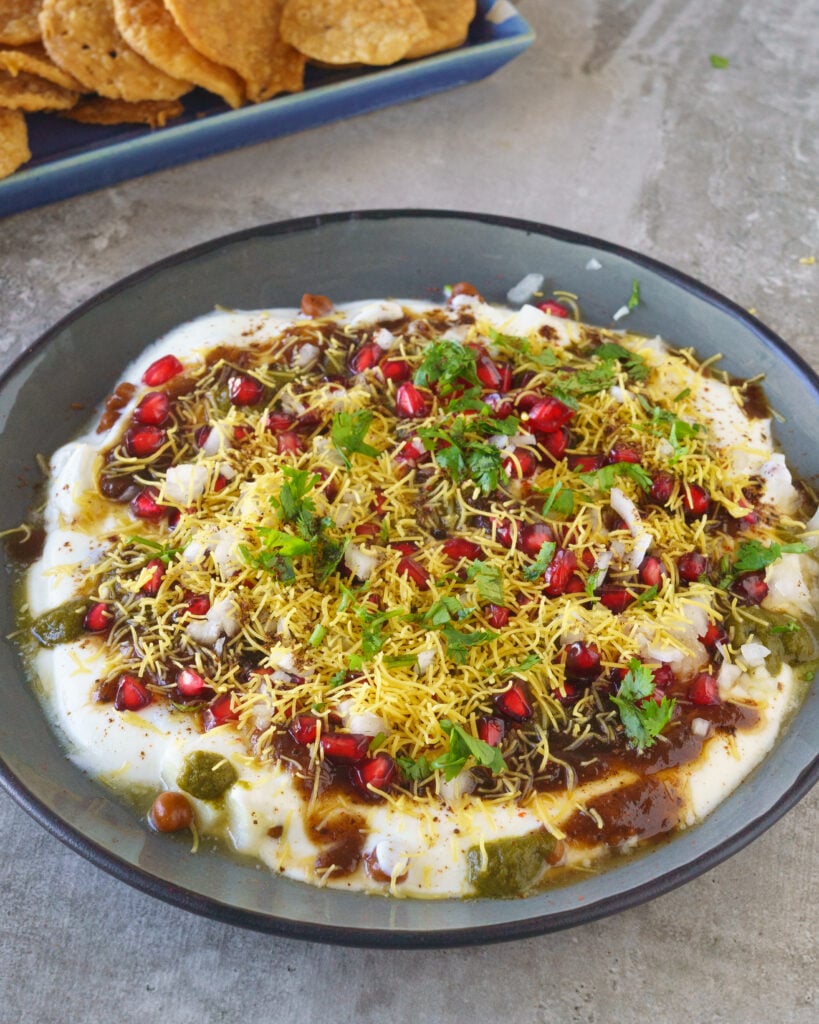 Important Tips
Make this in a platter or a flatish plate. That way, when you scoop the dip with papdi, you will get all the elements in one go.
Leave the onion and the sev for the last minute. Just when your guests arrive.
Serve the Papdi separately.
Bhuna Jeera Masala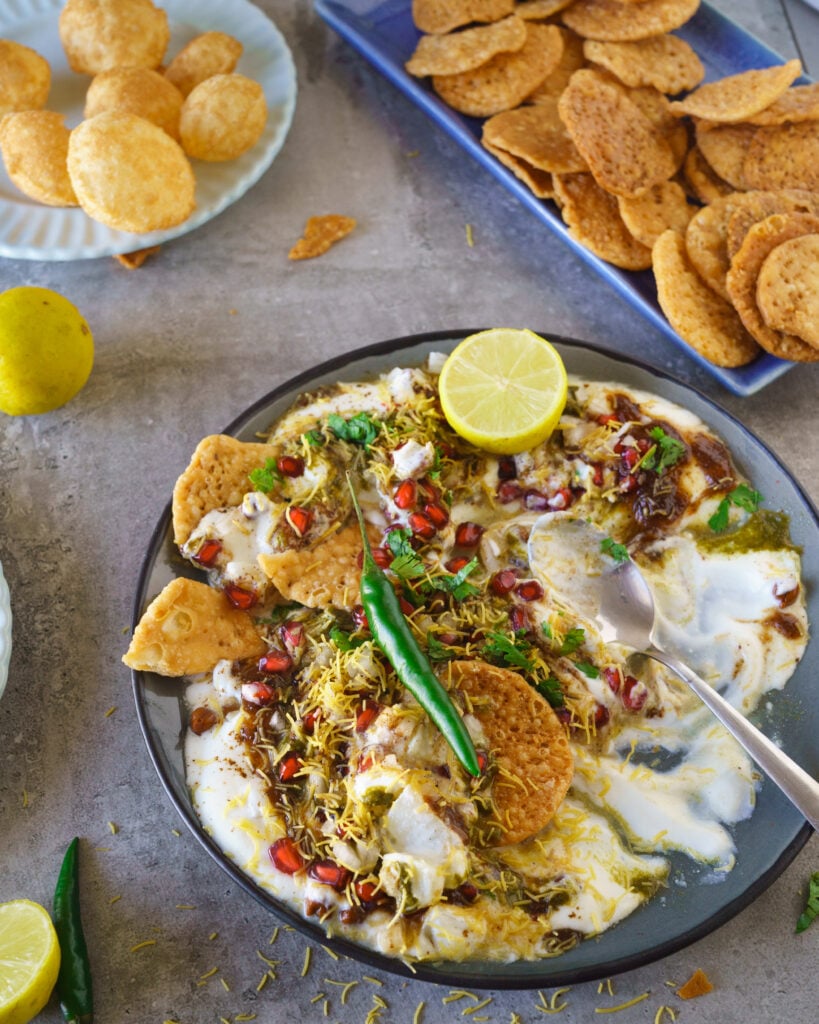 Serving the Chaat Dip
Serve this chaat dip on a platter or a plate.This way you get all the elements while scooping up the dip.
I make a huge platter with the dip, papdi and pani puri shells.
You can also add things like monaco and lavash.
More Chip Dips & Chutneys
Indian Raw Mango Chutney
Tamarind Chutney - Imli Chutney for Chaats
Indian Mint Chutney- Green Chutney
My Famous 5 minute Yogurt Dip
2 Minute Sriracha Garlic Lime Aioli
Find us on Instagram , Pinterest & Facebook here!
If you liked my recipe, do leave a comment!
It will help others find this amazing recipe too!
---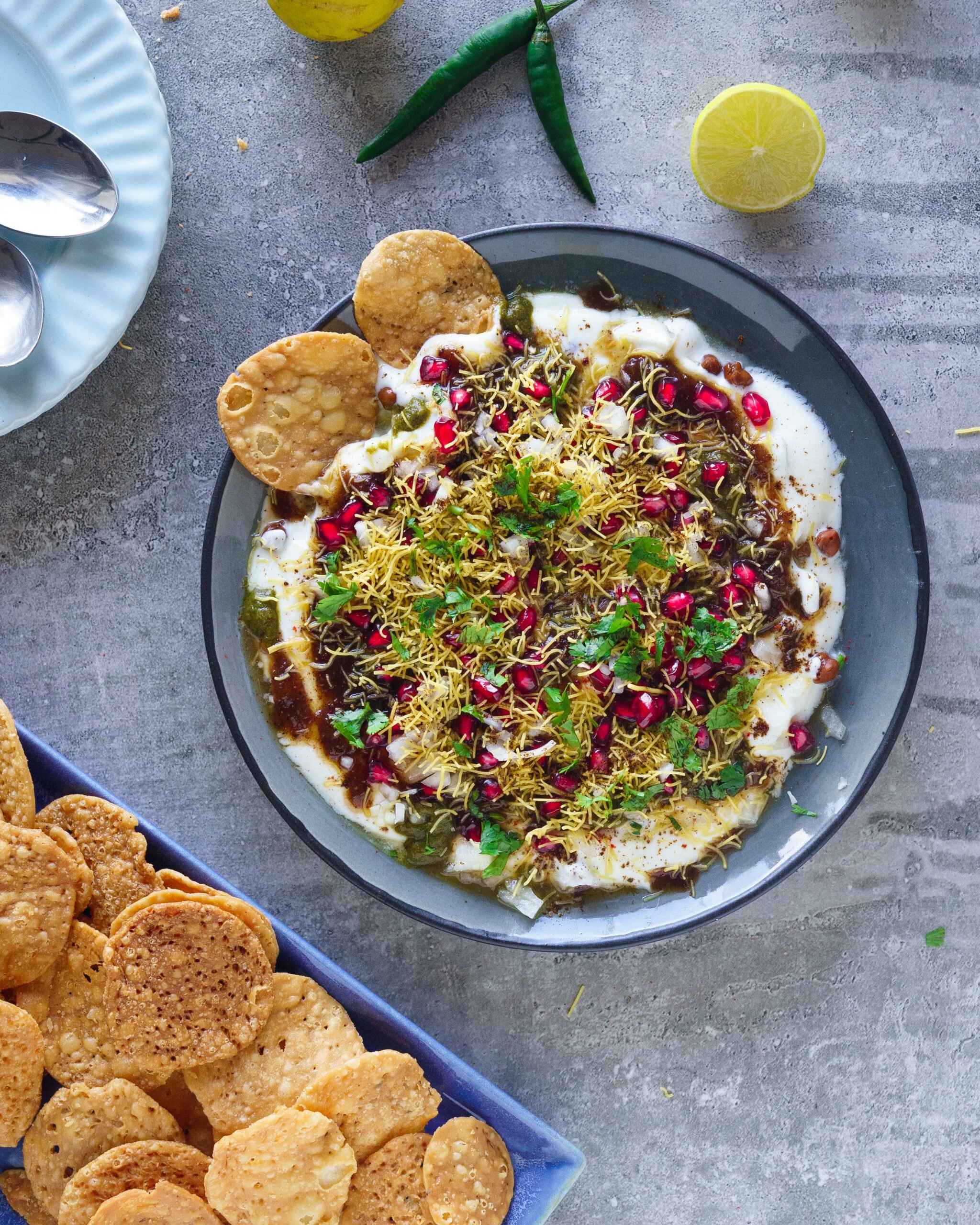 Ingredients
2

Cups

Yogurt

2

tablespoon

Powdered Sugar

1

teaspoon

Salt

1

Cup

Boiled Potato

cooled and cubed

1

Cup

Chana

boiled and cooled

½

Cup

Green Chutney

½

Cup

Tamarind Chutney

¼

Cup

Chopped Onion

1

tablespoon

Fresh Coriander leaves

chopped

¼

teaspoon

Chili Powder

½

Cup

Pomegranate

1

Cup

Sev

Barik Sev or crushed chips
Bhuna Jeera Masala or use Chaat Masala
2

tablespoon

Cumin

Jeera

1

teaspoon

Black Pepper

1

teaspoon

Ajwain

1

teaspoon

Black Salt
Instructions
Bhuna Jeera Masala - Roasted Cumin
Roast it till it starts popping and has turned dark brown. Remove and keep aside to cool.

In the same pan, lightly roast the ajwain and black pepper.Set aside to cool

Powder the ajwain, black pepper, roasted cumin and black salt together.

Your roasted jeera masala for the chaat is ready
Prepare the Yogurt
Drain any excess water from the yogurt or you can hang it for 2-3 hours to make it thicker.

Whip it well using a wire whisk or traditional rai. This will take 8-10 minutes.

Add the Sugar and salt.Taste and check if the yogurt is salty, sweet and creamy.
Layering
In a shallow bowl or a deep plate, spread a tablespoon of yogurt

On top of that, add the boiled potato cubes & boiled chana.(Make sure they are both cool)

Add rest of the yogurt on top and spread it.

Drizzle the Tamarind and green chutney over the yogurt.

Next, add the pomegranate kernels.

Sprinkle chili and bhuna jeera masala or chaat masala as per taste. Start with less and layer more later if needed.

Top the whole dip with lots of barik sev and coriander.

Serve along with papdi and pani puri shells.
Notes
This will make a big platter of chat dip , enough for 10-15 people depending on other things you serve with it.
The nutritional value is an approximation. It will depend on the chutneys and the crisps like papdi and pani puri you use.
For a party
Make all the elements and keep in the fridge.
Assemble till the sev before the party starts.
Sprinkle the sev in the last minute.
Nutrition
Calories:
212
kcal
|
Carbohydrates:
35
g
|
Protein:
5
g
|
Fat:
6
g
|
Saturated Fat:
2
g
|
Trans Fat:
1
g
|
Cholesterol:
6
mg
|
Sodium:
714
mg
|
Potassium:
215
mg
|
Fiber:
5
g
|
Sugar:
18
g
|
Vitamin A:
330
IU
|
Vitamin C:
5
mg
|
Calcium:
97
mg
|
Iron:
1
mg
If you liked the recipe, please leave us a rating
Follow me on Instagram
My handle is @yellowthyme