Instant Ragi Dosa recipe which can be made in less than 10 minutes.This Ragi dosa has no rice, no maida or any wheat flour.It can be made instantly.It also has no dairy hence it's vegan.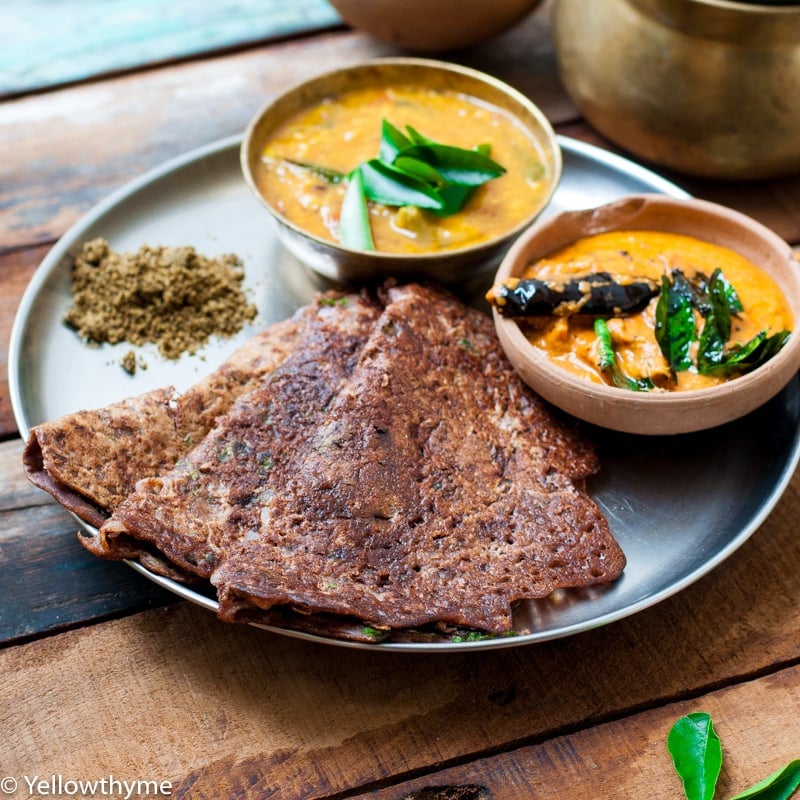 And no..it's not a trick..
Ragi is an indian millet thats great for health and general well being.It's usually gievn to children in the form of porridges and drinks.Here is a recipe for Ragi ladoo which is also a great healthy snack option for kids.
For someone who preferes a more savoury option, making ragi dosa is a great option.
Most indian dosas need soaking,grinding and fermenting.While thats the best way to eat these millets, sometimes you need a quick pick me up.
At our house, i usually make sure we eat ragi every alternate day.My son either eats a dosa or a ragi pancake to start his day.
This is a recipe that can be made without any preparation.
Just mix the ragi flour with some chickpea flour, a few spices and thats it.Spread it on a hot tawa or a non stick pan and you have a very healthy breakfast.A great option which is heart healthy and takes only 10 minutes to put toghether.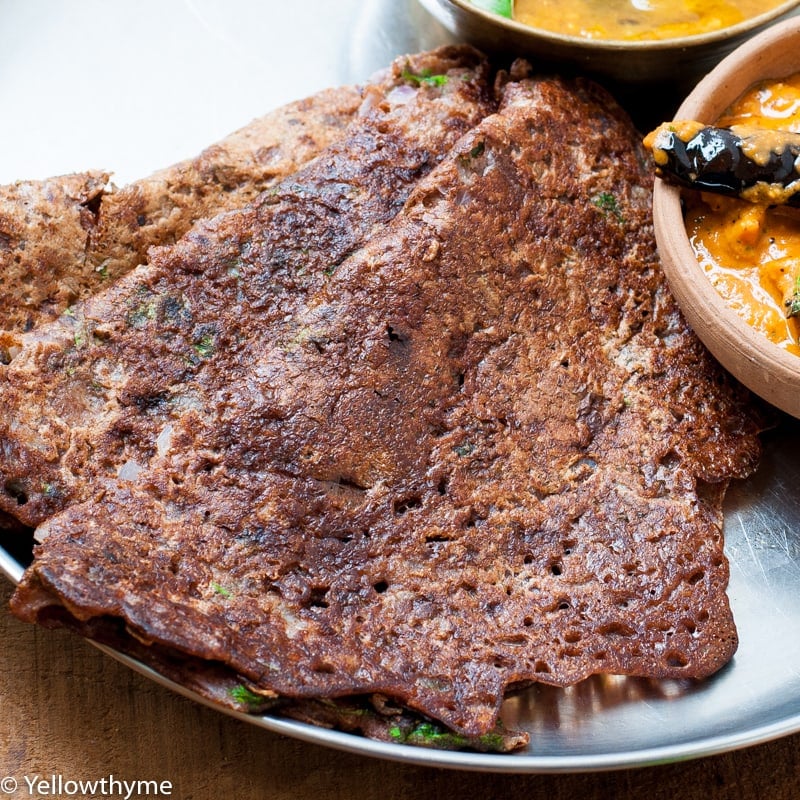 What is Ragi Dosa?
It's a Crepe made with finger millet, also called Nachni in North india and Ragi in South India.
This recipe for ragi dosa is made with more than 65% Ragi and 35 % Chickpea flour(besan).So it's super high on protein, iron and calcium.
It's instant, so there is no waiting,fermenting soaking etc.Which is really helpful on busy mornings.
I have replaced wheat and rice out of my diet completely(well almost!) .I have always been a roti or a bread or a dosa person.If given a choice my first pick will always be one of them over any kind of rice or noodles.I have literally grown up eating wheat rotis thrice a day for 18 years.But this yummy recipe makes it easy.
That is why this change is a big big change(for me!) but I don't really feel like I am missing out on anything.
How to Make Ragi Dosa Instantly
Ingredients for Ragi Dosa
Ragi Flour- always buy small quanities of Ragi flour.It can spoil very fast.
Chickpea Flour- fine or coarse.Sattu is also a great option instead of besan.
Onions(Optional)- Chopped Finely
Coriander Leaves(Optional)- Chopped Finely
Salt
Water
I sometiems add grated carrot, chopped greens like methi and spinach and sometimes even grated bottle gaurd to this mix.
If you are adding a water filled vegetable like bottle gaurd, make sure to squeeze the water out before adding to the batter.Otherwise your batter can turn runny.
How to make Ragi Dosa
Meaasure and Mix all the ingredients together. Add Water and make the thick batter.The consistency should be as that of normal dosa batter or a pancake batter.You can make it thicker if you want to make it like uthappam.
Heat a flat pan or dosa pan.Pour the batter in the middle and spread it evenly with the ladle.Add oil, cook one side for 5 minutes,flip and then cook the other side for 3 minutes.
This dosa takes longer to cook than a normal dosa, so keep that in mind.
Why Eat Ragi?
Ragi has a low glycemic index which makes it a great alternative to high GI carbs like wheat and rice, especially for people with diabetes.It's also loaded with calcium and iron.
Ragi is also gluten free! In fact this dosa recipe is gluten free too!
Read more about millets and how they compare with wheat and rice on my how to introduce Millets in our diets.
I love cooking and baking with Ragi. In fact, my Baked Ragi Namak Paare, Double Chocolate Ragi Cookies& Chocolate Ragi Cookies are the most visited blog post on my website.
Here are some FAQs on Ragi
Is Nachni and Ragi same?
Yes.Ragi and Nachni are both Indian names of the millet called Finger Millet.
What are the Benefits of ragi?
Yes.It is a very rich source of Calcium and iron.It is a very good replacement for rice and wheat.It is also good for general environment.
Read more about it here.
What are the uses of Ragi Flour?
You can make Dosas, Add it in parathas, make Ragi Malt, make rotis and also sheera with Ragi flour.
Feremented Ragi Dosa
I also make Ragi dosa eith a fermented batter.Just like the traditional Rice Dosa.HEre is the recipe of fermented Ragi dosa and idli
That recipe uses Whole Ragi Grain,Urad Dal and Rice. The batter comes out pink and gorgeous.
You can make Ragi idlies with it too.
They are legit yum!
If you love south indian crepes, you must try making Appams too.
Some more Finger Millet or Ragi Recipes for you
Here are some more Ragi recipes that we use very often.They are easy to make and will add a lot of nutritional value to your diet!
Ragi Chocolate Pancake
Ragi Banana Cake
Ragi Chocolate Cookies
Ragi Namak Pare
Ragi Ladduu
Find us on Instagram , Pinterest & Facebook here!
If you liked my recipe, do leave a comment!
It will help others find this amazing recipe too!
---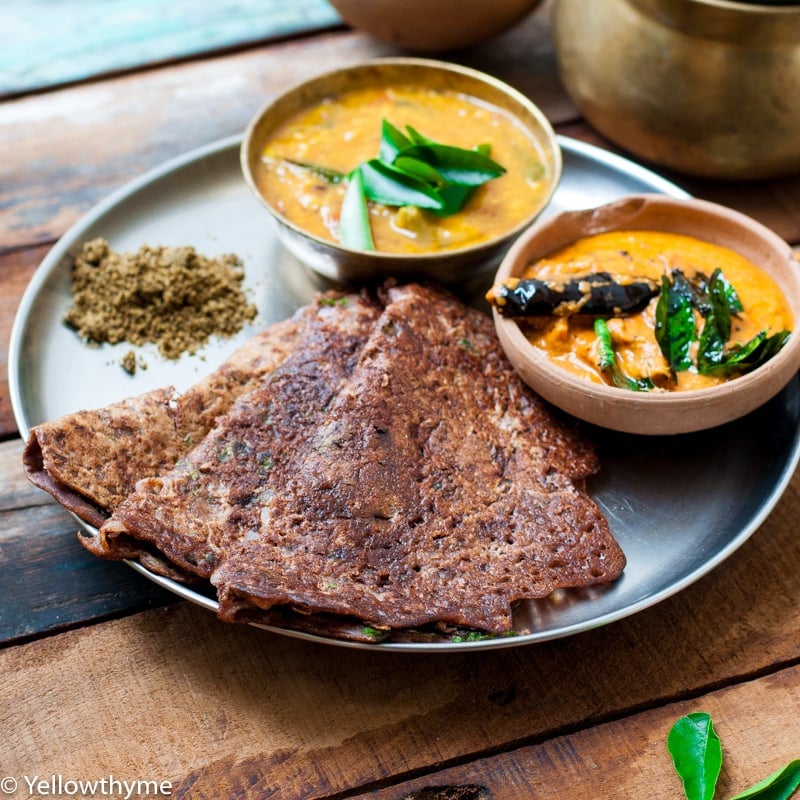 Ingredients
4

tablespoon

Finger millet flour /Ragi Flour

2

tbsp

Chickpea flour / Besan

2

tablespoon

Small onion- chopped finely

handfull coriander chopped

Salt to Taste

1

teaspoon

Oil
Instructions
Mix the Ragi flour,besan,chopped onion, coriander and salt.

Add water to make a thin batter.Thinner than traditional dosa but thicker than rava dosa

Heat a skillet.Pour 2 tablespoon of the batter.Spread it as best as you can.

Drizzle oil around it.Cook for around 5 minutes.Flip and cook for another 3 minutes till both sides brown.

Serve with chutney or like me- eat it with EVERYTHING replacing chappati.
Notes
Make it on a non stick pan
if the dosa isn't coming off the pan, its probably not cooked.Ragi dosa takes almost double the time of a traditional dosa.So have patience.
Make sure it's well cooked.Browned from both sides.
Nutrition
Calories:
112
kcal
|
Carbohydrates:
18.3
g
|
Protein:
3.3
g
|
Fat:
2.6
g
If you liked the recipe, please leave us a rating
Follow me on Instagram
My handle is @yellowthyme
Read more about millets and how they compare with wheat and rice on my how to introduce Millets in our diets.