Ragi or Finger Millet Pancake- Healthy, Millet Breakfast pancake recipe. This is my Single serve pancake that can be easily scaled up to make more.
Every morning, my goal is to make sure my son eats one egg and something nutritious along with it. This Ragi pancake has been a staple since he started solids 6 years ago.
Sometimes when i have forgotten to pick up eggs, I make an eggless version of this pancake.
In this recipe, you will find how to make Ragi pancakes with and without eggs.You can also make this recipe Vegan & Gluten Free very easily!
Ragi has a tonne of benefits. In fact in south india , it is one of the first foods given to children.It is full of iron and calcium.
For me it is very important because my son doesn't like regular milk.
The pancake comes together in less than 5 minutes which is frankly all the time i have to make breakfast on busy mornings.
Why i love making Single Serve Ragi Pancake
There are a lot of reasons why I have been making this thrice a week for the past 6 years.
Kid friendly & Diet friendly- especially for people with diabetes
Has Power house ingredients- Ragi, Eggs and banana
No chemicals, processed foods
Single Pancake- a perfect breakfast/ snack option for adults and kids
I can add extra super foods like chia, powdered nuts etc to it.
Easy to make. Literally takes 5 minutes start to finish!
It's a great option for a packed snack for kids.
Did you know Millets are super high on fiber, minerals and are gluten free? In fact, Ragi is truly a wonder millet- it has 30 times more Calcium than rice.If you want to read more about Millets then do read my How to introduce Millets in our Dietspost.
Don't believe me! Read these articles about Millets from verified govt sites to believe!
Ingredients
Ragi Flour
Wheat Flour/ Quick Oats
Cocoa
Raw Sugar/Jaggery/Coconut Sugar
Egg or Very Ripe Banana
Milk- Dairy or Non Dairy
Butter or Oil
Ragi Flour
Ragi flour gets spoilt very quickly! So if you are using even a month old ragi flour, then chances are it is rancid.
Always buy millet flour in small quantities and use it within a month's time.
If you can find, use sprouted Ragi flour.As with anything sprouted, you can assume that its a super charged version of Ragi flour.
Banana/Egg
Use Banana for a Vegan /Vegetarian/Eggless Version of this pancake. Though if like me, you want to add egg to your child's diet without it being too obvious, then this is a super easy way to do it.
How to make Ragi Pancake
Step 1: Prep the Banana or Egg
Start with breaking the egg and whisking it toghether.
The reason I start with the egg first is so I can adjust the texture of the batter later with milk.
If you are making the eggless version, mash the banana till its all pulpy.
Step 2: Mix the batter
Add the Ragi flour, instant oats or whole wheat flour,Cocoa & your choice of sweetener. Mix it up.
For sweetner, you can use any dry powdered sweetner.I use Jaggery or palm sugar most of the times.
Adjust the consistency with milk.
Add any other nutritional powder or powdered nuts.
Do not overmix. Just get all the ingredients wet.
If you prefer, you can add ½ teaspoon of baking soda to the batter.This will help make the pancake light and airy.
Step 3:Make the Pancake
Heat a nonstick or cast iron pan or griddle.
Add ghee/butter or oil.
Only once the pan is heated through, Add the pancake batter.
Let it cook on one side.Flip and cook the other side.
Serving Ragi Pancake
You can serve this pancake with
Peanut Butter
Chocolate syrup or spread
Honey
Fruits - strawberries, blueberries, pomegranate
Maple syrup
I make my own nutella at home, with almonds and chocolate. After searching the market for a sustainable, healthier alternative to nutella, I gave up and made my own. It's super simple to make with just toasted almonds and chocolate.I will post that recipe soon!
Variations
Millet Pancake - You can make the same pancake with other millet flours like Jowar and Bajra too. Depending on the season, I swap ragi with Jowar in cold weather and with Bajra in hot weather.
Extra Nutritious Ragi Pancake- You can add some powdered nuts and seeds to the pancake batter.I usually add a spoon of my homemade Protein powder to the batter
Chocolate Chips - Just add chocolate chips to the same batter and make the pancake
Plain Pancake - I sometimes skip cocoa. Because Ragi is anyways dark in color, my son doesn't realize the absence of chocolate.
Gluten Free Version - You can use any other flour like Amaranth, Quinoa, Oats instead of whole wheat flour to make this pancake vegan and gluten free!
Vegan Version - Swap the egg with Mashed banana and use coconut oil to make the pancake instead of butter.
Storing & Refrigerating
If you made the batter and didn't use it all up or changed your mind..Whatever be the case, the batter can survive in the refrigerator for 1-2 days.
Once you have made the pancake, it will last for about a day at room temperature.
Though I must say that the pancake texture does get drier with time.
The best way to eat it is hot, right after it's been cooked.
More Millet Recipes
Ragi Dosa & Idli Batter
Ragi Cookies- Eggless Finger Millet Chocolate Cookies
Ragi Chocolate Chip Cookies
Ragi Laddu | Nachni Ladoo Recipe
Instant Ragi Dosa Recipe
If you make our favorite breakfast pancake with ragi, do leave us a comment. I would love to hear your thoughts!
Find us on Instagram , Pinterest & Facebook here!
If you liked my recipe, do leave a comment!
It will help others find this amazing recipe too!
---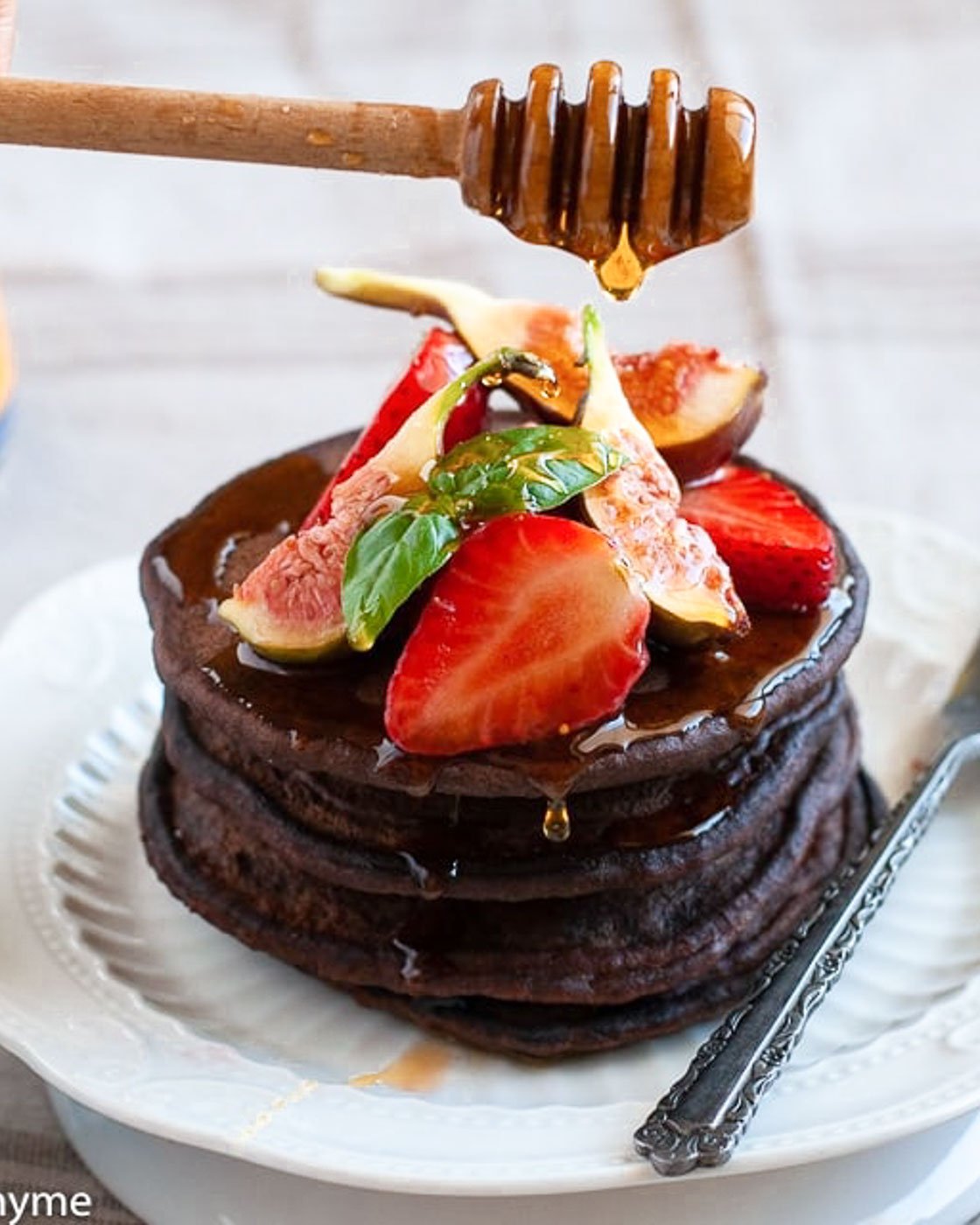 Ingredients
2

tablespoon

Ragi Flour

1

tablespoon

Whole Wheat flour

1

teaspoon

Cocoa Powder

1

Egg

or ¼ cup mashed banana for a vegan version

1

tablespoon

Sugar

Palm Sugar/Jagger yOr your choice of sweetener

1

tablespoon

Milk

Your choice of milk- dairy/ non dairy

1

teaspoon

Butter

Or Oil
Instructions
Break the egg in a bowl. Or Mash the banana.

Add Ragi flour, whole wheat flour,Sugar & cocoa.

Mix everything toghether.Add Milk if the mixture is too thick,.

Heat a flat pan on medium flame. Add butter.

Once the butter has melted, add the batter.

Lower the heat and Cover the Pancake.Cook for 5 minutes.Flip and cook uncovered for 5 minutes on medium heat.

Serve with your favourite toppings.
Notes
If you prefer, you can add ½ teaspoon of baking soda to the batter. This will help make the pancake light and airy.
Vegan Version- Swap the egg with mashed banana. Use oil instead of butter to make the pancake vegan.
Gluten Free Version - You can use any other flour like Amaranth, Quinoa, Oats instead of whole wheat flour to make this pancake vegan and gluten free!
Nutrition
Serving:
1
pancake
|
Calories:
277
kcal
|
Carbohydrates:
40
g
|
Protein:
9
g
|
Fat:
9
g
|
Saturated Fat:
4
g
|
Polyunsaturated Fat:
1
g
|
Monounsaturated Fat:
3
g
|
Trans Fat:
0.2
g
|
Cholesterol:
176
mg
|
Sodium:
104
mg
|
Potassium:
246
mg
|
Fiber:
1
g
|
Sugar:
13
g
|
Vitamin A:
387
IU
|
Calcium:
150
mg
|
Iron:
2
mg
If you liked the recipe, please leave us a rating
Follow me on Instagram
My handle is @yellowthyme