Authentic Goan Chicken Vindaloo - Restaurant-quality, Spicy, Fiery Red Chicken Curry from the east coast of India! Yes, the REAL DEAL! Serve with Dinner Rolls, Rice, or Naan
Jump to:
TASTE: Spicy curry, slightly sour from the vinegar.
TEXTURE: Smooth, rich gravy with cooked chicken
EASE:  Easy
APPEARANCE: Reddish orange curry
Serve with: Bread, dinner rolls, rice or naan. Traditionally with sanas
So you went to Goa for your last holiday and were amazed by the amazing cuisine. And now that you are home, you want to recreate some Indian restaurant dishes.
Well, no worries. I have got you! This spicy Indian curry recipe is as authentic as it gets while being simple simultaneously!
​
First things first. This is a spicy curry. So if you cannot take spice, you should make milder north Indian butter chicken instead.
But if you are looking for a spicy curry? Then look no further!!
This is a fiery red curry from Goa with spicy and tangy flavors. Goa is on the east coast of India. It's famous for its beaches, food & wine.
It's a famous curry that's a favorite among spicy food lovers.
​
Traditionally Vindaloo is made with Pork. Here we are making a simpler version with Chicken.
This is what we will do. You can also watch the video recipe to understand more details.
Make the Vindaloo Paste
Marinate the Chicken
Sauté onions
Slow cook the Chicken
Vindaloo, though from Goa, is made in many forms and ways all along the east coast of India. Mangalorean Chicken Ghee roast , Shrimp Gassi, Mangalorean Prawn Sukka & Malabar Chicken Peralan are some of the chicken dishes with similar ingredients. They are all from the eastern coast of India.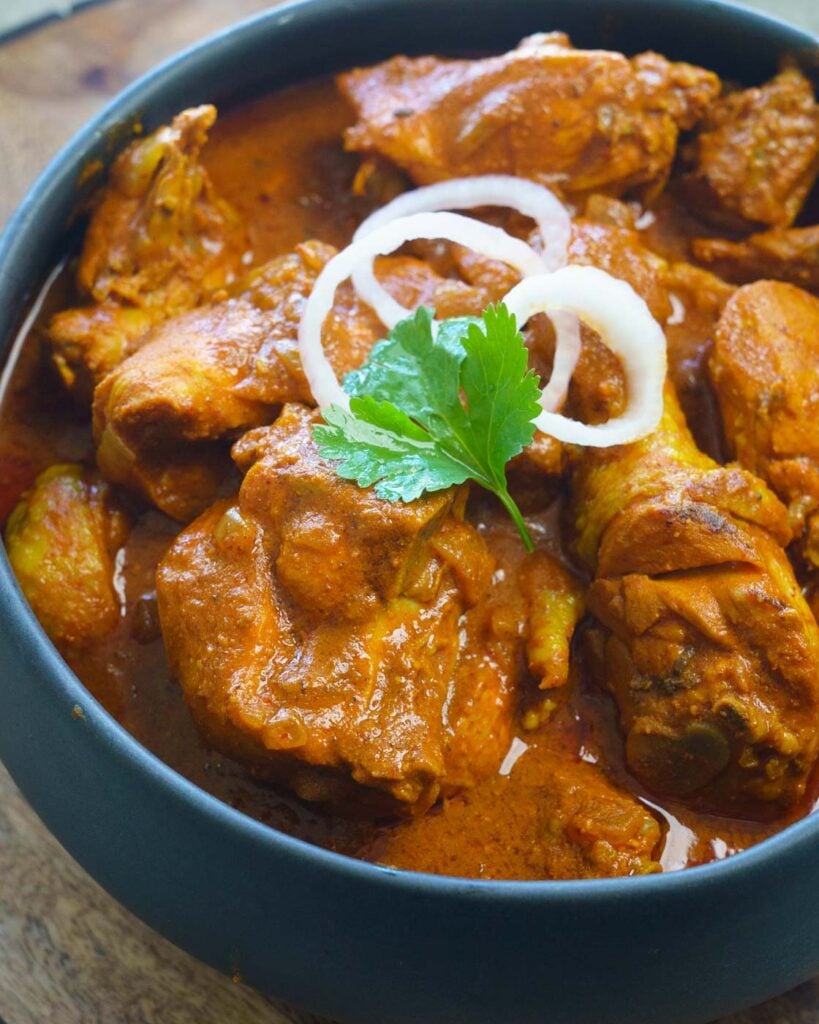 What is vindaloo
This curry has emerged from a melting pot of Portuguese, Goan, and British influences.
The name "Vindaloo" is a garbled version of the Portuguese dish called carne de vinha d'alhos, which translates to "meat in garlic wine marinade." It was bought to India by the Portuguese explorers when they landed on the shores of Goa.
Around the 1800s, this dish was Indianised using palm vinegar instead of wine and was traditionally made with pork or beef.
The further evolution of this dish happened when the British ruled India- in that version, the meat was marinated overnight with vinegar, ginger, garlic and spices and then cooked the next day.
What is Chicken Vindaloo Curry
Vindaloo is a Goan specialty which is usually dark red. Chicken vindaloo is a leaner cousin of the traditional pork vindaloo.
We made the same sauce and simmered the chicken in the sauce so all the flavors get infused in.
When made right, a vindaloo curry should be red-maroonish, slightly sweet, with layers of heat from red dry chilies, green chilies and black pepper and the most important have two distinct sour notes from the vinegar.
This dish is quite a fixture on almost every Indian restaurant menu.
Ingredients
Here is the list of ingredients you will need to make vindaloo. At the end of this section is a list of substitutes so you can make this curry anywhere in the world with what you have.
Vindaloo Curry Paste Ingredients
Here is what you need to make the vindaloo paste
Rest of the ingredients
Chicken
I have used a whole skin-on chicken cut into about 3-4 inch pieces. This is called curry-cut chicken.
You can also use chicken drumsticks or thighs with bone, or a combination of both.
This curry is traditionally made with pork which is slow-cooked for a long. To make the curry in chicken, we will need it cut in such a way that it can sustain slow cooking.
Vindaloo is also made with high-fat meat, so we have used skin-on chicken.
Spices
Most of the spices listed are very regular Indian pantry staples. You can get it all from Indian grocery stores or Amazon.
Chilies
The color of the vindaloo is all from the chilies. This is an important part of the recipe. The best chili to use would be anything that gives color but not heat.
You can use Bydagi chilies from Karnataka, Kashmiri chilies from Kashmir, Ancho chilies from Mexico, a dried form of poblano pepper.
You can also use paprika or ground Kashmiri chili powder instead. (6 chilies make 1 tablespoon of powder)
Hot Tip
Most of the heat in a chili comes from the seeds. So if you want the color but not the heat, cut up the chili and discard the seeds
Garlic
A lot of garlic!
The minimum is about 8 cloves. If you love garlic like I do, increase that to 15 cloves.
Sugar
When you use so many chilies, sugar becomes so so important! I know it seems funny, but this will give the curry a multi-dimensional flavor.
You can use palm sugar or jaggery, or white sugar.
Vinegar
This is the element that gives the vindaloo its sourness. This, along with chilies, distinguish vindaloo from every other curry.
So you must use vinegar!
We have not used tamarind, tomatoes, or lemon for this curry. Vinegar gives the curry its characteristic depth and balances everything together.
Ideally, use palm or coconut vinegar. Use regular white or red wine vinegar if you don't have that.
Substitutions
A quick table for substitutions
Chicken - Skin on, bone on chicken thighs, pork, or lamb.In a pinch, chicken breasts.
Kashmiri Chilies- Ground Kashmiri chili powder, paprika, ancho chilies, Bydagi chilies, or cayenne pepper.
Sugar- White, brown sugar or jaggery, palm jaggery, coconut jaggery
Vinegar- Goan Vinegar, white vinegar, red wine vinegar, palm vinegar, coconut vinegar
Spices - Substitute the individual whole spices with curry powder or garam masala.Though there will be a significant change in flavors.
Vindaloo gets it's color from the chilies. Though I love our spicy food occasionally, I don't like eating it every day.
Here is a handy little snippet on the heat of Vindaloo. Remember, lesser chili powder will mean less heat, but it will also mean that the curry won't be bright red.
Mild heat: 3-4 Kashmiri Chili Chilies

Moderate heat: 6-8 tablespoon of Kashmiri Chilies

Very spicy heat: 10-12 Kashmiri Chilies. If you want even more than that, then you can add sliced green chilies while sauteing too.

Tip: If you do not have whole Red Kashmiri chilies, you can use ground Kashmiri chili powder too.
1 tablespoon of Kashmiri Chili powder is roughly 5-6 Kashmiri red chilies.
Another way to reduce the heat is to use only the skin of the red chilies and discard the seeds within.
Use a kitchen sheers to make this easy!
How to make Goan Chicken Vindaloo Curry
Make The Spice Paste
Once you get the vindaloo paste right, the rest of it is very easy.
If you have a high-speed blender, something in which you have made nut butter or spice blends, you can just blend everything into a thick, smooth paste. Add a little water if needed.
If you do not have a high-speed blender, soak the chilies in hot water for 10-15 minutes. Discard the water and then proceed to make the paste.
Watch out for the cinnamon and ginger. Those two culprits usually take the longest to blend.
Marinade the Chicken
Add all that gorgeous red spice blend to the chicken. Let it marinate for 15 minutes to 24 hours in the fridge.
You can also freeze the marinated chicken for later use.
Marinating the chicken will make it tender, especially because of the vinegar. The chicken will also get flavored till the inside.
Marination Time Guide
Minimum -15 minutes
Average- 1-3 hours in refrigerator
Best- 4- 24 hours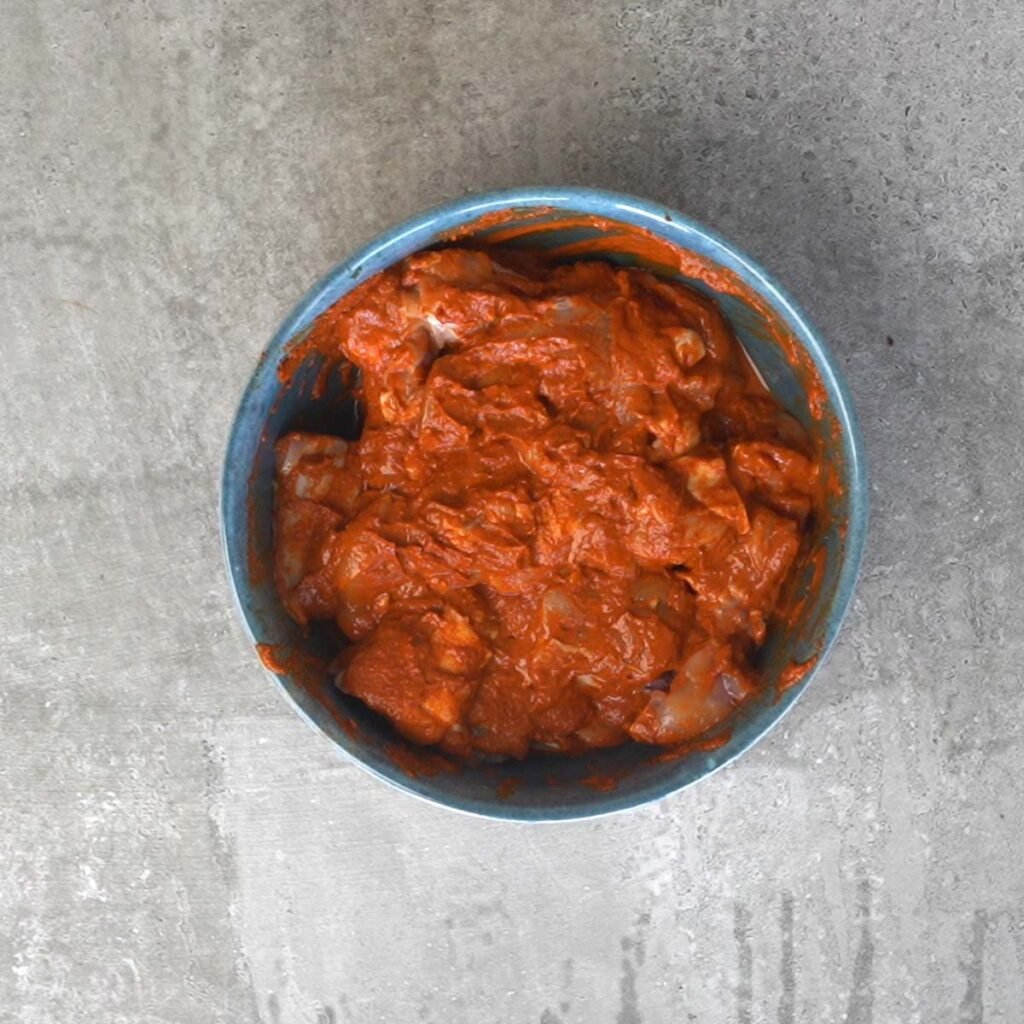 Saute & Simmer
Now the easy part. Heat a pan on medium heat.
Add the oil and onions. Sauté till the onions are translucent pink-whitish. These will add thickness to the gravy.
Now add the chicken with about a cup of water. I usually add the water to the blender I used to get all that leftover marinade.
Give it a good mix.
Simmer, covered, for 30-40 minutes on low heat.
Recipe Notes & Tips
You will know the curry is cooked when
Oil floats on top
Chicken legs start to tear
To make the curry less spicy, you can
Cut the chili and remove the seeds before using
Reduce the amount of chili used. This will change the color a bit but the taste will still be on point
Last resort for all curries- dilute it with coconut milk
Best Pot to make Vindaloo
Enameled Cast Iron Heavy bottomed pan which can withstand constant heat for a long time.
Heavy-bottomed steel pot
Reduced Fat Chicken Vindaloo
You can skim the red fat that comes on top after the cooking is done
You can also use skinless chicken to make a healthier version of chicken vindaloo
Boneless Chicken Vindaloo
I have been making vindaloo for so long that I have tried all possible combinations.
You can make this curry with all kinds of cuts of chicken
Chicken Breast - I have simmered a whole chicken breast in the sauce once. I have to say it's a great way to get high-quality protein in!
Chicken Thighs - I like chicken thighs in curries and stews. Especially when it's simmered, chicken breast can get chewy and rather stringy quite fast. Chicken thighs are generally more forgiving and tend to absorb the flavor and juices of the curry better.
Whole Chicken Baked with Vindaloo Paste - I baked an entire chicken marinated in the vindaloo paste one Christmas. It was very similar to the Whole Chicken Roast Indian Style recipe, except I used the vindaloo paste we make in this recipe.
Needless to say, it was epic!
Tomatoes & Tomato Paste - Looking at the curry, you would assume it has a ton of tomatoes or, at the very least, tomato paste, but that's not true. The original recipe was made with most pantry ingredients; red is from the red chilies instead of tomatoes.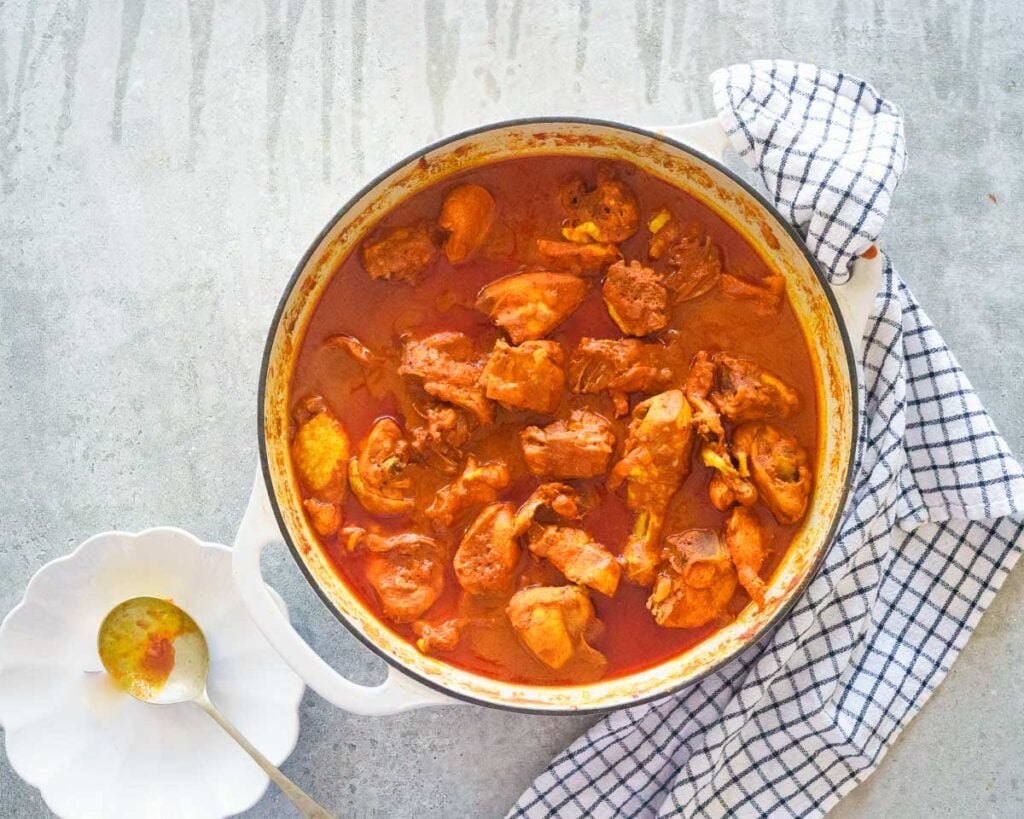 Serving
Vindaloo is best served a day after cooking. That's when the spices matured and seeped into the chicken.
Vindaloo is usually a part of Goan Christmas dinner. Traditionally, it is served with soft fermented rice cakes called sannas. They are sort of like idlies. That's why idlies are a great choice to serve vindaloo with.
Another great choice is dinner rolls or pavs. I love mopping up the vindaloo curry with a soft, warm pav.
You also have the choice choice of plain short grain rice , jeera rice or basmati rice and naans.
As the curry is spicy by itself, it's usually paired with neutral accompaniments.
Pairing
These are my favorite dishes to serve with Chicken Vindaloo:
Storing & Freezing
The curry will last on the counter for 5-10 hours, depending on how hot it is. In hotter, humid climates, it's best to refrigerate the curry within 3-4 hours of making.
The chicken vindaloo curry will last 6-7 days in the refrigerator. Make sure you store it in an air-tight container so that it doesn't transfer its smell and spices to the rest of the fridge.
I also suggest you do not use plastic or Tupperware. It will most probably stain the boxes.
If you love making vindaloo, you can make the paste and store it in the fridge for up to 20-25 days.
Also! This curry, like all other curries, freezes well. It should last for 2-3 months if packed nicely. Use a freezer-safe container or freezer bags.
When you freeze curries, they do tend to separate. Especially vindaloo. You will see the fat separate from the rest of the curry. You can skim it off if you prefer.
To thaw the curry, microwave it.
Variations
Vindaloo sauce is very popular across the world. It is made with a lot of different animal proteins and vegetables. Here are a few variations.
Pork-You can use a fatty cut of pork to make this. Pork belly is a great option. Simmer the curry for 90-100 minutes on a slow flame to get a rich pork vindaloo.
Vegetable or Vegetarian Vindaloo - Use potatoes, mushrooms, and paneer instead of chicken. Cook the spice blend with a little water. Once the gravy is cooked, add the vegetables, paneer or tofu.
Vindaloo sauce doesn't use any dairy so it can be converted into a vegan dish using jackfruit or tofu instead.
Lamb or Duck Vindaloo- You can also use lamb and cook it in the same way as pork.
Fish & Shrimp - Fish is a delicate protein. To use this, you should complete the step of adding the spice blend to cooked onions. Add a bit of water and let the gravy cook for 15 minutes. After the gravy is cooked, add the fish. Simmer for 10 minutes till the fish is cooked through.
Chicken vindaloo with potatoes - Add 2 large peeled and halved potatoes while making the curry. The potatoes will soak up all the extra fat and make the curry thicker.
More Indian Chicken Curry Recipes
Love curries? Here are some of the most popular chicken curries in India
Butter Chicken - mild curry with tomatoes, cream, and morsels of chicken
Kerala Coconut Chicken - Chicken curry with spices, onions, and coconut milk
Mangalorean Chicken Ghee Roast - Another curry from the east coast of India; best with dosa or appams
Instant Pot Mughlai Chicken Korma Recipe - Another north Indian curry from the land of kings, Lucknow.
Chicken 65- Indian Fried Chicken - Spicy chicken appetizer with curry leaves.
If you make Chicken Vindaloo with this recipe, please leave a review and a star rating. I appreciate every rating and review comment!
Find us on Instagram , Pinterest & Facebook here!
If you liked my recipe, do leave a comment!
It will help others find this amazing recipe too!
---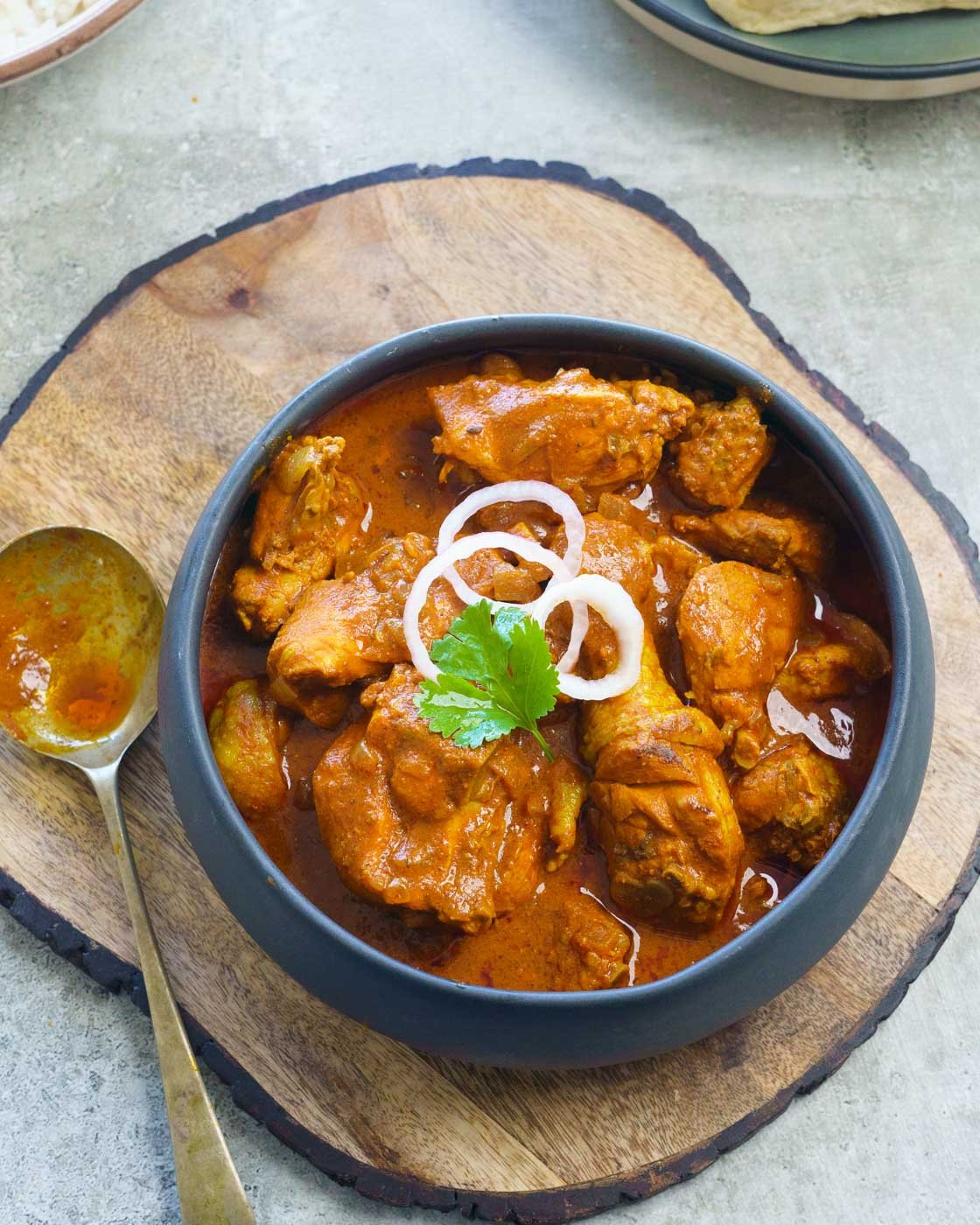 Ingredients
2

Pounds

Chicken

with skin or chicken drumsticks

1

Cup

Onion

Yellow or white, Chopped (about 150gms)

1

tablespoon

Oil

Salt as per taste

adjust as per taste
Vindaloo Curry Paste
10

Garlic Cloves

or more if you love garlic.

1

inch

Fresh Ginger

10

Kashmiri Chillies

or Bydagi Chillies or Paprika.Check notes for more.

½

tablespoon

Black Pepper

¼

tablespoon

Mustard Seeds

1

teaspoon

Cumin

6

Cloves

5

inch

Cinnamon Stick

½

Cup

Vinegar

white or red wine vinegar or Coconut vinegar

½

teaspoon

Turmeric

1

tablespoon

Sugar

or Brown sugar

1

teaspoon

Salt
Instructions
Making the Vindaloo Masala Paste
Add everything listed under vindaloo paste to a grinder or a blender- Chilies, garlic, ginger, sugar, salt, pepper, Turmeric, Vinegar, cloves and cinnamon .

Blend it till its smooth. Add more water if needed to help make the paste.

Your Vindaloo curry paste is ready

Marinate the chicken in the curry paste for at least 15 minutes. It's best if you can do this for 12-24 hours.
Stove Top Cooking
Heat the 1 tablespoon oil in a pan on medium-high heat.

Once heated, add the onions

Cook till they are golden translucent whitish pink.

Add all the marinated chicken.

Add 1 cup of water to the bowl the chicken was marinated in.Get all the leftover marinade.

Add the 1 cup of water into the chicken. Give it a mix.

Cover and cook on low heat for 40-45 minutes. Open & give the curry a mix a few times in the middle.

The curry is done when the chicken leg starts to tear up and the red oil floats on top.

Taste and adjust salt and vinegar is needed.

Garnish with fresh coriander
Instant Pot Cooking
In the instant pot, select SAUTE mode.Once hot, Add oil.

To this add the onions and cook till it turns golden- about 3-5 minutes.

Add the Chicken and all the marinade plus ¾ cup of water.Cancel SAUTE.

Select Pressure Cook/Manual setting at HIGH pressure and pressure cook for 12minutes.Let the pressure release naturally.

If the gravy is too watery for your taste, reduce it using the saute function.

Garnish with fresh coriander
Notes
Chicken - Ideally, On the bone chicken, cut into small pieces is the best for this. You can also use chicken legs. Skinless chicken thighs, cut into small pieces will make for a great boneless version.
Substitutions
Kashmiri Chilies- Ground Kashmiri chili powder, paprika, ancho chilies, Bydagi chilies
Sugar- White, brown sugar or jaggery, palm jaggery, coconut jaggery
Vinegar- Goan Vinegar, white vinegar, red wine vinegar, palm vinegar, coconut vinegar
Serving
Vindaloo is traditionally served with sannas which are fermented rice cakes like idlies.
You can serve it with dinner rolls, breads and pav.Rice, rotis and naans are also great serving options.
I usually serve yogurt on the side. Especially while feeding people with low spice tolerance.
Chilies
Here is a handy little snippet on the heat of Vindaloo. Remember, lesser chili powder will mean less heat but it will also mean that the curry won't be bright red.
Mild heat: 3-4 Kashmiri whole chili
Moderate heat: 6-8 tablespoon of Kashmiri Chilies
Very spicy heat: 10-12 Kashmiri Chilies. If you want even more than that, you can add sliced green chilies while sauteing.
Tip: You can use ground Kashmiri chili powder if you do not have whole Red Kashmiri chilies.
1 tablespoon of Kashmiri Chili powder is roughly 5-6 Kashmiri red chilies.
To decrease the spice level of the dish
Cut the chili and remove the seeds before using
Reduce the amount of chili used. This will change the color slightly, but the taste will still be on point.
Last resort for all curries- dilute the curry with coconut milk
To increase the spice Level
Add upto 15-18 chilies.
You can also supplement with green chilies or ground chili powder but it will make the curry very very spicy.
Nutrition
Serving:
1
cup
|
Calories:
293
kcal
|
Carbohydrates:
6
g
|
Protein:
19
g
|
Fat:
21
g
|
Saturated Fat:
5
g
|
Polyunsaturated Fat:
4
g
|
Monounsaturated Fat:
9
g
|
Trans Fat:
0.1
g
|
Cholesterol:
111
mg
|
Sodium:
236
mg
|
Potassium:
300
mg
|
Fiber:
1
g
|
Sugar:
2
g
|
Vitamin A:
97
IU
|
Vitamin C:
3
mg
|
Calcium:
34
mg
|
Iron:
1
mg
If you liked the recipe, please leave us a rating
Follow me on Instagram
My handle is @yellowthyme
Chicken Vindaloo vs. Chicken Tikka Masala
Chicken vindaloo is a dish from Goan and Portuguese cuisines coming together. It relies on chilies, vinegar, sugar and spices for flavor. Vindaloo is also usually made with red meat like pork and lamb.
On the other hand, chicken tikka masala is an Indian dish that was invented in UK. However, it's a quintessential Punjabi dish where tandoori chicken morsels are simmered in a rich gravy made with tomatoes and a touch of dairy cream.
Aside the few basic spices like turmeric and chilies, the two dishes are far apart in their look, taste, and texture.
Chicken Vindaloo vs Chicken Korma
Chicken korma is a milder dish, usually light in color. It's made with cashews and occasionally cream. You can see the recipe for chicken korma here. It comes from the northwest part of India and falls under Mughlai cuisine.
On the other hand, vindaloo originated when Portuguese people came to Goa. It has both Goan and Portuguese influences. It is a spicy curry that relies on chilies as a base and also for color.
Instant pot chicken vindaloo
Yes, you can make the chicken vindaloo in the instant pot too.
Instead of slow cooking it in a pot, you can pressure cook it more controlled and hands-free way.
Though, pressure cooking the chicken releases more water, and you will be left with a more watery gravy.
Also, the masala doesn't get roasted and caramelized. So, all in all, the taste and texture will be a little different, but it will still have the taste of vindaloo.
All you need to do is follow the process till marination in the recipe card.
Using the saute mode, sauté the onions till pink or translucent.
Add the marinated chicken with 1 cup of water. Pressure cook for 12 minutes on high.
Frequently Asked Questions
Is Vindaloo spicy?
Yes. Vindaloo is known for being a spice. A Vindaloo curry can be anywhere between 175,000 to 500,000 on the Scoville scale.
As you are making the spice paste at home, this can be controlled depending on your taste and preference.
If you want a milder curry, try making Butter Chicken Instead.
Is Vindaloo Healthy
This is subjective. Usually, vindaloo is made with fatty cuts of meat. The recipe is dairy-free, gluten-free. It can be made keto by switching the sugar with a keto-approved sugar substitute like stevia.