Pepper Chicken Curry - The BEST, AUTHENTIC, south indian style black pepper curry made with choice spices, chicken with bone in and aromatics. ABSOLUTELY DELICIOUS!
I have made this exact curry about a zillion times at home..Fine..I exaggerate...But I have made it at least 200 times in the last 10 years. It's so delicious that I keep coming back to it!
The chicken is simmered in a curry base made of onions, tomatoes and spices. You don't need any special equipment or skill of this.
Yes you could potentially not have all the spices with you but that's okay. Start with what you have. If you have powdered versions of the spices like cinnamon, then use that.
Though I have to say that if you follow this recipe exactly as it is, then you will be rewarded with a rich, comforting chicken curry that you will be making for the years to come.
It's typically dark brown in color with thick gravy which comes from roasting the spices along with the onions till they release their delicious magic!
Why we love this Pepper Chicken Curry
Ah so many reasons
It goes with Rice, Dosas, Khichdi and parathas. It's so easy to serve this with ready made parathas that you just have to heat and serve.
It's rich and the gravy is thick.
It keep well in the refrigerator and the freezer
I can make the spice mix in bulk and make this exact curry again and again.
Yes. I usually make the spice blend in bulk.And i won't lie..Some times I don't measure the spices and go with what I have.
At times when I was in a hurry, I used already ground spices - pepper, red chili powder, cinnamon, coriander and honest to god, skipped the rest. Though full disclosure, nothing can come close to the curry when cooked as per the recipe.
If you love south indian curries, do give a try to Egg Roast Masala & Nadan Kozhi Curry- Kerala Chicken Curry too!
Ingredients
Here is what you need to make this chicken curry.
Chicken
Onions
Tomatoes
Ginger & Garlic
Curry Leaves
Oil
Spices
Chicken
You can use chicken that's been cut into small pieces along with the skin and bones. In India, it's called "curry cut" chicken with skin. If you don't like the extra fat from the chicken skin, you can use boneless chicken too.
Outside India, you can use chicken drumsticks. Bone in thighs will work too.
Onions & Tomatoes
In india , regular red colored onions will work well. Outside India, you can use White or yellow onions.
I have used fresh tomatoes here but if you can't get fresh ripe tomatoes, you can use canned versions in the same quantity.
Curry Leaves
This herb is quintessential south indian herb. You can use fresh or dried with almost not a big change in flavor.
In a lot of dishes, the presence of curry leaves distinguishes the food from north and south india.
You get it easily in indian groceries. Keep it in an airy bag or a vegetable bag in the refrigerator. It dries up in the refrigerator very easily. You can keep it in that form for months.
You also get dried packaged form of curry leaves which have a long shelf life.
If you can't get it, you can easily omit it. It's more a cherry on the top than the main part of the dish.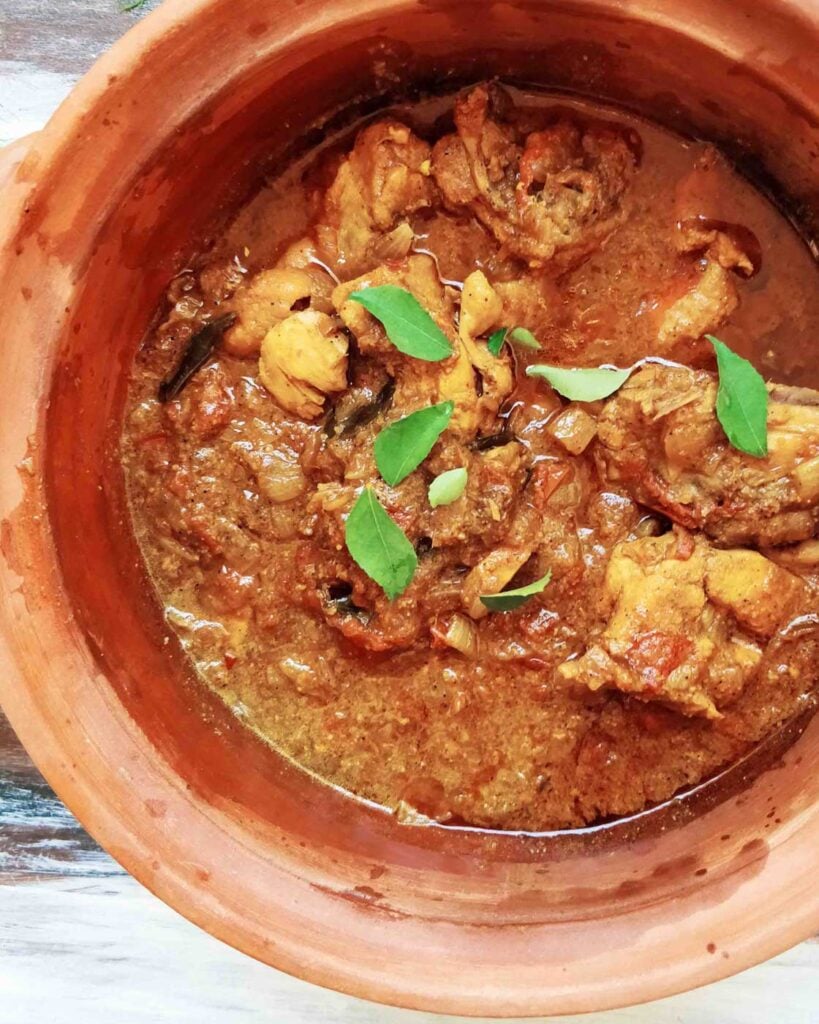 Whole Spices
These are the whole spices you need to make the pepper Chicken spice mix.
Coriander Seeds
Peppercorns
Cumin Seeds
Red Chilies
Cinnamon
Fennel seeds
3 Cloves
1 tsp white poppy seeds; Khas Khas
Except for White poppy seeds & fennel seeds, most indian pantries have the rest of the spices.
The coriander and poppy seeds will give the gravy thickness and heft.Make sure you do not skip on it.
Fennel seeds are spice used in a lot of tamil preparations. It is the secret spice that makes this dish just irresistible!
Spices used in making Pepper Chicken Curry
There are a lot of ready made spice mixes available in the market and I have tried my share of it but I have realized , I prefer keeping the basic whole spices in my pantry and playing around with them instead of using readymade mixes for two reasons
You can't replicate it
For the life of me I cant keep track of them in my kitchen!
How to make Pepper Chicken Gravy
Step 1: Making the Spice Blend
Add everything listed under the spice section.
Blend it into a coarse powder.You can use your coffee beans grinder for this too.
You could dry roast the spices for 5-10 minutes on very low flame. This will make the spices sing more. But it's completely optional .I only do this when I am serving guests.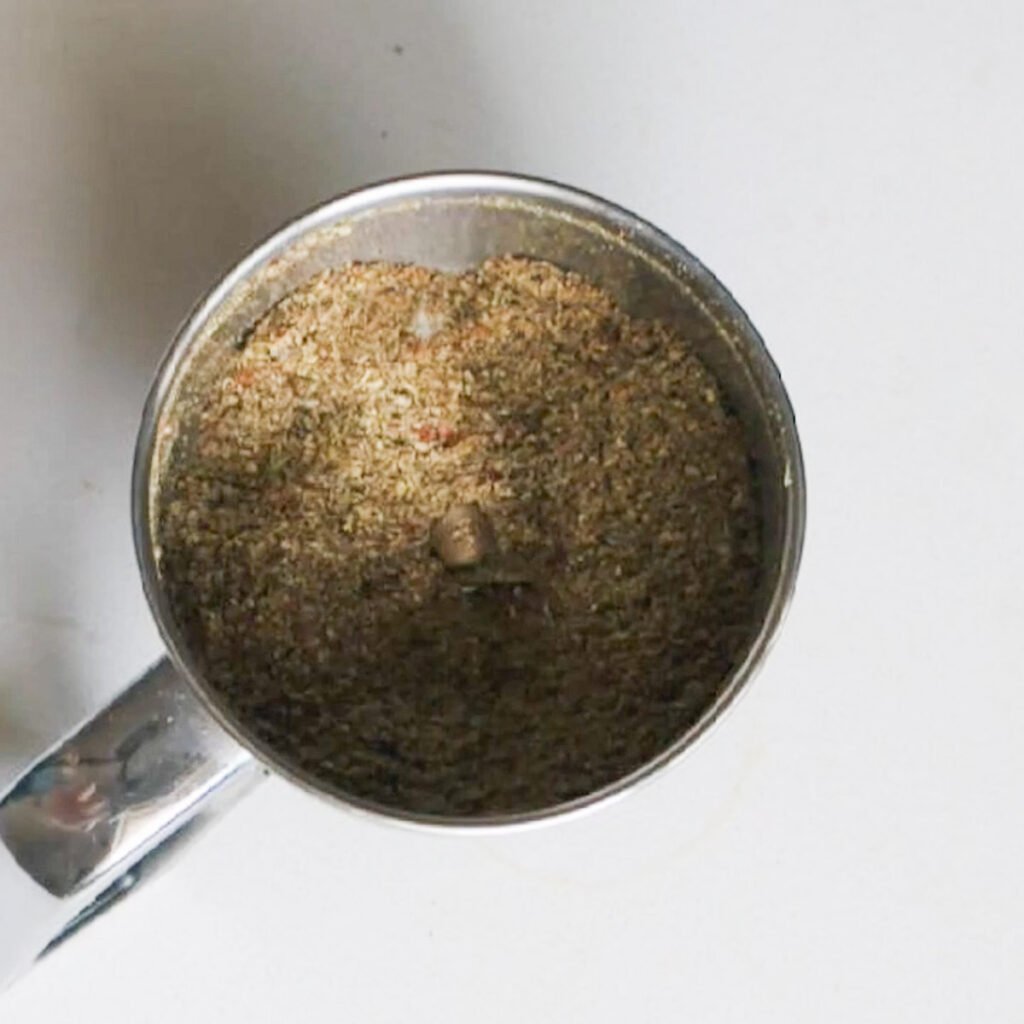 Step 2: Marinade the Chicken
Mix the chicken with salt, turmeric and ginger Garlic paste while you prep rest of the ingredients and make the curry base.
You could also do this in advance and marinate the chicken for a few hours in the refrigerator.
Step 2: Making the Curry Base
This is the most essential part of making the curry- Making the base sauce.
Start with some oil in the pan. Add curry leaves, onions, green chili(if using).
Sauté it till the edges of onions are brown.
To this add the spice blend and saute the mixture for about 30 seconds. This will not only give a better color to the curry but also give it a great aroma.
Now add the tomatoes with the juice and all. If the pot is getting too dry and starting to burn, add a splash of water.
Let this cook for 10-15 minutes till its all mushy and bubbly.
HOT TIP- Pierce the chili instead of cutting it so that you get all the flavor and none of the heat from it!
Step 3: Simmering with Chicken
Now add the chicken and give it a mix.
Add about ¼ cup water and cover the pot.
Let this simmer for about 30 minutes so that the spices can do their magic.
The chicken is cooked if the meat near the leg starts to tear up.
Step 4: Garnish
Garnish the curry with chopped coriander leaves and serve.
HOT Tip- For extra special occasions, I fry up a few curry leaves, thinly sliced shallots, green chili and some cashews to add over the curry.
Serving
Usually South Indian Chicken curries work best with dosas or the white lachhe parathas also called parotta in South india.
We are obsessed with this chicken curry.I always make a giant batch of this and eat it over 2-3 days with all sorts of things.
First day I usually serve this over steaming hot rice with some vegetable side like ladies finger fry. The second day, I serve it with dosas. And the last day, if I have any left, i serve it as a side along with rice and dal.
Chicken Curry in Pressure Cooker
The Pepper Chicken can be cooked in pressure cooker too though the gravy tends to be thinner and less intense.
Follow the same steps till the step number 10 in the cooking method and pressure cook on high for 3 whistles.
If the gravy is thin-Let the chicken cook without the lid on high.
Storing & Freezing
During the pandemic when I was cooking all the time, I used to make this in bulk and freeze it. All you have to do is freeze it in an air tight freezer friendly container or in a zip lock bag.
The curry should be good for 2-3 months easily!
To heat it, microwave it with a little water till it's hot.
The curry can also stay good in the refrigerator for up to 5-6 days.
Tips & Tricks
I make curries all the time. Some weeks, I make it twice a day.Being Indian and all...
So I have gathered some tips and tricks along the way to make my curries flavorsome and almost better than what you get in resturants.
Always spend most time in making the base- the onion, tomato sauce that we start making the curry with. The more you brown the onions, stew the tomatoes, the better the curry will be.
Use a heavy bottomed Pot- I almost always use a heavy bottomed, high walled steel pot. This makes sure my curry doesn't burn too easily.
Deglaze - The flavor is in the bits that get stuck to the bottom of the pan. The caramelized, dark brown bits. This is true for any recipe. Just add a splash of water and using a wooden or silicon spatula, rub the brown bits out of the pan, into your curry.
Sour- Always have this element when making the curry. Often times this is not given as much importance. Taste the curry and balance with acid- it can be lime juice, tamarind pulp, vinegar. In this case , it's the tomatoes.
Eat it the next Day - Every curry is better the next day. When the flavors have had the chance to marinade. That's why curries are the BEST MAKE AHEAD recipes ever!
Favorite chicken curries
We make Indian chicken curries all the time.Here are our top favourites!
Nadan Kozhi Curry- Kerala Chicken Curry - with coconut milk and shallots
Indian Chicken Keema Curry - Minced Chicken curry
Mughlai Chicken Korma Recipe - Rich Curry with cashews
Mangalorean Chicken Ghee Roast - Famous spicy chicken roast from Mangalore.
Butter Chicken - Stove Top & Instant Pot - Super Easy & better than ANY resturant!
If you make this delicious chicken curry, do leave me a comment and a rating.I would love to hear from you!
Find us on Instagram , Pinterest & Facebook here!
If you liked my recipe, do leave a comment!
It will help others find this amazing recipe too!
---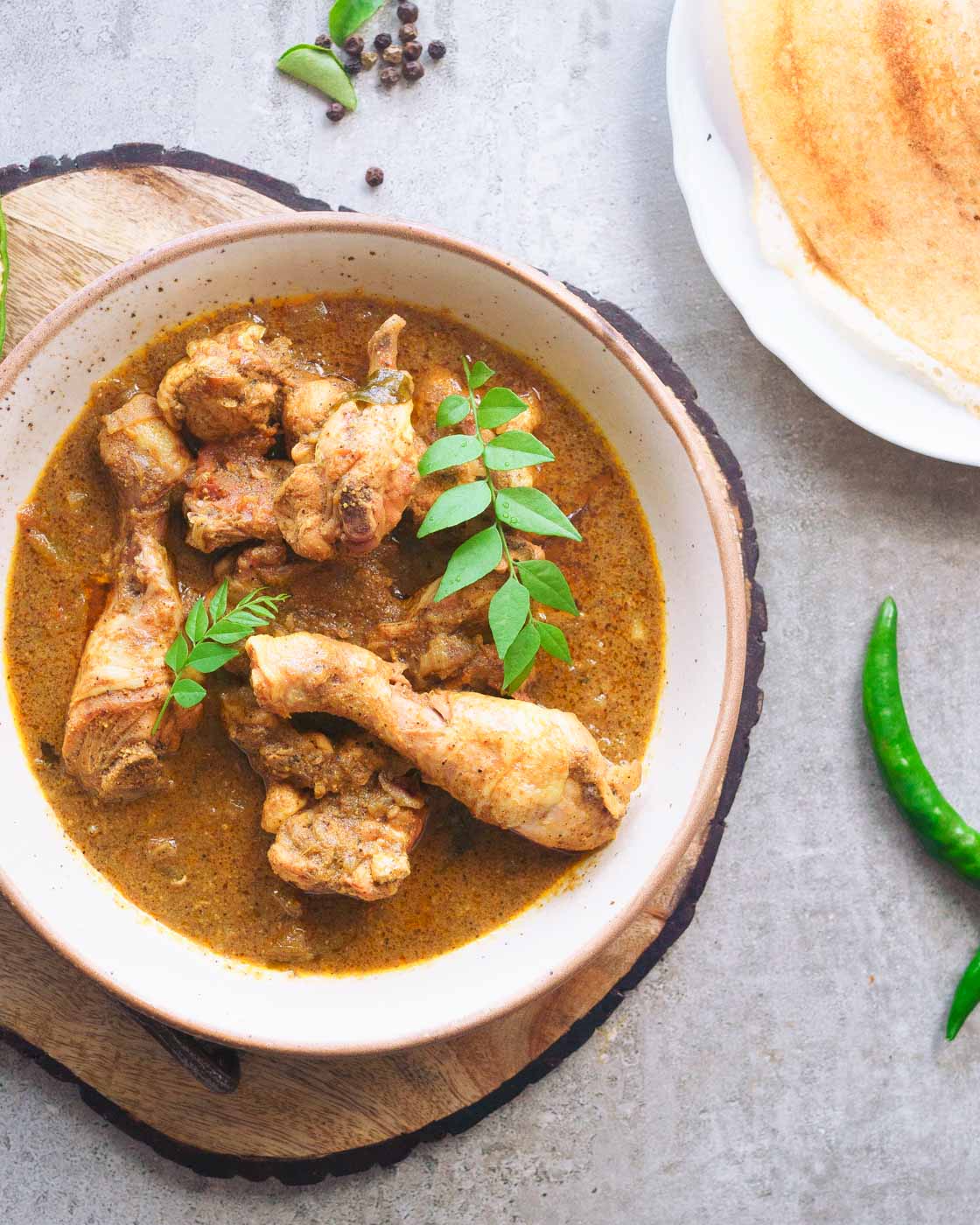 Ingredients
2

Pounds

Chicken

About 1 kg of Chicken, Bone in, small pieces. Check notes

1

tablespoon

Ginger

Grated, Pounded or in a Paste

1

tablespoon

Garlic

Grated, Pounded or in a Paste

1.5

teaspoon

Turmeric

2

tablespoon

Oil

Coconut or Gingelly Oil

10-15

Curry Leaves

1

Green Chilli

Optional

2

Cups

Onions

2-3 Medium sized-Chopped ; 200 gms

2

Cups

Tomatoes

2-3 medium sized -Chopped ; 300 gms

Salt to Taste

about 1.5 tsp
Dry Masala
2

tablespoon

Coriander Seeds

or Powder

3

teaspoon

Black Peppercorns

1

teaspoon

Cumin Seeds

1

inch

Cinnamon

1

teaspoon

Fennel Seeds

saunf

½

tablespoon

white poppy seeds

Khas Khas

3

Cloves

2

Red Chillies
Instructions
Marinate the chicken with turmeric,Salt and Ginger Garlic paste for 15 minutes to 12 hours.

In a spice blender, blend all the whole spices - coriander seeds, black peppercorns, Cumin, Cinnamon, Fennel Seeds, Cloves, Poppy seeds & Red chili into a coarse powder and keep aside.

In a heavy-bottomed pot, Heat the oil.

Add the Onions , curry leaves, and green chili to the hot oil. Sauté till they start turning golden brown.

Now add the spice blend. To make the curry less spicy, add only half the spice blend. Sauté for about 30 seconds. Add a splash of water if it starts to burn.

Add the Tomatoes and cook until they start disintegrating. About 10 minutes. You can squash the tomatoes to speed up the process.

Add the Chicken next and mix well. Turn the pieces Skin side down to enable caramelization. Do not move for about 4-5 minutes.

Add about 1 cup water, salt to taste(around 1 tsbp), and let it simmer for 30 minutes or so.

Mix it up. Garnish with coriander and serve hot.
Notes
Notes Spice Mix
The poppy seeds and coriander seeds give the curry it's body and thickness.
You can dry roast the spices before grinding them up for a more aromatic curry.
To Adjust the spice level of the curry
You can do the following 
Leave out the Green Chili
Leave out the red chili
Reduce the Black pepper to ½ the quantity
Or use half the spice powder and save  the rest for next time.
Chicken
Use Bone in Indian Cut or Curry cut chicken- with or without skin.
You can also use Chicken Drumsticks instead.
Serve
Serve this curry over Rice or with Naan or our favorite- with Dosas and kerala parottas.
Nutrition
Calories:
322
kcal
|
Carbohydrates:
9
g
|
Protein:
20
g
|
Fat:
23
g
|
Saturated Fat:
5
g
|
Trans Fat:
1
g
|
Cholesterol:
111
mg
|
Sodium:
112
mg
|
Potassium:
442
mg
|
Fiber:
3
g
|
Sugar:
3
g
|
Vitamin A:
457
IU
|
Vitamin C:
35
mg
|
Calcium:
67
mg
|
Iron:
2
mg
If you liked the recipe, please leave us a rating
Follow me on Instagram
My handle is @yellowthyme
Some Past photos of the same curry
I have so many photos of this from over the years. Here are some of the first pictures I took.