Egg Roast Masala- Boiled Eggs in a Jammy Onion Tomato Sauce or Masala. It goes so so well with parathas, Dosa , Appams and as a side to regular Rice & Dal or lentils. A famous recipe from Kerala & Tamil Nadu.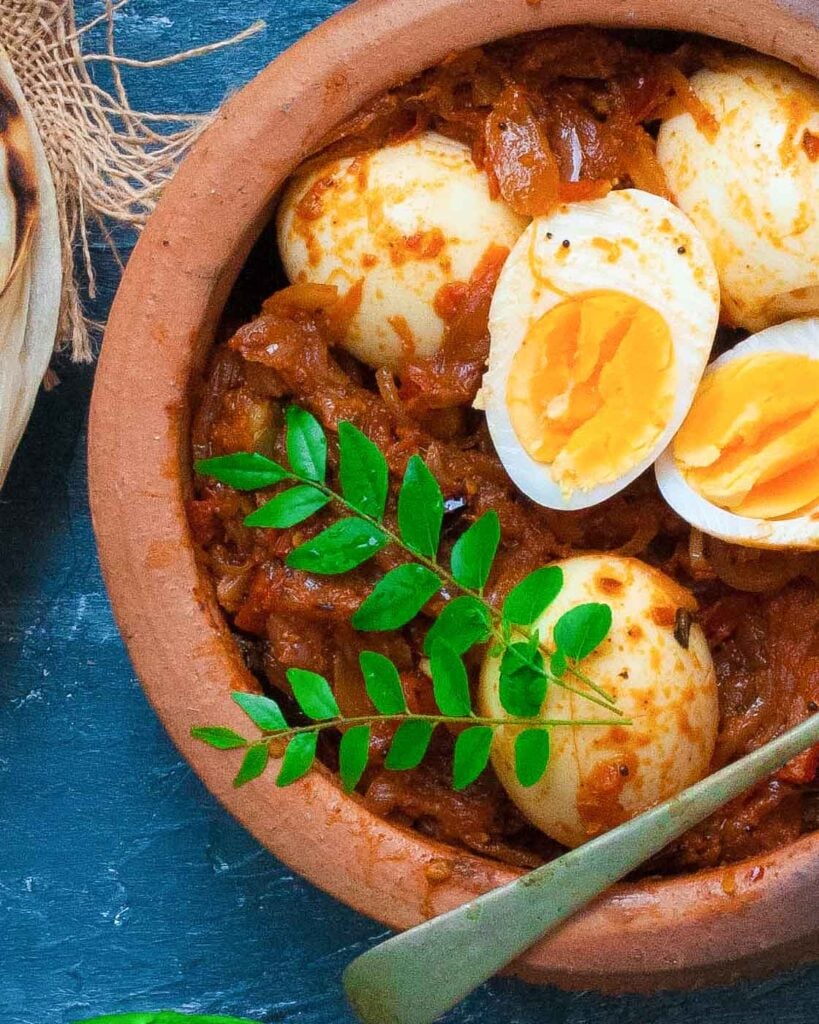 Jump to:
CUISINE: South Indian
TEXTURE: Jammy, spicy masala with boiled eggs
EASE: Medium
APPEARANCE: Red masala with eggs
Serve with : Dosas, roti, parathas,appams or Rice
This Egg Roast Masala is also called Muttai Thokku in Tamil and Nadan Muttai Roast in Kerala. It's best described as boiled Eggs in roasted onion and tomato masala.
If you have ever had the famous Iyengar bakery Egg puff, this is the filling in it.
The base sauce or "masala" as called in india is made with simple ingredients and indian spices, found in most indian pantrys.
All you have to do is slow cook the onion and tomatoes till they are jammy, soft and full of fragrant spices. This becomes the perfect contrast to otherwise bland boiled eggs.
Check the video to understand the texture of the masala
Here is what we will do
Make the Jammy onion & Tomato sauce
Add boiled eggs to the sauce
If you love south indian recipes, do give Chicken 65- Indian Fried Chicken & Nadan Kozhi Curry- Kerala Chicken Curry a try too.
Why we love this Egg Roast Masala
Here is why we have been making this same recipes for over a decade!
Pantry Ingredients
An Easy way to add more protein to Indian diet
Easily scalable
The same sauce can be used with vegetables, shrimp, chicken etc too
It is a great side with Dal-Rice & Rotis-parathas
Ingredients
Here is what you will need
Eggs
Onions
Tomatoes
Ginger
Garlic
Oil
Curry Leaves
Green Chili
Spices
Cumin
Fennel
Pepper Powder
Coriander Powder
Chili Powder
Turmeric
.
Onions & Tomatoes
Indian onions, Red, yellow or white onions will work here. If you have shallots, they will work great too.
Red plump juicy tomatoes will work best here. If you can't get fresh tomatoes, crushed tomatoes will also work.
If you read the recipe, you will see that the Masala calls for a crazy amount of onions and tomatoes.I have used 500 gms of onions with around 600 gms of red plump tomatoes for 8 eggs. This does sound crazy but that's what is needed to make a beautiful spicy, slightly sweet jammy onion tomato masala for a perfect Egg Roast Masala.
Quick Tip - If your tomatoes aren't as ripe as you hoped, you can add a tablespoon of tomato paste along with the chopped tomatoes.
Spices
The one spice that is different from the usual list is fennel.
Fennel(saunf) along with pepper is a very defining chetinad spices.This will add an aniseedy taste very characteristic of South indian flavours.
The recipe also calls for 3 kinds of chillies- Green fresh chillies, Kashmiri Chilli powder and Black pepper Powder. All of these add their unique flavor to the masala and the heat reduces when you pair it with the boiled eggs.
To make this egg masala less spicy - I would suggest you half or even quarter the chilies for a more acceptable heat level.
How to make Egg Roast Masala
Step 1: Prep
Slice the onions as shown below. This will give it the specific texture we are after.
If you are boiling eggs in bulk, try the instant pot boiled egg method otherwise you can simply add eggs to boiling water and boil for 10 minutes to get hard boiled eggs.
Peel and set aside.
Step 2: Make the Base Sauce
Even though this is tagged as step "2", I usually do this along with step 1.
Start with heating oil in a wok/kadai/ pot. Once it's hot, add the onions.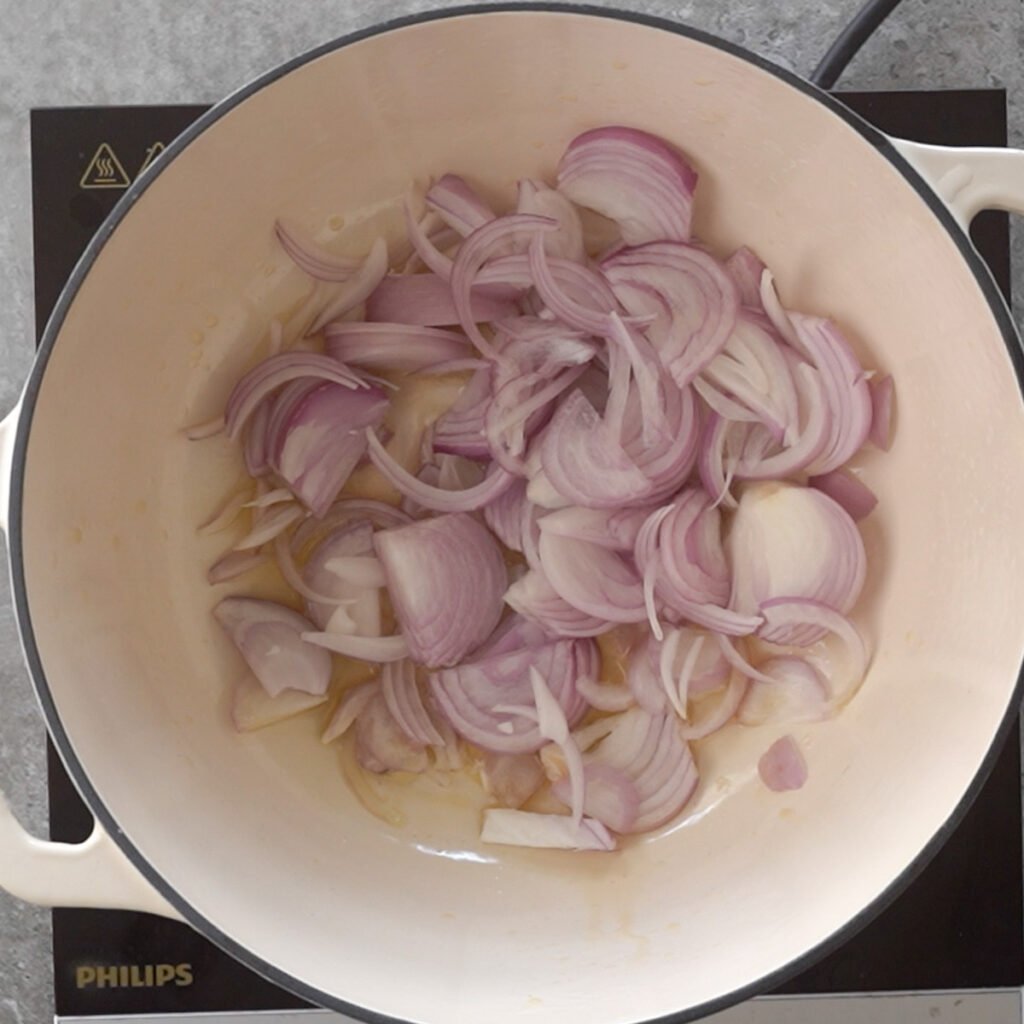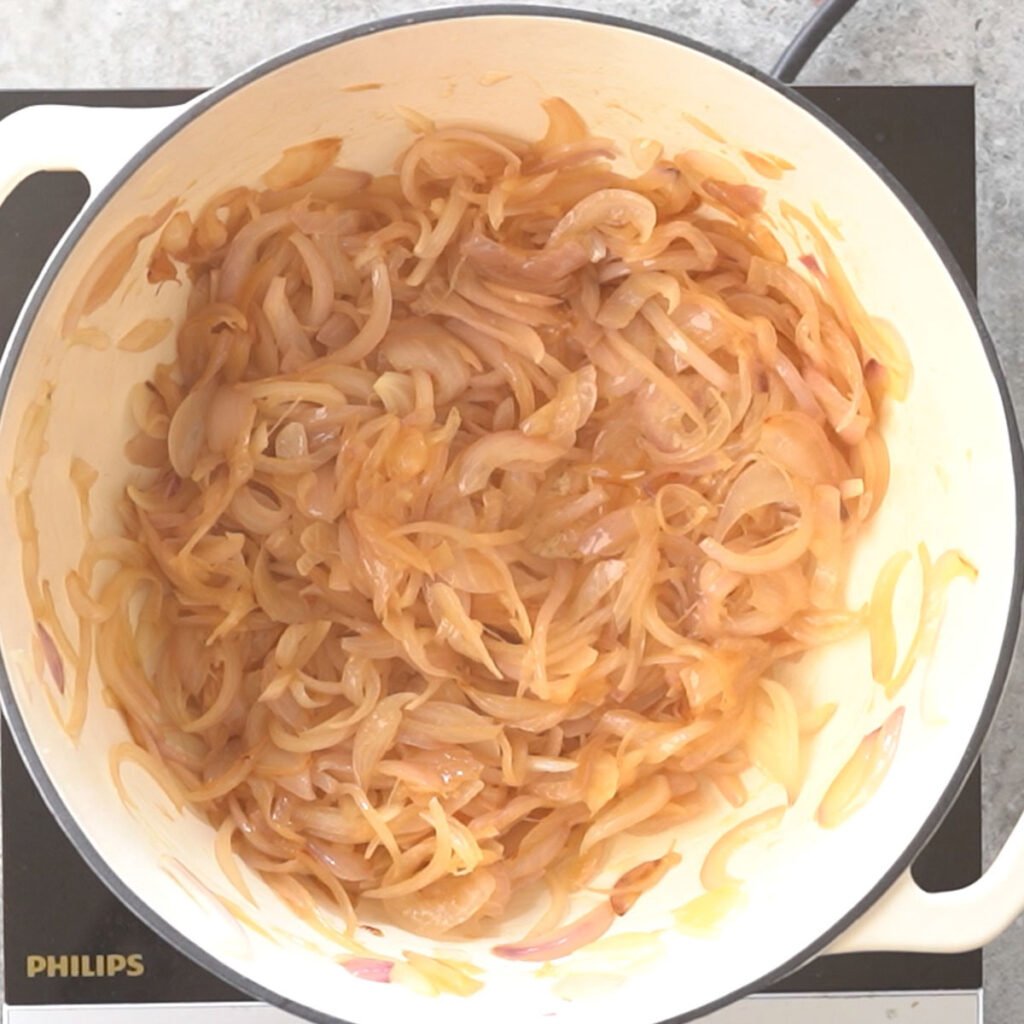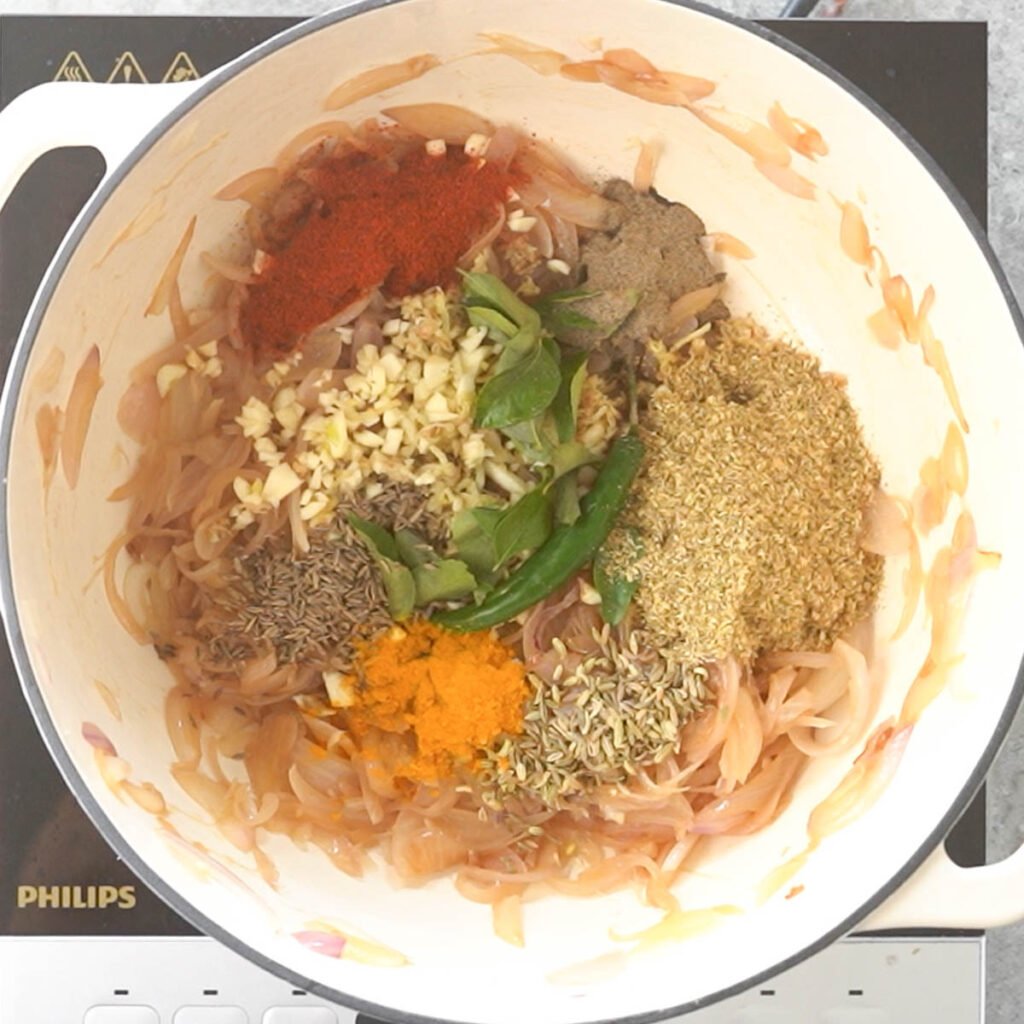 Cook them on slow. You want to make them soft, brown & mushy, not crispy. So Slowly caramelize the onions for 10-15 minutes atleast.
Once the onions are slighly brown, add the spices and Aromatics - cumin, mustard and fennel seeds , turmeric, pepper, coriander powder, chili,Ginger & Garlic..
Saute for a minute.
Now add the tomatoes.
Cook this for about 15-20 minutes till the tomatoes are mushy. You can also use a potato masher to encourage the tomatoes to become mushy faster.
This is the base "Sauce".
You can turn this into mushroom roast, paneer roast, vegetable roast, chicken roast and so many things!
Step 3 :Add the Eggs
You can either halve the eggs or add them as a whole.
Sometimes I slit the egg whites in a few places so that the masala can get into egg.
Garnish with more curry leaves or chopped coriander leaves.
Serving Tamil Nadu Style Egg Roast
An egg roast is perfect side dish with simple Dal and Rice. It instantly lifts the humble meal to a feast !
We also love eating these with crispy parottas, Butter Naans, appams or dosas! It's one of those dishes that fits breakfast , lunch and dinner perfectly!
Storing, Refrigerating & Freezing
The Egg roast masala will last for 5-6 days in the refrigerator.
You can also freeze this dish. I usually make a large batch of the "masala" and freeze it in freezer boxes and ice cubes.
During the pandemic, I always had this sauce tucked away in the frozen for that "rainy Day". To eat, you just microwave the masala and bring it to room temperature.
All you gotto do is add eggs / paneer/ mushrooms to the base.And you are good to go!
Variations of Kerala Egg Roast Masala
First variation, is to obviously try using different types of eggs- duck eggs, Quail eggs etc.The onion- tomato masala is so versatile that it would work very well with Paneer and Tofu too.
Usually,if there is a little bit of the Masala left from the Egg Roast Masala I quickly saute some Shrimp/prawns in it too.
More South Indian Style Curries
Kerala Shrimp Coconut Curry
Kerala Vegetable Stew Recipe| for appam
Nadan Kozhi Curry- Kerala Chicken Curry
South Indian Style Pepper Chicken Curry (Gravy)

If you make this delicious Egg Masala, do leave me a Rating & comment.I would love to hear from you!
---
Find us on Instagram , Pinterest & Facebook here!
If you liked my recipe, do leave a comment!
It will help others find this amazing recipe too!
---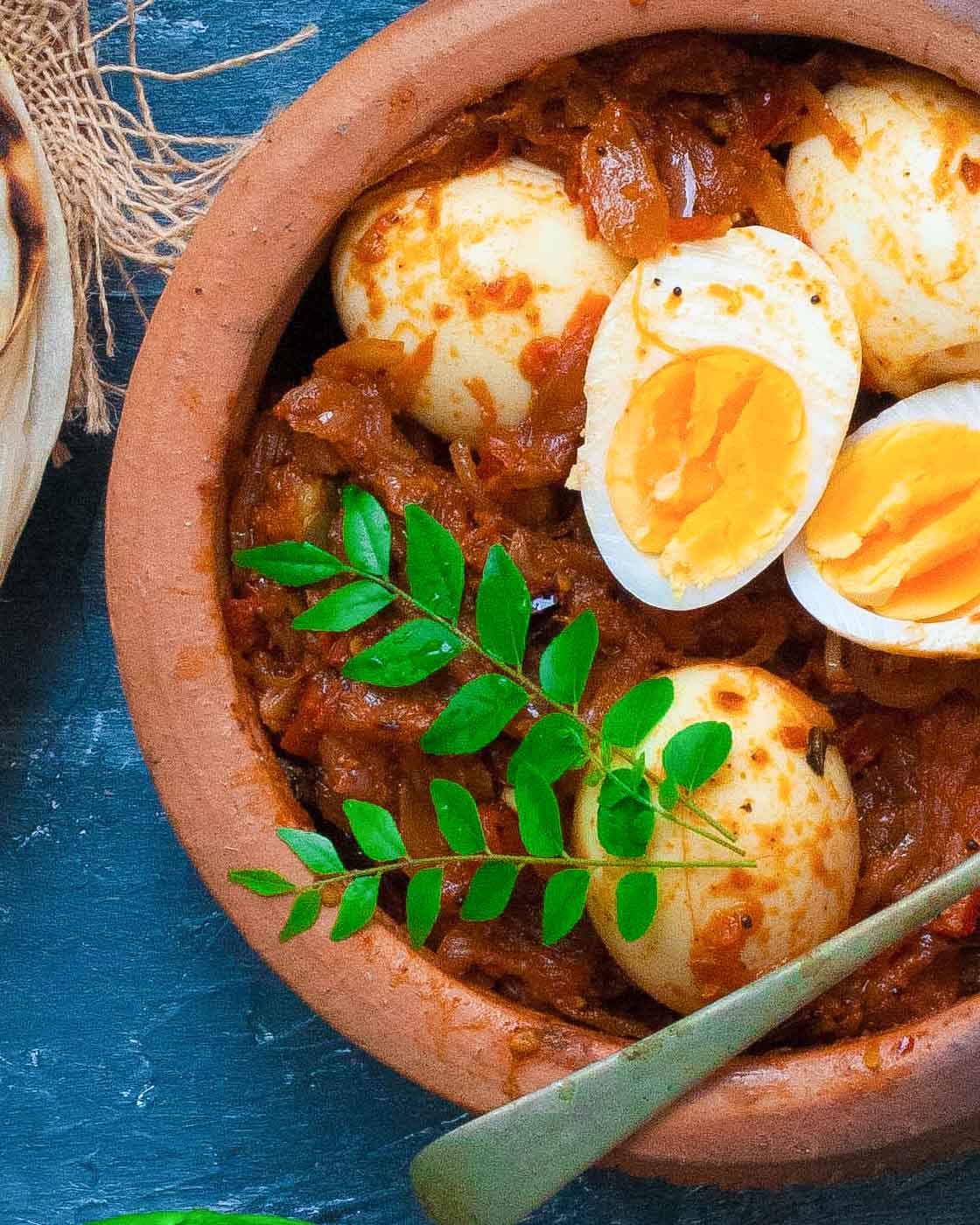 Ingredients
8

Boiled Eggs

500

gms

Onions

Sliced

600

gms

Tomatoes

Chopped

2

tablespoon

Oil

- Gingely or Coconut or Vegetable

6-7

Garlic Cloves

-Minced

1

inch

Ginger

-Grated

10-15

Curry Leaves

Fresh or dry

1

Green Chilies

-Slit; optional
Spices
1

teaspoon

Fennel Seeds

Saunf

1

teaspoon

Cumin Seeds

Jeera

1

teaspoon

Black mustard

Rai; optional

1

teaspoon

Turmeric

2

tablespoon

Coriander powder

1

teaspoon

Chilli Powder

Kashmiri Chili

1

teaspoon

Black Pepper

Ground

1

tablespoon

Salt

Approx. as per taste

Coriander Leaves for Garnish
Instructions
Heat the oil in a big pot.

Add the sliced onions.Cook on med-low heat, stirring often, till they are soft, light brown, and slightly mushy.

Once the onions are ready, add the Curry Leaves, cumin, fennel ,mustard, Ginger, Garlic & Green Chili. Also add the dry ground spices- pepper, chili powder, Coriander Powder,Salt & Turmeric

Give it a mix and Saute for about 20-30 seconds.

Add the chopped tomatoes and cook at medium flame for 15-20 minutes, till the tomato is mushy and mixes with the rest of the masala.

Keep sautéing the masala till you get a jammy consistency of the onions and tomato.Add 2-3 tablespoon of water if the onions and tomatoes are burning.

Use a heavy Ladle or potato masher to lightly mash the onion-tomato base sauce.

Take off the heat.Add boiled eggs- whole or halved.

Garnish with coriander and serve with parathas or rice.
Notes
Serving
Egg Roast Masala is a semi gravy indian side dish.You can serve it on its own with parathas, rotis,dosas or Appam.
It also works very well as a side dish with Dal & Rice.
Nutrition
Serving:
1
Cup
|
Calories:
161
kcal
|
Carbohydrates:
12
g
|
Protein:
8
g
|
Fat:
10
g
|
Saturated Fat:
2
g
|
Polyunsaturated Fat:
2
g
|
Monounsaturated Fat:
5
g
|
Trans Fat:
0.01
g
|
Cholesterol:
187
mg
|
Sodium:
946
mg
|
Potassium:
383
mg
|
Fiber:
3
g
|
Sugar:
5
g
|
Vitamin A:
1013
IU
|
Vitamin C:
41
mg
|
Calcium:
74
mg
|
Iron:
2
mg
If you liked the recipe, please leave us a rating
Follow me on Instagram
My handle is @yellowthyme
SaveSave
SaveSave
SaveSave
SaveSave
SaveSave
SaveSave