Air Fryer Edamame - Fresh or Frozen Edamame Air fried with Soy sauce or coconut Amions ,Maple Syrup and Chilli.Easy Vegan Snack!
This is surprisingly addictive! Inspite of being a bit messy to eat, you cannot just stop eating it!
It's one of the most satisfying yet ready in 10 minute kind of recipe.One of those 2 am in the night, to satify the craving that you get for salty umami chips.
This is your midnight snack that's healthy.Trust me, the being helthy part is incidental.It's just so so delicious!I could write songs about it.
When I first air fried Edamame- i didnt think this recipe will make sense.You would think airfrying shelled edamame would make more sense right?
Well...if you have a bag of shelled edamame then yes..it makes sense.Dont go around shelling the edamame.Try this recipe first, it hits just the right spots!
So depending on what you have, make this recipe or the air fried shelled edamame.If you feel like something crunchy like peanuts, try air frying edamame beans.If you have any doubts about Edamame, you should check my guide on how to eat edamame.
Also! Try airfrying Peanuts if you haven't already!
Another great vegetarian appetizer that can be prepped ahead of time is air fryer stuffed mushrooms and also Air Fryer Sweet Potato Wedges. So so Good!
Why we love this Edamame Appetizer
Since the first time, I have made it several times in the air fryer. I serve it to guests, eat it while working, have it as a snack. It's just so good!
Full of Vegan protein
A great Vegan Snack
Ready in less than 10 minutes
Satisfies any Salty spicy craving you have!
The shell takes on so much flavor and when you pop it in your mouth, it just bursts with flavor!
It tastes great even when it's cold.
I am sure you will be Airfrying Edamame a whole lot from now on! It's really simple to put toghether.
Ingredients for Sweet & Salty, Chilli Edamame
Here is what you need to make this crispy umami edamame
Edamame
Soy sauce
Maple Syrup or Sugar or Honey
Chili
Edamame
You need boiled/blanched Edamame, still in the shell. You can use frozen or fresh edamame that's been pre cooked.
If you have any more doubts about what's edamame and how to eat it, to take a look at my complete guide on how to cook Edamame.
Edamame is a great source of vegan protein. A 100 gms of Shelled Edamame has 11 gms of protein!

Soy Sauce- You can use light or dark. I personally like dark soy sauce here. You can also use coconut aminos instead.
Honey- I always have Raw local honey on hand. To make this dish vegan and completely plant based, substitute honey with maple syrup or golden syrup.You can also use coconut sugar or brown sugar instead.
Chili- I have used regular ground chili. Feel free to use chili flakes, ground chipotle chili or paprika here. If you want to reduce the chili
Another great substitute is chili oil!

Because we are using dark soy sauce, you don't need salt. But if you are using light soy or coconut aminos, add a pinch of salt.
The flavor is carried in the pods. When you pop the edamame bean out, you will get some of the sticky sauce on your hands.
The other way to eat these is to suck the pods in your mouth.I know that sounds messy on sooo many levels but try one!
This recipe is one of those craving satisfiers.
The mix of flavours - the saltiness from the Soy, the sweet stickiness from the honey and the hit of chilli.It's just the right mix!
How to Air Fry Edamame
Here is step by step description of how to air fry the edamame pods.
Step 1: Preheat the air fryer for 1 minute at 180C or 365F.
Step2: Mix all the ingredients together and let it sit till the air fryer is hot.
Step 3: Using tongs or spoon , Add the edamame to the airfyer basket.Reserve the left over marinade.Air fry for 12 minutes if using frozen edamame.If using thawed edamame, air fry for 10 minutes.
Step 4: Open the airfryer.Pour rest of the marinade over the edamame and Air fry for another minute.
Remove from the air fryer and enjoy hot or at room temperature.
How long to Air Fry Edamame
This depends on what kinds of edamame you are using
If using whole, blanched frozen edamame- Air Fry for 12-13 minutes on 180C or 365 F
If using Fresh, blanched edamame- Air Fry for 10-11 minutes on 180C or 365 F.Check how to blacnh the edamame in my guide to Edamame.
If you want to airfry shelled Edamame, try my Air fried crunchy edamame recipe.
Air fryer Frozen Edamame
Can we use frozen edamame in the air fryer.Yes!
I use frozen(pre blanched or boiled)Edamame straight in the airfryer.
The other way to do this is to thaw the edamame in a bowl of water for 3-4 minutes.But if you are airfrying edamame, i dont think its needed.
In the video, you can see my edamame is frozen.
You do have to air fry the frozen edamame for longer- for about 13 minutes at 180C or 365F.Thawed Edamame should be ready within 10 minutes.
Fresh Edamame in Air fryer
To use Fresh Edamame in this recipe, Blanch the fresh whole edamame in boiling water for 8-10 minutes.
You can watch the video of blanching whole edamame here.
Serving Honey Chilli Edamame
If you are eating by yourself, i dont think you need any accompaniment.
If you want to serve this to guests, i would suggest you serve this along with some chips- nachos or Pita Chips and maybe a dip like my 5 minute yogurt dip.
Want more Air Fryer Recipes?
Are you looking for more appetisers? Try these Easy recipes below!
Air Fryer Curry Cauliflower
Air Frying Peanuts
Air Fryer Pita Chips
Air Fryer Buffalo Shrimp
Air Fryer Stuffed Peppers
Please let me know how your Spicy Edamame turns out in the comments! I love hearing from you.

Find us on Instagram , Pinterest & Facebook here!
If you liked my recipe, do leave a comment!
It will help others find this amazing recipe too!
---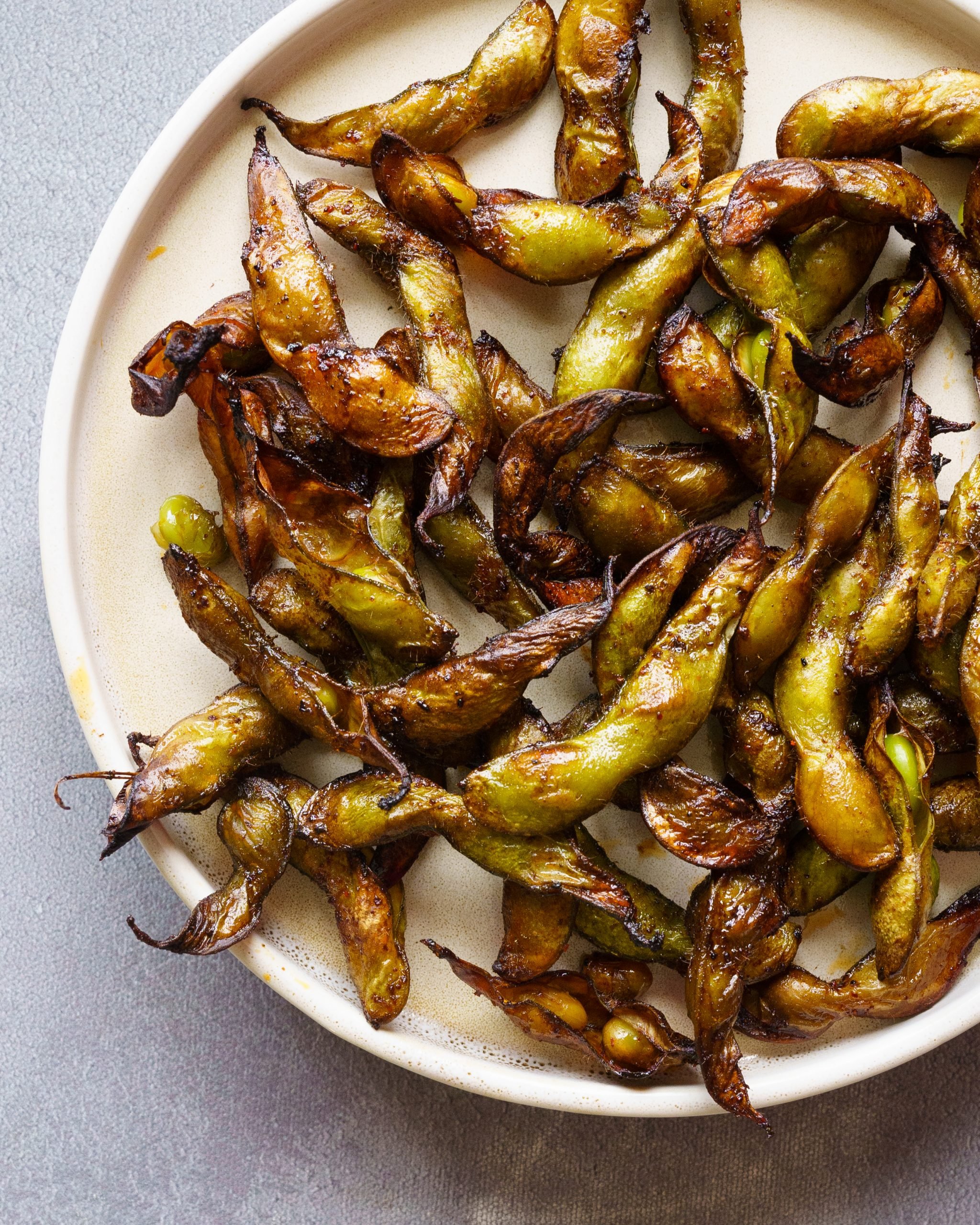 Ingredients
2

Cups

Whole Edamame

Loosely packed.

1

tablespoon

Soy Sauce

or use Coconut Aminos

1

tablespoon

Honey

1

teaspoon

Ground Chilli

1

tablespoon

Sesame Oil
Instructions
Preheat the air fryer for 1 minute at 180 C or 365 F.

Take the Edamame in a bowl.Add the soy sauce,honey,chilli and oil.

2 Cups Whole Edamame,

1 tablespoon Soy Sauce,

1 tablespoon Honey,

1 teaspoon Ground Chilli,

1 tablespoon Sesame Oil

Give it a mix.Let it sit till the air fryer is preheating.

Add the edamame in the air fryer basket.Reserve the left over marinade.Close and set the timer to 12 minutes.

At 12 minutes,sprinkle the left over marinade on the air fried edamame.Air fry for another 1 minute.

Remove from the basket and serve.
Notes
Substitutions
Edamame- Use Frozen whole Edamame thats been pre blanched.If using thawed Pre blanched or boiled edamame, change the air fryer time to 10+1 minute.
Soy Sauce- Coconut Aminos
Honey- Maple syrup or golden syrup
Sesame Oil- Any oil
Ground Chilli- Chilli flakes or paprika or Chipotle chilli
How to eat Air fryer Edamame
Bite or suck the edamame directly in your mouth.That way you get the great flavour thats stuck to the pod.
Nutrition
Calories:
194
kcal
|
Carbohydrates:
17
g
|
Protein:
12
g
|
Fat:
10
g
|
Saturated Fat:
1
g
|
Trans Fat:
1
g
|
Sodium:
209
mg
|
Potassium:
486
mg
|
Fiber:
6
g
|
Sugar:
8
g
|
Vitamin A:
198
IU
|
Vitamin C:
6
mg
|
Calcium:
69
mg
|
Iron:
3
mg
If you liked the recipe, please leave us a rating
Follow me on Instagram
My handle is @yellowthyme