Air Fryer Stuffed Peppers - Air Fryer Mini Peppers with cream cheese , marinara sauce and a blend of mozzarella and cheddar cheese.
When you bite into the cheesy stuffed pepper, you will get the flavors from the sauce, the soft gooeyness of the cream cheese...And the crispy browned mozzarella cheese.
These are sort of mini pizza bites but using peppers instead of bready pizza base.They are healthy and delicious!
If you entertain as much as we do, you need some quick finger foods recipes. Something that can be prepped ahead and can be eaten without plates.
I mean who loves washing dishes after a party!
These delicious cheezy mini peppers tick all of those boxes!
It's a great appetiser that can be prepped ahead of time. When the guests come, just throw it in the oven or air fryer for ten minutes.
And serve in a platter! Thats all.
It goes very well along with a simple cheese platter and some crackers.If you are serving, i always make my no sweat 5 minute yogurt dip to go with the appetisers.
You can make these in the oven or the air fryer. Air fryer is quick and less hassle but if you are making more than 10 peppers, an oven works better.
I use a store bought already grated pizza blend here.It's simple, fast and saves me a tonne of time!
Ingredients for Air Fryer Mini Peppers
You only need 5 ingredients for this recipe.
Mini Sweet Bell Peppers
Cream Cheese
Marinara Sauce
Cheddar Cheese
Mozzarella Cheese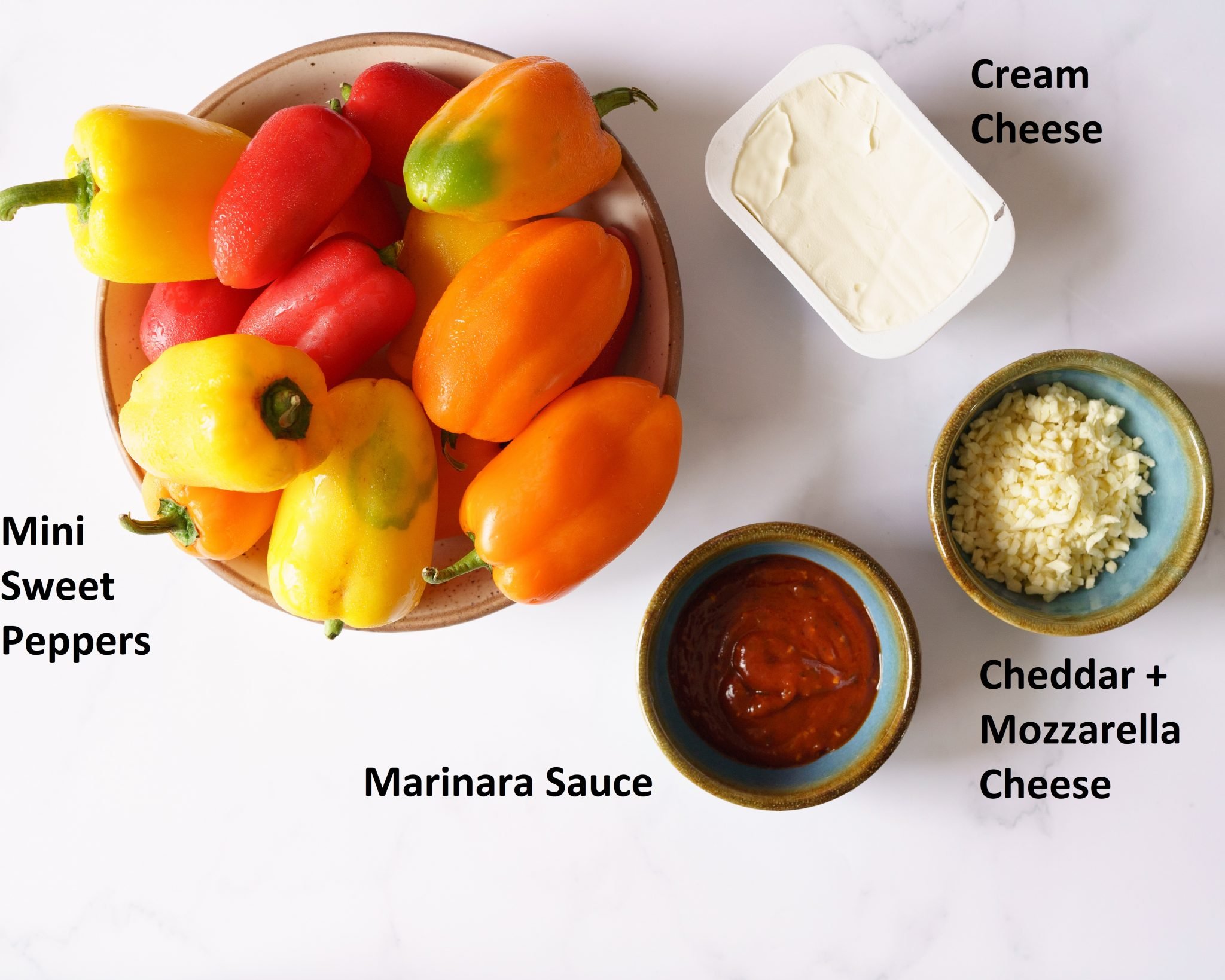 Here are some more details about the ingredients
Mini Bell Peppers
Choose smaller peppers. These will make great single bite finger foods. When you are picking peppers, try and get the smallest ones possible. They make the best one bite finger food.
Cream Cheese
Use regular cream cheese.It will scoop and fill better if its at room temperature.
Marinara Sauce
Beacuse we are using marinara sauce, we dont have to add any other seasoning.Use any store bought or homemade version.
If you would like to make your own marinara, consider making my roasted tomato and bell pepper sauce. I usually make this in a large batch and use for various things like pasta, pizzas and Soups!
Pizza Cheese Blend
Equal portions of mozzarella and cheddar work well for me. You can use either or neither.
My tip here is to reduce your work, buy a pack of shredded pizza cheese. That way you will have time to do other things! Maybe make another cheese platter?
Variations and Swaps
The recipe is so simple that swaps will change the way it tastes quite drastically.But that said...I always look at a recipe as a guide than an absolute rule! So here you go..
Mini Peppers- A good swap for these is jalapenos, banana peppers and also strips of normal bell peppers. Do remember to scrape out the seeds from jalapenos and banana peppers. They can be pretty spicy.
Marinara Sauce- You can leave this out if you prefer. If you like your food spicy, brush the peppers with sriracha instead.
Vegan Stuffed Mini Peppers- You can opt to make this with vegan cheese. Or you can swap out the cream cheese with boiled , mashed potatoes. Mock meat is also a good option.
Keto stuffed Sweet Peppers- If you use keto approved marinara, the dish will be keto approved. 1 pepper ie 2 pieces of the sweet pepper has 5 gms of carbs which can be made way less with right marinara sauce. You can also use sriracha or a hot sauce to make this lower in carbs.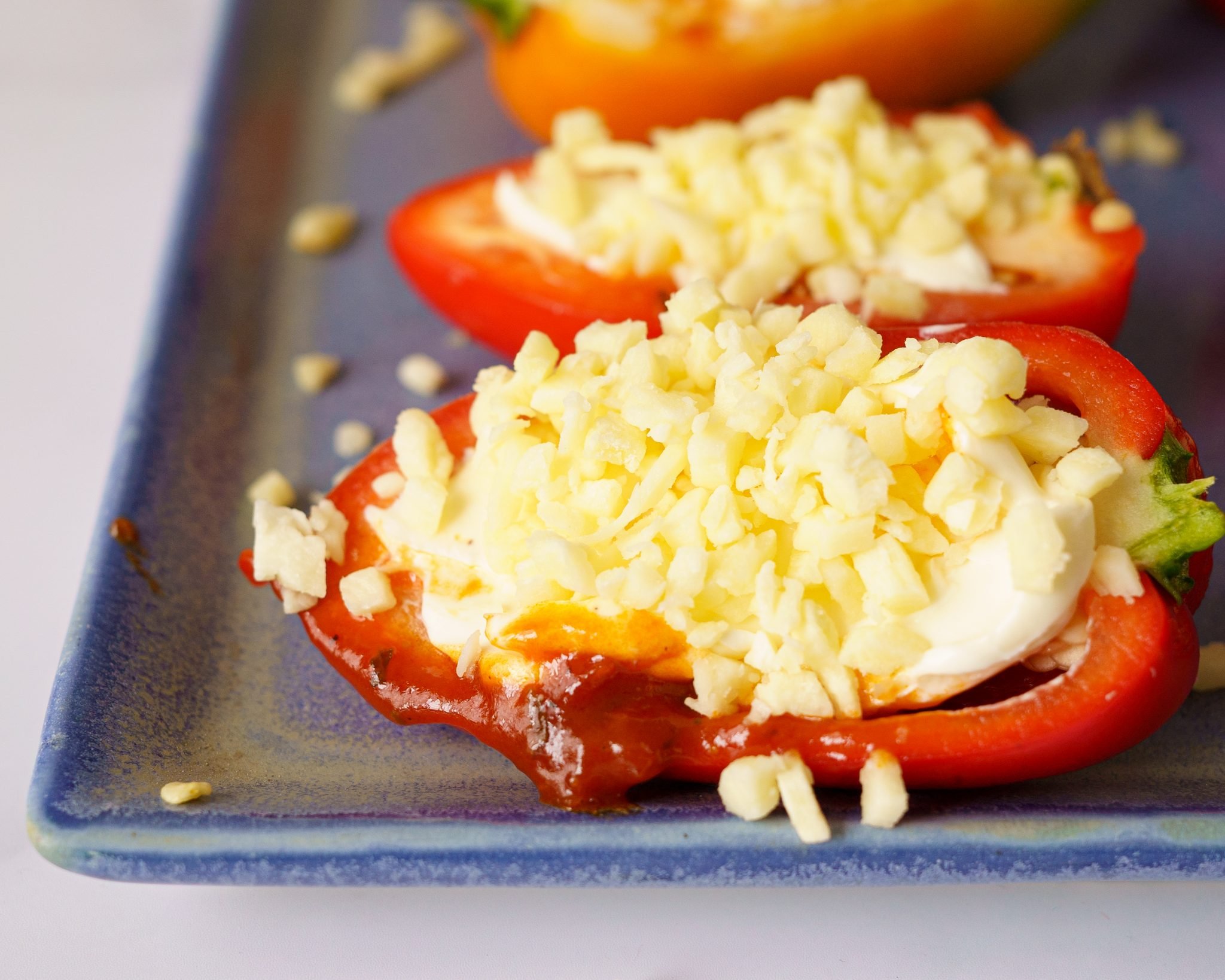 How to make stuffed peppers in air fryer
Prep
Slice the peppers length wise.Keep the stalk on.You wont have to add a tooth pick to the peppers while serving.
Add a teaspoon of marinara in the pepper.
Scoop in cream cheese.In larger peppers, dont fill it fully.It can be too much cream cheese in one bite.
Top it with a blend of mozzerla and cheddar cheese.
Do the same with the rest.
At this point, you can refrigerate these for baking at a later point.You can also freeze the prepped peppers.
Air fry or Bake
Air fry for 8-10 minutes.The time may vary depending on how big your peppers are.
Air fry for --> Preheat the air fryer for 5 minutes.Place the stuffed peppers inside the air fryer basket in a single layer. A stadard air fryer basket should fit about 6-8 peppers.
In this recipe, do note shake the basket midway.
Once the top cheese is melted and brown, you can take the peppers out. Use a tong to take the peppers out.
Bake for --> You can just as easily bake these sweet peppers. In fact, as a rule, I do this when i have to make a lot of these stuffed peppers.
Just Grill or Broil them till the top layer of cheese is golden. This should take about 10-12 minutes depending on the oven.
Tips
Make sure your air fryer basket is clean before use. Any leftover cheese etc can make the peppers stick to the basket.
Also don't use wet basket.
If you are making more than 7-8 peppers, bake them instead of air frying.
To clean the air fryer, add hot water with a bit of dishwashing liquid. Swish it around and let it rest for a bit. After 10-15 minutes, Scrape it with a brush and rinse!
To serve these air fryer cream cheese stuffed mini peppers, you can simple place them on a board. It really does'nt need any dip or accompaniment.
If you are entertaining, I would serve this along with a cheese board and Dips. Maybe some sliders and caramalised pineapple. Depending on how many people I have invited.
I also like to add some crunch along with these soft appertisers.My goto at the moment is Air Fryer Pita Chips. They are so so good!
Some more Appetiser recipes for you
Here are some quick finger food wins for your impromptu parties!
Airfryer Honey Chilli Edamame
Air Fryer Buffalo Shrimp
Air Frying Peanuts
Crispy Chilli Peanut Tofu
Chicken Wings-BBQ style

Also! Before you ask, here are some dips that work well with these peppers
My Famous 5 minute Yogurt Dip
Roasted Red Pepper Feta Dip
Greek Yogurt Party Dip - Tzatziki
Black Bean Corn Feta Dip
Please let me know how your stuffed peppers turns out in the comments! I love hearing from you.

---
Find us on Instagram , Pinterest & Facebook here!
If you liked my recipe, do leave a comment!
It will help others find this amazing recipe too!
---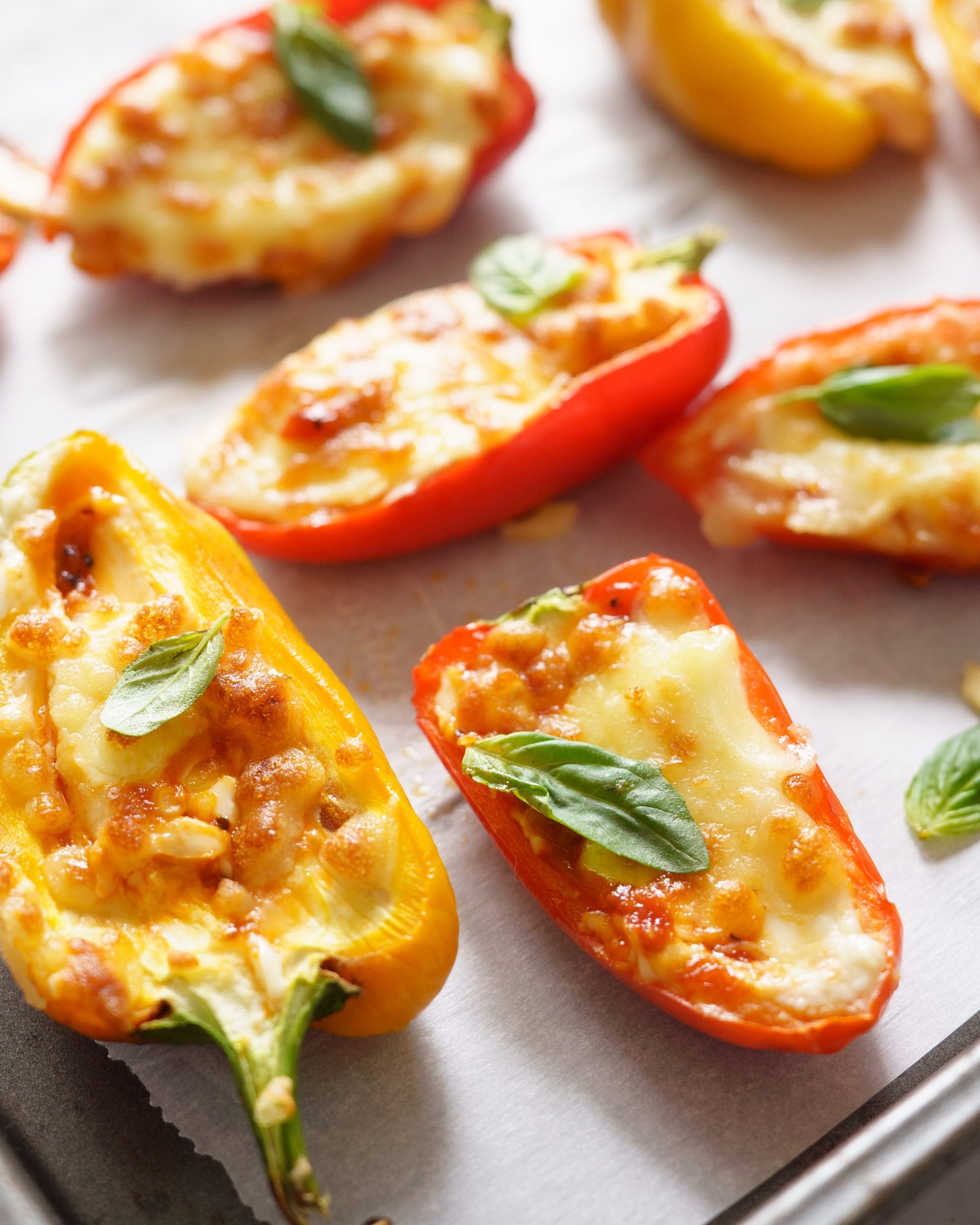 Ingredients
6-7

Mini Sweet Peppers

Cut lenghtwise

4

Ounces

Cream Cheese

About ½ cup

2

Ounces

Cheddar Cheese

About ¼ cup

2

Ounces

Mozzarella Cheese

About ¼ cup

¼

Cup

Marinara Sauce
Instructions
Cut the pepper lengthwise.

Mix the cheddar and mozzarella cheese toghther

Start with adding a teaspoon of marinara sauce.

Scoop in the cream cheese.

Top it with a mix of the cheese.

Preheat the air fryer for 2 minutes at 180 C or 450 F

Place the peppers inside the air fryer basket in one layer.Do not overlap.

Air fry for 8-10 minutes.

Garnish with basil or parsely leaves
Nutrition
Serving:
2
pieces
|
Sodium:
286
mg
|
Calcium:
175
mg
|
Vitamin C:
44
mg
|
Vitamin A:
1421
IU
|
Sugar:
3
g
|
Fiber:
1
g
|
Potassium:
181
mg
|
Cholesterol:
33
mg
|
Calories:
138
kcal
|
Saturated Fat:
6
g
|
Fat:
10
g
|
Protein:
7
g
|
Carbohydrates:
5
g
|
Iron:
1
mg
If you liked the recipe, I would appreciate a comment.
Keep in Touch
Follow and like my facebook page yellowthyme!