You can skip the jarred sauce! Once you make this, it is the only pasta sauce you will need. Roasted Red peppers, garlic and tomato sauce that's just too good to be true!
It's so versatile, you can use it for pastas, pizzas, even turn it into a tomato red pepper soup by blending it.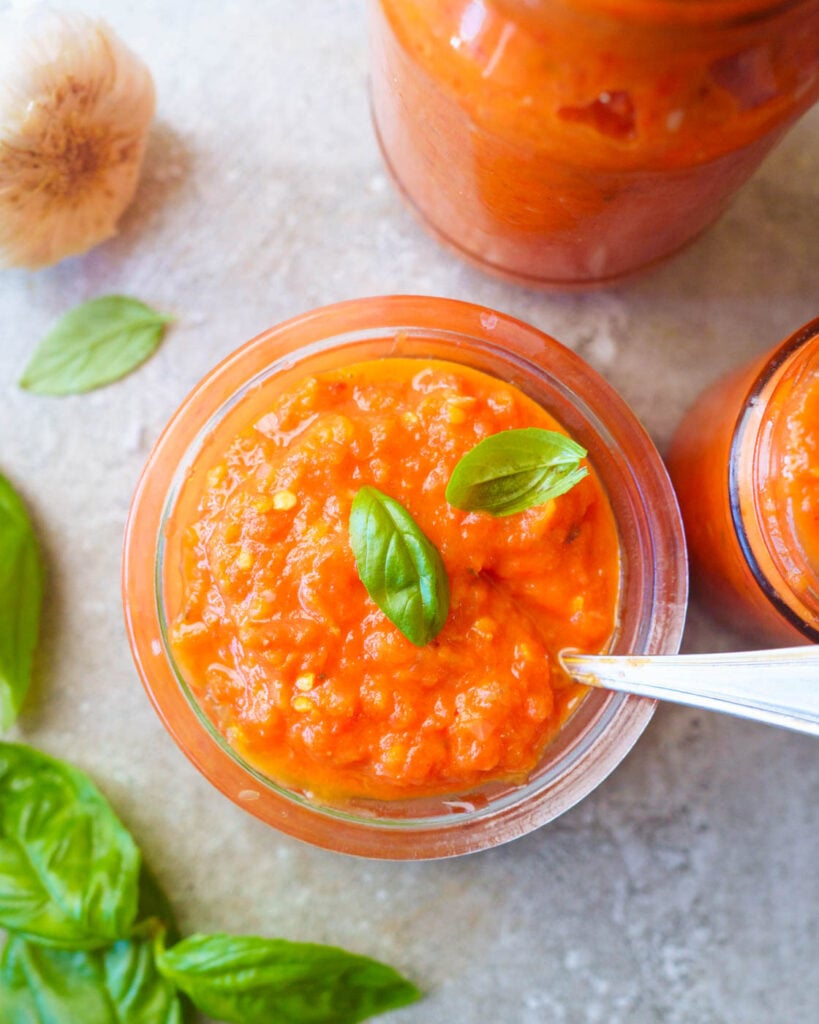 No stirring, Standing over the pot for a zillion years. Just stick everything in the oven, go watch some tv for 1 hour. Come back and blitz it. THAT'S IT!
With this tucked away in your refrigerator, you can ace any weeknight dinner!
I have been making this sauce for a decade now. I have shared this recipe on email, whatsapp and slips of paper to countless strangers and friends and family!
I can't tell you the number of late night calls I have received for this one recipe from across the world!
So it's about time I updated and wrote a detailed recipe here!
This AMAZING tomato sauce is
Made with fresh vegetables
Whole 30 & Paleo approved
Kid friendly & packed with veggies!
Sugar & Gluten Free
Also! I want to take a moment to introduce to this flavor bomb- Roasted Garlic. Oh my god! It makes everything better! Try it!
Why we love Roasted Tomato & Red Peppers Pasta Sauce
As you can tell, we love this recipe. I mean, I have been making this only for about a decade now.
Here is why!
Loaded with vegetables -Has insane amount of veggies AND you can add more!(No body will know!)
It's cheaper than any jarred sauce. Especially in places you can get fresh tomatoes.
Same sauce can be used for pastas and pizzas
Easy to make - You literally rough chop the tomatoes & peppers in big chunks and stick it in the oven.
Packs CRAZY flavor for very little work!
Keeps well in the fridge and freezer
My family loves it!
Ingredients
HEre is what you will need to make this sauce
Ripe Tomatoes
Red Bell Peppers
Italian Herbs - Fresh or Dried
Onion - Optional
Garlic - Optional
Olive Oil- Optional
You only need 3 main things - tomatoes, red bell peppers and some mixed herbs. Rest is all upto you!
You can add onions or not
You can add oil or keep it oil free
You can add more veggies like carrots and turnips or not!
I mean this is the most forgiving recipe EVER!
Tomatoes
Use any kinds of tomatoes you can find. Really. They should just be ripe.
Over the years I have used local Indian tomatoes, hybrid tomatoes, cherry tomatoes, beefsteak tomatoes and rainbow tomatoes! You name it and I have used it!
I wouldn't suggest roasting canned tomatoes. Instead, you can also use canned fire roasted tomatoes and skip the process of roasting the tomatoes in the oven.
Just cut the tomatoes roughly. Really, no need to finesse here. We will be blending them anyways.
Red Peppers
This is the other essential ingredient to make this recipe.
It does a few things to the sauce
Gives it body and heft
Gives it spice and sweetness
Also! gives it a beautiful red color.
Just halve the pepper. Keep the seeds if you wish or discard. I don't bother removing.
The peppers are always kept on the top so that the skin gets charred. It adds crazy flavor!
Onions
You can choose to omit it but i like the taste of onions in the sauce.
Use any kind you wish- white, yellow or red.
Onions burn faster than the rest of the ingredients and that is why they go to the bottom of the pan.
Garlic
I love the taste of roasted garlic. I can eat it with anything! I always add it to the sauce.
If you don't want the extra work and clean up, you can add garlic powder or garlic cloves at the bottom along with the onions.
Herbs
Use what you have. Have some pizza seasoning left over form yesterdays pizza? Use that.
Or use fresh herbs.
Fresh Basil is heavenly in this sauce. So if you have it or can get your hands on it, use that! Besides basil, you can add thyme, rosemary, oregano too.
1 part dried herbs = 3 parts fresh herbs
One tablespoon of dried herbs usually add as much flavor as 3 tablespoon of fresh herbs.
How to Make Roasted Red Pepper Tomato Sauce
This recipe will make about 1 quart of sauce. You can halve the recipe if you wish.
If you are cooking for a single person, you can divide the ingredients by 4 instead.
Though I am pretty sure once you make it, you will want to make as large a batch as possible. Because it's that good!
Step 1: Chop & Arrange
Slice the onions and add it to the baking sheet first. Onions get burnt very easily and that is why we will keep them at the bottom of the pan.
Now Roughly chop the tomatoes into four or 8 pieces based on the size. A rough random chop is all we need. Add them over the sliced onions.
Remove the green stem of the bell pepper using your thumb. Tear it into two halves or use a knife to cut it into big pieces.
Add the peppers on top of it all.
Garlic - Cut the top of the garlic. Drizzle oil if you please. Wrap it in the aluminum foil. Stick it in the middle.
Step 2: Season
You can add a drizzle of olive oil and salt to the tray before baking.
Or you can do it when you blend the sauce.
Step 3: Bake
Pop the whole tray into the oven.
Bake in the at 200 degrees C or 400 F for 60 minutes till the bell peppers are charred and black.
When the red peppers almost burn, the sauce is ready to be taken out of the oven.
Yes you read that right. BURN THEM PEPPERS!
Step 3: Remove Pepper Skins
Once you take the roasted vegetables out of the oven, let them cool a bit before you attempt anything else.
Remove the charred skin of the peppers. They will come right off. Again, dont bother being perfect here. Just do what you can.
Step 4: Blend
If you are impatient like me, put them in a bowl and using a hand blender, blend the sauce roughly.
Or if you are lazy like me, you can leave the sauce in the oven to cool down before you remove the skin and blend them in a blender.
Do not make the sauce too smooth. You want little chunks ,bits and bobs.
Add the dried herbs or chopped up fresh herbs.
Give it a grand mix and that's it! Your sauce is ready!!
Notes
Here are some important points that you need to know to make this
Exact ratio of tomatoes and peppers isn't very important. Though if you are making this sauce for the first time, use the measurements given in the recipe.
Dried herbs pack a heftier punch than fresh herbs.
You can add carrots , radishes and other vegetables to the roasting pan too. No one will know!
Remove the seeds of the red pepper to reduce the spiciness. But only if you are using spicy peppers.
Storing & Freezing
Listen to one thing..Just one thing I say..Make a giant batch of this..It keeps in the fridge for 5-7 days.Just make sure to use an air tight container to store it.
Better yet..Freeze it! Use a zip lock bag- plastic or silicon or large ice cube tray. It keeps well for 2-3 months.
Using Roasted tomato Sauce
Easy Pasta - Add a knob of butter, some sauce and the pasta water to a pan.Add cooked pasta. Top it with a generous amount of parmesan. And done! Add veggies or not.
Baked Sauce - Mix the sauce with el dente pasta in a casserole. Top with cheese and bread crumbs. Bake closed for 20 minutes at 180C. To brown the top, bake for 10 minutes at 200C.You can also make these three cheese stuffed shells using this homemade roasted tomato sauce.
Chicken Cacciatore - Here is my recipe for our favorite chicken stew with tomato sauce and olives.
Roasted red pepper & tomato soup - Just blend the sauce with a little water or your choice of nut milk. Heat it and enjoy as soup!
If you make this delicious roasted tomato pasta sauce , drop me a note. I would love to hear from you!
Find us on Instagram , Pinterest & Facebook here!
If you liked my recipe, do leave a comment!
It will help others find this amazing recipe too!
---
Ingredients
2

Pounds

Tomatoes

1 kg of red ripe tomatoes

2

Red Peppers

1

large

Onion

1

Whole Garlic

Salt to taste

2

tablespoon

Italian Seasoning

or 6 tablespoon fresh herbs chopped up

1

tablespoon

Olive Oil

Optional
Instructions
Roughly cut the tomatoes, peppers and onions into large pieces

Place the onions first, followed by the tomatoes. Keep the peppers skin side up.

Cut the whole garlic bulb from the top. Don't bother pealing or separating the cloves. Sprinkle some oil and salt. Wrap it in a square of aluminum foil.

Place the wrapped garlic in the middle.

Sprinkle salt and olive oil.

Bake for 60 minutes at 180 degree C or 365 F till the red peppers are charred and the skin is burnt

Once it cools, Peel away the burnt skin of the red peppers.

Squeeze the garlic from the roasted garlic bulb.

Add all roasted vegetables to a blender. Add the herbs. Blend together for a chunky or smooth sauce.

Check the seasoning and adjust salt and chili as per your liking.
Notes
Tomatoes
Any variety of fresh ripe tomatoes will work.
You can also use Cherry tomatoes instead.
Notes
This makes about 1 quart or liter of sauce.
You can add carrots, beetroot and other vegetables while roasting too.
You can omit oil all together if you wish
Storing & Freezing
Store it in an air tight container in the fridge for up to 6-7  days.
Or Freeze it in silicon pouches or glass containers for upto 3 months.
Nutrition
Calories:
55
kcal
|
Carbohydrates:
9
g
|
Protein:
2
g
|
Fat:
2
g
|
Saturated Fat:
1
g
|
Sodium:
8
mg
|
Potassium:
376
mg
|
Fiber:
3
g
|
Sugar:
5
g
|
Vitamin A:
1898
IU
|
Vitamin C:
55
mg
|
Calcium:
38
mg
|
Iron:
1
mg
If you liked the recipe, please leave us a rating
Follow me on Instagram
My handle is @yellowthyme