I am Chhavi.Contact me on chhavi@yellowthyme.com
Whether you are searching for healthy every day recipes or authentic Indian recipes or quick and easy instant pot recipes- I have you covered!
Welcome to Yellowthyme - my little culinary corner , where I share Healthy Indian Cooking for Modern Living , Indian Authentic Recipes, Desserts, Menus, & Instant Pot Indian Recipes.
My Love for Food
As with any love..my love for food was slow and sweet…I come from a spartan vegetarian family..I ate dal, sabzi and parathas for the first 16 years of my life..Mostly vegan, except for the 2 large glasses of milk..After which college happened…My then boyfriend now husband happened and suddenly my world exploded with possibilities.I owe my love for food to him.He is the one who introduced me to my first lasagna,my first authentic Chinese experience,who showed me the world beyond Dal Roti.
My world truly exploded after college but I really found myself after we moved in together and I had a kitchen of my own.The more I cooked the more obsessed I became.
I can conjure up reasons to have party at my house just so I can cook a large spread.On a bad day,couple of undisturbed hours in the kitchen and some chocolate can cure-all my blues.
What you will find on my Food blog
This space is for the new modern indian cooking, people who loves pasta as much as dal chawal!
You will find authentic regional indian recipes when you are craving traditional indian food and you will find healthy indian millet recipes for when you want to improve your everyday eating!
It's has been my earnest endeavour to make, research, discover and share Healthy(or healthy - able) Indian foods and recipes on the blog.There are a lot of Indian ingredients which are very rich sources of nutrients that are getting lost because of the aggressive marketing and capitalistic farming.
You will find a lot of Indian dishes - authentic curries and preparations which can be made close to our true recipes with substitutions so you can make them easily in the confines of your house.
And you will find some great everyday indian instant pot recipes that will make homecooking not only easy but also tasty!
Do leave a comment or send me a mail if you have any suggestions or want me to make something specific or you simply want to chat!
Love,
Chhavi
email id- chhavi@yellowthyme.com
Here are some recipes to get you started with your modern indian cooking!
Indian Millet Recipes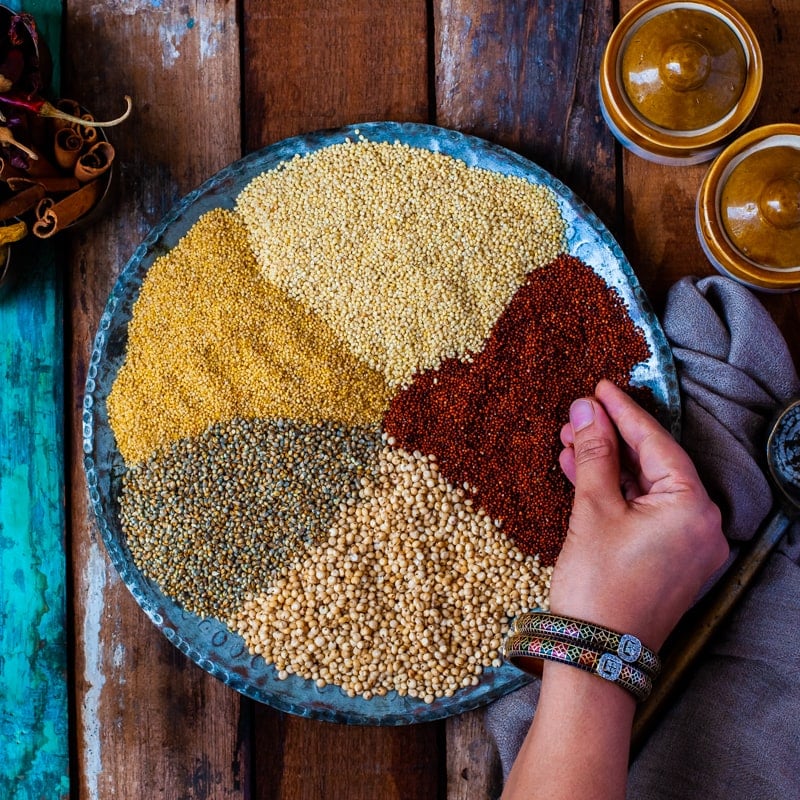 How to Introduce Millets in our diets
Ragi Pancakes
Eggless Ragi Banana Cake
Instant Finger Millet Dosa
Foxtail Millet Pulav
Foxtail Millet Puliohare
Ragi/Nachni Chocolate Cookies
Instant Pot Recipes
Instant Pot in Indian Kitchen
Part 1: Instant Pot for Indian Cooking
Part 2: Which Instant Pot Model to buy
Part 3: Making Indian Food in Instant Pot
Part 4: Instant Pot Frequently Asked Questions
Indian Vegetarian Instant Pot Recipes
Instant Pot Cumin Potatoes
Instant Pot Vegetable Biryani
Instant Pot Mushroom Masala
Instant Pot Rajma Masala
Instant Pot Chana MAsala
Indian Instant Pot Chicken Recipes
Instant Pot Chicken Korma
Instant Pot Chicken Biryani
Instant Pot Chicken Curry
Easy & Healthy Instant Pot Recipes
Instant Pot Mushroom Parmesan Rice
Instant Pot Chicken Quinoa bowl