This post contains affiliate links. As an Amazon Associate I earn from qualifying purchases. Click here to read my policy.
Air Fryer Roasted Garlic - Make buttery soft, caramelized roasted garlic with whole garlic or already peeled garlic cloves in the air fryer in just 25 minutes!
If you thought chocolate was addictive, you haven't tried roasted garlic! You are soon going to be slathering this literal umami treasure over everything and anything!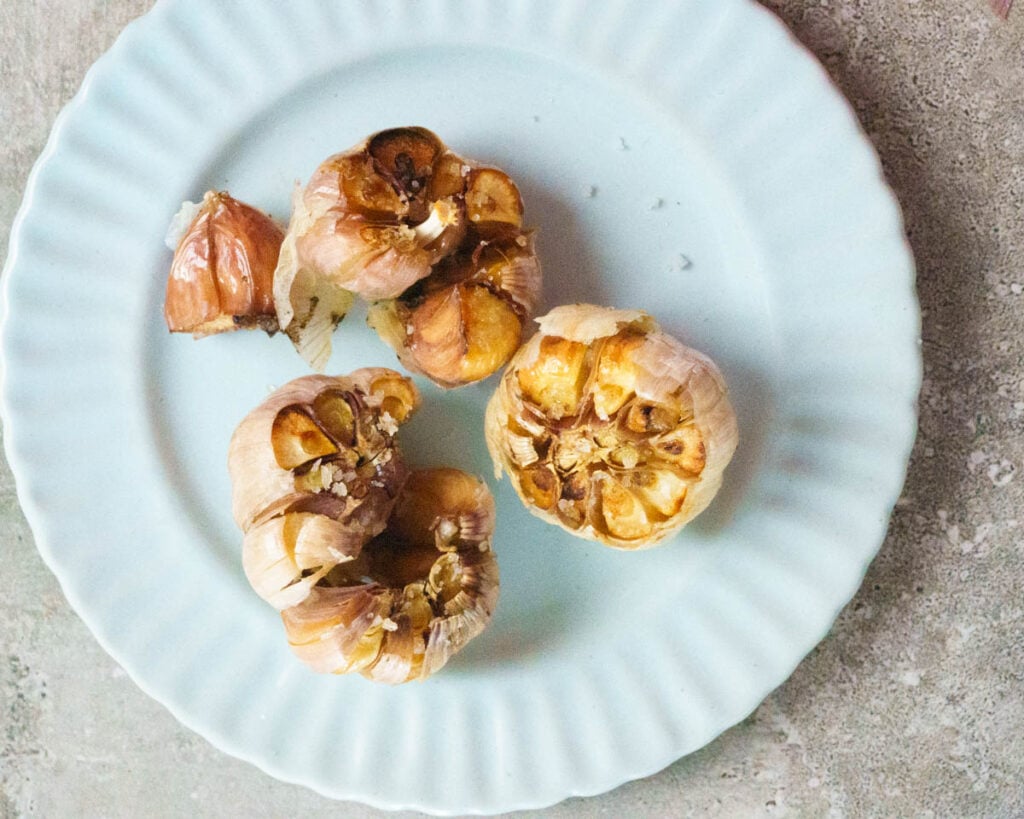 I mean I can eat this by itself on top of breads and even our Indian flatbreads. Add this to anything you want to make indulgent without adding the calories.
Garlic by itself is such a flavor powerhouse but roasted, it's another thing all together.
It becomes more intense but at the same time more mellow. The sharpness goes away leaving only the umami that's been intensified to about a 100!
You can roast garlic in the oven but it takes forever! I also feel almost wasteful using the oven for one small garlic. That's why it makes more sense to do it in the air fryer.
Air frying garlic takes about half the time it does in the oven.
You can use this roasted garlic to make garlic butter to slather over your morning toast, you can whisk it in your eggs while making the french omlette, you can add it to your pastas and bakes. You can also add it to your potatoes when you make mashed potatoes or hasselback potatoes.
What's Roasted Garlic
Roasted garlic is foil wrapped garlic that has been baked till it's soft and spreadable. It has a sweet, caramelized, umami taste.
It goes from pungent, acidic and sharp to a mellow, almost sweet flavor that's just mind blowing!
You can also roast peeled garlic cloves but the flavor is better when you do this with a whole garlic pod instead.
Jump to:
Ingredients
You only need 3 things to make this umami bomb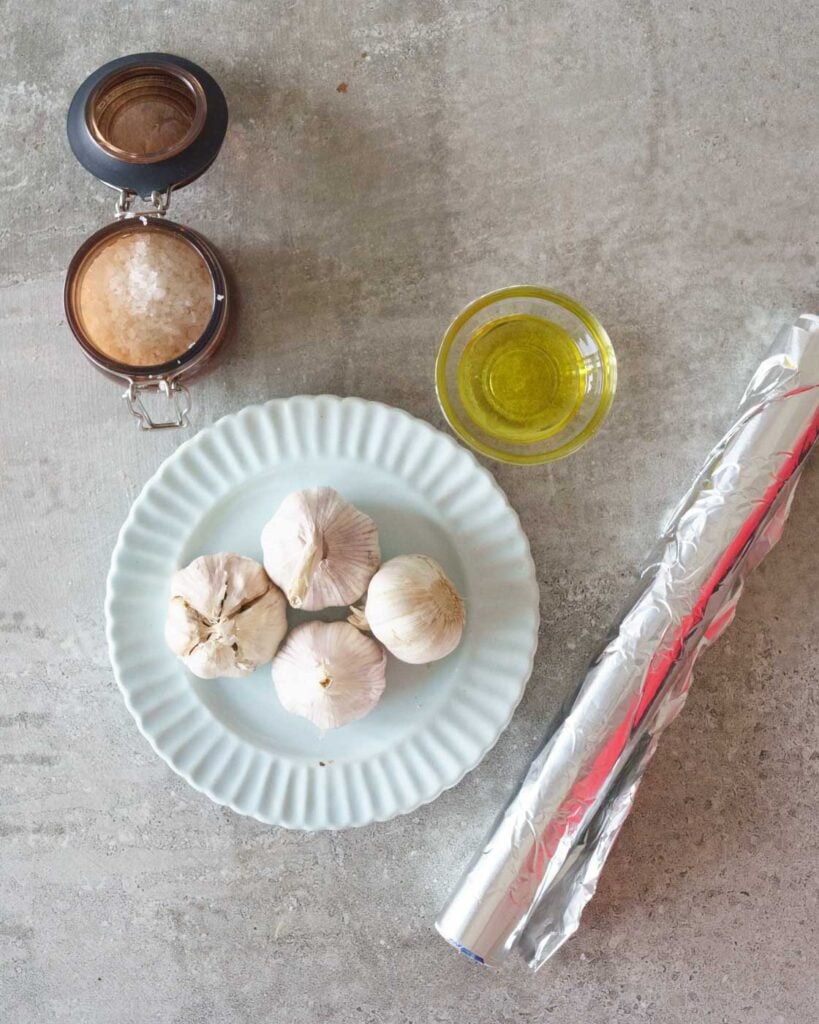 Garlic
Use the large mature garlic pods. Bigger garlic cloves means easier peeling for more garlic.
You can use the smaller garlic pods too but they are just a tad more difficult to peel or squish as the case here.
You can roast peeled garlic cloves in the air fryer. I will explain how below. The process is a little different. It's more confit than roasting but its sooo delish!
Instructions to Roast Whole Garlic
Here is how we roast a whole pod of garlic.
Step 1: Slice off the top of the garlic with a sharp knife
Step 2: Place it on a piece of foil.
Cutting the top off will help you squeeze the garlic out once it has softened and roasted
Drizzle some olive oil & Salt
Wrap the garlic up tightly.
Make sure the wrap the garlic tightly. Otherwise oil and steam will escape out of it.
Air fry the Garlic at 170C or 335F for 30 minutes.
You can do this with several garlic pods at the same time. You can even wrap up a couple of them together instead of separate.
Instructions to Roast Peeled Garlic Cloves
Here is how we roast pre peeled garlic cloves.
This method is almost the same as confit garlic but done in the air fryer instead. It also uses more oil than when you roast the garlic whole.
Step1: Add the garlic cloves to a ramekin. Add oil. Preferably olive oil and salt.
Step 2: Cover the ramekin with foil and air fry it for 15 minutes at 200C or 400F f.
Make sure the cover it tight otherwise your garlic can burn instead of caramelizing. You can also use a baking proof cover or cake pan to cover it.
You should get buttery, soft confit garlic which you can slather on a toast straight away. The leftover olive oil is also gold! It has so much flavor. Drizzle it or mop it up with some bread!
Just add some herbs to the mix and you get a delicious dipping oil too!
Equipment
We need an air-fryer. If you are looking to buy one, try the Ninja Air-fryer.
We also need aluminum foil to cover the garlic. If you don't want to use the aluminum foil then check the below section for options.
This whole process can also be done in the oven. It takes longer, about double the time but the process is the same.
Wrap the garlic , roast at 180C or 365F for 1 hour.
How to Roast Garlic without Aluminum Foil
Aluminium foil is used to create a closed atmosphere for the garlic.It sweats the garlic and also prevents it from burning.
You can do the same by using
Parchment Paper - but wrap it twice instead
Ramakin covered with a lid. You can use any cake pan to serve as a lid here.
Small dutch ovens.
Small cast iron pans with a lid.
Storage
Roasted garlic can last on the counter top for 3-4 days.
It can last in the refrigerator for up to 8-10 days.
Top tip
You can freeze the roasted garlic in little ice cube trays. Once frozen, pop them in a freezer bag. You can use it up to 4-5 months!
My Favorite Kitchen Tools
What to do with Roasted Garlic
If you are wondering where to use roasted garlic, I have got you! Here are some easy ways to use your roasted garlic
I would love to know how you used your roasted garlic! Do leave me a note in the comments.
Find us on Instagram , Pinterest & Facebook here!
If you liked my recipe, do leave a comment!
It will help others find this amazing recipe too!
---
Ingredients
Roasting Whole Garlic Pods
3

Heads

Garlic Pods

Whole

2

tablespoon

Olive Oil

1

teaspoon

Salt
Instructions
Roasting Whole Garlic
Preheat the Air fryer at 200 C /400F.

Slice the tops off the Garlic.

Place it in an Aluminum Foil. Drizzle oil and salt.

Wrap it up tightly. Place it inside the basket of the air fryer.

Open the Aluminium foil with caution. There will be a lot of steam inside.
Roasting Peeled Garlic Cloves
Add the Garlic cloves to a ramekin.

Drizzle oil and salt. Cover with an aluminum foil

Air fry at 200C /400 F for 15 minutes.
Notes
Storing
Air fryer Roasted Garlic will keep in the refrigerator for 10-15 days easily. You can also freeze it for upto 2-3 months.
To use Roasted Garlic
Mix the Smashed Roasted Garlic with butter and herbs to make your own roasted garlic butter. You can read more about it in the link.
Add it to marinara sauces to amp up their flavors. Especially if they are store bought.
Swap out minced garlic with roasted garlic for recipes like Garlic Labneh or Garlic Butter Umami Noodles. These recipes are dangerously addictive!
Add it to your potatoes like Instant Pot Garlic Mashed Potatoes or use it instead of minced garlic in making Hasselback Potatoes in the Air fryer.
You can also add roasted garlic to Salad dressings instead of minced garlic.
Roasted garlic can also be added to soups and stews.
And one last tip- Slather it straight on a toasted bread! Drizzle some olive oil and call it breakfast!
Nutrition
Calories:
124
kcal
|
Carbohydrates:
9
g
|
Protein:
2
g
|
Fat:
9
g
|
Saturated Fat:
1
g
|
Sodium:
780
mg
|
Potassium:
113
mg
|
Fiber:
1
g
|
Sugar:
1
g
|
Vitamin A:
3
IU
|
Vitamin C:
9
mg
|
Calcium:
51
mg
|
Iron:
1
mg
If you liked the recipe, please leave us a rating
Follow me on Instagram
My handle is @yellowthyme