This post contains affiliate links. As an Amazon Associate I earn from qualifying purchases. Click here to read my policy.
Air Fryer Pita Chips - Crunchy , Airy & Light Chips made with leftover pita pockets. I could eat this with anything!!It's sooo good!
A perfect snack for a game night. A few dips and these chips and you are done! This recipe is Vegan, Plant Based and free of any preservatives.
These chips are a great finger food or appetizer option. Especially when you are entertaining.
You can scoop up just about anything with these beauties!
The yummiest ,quickest chips you can make, at home! Period!
They taste so so good with my yogurt dip. You can also eat these with my greek style red pepper feta dip or my Olive Oil & Balsamic Herb Bread Dip
They are so good that I finished half the chips while shooting. You can see progressively lesser chips in the photos!
Let me tell you why they are just too delicious
First, they are crisp on the outside
Second, it has this airy, almost spongy inside which also gets crispy.
last because the Seasoning sticks to every nook and cranny of it!
Not only do they taste fantastic, they are also healthier than most storebought chips.
Naturally that greatly depends on the type of pita bread you have bough too.
And the special bonus is that they are light on the pocket and reduce food waste. So anytime you have stale pita bread lying around , make these chips instead of throwing them out!
Oh! and you can make your own version of carne asada nachos with these chips too!
Also check out our collection of more than 50 Air fryer Appetizers and finger foods
Ingredients
3 ingredients! Period! That's all you need
Pita
Oil
Seasoning - Any kind you wish but I have a secret, super sticky seasoning up ahead!
Pita Bread
I used store bought pita for this. You can also use premade pizza bases, tortillas and naan.
The taste will differ but they will make great chips too!
Pita bread makes the best chips ever. They look thick but what they are is crunchy on the outside and light and airy inside.
I usually buy pita to make sandwiches and eat them with hummus. So I always have some on hand that have gone past their prime.
Usually I would just discard them but this is a much better way to reduce food waste!
Oil
Any kind of oil really!
I have used regular Olive Oil here but fat like ghee, groundnut oil, avocado oil will also work.
And if you want to make these oil free, then that also will work. Only flipside in not using oil is that the seasoning might not stick to the chips very well.
But you can solve that problem by dipping them in a punchy dip like a Tzatziki or a Loaded Hummus with Roasted Olives
Seasoning
You could use anything!
My secret seasoning, which is really not so secret is
Equal parts -
Garlic powder
Salt
Thyme
Smoked Chili - like Chipotle Chilli or Paprika
This seasoning sticks so well to the chips because of the garlic powder.
You can also use any store bought seasoning like Italian seasoning, ranch seasoning and even Indian Chaat Masala.
How to Make Pita Chips in Air Fryer
The method is very simple.The amount of time it takes to get crispy pita chips will depend on the kind of air-fryer and size of the triangles.
Use this as a guide more than an absolute recipe.
Step 1: Prep
Cut the Pita into about 2 inch triangles.
I usually cut along the center first and then change the angle by 25 degrees for every next cut.
Step 2: Season
Drizzle the oil all over the pita chips. You can also use an oil spray. That will give you a more even coat. Though it's not an absolute necessity.
Add the seasoning on top and give it a toss. You can also add the oil to the seasoning and brush the pita chips.
Step 3: Air Frying
Preheat the air-fryer for 2 minutes if possible. It will give a more even browning.
Add the chips to the air fryer basket. I usually add about 2 layer worth of chips.
Air fry at 180 C or 365F.
Give it a gentle shake in the middle.
Before you ask, these chips can overlap. They will cook to perfection even if the pita is on top of each other. Though don't overfill the air-fryer basket. Leave some room so you can toss the chips midway.
Air Frying Time
The air frying time will vary depending on what kind of chips you like. It will also depend on how full your air fryer basket it.
Lesser chips will take lesser time to crisp up and vice versa.
It will also depend on how crunchy you want the chips to be.
I like my pita chips extra crunchy outside and airy on the inside. They still have a infinitesimal give on the inside. That way you get 2 different textures in one chip!
So my preferred time is 8-11 minutes. I check them at the 8 minutes mark to see the color and the texture and decide based on that.
For super crunchy pitas, air fry them at low temp for more time. So go for 170C/340F for about 15-18 minutes.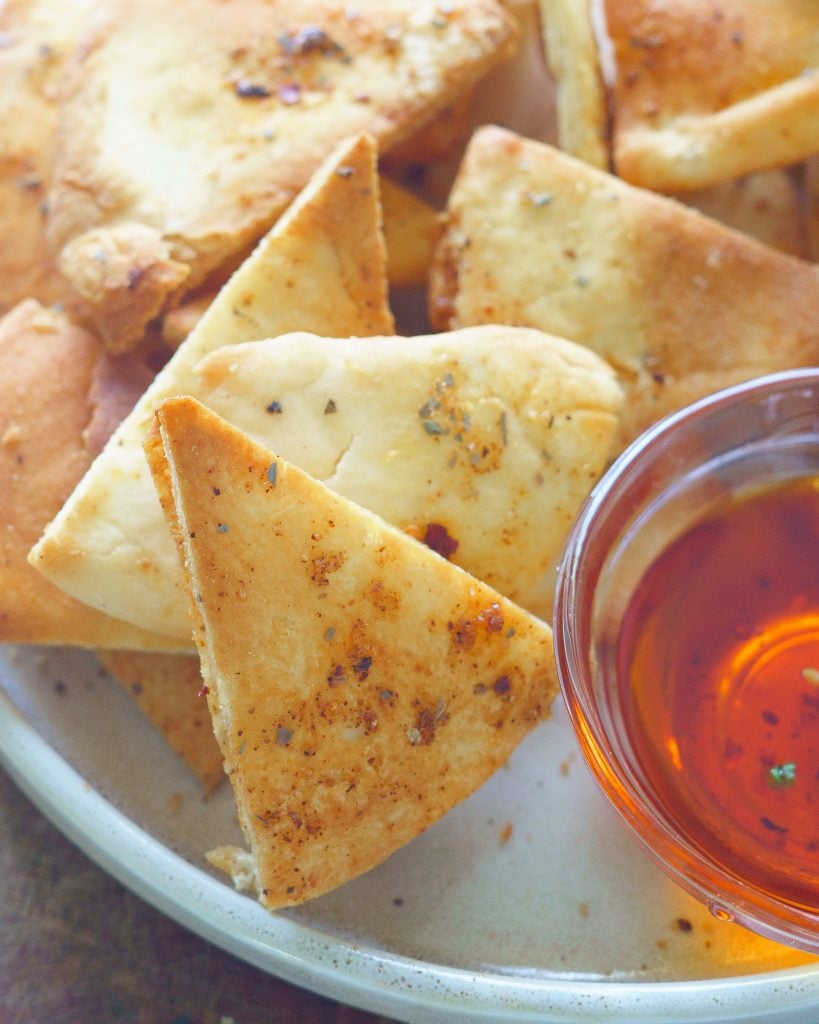 Oven Pita Chips
If you don't have an air fryer , you can use your oven instead.
Just brush the cut up pita bread with oil and place it on a wire rack.
Bake in a preheated oven , for about 20-22 minutes at 180C or 365F.
Using wire rack instead of a baking sheet will make the chips crispier. Don't forget to brush the wire rack with of before baking. Those things are known for sticking!
You can also bake these in a cookie sheet lined with baking paper.
Seasoning Options for Pita Chips
Here are some more options to season the pita chips with.
Ranch Seasoning
Zaatar
Salt & Pepper
Sea Salt & Rosemary
Italian Seasoning
Curry Powder or Chaat Masala
Smoked Chilli and salt
Sweet Chips with Cinnamon and Sugar!
You can also toss them in seasoning after you are done air frying the pita. Seasonings which have cheese powders and chilis work best when not cooked.
Storing & Leftovers
Anything crisp needs to be stored in an air tight container. These will start to get soggy in about 2 hours after they are air fried.
Let the chips cool completely before you store them in a zip lock bag or a air tight jar.
They should last on the counter for 2-3 days.
Serving
Ah! This is my favourite bit. The first time I made these, I didn't serve them to anyone. I just sat down, without distractions and finished these with my favourite Yogurt Dip.
You can also eat these crispy pita chips with cream cheese or salsa.
If you are entertaining, Serve these chips along with veggies like cucumber, carrots and celery. You can absolutely make these ahead of your party. I suggest you make a few dips like the yogurt dip, maybe Some loaded hummus or some guacamole.
We also love them with chunky dips like my corn dip.
If I am planning a big party,15 or more people, I would make a giant platter(or even a whole table ) of these
Pita Chips, Crackers, Spicy chips
Dips- Yogurt Dip/ Tzatziki, Honey Chilli Dip , Queso or Hummus , Red pepper feta dip, Bean & Corn Feta Dip
Nuts- Almonds, Pistachios & Walnuts
Veggies- Carrot,Celery,Cucumbers
Fruits- Grapes, Kiwi,Olives
This would be my grazing platter.I find making something like this goes a long way.
More than making individual appetizers.
A Quick Note on Air Fryer
I have been using Phillips Air fryer for the past 10 years! Yes...I was one of the early converts!
It has served me very well. But this the Air fryer my brother uses and he loves it. It has 3 levels and you can use it to dehydrate and make a whole chicken!
Here are some more Air Fryer Appetisers for you
Air Fryer Stuffed Peppers
Air Fryer Buffalo Shrimp
Air fryer Honey Chilli Edamame
Air Fryer Curry Cauliflower
Air Fryer Smashed Potatoes with Rosemary & Garlic
If you make these crispy pita chips, drop me a note in the comments. I would love to know what you thought about them.
Find us on Instagram , Pinterest & Facebook here!
If you liked my recipe, do leave a comment!
It will help others find this amazing recipe too!
---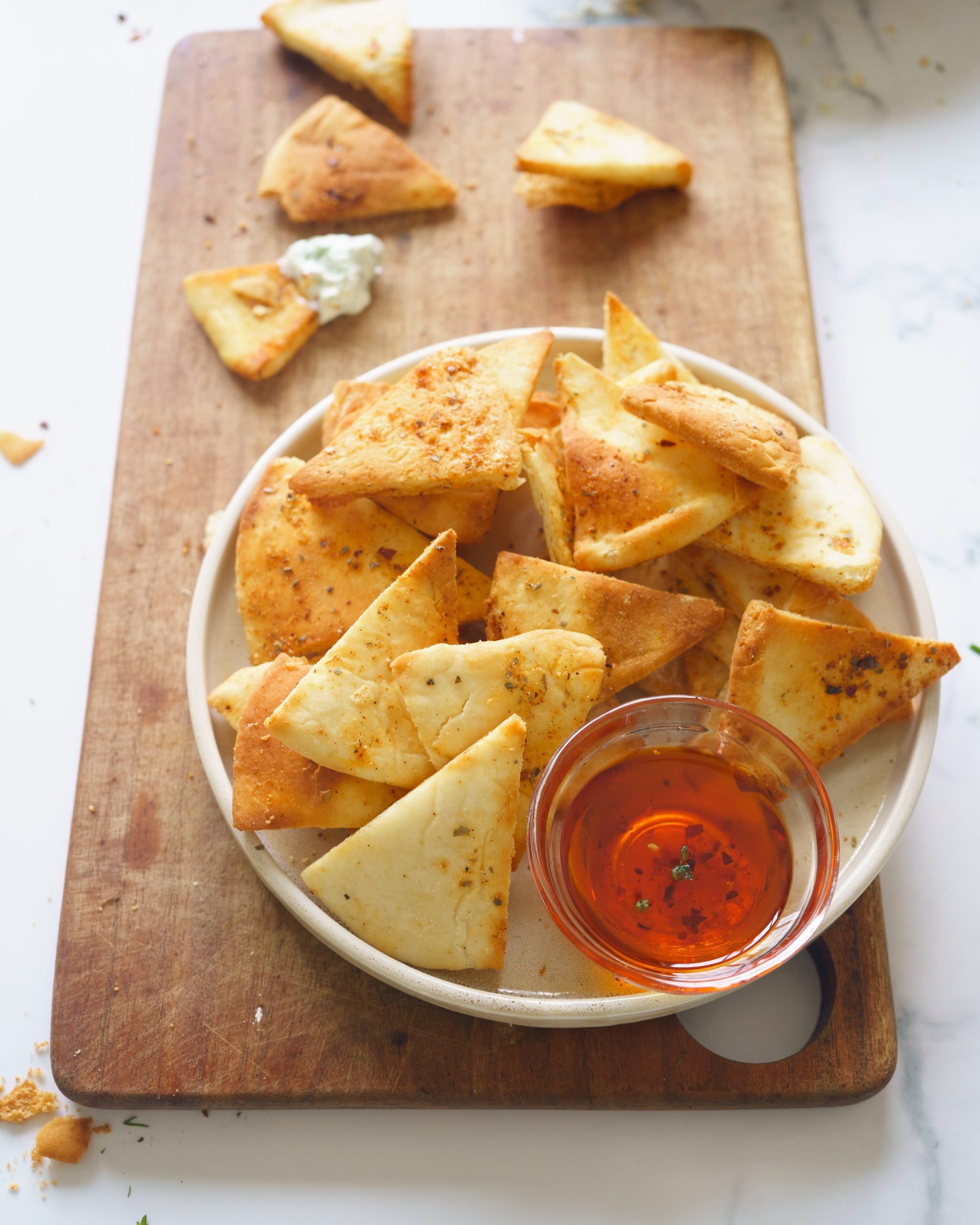 Ingredients
8-10

Pita Pockets

2

tablespoon

Oil

2

tablespoon

Seasoning*

check notes
Instructions
Preheat the Air fryer at 180 C or 365 F for 2 minutes

Meanwhile, Cut the Pita Chips into triangles.

Drizzle oil and seasoning around.Give it a mix.

Add half the chips to the air fryer basket.

Air fry for 6 minutes.Shake the chips gently at the 3 minute mark.Air Fry for 8-9 minutes if you want the chips crisper and darker brown.

Check if they have browned to your expectation.Remove.
Notes
Seasoning
I have used 
1 teaspoon Salt
1 teaspoon Ground Chipotle Chilli
1 teaspoon Garlic Powder
1 teaspoon Dried Thyme
Here are some more Seasoning options
Ranch Seasoning
Zaatar
Salt & Pepper
Sea Salt & Rosemary
Italian Seasoning
Curry Powder or Chaat Masala
Smoked Chilli and salt
Sweet Chips with Cinnamon and Sugar!
Air Fryer Time
The Air fryer time may vary depending on the brand you use, how full the air fryer basket is and how crispy you want the chips.
with 8-10 minutes of air frying  at 180C/365F you should get crunchy outside and airy insides with a very slight give. This will give your chip multiple textures which is what we want!
Serving
Serve these pita chips with dips 
Nutrition
Calories:
45
kcal
|
Carbohydrates:
2
g
|
Protein:
1
g
|
Fat:
4
g
|
Saturated Fat:
1
g
|
Trans Fat:
1
g
|
Sodium:
18
mg
|
Potassium:
26
mg
|
Fiber:
1
g
|
Sugar:
1
g
|
Vitamin A:
15
IU
|
Vitamin C:
1
mg
|
Calcium:
8
mg
|
Iron:
1
mg
If you liked the recipe, please leave us a rating
Follow me on Instagram
My handle is @yellowthyme
Frequently Asked Questions
Are Pita Chips Healthy
They are healthier than most store-bought chips because they are air fried with just a brush of oil. The nutrient value will greatly depend on the type of pita used. Usually pita just has flour, water and yeast so a homemade pita chip is devoid of any artificial flavors and preservatives.
What are Pita Chips made of
Pita chips are made by frying pita bread. In our recipe, we have air fried the pita instead, which makes for lesser work and even lesser calories.
Are Homemade Pita Chips Healthy?
Yes. They are healthier most store bought chips. They have lesser salt, oil and preservatives than anything you will get out of a bag.
Are Pita Chips Gluten Free
No.Pita is made of refined wheat flour which usually has gluten in it.If you can find pita bread made of gluten free flour and then make these chips, they will be gluten free.