Air Fryer Pita Chips - Pita Pockets air fried till they are crispy and golden brown.
These chips are a great finger food or appetiser option.Especially when you are entertaining.
The yummiest ,quickest chips you can make! Period!They taste so so good with my yogurt dip. You can also eat these with my greek style red pepepr feta dip.
They are so good that I finished half the chips while shooting.You can see progressively lesser chips on the photos!
Let me tell you why they are just too delicious
First, Obviously they are crisp on the outside
Second, it has this airy, almost spongy inside which also gets crispy.
Seasoning sticking
Ingredients
3 ingredients! Period!
Pita- I used storebought pita for this.You can also use storebought pizza bases, tortillas and naan.The taste will differ but they will make great chips too!
Oil- Any kind of oil really! I have used regular Olive Oil
Seasoning- You could use anything! I have used equal parts - Garlic powder, Salt, Thyme and Chipotle Chilli.
How to Make Pita Chips in Air Fryer
The method is very simple.The amount of time it takes to get crispy pita chips will depend on the kind of air fryer and size of the triangles.
Use this as a guide more than an absolute recipe.
Step 1: Prep
Cut the Pita into about 2 inch triangles.I usually cut along the center first and then change the angle by 25 degrees for every next cut.
Step 2: Season
Drizzle the oil all over the pita chips.You can also use an oil spray.That will give you a more even coat.Though it's not an absolute neccesity.
Add the seasoning on top and give it a toss. You can also add the oil to the seasoning and brush the pita chips.
Step 3: Air Frying
Preheat the air fryer for 2 minutes if possible.It will give a more even browning.
Add the chips to the air fryer basket.I usually add about 2 layer worth of chips.
Air fry at 180 C or 365F.
Give it a gentle shake in the middle.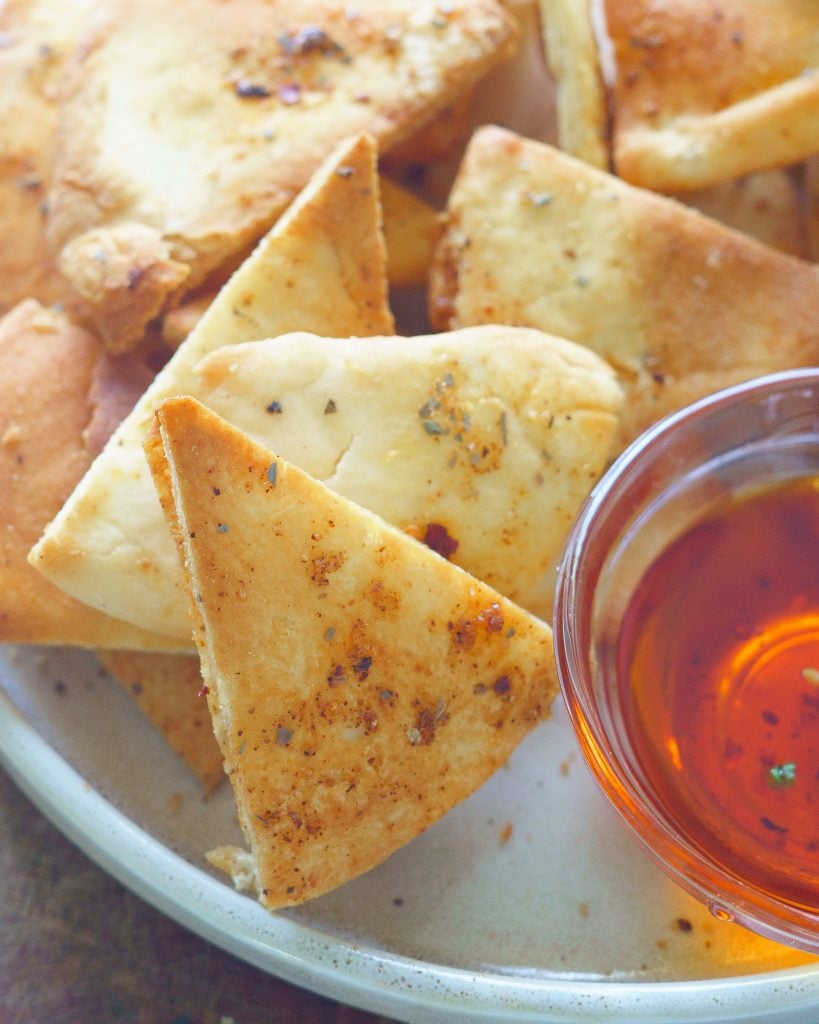 Seasoning Options for Pita Chips
Here are some more options to season the pita chips with.
Ranch
Salt & Pepper
Sea Salt & Rosemary
Italian Seasoning
Curry Powder!
Smoked chilli and salt
Storing & Leftovers
Anything crisp needs to be stored in an air tight container.These will start to get soggy about 2 hours after they are air fried.
They should last on the counter for 2-3 days.
Serving
Ah! This is my favourite bit.The first time i made these, i didnt serve them to anyone.I just sat down, without distractions and finished these with my favourite Yogurt Dip.
If you are entertaining,Serve these chips along with veggies like cucumber,carrots and celery. I suggest you make a few dips like the yogurt dip,maybe Some hummus.
If i am planning a big party,15 or more people, I would make a giant platter(or even a whole table ) of these
Pita Chips, Crackers, Spicy chips
Dips- Yogurt Dip/ Tzatziki, Honey Chilli Dip , Queso or Hummus , Red pepper feta dip, Bean & Corn Feta Dip
Nuts- Almonds, Pistachios & Walnuts
Veggies- Carrot,Celery,Cucumbers
Fruits- Grapes, Kiwi,Olives
This would be my grazing platter.I find making something like this goes a long way.More than making individual appetisers.
A Quick Note on Air Fryer
I have been using Phillips Air fryer for the past 10 years! Yes...I was one of the early converts!
It has served me very well.But this the Air fryer my brother uses and he loves it.It has 3 levels and you can use it to dehydrate and make a whole chicken!
Here are some more Air Fryer Appetisers for you
Air Fryer Stuffed Peppers
Air Fryer Buffalo Shrimp
Airfryer Honey Chilli Edamame
Air Fryer Curry Cauliflower
---
Find us on Instagram , Pinterest & Facebook here!
If you liked my recipe, do leave a comment!
It will help others find this amazing recipe too!
---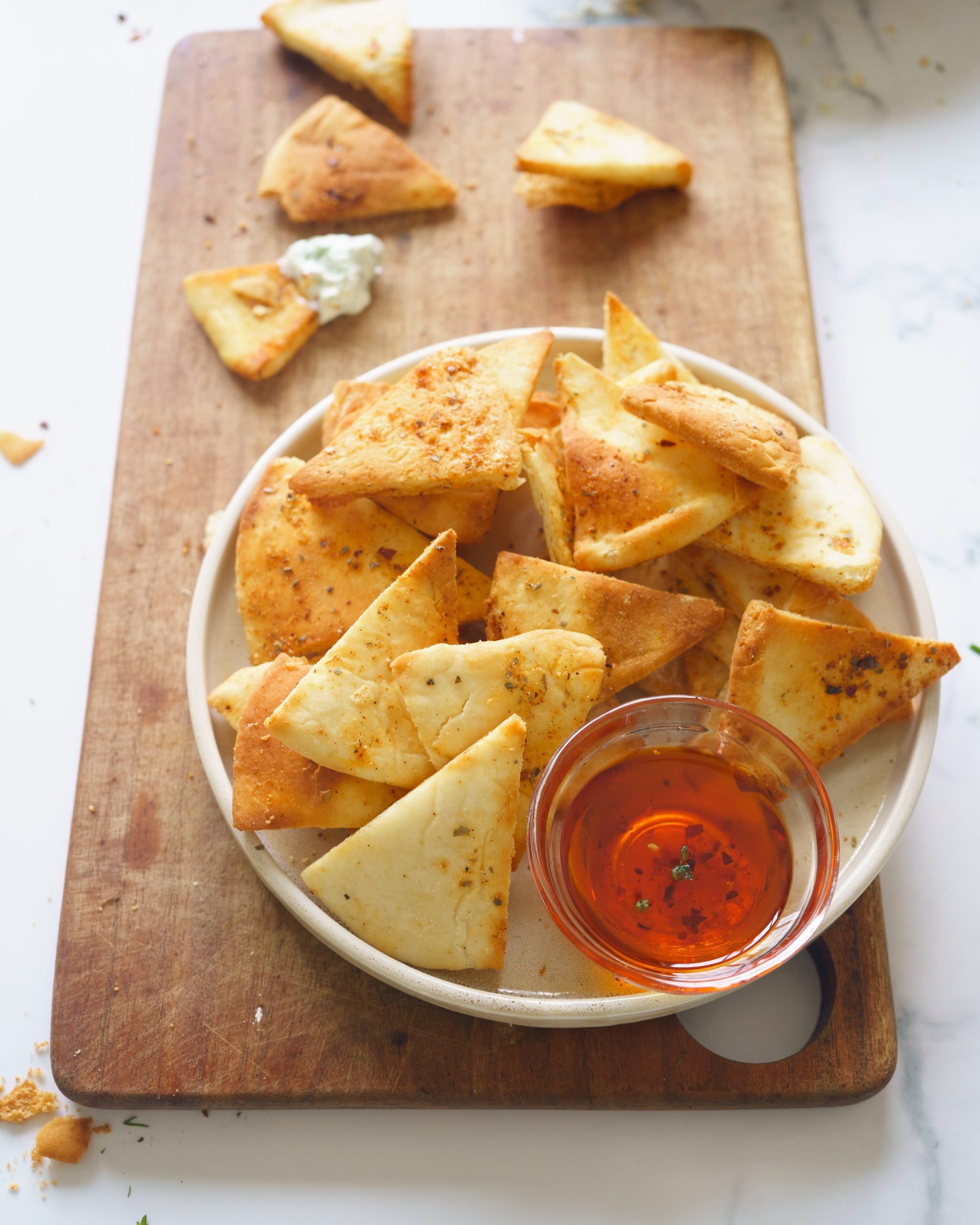 Ingredients
8-10

Pita Pockets

2

tablespoon

Oil

2

tablespoon

Seasoning*

check notes
Instructions
Preheat the Air fryer at 180 C or 365 F for 2 minutes

Meanwhile, Cut the Pita Chips into triangles.

Drizzle oil and seasoning around.Give it a mix.

Add half the chips to the air fryer basket.

Air fry for 6 minutes.Shake the chips gently at the 3 minute mark.Air Fry for 8-9 minutes if you want the chips crisper and darker brown.

Check if they have browned to your expectation.Remove.
Notes
Seasoning
I have used 
1 teaspoon Salt
1 teaspoon Ground Chipotle Chilli
1 teaspoon Garlic Powder
1 teaspoon Dried Thyme
You can use any seasoning of choice- italian seasoning,peri peri seasoning, Mixed herbs,Just salt & pepper.
*The Air fryer time may vary depending on the brand you use.
Nutrition
Sodium:
18
mg
|
Calcium:
8
mg
|
Vitamin C:
1
mg
|
Vitamin A:
15
IU
|
Sugar:
1
g
|
Fiber:
1
g
|
Potassium:
26
mg
|
Calories:
45
kcal
|
Trans Fat:
1
g
|
Saturated Fat:
1
g
|
Fat:
4
g
|
Protein:
1
g
|
Carbohydrates:
2
g
|
Iron:
1
mg
If you liked the recipe, I would appreciate a comment.
Keep in Touch
Follow and like my facebook page yellowthyme!