Make the most perfect creamy hummus with just three ingredients. So luscious, So delicious. Just the most amazing healthy dip with anything crispy!
This hummus recipe is so simple that I would suggest it to any beginner. As I have said above, you need only 3 ingredients. No garlic, No Oil and no Olives!
It's just utterly delicious and the creamy velvety texture just calls you towards it!
Whether you just don't have garlic or are allergic or just don't like it. This recipe makes the creamiest hummus without any add ons.
It just cant get simpler than that.
Hummus is
Middle Eastern Dip
Vegan
High protein & fiber
Plant based
I love serving this with some carrots, cucumbers sticks. Of course you can scoop this up with some warm pita bread or bread.
This is also a great replacement for butter on your toast and mayonnaise in your rolls.
For me, it's a great snack option.
Why we love this 3 ingredient Hummus
Oh this is the greatest, healthiest dip ever! We make hummus almost once a week. I am obsessed!
It's kid friendly
Just 3 ingredients and done!
It's protein packed and a great replacement to butters and spreads
Makes all veggies taste extra yum!
Ingredients
Here is what you need to make Hummus
Chickpeas
Tahini
Lemon Juice
Chickpeas
You can boil chickpeas at home or buy canned version.
Boiling Chickpeas at home- Soak Overnight, Pressure cook in the instant pot for 35 minutes with 3 times the water.Check my Channa Masala Post for more details on boiling chickpeas.
If you dont have a pressure cooker, buy canned chickpeas.
The trick to smooth hummus is overcooked hot boiled chickpeas.
I usually microwave the boiled chickpeas for just 3 minutes before working with them.
The chickpeas have to be buttery soft.
If you are using pre boiled chickpeas that have been in the refrigerator, you can prep them in two ways
Boil Them - Add the chickpeas to boiling water and let it simmer for 5-10 minutes
Microwave them - Add some water or use the water the chickpeas already have. Microwave them for 10-12 minutes, covered. Make sure the chickpeas are submerged in water.
Tahini
I use homemade tahini. It can be more intense so I use very little of it. If using store-bought you can increase the quantity by ¼ tsp.
Lemon Juice - Not lime...the yellow big lemons. It transforms the hummus! Really!
Should I peel Chickpeas for Hummus?
You can peel the chickpeas when making hummus. You will definitely get creamier hummus when you remove the skin of the cooked garbanzo beans.
But..It takes time and extra effort.
The difficult way to do this is to remove each skin by hand.This will take a lot of time.
An easy method is to place the chickpeas in a kitchen towel. With gentle pressure, rub the towel back and forth.
The skin comes right off and you can just pick it off.
If you have a heavy duty processer then you can leave the peel on and instead blend the chickpeas as much as you would with almond or peanut butter. I have a heavy duty blender which i use to make chutneys etc so I usually leave the peel on.
If you have a regular blender, then you will benefit from removing the peel of the chickpeas.
How to make Hummus with just 3 ingredients!
Making hummus is easy enough on paper but a lot of things can go weird.
The texture of the hummus has to be creamy and not thick.It's light and airy.Almost like buttercream.
I have made this mistake often when I started making hummus.
With that cleared up..Let me explain how to make creamy hummus
Step 1: Over Cook the Chickpeas.
This helps in making the hummus silky smooth. This will also over cook the chickpeas and make the hummus smoother.
You can either boil them at home or use canned chickpeas.
To make them at home
Soak the chickpeas for 6-8 hours or overnight.
Pressure Cook ,covered in water, for 25 minutes in a stovetop pressure cooker or for 30 minutes in an instant pot.
PRO TIP- If you have forgotten to soak them, you can quick soak them in boiling water for 1 hour.
To warm the already cooked chickpeas and make them softer, you can
Boiling Water - Simmer the cooked chickpeas in boiling water for 10-12 minutes.
Microwave - Place the chickpeas in a covered microwave safe bowl with water or the liquid chickpeas were boiled in. Submerge it completely. Microwave for 10-12 minutes.
Do not use cold chickpeas. They will be significantly difficult to blend.
Step 2: Strain the chickpeas
Strain the liquid completely.
If you want, you can remove the skins of the chickpeas at this point.
To do that,
Step 1: Place the chickpeas between a kitchen towel
Step 2: Gently rub them in between the towel. Apply gentle pressure
The skin should come right off and you can pick them.
Full disclosure- I almost never remove the skins.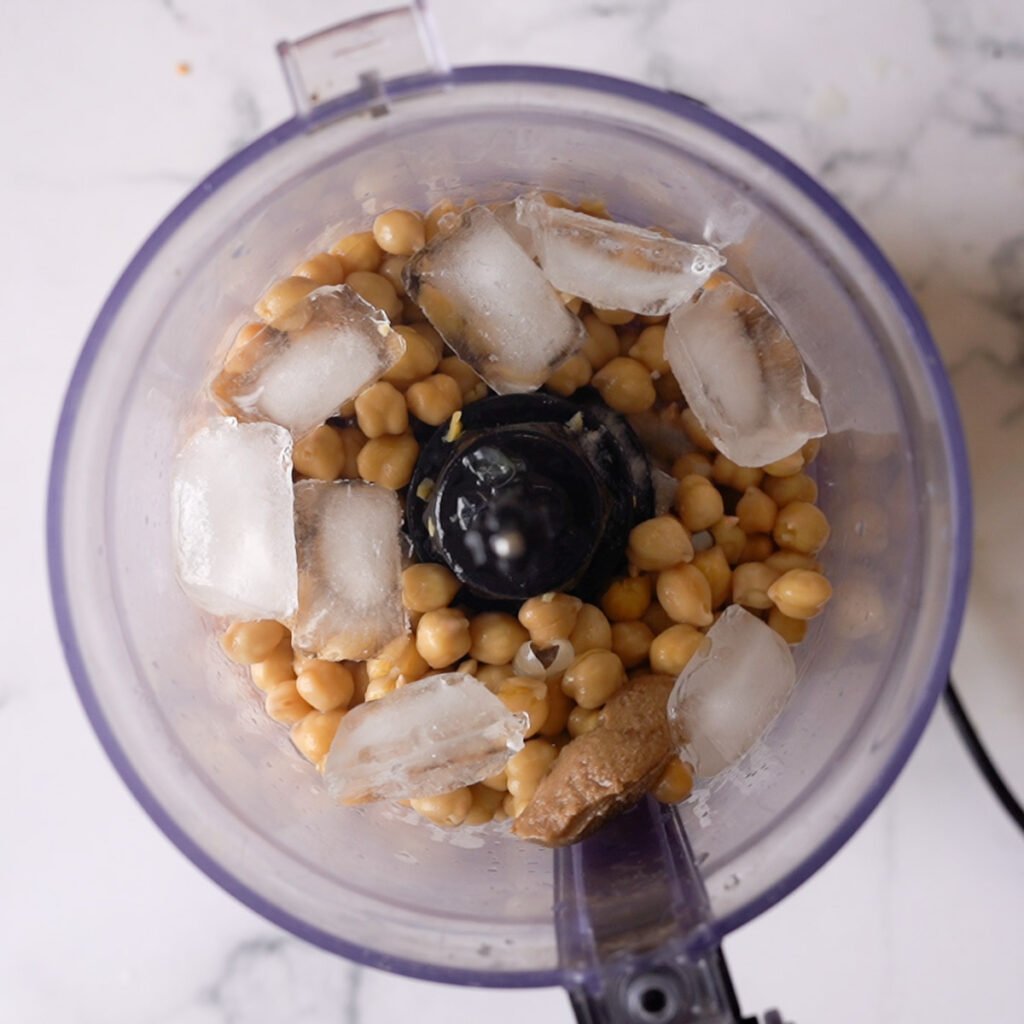 Step 3: Blend
In a food processor/ blender, add the chickpeas , lemon juice and tahini.
Top this with about 1 cup of ice cubes.
The ice cubes will help in maintaining the temperature and not over heating the processor.
Blend , Blend , Blend. Take your time here. At least 10-12 minutes.
Some food processors are not strong enough to make a creamy paste. In that case, do your best! Try blending for a few more minutes.
Add water if the hummus is too thick.
The texture of hummus should be almost the same as buttercream.
NOTE: Thick hummus develop a hard coating on top that just looks awful. So make sure its creamy and spreadable.
If you love chickpeas and always have leftovers, learn how to properly store chickpeas in the fridge.
Possible add- Ons
Hummus can be served in so many different ways! Sometimes a small sprinkling of a spice or a few kernels of fruit make such a big difference in the taste, look and texture.
Here are my top ideas of things you can add on top of hummus
Zaatar - A popular spice mix from the mediterranean
Ground Smoked Chili - This is my favourite ! It just transforms hummus.
Olive Oil & Sesame- both white and black
Chili oil
Olives
Fresh herbs- Cilantro, Dill & Mint being our fav!
Roasted Chickpeas- One that everyone should try!
Grapes & Pomegranates
Storing & Freezing
You can easily store hummus in an air tight jar, in the refrigerator, for about 7-10 days.
The texture becomes a little more thick but other than that, it stays beautifully in the refrigerator.
I have personally never frozen hummus but here is a detailed article on it from eating well.
Possible Variations
You can change your hummus in so many ways! Here are some of my top favourites
Roasted Red Pepper Hummus
Beetroot Hummus
Hummus with Dill
Loaded hummus with roasted olives
Loaded hummus with roasted cherry tomatoes
Spicy Hummus
Hummus with brown chickpeas
Roasted Aubergines
Yes there is an endless list of hummus variations! I can go on and on.
Serving Hummus
Hummus is usually served in a shallow bowl. You can swirl it around with a spoon. It creates a beautiful pattern and texture.
Last thing to do is to drizzle good quality olive oil over it.
Hummus is usually paired with fresh vegetables like cucumbers, carrots and peppers. It's the most heavenly 4 o clock snack that's uber healthy!
The other option is to serve the hummus with warm soft pita bread. Just tear the pita with your hands and mop that humus up.DELICIOUS!
Also! Try eating it with crisp pita chips. You can make pita chips in the air fryer quite easily.
If you are throwing a party, serve this along with Baba Ganoosh, Labneh , Carrots, cucumbers and celery.
Did you know that there are more ways to use hummus than just a dip?
Wrap & Pita Pockets- Spread some hummus generously on the wrap, add lettuce, some crispy falafels and a tonne of veggies like cabbage, cucumbers, carrots. Wrap it up and bite into it! it's DELICIOUS!
Sandwich - Toasted bread with a generous helping of hummus, sliced tomatoes and cucumber..omg..it's my snack heaven! I eat this most days of the week.
Dressing - Add this to your healthy bowl like a dressing. You can dilute it with little water to make it easier to mix. I love this with quinoa, salad greens, grilled broccoli and a big dollop of hummus. So good!
I love making simple appetizers. Because we entertain almost weekly, i have a trusty list of dips that I have been making over the years.
Garlic Labneh - Thick strained yogurt with garlic
My Famous 5 minute Yogurt Dip - Simple greek yogurt dip thats just AMHAAZing
Greek Yogurt Party Dip - Tzatziki
Hummus with Roasted Olives - loaded hummus!
Roasted Red Pepper Feta Dip - Creamy, cheesy, so good!
Black Bean Corn Feta Dip - Chunky dip, perfect with nachos.
If you make this simple 3 ingredient hummus , do leave me a note. I would love to hear from you!
Find us on Instagram , Pinterest & Facebook here!
If you liked my recipe, do leave a comment!
It will help others find this amazing recipe too!
---
Ingredients
2

Cups

Boiled Chickpeas

Canned or made at home

1

tablespoon

Tahini

Optional

2

tablespoon

Lemon Juice

Salt

As per taste

1

cup

Ice Cubes

or Cold water
Instructions
First, heat the chickpeas in a microwave or a pot till it's hot and heated through.

Drain the chickpeas. Add the chickpeas, tahini, lemon juice, salt and 1 cup ice cubes to the food processor or blender.

Blend till it's smooth. This will take 10-12 minutes*.The Hummus should be smooth and of the same consistency as buttercream.Add more water if needed.

Once you get a fluffy pasty consistency scoop it out in a bowl & serve!
Notes
*Serving size is an estimate.
** Texture of Hummus should be smooth.It should slide off the spoon easily.The closest texture to hummus is buttercream.
***Using ice cubes helps in texture.It also helps in making sure there is not too much steam while blending the hot chickpeas.
Nutrition
Calories:
79
kcal
|
Carbohydrates:
12
g
|
Protein:
4
g
|
Fat:
2
g
|
Saturated Fat:
1
g
|
Sodium:
5
mg
|
Potassium:
133
mg
|
Fiber:
3
g
|
Sugar:
2
g
|
Vitamin A:
13
IU
|
Vitamin C:
3
mg
|
Calcium:
25
mg
|
Iron:
1
mg
If you liked the recipe, please leave us a rating
Follow me on Instagram
My handle is @yellowthyme
Frequently Asked Questions
Does All Hummus contain Garlic
Traditionally, hummus does contain garlic. You can make this three ingredient hummus without garlic very easily.
What is the most important ingredient in hummus
Chickpeas or Garbanzo Beans. Chickpeas make for 80% of the dish. Rest being water.
What is the healthiest thing to dip in hummus
That has to hands down vegetables. Especially bell peppers, cucumbers and carrots. Not only are they healthy, they go amazingly with creamy hummus.
Does Classic Hummus have Garlic
Yes. Classic hummus has boiled chickpeas, tahini, lemon & Garlic.
SaveSave
SaveSave