This post contains affiliate links. As an Amazon Associate I earn from qualifying purchases. Click here to read my policy.
Love chickpeas but don't know how to store them so they last? In this post I will answer all your questions on how to store dried Chickpeas, canned chickpeas, even frozen chickpeas. Let's go!
Jump to:
Chickpeas - A Quick Intro
Chickpea or Chick Pea is a legume , from the pea family, also knowns as gram or Bengal gram, garbanzo or garbanzo bean, or Egyptian pea.
Chickpeas are available in green, white and brown colors. Chickpea flour is very extensively used in Mexican and Indian cuisines.
Chickpeas are
Gluten Free
Plant Based Protein
A part of the legume family
They are not
Keto
Paleo and Whole 30 approved
Low carb
100 gms of chickpeas contain 19g of protein,61 gms of Carbs and 6 gms of Fat.
The Best way to store Chickpeas
Here is a quick gist of how to store chickpeas.
Dried Chickpeas can last in the pantry for up to 12 months. The best way to store them is in an air tight glass jar.
Boiled Chickpeas can last for 5-6 days inside the refrigerator. Store these with the cooking/canning liquid in an air tight container
Soaked Chickpeas can be stored in the refrigerator or sprouted on countertop for up to 4 days
Roasted crunchy chickpeas can be stored for 3-4 days on the kitchen counter. Make sure to store them in a air tight bag/jar to maintain their crispiness.
Canned Chickpeas can last in the pantry indefinitely. But once opened, you should refrigerate them and consume within 5-6 days.
How to Store Dried Chickpeas
This is our preferred way of buying chickpeas. We eat a lot of chickpeas and so buying dried chickpeas along with our lentils and dried beans happens monthly.
Though dried chickpeas can last for up to a year, I usually never keep them beyond a month. I also buy it in 1 pound packs so it's easy to store it in my 1 quart glass jars.
We also buy brown chickpeas every month though in far lesser quantity. They can also be stored in the exactly similar manner.
Instructions
Check the package while buying dried chickpeas. Check for the packaging date and expiry date so you have an idea of how old they are.
Open and packet and store the dried chickpeas in a transparent glass /plastic container. This way you will always know how much you have.
Pros of Dried Chickpeas
The most obvious pro is the shelf life of over a year.
Second pro is the absence of chemicals and preservatives
You can adjust the salt and spices. Especially true when making curries like chole masala
Cons of Dried Chickpeas
Dried chickpeas take time to cook. They need to be soaked and pressure cooked for long to be edible.
Need a Pressure cooker or instant pot to cook.
How to cook dried Chickpeas
The best way to cook dried chickpeas is to pressure cook them.Here is how you do it
Soak the chickpeas for 6-8 hours or overnight.
Pressure Cook ,covered in water, for 25 minutes in a stovetop pressure cooker or for 30 minutes in an instant pot.
PRO TIP- If you have forgotten to soak them, you can quick soak them in boiling water for 1 hour.
how to store cooked chickpeas
So what do you do after you have cooked the chickpeas? How long do cooked chickpeas last in the fridge?
By cooked chickpeas I mean boiled chickpeas- either boiled from dried chickpeas or an open can of cooked chickpeas.
So boiled chickpeas can last in the fridge up to 6-7 days.It is best to store them along with their cooking or canning liquid. This makes sure the chickpeas skin don't dry out and they remain soft and moist.
Instructions
If you have just cooked the chickpeas, let them cool down before storing them
Add them to a air tight container or a zip lock bag. Make sure they are submerged under the cooking liquid.
Close the bag or the container and store in the refrigerator for 6-7 days.
How to store soaked chickpeas
You soaked the chickpeas last night but in the morning frenzy, you forgot to boil them. So what do you do?
Can you tell this has happened to me a zillion times over the years? Here is what you can do
Stick them in the refrigerator for 2-3 days.
Wrap them in a damp cloth and let them sprout.(OR use a sprout machine. It's so convenient!)
Discard the soaking water, Dump them in a freezer bag and freeze them! Yes really! To cook, just remove the pressure cook, skipping the soaking step al together! How cool is that?!
Top Tip- To soak the chickpeas, always make sure you have more than ⅔ of the container empty. They always swell up to 2-3 times.
How to store Canned Chickpeas
Buying canned chickpeas is a great convenience. All you gotto do is open the can and the chickpeas are ready to use.
When buying canned chickpeas, always buy the can with the shortest ingredient list.
But how to store canned chickpeas after opening? Un opened cans can last for eternity in the pantry. I almost feel lucky when I suddenly find one little can of chickpeas on the bag of my pantry when I thought I had nothing to eat.
Though once you have opened the can, the shelf life reduces rather drastically. At mx, they can last in the refrigerator for up to 5-6 days.
Can you freeze chickpeas out of a can? Yes you can!!A great way to increase their life is to freeze the canned chickpeas. We will talk about how to freeze chickpeas in detail below. Yes! Frozen chickpeas is a thing!
Instructions
Drain the canning liquid. Give your chickpeas a quick rinse to remove that jelly like stuff.
Store it in an air tight container or a zip lock bag in the refrigerator for 5-6 days.
or! Throw them in a freezer bag or container and freeze for 2-3 months!
Pros of Canned Chickpeas
The biggest pro is the convenience of always having cooked chickpeas on hand
The shelf life! It can last an eternity!
Easy to store
Cheap
Cons of Dried Chickpeas
Preservatives & Chemicals used to can
The packaging material - the metal and plastic parts that you have to recycle or throw.
No control on the texture, salt & other spices.
1 can will probably only serve 2 people. So its not very crowd friendly.
My Recommended Products
how to store roasted chickpeas
Have you had roasted chickpeas? It's a very common snack in India. You get these across flavors, ranging from plain salted ones to fancy coated ones.
You can also roast chickpeas at home- in oven or an air fryer. They are just so delicious, easy to make and healthy! Especially when you are craving something crispy.
So whether you have bought crispy roasted chickpeas or made it at home, how do you store them?
Re seal the bag with a rubber bad, tape or a food saver.
Put it in an air tight jar
Store it in zip lock bags
The best thing to reduce waste!
Frozen Chickpeas
Did you ever think you could freeze chickpeas? I learnt this trick during the pandemic. You can freeze canned or boiled chickpeas for up to 3 months!
So next time you need only a handful of chickpeas out of a can, don't chuck the rest of it. Pop it in the freezer!
This was my trick to make sure I wasted as little as possible and always had prepped chickpeas on hand.
You can freeze chickpeas so easily! It's life changing especially if you are trying to go vegan or just simply eat more vegan protein.
Yes you could just pop them in a bag and freeze them but I have a better way! Instead of one big block of frozen chickpeas that will need to be thawed together I used to flat freeze them so they are all separate and I can take out as much as I need.
How can chickpeas be frozen
I have two ways to do this
Flat Freezing
Drain the chickpea liquid. Place them on a silicon or parchment lined cookie sheet
Freeze them flat.
Once frozen, transfer them to a zip lock bag.
Only remove what you need
Freezing in portioned Silicon Tray
Freeze them with or without their liquid in a pre portioned silicon tray.
Take out one portion at a time.
To use Frozen Chickpeas
You can either microwave the chickpeas to get them to room temperature or defrost them overnight.
If you have flat frozen the boiled chickpeas like green peas, you can use them directly in stir fries and curries.
To use frozen chickpeas to make hummus, either defrost them or throw them in a pot of boiling water.
This is a great trick to get a great texture on hummus.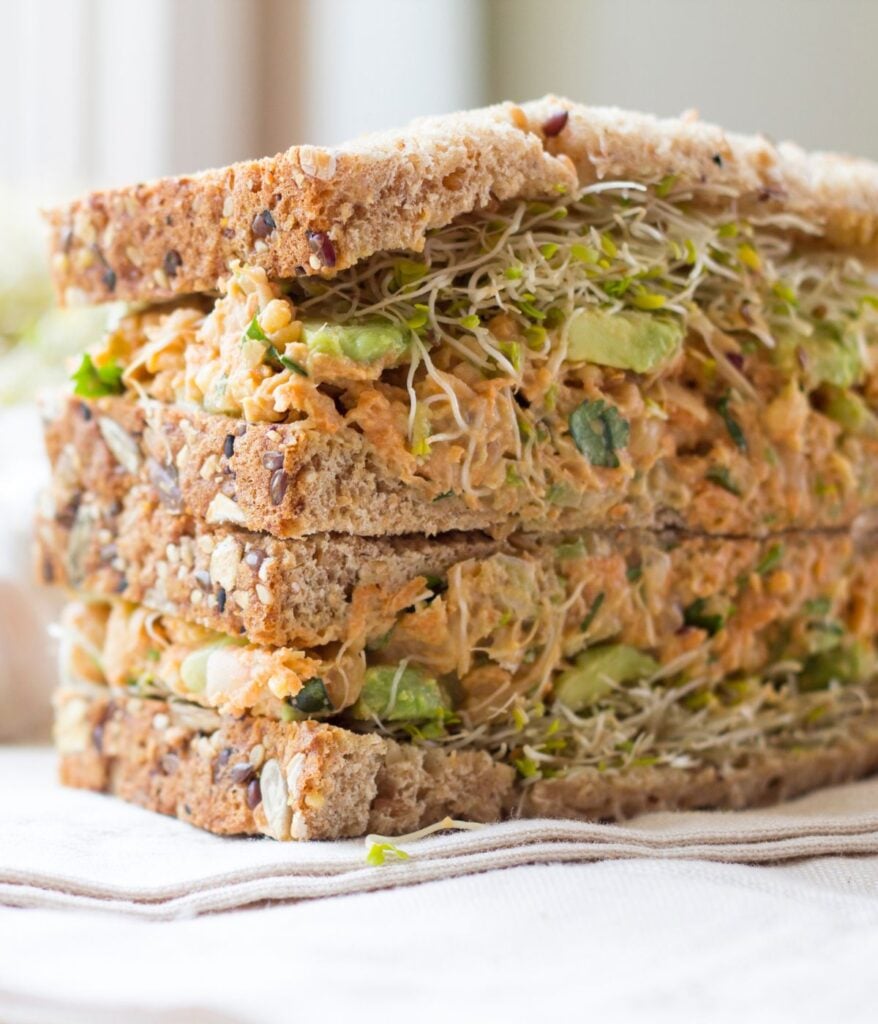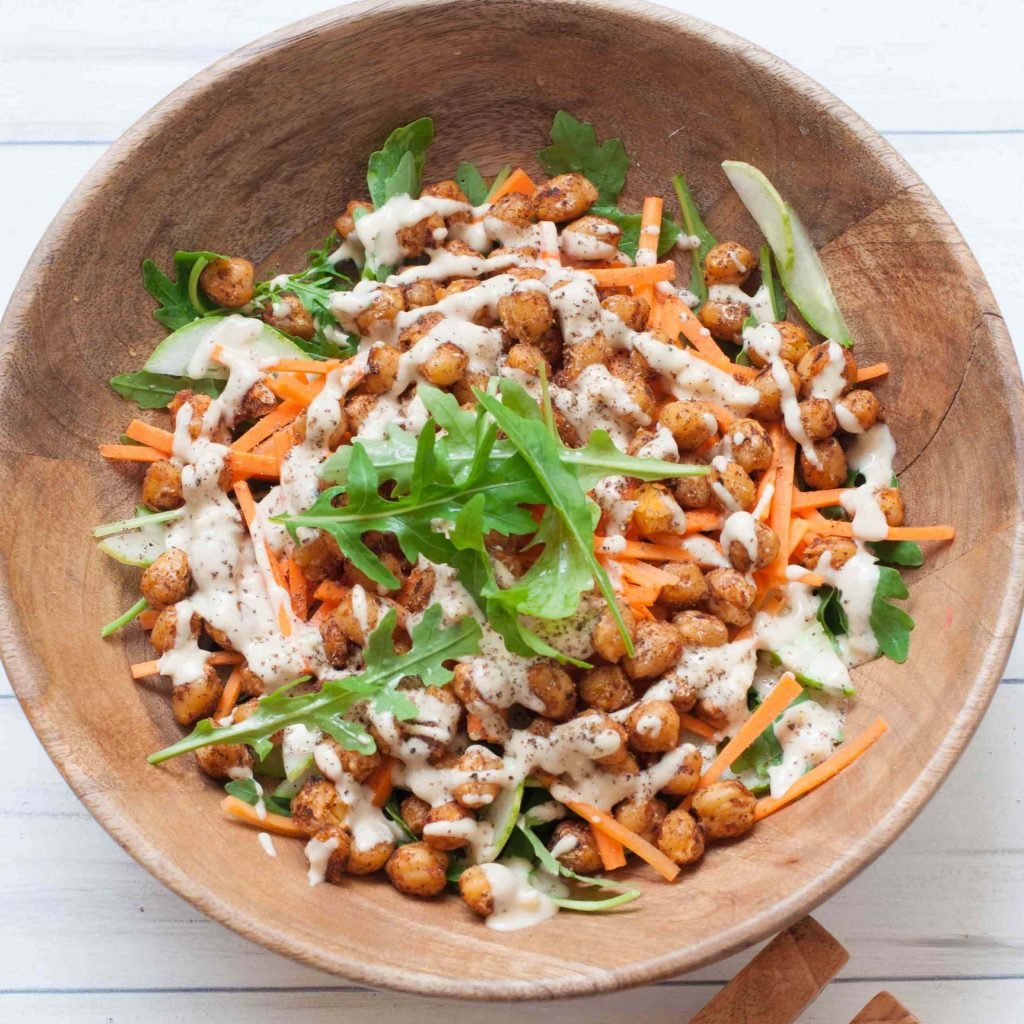 How to cook with chickpeas
Chickpeas are- a great source of fiber and protein. When you have them on hand, you can make a meal in 5 minutes!
As an Indian, we have been eating chickpeas since we were born. Some form or other of chickpeas is cooked almost every 3-4 days.
Here are some ideas of how to eat chickpeas
Amp up your Salad with Chickpeas -Chickpeas Tahini Salad
Blend it into Hummus - Here are two of my fav recipes - Hummus with Roasted Olives & Easy Hummus. Go see my special tip to make the creamiest hummus ever!
Sandwiches and wraps- Mashed Chickpeas with some avocado is our go to filling for quick sandwiches!
Bowls - with veggies, quinoa and a dressing
Crispy Chickpeas - in the oven or air fryer
Shape and fry them up as Falafels- Easy Beetroot Falafel
Here are some More HOW to Freeze posts you might enjoy
Can you Freeze Almond Milk
Can you Freeze Coconut Milk
Can you Freeze Rotisserie Chicken

Frequently Asked Questions on Garbanzo Beans
Do chickpeas need to be refrigerated
Once the can of chickpeas has been opened, it needs to be refrigerated.
If you have boiled dried chickpeas, let them cool and then refrigerate them.
Are chickpeas Healthy
Chickpeas are a great source of Vegan protein and fiber, as well as load of nutrients, like folate and iron. Here is an article from that talks about the benefits of eating chickpeas
Do you Soak the chickpeas in the Frigde or Counter
The chickpeas can be soaked in triple the amount of water on the counter top. You can leave it soaking for 6-14 hours.
If you cant use them immediately, you can stick the whole pot of soaking chickpeas in the refrigerator for use later
Are Chickpeas OK to freeze
Yes! You can freeze both soaked and cooked chickpeas upto 3-4 months. The best way to freeze chickpeas is to flat freeze them first. This way they wont be a big clump of frozen mass and can be portioned easily.
How can you tell if the chickpeas are spoiled
Cooked Chickpeas can last in the fridge for 6-7 days at max.If they smell rancid or have developed a mold or a white coating, they are most likely spoiled and should not be eaten
With dried Chickpeas, if you see holes in them or small insects in the pack, then they aren't fit to eat.
Are Chickpeas Keto
No garbanzo beans are not keto. They are a great vegan source of protein and fiber but they have their fair share of carbs too.
If you have any other questions on how to store chickpeas or on frozen chickpeas, drop me a note in the comment section