This post will answer - What do you serve with Butter Chicken or Chicken Makhani. How do you serve it as part of a regular family mean. How do you create a Indian menu around it.
If you do not want to get into the whole discussion, then here is the short answer on what goes with Butter Chicken
Short Answer
Serve Butter chicken with Naan or Rice with a Vegetable stir fry , raita & Indian dessert
Here are two Butter Chicken recipes for you - Instant Pot Butter Chicken and Authentic indian butter chicken on stove top.
Today, I'll help you figure out how to serve butter. Apart from butter Chicken, what other items can be added to the plate?
There are two possible scenarios -
1. If you are serving a regular meal for 2-4 people
2. If you are making a whole party or celebration and the main dish is Butter Chicken. This is for 10-12 people.
In Indian food, we usually have four to five parts to a meal.
The first part is the main curry, which is like the star of the show. In this case, it's the Butter Chicken, which is really tasty!
Next, we have something to eat with the curry, like naan, roti, parathas, or rice. It's like the sidekick or a vehicle to eat the curry with , which makes it even more delicious.
Then, we have a vegetable side dish. It can be something like crispy okra fry or a dish called Baigan Bharta, which may not look fancy but tastes amazing and makes you want more!
Lastly, we have the extras that make the meal extra special. These are things like pickles, crispy papads, and flavorful chutneys. They add a burst of flavor and make the meal even better.
Oh, and don't forget about drinks, yogurt-based sauces called raitas, and yummy desserts! We'll talk more about those later.
So, that's the basic idea of how an Indian meal is served. We'll explore each of these parts in more detail.
We will talk about all of these in detail.
But at the outset, understand that Butter Chicken is a mild Punjabi dish from the northern region of india. So the accompaniments will also be from the same region.
If you are only making a regular meal then you can choose between rice and breads. Maybe add a salad or a vegetable stir fry.
If you are making a celebration Indian Menu, You can pick and choose and add as per your preference, number of guests & the occasion. Look for a party menu made for butter chicken at the end of this post.
Bread - Naan, Roti, Paratha
In North India, the go-to breads are flatbreads like Naan (also known as Naan Bread), rotis, fulkas (or Phulka), kulchas, and parathas. You can find rotis, phulkas, and parathas being made at home for almost every meal. My dad loves rotis so much that he eats them three times a day - breakfast, lunch, and dinner!
Making these breads requires some technique, skill, and patience. But once you've made them enough times, it becomes second nature. I mean, my mom used to effortlessly make 40 rotis for a single meal without breaking a sweat (a long, long time ago).
Now, let's get back to how they're served. These breads are served hot and fresh, straight from the griddle (called Tawa). And when it comes to naan, it's cooked in a special Indian oven called a Tandoor.
If you don't feel like making them from scratch, no worries! You can easily buy naans - fresh, frozen, or even straight from a restaurant. Just warm them up gently and serve.
Oh, and here's a simple recipe for Butter Garlic Naan in case you want to give it a try!
So, now you know how the bread part of the meal works. Let's move on to the other tasty components!
Rice
Another easier option, in my opinion, is to serve the Butter Chicken with rice or a pulao. It's a simple and convenient way to make a delicious meal for the whole family, no matter how big the family is!
To keep the North Indian flavors intact, you can go for plain Basmati Rice or try its softer cousin - Short grain or Sona Masoori Rice. If you want to add a little more flavor, you can make a Cumin flavored pulav or peas pulav.
Here's a super easy way to make Basmati rice in an instant pot.
If you are serving a crowd, I find serving both rice and naan(or rotis) makes serving and cooking easier.
Papads/ Popaddams
These crispy chips are a kind of Indian side dish. In traditional households, they are served with almost every meal.
There are so many different versions of these chips(popadams). The most popular ones are pre-packed, roasted, fried, or even quick microwave options. My husband really loves papad. Actually, he's quite specific about it and prefers a particular kind called Pappadam, which is the Kerala version of papad. We usually keep around 3 boxes of these fried and ready to eat.
Depending on where you live, you can find papads that you can quickly fry, roast, or even microwave. Alternatively, you can buy packaged versions if they're available nearby. Here are some options I found on Amazon:
Lijjat Papad- can be cooked straight on the flame-These are quite popular in north india though they can be spicy.
Pappadam - These will need to be microwaved or fried and are more popular in South india.
Ready to eat Papad - These can be eaten straight out of the box and are super convenient!
The other option is also a vegetable pakora like palak(Spinach ) or onion pakoras. They are a sure shot way to impress your guests!
Vegetable Stir Fry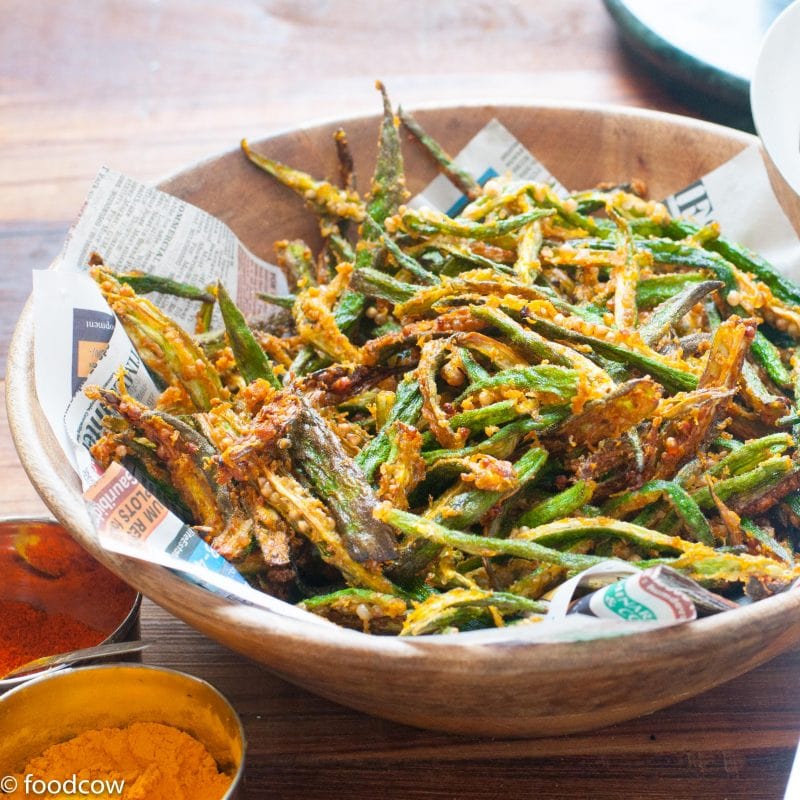 This is called a side dish in indian cuisine. Almost every meal- be it dal chawal, kadhi chawal, butter chicken and naan, a small veggie stir fry is always served.
More then salads, Vegetable stir fries are huge in india. If you are creating an Indian Menu, you will possibly serve 2-3 vegetables for sure.
Usually Indian tables have one Potato based dish like these Bombay potatoes and one green vegetable- favorite being Ladies Finger or bhindi- fried or sautéed.
Another great option is this quick air fryer turmeric roasted cauliflower.
Salad
Though there are not many popular salads, Indian food is usually served with sliced red onions, slivers of cucumbers and a green chili.
You could make a kachumber salad or this coconut peanut cucumber salad. You can also combine the salad with yogurt and make a raitaish-salad.
Raita
Raita or spiced yogurt is also a great side for Indian dishes. Especially if the dishes are spicy or the people eating them have varying spice tolerance.
A cooling Cucumber Raita, Onion raita or Boondi Raita are perfect with Butter Chicken.
Pickles & Chutneys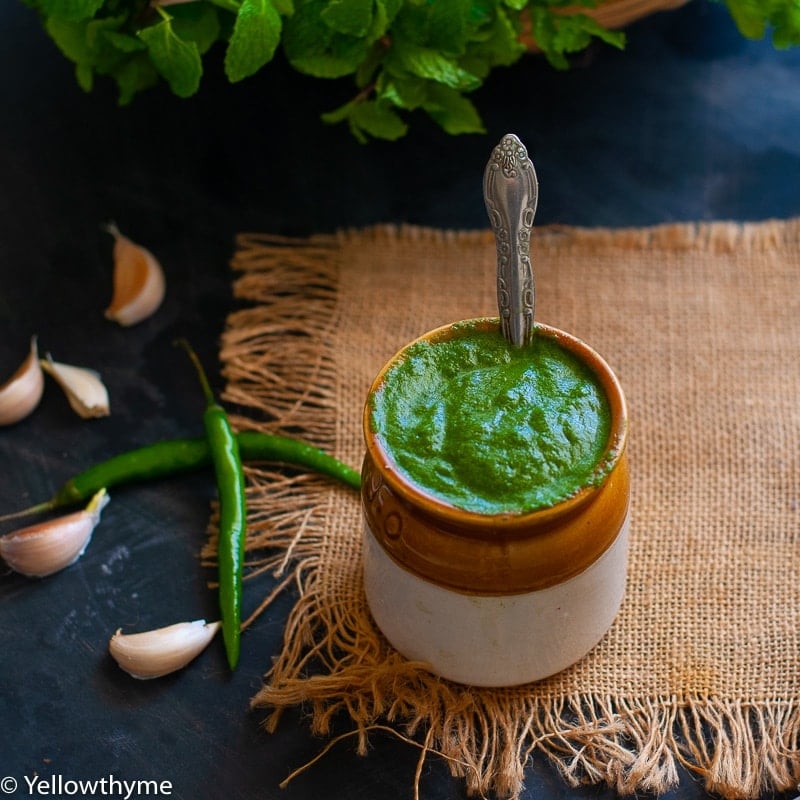 Fun fact- Indians love pickles..to the point that they are fanatic about it. Every region , heck every household has a different pickle recipe. You could say that pickle is the reason they can survive anywhere.
As Butter Chicken is from the northern region of india, I would suggest a mango pr stuffed chili pickle along with it.
Pickles can last a long time. And you eat very little with each bite.
Chutneys are also something indians cannot survive without. You can make or buy green coriander chutney or mango chutney to serve along with Murg Makhani.
Dessert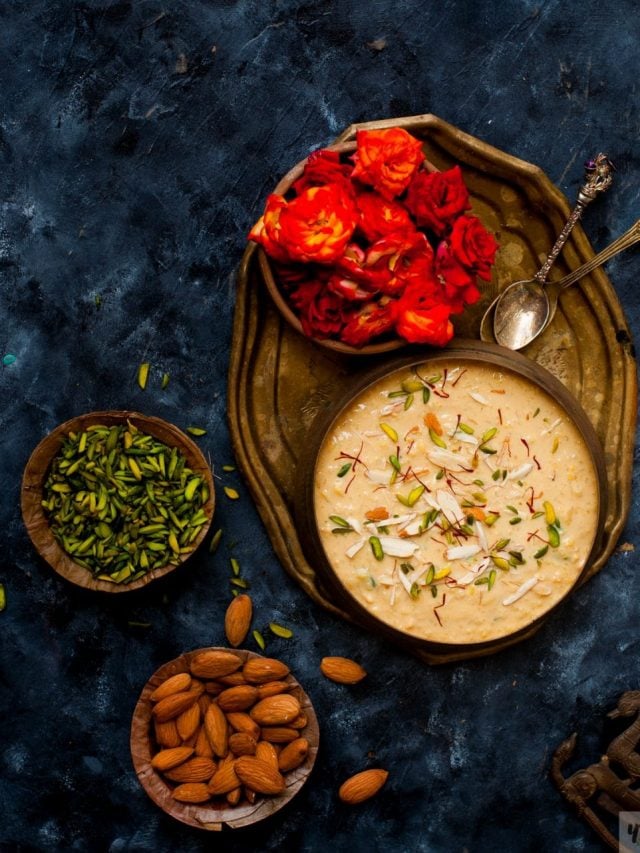 You can buy Indian sweets like Gulab Jamoon or Jalebi from an Indian sweet shop.Or you could make an authentic indian dessert like - Rice Pudding also called Kheer in india.You can make Kheer in instant pot or make a chilled version of this called Phirni, which is more like a cold, set pudding.
Or you can make Halwa. Halwa is a little bit more work but this Whole wheat halwa or aate ka halwa is just so so good!
Drinks
If you are making Butter chicken for a regular , every day meal, I would frankly just serve water. At max a salty beverage like spiced buttermilk or jaljeera.
But if I am aiming to impress, then I would serve a fresh or canned Mango lassi or Rose flavored lassi along with it.The color and look alone are enough to impress anyones socks too! Except, these drinks can be quite heavy, so try and serve them in small glasses.
Besides all this, there is a special "finisher" to Indian meals called Mukhwas. Which is sweetened coated fennel seeds. As kids we used to eat fistfuls of this.
Here is a bonus menu for you for your next Indian Party
Here is a post on what to serve with Chicken Tikka Masala- a full menu and side dishes.