Indian Cucumber Peanut Salad - Sweet, Spicy and Crunchy Cucumber salad with roasted peanuts and fresh coconut.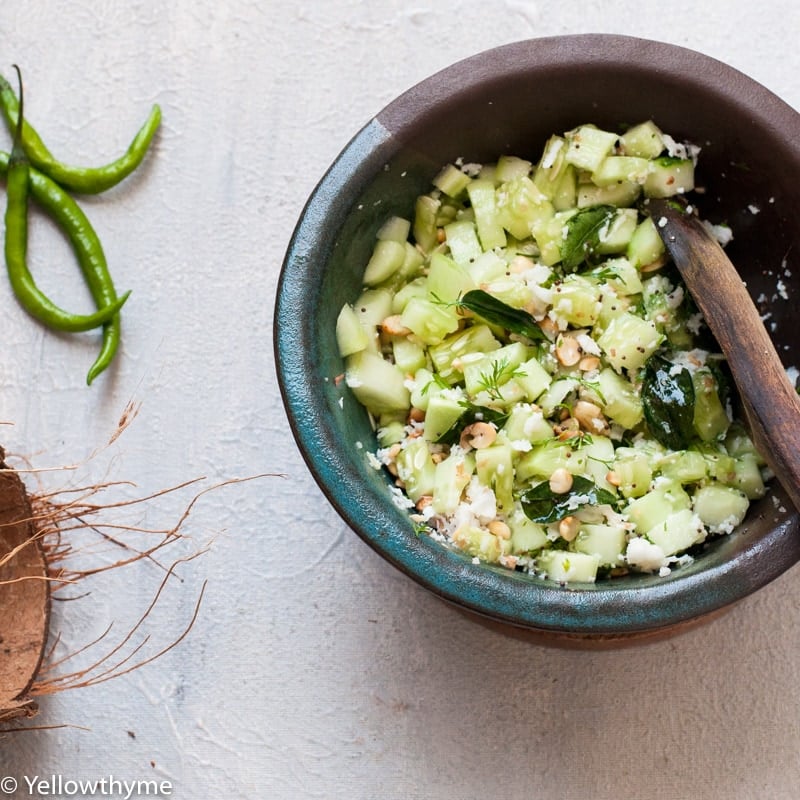 This salad hits all the right chords! Don't be fooled by the ordinary ingredients. This is a flavor bomb!
It's the combination of the ingredients that takes seemingly simple ingredients to the next level!
You will be hooked.. For life! I am not kidding!
If you are worried about sourcing all the ingredients, then stop. I will share a lot of options and substitutes.
There aren't that many Indian salads. Most foods are cooked in india. Instead of a salad, Indians usually make sabzis or vegetable stir fries. or they make Chaats. Like this delicious Edamame Chaat.
If you love cucumber salads, try Thai Sweet and Spicy Cucumber Salad.You will love it!
I digress..coming back to this salad.
You can make it in 5 minutes flat.
This Salad is also called Khamand Kakdi or Kakdi Koshambir. It's a very common West Indian Salad.
Ingredients for Cucumber Peanut Salad
Here is what you will need to make this Indian Cucumber Salad.
Cucumbers
Peanuts
Coconut
Lime/ Lemon
Sugar
Salt
Oil
Curry leaves
Mustard Seeds
Chili
Cucumber
I personally love using the European cucumbers. They are crunchier and you don't need to remove the skins.
You can also use the regular extra large indian cucumbers instead. If using larger cucumbers, you will need to remove the skin.
You can make this exact same salad with fresh zuchinni or grater carrots too.
Here are some tips for cutting Cucumber
If you are not serving the cucumber salad immediately, remove the inside seeds. They release a lot of water with time.
To give it a twist- Spiral the cucumbers. You can also peel the cucumber unevenly.
This salad will also work with smashed cucumbers.
Peanuts
We need roasted peanuts for this. You can use storebought or homemade. If using store-bought, check how salty and crunchy they are before using.
My go to method of roasting peanuts is air frying them.or you could just roast them on a hot pan.
Peanuts With or without skin are good.
I pound them in a motor pestle. It's oddly satisfying!
You could also use a roughly ground powder but i like the added crunch of broken peanuts more.
Coconut
Traditionally freshly grated coconut is used.
You can either grate coconut on a grater or give it a quick whiz in the food processor.
I understand fresh coconut can be difficult to source. Here are some options
Frozen grated coconut. Thaw and use in the same manner
Dried Coconut shavings or Flakes.
Leave it out all together.
Oil
I like to use coconut oil but peanut oil or any other neutral oil will also work.
Chili
I like using whole chillies here. You can use a whole red chili, slit green chillies or chili flakes.
Ig using chili flakes, add it to the dressing instead of the tempering.
Curry Leaves
Use dried or fresh.
How to make Indian Cucumber Peanut Salad
Step 1: Prep
Cut the cucumber into ¼ inch pieces.
Toast and pound the peanuts into coarse pieces. We are looking for chunks of peanuts and not powder.
Step 2: Dressing
To the cucumber, Add the Lime juice, Sugar and salt. Taste the balance and set aside.
You are looking for an equally sweet, tangy and salty taste.
If using salted peanuts, adjust the salt amount here.
Step 3: Tempering
In a small pan, add oil.
To this add the mustard. Once it splutters, add the chili( if using whole chili) and the curry leaves.
Step 4: Tossing
This is the step where everything comes together.
To the bowl of cucumber, Add hot tempering. Give it a mix.
Top it up with coconut and peanuts. Toss when serving.
Variations and Alternatives
This is a Vegan Salad. It's Gluten free.
It's low carb but has a good amount of fat from the coconut and the tempering to make it very filling.
If you are looking for substitutes for peanuts, try toasted crushed cashews instead.
You could also make this cucumber peanut salad with other produce. This will work with grated carrots, grated beetroot, Fresh zuchinni too.
Leftovers and Storing
The salad is best served right after its tossed together. If you want to carry it for lunch or a potluck, carry all the elements separately.
This salad can stay in the refrigerator for upto 1-2 days. Beyond which the cucumber will get soggy.
Serving Suggestions
You can serve this salad along side any Indian meal.
This is my favorite salad alongside Dal and Rice. It adds a much needed texture and blast of flavor to this meal.
Here are some Fresh inspirations for you
Edamame Chaat
Indian Sprout Salad
Thai Sweet and Spicy Cucumber Salad
Power Packed Chickpeas Tahini Salad
Cucumber Sandwiches
If you make this Indian Cucumber Peanut salad, let me know what you think! I would love to hear from you!
Find us on Instagram , Pinterest & Facebook here!
If you liked my recipe, do leave a comment!
It will help others find this amazing recipe too!
---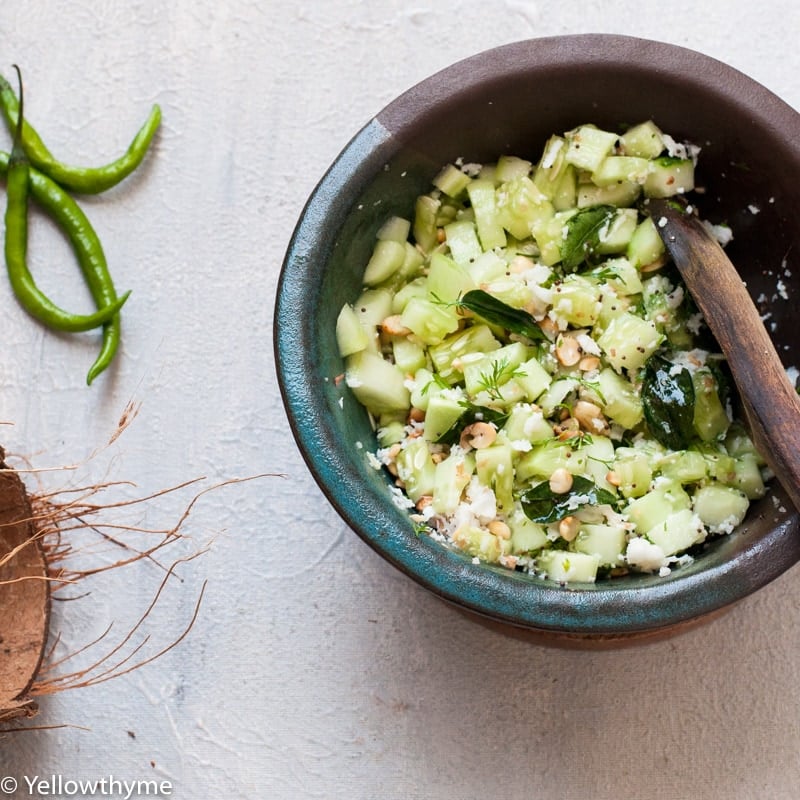 Ingredients
2

Cucumbers- diced

about 2 cups

1

teaspoon

Salt

as per taste

½

teaspoon

Sugar

1

teaspoon

Lime Juice

¼

Cup

Fresh Coconut Shredded

loosely packed

¼

Cup

Roasted Peanuts

Coarsely crushed

1

tablespoon

Fresh Cilantro

Coriander
Tempering
1

teaspoon

Oil

Coconut or Peanut Oil

6-7

Curry Leaves

½

teaspoon

Mustard Seeds

Rai

1

Green Chilli

slit or poked. Optional.
Instructions
Cut the cucumber into ½ inch pieces.

Add salt, sugar and Sugar to it. Toss together.

Toast the peanuts and crush coarsely.

Heat oil in a small pan. Once it's hot, add Mustard seeds, green chilli and curry leaves.

Pour the tempering over the cucumber.

Top with Cilantro, Crushed Peanuts and Coconut. Toss.
Notes
Substitutions
Coconut- Use frozen grated coconut or Dried Shredded Coconut
Peanuts- Use Toasted Cashews instead.
Serving Tip
Save some coconut and peanuts to add on the top as a garnish. 
Nutrition
Calories:
211
kcal
|
Carbohydrates:
14
g
|
Protein:
8
g
|
Fat:
15
g
|
Saturated Fat:
5
g
|
Trans Fat:
1
g
|
Sodium:
1325
mg
|
Potassium:
594
mg
|
Fiber:
6
g
|
Sugar:
7
g
|
Vitamin A:
331
IU
|
Vitamin C:
73
mg
|
Calcium:
77
mg
|
Iron:
1
mg
If you liked the recipe, please leave us a rating
Follow me on Instagram
My handle is @yellowthyme