Not your average Olive Oil Bread Dip - utterly delicious, so stinking easy & the best "Dip" you could be serving on the table!Takes all of 5 minutes!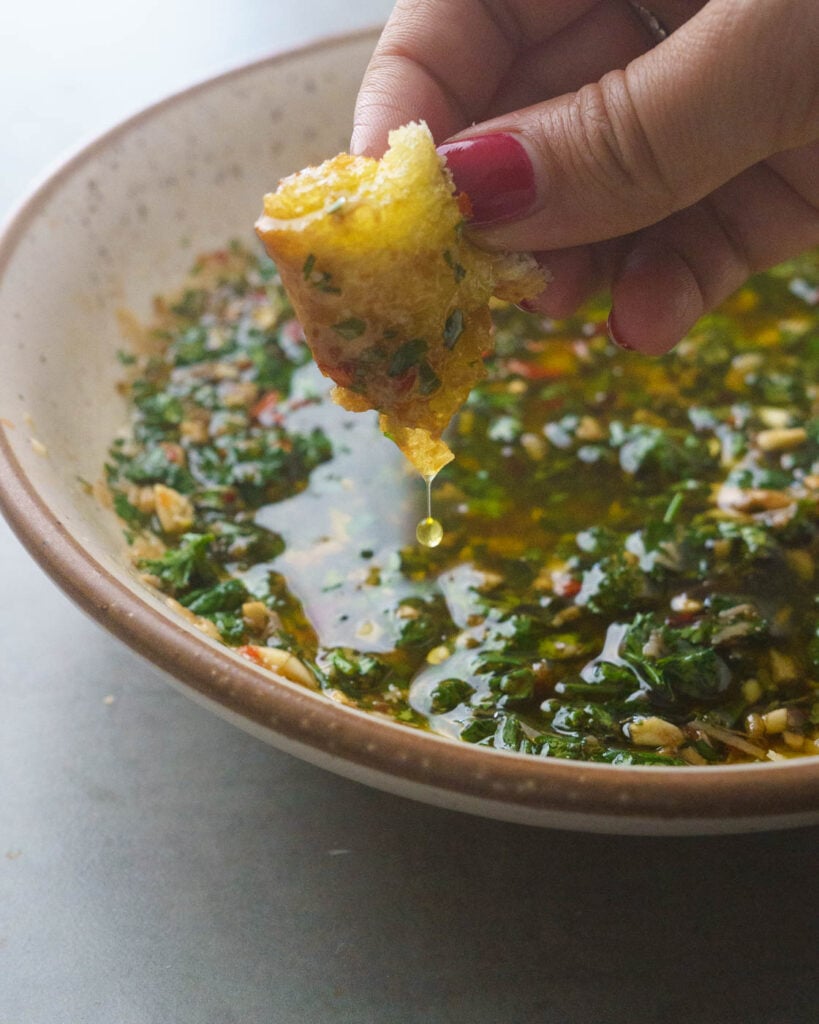 Taste: Punchy, Herby & Garlicky
TEXTURE: Seasoned Oil
EASE: Very Easy
APPEARANCE: Lightly Green and yellow
Serve with : Bread
Pros : Low Carb, Gluten Free
A dip that will not only blow the socks, it will take all of 5 minutes to make. No cooking, no baking, no nothing!
You can also make this 2-3 days in advance before you actually plan on serving it.
I personally love this one because you can serve it cold and it will remain delicious for the whole party. Literally nothing will happen to it..Other than it getting over.
Another great dip for bread is my Roasted Garlic Herb Butter. It's legit addictive!
Here is what we will do
Prep the garlic, bell pepper & the herbs
Add to the Olive oil
Mix and Enjoy!
Another dip that we have been crushing hard on is Hawaiian Pizza Dip. You must try it!
Ingredients
Here is what we will need
Olive Oil
Balsamic Vinegar
Garlic
Herbs
Salt
Chili Flakes
Parmesan
Red Bell Pepper
Olive Oil
Use extra virgin olive oil. I want to say the best you can afford but its not really needed. Any passable but extra virgin olive oil will work.
Have you ever tried making your own infused olive oils ? It's a great way to use up extra herbs!
Balsamic Vinegar
Try and get the authentic balsamic vinegar from moderna. You will know if your balsamic is nice because it will taste of heaven and not smell rancid.
Herbs
I like using a mix of fresh herbs.I prefer softer herbs to herbs like sage and rosemary.It just has a better bite.
Here I have used a mix of cilantro, basil, parsley & Mint. Though to note that basil and mint can get darker with time and change color.
Red Bell Pepper
This is a surprise element. But it adds so much to this dipping oil!
It gives it a body, a sort of a bite which I love!
How to make Herb Dipping Oil
Step 1: Prep
Just gather all the ingredients.
Finely chop the herbs
Mince the garlic
Step 2: Assemble
Start with the oil.Add it straight to the serving bowl.
To that add the herbs, minced garlic.Grate parmesan right over it.
Cut the red pepper into half.Using the skin side down, grate it into the oil.
You need about 2 tablespoon of grated red bell pepper.
Step 3: Mix & Serve
Give everything a mix.
Taste and add salt if needed.
Also, add more oil if all your ingredients are not quite submerged.
Thats all! Serve as it is or later at room temperature.
Best Bread for Dipping
For me, most of the times, a soft bread does the trick. So anything from focaccia to dinner rolls would work.
Though freshly baked sour dough, just torn apart into chunks , drenched in this delicious herby olive oil dip is also amazing.
So it really comes down to the type of bread you like.
Serving
This is a great dip for family dinners, super bowl watch parties and a simple home alone Netflix and chill plan.
Depending on how big the gathering is, you can pair it with other dips like the cold yogurt dip. That's another 5 minute dip that blows the socks of most guests. Plus it contrasts very well with the olive oil dip.
Serve the dip with bread of choice and you are done! The fresher the bread the better! So if you have been waiting to bake your own bread then now is the time to take out that starter!
Leftovers
If there was one dip that can use used in Kzillion ways then its this one! Make a panzella salad or add it to pastas or just freeze it for another day.
I usually make mine a day or two in advance and refrigerate it. That way I have one thing off my list without much work.
This dip will last about 10-12 days in the refrigerator. Any leftovers can be frozen for upto 3-4 months too.
More Party Dips and Appetizers
Roasted Red Pepper Feta Dip
Air Fryer Garlic Bread
Black Bean Corn Feta Dip
3 ingredient Hummus without Garlic
Hummus with Roasted Olives
Cucumber Dip with Yogurt- Greek Tzatziki
My Famous 5 minute Yogurt Dip
2 Minute Sriracha Garlic Lime Aioli
Find us on Instagram , Pinterest & Facebook here!
If you liked my recipe, do leave a comment!
It will help others find this amazing recipe too!
---
Ingredients
1

Cup

Olive Oil

2

tablespoon

Balsamic Vinegar

½

Lemon

2

tablespoon

Grated Parmesan

5-6

Cloves

Garlic

Minced

½

Cup

Fresh Herbs

Cilantro, parsley,Mint,Basil etc

½

teaspoon

Chili Flakes

¼

Red Bell Pepper

Grated

Salt

as per taste
Instructions
Chop up the herbs as fine as possible. Juice the lemon. Mince the garlic as finely as possible.

Add the olive oil directly to the serving bowl

To that add the garlic, herbs, chili flakes, balsamic vinegar, lemon juice.

Grate the parmesan cheese & ¼ of a bell pepper(about 2 tablespoon grated pepper) on top of the oil

Mix everything.Give it a taste and serve with bread!
Nutrition
Serving:
1
tablespoon
|
Calories:
126
kcal
|
Carbohydrates:
1
g
|
Protein:
0.3
g
|
Fat:
14
g
|
Saturated Fat:
2
g
|
Polyunsaturated Fat:
1
g
|
Monounsaturated Fat:
10
g
|
Cholesterol:
1
mg
|
Sodium:
14
mg
|
Potassium:
23
mg
|
Fiber:
0.1
g
|
Sugar:
0.4
g
|
Vitamin A:
241
IU
|
Vitamin C:
5
mg
|
Calcium:
11
mg
|
Iron:
0.2
mg
If you liked the recipe, please leave us a rating
Follow me on Instagram
My handle is @yellowthyme