Black bean corn and feta dip recipe- Chunky Cold Chip dip that can be made in advance. A great appetizer for parties and gatherings!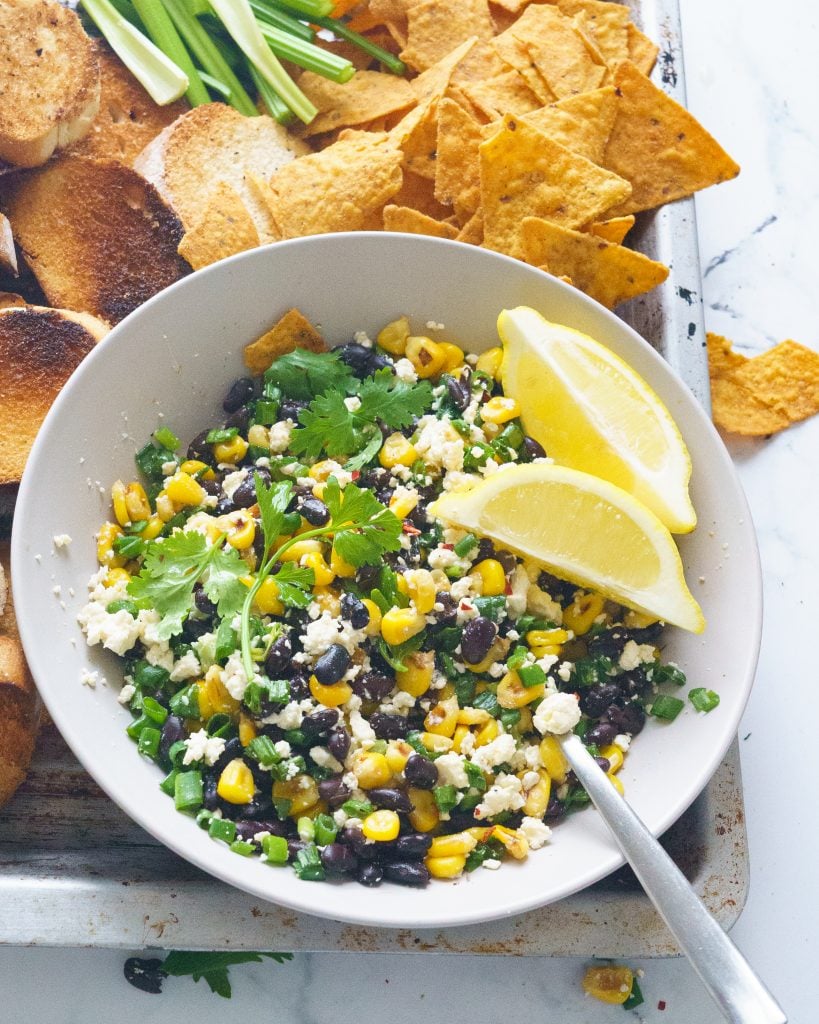 Served : Cold
Taste: Heavenly! Delicious flavors of corn, feta and scallions
EASE: Very Easy
Pros: Can be made ahead
Pair with : Chips, Nachos & Crisps
This dip is vegetarian, Gluten free and super healthy! You can make it vegan by substituting the honey and Feta with vegan alternatives.
We entertain a lot! I mean a lot! So dips are something we make on a weekly basis.
There is always a smooth and creamy dip like my 5 minute yogurt dip on my appetizer platter. This corn black bean feta dip is a chunky dip that gives a nice contrast to a creamy dip.
You can also serve a creamy, simple 2 Minute Sriracha Garlic Lime Aioli too
I will be frank, the first time I made it, I did'nt think it would become such a hit.But it did!
This dip is my favourite, especially as a host.I have two reasons
You can make this in advance and refrigerate.Just throw it toghther the night before.
Very low effort but high impact dip.
Ingredients
It's a pretty basic list.You will be surprised!
Corn
Black Beans
Scallians or Green Onions
Feta
Olive Oil
Lemon
Honey or Maple Syrup
Salt
Corn
I use frozen corn kernels. I find it super convenient. You don't even need to thaw it. Just throw it in the pan straight away.
But during the Barbecue season, I often add grilled corn instead. It adds a great smoky flavor which is super addictive!Or you can quickly air fry the corn.
You can also use canned corn. Make sure to drain the canning liquid and give the corn a quick rinse before using.
Another Favorite Summer Grilled corn dish is this Mango Grilled Corn Salsa.
Black Beans
I used the canned version. Just drain and rinse before using.
You can also use other beans like pinto beans, black eyed peas and kidney beans. I prefer the chunky flavor of black beans the most.
Feta
When using feta in this kind of a dip, always taste the feta before adding. Some brands have very high salt in the feta, which can easily skew the saltiness of the dip.
You don't want to do all the work and then end up with a too salty dip.
Cogito cheese is a great replacement to feta cheese.
Scallions- Just the green bits of the green or spring onion.
Honey / Maple Syrup- This is the secret ingredient! I mean feta and honey is such a vibe! Use maple syrup if you want to make this vegan.
Olive Oil- This can be skipped or replaced with butter if you want.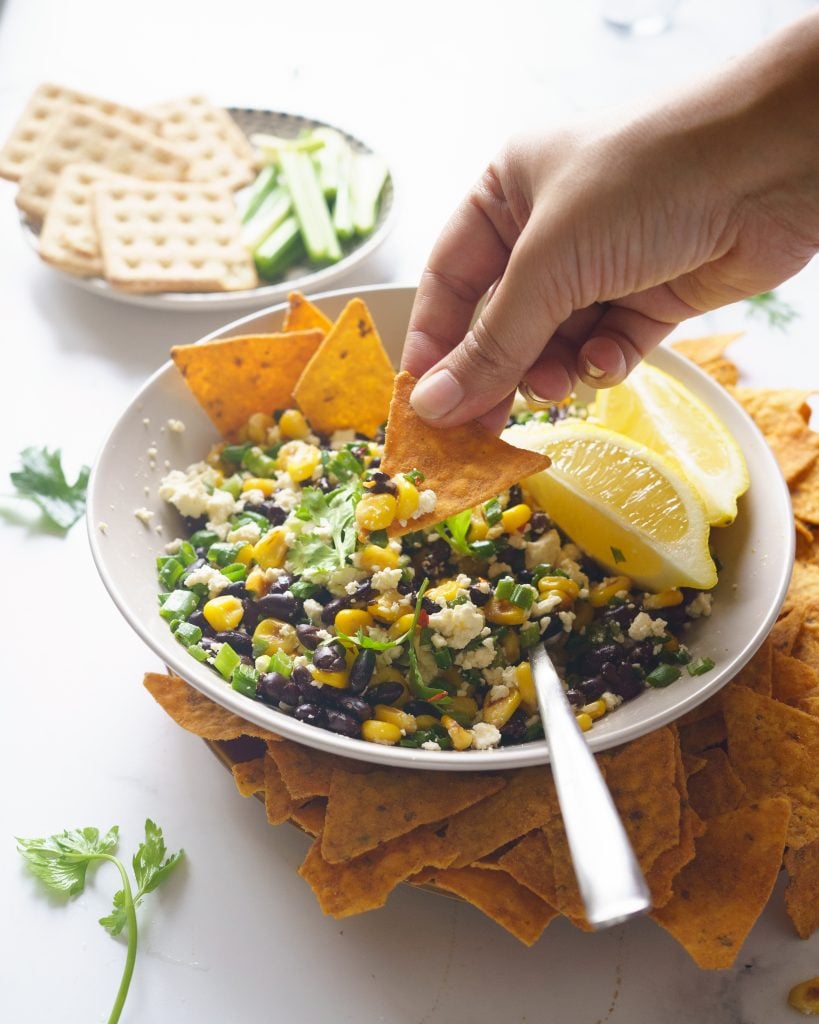 How to make feta black bean corn dip
I like to roast the corn a bit.This gives the dip more depth of flavour.Also the heat of the corn makes the crumbled feta cheese creamy.
Step 1: Prep
Drain and rinse any canned produce- Corn and Black beans.You can skip this if you are using frozen corn.
If you are using feta in brine, give it a quick rinse and pat with tissue paper before using.Try and get the feta thats usually added to salads.The crumbly kinds.
Step 2: Saute Corn
Sauté the corn in little olive oil or butter. Char it a bit to get that added flavor.
You can also add grilled corn instead.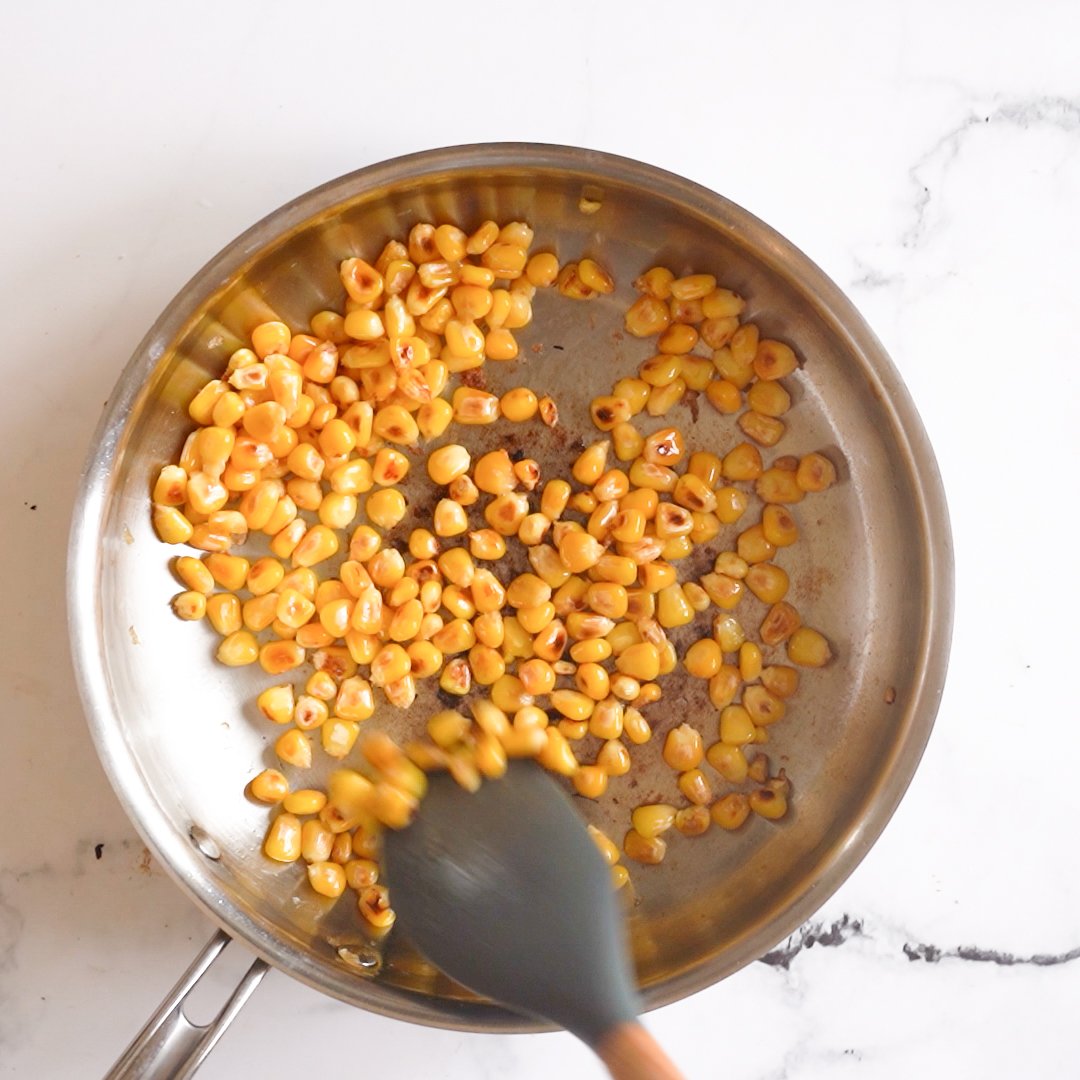 Step 3: Dressing
Whisk the lemon juice, Honey and Salt toghether.
Make sure to keep the salt low because feta cheese usually has a lot of salt.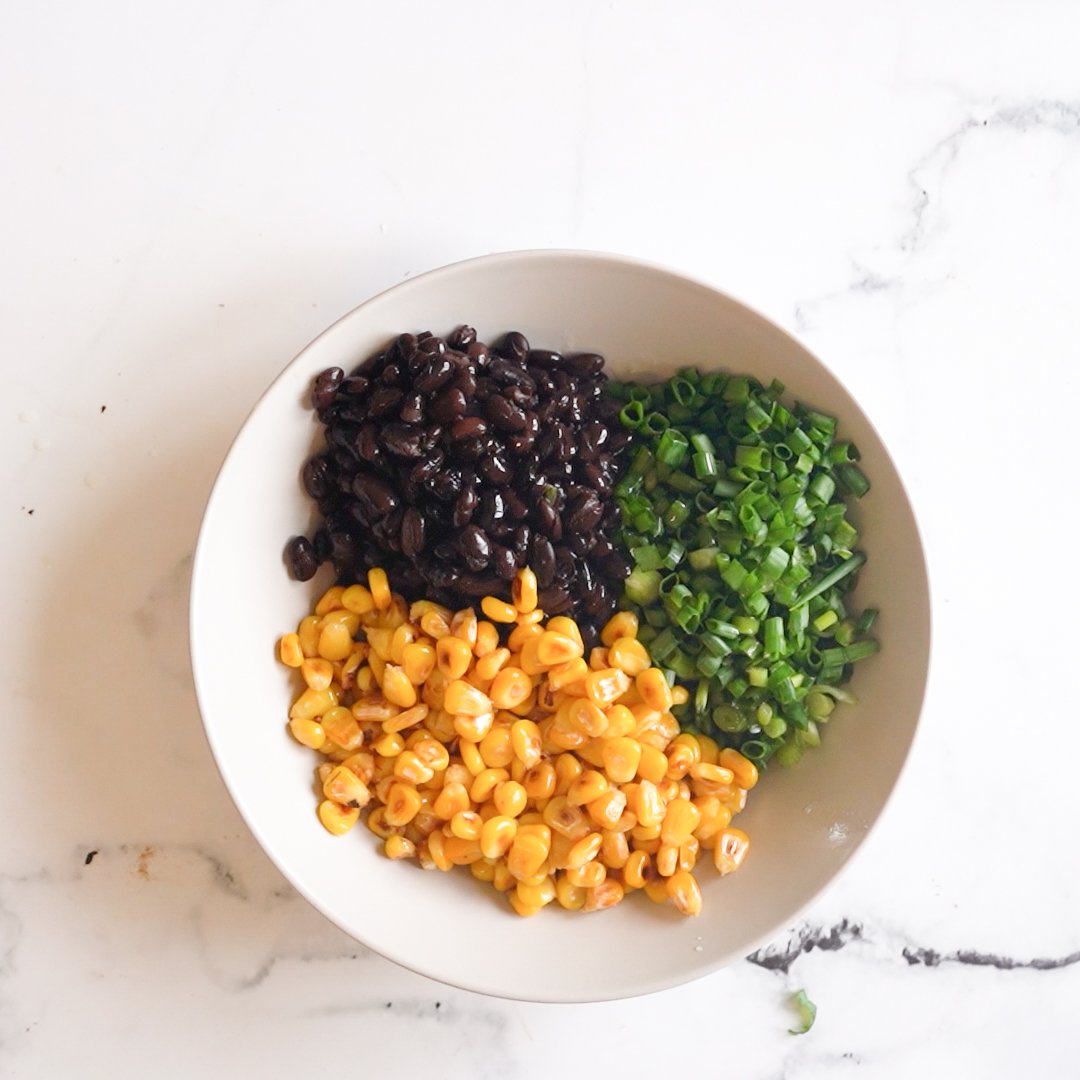 Step 4: Assemble
Add the scallians, roasted corn and black beans to a bowl.Add the honey lemon, salt mix.
Crumble the feta on top.Give it a mix.Thats it!
Seriously simple recipe!
Variations
Want some twists to this?
Spicy black bean corn dip
Make it spicy by adding chopped jalapeno or chilli flakes. I also love adding some charred banana peppers to this dip.
How to serve this bean dip
As I said above, you can make this in advance.Serve it warm or cold.I usually make it the night before and serve it cold.
Now depending on how many people are eating this, you can tweek what you serve with it.
1-3 people
Just you..in front of the tele? Eat it with chips.Thats all it needs.
4+ people
If you are serving this for a party, make a few more dips and crisps.Here is my list
Hot Tip
1. Use Roasted corn for a Smoky Flavor
2. Add some kick to the dip with charred banana peppers!
Leftovers and Storage
This dip keeps very well in the refrigerator.It also doubles up as a salad or a side.
You can do so much with leftover feta corn black bean dip.Here are some quick ideas
Feta corn black bean Bruchetta
Add it to boiled Pasta
Eat it as a salad with rice
More Dips
Looking for other recipes like this? Try these:
If you make this delicious corn black bean and feta dip, do leave me a comment.I would love to know your thoughts on it!
Find us on Instagram , Pinterest & Facebook here!
If you liked my recipe, do leave a comment!
It will help others find this amazing recipe too!
---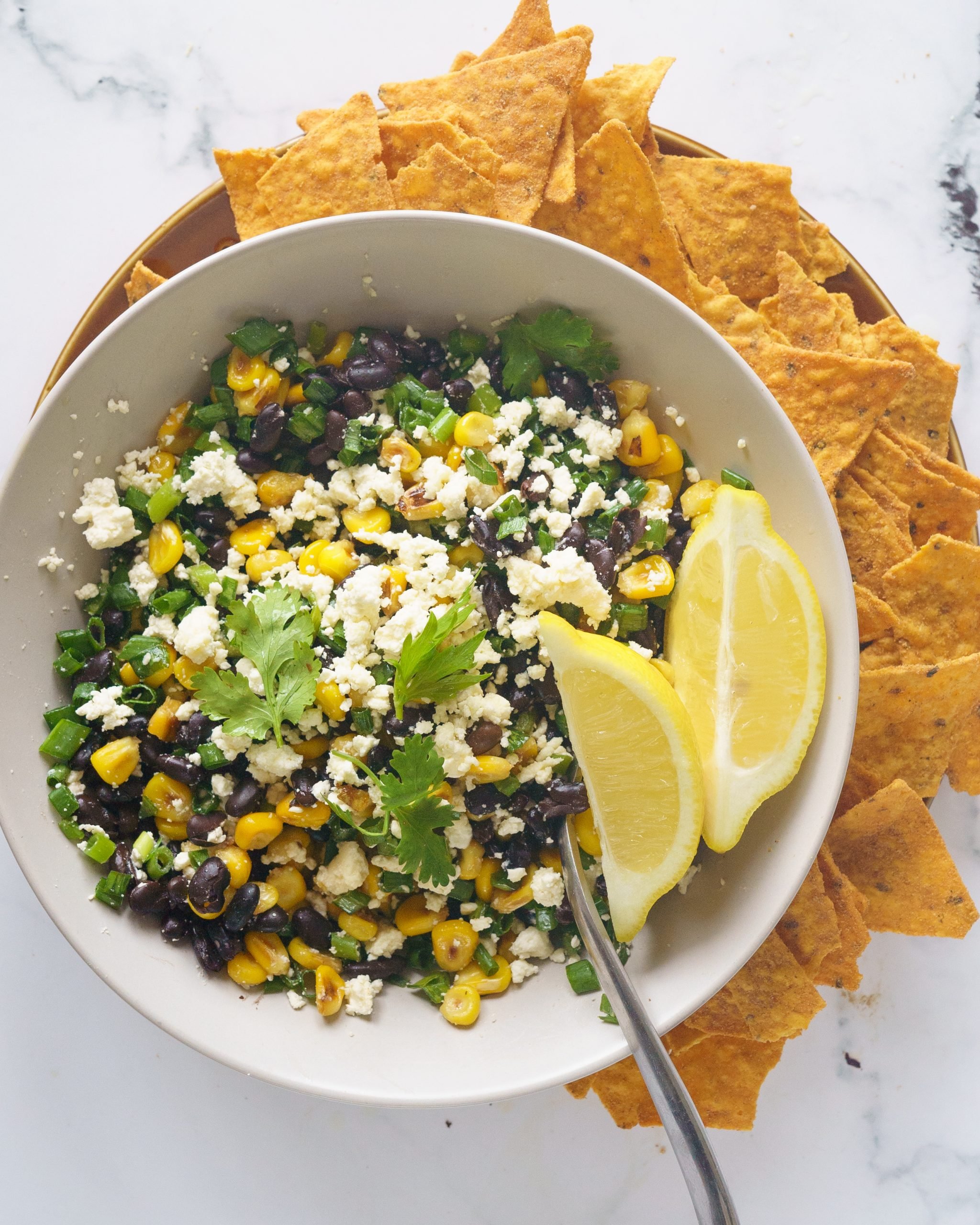 Ingredients
1

Cup

Corn

Check Notes

1

Cup

Black Beans

Cooked

1

Cup

Scallions

¼

Cup

Feta Cheese

1

tablespoon

Olive Oil

2

tablespoon

Honey

2-3

tablespoon

Lemon Juice

½

teaspoon

Salt

adjust as per taste
Instructions
Cut the scallions.Drain and rinse any canned produce.

Heat a pan with Olive Oil.

Add the corn and roast for 4-5 minutes till its browned.(Or you can use grilled corn instead)

Meanwhile, whisk toghether the honey, lemon juice and salt.

In a large bowl, add corn,scallions and black beans.

Add the honey, lemon mix.

Add Feta cheese .Toss toghether.
Notes
Check out the yellow boxes for important information & Tips
Corn
You can use frozen corn or shucked fire-roasted or grilled corn too.
Serving
This dip can be made a day or two ahead.
It should be served cold along with crips, chips etc.
Nutrition
Calories:
169
kcal
|
Carbohydrates:
27
g
|
Protein:
6
g
|
Fat:
5
g
|
Saturated Fat:
1
g
|
Cholesterol:
5
mg
|
Sodium:
545
mg
|
Potassium:
301
mg
|
Fiber:
5
g
|
Sugar:
11
g
|
Vitamin A:
354
IU
|
Vitamin C:
12
mg
|
Calcium:
37
mg
|
Iron:
1
mg
If you liked the recipe, please leave us a rating
Follow me on Instagram
My handle is @yellowthyme