This post contains affiliate links. As an Amazon Associate I earn from qualifying purchases. Click here to read my policy.
Air fryer smashed potatoes -Crispy potato skin, buttery inside! This is potato heaven! Also, the easiest, most perfect bite-sized appetizer and a perfect side dish recipe!
Who doesn't love potatoes? I can eat them all day. All week long! But crispy fried potatoes? Those are my favorite kinds!
And these crispy air fryer garlic smashed potatoes are a perfect side dish and a great appetizer!
The potato skin crisps up, and the inside remains soft and fluffy. Smashing those potatoes with the bottom of a glass is so therapeutic! You have to try it to experience it.
You get the texture of deep fried potatoes without deep frying in a ton of oil.
It is a vegetarian recipe and can be made completely plant-based & vegan with just one swap.You can make it in an air fryer or oven!
Here are some more favorite recipes featuring potatoes, garlicky hasselback potatoes made in the air fryer, or this parmesan hasselback potatoes in the oven.It's the best of ALL worlds!
I make these smashed potatoes when hosting a dinner or throwing a party with drinks and finger foods. Besides this potato recipe, you can also make these sticky Honey Garlic Potatoes also a try. They are perfect for parties.
To make this recipe, you need fork tender potatoes that can be smashed easily.I have tested this recipe with Boiled potatoes, air fryer baked potatoes, and microwaved potatoes.
You get the best air fryer smashed potatoes using the boiling method.
​I will explain in detail below if you want to know the why and hows.
Also, check out our collection of over 50 Air fryer Appetizers and finger foods.
Why we love Smashed Potatoes
So many reasons!! Okay. I will list just the top 3.
Easy to make -Especially for new beginner cooks. Just boiling the potatoes and smashing them! That's the only job. The air fryer does the rest!
Potatoes - My first love! Who doesn't love potatoes? If they are buttery, crispy, and soft altogether, then who can resist them, right?
Vegetarian, Gluten Free & Easily Vegan
Minimal Clean up
No waste recipe as you don't peel the potatoes.In fact the potato skin is what makes this recipe crispy and delish!
With this simple recipe, you can ace your game day spread. Though don't forget to make some simple dips like this creamy green onion dip or a roasted red pepper dip along side the potatoes.
Ingredients to make Crispy Smashed Potatoes
Here is what you will need to make the best crispy smashed potatoes!
Small Potatoes
Butter
Olive Oil
Rosemary
Garlic Powder
Salt
Potatoes
You can use any new or baby potatoes - Fingerling, baby gold potatoes, Yellow, or Yukon Gold. Red Potatoes will work too.
I like to use at least 1-1.5 inches in diameter(length ) potatoes. They are big enough to get soft inside and crispy on the outside.Too small potatoes can lose their softness and become too hard.
You can also make crispy smashed potatoes using large potatoes, but the cooking time of those will be very different.
Butter
I like using butter here because I love the taste of potatoes and butter together.
You can make this recipe vegan and plant-based using oil instead of butter. My choice of oil is avocado or olive oil. You could also use vegan butter like margarine instead.
Another option, especially around holidays, is to make roasted garlic butter , which you can use across dishes like Air fryer Garlic bread and mashed potatoes.
Seasonings
In this recipe, I have used a mix of rosemary, chili, and garlic. You can switch up the seasoning or use what you have. Here are some of my top seasoning suggestions
Ranch Seasoning
Zaatar
Salt & Pepper
Sea Salt & Rosemary
Italian Seasoning
Curry Powder or Chaat Masala
Smoked Chilli and salt
How to make Rosemary Garlic Smashed Potatoes
Here are the steps to make super fluffy baby potatoes in the air fryer.
Step 1: Prep
Make sure you scrub and clean the potatoes well before cooking. You don't want sandy bits clinging to your potato skin.
Mix the butter, Rosemary, olive oil, garlic powder, and salt in a microwave-safe bowl. Microwave till the butter has melted.
Step 2: Cook the Potatoes
You can cook the potatoes by microwaving them, Air frying them, or boiling them.
Boiling
The best method is the boil them. It takes more time and effort, but makes the fluffiest and crispiest smashed potatoes.
Just add the potatoes to salted boiling water. The salt in the water will season the potatoes from the inside.
Boil them till you can pierce them easily with a fork.
Microwave
The fastest method is the microwave them. Just microwave them covered for 10 minutes till they are fork-tender.
You want the potatoes to be soft so you can smash them easily.
Air frying
Air fry the potatoes straight after the wash for about 20 minutes.
This way, you are only using one appliance.
Step 3: Smash the Potatoes
Use the bottom of a glass or a potato masher to smash the potato. Make sure not to make it too thin.
You want to flatten it to about 1.5-2 cm thickness. That way, there is enough potato inside to be soft while being crispy on the outside.
If your potatoes are not getting smashed easily, they need to be cooked a bit more.
Step 4: Air Fry or Bake
Melt the butter, rosemary, olive oil, garlic powder, salt, and ground chili.
Brush the top of the potatoes with spiced butter using a pastry brush or you can use a kitchen tissue to dab it on too.
Place the potatoes in the air fryer. Air fry for 10-12 minutes. Alternatively, you can bake them on the baking sheet for 20-22 minutes at 180 C or 365F.
Open the air fryer, and brush the potatoes with the butter again. Air fry for another 5 minutes.
Once the potatoes are golden brown with crispy skin, they are ready.
Remove from the inner basket.
Serve your air fryer baby potatoes immediately.
Comparison of Potato cooking methods
Quick Summary
Boiling Potatoes - The best texture, takes longer
Air frying Potatoes - Lesser clean up and Easier workflow
Microwave- Half the cooking time. But dryer than the other 2 methods
Here are details of my potato cooking experiment
Microwaved Potatoes
All you need to do is microwave scrubbed potatoes in a covered pot for 5 minutes. Ensure you pierce them..or they can burst because of internal pressure.
While this is the fastest method, it gets the least points for taste. I only make this when I am low on patience and cooking just for myself.
Here are the Final takeaways from the microwave+ Air frying Method
Fastest method. It takes a total of 15 minutes from start to finish.
Air-fried microwaved potatoes first come out dry and chewy compared to other methods.
They are not seasoned evenly
Sometimes have a bitter aftertaste.
Air Fry Potatoes
As the name suggests, to cook the potatoes, you air fry them for 20 minutes in the air fryer before smashing them and air frying them again.
For this method, too, make sure you pierce the potatoes. Using this method, you do everything in one cooking method. That's the reason it's simpler.
Here is what's noteworthy about using the double Air fryer method
Easier, lesser clean up.
Takes as much time as boiling potatoes.So no win as of the time
Fluffier and crispier potatoes than the microwaved method.
Do not get seasoned evenly, especially as compared to the boiling method.
Boiling Potatoes
Though this method takes more work, the potatoes come out fluffy and soft on the inside and crispy on the outside. That's exactly what we want.
This is my chosen method, especially when I want to impress!
The best taste and texture. Crispy on the outside and fluffy inside
They taste amazing even after cooling down.
They also remain crispy.
Variations and Substitutes
Instead of seasoning it with Rosemary, try the following combinations.
Indian Chaat Smashed Potatoes- Ghee and Tamarind chutney.
Spicy Asian Smashed Potatoes - Honey, Soy, and Chili flakes
Lime & Chili Seasoning
You can also use smoked chili instead of paprika to give it another level of flavor.
Garlic Herbs & Butter
My newest trick is to make a ton of Garlicky herby compound butter and use it to make my holiday sides!
Brush your smashed potatoes with the butter instead. The flavor is unbelievable!
My fav Kitchen Tools & Gadgets
Ahead of Time Cooking
These are great because most of the work can be done ahead of time.
You can boil the potatoes a couple of days before, smash them and keep them in the refrigerator.
On the day you want to serve, just brush them with oil or butter with seasoning and air fry them.
I sometimes double air fry them just before serving. And that takes no time at all!
Another great vegetarian appetizer that can be prepped ahead of time is air fryer stuffed mushrooms. They are cheesy, one bite, mini appetizers.
Notes for Best Results
Here are some important things to note in this recipe
The potatoes need to be a tad bit overcooked to be mashed easily.
To make the potatoes extra crispy, add more olive oil and air fry them at a lower temperature for longer. This will crisp up the skin a lot more.
Another way to make these potatoes more crispy is by smashing them thinner. But by doing so, you will lose the creaminess on the inside.
This dish is best served hot, right out of the oven/ air fryer. If you are making them ahead, you should reheat them in the air fryer or oven so that they get crispy and hot.
The type of potatoes you use will determine the texture of the potato.
Storing & Freezing
These crispy potatoes can be stored in the refrigerator in an airtight container for 5-6 days. To eat, reheat the potatoes in a preheated oven or air fryer for 5-8 minutes.
Refrigeration will make the potatoes soft. They will lose all the crispy crunch from the skin. And that is why I suggest you reheat them in the oven or the air fryer so they can get crispy again.
Freezing Potatoes- Technically, you can freeze anything and everything. Freezing leftover smashed potatoes will make sure you always have some on hand. Plus, it reduces food wastage.
That said, freezing might change the texture of the creamy potato flesh inside. But on the plus side, these potatoes will defrost quickly because they have so much surface area.
I just directly pop them in the air fryer at 170C or 330F for about 10 minutes. They get crispy right up!
How to serve Smashed Rosemary Potatoes
You can serve these potatoes as a side and appetizer.
For Thanksgiving or Christmas- Serve it along with Roast turkey, Cranberry Sauce, and a Pie or Cake.
For a casual party- Serve it along with a dip of choice. I recommend my 5-minute yogurt dip or the roasted pepper feta dip.
I also like to serve them with sour cream or creamy spinach dips. You can also scoop up some queso or guac with these beauties! They also taste amazing with a tangy green goddess dressing or sauce!
Loaded Smashed Potatoes
Sometimes you want something extra indulgence. For those times, load the potatoes up!
All you have to do is follow the recipe. Once they are out of the air fryer, load them up with all or a combination or just one of the below
Sour Cream or Mayonnaise or Cheese Sauce
Shredded cheddar
Jalapeno or a jalapeno relish
hot sauce or sweet chili sauce
Bacon bits
More Air Fryer Recipes
Here is a quick round-up of my easy & quick appetizers
Air Fryer Stuffed Peppers
Air fryer Hasselback Potatoes with Garlic
Air Fryer Buffalo Shrimp
Air Fryer Pita Chips
Airfryer Honey Chilli Edamame
Air Fryer Sweet Potato Wedges
If you make these smashed potatoes, do leave me a comment. I would love to hear from you.
Serve with
Find us on Instagram , Pinterest & Facebook here!
If you liked my recipe, do leave a comment!
It will help others find this amazing recipe too!
---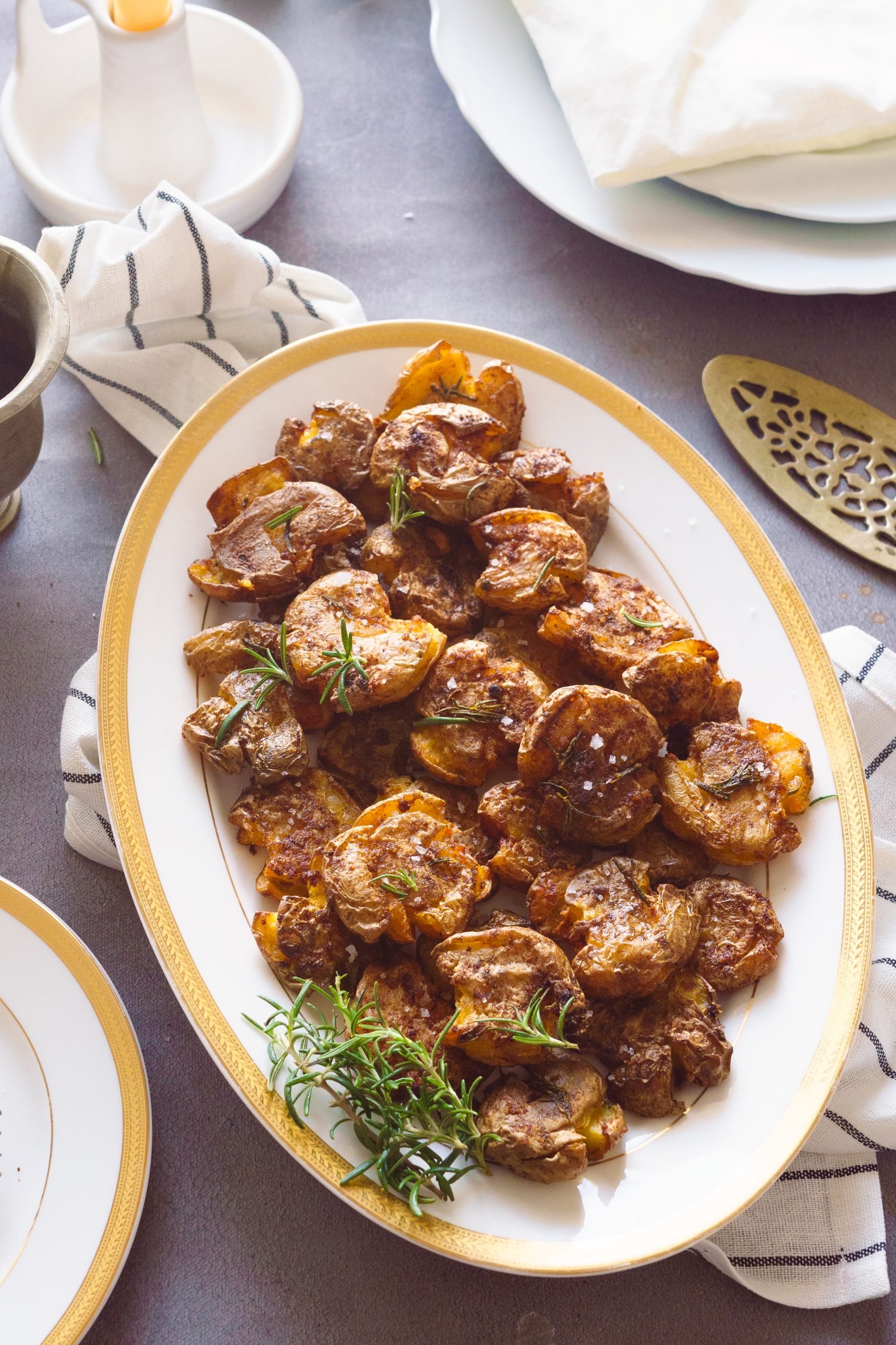 Ingredients
1

Pound

New Potatoes

Small Potatoes; 500 gms

2

Tablespoon

Butter

Vegan Option- Margarine or Olive Oil

1

Tablespoon

Olive Oil

1

Tablespoon

Garlic Powder

2

Sprigs

Fresh Rosemary

Or use 1 teaspoon Dried Rosemary

1

Tablespoon

Chilli

½

teaspoon

Salt

as per taste
Instructions
Prep- wash and scrub the potatoes well.

In a bowl, add the butter, oil, garlic powder, rosemary, chili, and 1 teaspoon salt. Microwave it for 1 minute.
Cooking the Potatoes - Choose your Cooking option
Boil - Boil the potatoes in 4-6 cups of water with 1 tablespoon of salt for 20-25 minutes. Drain when a knife can slide through them easily.

Air fry- Add the potatoes to the air fryer basket and air fry at 365 F or 180 C for 20-25 minutes. If the knife can slide through them easily, they are ready for the next step. (You can use the same method and bake them in the oven too)

Microwave - Microwave the potatoes in a covered bowl for 5-6 minutes till a knife can slide through them easily.
Smashing the Potatoes
Once the potatoes are cooked and tender, place them in a tray.

Using a glass(as in the video) or a potato masher, press the potato down smashing them.

They should be about 5 cm thick. Do not make them too thin. They will lose the fluffiness inside.

Brush them with the butter mixture.
Air fry
If you choose air fry option, proceed with these directions

Place them in the air fryer basket. Be gentle.

Air fry for 10-12 minutes* till the skin has crisped up and browned.
Or Bake
If you choose the baking option, proceed with these directions

Preheat the oven at 365 F or 180 C.

Bake the potatoes in the oven for 15-20 minutes till the potato skins are crisp and browned.
Notes
Potatoes -  You can use any small or new potatoes here. Do make sure they are at least 1 inch in diameter. Red, Fingerling, and Yukon gold potatoes work well in this recipe.
To make this dish vegan & plant based - Use margarine or olive oil instead of butter.
Baking & Air Frying Time
This will depend on how brown you want your potatoes.
If you air fry the potatoes in a single layer, they will take only 8-10 minutes. 
Nutrition
Serving:
8
potatoes
|
Calories:
176
kcal
|
Carbohydrates:
21
g
|
Protein:
3
g
|
Fat:
9
g
|
Saturated Fat:
4
g
|
Polyunsaturated Fat:
1
g
|
Monounsaturated Fat:
4
g
|
Trans Fat:
0.2
g
|
Cholesterol:
15
mg
|
Sodium:
53
mg
|
Potassium:
507
mg
|
Fiber:
3
g
|
Sugar:
1
g
|
Vitamin A:
191
IU
|
Vitamin C:
24
mg
|
Calcium:
17
mg
|
Iron:
1
mg
If you liked the recipe, please leave us a rating
Follow me on Instagram
My handle is @yellowthyme
FAQs
Can you make smashed potatoes with Larger potatoes?
Yes you can.
Just cook the potatoes till they are tender then brush with oil or butter. Air fry or Bake till the edges are crisp and inside soft.
Can Smashed Potatoes be Frozen
Yes! Just let them cool completely before popping them in a zip lock bag or a freezer safe box.They can be frozen for upto 3 months.
To serve, let them thaw or microwave them till they are not frozen anymore. Pop them in the oven or air frier for a quick refresh!
Are Smashed Potatoes Healthy
Yes. Especially the low oil baked or air fried versions.