Air Fryer Buffalo Shrimp- Crispy cajun spiced breaded shrimp tossed in homemade Buffalo sauce made with just 3 ingredients. A finger licking appetizer that will be a hit at any party!
Jump to:
TASTE: Buttery, Crunchy, Spicy Shrimp
TEXTURE: Crispy
EASE: Easy
Serve with : Blue Cheese Dip ,Mayonnaise or ketchup.
A perfect appetizer for your gatherings and holidays! Serve it with a dip and some carrots and celery in a large platter! And you are good to go! Another appetizer that can be prepped ahead of time is air fryer stuffed mushrooms. It's delicious!
This is what we will do.You can also watch the video recipe to understand more details
Bread the Shrimp using the 2 hand method
Air fry with just a spray of oil
Toss in Buffalo Sauce and Serve!
If you love shrimp like me, try these Indian shrimp recipes. Prawn Sukka, Mangalorean Prawn Curry & Kerala Prawn Curry. Prawn and Shrimp can be used interchangeably for these recipes.
You start with air frying the shrimp till it's crisp. With just a fine spray of oil!!!
Virtually oil free!!
and then toss it with a homemade buffalo sauce made with your favorite hot sauce.
In this recipe, I will show you how to bread shrimp, air fry it and then toss it in homemade Buffalo Sauce. You can also use a store-bought bag of breaded shrimp too! You can also use store-bought buffalo sauce if you want.
This recipe can be made low carb and gluten free with a few simple steps! I serve this with my easiest dip- 5 minute yogurt dip. I love how the spicy and the cool clash.Even the mix of textures makes for a delicious bite!
Ingredients for Buffalo Shrimp
Here is what you will need
Shrimp
Bread crumbs - Choose as per your need- regular/panko/gluten free or Keto- shredded coconut!
Seasoning
flour
Eggs
butter
hot sauce
Shrimp - About ½ pound. I used Fresh tail on shirmp. You can use pre cleaned frozen shrimp too. Just make sure to thaw it enough for the shrimp to be separate and individual.
Cajun Seasoning- I make it at home.You can just as easily use Taco seasoning or store bought Cajun seasoning. Always taste the store bought seasoning before you use it in recipes.
Simple Cajun Seasoning recipe
1.5 teaspoon paprika(smoked kinds if you have)
1 teaspoon garlic powder
1 teaspoon onion powder
1 teaspoon oregano- dried
1 teaspoon cayenne
½ teaspoon thyme
1 teaspoon salt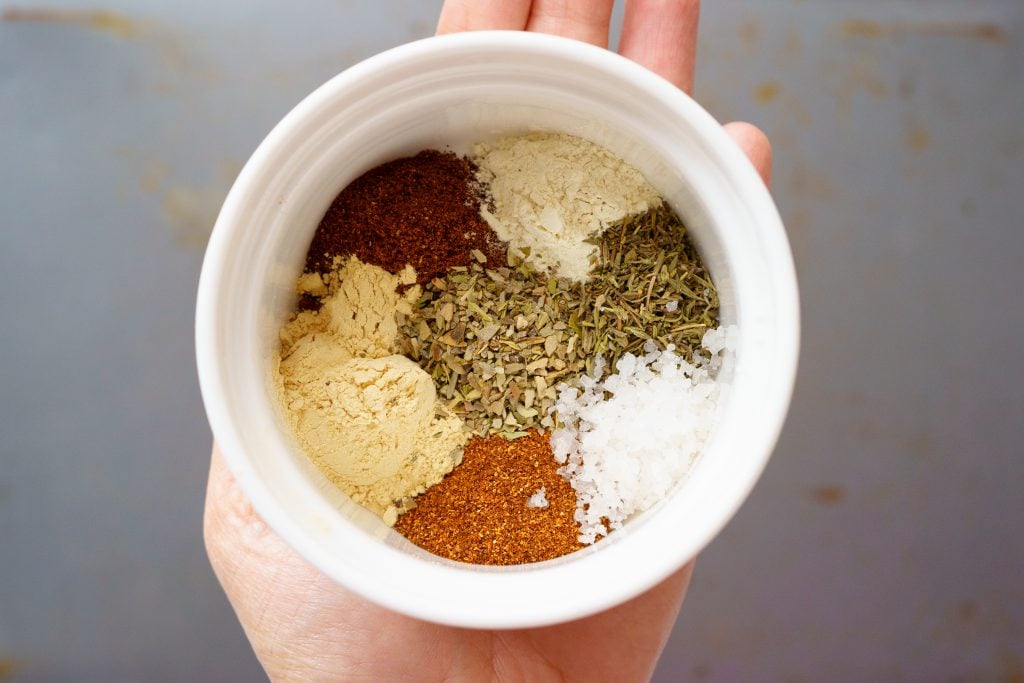 Breadcrumbs- You can use regular breadcrumbs or panko crumbs. I have used panko breadcrumbs here.To make this dish gluten free and low carb, you can use dried shredded coconut or crushed crispy pork rind.
Eggs - 2 eggs should work fine.If you don't want to use eggs, use flour slurry- Flour mixed with water. Beat the eggs very well. Try not to have any chunky parts in it.
Flour - I have used all purpose flour.You can also use fine almond flour or coconut flour.
for the Buffalo Sauce
Hot Sauce- Use a hot sauce that you like.Franks hot sauce is good.
Honey - Some sweetness to an otherwise spicy sauce makes the dish spectacular!
Butter- This is the ingredient that will give the sauce a silky feel

Additional ingredients
If your sauce is mild, feel free to add more paprika to it.To increase the sourness, add 2 tablespoon of white vinegar.
Garnish- I used Spring onions for garnish.
How to make Air Fryer Breaded Buffalo Shrimp
This recipe has three main parts
Breading the Shrimp
Air Frying the Shrimp
Tossing it in the Buffalo Sauce
Lets start with the Breading
Step 1: Clean and dry your shrimp.Add the Cajun seasoning to it and toss it.
The seasoning might seem like a lot but its not. Keep in mind that we are not adding flavor to any other element till the last step.
Step 2: While the shrimp is "marinating" in the cajun seasoning, prepare the breading station.
One bowl of Flour
One bowl of Beaten egg
One Bowl of Breadcrumbs
Start with dreading the shrimp in flour.Shake out the excess.
Coat it with egg.Make sure to shake the excess off.You only want a thin coat of egg.This will prevent the breaded shrimp from being soggy.
Press it into the bread crumbs,flip and lightly press again.Place it on a plate.Do this for the rest too.
If you dont want to do this, there are a zillion frozen breaded shrimp products in the market.Just buy them and follow the recipe from this point onwards.
Air frying the Shrimp
Preheat the air fryer- Simply set the temperature at 180 C or 365 F for 20 minutes.Let it heat up.
Spray or Brush the air frying basket with oil. Do the same with the panko breaded shrimp.
Place it in a single layer, leaving enough space between them to curl.
You can make crumb coated chicken like this panko crusted Katsu chicken or this indian chicken 65 in the air fryer too.
Air fry for 7 minutes. You can flip the shrimp midway if you want.I don't bother.
Reduce the time for smaller shrimp to 5 minutes and increase it to 9 minutes for larger shrimp.Look at the picture for idea.
Air fry all the shrimp and keep it lightly covered (something with holes) till you are ready for the next step.

Making the Buffalo Sauce
The best part!
You can do this part in the microwave or a pan.
Add the hot sauce,butter and honey.Heat it till the sauce starts bubbling and everything is mixed.
Toss the crispy breaded shrimp in it.Garnish with cilantro or green onions.Serve immedietely.
Tips & Tricks
Here are some tips and tricks to up your Shrimp Air frying game!
One hand trick - This is a trick used for breading.You use one hand for wet dipping ie egg.The other hand is used for the flour and the breadcrumbs.
Shake it Out- Make sure to shake out excess flour and egg.This will make the shrimp crispy.If you don't shake the excess away, you can get wet spots on the otherwise crispy shrimp.
Toss in Buffalo sauce just before serving. Once your shrimp is tossed in the sauce, it will get soggy in 10-12 minutes.
Low Carb Buffalo Shrimp
Whether you are trying keto or saving calories for something yummier..I have got you!

Substitute Flour with fine Almond flour or Coconut flour.
Substitute breadcrumbs with dried shredded coconut or crushed pork rind or coarse almond meal.
How to Freeze Buffalo Shrimp
You can freeze the buffalo shrimp after the breading part.You can air fry them straightaway for 10 minutes.

I would'nt suggest freezing cooked and finished buffalo shrimp. To bring it back to life, you will have to air fry it for long which will overcook the shrimp and make it rubbery.
Buffalo Shrimp without Breading
Can you make Buffalo shrimp without breading?
Yes ! You can. You will not have the crisp element but other than that it will still taste yum!
When you are skipping the breading, halve the cajun seasoning. Follow the same process otherwise.
You can also give this shrimp and pineapple skewers a try. They are Gluten free and without any breading.
Serving Buffalo Shrimp
Here are some simple dips with which you can serve your buffalo shrimp
Mayonnaise
Hot sauce mixed with Mayonnaise
Sour Cream
When you are serving a crowd, put this on a platter along with dips and sides.Celery, Carrot sticks and Cucumber sticks make great accompaniments with this.
Also check out our collection of more than 50 Air fryer Appetizers and finger foods
Storing and Leftovers
I have successfully reheated the buffalo shrimp in the air fryer for 1 minute at 200 C or 400F to its former crispy glory!
That said, there is a chance they will over cook.
More Air Fryer Recipes
Love Airfrying? You have gotto try the below recipes!
Air Fryer Peanut Butter and Jelly
Air Frying Peanuts
Air Fryer Curry Cauliflower
Airfryer Honey Chilli Edamame
Air Fryer Breaded Mushrooms
Air Fryer Stuffed Peppers
Chicken 65- Indian Fried Chicken
Please let me know how your Air fryer shrimp turns out in the comments! I love hearing from you.

Find us on Instagram , Pinterest & Facebook here!
If you liked my recipe, do leave a comment!
It will help others find this amazing recipe too!
---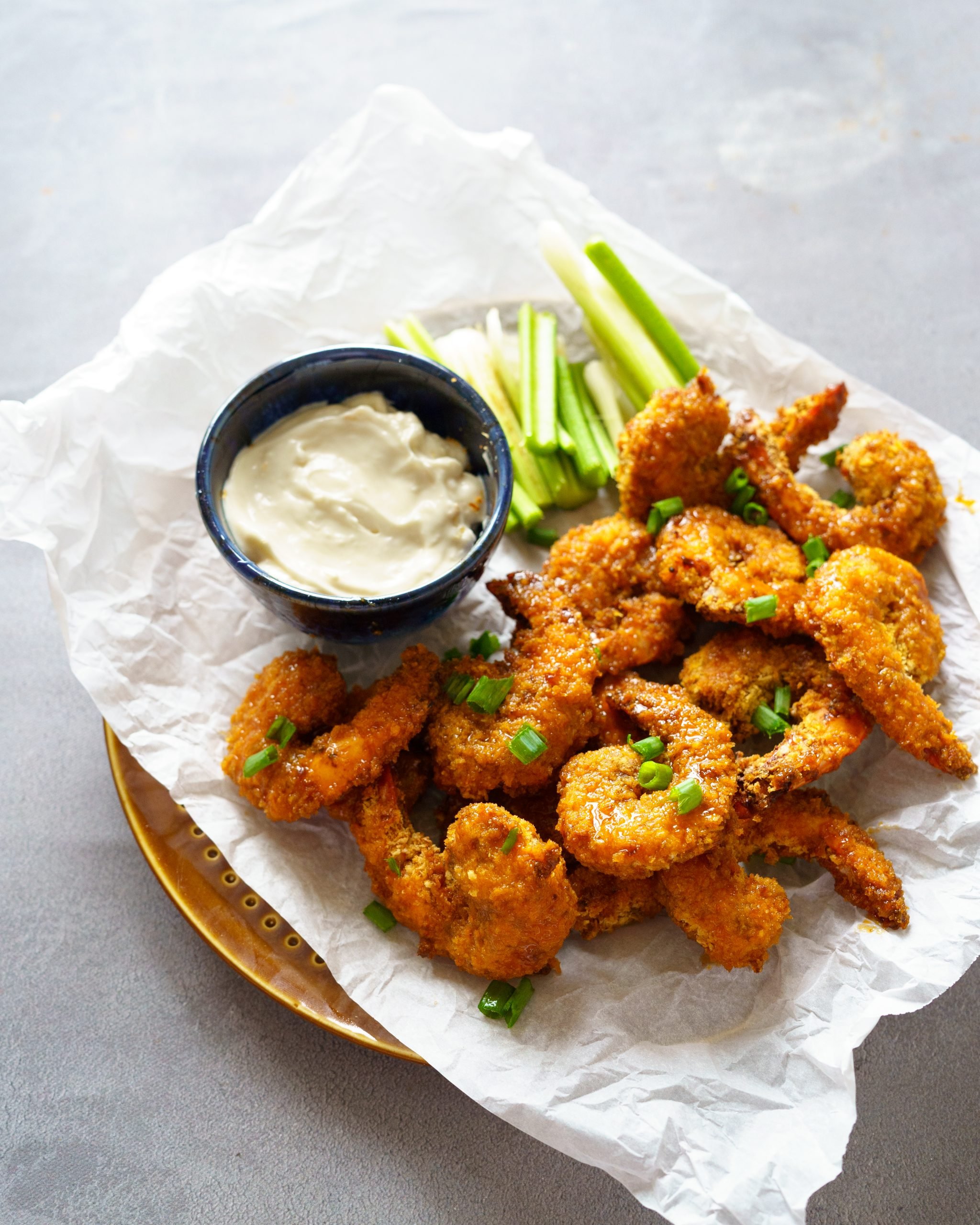 Ingredients
½

lbs

Shrimp

Large, cleaned,with tail on.

1

Cup

Breadcrumbs

regular/panko/gluten-free or Keto- shredded coconut

2

Eggs

½

cup

Flour

2

tablespoon

Cajun Seosoning

1

teaspoon

Oil

or use an Oil Spray
Buffalo Sauce
1

Cup

Hot Sauce

¼

Cup

Butter

50 gms

1

tablespoon

Honey
Instructions
Breading the Shrimp
Start with mixing 2 tablespoon of Cajun Seasoning with the prawn.Set it aside till you prepare.

In a shallow bowl, Break an egg.Whip it well.

In two similar bowls, add breadcrumbs and flour.

1 Cup Breadcrumbs,

½ cup Flour

Do this one by one- Coat the shrimp with flour

Dip it in the whipped egg mixture. Shake to get rid of excess.

Press it into the bread crumbs. Turn and do the same again. Do this for all shrimp.
Air Frying Breaded Shrimp
Preheat the air fryer for 5 minutes at 180C or 365 F.

Place the breaded shrimp in the air fryer basket in a single layer.Close the air fryer.

Air fry for 6-7 minutes. Repeat for the rest of the shrimp.
Buffalo Sauce
In a pan, add the buffalo sauce ingredients - Hot sauce, honey & Butter. Let it melt and mix.

Toss all the shrimp in the sauce.

Garnish with spring onion and serve right away!
Notes
Shrimp
I have used large-sized shrimp.The size though is subjective.These are almost 2 inches in circumference.
If using smaller shrimp - Change the air frying time to 4-5 minutes
If using larger shrimp- Increase the time to 8-9 minutes.
A shrimp is cooked if it is 1. Orange 2. Curls into a C.
Buffalo Sauce
Use any hot sauce you like. Some hot sauces need a little bit of vinegar and salt to balance it out.Do taste test before using in the recipe.
This amount of buffalo sauce will comfortably coat ½ pound of shrimp.If you like more sauce on the shrimp, double the recipe.
Low Carb Substitutions
Substitute Flour with fine almond flour or coconut flour.
Substitute breadcrumbs with crushed almonds or shredded dried coconut
Nutrition
Calories:
335
kcal
|
Carbohydrates:
24
g
|
Protein:
34
g
|
Fat:
12
g
|
Saturated Fat:
6
g
|
Trans Fat:
1
g
|
Cholesterol:
506
mg
|
Sodium:
2771
mg
|
Potassium:
71
mg
|
Fiber:
1
g
|
Sugar:
4
g
|
Vitamin A:
316
IU
|
Vitamin C:
1
mg
|
Calcium:
196
mg
|
Iron:
4
mg
If you liked the recipe, please leave us a rating
Follow me on Instagram
My handle is @yellowthyme