Crispy, Sticky, Sweet & Savory Barbeque Chicken wings made in the Air fryer! The easiest wings you will ever make.
TASTE: Sticky, Crispy Sweet & Savory Wings with smoky flavors
TEXTURE: Crispy outside & soft & tender inside
EASE: Very Very Easy!
APPEARANCE: Gorgeous BBQ goodness!
PROS: No frying, no dredging, Hands off cooking!
CONS: Nothing! Really!
These Barbeque Chicken Wings are the perfect game night appetizer or a quick indulgent late night snack.
Serve them with celery sticks, a cold Soothing dip ,extra beers and a heap of napkins. You know you will need them!
Perfectly Charred, Smoky BBQ chicken wings! What comes first? The Game or the Game day food? I don't know about you but give me all the finger-licking goodness because you know I ain't watching the game.
Here is what we will do!
Toss the Wings in Baking Powder & Salt
Air fry for 10 minutes
Brush or toss the wings in half the sauce. Air fry Again
Toss the wings in the sauce before serving
The wings will caramelize, crisp up to a golden perfection.
Whether you are hosting or just watching a movie , Chicken wings are a perfect appetizer and snack.
Speaking of appetizers and snack, do give my Air Fryer Buffalo Shrimp ,Air fryer Hasselback Potatoes with Garlic & Airfryer Honey Chilli Edamame a try too! They are soo addictive!
And if like me you freeze all the chicken the minute it hits home, here is how to air fry frozen chicken wings
Why we love Air frying Chicken wings
We are all fans of chicken wings, but these bbq chicken wings are just perfect for the lazy me that's craving salty crispy food all the time!
Here is why we love making them again and again!
No Deep frying ,dredging or flipping
They come out so crispy, almost like they were deep fried in tonnes of oil
Needs no oil! YEss! they are oil free!
This will be so good on a hot summer day with a nice cool drink like a Blueberry Ginger Refresher or a cold Beer!
Ingredients for Air Fryer BBQ Chicken Wings
All you need are 4 ingredients.Especially if you are using storebought bbQ sauce.
Chicken Wings
Baking Powder
Salt
Barbecue Sauce
Chicken Wings
Chicken Wing is divided into three sections: the drumette, wingette, and the tip
I usually buy chicken wings from the store so that I can ask them to break it up into drumette and Wingette (discard the tip). Most stores already cut it up into 2 parts and so this should be easy to get.
I feel the whole big wing is difficult to eat and pretty big to hold in hand. Plus chicken wings cut into two pieces cooks more evenly than the whole wing.Also its a personal choice.Some prefer eating the drumette and some like the flat.
I prefer flats of the wings.
Barbecue Sauce
If you have your favorite BBQ sauce then use that. I really haven't found a sauce that I love at all times. I make my own. It's easy to whip up plus you can adjust the taste as per your choice.
Here is the recipe
1 Cup Ketchup
3 tablespoon Red Wine Vinegar
1 tablespoon Honey
1 teaspoon Hot Sauce
1 tablespoon Brown Sugar
1 teaspoon Garlic Powder
1 teaspoon Onion Powder
1 teaspoon Smoked Paprika
½ teaspoon Salt
Just mix it up and taste. Adjust the taste if needed.
How to Air fry Barbecue Chicken Wings
Here is step by step detailed description of how to make bbq chicken wings in the air fryer.
We will be adding bbq sauce to the chicken wings at various stages. This will make sure the wings are FULL of flavor!
Step 1: Prep
Cut the wings into 3 parts. Or you can make them as they are too.
Toss them in salt, baking powder and 1 teaspoon of bbq sauce.
The baking soda will make the wing skin crispy and also brown it more evenly. You can also use while flour instead.
We are doing this so that the wings have a coating which will hold on to all the sweet bbq sauce.
Step 2: Air Fry
Preheat the Air Fryer at 200C or 400F
Add the wings to the air fryer basket. You can add about 1 pound of wings at a time in mine. There is some overlap but it works!
Air fry for 10 minutes.
Step 3:Brush the Wings with bbq Sauce & Air Fry
Take half the BBQ sauce.
You can either brush the wings with BBQ sauce or toss them in a bowl.
Air Fry for another 5 minutes.
This will caramelize the chicken and char it to perfection.
Step 4:Toss the wings in sauce
This step is optional but I like the shining glistening sauce on the wings.
Toss it once more in the leftover ¼ cup of BBQ sauce and it's ready to serve!
Serving Chicken wings
Wings should be served piping hot, straight after they have been cooked. That's when texturally they are at their peak!
Serve it with your choice of dip. If the wings are spicy, I lean towards a sauce or a dip that's cooling and soothing. Like blue cheese dip , mayonnaise or a greek yogurt cold dip or a Tzatziki.
Though if the wings are not too spicy, I prefer hot ketchup or sriracha with them. You can choose your fav!
Another favorite side along with wings is celery & baby carrots. I love munching on it in between wings.It's such a perfect game night appetizer!
Recipe Notes
Though the recipe is quite simple, I have a few notes that will help you make the most delicious wings
Double Toss Wings- I like to toss the wings twice in the seasoning or sauce. After the first toss, most of the sauce usually caramelizes and some falls through the air fryer basket. So I open the basket just 1 minute before it's done and I add more sauce or rub. Straight to the basket.
Sugar - If your sauce or rub contains sugar, the wings caramelize nicely to a golden brown hue. So if you are making a homemade rub, don't forget to add some brown sugar to it.
Also try
Air fryer sweet and sour chicken
Chicken 65- Indian Fried Chicken
Whole Roast Chicken- Indian Style Sunday Roast!
---
Find us on Instagram , Pinterest & Facebook here!
If you liked my recipe, do leave a comment!
It will help others find this amazing recipe too!
---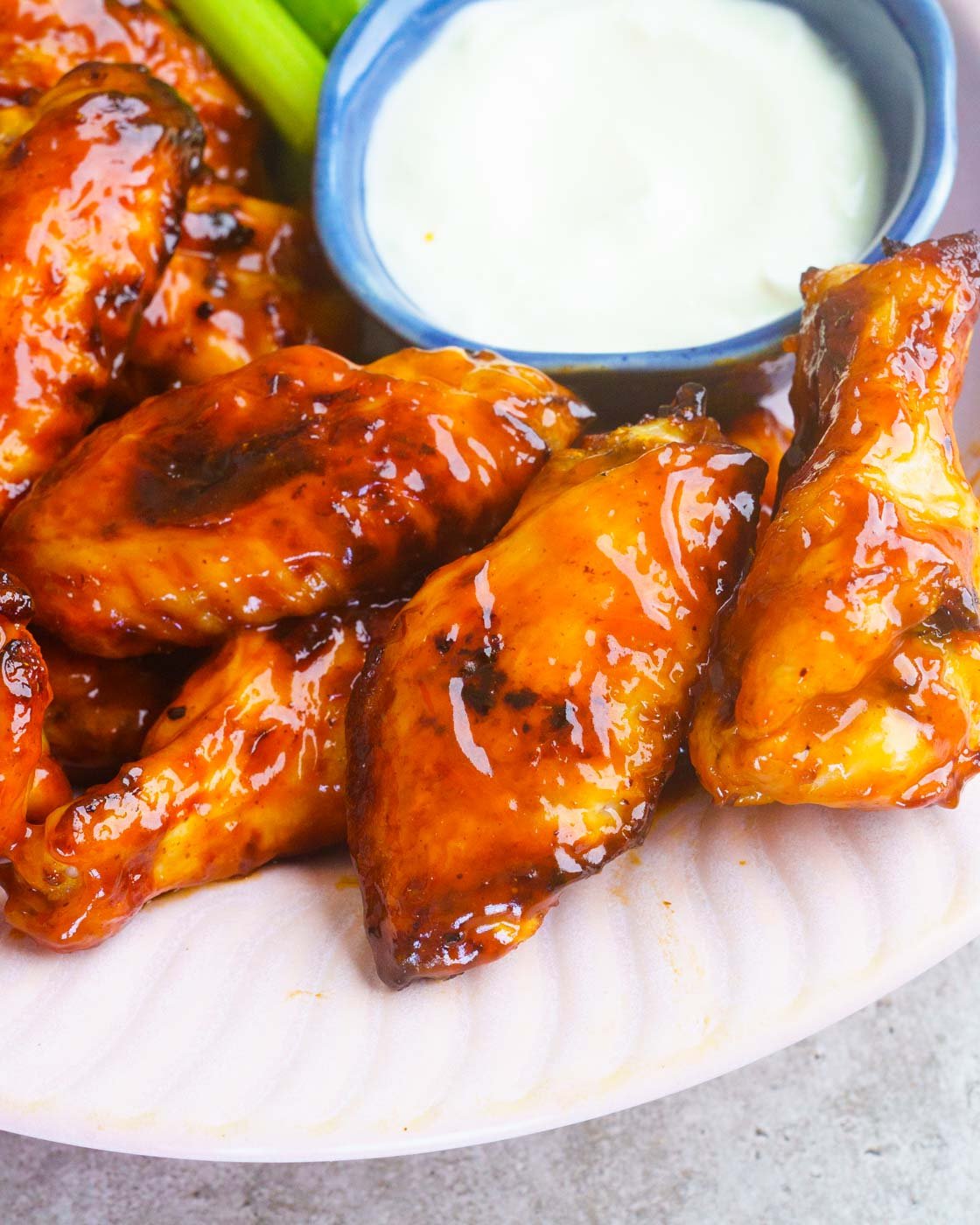 Ingredients
1

Pound

Chicken Wings

1

teaspoon

Baking Powder

½

teaspoon

Salt

½

Cup

Barbecue Sauce

Check the notes for homemade recipe
Instructions
Dry the wings & cut it into 3 parts- Drumette, Wingette and wing tip.

Add the baking powder,1 teaspoon of bbq sauce & Salt in the wings. Toss it so they are evenly coated.

Preheat the Air fryer at 200C or 400F for 10 minutes

Spray the air fryer basket with oil.

Place the wings in the air fryer.Try and not overlap much.

Open and brush the wings with BBQ sauce. Or you can tip the wings in a bowl and toss them in half the bbq sauce.

Air Fry for another 5 minutes till the wings and the sauce has caramelized a bit.

Take out the wings and add more BBQ sauce and serve hot!
Notes
Homemade Barbecue Sauce
1 Cup Ketchup
3 tablespoon Red Wine Vinegar
1 tablespoon Honey
1 teaspoon Hot Sauce
1 tablespoon Brown Sugar
1 teaspoon Garlic Powder
1 teaspoon Onion Powder
1 teaspoon Smoked Paprika
½ teaspoon Salt
Nutrition
Serving:
4
peices
|
Calories:
198
kcal
|
Carbohydrates:
15
g
|
Protein:
12
g
|
Fat:
10
g
|
Saturated Fat:
3
g
|
Polyunsaturated Fat:
2
g
|
Monounsaturated Fat:
4
g
|
Trans Fat:
0.1
g
|
Cholesterol:
47
mg
|
Sodium:
810
mg
|
Potassium:
179
mg
|
Fiber:
0.3
g
|
Sugar:
12
g
|
Vitamin A:
170
IU
|
Vitamin C:
1
mg
|
Calcium:
78
mg
|
Iron:
1
mg
If you liked the recipe, please leave us a rating
Follow me on Instagram
My handle is @yellowthyme