Roasted Red Pepper Feta Dip- Easy 5 minute party dip that goes with all your finger foods! You can serve it with chips, Pita or Veggies!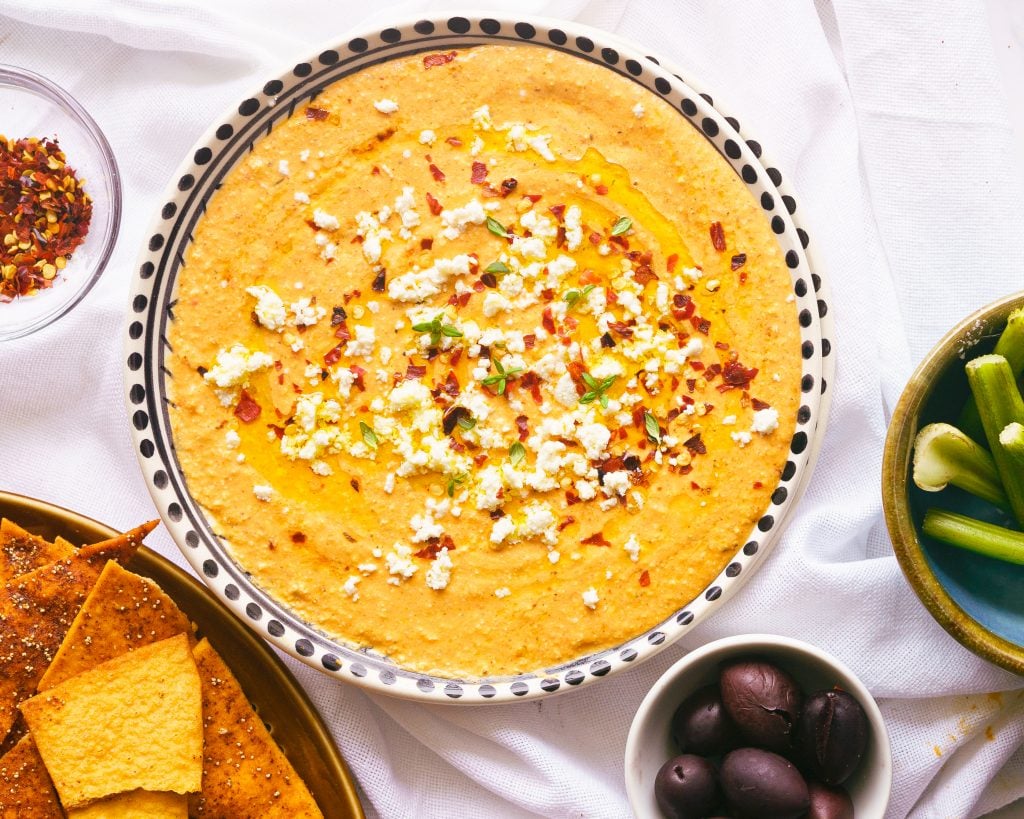 There is one thing I have realized..Repeatedly..Home made dips are always...always better than store-bought dips.
But only if it's simple to make and comes toghether in a jiffy! Right?
This dip ticks all my requirements. It's easy to make, comes together quickly and can be served immediately if needed.
We love mopping this up with warm pita bread. OR scooping it up with some salty potato chips or french fries! It also makes a great healthy snack with some celery sticks. It's a quite versatile dip!
We love that this dip can be served cold straight out of the refrigerator just like a Tzatziki or my chunky corn and bean salsa. If you are throwing a big party, don't forget to make my 3 ingredient hummus too!
You should read about all the other things I did with this dip in the leftovers section below.
This red pepper dip is loosely based on greek dip called Htipiti or tirokafteri.Loosely translated, it means pounded or beaten.It's usually made in the mortar and pestle.
Not only is it delicious, it's also veggie packed! You can binge eat on this without feeling too much guilt.
If you use store-bought roasted peppers ,you can make this dip in 5 minutes flat! Scroll down to get the recipe.
I am always looking for new dips and appetisers to serve my friends and family.I love entertaining.
I have one rule though. No cooking once friends and family come over. That is why dips and chips are my jam!
Why we love this dip
Its loaded with veggies and is kid friendly
It can be made ahead and popped in the refrigerator for upto 3-4 days!
It's served cold or at room temperature. So no reheating business in the middle of your party!
It's super easy to make!
Ingredients for Feta Red Pepper Dip
Here is what you will need to make this feta red pepper dip
Red Peppers
Feta
Lemon
Oregano
Ground Chilli
Salt
Red Peppers- You can roast fresh peppers or use store-bought roasted peppers. You can also fire roast them.
If you use store-bought peppers, make sure you rinse it before adding it to the dip. You don't want the liquid to change the taste of the dip.
Roasting the peppers will make them soft plus help in removing the skin.
Feta - You can use a feta block or feta in brine. If you are using feta from the brine, make sure to pat the feta dry before using.
Also, taste the feta before you add rest of the ingredients. This will help in deciding how much salt you need.
How to make Red Pepper Feta Dip
Here is a step by step method of making the red pepper dip.
Step 1: Roast the Red Peppers
Skip ahead to step 2, if you are using jarred roasted peppers.
Halve the peppers. Place them seed side down on a baking tray.
Bake for 20 minutes at 200 C till the skins are black and charred.
We are looking for big splotches of black.
Yes Don't worry! Trust me! Go ahead and char that pepper!
Alternatively, you can fire roast them too.
Once they are charred, Place them inside a bowl. Cover the bowl. Let it cool for 10 minutes. This step will sweat the peppers and make them easier to peel.
Remove and discard the skin.
Step 2: Process & Blend
In a food processor or blender, Add cubed feta cheese, Olive Oil, Salt, Chili and Roasted Red Peppers.
Squeeze about ¼ of a lemon. Process till you get a creamy texture.
Scoop it in the serving dish, top with olive oil and serve.
You can also garnish this dip with crumbled feta, Chilli flakes or Herbs.
A note on Texture
You should be able to see specks of feta still in the dip. If you want, you can blend it more into a smoother dip.
But I find that to get a very smooth dip, you will need to add cream cheese to it and use a powerful blender. It will also make the dip thinner than we are looking for.
The dip thickens when stored in the refrigerator. It becomes spreadable.
Substitutions and Variations
Here are some quick variations to this gorgeous red pepper cheese dip.
Spicy Red Pepper Feta Dip - Add cayenne pepper or smoked paprika to make this dip spicy.
Sweet & Spicy Feta Dip - Drizzle in some honey to give it a sweet, sour and spicy taste
Roasted Banana Pepper Feta Dip - Use banana peppers instead of Red bell peppers. This will give you a spicier and lighter dip.
Roasted Garlic Red Pepper Feta Dip - Add some roasted garlic to the dip too
Leftovers and Storage
Store this dip in an air tight container for 5-6 days. There are so many things you can make using this dip.
Here are some quick ways to reuse this dip
Make a Cheese sandwich
Add it to boiled pasta and use like a sauce
Add it to Souvlakis or Chicken Gyro Rolls
Eat it with flatbreads
Use it as a salad dressing.
How to Serve
The dip should be served at room temperature.It thickens when refrigerated.So keep that in mind while serving.
By itself, you can serve this red pepper cheese dip with chips, Home made pita Chips, veggies or crackers.
If entertaining is your jam, then i have got you! Depending on how big your party is, you can make 1 dip or several.
My fail safe dip is always my greek yogurt dip. If I want to add textures, combine different types of dips for a bigger spread, I make several dips.
Assembling a dip platter with crisps and veggies is easier than cooking appetizers. It's also great finger food to munch on with drinks. This is what I usually have on my party table
Dips- Yogurt Dip, Hummus, Feta Dip like this one, cheese Ball
Veggies- Sticks of carrots, cucumber, celery
Fruit- This is optional. Kids usually love this part of my platter.
Crisps- Easy Ari Fryer Pita Chips, Potato chips and other crisps.
Crackers & Cheese
Olives
More Dips & Appetizers
Here are some more of my recommendations.
Air Fryer Stuffed Peppers
Air Fryer Buffalo Shrimp
Air Frying Peanuts
Air Fryer Sweet Potato Wedges
Air Fryer BBQ Chicken Wings-(Extra Crispy)
Also! here are some great Mediterranean dips that you will love!

Greek Yogurt Party Dip - Tzatziki
Creamy Hummus with Roasted Olives
3 ingredient Hummus without Garlic

If you make this delicious Red Pepper feta Dip, do leave me a comment.I would love to know your thoughts on it!
Find us on Instagram , Pinterest & Facebook here!
If you liked my recipe, do leave a comment!
It will help others find this amazing recipe too!
---
Ingredients
8

Ounces

Feta Cheese

3

Red Bell Peppers

or 1 cup Roasted Red Peppers*

¼

Cup

Extra Virgin Olive Oil

2-3

Cloves

Garlic

½

Lemon

2-3 tablespoon of lemon juice

1

tablespoon

Dried Oregano

1

teaspoon

Ground Chilli

Paprika or Cayenne

Salt
Instructions
Roasting Red Peppers
Skip this step if using Storebought Roasted Peppers

Cut the peppers into half.Remove the seeds.Place them seed side down on a baking tray.

Roast the peppers for 20 minutes at 200 C or 400 F till the skins are black.(not all black but majority parts of it.
Store Bought Roasted Red Peppers
Remove 1 cup worth of roasted red peppers from the jar.Give them a quick rinse under water.Pat dry with a paper towel.
Processing the Dip
Add cubed feta into the food processor first.

Next add the roasted peppers.

Follow it up with Olive oil, Garlic, Oregano, Salt, Chili and lemon juice.

Close the lid and blend or process till you get the desired texture.

Scoop it up in a shallow bowl or a plate.Drizzle with olive oil and serve along with pita or chips.
Notes
*Nutritional values are approximate and calculated to serve about 10 people.
Roasted Red Peppers*
If using jarred storebought peppers, make sure to rinse and pat the peppers dry before using.
Ground Chilli
Increase the chilli or replace it with cayenne to make this a spicy feta dip.
Serving Suggestions
Serve at room temperature with a drizzle of olive oil.You can pair this dip with warm pita, chips or veggies.Here are some suggestions
Chips - Crinkle Sea salt chips- thick or thin.
Nachos
Veggies - carrot sticks, cucumber, celery, mini sweet peppers
Warm Bread or toasted pita bread
This dip is
Vegetarian, Gluten Free & Veggie loaded.
Served at room temperature or slightly cold.
You can make this ahead and pop it in the refrigerator for 2-3 days.
It can sit out on the counter for upto 4-5 hours on a hot day. Longer on a colder day.
Nutrition
Calories:
100
kcal
|
Carbohydrates:
2
g
|
Protein:
5
g
|
Fat:
8
g
|
Saturated Fat:
2
g
|
Cholesterol:
12
mg
|
Sodium:
358
mg
|
Potassium:
23
mg
|
Fiber:
1
g
|
Sugar:
1
g
|
Vitamin A:
118
IU
|
Vitamin C:
5
mg
|
Calcium:
6
mg
|
Iron:
1
mg
If you liked the recipe, please leave us a rating
Follow me on Instagram
My handle is @yellowthyme