The first time I tasted Thai Sticky Chicken Wings in Three Flavoured Sauce was a couple of years ago at a friend's house.She had made these from the book - Simple Thai Food- by Leela Punyaratabandhu.It was love at first bite.The sauce was just plain simple BRILLIANT and totally AMAZING!
Though the recipe is called Thai Sticky Chicken Wings in Three Flavoured Sauce- it's actually all about the sauce- it's such a BRILLIANT sauce that the first time I made it ,I didn't think it was right so I just ignored some of the ingredients and let me tell you it was a big disaster.
Follow the recipe exactly to get the most exquisite, sweet and sour spicy sauce.
This sauce uses coriander roots - yes you heard that right.Not the leaves, not the stems but the roots.They pack such an intense coriander flavour that sings through in spite of the sauce being high on other strong elements like- fish sauce and tamarind.
This Three flavoured Thai sauce sauce is the simple gateway to Thai cooking !
Also! The sauce is a real jewel case it goes with anything and everything.I would pour this over fried calamari, veggies,noodles or even plain rice! As per Leela Punyaratabandhu- once you have learnt how to make this sauce, you create many modern dishes with traditional Thai flavour profile.
How to make Crisp Chicken Wings
Fry Fry fry!Though I hate frying..all that oil going to waste and the clean up and yes the grease! but the fact is that frying makes the wings crisp and succulent inside.
That being said you can also bake the wings- Read here more about it or you can air fry them if you have a air fryer.
Ingredients
6 Chicken Wings- Halved

tips removed

1

teaspoon

Oyster Sauce

1

teaspoon

Fish Sauce

¼

Cup

Rice Flour

Oil for Deep Frying
Three Flavoured Thai Sauce
10

bird eye Chillies

- Fresh

5-8

Garlic Cloves

1

Large Shallots

3 indian small shallots

3 Coriander Roots- washed

½ Cup Jaggery/ Palm Sugar- packed

2

tablespoon

white sugar

¼

cup

Fish Sauce

¼

Cup

Tamarind Pulp

¼

Cup

water

2

tablespoon

Oil
Instructions
For the Three Flavoured Thai Sauce
Coarsely grind together the Coriander roots, Garlic,Shallots and Chillies.

Heat the oil in a sauce pan.Add the Paste and sauté for 30 seconds till fragrant.

Add the jaggery(palm Sugar), white sugar, fish sauce,tamarind and water.

<span class="mceItemHidden" data-mce-bogus="1"><span></span>Bring to boil and simmer till the sauce thickens and reduced to a loose jammy consistency.This will take about 10-15 minutes on medium-low flame.</span>

Let it cool and store in refrigerator.
Chicken Wings
Marinate the chicken wings for 15 minutes to 24 hours in fish sauce and oyster sauce.If marinating for more than 15 minutes, refrigerate.

Spread the flour in a plate.

Coat the marinated chicken wings in the rice flour.Shake off the excess flour.Rest on a plate for 15-20 minutes.This will make sure the wings are crispy on frying.

Heat the oil in a pan.Fry the wings.

Mix with 3-4 tablespoon of the Thai three flavoured sauce and serve immediately.
If you liked the recipe, please leave us a rating
Follow me on Instagram
My handle is @yellowthyme
Pin Me!
Thai Red Curry with Homemade Red Curry Paste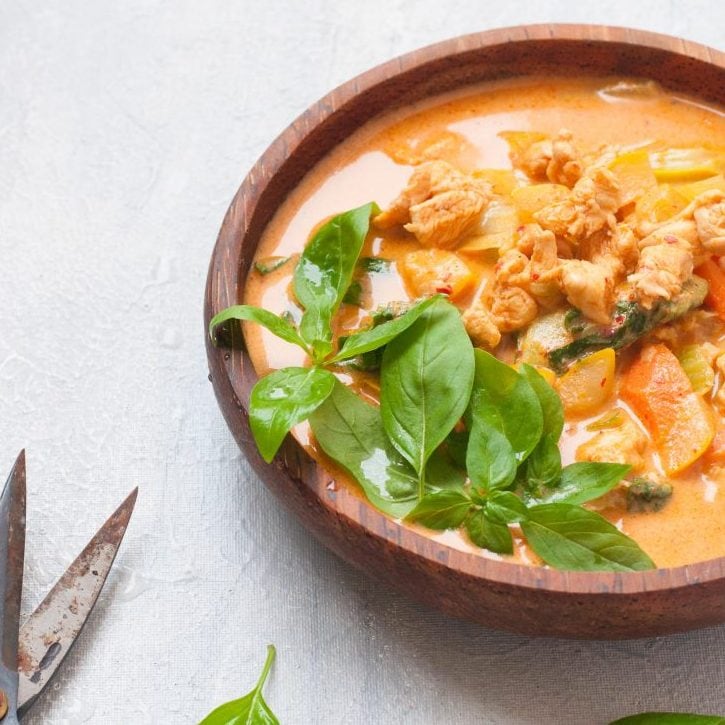 Thai Sweet and Spicy Cucumber Salad
Quick Raw Papaya Salad