Mangalore Prawn Sukka is a dish from the west coast of South India.It is a bright orange(red in some cases) spicy and Tangy prawn roast made with fresh coconut and dry red chillies.
I was introduced to Mangalorean cuisine about 7 years back when we went to Kudla, the most iconic Mangalorean Food restaurant in Bangalore, for a department lunch.My love affair with it began then.
The Neer dosas, the Mangalorean Kori Gassi and the Ghee Roast, have wooed me to nose-dive deep into the cuisine with open arms.Though something or the other has always kept me from visiting Mangalore,the food remains an obsession that has grown with all the time I have been in Bangalore.
This recipe of Mangalorean Prawn Sukka will give you a spicy, slightly tangy prawn roast which has the perfect balance of the warm spices,chillies and tamarind.You can fine-tune it as per your sensibilities- increase the chilli or decrease the sourness from the tamarind, tweak the salt.
Salting the dish right is an art achieved only by repeatedly tasting the food and adding it in increments.
How to Buy and Clean Prawn
For me , the easiest seafood to cook with has to be Prawn.It's not only easy to cook but it's also very versatile.You can literally have a fancy dinner on your table in mere 25 minutes.
The ease of cooking(not cleaning!),the amazing taste and sheer possibilities it hold's is reason enough for me to buy it every week.I usually buy 500 gms of it and use it twice over the week.
The Buying
To make the prawn suck -I prefer buying already cleaned medium to large sized prawns.They are easier to clean than the very small ones and don't rock my budget too much.My proffered online sites is freshtohome.com 
The Cleaning
My only woe with prawn is the time consuming cleaning process.The easiest way to clean is to buy- already cleaned prawn! Trust me!
If you have to clean though, use a sharp serrated knife- slice the outer side of the prawn and remove the black vein.
Variations of Prawn Sukka
I love my prawns but if you can't find them or are allergic or whatever is your reason,this dish would work with any seafood- Fish, Shrimp  or Crab.In addition to these, Chicken- especially boneless chicken will also work well with the Sukka Masala
Paneer and Potato Sukka will also be great vegetarian renditions of this iconic Mangalorean dish.
Also try Chicken 65- Indian Fried Chicken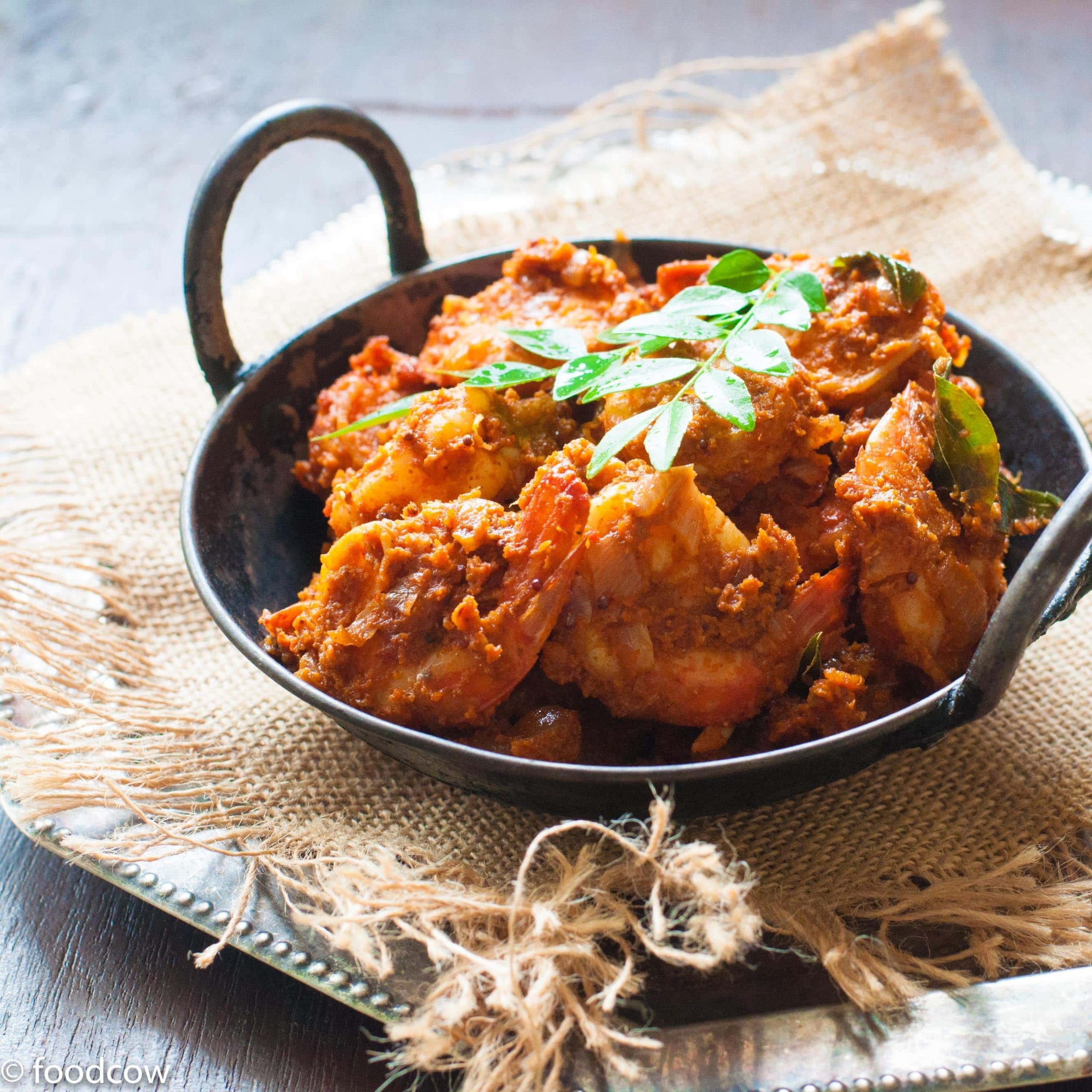 Ingredients
400

gms Prawn

1

tablespoon

Oil

1

teaspoon

Mustard Seeds

Rai

1

inch

Ginger- grated

3

Garlic Cloves- Chopped

2

Green Chillies- Split

10-15

Curry leaves

1

medium Onion-Finely Chopped

1

Medium Tomatoe-Finely Chopped

½

teaspoon

Turmeric

Haldi

Salt to Taste
Sukka Masala
2

teaspoon

Coriander Seeds

Dhaniya Seeds

1

teaspoon

Cumin

Jeera

6-8

Kashmiri Red Chillies

¼

teaspoon

Mustard

Rai

Pinch

Fenugreek Seeds

Methi Seeds

½

Cup

Grated Coconut

of sliced

1

teaspoon

Dry Tamarind-washed/ 1 teaspoon thick tamarind pulp
Instructions
To make the Sukka Masala
If using dry tamarind- Soak it in ¼ cup of hot water.Strain the water and extract pulp/

Dry roast the coriander seeds,cumin,kashmiri red chillies, mustard and methi on low heat for 5-10 minutes till its fragrant.Set aside and Cool.

Once the spices have cooled.Blend them to a powder.To that, add the tamarind and the coconut and blend to a paste.Add more water if required.
Bringing it all together
Heat oil in a pan*.Once hot, add the mustard seeds, ginger,garlic,chillies and the curry leaves.Saute for 30 seconds.

Add the finely chopped onions next.Cook till it's golden brown.

To this, add the chopped tomatoes and cook for 5 more minutes till the tomatoes start disintegrating and loosing shape.Add more water if the pan is getting too dry.

Add the cleaned prawn along with turmeric and salt.Mix gently without breaking the prawn till both sides turn pink.

After the prawn turns pink on both the sides,Add the prepared coconut masala.Mix well to evenly coat all the prawn.

Cook for another 10 minutes till the coconut masala becomes dry and prawns roast.

Check the salt, chilli and sourness- adjust accordingly.

Garnish with coriander and serve hot.
Notes
It's best to use a flat pan for this recipe so that the prawns get roasted and cooked equally.
The size of the prawn will determine the actual cooking time.Usually,if they have turned orangish pink- they are cooked.
If you liked the recipe, please leave us a rating
Follow me on Instagram
My handle is @yellowthyme
Some other BRILLIANT dishes from the southern part of India.