This Mangalorean Prawn Curry is the crown jewel of the Western Indian Coastal cuisine from Mangalore,Karnatake.
Before moving to the southern region of India, I really had no idea about the very distinct cuisines of the southern states. Actually,scratch that..not separate southern "states" but "regions"..There are so many cuisines , that I am suddenly grappling with too much information and ideas..For instance-there is the famous Chettinad cuisine, then there is the Tamil Brahmin way of cooking,Malabar Cuisine,Mangalorean Cuisine and I am sure I am missing out on a dozen more here.
For me,Mangalorean Prawn Curry was a case of pure sheer infatuation which started when I tasted Fish Gassi at Jai hind lunch house in Mumbai for the first time.To say that we were mind blown ,is underselling it, I just couldn't stop thinking about it.This one meal catapulted me into researching and mastering this recipe of Gassi though I chose to make the prawn version of it instead of Fish.
Taste & Texture of Mangalorean Prawn Curry
When done right a Mangalorean Prawn Curry or Gassi should be orange in colour, it should be Light and above all ,should have layers of tanginess from the tamarind and Kokum. A Gassi also has a with a very distinctive earthiness that comes from the use of Kokum.Frankly,its easy enough to make but the only challenge is in grinding the Gassi Masala Paste.In a good food processor it will take anywhere between 15- 20 minutes of blending because the fresh coconut has to really disintegrate into a paste.If this step is skipped or not done right the Gassi Gravy will be grainy instead or being smooth and almost silky.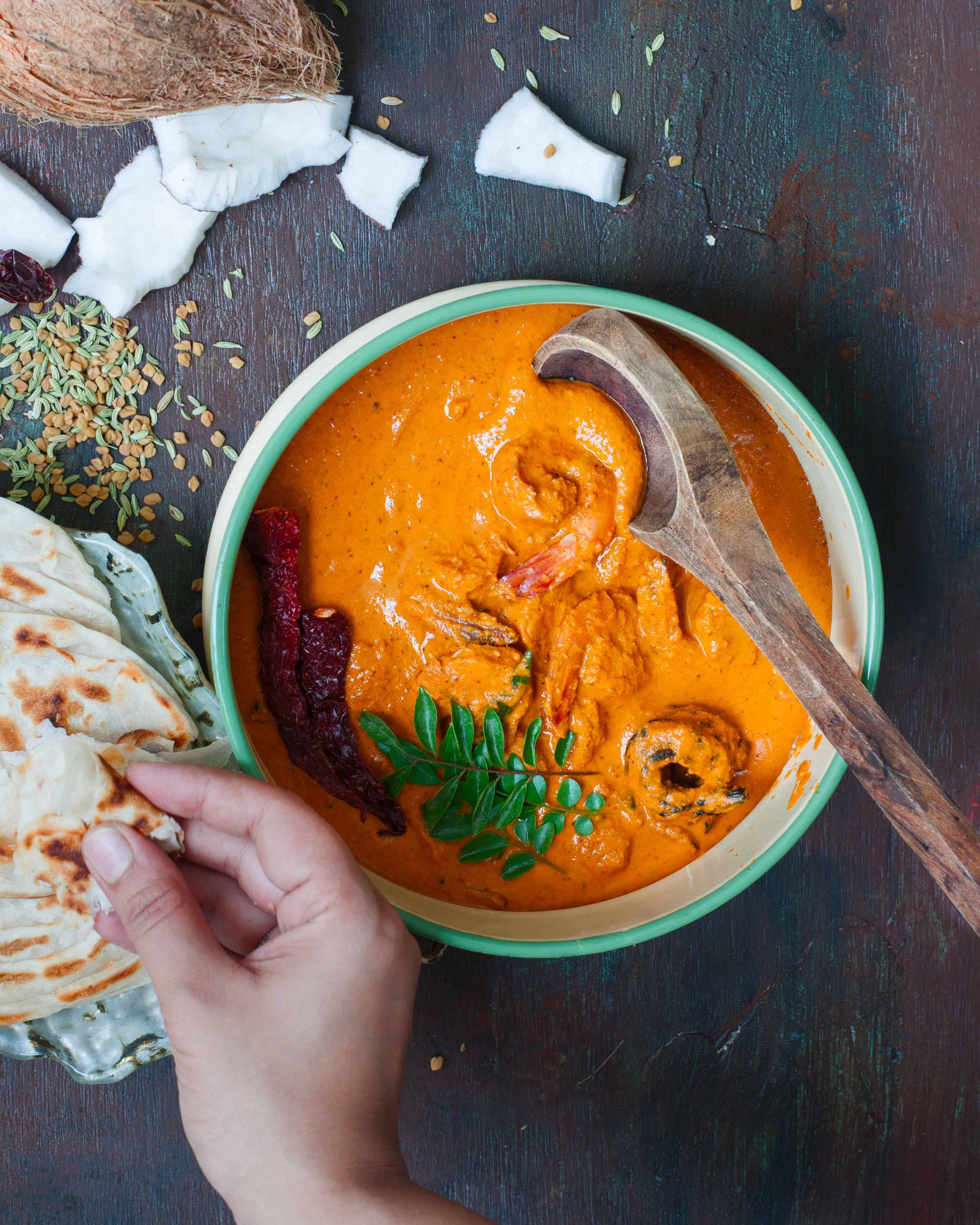 The Coastal Prawn Curries
Before you ask how is this different from say Kerala Prawn Curry or Goan Prawn Curry then let me state the differences and similarities.All three are coconut based curries from the Western Coast of India but they are different in a number of ways.
For starters,Goan prawn curry gets the tanginess from Vinegar which is more of a Portuguese effect where as the Mangalorean Prawn Curry derives its signature double layer of sourness from both Kokum and Tamarind.
The other major difference is the usage of coconut flesh as opposed to coconut milk in both the Kerala & Goan Prawn Curries.The Coconut flesh makes the gravy a little more full bodied as compared to the silky viscosity of other coastal prawn curries.In Mangalore,Mangalorean Prawn Curry is also called Yeti Gassi which translates to Prawn Curry.
The three heroes of this Mangalorean Prawn Gassi are- the Coconut, Kokum and Shallots.
Shallots are small onions-which are marble sized in India and almost as big as my little finger in the USA and so make adjustments accordingly.Cooking a curry unlike baking is more about what your feel and like.Feel free to increase the heat by adding more chillies or amp up the tanginess by adding more tamarind ,if that's what you like.
If you are looking for more Coastal Indian recipes- Check out my Kerala Prawn Curry, Tamil Pepper Chicken Curry, Mangalorean Chicken Ghee Roast
Ingredients
250

gms prawn

1

teaspoon

turmeric

1

teaspoon

chilli powder

6-7

small Shallots/Small Onions

¼ Cup

2-3

Garlic cloves

¼

cup

grated coconut

1

piece

cocum

2

cm

piece tamarind

10-15

Curry Leaves

Salt to taste

2

tablespoon

Coconut Oil
Masala
1

teaspoon

Mustard Seeds

5-6

Kashmiri chilli

Reduce it to 2 , to reduce heat

2

tablespoon

coriander seeds

1

teaspoon

peppercorns

½

teaspoon

Methi/Fenugreek Seeds

1

teaspoon

fennel seeds/Suanf

1

teaspoon

Cumin/Jeera
Instructions
Soak the cocum piece & tamarind piece in 1 cup hot water.

Heat 1 tablespoon Coconut oil.

Once the oil is hot add mustard seeds.Add all the other ingredients listed under masala one by one.

Roast for 1-2 minute on low-medium flame.

Add the grated coconut and saute.Let the coconut cook and get a light golden hue.

Add the shallots and garlic and keep cooking on low-medium flame.Ensure the coconut doesn't burn.Once onion has softened switch off and let the mixture cool.

In a blender, blend all coconut-masala mixture with ½ cup of cocum soaking water.This will take at-least 15-20 minutes.Keep scraping the sides, add more water if required.Aim for a super smooth paste.

Heat the remaining 1 tablespoon coconut oil.Add the prawn along with the turmeric and chilli powder.Cook for about 1 minute.Add the curry leaves and the coconut masala paste.

Add rest of the cocum soaking water along with the cocum and tamarind pulp.Adjust the thickness of the gravy as per your liking.

Add Salt to taste.Bring to boil and done.
If you liked the recipe, please leave us a rating
Follow me on Instagram
My handle is @yellowthyme
EasyRecipe
Pin ME!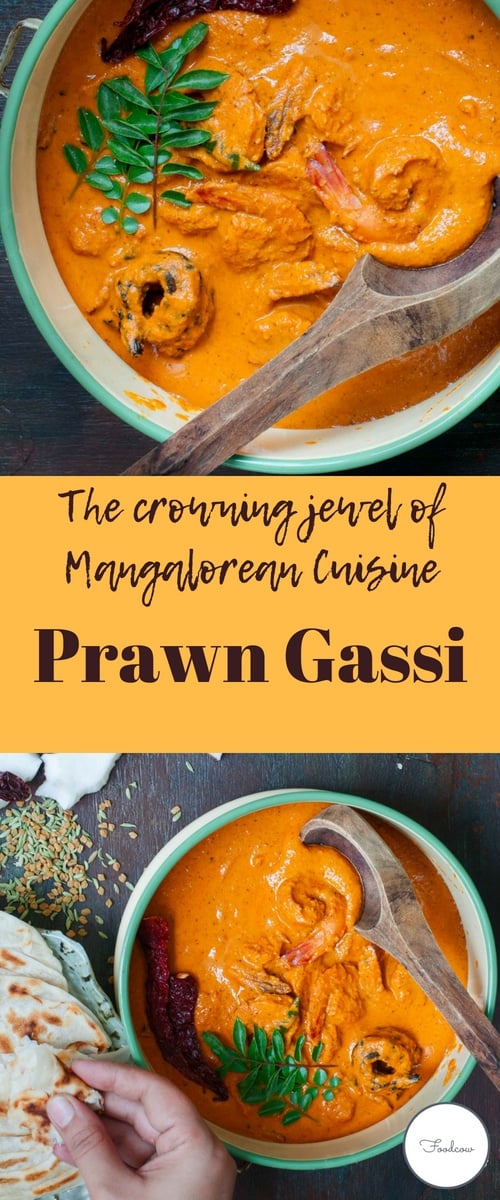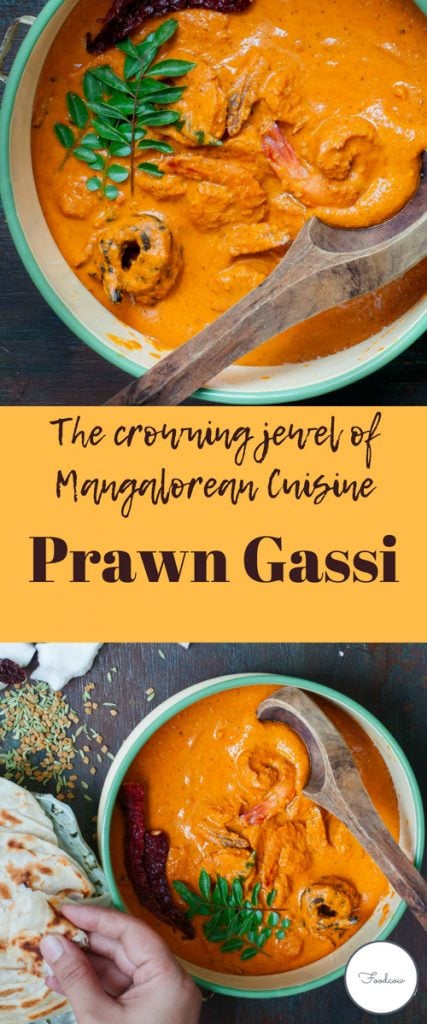 So here are some more bonus Indian recipes for you!
Malabar Chicken Peralan | Kerala Style Kozhi Peralan Roast
SaveSave
SaveSave
SaveSave
SaveSave
SaveSave
SaveSave
SaveSave
SaveSave
SaveSave
SaveSave
SaveSaveSaveSave
SaveSave
SaveSave
SaveSave
SaveSave
SaveSave
SaveSave
SaveSave