Get ready to salsa your way into summer with Mango & Grilled Corn Pico de Galla, aka salsa! It's a refreshing recipe perfect for tacos, fish, salads, or chunky chip dip. Best part? Make it ahead and serve it straight from the fridge!
TEXTURE: Chunky Salsa
EASE: Very Easy
Serve with: Chips, Fish, Chicken, or on Tacos
Jump to:
What can be more summery than Mango and Corn? And together, they are such a heady combination!
This simple, Chunky Mango salsa will surely be a hit at any potluck or party! As someone who entertains often, I always look for make-ahead recipes that can be served cold.
And This is exactly that! Make it the night before, stick it in the fridge, and let the flavors meld together. Or if you aren't all about the planning( which I am not, on most days) chop everything up, put it in a nice bowl, add some chips and call it a party! (With some Margaritas and Beer of course!)
The smoky grilled corn, the sweet mango, and the hint of heat from jalapeno, Sigh.It makes for the most refreshing summer party "dip" ever!
You will be scooping this up with chips, putting it on your grilled or air fryer fish, pork, and shrimp, Stuffing it in your tacos or just eating it straight up!
Here is how we will make it-
Prep & Chop all the ingredients
Mix everything
Serve cold
If you love serving cold appetizers like me, try the Black Bean Corn Feta Dip and my new obsession - Greek Yogurt Caramelized Onion French Dip. I can't get enough of it!
Why you will love this Mango Salsa
This is my all-time favorite Summer dish!
Here is why we love it
Ingredients for Mango Grilled Corn Salsa
To prepare this tantalizing mango corn salsa (pico de gallo), gather the following ingredients:
Mango
For this recipe, we want a firm yet sweet Mango.
You can use different types of mangoes for mango salsa, such as Tommy Atkins, Ataulfo (Champagne), or Kent. It depends on your preference and what's available. Tommy Atkins offers a firmer texture. Ataulfo mangoes are creamy and sweet, while Kent mangoes are soft and juicy. Choose the one that suits your taste best!
If you can find Indian & Thai varieties, those work too. Just make sure the mango is firm enough to cut. Needless to say, Pick seasonal, local mangoes when possible.
In India, we make many things with mangoes, like my childhood favorite - Mango Lassi and Indian Raw Mango Chutney. I can never let a summer go without making these two!
Corn
To make this salsa, you can use corn on the cob or shucked corn kernels- frozen or fresh.
Grilling the corn gives the salsa a chewy and smoky quality which I love!
You can grill the whole corn on the cob on a barbecue in summer or air fry the corn or char it on your hob(if you have a burner kind of a hob).
If not, then you can saute corn kernels in a pan till they are nicely brown.
Jalapeno
Jalapeno will add the very much-needed heat to this salsa. You can decide whether you want just a hint of it and choose to add a small amount only.
But if you like your pico de gallo spicy, add a whole jalapeno, chopped up.
If you can't find jalapeno, add local green chilies or banana peppers.
Hot Tip
Most of the heat in chilies lies in the seeds. So de-seed the chili before using to get all the flavor and none of the heat!
How to Make Mango Corn Salsa
Step 1: Cut the Mango
Start with placing the mango thin side up.
Cut the mango along the seed into a clean slice.
Using a sharp knife, Make horizontal and vertical cuts. Try not to cut through the skin and remember the center is thicker than the sides.
Use a spoon to scoop it all into a bowl.
Cut the mango small enough so that it's not too big a sweet bite in one scoop.
Step 2: Grill or Pan fry the Corn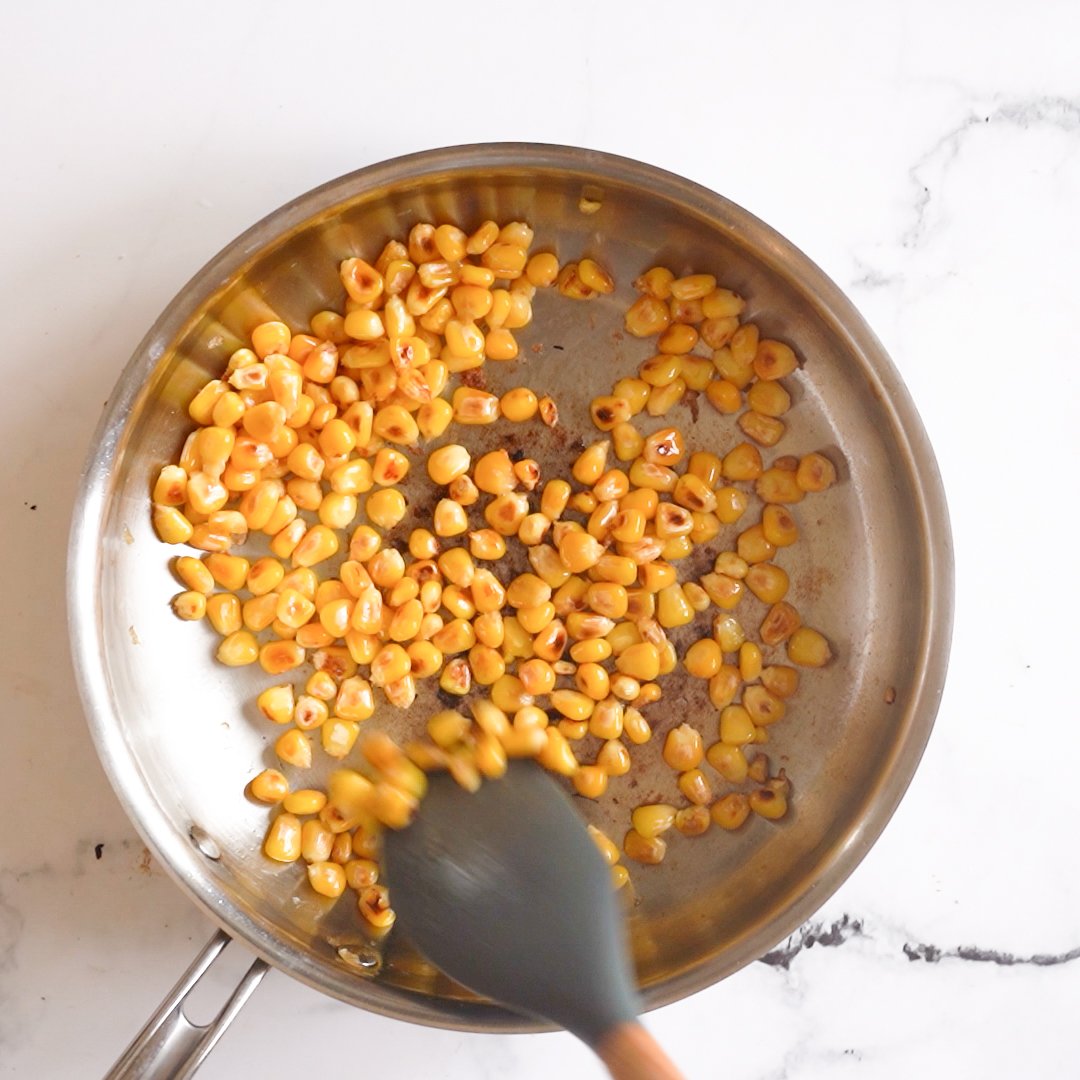 You can choose to pan fry corn kernels, gril or air fry them. In the picture, I have pan fried frozen corn kernals ( also called sweet corn).
In this picture, we have Grilled the corn and used a sharp knife to cut the grilled kernals off the cob.
Step 3: Mix everything together
Cut the rest of the ingredients. And simply add them all to a bowl.
Squeeze the lime in, add salt, chopped jalapeno and give it a gentle mix.
Step 4: Chill
If you want, you can serve the salsa at this point but I like the salsa to sit for a couple of minutes.
This helps all the flavors mix together and make for a more cohesive salsa.
How to Serve Mango Pico De Galla
You can serve it in a shallow bowl with chips and crisps as a classic appetizer. Just keep a fork or two in the bowl to make scooping the salsa onto the chip easy.
Besides this, there are a lot more fun ways to enjoy this salsa:
Taco Topper: Add a generous spoonful of mango corn pico de gallo to your favorite tacos for an explosion of flavors.
Grilled Delights: Use it as a vibrant topping for grilled fish, shrimp, or chicken to enhance their natural flavors.
Salad Companion: Sprinkle some mango corn salsa pico de gallo over a green salad to add a refreshing twist.
Seafood Sensation: Serve mango corn salsa pico de gallo alongside grilled or seared seafood dishes like fish, Shrimp, scallops, lobster, or ceviche.
Variations
While this mango corn salsa recipe is already bursting with flavors, don't be afraid to explore variations and additions to suit your palate. Here are a few ideas:
Add a squeeze of orange juice and the zest for a hint of citrusy brightness.
Add some Smokiness with smoked paprika.
Experiment with different herbs such as mint or basil to add a unique twist.
Tips for Storage and Shelf Life:
To ensure your mango corn pico de gallo remains fresh and flavorful, follow these tips:
Store any leftovers in an airtight container in the refrigerator for up to 2-3 days.
If the salsa becomes watery, drain any excess liquid before serving.
Don't limit its usage to just one meal—repurpose the salsa as a delicious topping for Quinoa Bowls, a side salad, or a flavorful addition to wraps and tacos.
Pairing
Apart from Tortilla Chips, these are my favorite things to eat this salsa with
More Epic Cold Appetizers & Condiments
Cold appetizers and condiments are the best not only for their refreshing and vibrant burst of flavors, but also because they are incredibly easy to make and serve at a party. With no need for cooking or reheating, these chilled delights can be prepared ahead of time, allowing you to focus on enjoying the company of your guests rather than being stuck in the kitchen.
If you make this Mango Corn Salsa, drop me a note. I would love to hear your thoughts. Also! Do give this recipe a rating. It will help me reach more people.
Find us on Instagram , Pinterest & Facebook here!
If you liked my recipe, do leave a comment!
It will help others find this amazing recipe too!
---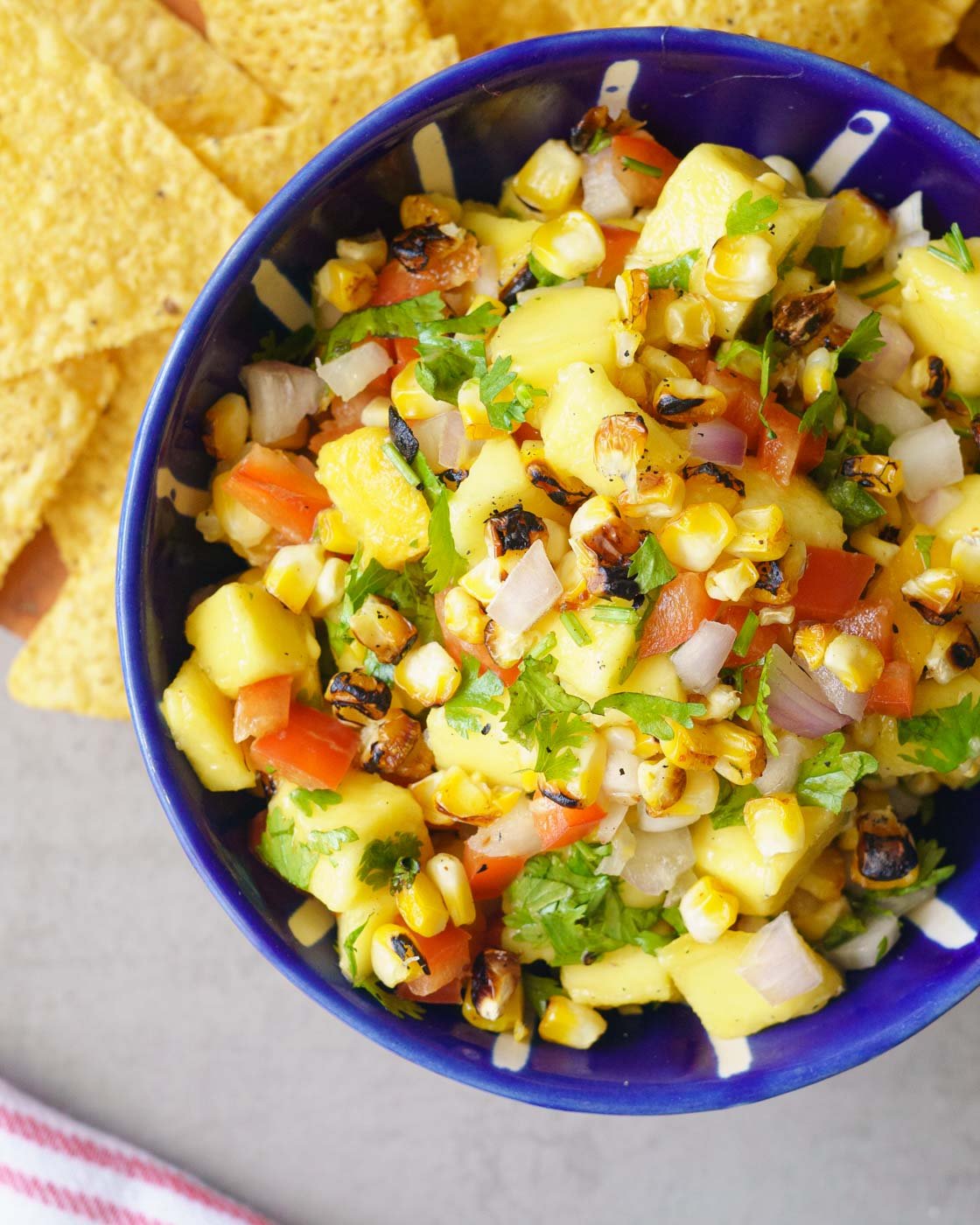 Ingredients
1 ½

Cups

Mango*

Diced

1

Whole

Corn on the cob*

or 1 ½ cups of Grilled or Sautéed Corn

¼

Cup

Onion

½

Cup

Red Pepper

Diced

¼

Jalapeno

Minced( or lesser)

2

tablespoon

Cilantro

½

Lime

Salt
Instructions
Cut the Mango into small cubes. Check for step by step photos in the "How to Cut the Mango section.

Grill one Corn on the cob or you can air fry it too. Cut the kernals off using a sharp knife.

Add everything to the bowl. Mix it up together.

Let the Salsa sit for 5-10 minutes till the flavors mesh together.

Serve at room temperature.
Notes
Ingredient Notes
Mango
Choose a sweet, firm mango that can be cut into cubes easily.
Also make sure the mango cubes arent too large. You want everything to come together in one bite.
Corn
You can use corn on the cob and grill it. A perfect summer dish.
Or you could char it on your gas hob, grill it on a grill pan or air fry it too.
You can also use corn kernals, also called as sweet corn and saute them in a pan.
Jalapeno
If you don't want to add heat to your salsa, you can skip it.
For extra hot salsa, Chop up the whole jalapeno
If you want only the flavor and none of the heat, remove the seeds from the jalapeno before adding them to the salsa.
Serving
Serve the Salsa Cold or at room temperature.
This refreshing summer recipe pairs very well with tacos, grilled fish, grain bowls, or as a chunky chip dip.
Storing
Store any leftovers in an airtight container in the refrigerator for up to 2-3 days.
If the salsa becomes watery, drain any excess liquid before serving.
Nutrition
Serving:
5
tablespoon
|
Calories:
72
kcal
|
Carbohydrates:
13
g
|
Protein:
3
g
|
Fat:
3
g
|
Saturated Fat:
1
g
|
Polyunsaturated Fat:
2
g
|
Monounsaturated Fat:
1
g
|
Sodium:
389
mg
|
Potassium:
482
mg
|
Fiber:
9
g
|
Sugar:
2
g
|
Vitamin A:
7037
IU
|
Vitamin C:
4
mg
|
Calcium:
82
mg
|
Iron:
4
mg
If you liked the recipe, please leave us a rating
Follow me on Instagram
My handle is @yellowthyme