Air Fryer Popcorn Shrimp - Made from scratch or cooked from store-bought frozen shrimp. Easy, mess-free, with almost zero oil. Serve with your favorite dipping sauce.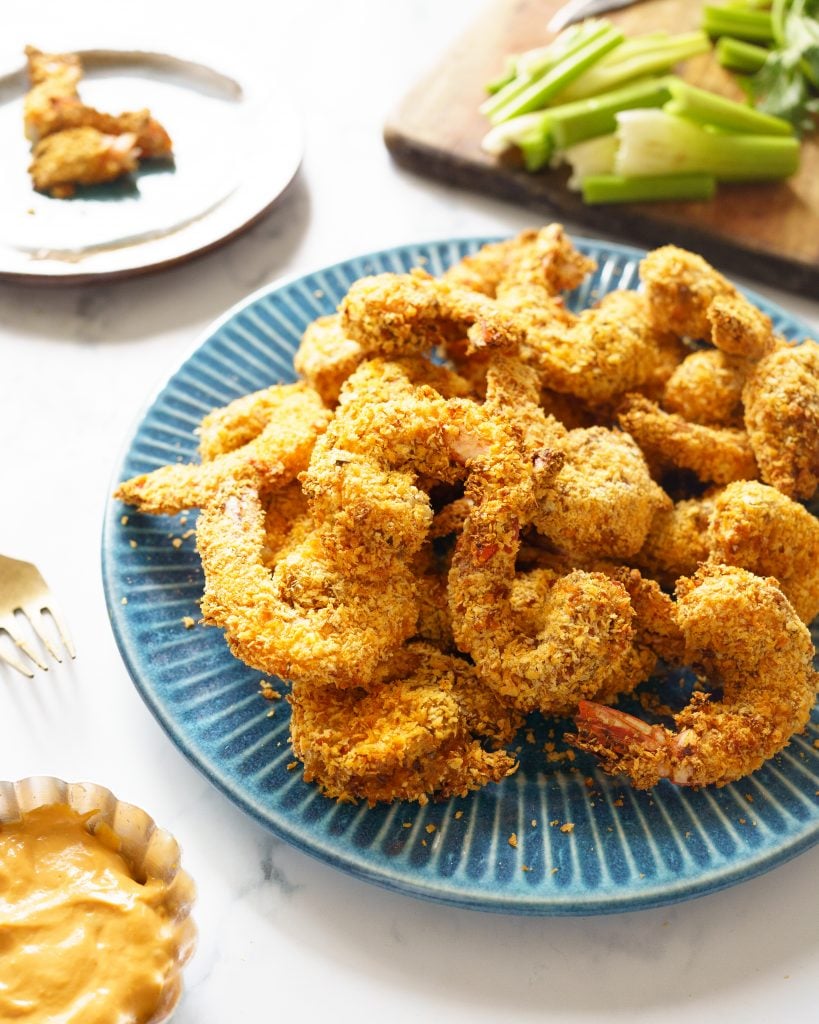 Jump to:
Popcorn Shrimp are bites of crispy goodness that satisfy all your crunchy-salty cravings. Crispy outside, juicy inside, the perfect appetizer, a movie night snack, and a game day finger food that will satisfy your crunchy cravings.
Making popcorn shrimp is a breeze! If you use frozen popcorn shrimp, you can make it in less than 6 minutes. Or you can bread the shrimp on your own. Trust me, and it's not as complicated as some people make it. It is also a healthier option.
Just follow a simple recipe, and you'll be amazed at how easy it is.
Second, if you prefer a quicker route, you can buy a bag of pre-breaded frozen shrimp and air fry them. It's as simple as popping them in the air fryer and letting it work it's magic.
Imagine dipping these little morsels into tangy ketchup, zesty mayo, or a creamy garlic dip. The possibilities are endless! So try popcorn shrimp, and let your taste buds thank you for this crispy perfection.
If you want to go one step further and are a hot sauce fan(who isn't?!), make these Air Fryer Breaded Buffalo Shrimp.
Why make Popcorn Shrimp in Air fryer
Here is why you will love this popcorn shrimp recipe.
Healthier - Air frying uses very little oil.
Crispier - The texture of the shrimp is as good as deep frying but with lot less oil and effort.
No Wastage- No leftover oil after frying the shrimp.
Easy Cleanup - Uses minimum dishes.
Short Cooking Time - The air fryer does the work for you, and the active cooking time is almost zero, especially if you use frozen pop corn shrimp.
Ingredients
Here is what you will need to make Air Fryer Popcorn Shrimp.
Frozen Pop Corn Shrimp
Bag of Frozen Popcorn Shrimp like Seapak shrimp
Oil for spraying
Pop Corn Shrimp from Scratch
Shrimp
Egg
Flour
Breadcrumbs
Oil
Seasoning - Taco or Cajun Seasoning
See the recipe card for quantities.
In this post, I will explain how to air fry frozen shrimp popcorn and DIY breaded shrimp popcorn. Making popcorn shrimp from scratch is a more nutritious option, but already frozen one saves time and effort.
Frozen Breaded Shrimp
Use store-bought, breaded popcorn shrimp like the Seapak popcorn shrimp and skip the breading step, making your active time Zero. Just pop open the package and Air fry.
Besides Seapack, You should be able to find more brands and variations in the freezer section of your grocery store.
Both ways- pre-packaged popcorn shrimp or breading it on your own will give you delicious, succulent, crunchy shrimp. So the choice is yours.
Shrimp
If using fresh shrimp, buy already peeled and deveined shrimp. You can pick the size you like- small shrimp is easier to "pop" in the mouth in one bite, but large shrimp is faster to coat with breadcrumbs.
You can keep the tail on because it is easier to hold and dip it in a sauce. However, if your shrimp are small, you can cut the tail off to be eaten in one bite. Or "popped" in the mouth.
Breadcrumbs
You can choose to use panko bread crumbs or regular bread crumbs.
Or you could save money and use the leftover stale bread. Just cut the bread into one-inch cubes. Pop it into the oven at 180C or 365F, and bake for 10-15 minutes until golden brown. Make a coarse powder of it using a food processor or a blender.
If you haven't tried panko breadcrumbs yet, then you must. You can do so many things with it, like this Air Fryer Panko Chicken.
Substitutions
Most of the ingredients listed in the recipe are pretty simple. However, for whatever reason, if you do not have them on hand, here are some common substitutions.
Shrimp - calamari, chicken tenders, cauliflower- can be breaded and air-fried like this.
Breadcrumbs - You can use dried shredded coconut, pork rind, or crushed Ritz crackers.
Cajun Seasoning - Choose your favorite- taco seasoning, Italian seasoning, lemon pepper, or bbq seasoning
An air fryer is excellent for snacks and crispy-fried (but not fried) food. You must try making air fryer bbq chicken wings or another breaded crispy wonder- air fryer chicken katsu. A tremendous kid-friendly recipe is air fryer sweet potato wedges
How to Air Fry Popcorn Shrimp from Scratch
To make the breaded popcorn shrimp from scratch, we will set up the breading station- One bowl with whisked eggs, one with flour, and the last with bread crumbs.
If you use frozen shrimp that's already been breaded, you can skip steps 1 and 2.
Season the Shrimp
Toss the raw shrimp in cajun or taco seasoning.
Toss the Shrimp in seasoning
Make a breading station
Bread the Shrimp
Set up the breading station- One bowl with whisked eggs, one with flour, and the last with bread crumbs.
Coat the shrimp with flour. Shake off the excess and dip it into the whisked egg mixture.
Gently toss and press the shrimp in the breadcrumbs. Try and use your fingers to push the breadcrumbs in any gaps.
Coat the shrimp in Flour.
Dip it in Egg Wash.
Press it in the breadcrumbs.
Air fry the Shrimp
Freshly Breaded Shrimp
Preheat the air fryer for 2-5 minutes at 180C or 365 F.
Place the breaded shrimp in the air fryer basket in a single layer. Spray oil on the shrimp using cooking spray.
If you do not have an oil spray, you can brush the oil using a pastry brush or use a kitchen tissue to dab it on the shrimp.
Air fry for 6-7 minutes until it's golden brown. Who would have imagined such an easy way to make fried shrimp?
Breaded Shrimp
Popcorn Shrimp in the Air Fryer
Frozen Breaded Shrimp
Here are the air fryer directions for packaged frozen shrimp popcorn. Preheat the air fryer for 2-5 minutes at 200C or 400 F.
Open the package straight from the freezer- no need to defrost.
Place the store-bought popcorn shrimp in the air fryer basket in a single layer. Most packaged frozen popcorn shrimp already have oil, so be a little skimpy with extra oil. Spray oil on the shrimp.
Air fry for 7 minutes until it's golden brown.
Hot Tip
When you preheat the air fryer, food is less likely to stick to it.
Variations
You could give this recipe so many different delicious twists-
Spicy - Add ½ teaspoon more Cayenne Pepper to the seasoning mix. You can toss the shrimp in your favorite hot sauce before proceeding with the recipe.
Toss in a Sauce - Toss the crispy shrimp in buffalo sauce or BBQ sauce.
Kid-friendly - Skip the chili. Serve the popcorn shrimp with plain mayonnaise.
Equipment
I have a trusty Phillips Air fryer that has lasted about ten years. Yes, I know. I was one of the early adopters of this technology.
My suggestion? Get a 6 Qts Air fryer that takes the least space. Philips, Cosori, and Ninja are the best available choices.
Storage
The shrimp will remain crispy for 2-3 hours. You can keep them warm in your oven at the lowest setting.
If you are not eating them in a couple of hours, you can store the cooked shrimp in an air-tight container in the refrigerator for 2-3 days.
These beauties last well in the freezer. You can freeze them raw, after you have battered them or after cooking. The frozen, uncooked battered shrimp will need an extra two to three minutes to cook in the air fryer.
The already-cooked, frozen shrimp can be air fried for 5-6 minutes to thaw and refresh.
Serving
As the name suggests, you are supposed to pop it in your mouth like popcorn. Serve it with something simple like ketchup or your favorite sauce, or level it up with our current favorite dip -Sriracha Garlic Lime Aioli or an easy Caramelized onion yogurt dip.
For the Game Night- Make a whole platter- Serve with carrot and celery sticks, a couple of bowls of dips, and sauces.
You can also serve these as your protein on Rice bowls, over simple marinara sauce tossed pasta.
If you make the shrimp without the tail, you can also make a delicious crispy shrimp taco with these.
Related
Looking for other recipes like this? Try these:
Pairing
These are my favorite dips to serve with Popcorn Shrimp:
If you make this air fryer popcorn shrimp, please leave a review. I appreciate every rating and review comment!
Find us on Instagram , Pinterest & Facebook here!
If you liked my recipe, do leave a comment!
It will help others find this amazing recipe too!
---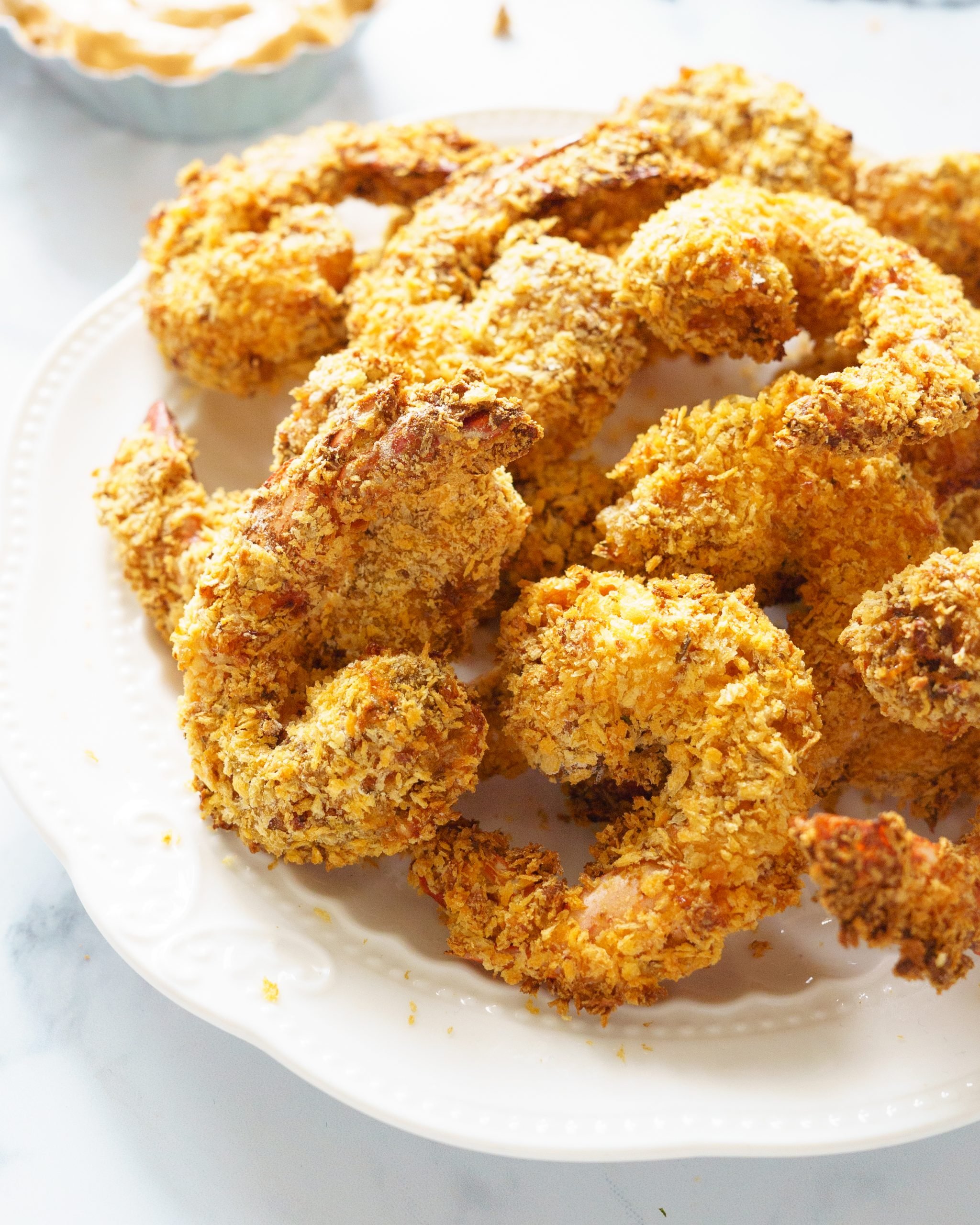 Ingredients
½

lbs

Shrimp

1

Cup

Breadcrumbs

Regular or Panko

2

Eggs

½

cup

Flour

2

tablespoon

Cajun Seosoning

1

teaspoon

Oil

Olive Oil. Avocado oil or use an Oil Spray
Instructions
Air fry Frozen Pop Corn Shrimp
Preheat the air fryer at 200C or 400F for 2-5 minutes.

Pop open the package , straight from the freezer.No need to thaw.

Place the popcorn shrimp in a single layer in the air fryer basket.

Air fry for 8 minutes till they are golden brown.
DYI Breading the Shrimp
Start with mixing 2 tablespoon of Cajun Seasoning with the shrimp. Set it aside till you prepare.

In a shallow bowl, Break an egg.Whip it well.

In two similar bowls, add breadcrumbs and flour.

1 Cup Breadcrumbs,

½ cup Flour

Do this one by one- Coat the shrimp with flour

Dip it in the whipped egg mixture. Shake to get rid of excess.

Press it into the bread crumbs. Turn and do the same again. Do this for all shrimp.
Air Frying Breaded Shrimp
Preheat the air fryer for 5 minutes at 180C or 365 F.

Place the breaded shrimp in the air fryer basket in a single layer.Close the air fryer.

Spray or brush a bit of oil.

Air fry for 6-7 minutes. Repeat for the rest of the shrimp.
Notes
Shrimp - 
Option 1 : Fresh Shrimp - I prefer large, pre peeled and deveined,  with tail on.
They are easier and faster to bread.
Option 2: Frozen Popcorn shrimp like seapack or any other favorite brand
Breadcrumbs - Panko breadcrumbs or Regular and homemade will work
Seasoning  - Choose what you like - Cajon seasoning  or Taco seasoning. Or make a kid friendly version with Italian seasoning 
Air fryer Time
If using smaller shrimp - Change the air frying time to 4-5 minutes
If using larger shrimp- Increase the time to 8-9 minutes.
A shrimp is cooked if it is
1. Orange
2. Curls into a C.
3. When the meat thermometer registers an internal temperature of 120°F/49°C or more.
Low Carb Substitutions
Substitute Flour with fine almond flour or coconut flour.
Substitute breadcrumbs with crushed almonds or shredded dried coconut
Nutrition
Calories:
257
kcal
|
Carbohydrates:
21
g
|
Protein:
34
g
|
Fat:
5
g
|
Saturated Fat:
1
g
|
Polyunsaturated Fat:
1
g
|
Monounsaturated Fat:
1
g
|
Trans Fat:
0.01
g
|
Cholesterol:
485
mg
|
Sodium:
1483
mg
|
Potassium:
67
mg
|
Fiber:
1
g
|
Sugar:
1
g
|
Vitamin A:
79
IU
|
Calcium:
194
mg
|
Iron:
4
mg
If you liked the recipe, please leave us a rating
Follow me on Instagram
My handle is @yellowthyme