Hasselback potatoes with Parmesan Cheese - Baked Potatoes sliced almost to the bottom and baked with parmesan cheese, herbs and garlic.
These are so so good! Crispy skin, melty cheese potatoes.Ah Heaven!
This potato dish is somewhere between baked potatoes and scalloped potatoes.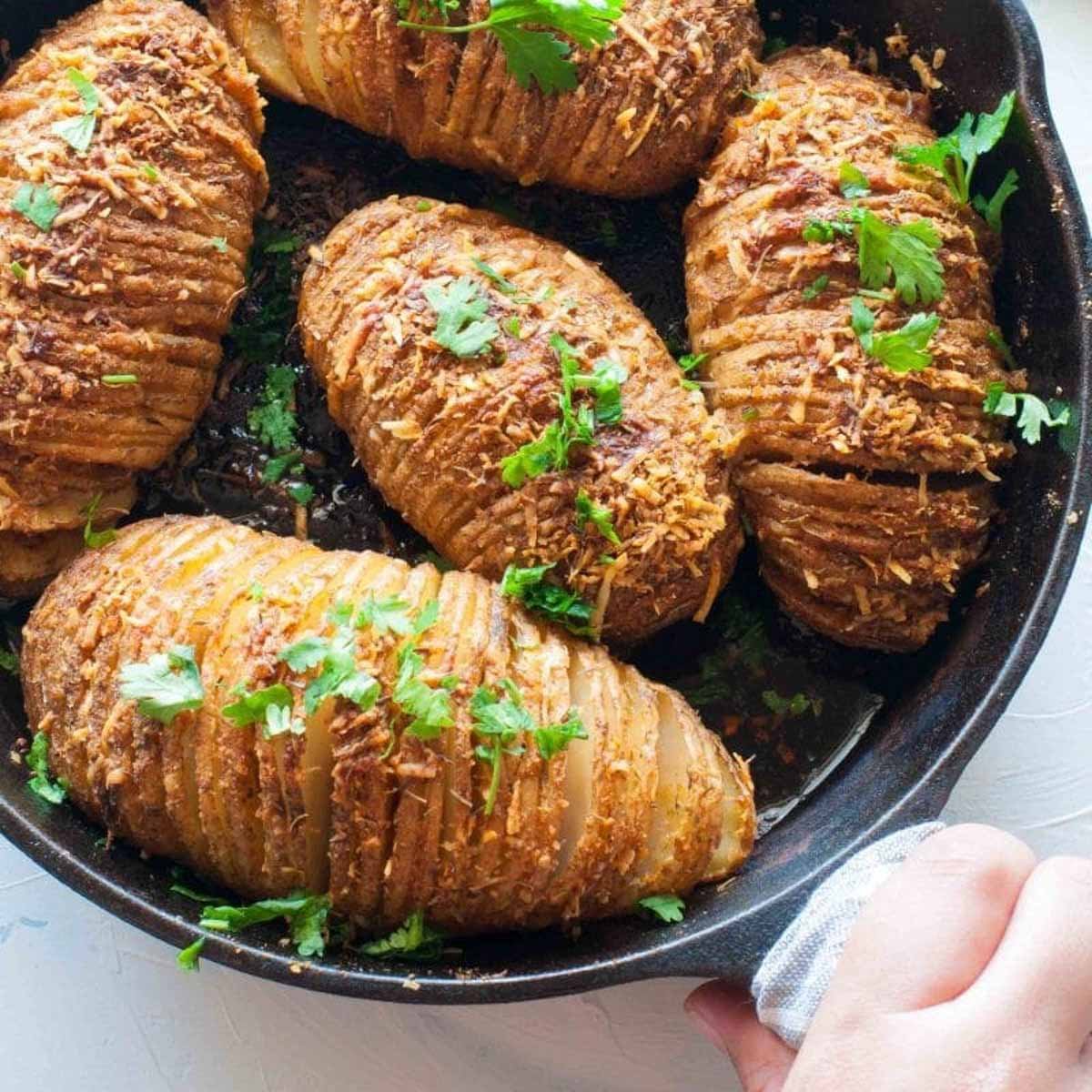 The parmesan crisps up along with the potato skins making is just heavenly! The insides are warm, soft and buttery. A perfect little dish that's equal parts crispy and soft!
It has potatoes, cheese and butter. There is a little chance of it not being awesome. Obviously!
Inspired from this dish, I recently made these garlic butter air fryer hasselback potatoes. They were so so good! Do give it a try!
What are Hasselback Potatoes?
Hasselback is referred to the way of slicing the potatoes.The potatoes are cut with a sharp knife into thin slices almost upto the edge, just keeping it together.
The slices fan out, making it super easy to stuff it with amazing things like cheese and garlic!
It is a kind of roast potato side dish that's a great side dish to any holiday feast!
The first time I made these was about 12 years back. This was one of my first recipes on the website. Since then I have updated the post without changing a single thing on the recipe!
Ingredients
Here is all you will need to make these potatoes
Large Potatoes
Parmesan Cheese
Herbs
Olive Oil
Butter
Salt
Type of Potatoes
In India, it's not very common to find varieties of potato, so my suggestion is just to find big clean potatoes which don't have any bruises or growth on them.
If you are in USA ,try using russet potatoes.
Salt
This dish can end up flat if not seasoned properly. The potato doesn't have a taste of it's own and so if it's not salted appropriately , it can end up being very bland.
My suggestion is to sprinkle some salt from a height on the potato so that the salt goes inside the grooves.
Keep in mind that you are using three sources of salt in this dish-table salt, butter and parmesan
.Parmesan and butter can have varying amounts of salt depending on the region they are from and if the salt from them is not accounted from the dish can be over salted.
DO WE PEEL THE POTATOES TO MAKE HASSELBACK POTATOES
No you dont need to peel the potatoes.
The potato skin will crisp up and give this dish a great contrast. The Crunchy buttery skin and the soft insides of the potato will taste heavenly!
This is the reason you need to scrub the potatoes well.
In case you don't like the skin of the potatoes or they are just too dirty then you can peel the potatoes.
Cutting the potato Hasselback
The cutting of the potato can be tricky but after a lot of research the Tasty people have declared using two chopsticks to anchor the potato and slicing with a sharp knife the best way to make clean, even cuts of potato.
I end up using two wooden spatulas because I cant never find chopsticks on time.
The spatulas make sure you don't go too deep while cutting the potatoes and slice it way too far.
You also get a special potato slicer to make cutting the potatoes easier. The great thing about this gadget is that it will work well with eggs too.So give it a try!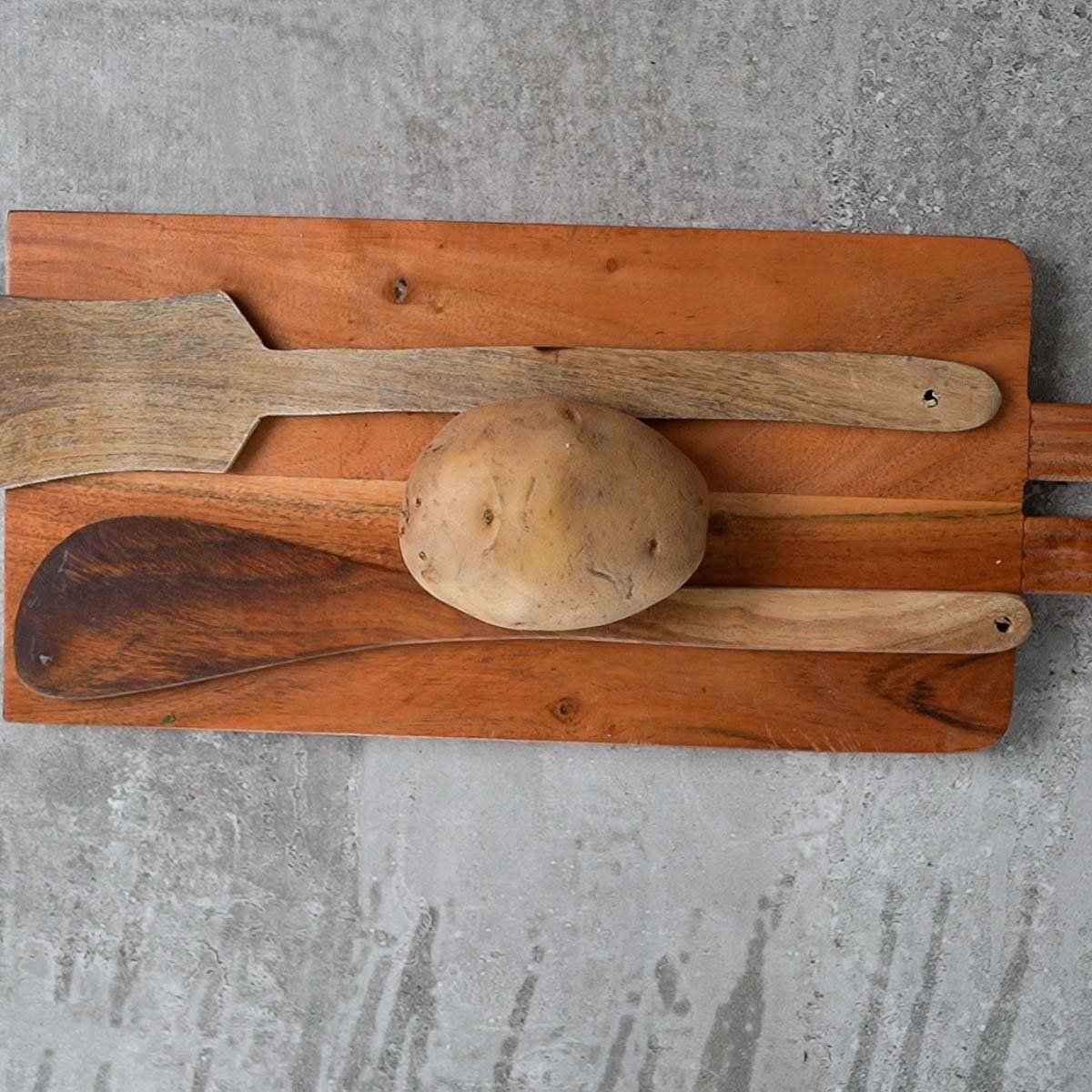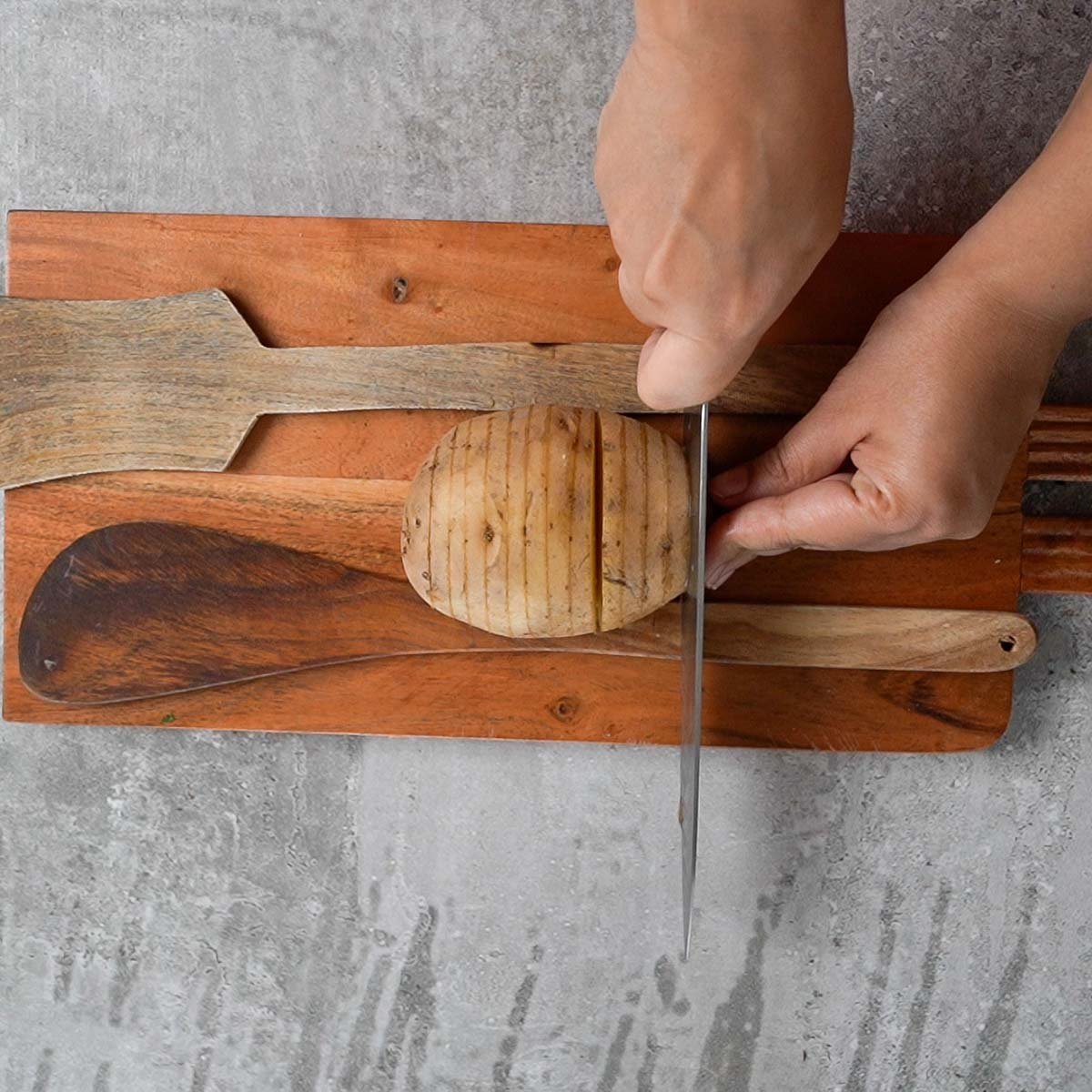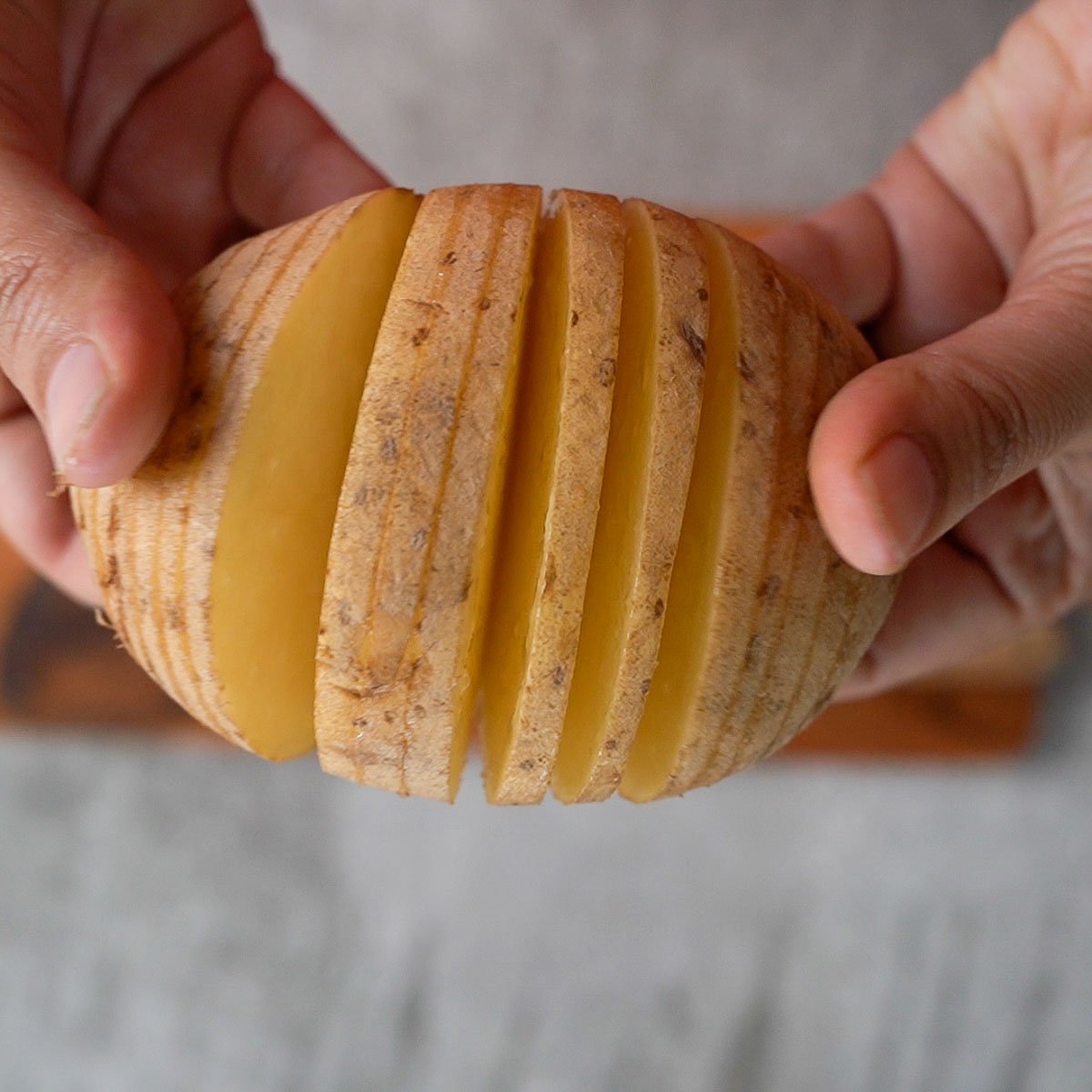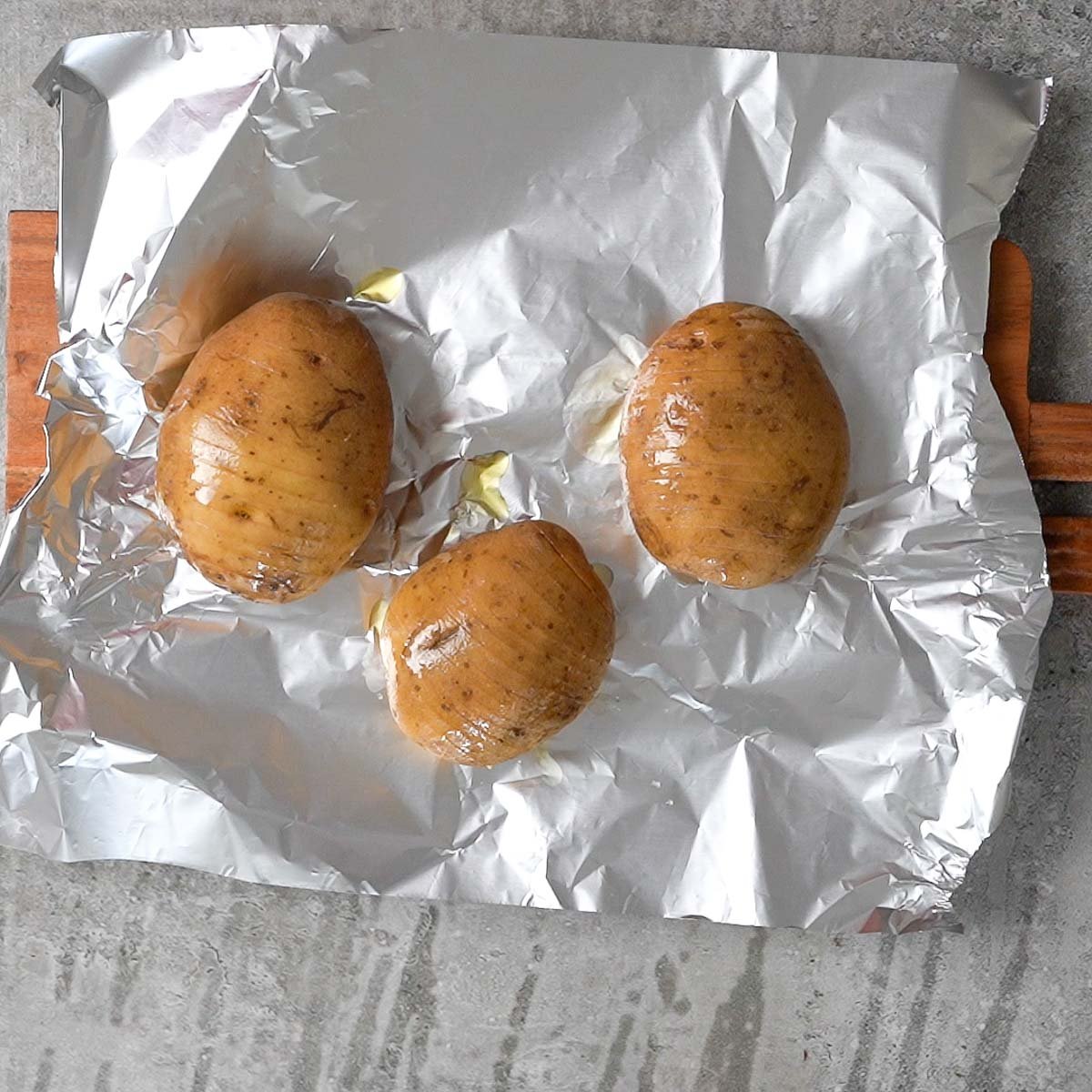 How to Make this recipe
Once you are done with the cutting step, the rest is easy!
Step 1: Mix the herbs, garlic, parmesan and bread crumbs. Keep in a bowl.
Step 2: Rub the potatoes with a little salt and olive oil.
Keep them in a cast iron pan or a baking dish.
Sprinkle the herb, Parmesan and bread crumbs mix over the potatoes. Make sure you go in between the slices.
Step 3: Preheat the oven to 180 C or 365F
Place the potatoes in the middle rack.
Bake for 30-40 minutes.
The baking time will depend on the size of the potato and the thickness of the slices.
When the knife is inserted in the potato, it should slide through like it would in room temperature butter.Thats when its done.
If you would like to brown the tops more, you can broil the potatoes at a high temperature for 10 minutes.
To make them even more cheesy!
Top the potatoes with some melty cheese such as gruyere or Gouda and broil for 5 minutes before serving for an extra indulgent affair.
Variations of Hasselback Potato
This is more of a technique than a recipe and hasselback will work on any root vegetable-Sweet potato and Butternut pumpkin are my second favourites after potato.
I have also seen videos of people cutting a chicken breast thus and deep frying it.I have not tried it yet though.
Cheese- I have used parmesan cheese here. You can omit it completely for a healthier version. You can also add some melty cheese like gouda or cheddar in the last 5 minutes instead for the dramatic melty cheese effect.
If you love cheese and potatoes together, also try making these Cheesy Potatoes with corn flakes.
Also try the same recipe with some peri peri or indian garam masala.
Also! here is my air fryer garlic butter hasselback potatoes recipe that we have been loving lately!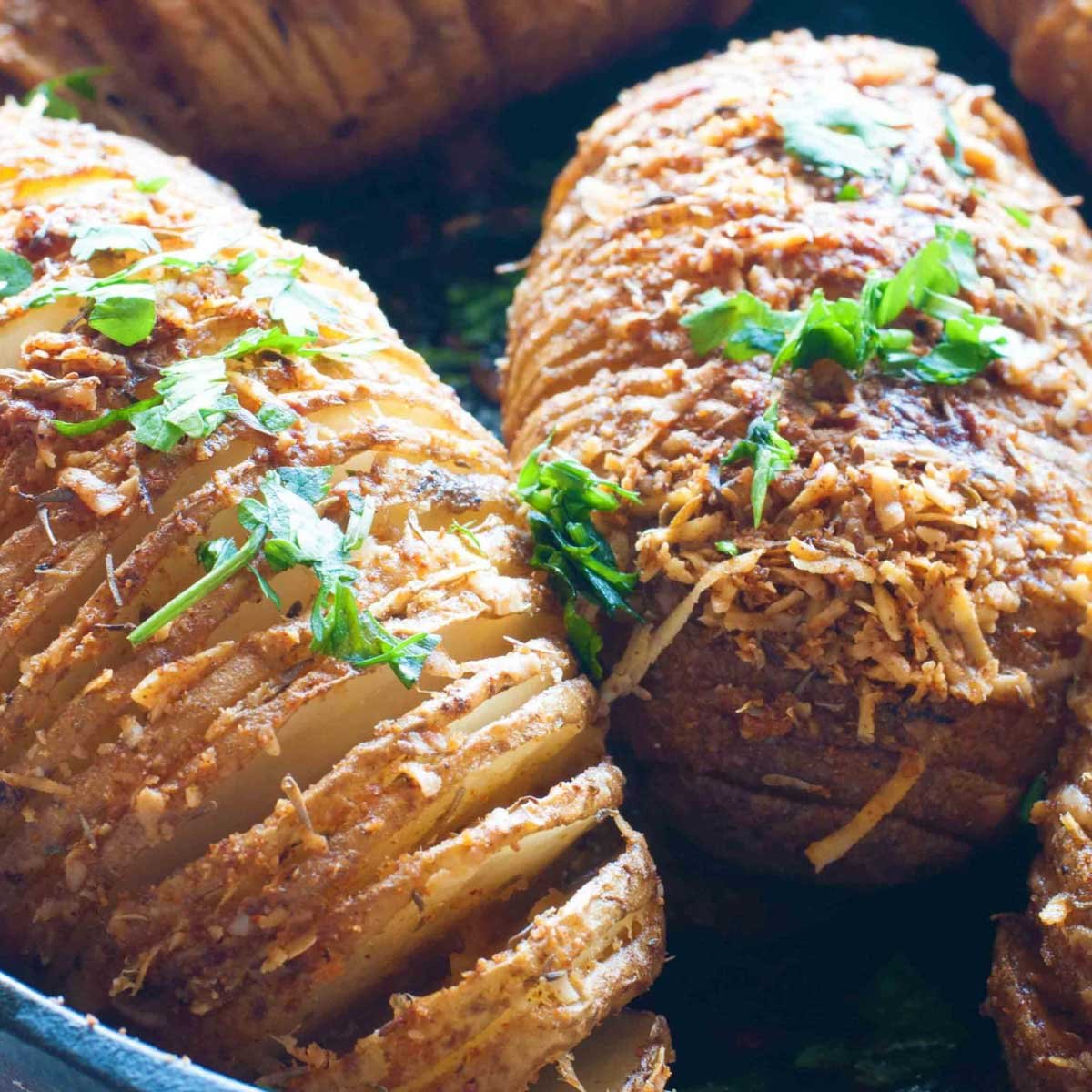 Healthy, Dairy Free and Vegan Version
Dairy free version brush the sliced potato with olive oil instead.
Leave out the cheese and experiment with vegan pesto or sprinkle some chat masala on top.
Before you dive into the recipe, I want to have a quick word about the cast iron skillet I am using. A cast iron skillet is a life time investment as opposed to the teflon coated non stick pans. With adequate love and care it can last your and your kids lifetime.
But the real reason to use this is to avoid the harmful plastic coating entering your food.
Have no doubt that teflon coated pans are toxic as are those plastic boxes to store food.I am slowly but steadily moving away from all things plastic.
The pan I use is Lodge Logic Pre-Seasoned Cast Iron Skillet. It's pre seasoned and can be used on stove top, induction stove and in the oven. I have been using this for the past 11 years and I couldn't be happier with my choice.
STORAGE
The cooked hasselback potatoes will stay well in the refrigerator for 3-4 days. Maybe more if you didn't use any cheese.
To serve them, reheat in the air fryer for 10 minutes and serve!
It is a great recipe to make in advance. Make sure to save all the butter drippings to drizzle on the potatoes just before serving.
TOP TIP
Use smaller potatoes for shorter cook time and individual portions!
Use Roasted Garlic to amp up the flavor!
If using larger potatoes, microwave for 10 minutes and then proceed with he recipe. This will reduce the cook time to half!
More Potato Recipes
Who ever said no to potatoes right? Here are some more of my Potato recipes for you.
if you made this delicious potatoes recipe, do leave me a comment and a rating. It helps people find the recipe easily!
Find us on Instagram , Pinterest & Facebook here!
If you liked my recipe, do leave a comment!
It will help others find this amazing recipe too!
---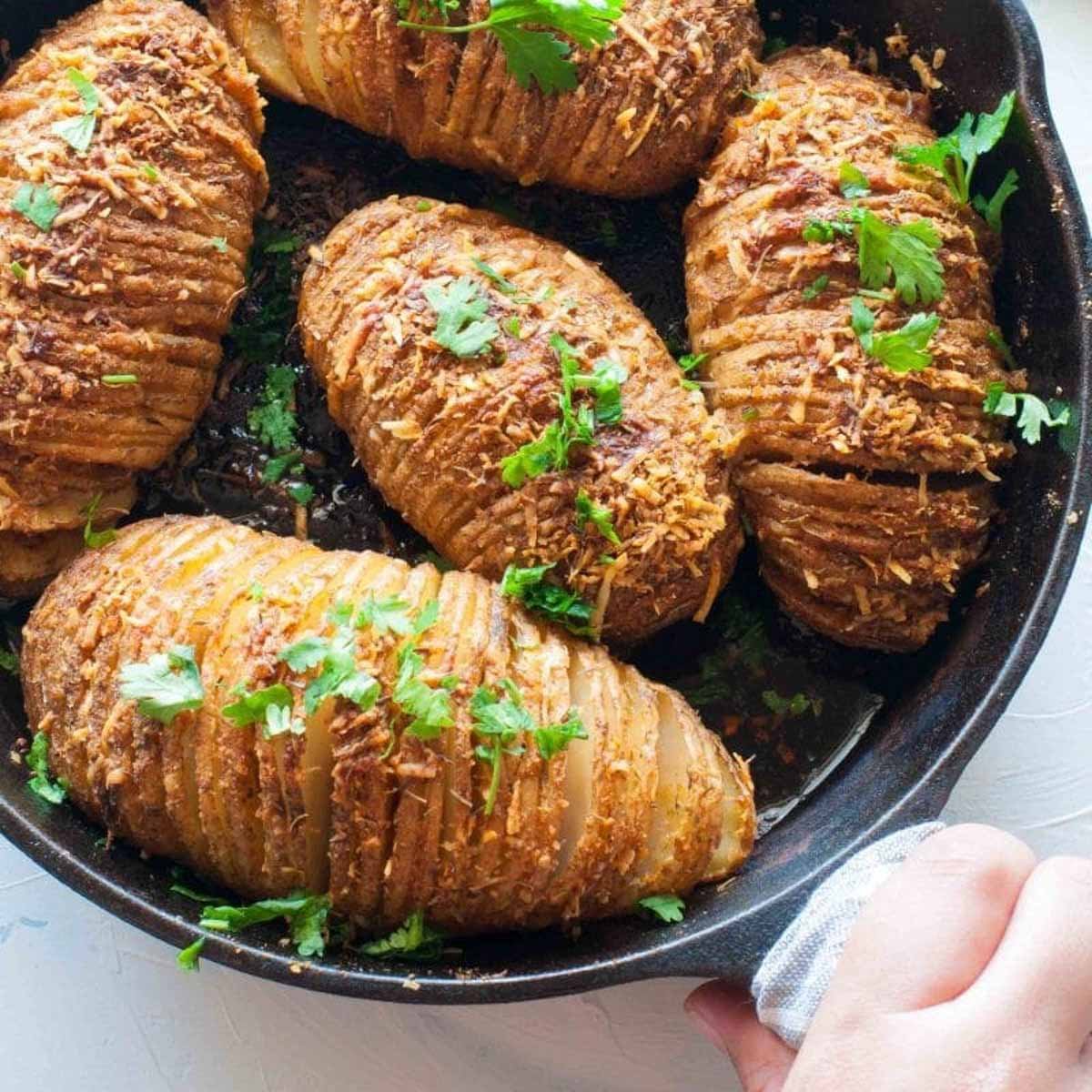 Ingredients
5

Potatoes

Large Flattish potatoes. Russet Potatoes are ideal

½

Cup

Parmesan

Grated

¼

Cup

Bread Crumbs

3

tablespoon

Butter

-Melted

1

teaspoon

Mixed Dried Herbs

1

teaspoon

Minced Garlic or Garlic Powder

Salt To taste
Instructions
Cut the Potatoes using a sharp knife as shown in the picture.Sprinkle a pinch salt from the top on each potato.

Mix the herbs, garlic, parmesan and bread crumbs.Keep in a bowl.

Brush the potatoes generously with butter.Make sure some butter goes inside too.

Dip the buttered potato in the parm-bread crumbs mix.

Bake at 220 C or 430 F for 30-40 min till the tops are golden and a knife slides through the potato.
Nutrition
Calories:
285
kcal
|
Carbohydrates:
41
g
|
Protein:
9
g
|
Fat:
10
g
|
Saturated Fat:
6
g
|
Trans Fat:
1
g
|
Cholesterol:
25
mg
|
Sodium:
267
mg
|
Potassium:
919
mg
|
Fiber:
5
g
|
Sugar:
2
g
|
Vitamin A:
292
IU
|
Vitamin C:
42
mg
|
Calcium:
156
mg
|
Iron:
2
mg
If you liked the recipe, please leave us a rating
Follow me on Instagram
My handle is @yellowthyme
SaveSave
SaveSave
SaveSave
SaveSave
SaveSave
SaveSave
SaveSave
SaveSave