Jump to Recipe
Instant Pot Honey Garlic Glazed Carrots - Gorgeous Garlicy Honey Carrots with Thyme and butter.Perfect side for Thanksgiving or Christmas Dinner.
These instant pot glazed carrots are first steamed using the STEAM function and then lightly sautéed in butter, garlic and honey. Adding fresh herbs like thyme boost the flavor to the next level.
I am all about shortcuts. They are especially welcome when i am making a big dinner with multiple elements. And that is why making sides in the instant pot or stove top makes my life easier and frees up the space in the oven..plus they are delicious so there is that!
It's super easy to throw a family dinner now. No need to labour for days anymore.
You can literally make all your sides in the instant pot or air fryer within a fraction of time! Plus use that oven for the main dish and dessert!
What do you need to make Instant Pot Glazed Carrots
Here is what you will need to make these glazed carrots in the instant pot.
Carrots - can also use baby carrots
Butter
Honey or Maple Syrup
Salt
Fresh Herb like Thyme or parsley
Water
Carrots
Just Peel and dice them up into bite size pieces.If you see the picture, you will see that the carrot pieces are quite chunky.
The reason to do that is so that they don't become mushy. We like them with a little bit in them.Especially if your other sides are creamy like Mashed potatoes or Sweet Potatoes.
Oh btw! You can make those in the instant pot too and they are really the game changer instant pot dishes!
Garlic
For me personally, no amount of garlic is enough...The only thing that stops me is the whole peeling and chopping bit.
But you can choose how much is too much for you and add accordingly.
I usually take 1-2 tablespoon full of chopped garlic.
Oh and a hot Tip! Try making the same dish with roasted garlic instead! It's another level! You can roast the garlic in an air fryer in just 25 minutes! It's such a great time saving trick!
Herbs
Well..Thyme is my favorite here. It just works so well with the sweet and salty carrots.
Other alternatives for thyme are
Sage
Dried Thyme
Rosemary
Oregano
Parsley
Vegan Glazed Carrots
It's very easy to swap about the butter and honey in this recipe to make a vegan maple glazed carrot in the instant pot.
My suggestion is to use maple syrup or even something like marmalade. Instead of butter, use vegan butter off the shelf. You could use oil but you want the taste to mimic the richness and saltiness from the butter.
How to Cook carrots in instant pot
Step 1: Prep Carrots -If using large carrots, peel and dice the carrots.Slice them diagonally to make them look pretty.
You can also use baby carrots and save on the prep work.
Step 2:Steam the Carrots- Place the carrots in a steamer basket.
Add 1 cup of water in the instant pot, place the steamer basket inside the instant pot.
Close the lid, Select STEAM for 3 minutes with the valve in SEALED position.
After the cooking cycle is over Quick Release the pressure.
Steam for 4 minutes if you want to make softer carrots.If you want to mash the carrots, steam for 6 minutes.
How to make Instant Pot Honey Garlic Carrots
To make the honey garlic glazed carrots, you do another step after steaming the carrots.
Step 3: Saute the Steamed Carrots- Empty the inner pot of instant pot.Discard the water and dry the pot with a cloth or kitchen towel.
Select SAUTE function. When the pot is HOT, add butter, garlic and thyme. Sauté for 30 seconds.
Add in the steamed carrots and mix till the carrots are coated with butter and thyme. Add Honey and salt. Continue to saute for 1 minute.
Sauté for longer if you want some more color on the carrots.
Garnish with parsley and serve hot or warm.
If you want your instant pot to make other things instead, do this step on stove top.
You can also slightly char the carrots in the honey or maple. The caramelized sugars will make the dish look great.
Tips to make Instant Pot Glazed Carrots
Slice the carrots diagonally.Try to keep the thickness equal. This will make sure that all the carrot pieces cook at the same time.
Drizzle some left over butter, garlic mix over the carrots just before serving.
You can also use Herb butter to make these roasted carrots.
Cook these carrots ahead of time, microwave just before serving.
Here are some more instant pot side dishes
If you are looking for more side dishes, I have you covered.
Here are some Instant pot Side dishes that will help freezing up your oven
Instant Pot Mashed Sweet Potato
Instant Pot Roasted Potatoes
Instant Pot Carrot Soup
Instant Pot Mushroom Soup
Instant Pot Crispy Potatoes- with Honey & Garlic

Here are some new Air Fryer recipes too
Crispy Smashed Rosemary Potatoes
Air fried Sweet Potato Cubes
If you make these carrots, do leave a comment and a rating! This will help more people discover my recipe.

Find us on Instagram , Pinterest & Facebook here!
If you liked my recipe, do leave a comment!
It will help others find this amazing recipe too!
---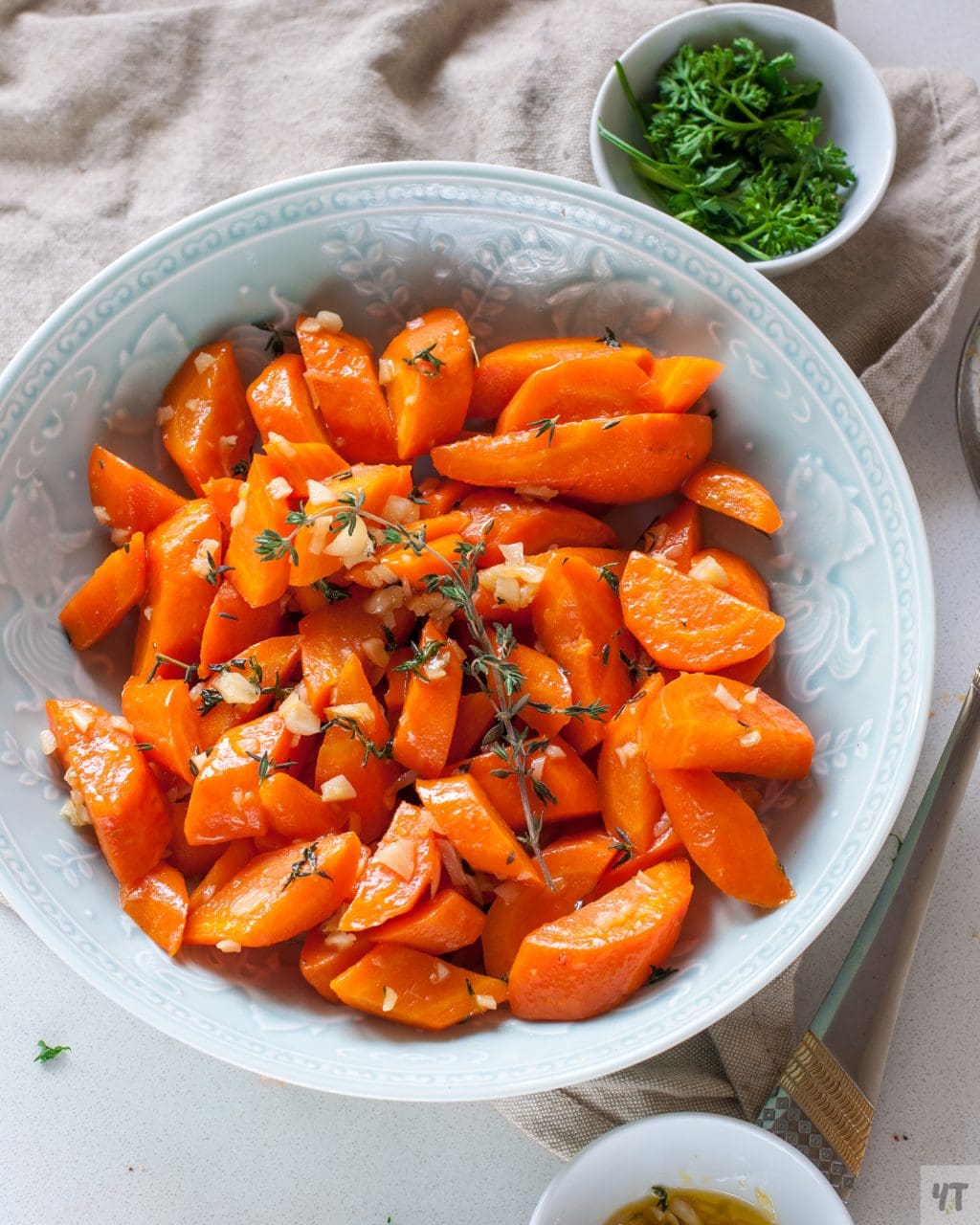 Ingredients
1

lbs

Carrots

Whole Baby carrots or diced carrots

1

tablespoon

Butter

& more for decadence.

1

tablespoon

Garlic

1

tablespoon

Honey

Maple Syrup for vegan version

1

teaspoon

Thyme

or few sprigs fresh Thyme

Salt as per taste
Instructions
Add 1 cup of water to the inner pot of instant pot.

Place the steamer basket* with baby carrots / Chopped carrots inside. Close the lid.

Select STEAM for 2 minutes on HIGH.

Quick release when the time is up.Open the lid and take the carrots out.

Clean out and wipe the pot dry. or Do this step on stover top.

Add Butter.Once it melts, add garlic & Thyme.

Add the steamed carrots and mix to coat them with the garlic and butter.

Add Honey and salt. Saute for 30 seconds.

Garnish with your choice of herb.
Notes
Substitutes
Carrots-  Use a bag of baby carrots
Butter - Salted or Unsalted butter.Olive oil or avocado oil
Nutrition
Calories:
95
kcal
|
Carbohydrates:
16.3
g
|
Protein:
1.1
g
|
Fat:
2.9
g
|
Saturated Fat:
1.8
g
|
Potassium:
377
mg
|
Fiber:
2.9
g
|
Sugar:
9.9
g
|
Calcium:
47
mg
|
Iron:
1
mg
If you liked the recipe, please leave us a rating
Follow me on Instagram
My handle is @yellowthyme