Jump to Recipe
Instant Pot Kheer - Traditional Indian Rice Pudding made in less than 30 minutes. Super Quick and hands off method of making the Best Indian Kheer ever!
This is a pressure cooked kheer recipe made with milk and condensed milk. The condensed milk adds such gorgeous richness to this dish!
Do you love Kheers? I cant seem to get myself to stop making kheers in instant pot! It's so easy! This creamy Instant Pot kheer and the vermicelli kheer are on repeat every week! Atl east till the festive season goes! lol.
I feel like I use too many adjectives but then how do I tell you how awesome this dish is! I mean it can easily rival any cult Indian dessert except I made it at home within 30 minutes out of which 29 minutes were hands free.
Why make Kheer in instant pot?
This Instant Pot Kheer will win over even the staunch kheer haters..And I have many living with me so my proclamation is really tried and tested!
Did you ever think you could have a great dessert without hovering over the pot, sweating your A** off? No right? Nothing good comes from being lazy. EXCEPT this!
This extremely lazy, dump it all and forget about it dessert is the best lazy thing ever!Obviously don't tell your guests that though.You want them to think that you laboured for hours to make this special dessert for them.Lol.
This traditional Indian Kheer is crazy crazy good! It's thick, rich,slightly caramelised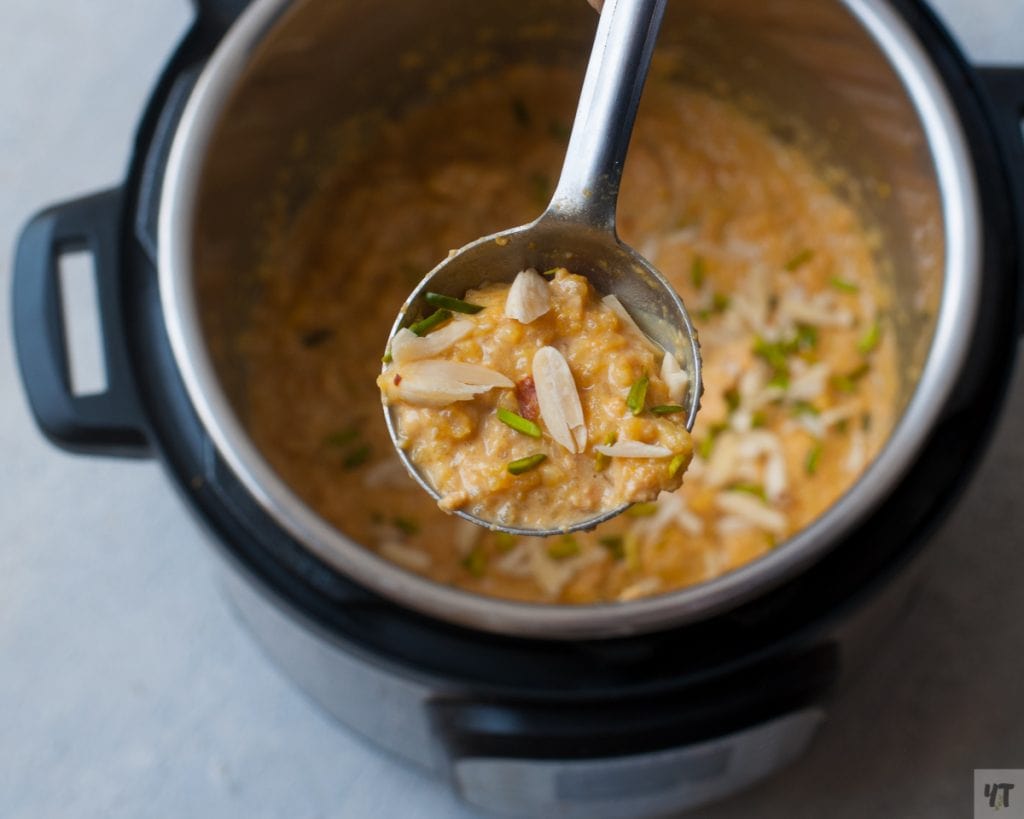 When Kheer or rice pudding is made in the instant pot using the dump it all method, it tends to change its colour from white to slightly brown.Thats because the sugars inside the post get caramelised.This frankly gives this rice pudding extra depth of flavour.
How to make Kheer in Instant Pot
Step 1- Soak the rice in water for 15-30 minutes. This will make the kheer creamier and make sure that the rice cooks evenly.
While the rice is soaking, measure out rest of the ingredients.
Step 2- Dump the soaked rice, milk, condensed milk, cardamom, Saffron, almonds, pistachios and sugar in the inner pot.
Give it a mix.
One thing to make sure- your instant pot should be cleaned well before you make a dessert in it.If you have been making a lot of curries in it, chances are that the instant pot could be "curry" smelling. Do clean it well or deodorize it before using.
Save some nuts to garnish the kheer.
Step 3- Pressure Cook for 20 minutes on high in Manual/Pressure cook mode with vent in SEALED position. Let the pressure escape naturally.
The instant pot will take some time to come to pressure after which it will cook for 20 minutes.
If your kheer is thin, use the saute mode to reduce it to your likeness. Add more milk if it turns out to be very thick.
Also note- the Kheer tends to thicken with time.
Kheer Flavours
Kheer can be flavored in many ways. You can go all out and put everything or choose what you like. Here are some flavor options.
Cardamom
Rose Water
Pistachios
Saffron
Kewra
Cinnamon
How to Serve Kheer
I have always liked my kheer chilled and my dad likes it hot.Everybody has their personal preference.Some like kheer served with halwa(like dad) though in my opinion that's an over kill!
Toppings on Kheer
Nuts-pistachios,almonds,cashews
Rose Petals
Fruits like pomogranate,mango
Cinnamon dusting
This is a typical indian dessert which is usually served at the end of the meal. Though sometimes it is added along with all other dinner elements in the thali.
You can serve chillied it in small bowls or ice cream bowls.Garnish it with a rose petal and some nuts.
Tips and Tricks to make Instant Pot Rice Pudding
Use good quality Saffron and Cardamom as they are the main flavours here.
I suggest Basmati rice but you can use your normal everyday rice too.
When you first open the instant pot, you will assume the kheer has split but give it all a good mix and you will see the magic!
More Indian Desserts
Here are some more indian desserts which we make at home during festivals.
Vermicelli Kheer(instant pot recipe)
Besan Laddoo
Aate Ka Halwa
Kesar Phirni
Seeds Chikki
Ragi laddus
Here is a collection of more than 100 indian instant pot recipes for you!
If you make this delicious Instant Pot Kheer, do drop me a note. I would love to hear from you!
Find us on Instagram , Pinterest & Facebook here!
If you liked my recipe, do leave a comment!
It will help others find this amazing recipe too!
---
Ingredients
¼

Cup

Basmati Rice

1

Cup

Sweet Condensed Milk*

small tin of condensed milk

2

Cups

Milk

1

pinch

Kesar

¼

Cup

Slivered Almonds

reserve little for garnish

¼

Cup

Slivered Pistachios

reserve little for garnish

2

tablespoon

Sugar

Optional
Instructions
Add everything to the inner pot of instant pot.

Close the lid.Choose the Manual or Pressure Cook option.

Pressure cook for 20 minutes on HIGH with the steam release handle in SEALING position.

Let the steam escape naturally(NPR- Natural Pressure Release)

Open the lid,give it a mix and serve hot or cold!
Notes
Sweet Condensed Milk*
If you can't find sweet condensed milk where you live, use un sweetened condensed milk with 4 tablespoon of Sugar.Adjust the sugar as per your taste.
If you liked the recipe, please leave us a rating
Follow me on Instagram
My handle is @yellowthyme