Jump to Recipe
Instant Pot Vermicelli Kheer - Semiya Payasam or Sev ki Kheer - Completely Hands-off Indian dessert recipe using wheat vermicelli, Whole Milk and Sugar.A luscious Festive dessert which is very popular during Navratri and Diwali.
It's either this or a fragrant Rice Kheer. One of these two kheers are always on the menu for any festival or special occasions. My dad's, one request EVERY single birthday is a Kheer and a Halwa , together, as a meal. lol.
The great part about this dessert is that it's easy to make, doesn't need a lot of culinary skills and is easily customizable. You can make a Mango Vermicelli Kheer, Sugar Free Vermicelli Kheer, Vermicelli Kheer with Jaggery or dates or even Dairy Free Vermicelli Kheer. There are a zillion possibilities!
How To Make Vermicelli Kheer in Instant Pot
Ingredients for Semiya Payasam
Vermicelli - Roasted Wheat Noodles or Broken Wheat Noodles
Whole Milk
Sugar
Nuts
Cardamom
Saffron(Optional)
Vermicelli is short noodles that is made of whole wheat or all purpose flour.A lot of people in india make it at home too.
This recipe works well with the store bought versions. The homemade vermicelli tends to be too tender to be pressure cooked.
You can either buy roasted vermicelli or roast the vermicelli at home.
Sugar- I have used white granulated sugar to make the vermicelli kheer. You can also use brown sugar or jaggery.
If you are using jaggery, make sure to use a trusted quality. You don't want it to have sediments .
To roast the vermicelli
Sauté it on a low flame in a pan or a wok(kadai).
Just make sure you keep moving the vermicelli around to brown it evenly.
You can use 1 teaspoon of ghee or just dry roast it.Both will work.
Step by Step Instructions
Roast the vermicelli on low flame till it changes color from white to light brown.You can do this in the instant pot saute mode or on stove top.
This is an important step - This will make the vermicelli more flavorsome and it will also hold the shape together better. Skip this step if you are using pre roasted Vermicelli like I do.
Add all the ingredients - Roasted Vermicelli,Sugar,Milk,Nuts(reserve some for garnish),cardamom & Saffron in the instant pot.
Pressure Cook- Close the lid and Choose the Porridge Setting for 10 minutes with the valve in SEALED position.Let the pressure release naturally.Open and give it a mix.
Garnish with Nuts or rose petals or saffron strands.Serve hot or cold.
I like my kheer chilled. I feel that cooling the kheer gives it time to thicken too.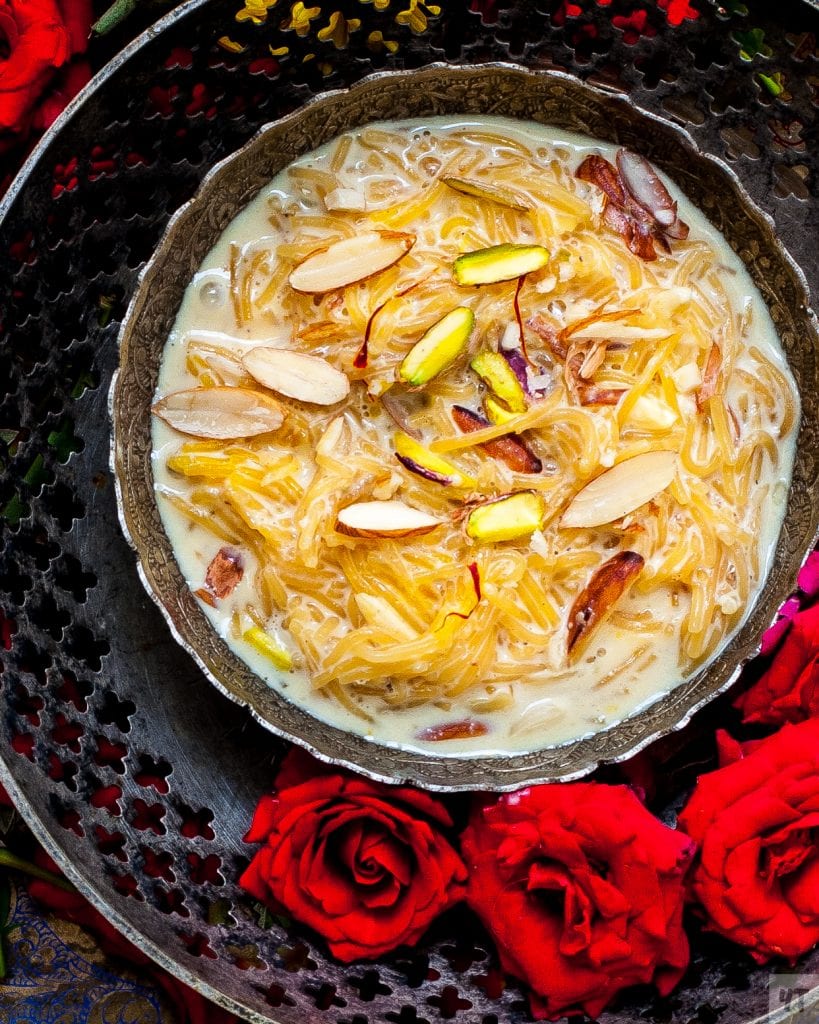 Variations of Instant Pot Vermicelli Kheer
Once you ace the basic recipe, you can add your own twist to the kheer.Here are some ideas for you
Sugarless Vermicelli Kheer-to make this sugarless, you can either skip the sugar all together or use an alternative like sugar free in equal measure.
Mango Vermicelli Kheer- Add Mango Pulp after the cooking is done.Bring to boil and serve hot to cold.
Rose Vermicelli Kheer- Add rose water and rose syrup after the vermicelli is cooked in the instant pot.Garnish with Rose petals and serve cold.
Vermicelli Kheer with Dates- Skip the Sugar and add ¼ Cup of chopped up dates instead.
Vermicelli Kheer with Jaggery -Skip the Sugar and Cook the vermicelli without sugar in the instant pot.Add Jaggery Syrup after you open the lid.Bring the Kheer to boil and garnish with nuts.
Vermicelli Kheer with Condensed Milk - You can add ½ Cup of condensed milk to the vermicelli Kheer before you start pressure cooking in the instant pot.This will give a creamy Kheer.
Tips,Tricks and Alternatives
So the first trick is to use pre roasted vermicelli.This saves us ,the otherwise, 10 minutes of slow roasting of the vermicelli.
Second is to use Condensed milk- Use condensed milk when you want the kheer to be richer and thicker. Be sure to take into account the sugar in condensed milk.
Third is to use powdered Cardamom Pods- You can either buy store bought cardamom powder or just blend the sugar and cardamom together int he blender.
Gluten Free Kheer- The vermicelli is made of wheat and hence this recipe is not naturally gluten Free.You can use rice vermicelli or you could make Instant Pot Rice Kheer.
Dairy Free Kheer-To make this dairy Free, replace the milk with almond milk and proceed as per the recipe.
Serving
You can eat this kheer hot or cold. I prefer it cold.
I usually serve this cold in small dessert or ice cream bowls. To make it extra pretty, i top it with slivered pistachios.
Leftovers & Storing
Vermicelli kheer or payasam can last for upto 2-3 days in the refrigerator. Just make sure you store it in an air tight container.
You can also freeze it for upto 2 months.
A Fun tip- Freeze leftover vermicelli payasam in ice lolly or ice cream molds and give it to the kids to enjoy on a hot summer day!
More Indian dessert recipes for you
Do you love indian desserts like i do? Here are some more easy homemade indian desserts that you must try!
Instant Pot Rice Kheer
Saffron Phirni
Ragi laddus
Aate Ka Halwa
Special Seeds Chikki
I use a 6 qts instant pot and I love it! If you are in India and are looking to understand how I use it here, you should read my post on instant pot in India.
If you make the vermicelli payasam, do drop me a note.I would love to hear from you!
Find us on Instagram , Pinterest & Facebook here!
If you liked my recipe, do leave a comment!
It will help others find this amazing recipe too!
---
Ingredients
¾

Cup

Roasted Vermicelli

Roasted Wheat Broken Dessrt Noodles*

5

Cup

Whole Milk

¾

Cup

Sugar

increase or decrease as per taste

¼

Cup

Almonds

or any other nuts

4-5

Strands

Saffron

Optional

2

Green Cardamom

or 1 teaspoon Cardamom powder
Instructions
Add all the ingredients - roasted vermicelli,sugar,milk,almonds,cardamom and saffron to the inner pot of the instant pot.Give it a stir.

Select PORRIDGE mode for 10 minutes with the pressure valve in SEALED position.

Let the pressure drop naturally.

Open the pot,give it a stir.

Serve hot or cold as per your liking.Garnish with nuts and saffron at the time of serving.
Notes
Roasted Vermicelli* -If you can't find pre roasted Vermicelli, Roast it in 1 teaspoon of ghee  on low heat.The vermicelli color should change from white to light brown.
Nutrition
Calories:
200
kcal
|
Carbohydrates:
30.9
g
|
Protein:
6.1
g
|
Fat:
6.5
g
|
Saturated Fat:
3
g
|
Cholesterol:
15
mg
|
Sodium:
61
mg
|
Potassium:
240
mg
|
Fiber:
0.5
g
|
Sugar:
26.9
g
|
Calcium:
180
mg
If you liked the recipe, please leave us a rating
Follow me on Instagram
My handle is @yellowthyme