Seeds & Nuts Chikki or Brittle made with healthy Sunflower & Pumpkin Seeds,Nuts and Palm Sugar(Jaggery).This is a super healthy spin on the traditional Peanut Gajjak or Chikki and we are making lot's of it this Diwali.
The one thing I miss the most being in Bangalore is the Chikki from North india.If I could, I would travel all the way there, find a roadside chikki cart and fill my bags to the brim with all the different kinds of chikkis.
What is Chikki?
Chikki is a brittle made with unrefined sugar and nuts.The most common type is made with peanuts.This chikki recipe is a spin on the peanuts brittle recipe.
This seed chikki, is my version of the peanut chikki but instead made with healthier seeds and nuts with just enough jaggery to hold it toghether.This is perfect for the days when I am craving to eat something sweet, without feeling too guilty about it.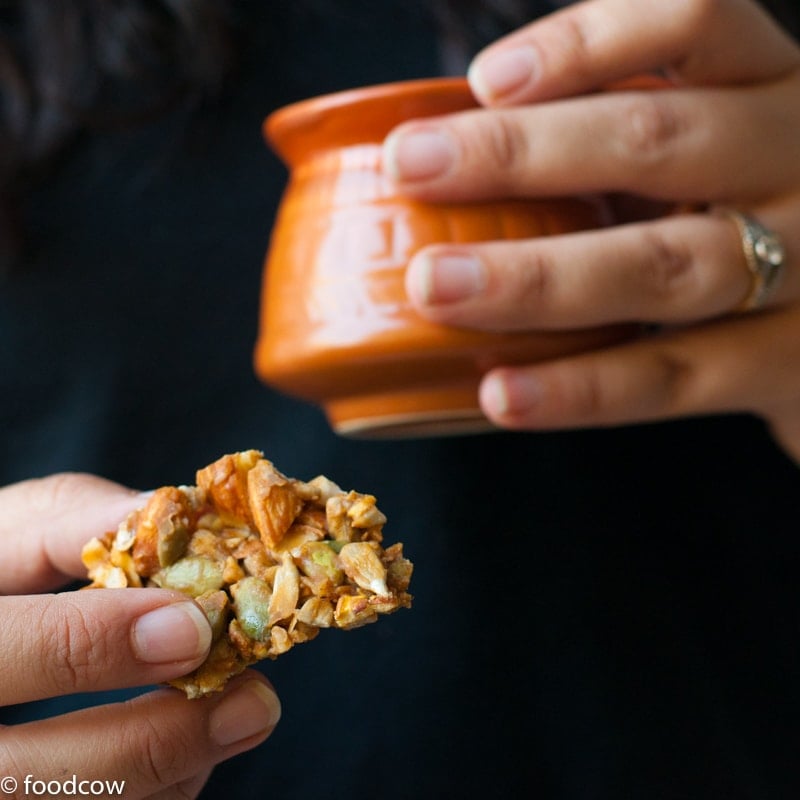 Seeds & Nuts Chikki | Healthier Brittle Recipe
How to make Seeds & Nuts Chikki
You won't believe how easy it is to make a Brittle.All you have to do is mix jaggery syrup with the nuts and let it dry.
But hold your horses, there are a few things that can go awry with it if you don't do it right.
First- the jaggery syrup has to be heated and bought to a consistency that when you drop a bit of it in water, it turns into a hard ball.This is called the Hard Ball Stage. Doing this test will tell you if your jaggery syrup is ready to be mixed with the seeds.
My tips for making the Jaggery syrup is
Make sure you use a heavy bottomed pan.
Make sure the heat isn't too high.
Test,test test- Keep a bowl of water nearby and keep testing every 30 seconds or so.The hardball consistency is literally 30 seconds before it starts to burn, so keep an eye and don't leave it to do anything else.
Strain- Most jaggery and palm sugar have impurities.Best way to work around this is to strain the syrup before mixing.
Now here is the recipe for Seeds & Nuts Chikki as promised.
Here are some Indian sweets and snacks for you
Ragi Laddu
Vermicelli Kheer
Aate Ka Halwa
Kheer
Kesar Phirni
Sweet & Savory Roasted Makhane
Ingredients
¾

Cup

Mixed Seeds- Sunflower and Pumpkin Seeds

¼

Cup

Almonds and Pista- chopped up

½

Cup

Jaggery powder- packed in

2

tablespoon

water

1

teaspoon

ghee

¼

teaspoon

cardamom powder(optional)
Instructions
Toast the seeds in a pan on low flame while stirring occasionally for 10 minutes.Set aside. Repeat the same process with the nuts.

Mix the nuts and seeds in a bowl and keep ready.Prepare a plate/flat surface by greasing the back of it with ghee.Keep the rolling pin and a piece of butter paper handy.

Heat the ½ cup jaggery with water and cardamom powder on low heat in a pan till it starts to melt and becomes a syrup.

Keep a bowl full of water to check the stage of the jaggery

syrup.It

should reach the hard ball stage.Hard ball stage is when a drop of the jaggery syrup, dropped in water, will turn into a ball and harden instantly.

Strain the syrup over the nuts and seeds.Mix together.

Working fast, before the mixture cools down.Take the mixture on the greased plate.Put the butter paper over it and flatten it using a rolling pin it to a thickness you want.

Cut it while its still hot into squares or diamonds of required size.Let it cool.

Once it hardens, store in a airtight container
If you liked the recipe, please leave a comment and rate it by clicking on the stars below!
Keep in Touch
Follow and like my facebook page yellowthyme!