Aate Ka Halwa - Kada Prasad - Traditional Indian Dessert made with Whole wheat flour, ghee and Sugar. Authentic Gurudware wala Kada Prasad Recipe made easy.
This is a Delicious, Super indulgent North Indian pudding made with just 4 ingredients- Whole Wheat Flour, Ghee, Water and Sugar.
What is Aate Ka Halwa?
This is one of the easiest indian desserts ever!This halwa has just a handful ingredients and the only difficult bit is the browning of the flour.Which frankly just needs a bit of patience and supervision.
Whole Wheat Halwa is often made on festive days like Diwali, Krishna Janmashtmi and Baisakhi. In fact, Halwa is also had on special occasions like birthdays as breakfast.
How to Make Aate Ka Halwa?
Step 1: Heat the Ghee in a Thick bottomed pan or Kadai
Step 2: Add the Flour and saute on a medium low flame, while stirring continuously.This step takes about 15-17 minutes where the flour turns from light brown to a biscuit almost deep golden brown.
Step 3: Meanwhile Bring the water and sugar to a boil and switch off.
Step 4: Once the Flour changes colour, add the sugar syrup in two instalments.Be Careful as the water till spit a lot.
Step 5: Keep stirring once the syrup is mixed with the flour and ghee.The whole mass will come together first.
Step 6:When the Ghee starts to separate,switch off the gas
Special Tips & Tricks to make Atta Halwa
Stir Stir and Stir- yes.This is a hands on dessert which comes toghether in mere 25 minutes but those 25 minutes are hands on and you cant do anything else during that time.
Keep an eye on the color of the Flour. Don't burn it but slow roast it.
Make the Sugar syrup in a pot with a long handle.This will help when you mix the syrup and Flour together.
The Sugar syrup will splutter when mixed with the flour and ghee.Make sure you are a safe distance away.
USe organic or homemade ghee for best results.
Variations of atta halwa
Nuts and Flavourings - Add raisins, slivered almonds and pistachios to make this more decadent.
Mix of Sooji and Aata- Replace ¼ Cup of aata with Sooji for a grainier texture.
Atte ka halwa with jaggery - Replace the sugar with jaggery, following the same recipe and ratios.
FaQs for making Aate Ka Halwa
Is Kada Prashad and Aate Ka Halwa same?
In essence they are the same but sometimes half the amount of ghee is added in Aate Ka halwa.But this is the proportion that gives the best result.
Can i use Jaggery instead of Sugar?
Absolutely.
Can I use Butter instead of Ghee?
Yes.
Can i reduce the amount of Ghee and Sugar?
Any recipe can be made healthier.Do not reduce ghee more than ½ Cup, it will alter the dish way too much.Sugar can be reduced as per your liking.You can also use Sugar Free instead.
Here are some more Indian Dessert Recipes
Kesar Phirni
Easy Rice Kheer
Seeds Chikki
Vermicelli Kheer
Ragi Laddu | Nachni Ladoo Recipe
Instant Coconut Ladoo

Find us on Instagram , Pinterest & Facebook here!
If you liked my recipe, do leave a comment!
It will help others find this amazing recipe too!
---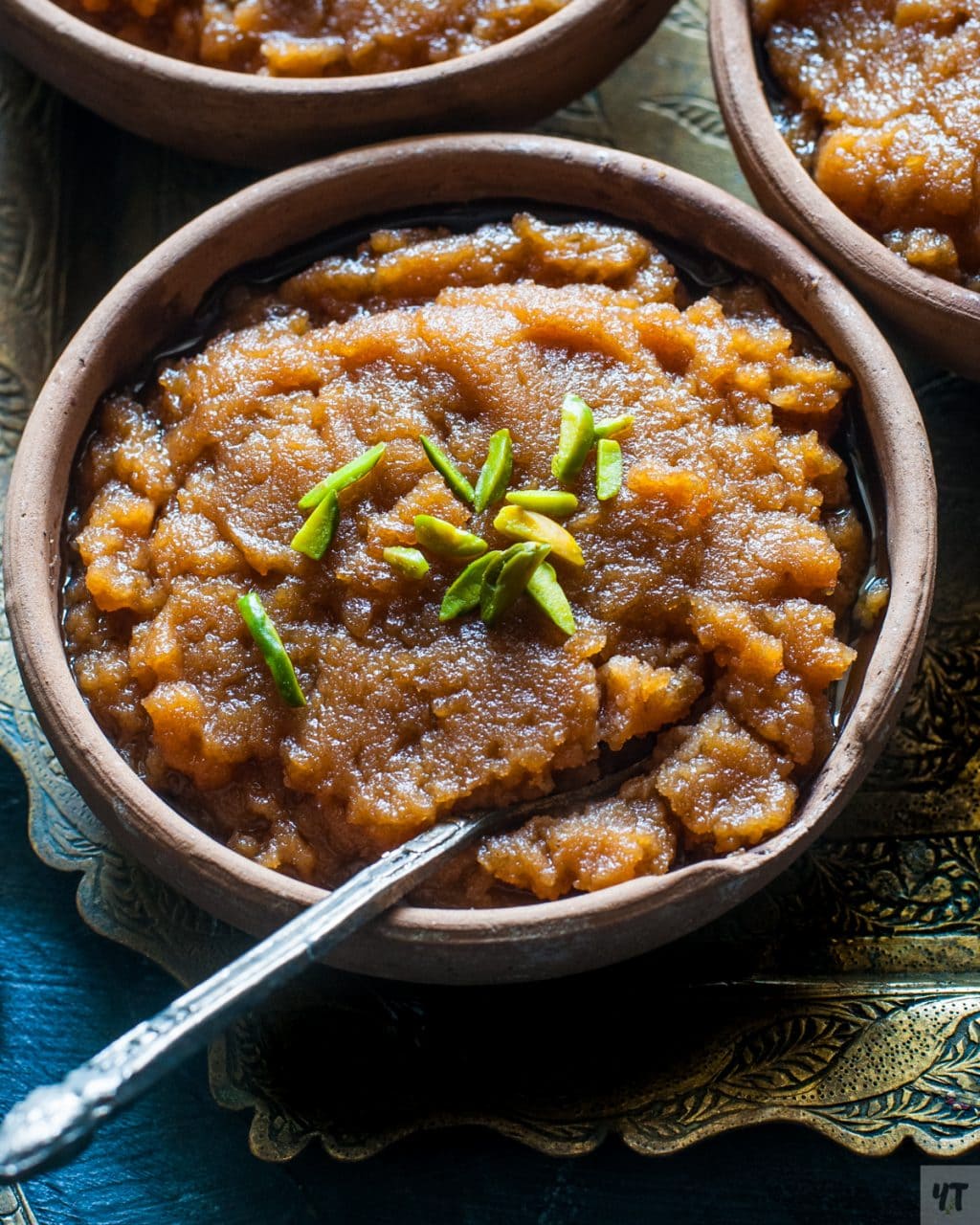 Equipment Needed
Heavy Bottomed Pan or Kadhai
Instructions
Heat a big Pot/Kadai in Low- Medium Heat.

Add Ghee and let it melt.

Meanwhile,Heat the water,Cardamom pods and sugar together. Bring to boil.Switch off once it boils.

Once the Ghee melts, add the Flour and keep stirring.

Cook it till it turns Golden brown(almost biscuit colour).Takes about 15 minutes.

Carefully add half the sugar syrup.(It will splutter so make sure you maintain distance).

Keep stirring.Add the rest of the syrup.It should all come together into one mass.

Keep Stirring for the next 5-10 minutes.The Ghee will separate and start oozing out from the side.Thats when you Kada Prashad or Aate Ka Halwa is ready.

Garnish with Dry Fruits and serve hot or warm.
Nutrition
Calories:
375
kcal
|
Carbohydrates:
36.9
g
|
Protein:
1.7
g
|
Fat:
25.7
g
|
Saturated Fat:
15.9
g
|
Cholesterol:
66
mg
|
Sodium:
1
mg
|
Potassium:
18
mg
|
Sugar:
25
g
|
Iron:
1
mg
If you liked the recipe, please leave us a rating
Follow me on Instagram
My handle is @yellowthyme