Instant Pot Salsa Chicken - One Pot Shredded Mexican Chicken or Taco Chicken cooked with Salsa, frozen Corn and Beans. It's a super simple Dump and Go recipe.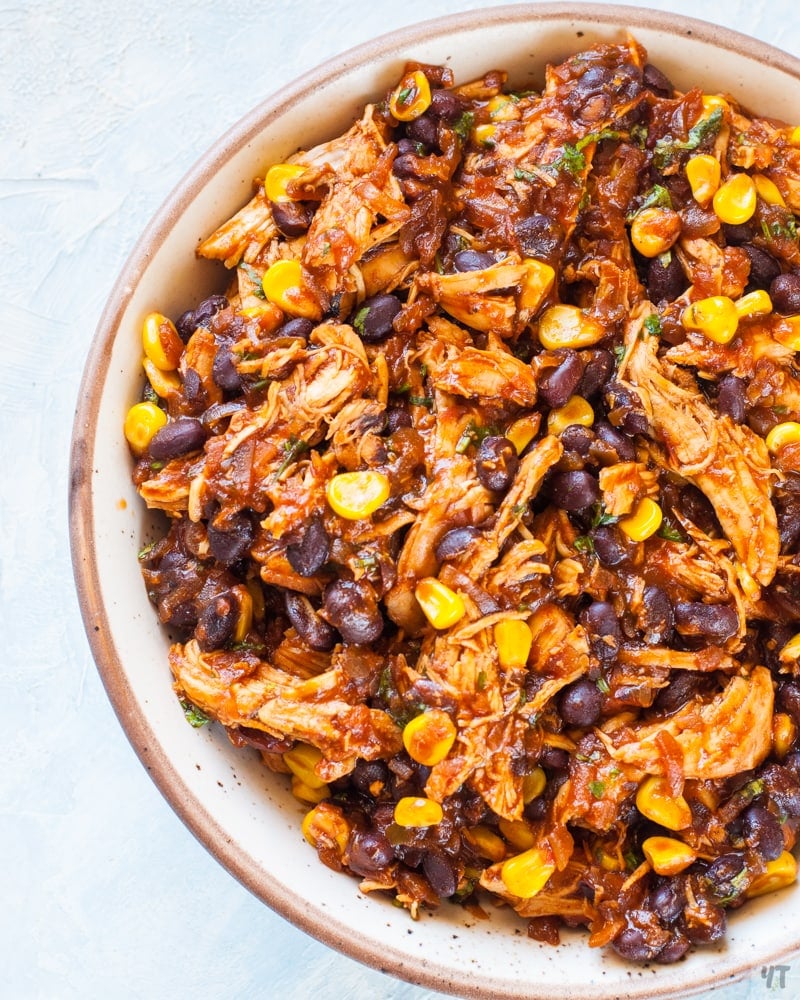 Watch the recipe video to see how quick and effortless this recipe is!
I love anything with black beans and corn. If the recipes is healthy and simple then all the more better!
Infact, this recipe is very easy. It's great for a family meal because everyone can make their plates up as per their wish! Also you can make this for an ARMY!
If you are on a diet, eat this with a salad. If you don't like guac, eat this with sour cream.
If you are entertaining, scoop the salsa chicken with some tortilla chips. You could eat this in so so many ways!
If that wasn't enough- It freezes very well - cooked and uncooked.
To make a instant pot freezer dinner- You can dump all the ingredients in a freezer bag and throw it in the freezer.
All you have to do then, is dump frozen ingredients in the instant pot and have a quick dinner ready! Without any prep!Scroll down to get more details on this!
If you aren't into corn and beans as much, try making my Instant Pot Chicken Tinga or you like more veggies, then try Instant Pot Fajita Chicken.
Here is a great option for your vegan tuesdays or is it thursdays? This is a recipe with similar mexican flavours- Instant Pot Vegan Chili.
This delicious Saucy shredded Chicken goes so well with anything- from rice to Tortillas to plain old lettuce!
Ingredients for Salsa Chicken
You don't need much for this recipe. Here are more details about the ingredients needed for making Salsa chicken in the instant pot.
Salsa- The most important one. I use the store bought kinds- beacuse they tend to be thicker.Also beacause I am lazy at times.
Can you use homemade salsa to make salsa chicken ?Yes absolutely! make sure it's the pasty kinds like in this recipe.Chunky salsa will alter the recipe.Though it will still be delicious.
That said, the recipe may change based on the type of salsa you use. If it's thinner than mine, the chicken could potentially have more water. If that happens, saute it for a bit and you should be good to go!
Chicken - I have used chicken breast.Simply because I like the texture of shredded chicken breast.
You can also use chicken thighs to make this salsa chicken recipe. If you do that, increase the cooking time to 11 minutes.
The cooking time might seem more to you when you compare with other recipes. Thats beacuse we want the chicken to be super tender before we shred it.
Beans- I like black beans in mine.You could also use pinto or white beans. A mix of beans will also work well.
Corn- Here, I like to use the frozen corn.It's easier and lesser work than slicing it off a corn cobb.But feel free to use fresh corn too!
Taco Seasoning- Use any store bought variety.
You can also make it at home-
1 part ground coriander
1 part ground cumin
1 part thyme
1 part garlic powder
½ part smoky ground chilli
½ part paprika.
This stores well in an airtight container.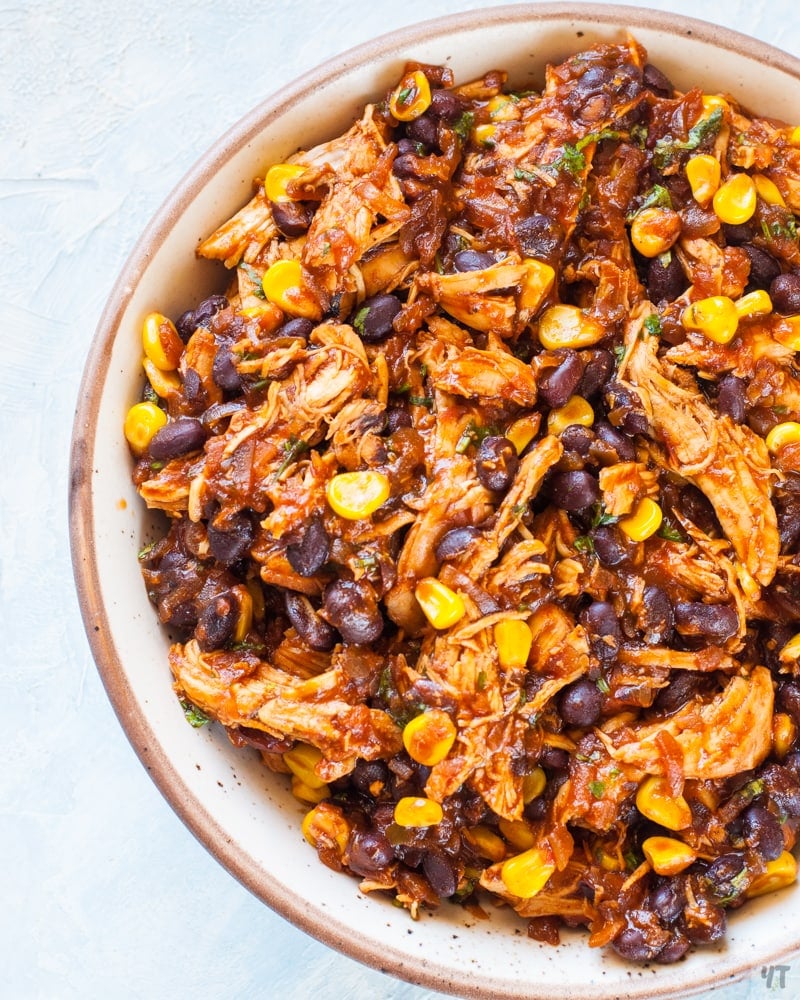 Instapot Salsa Chicken with Frozen Chicken
The best way to use Frozen chicken is to thaw it overnight in the refrigerator or in the hot water.
But if you are lazy like me and want to just chuck the chicken in.
Follow the steps below to use frozen chicken in the instant pot.
Make sure your frozen chicken breasts are separate and not a big mass of 3 chicken breasts toghether. They have to be 3 separate chicken breasts.
Add 4 minutes more time to the pressure cooking time.Thats it.
Protip to make the best Salsa Chicken
Okay here is a big tip. To make sure all the flavours combing well, cook your salsa chicken in the liquid after you shred the chicken.
You can use the keep warm setting and let it cook slowly for 10 minutes to about an hour. This will give it that sloppy,juicy texture that can be eaten with anything!
How to make Instant Pot Salsa Chicken
Step 1: Add ¼ Cup of water to the inner pot.
Step 2: Place the chicken over it.Sprinkle the taco seasoning and add the salsa.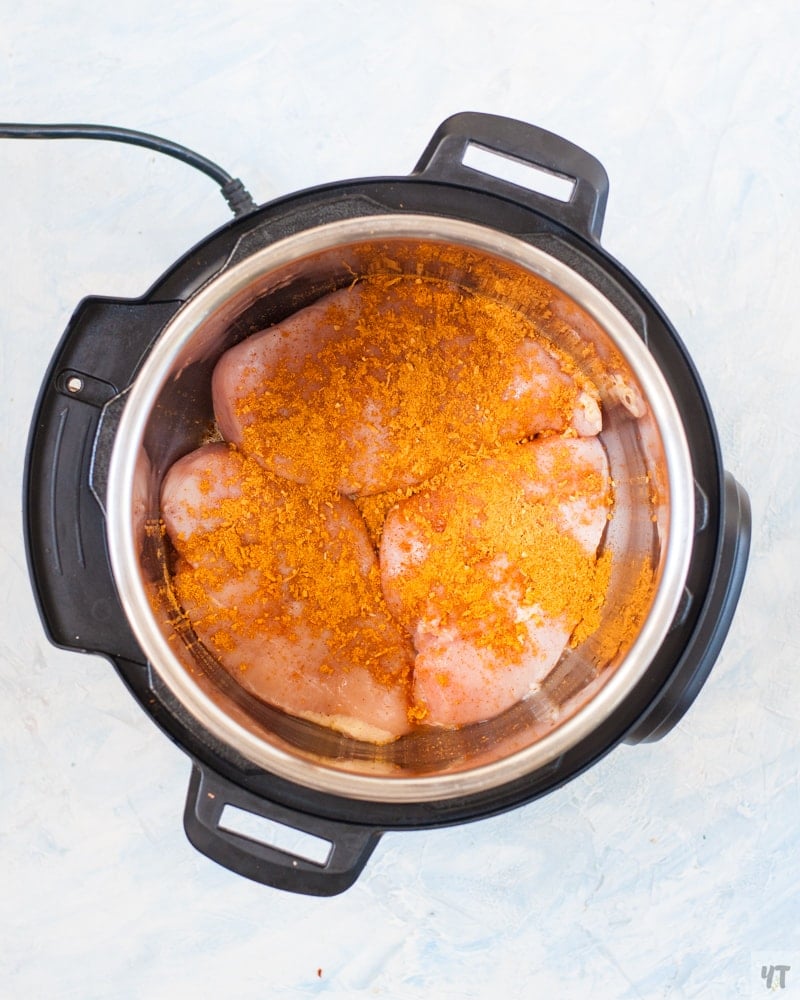 Also dump on the top- Corn and Cooked Beans.DO NOT MIX
Step 3: Pressure Cook on HIGH for 9 minutes.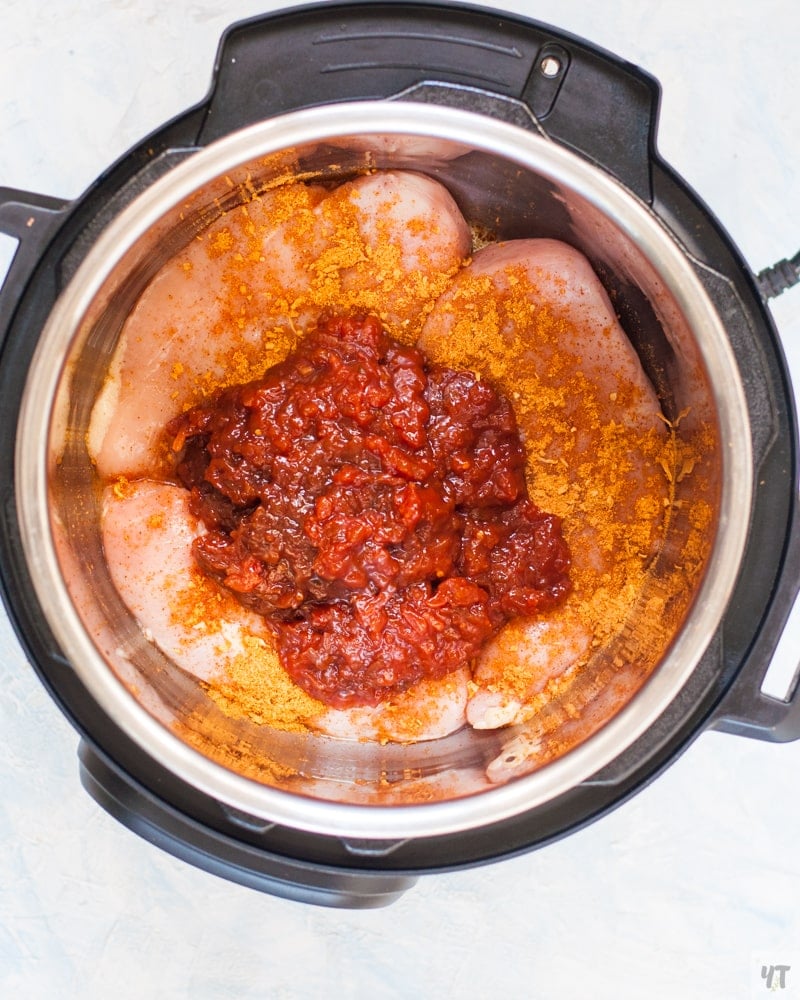 Step 4:Wait for 5 minutes and then Quick Release, Open the instant pot. Remove the chicken and shred it using forks or use a hand Whisk.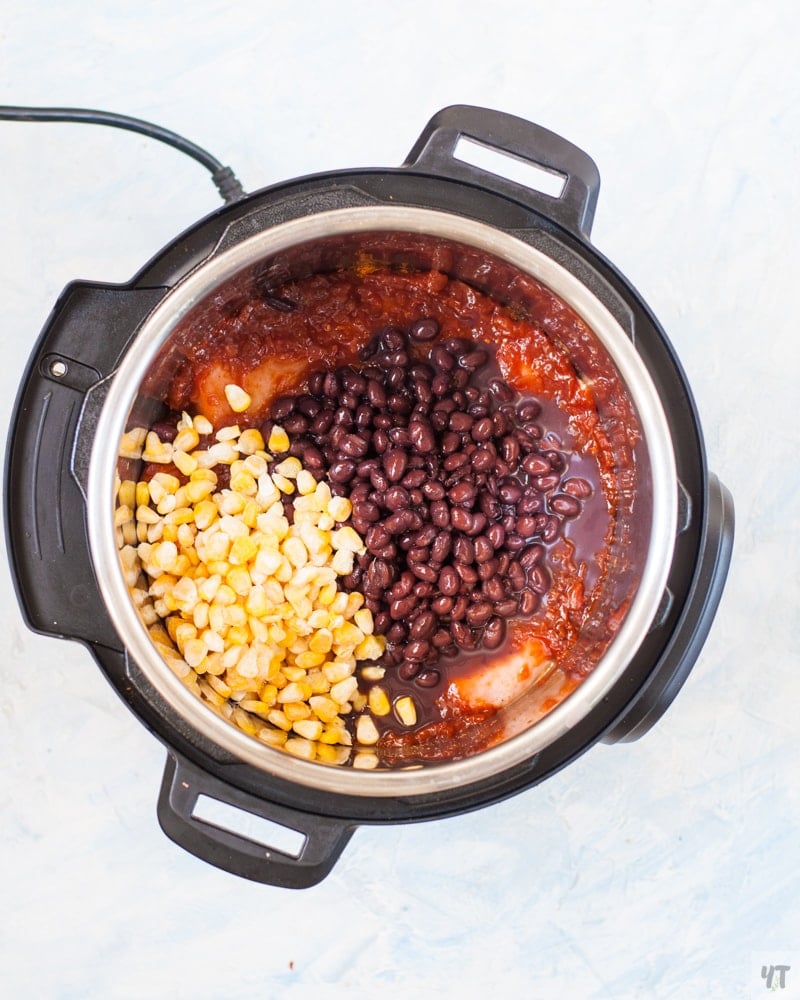 Step 5: Put it back in the sauce and give it a good mix.Let the chicken rest inside the instant pot, in the keep warm setting for 5-10 minutes.
This will make sure everything mixes toghether.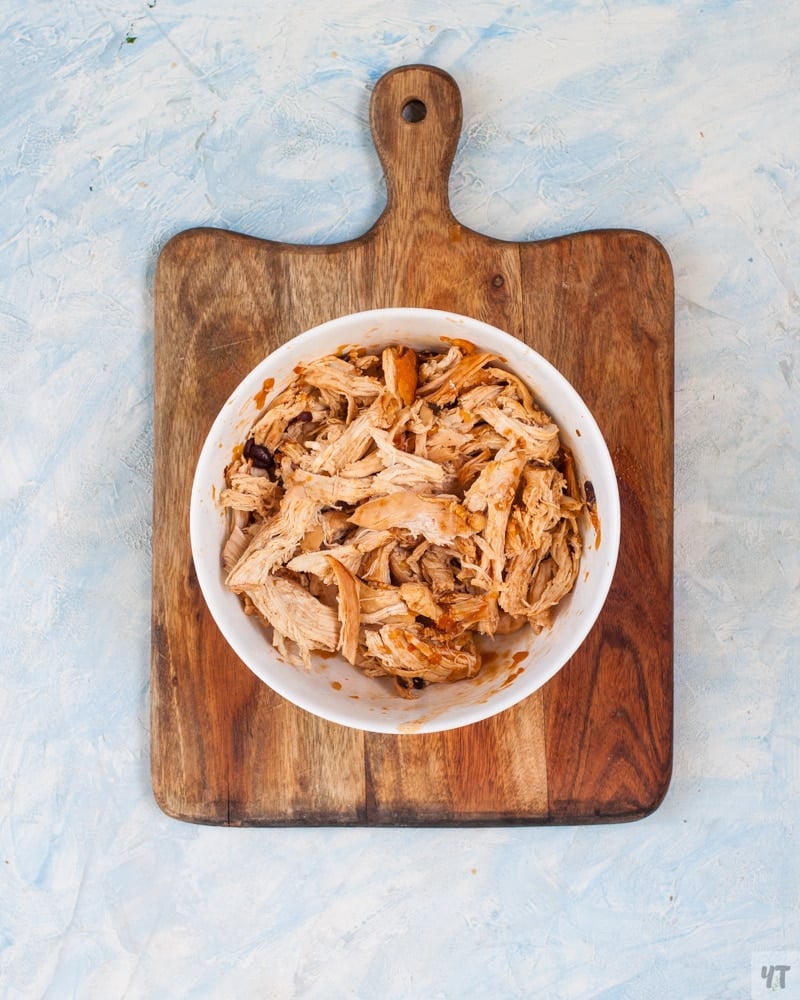 Tips for Instant Pot Salsa Chicken
Burn Message- There is a chance of burn message appearing if you do not add the ¼ Cup of water before adding the chicken. This can also make the chicken watery, especially if the salsa is thin or if the chicken has too much water in it.
Watery Chicken- If the dish turns out watery, you can make it thicker using the SAUTE function. Also, Make sure you drain the beans completely before adding them to the pot.
Can I Add more Veggies to this Chicken
Absolutely!
You can add chopped up peppers.They would go wonderfully with this chicken.
Adding Celery & Carrots is also a great option.You should add tougher veggies along with the corn.
Is Salsa chicken gluten free
This Chicken is very versatile. You can make it Whole 30,Paleo and Gluten Free by omitting the beans and using a compliant Salsa.
Serve this with almond flour or cauliflower tortillas for a super healthy, low carb Meal.
How long to cook Salsa Chicken in Instant Pot
It depends on what chicken- breast or thigh, Fresh or frozen you are using.
For chicken breast- 9 minutes.For chicken thigh- 11 minutes.
To shred the chicken, you need to cook it for more time than usual. That is why you probably see the cook time is on the higher side. And because we are cooking the chicken with the liquid, it will be juicy and tender.
When you shred the chicken, it will be easy.You wont need to wrestle with the chicken.
How to serve Mexican Shredded Chicken
This Salsa Chicken is so flavoursome, I could eat it with anything.
I wont lie, but I have wrapped some with a few slices of avocado in my chapati(Indian Flatbread) too. So in my mind there is no right way to serve this.
But, here are some options
In a Tortilla with some lettuce, onions and maybe some Mexican cheese.Some Greek yogurt on top. Infact, try adding some of this Greek yogurt dip on top.You will love it!
Over Some Cilantro Rice,Quinoa or even plain basmati rice.
Inside a warm dinner roll with some sour cream.
With tortilla chips & Guac.
You could also make some air fryer Taquitos with this.
This is the most fun part of making meals that can be put toghether as per preference
Here is the list of possible toppings
Cojito Cheese or Any Mexican blend cheese
Sour cream
Yogurt
Lime Juice
Cilantro
sliced avocado
Pico de Gallo
Crema
Hot Sauce
Crushed Nachos- this is so satisfying!
Sliced Jalapenos- Use the pickled ones.
Picked Onions
Freezer Salsa Chicken
Make this into a freezer instant pot meal.You can have dinner on the table with 0 prep!
Add all the ingredients to the freezer bag. Place it on a tray and freeze it horizontally. You can stack the frozen bags vertically or horizontally and save a lot of freezer space.
While freezing the ingredients- Make sure you flatten the freeze the ingredients. This will make sure all of the chicken breasts are not stuck toghether. That will increase your cooking time.
I do this when i have extra left over salsa.
More Instant Pot Chicken Recipes
Here are some more instant pot chicken dinner recommendations recipes for you.
Instant Pot Fajita Chicken
Instant Pot Chicken Stroganoff
Instant Pot Crack Chicken
Instant Pot Chicken Tinga
Instant Pot Chicken Carnitas

Here are all my instant pot chicken recipes to make your decision eaasier!
If you made this delicious salsa chicken, drop me a note! Would love to hear your thoughts on it!
Find us on Instagram , Pinterest & Facebook here!
If you liked my recipe, do leave a comment!
It will help others find this amazing recipe too!
---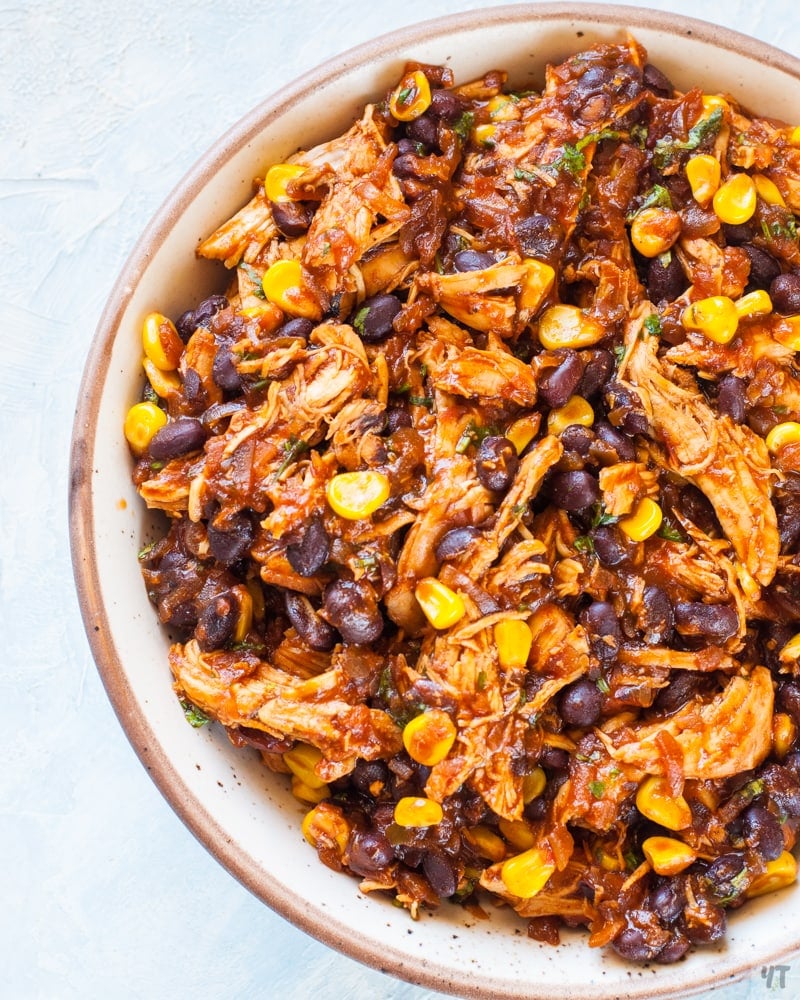 Ingredients
3

Chicken Breast

1.5

Cups

Salsa*

1

tablespoon

Taco Seasoning**

Optional

1

Cup

Frozen Corn

1

Cup

Black Beans

Drained ; Canned or boiled el dente
Instructions
Add ¼ Cup of water in the inner pot of the instant pot.

Place the Chicken Breast on top of the water.

Sprinkle 1 tablespoon of taco seasoning on top of the chicken.Add the salsa on top of it.

Add the Frozen corn and black beans on top of everything.

Close and Select PRESSURE COOK for 9 minutes*** on HIGH.

Once the cooking time is done, let the pressure release naturally for 5 minutes before quick releasing the pressure.

Open the pot, take the chicken breast out.Shred using two forks.

Put it back in the instant pot.Give it a good mix and garnish with cilantro.
Notes
Salsa*- Use your favourite store bought salsa.
Taco Seasoning**- you can skip this if the salsa is very spicy or you dont have any on hand.
Cooking Time***-Increase the cooking time to 12 minutes if the chicken breasts are very large(10 oz or more)
Burn Message - The water is added to avoid the burn message.If you add the chicken breast directly, it can burn and show the burn message.
Watery Sauce- The dish could become watery if the salsa is very thin or if the chicken breasts have too much water in them.In that case,Saute the Shredded chicken in the sauce for a few minutes to thicken the sauce
Nutrition
Calories:
222
kcal
|
Carbohydrates:
29.1
g
|
Protein:
22.6
g
|
Fat:
2.3
g
|
Saturated Fat:
0.6
g
|
Cholesterol:
37
mg
|
Sodium:
425
mg
|
Fiber:
6.7
g
|
Sugar:
3.5
g
|
Calcium:
64
mg
|
Iron:
3
mg
If you liked the recipe, please leave us a rating
Follow me on Instagram
My handle is @yellowthyme